ELEGANCE Transparent Pomade Hair Wax – Serious hold for every man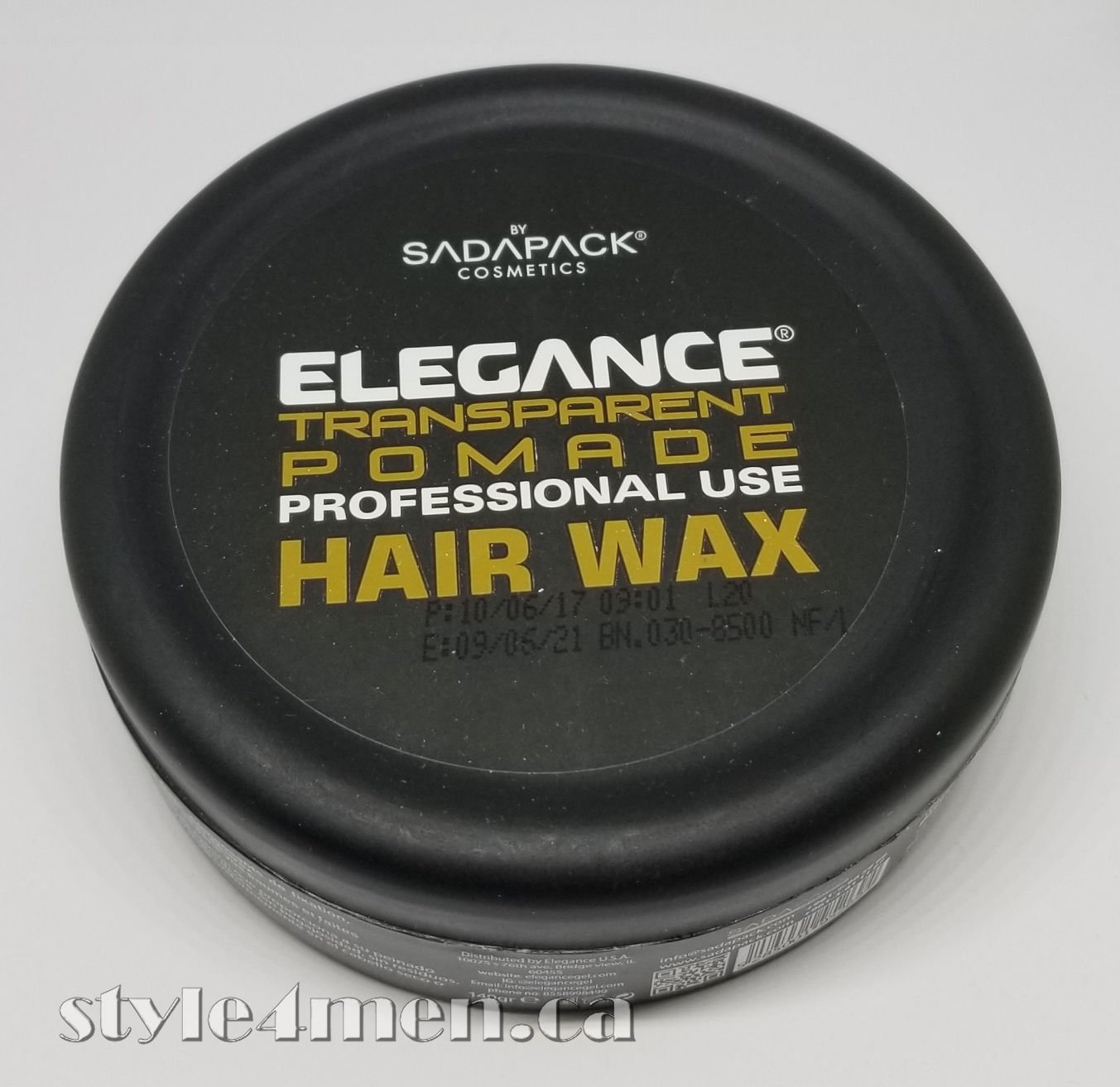 We are back with another ELEGANCE product I picked up during my last visit at OBSCO.  Having been impressed by the ELEGANCE Gel Wax pomade, I was hoping to relive that positive experience.  If you are only interested in the short version: Fabulous hold.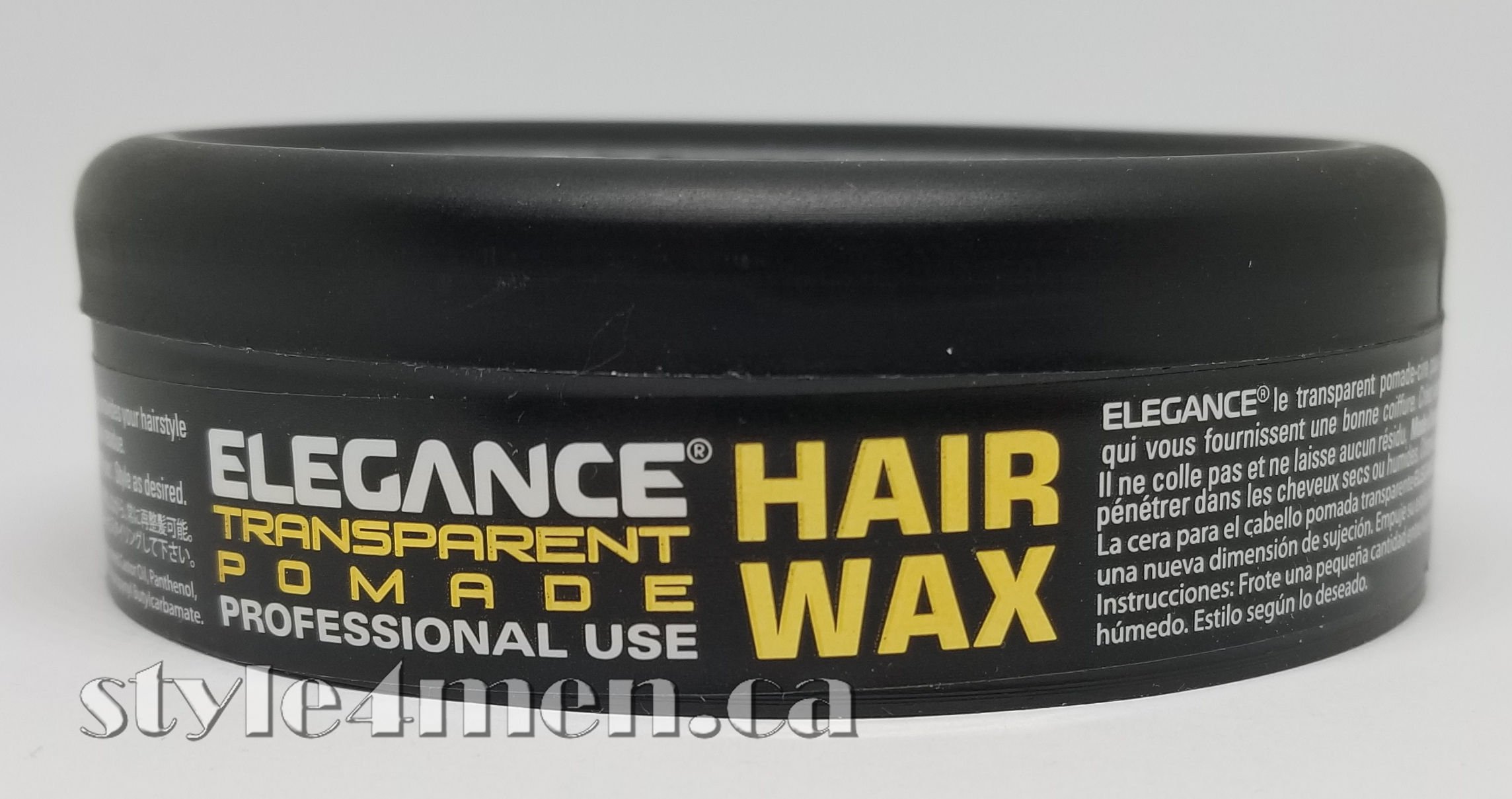 This pomade jar is rather large at 140 g when compared to the standard 100 g.  Considering the fairly inexpensive price tag ($11 for Stylist and Barbers) this is a rather good bargain.  In case you are new to our pages, OBSCO where I purchased my jar, is a Hair Stylist and Barber supply store that is opened to the public.  The catch is as follow; each item in the store will have 2 prices.  One for Stylists and Barbers and the second price for consumers.  The delta is about 30% – 40%.  So this pomade would be going for some $15.  Even at that price it is still a bargain in my opinion as we are often having to fork out more for lesser products.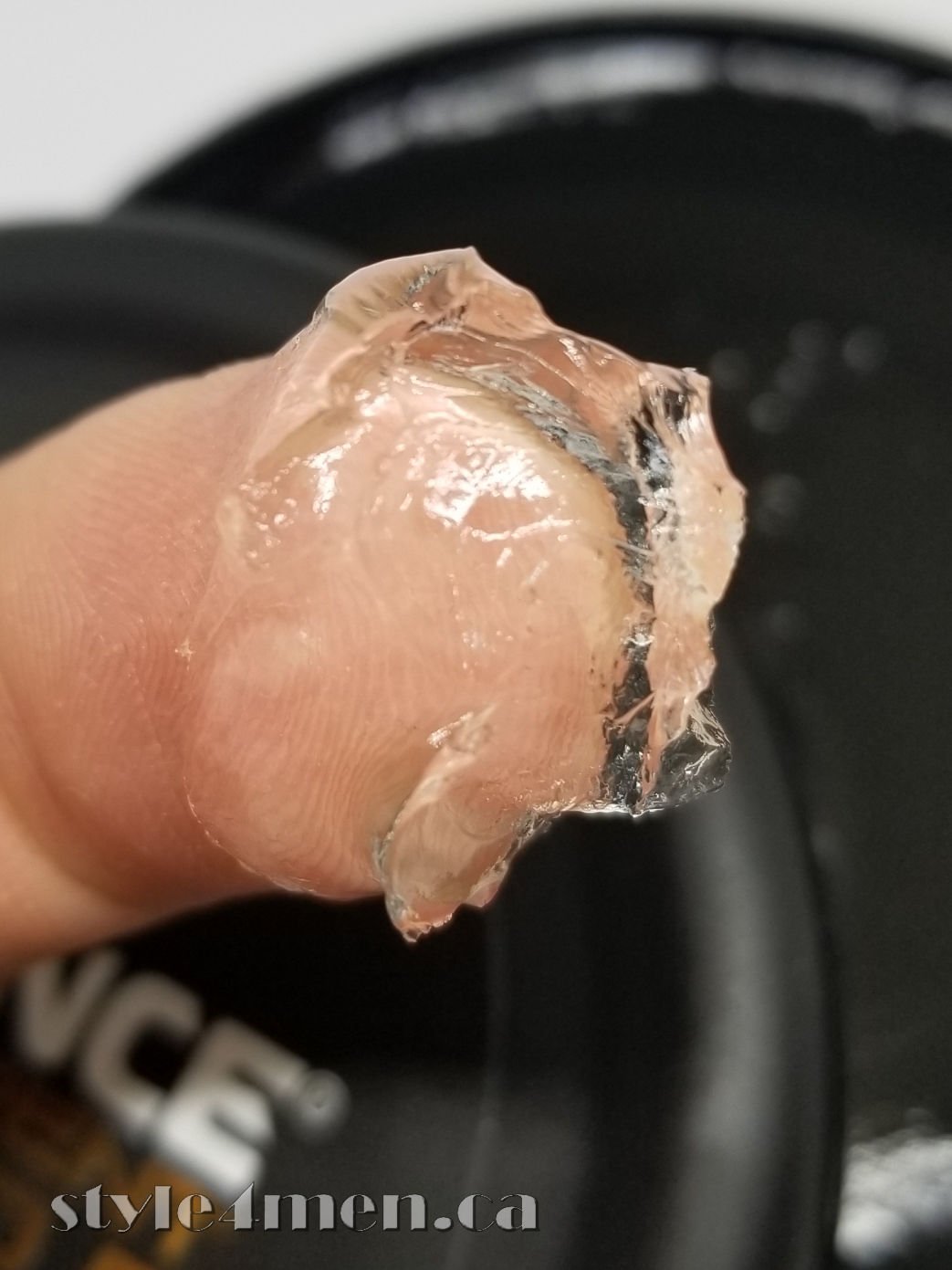 Presentation wise, this is very straight forward.  No rocking skulls or aluminum can here. As indicated on the jar, this is for "Professional Use".  In other words, for Barbers and Stylist to use on their clients. So you would be essentially getting the "special" goo from behind the counter that is only meant for the initiated.
What did I like about this pomade?  It's simple and straight forward.  There is nothing pretentious about it.  Just good pomade that will keep your style going all day long.
The texture of this product is very thick and you will appreciate right away that you are working with something that will hold.  It's a water based pomade so when the time comes, you won't have to be invoking all of the hair spirits with nasty voodoo brew and incantations to clean it out!  As you can see in the picture, the Hair Wax is a clear gel like pomade.  With a nice firm consistency.
The scent is that of fresh and clean soap.  Manly enough that no one will think you are using your lady's stuff, but also discreet enough to not be making the dog sneeze.  To my nose it was a pleasant fragrance.
The pomade indicates "Hair Wax", but it is essentially a water based products and the only wax is carnuba wax at the end of the ingredient list.  I was a little surprised to find both paraffinum liquidum and petrolatum.  These are the base ingredients to the traditional grease based pomades.  When they are present in large quantities they are hard work to wash out.  I had no trouble what-so-ever washing it out. Important to note, there are no parabens in this pomade.

Here is the rating on a scale of 1 to 5, where 5 is a perfect score and/or the level of shine.
Hold: 5
Shine: 3
Texture: 5
Feel in hair: 5
Facility to wash out: 5
As mentioned above, the product is thick, but scooping it out is easy enough.  As with any firm holding pomade, moderation is key.  I found that for my long uppercut, a Canadian size nickel portion was sufficient.  Spread and warm up the pomade in your palm and slap it in! Distribution in the hair is perfectly smooth, but there is no doubt that things will hold.  You have plenty of time to style before it dries, but you will probably notice that you can achieve your desired styling in no time and with minimal effort.  I ended up with a rocking pomp that lasted me all day.
A small interesting detail I would like to mention is that there are production and use by dates printed on the top label.  The printing is done with black ink on a black label, so not immediately visible, but there nonetheless.   Having had the misfortune of working with old product, this extra is much appreciated.
In closing, this product is of the same caliber as most of the big names out there, but at a more palatable price for your wallet.
You can shop for this pomade directly with ELEGANCE or drop in at OBSCO:

Don't forget to mention the STYLE4MEN discount code at OBSCO!