First contact with the Jack The Lad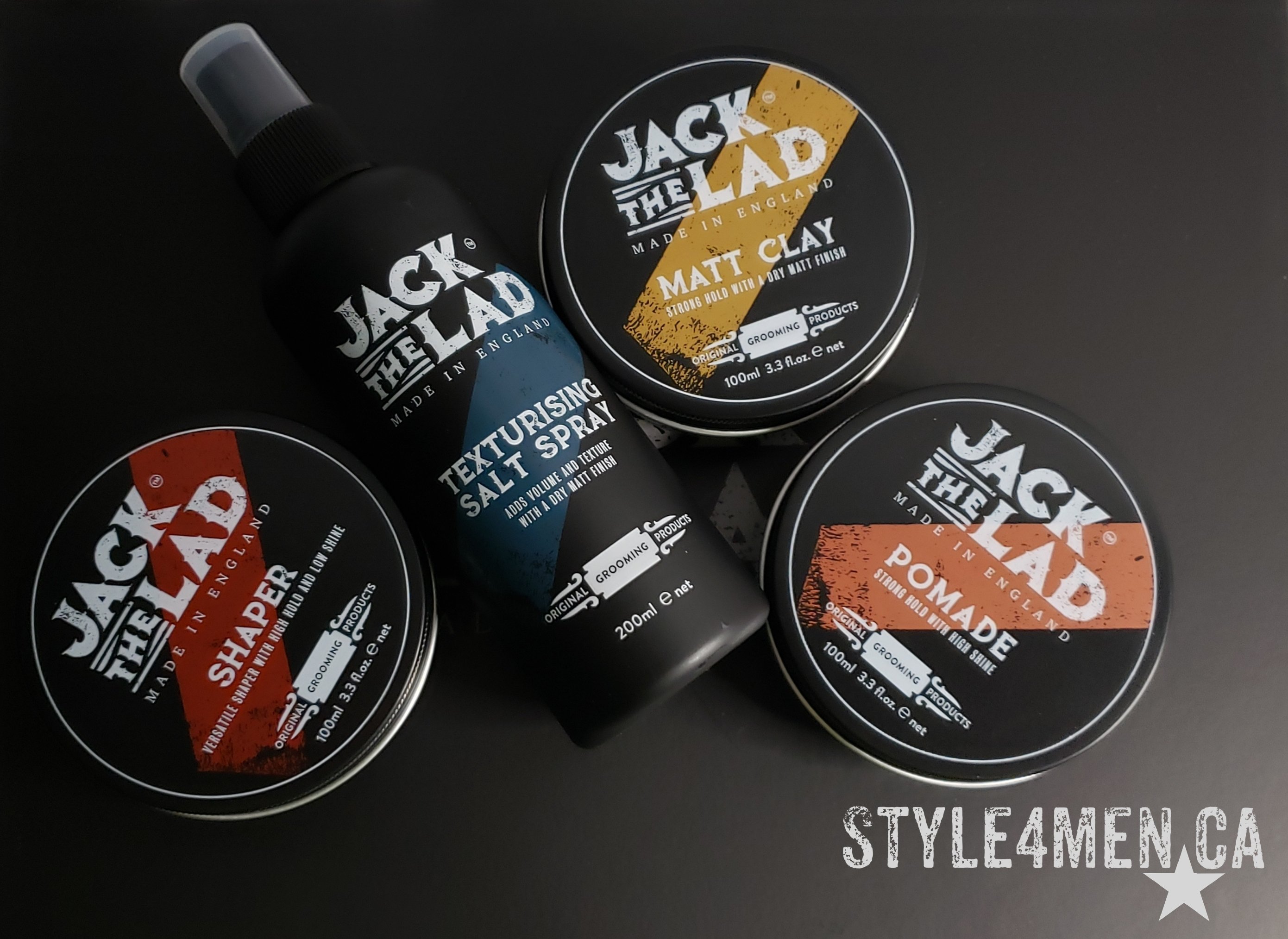 We are welcoming a new player to the game, Jack The Lad from the UK. Fantastic packaging. Full size metal jars of: cream, clay and pomade along with a very relevant salt spray.
Below is my unboxing and basedbased on we can see and smell, these products are going to be a hit! My first guess on the aroma is along the lines of: sweet coconut rum.
This past week I have been lucky enough to work with the product suite by Jack the Lad.  Jack the lad is a new comer to the arena from the UK.  To date, I have been nothing but impressed by the styling products coming out of the UK, so when I heard of Jack the Lad I was immediately interested.
As you can see the presentation and packaging is original with a touch of nostalgia. The jars are aluminum, my personal favorite. Light, durable and 100% recyclable.  The branding is standard across the range with a strip of colour differentiating the products.  From a Barbershop perspective, this range will be easy to blend with your image and will look great in your display.
If you are new to hair styling or have decided to take your "hair" game to the next level, the Gift Set Box set is the perfect thing to push your agenda forward.  The kit comes with the following 4 essentials: Clay, Cream, Pomade and Salt Spray.
Before getting into each product, here is the reason why I think these 4 products compose an essential line up:
Cream is the lithest styling solution and one of the easiest to work with. It can also be used as a pre-styler.
Clay is one of the most popular products at the moment as it produced impressive volume with a natural matte finish.
Pomade is the timeless classic offering hold and shine
Salt Spray is the un-spoken game-changer in styling.  Use as a pre-styler to create obscene
Getting these 4 products as a package is a brilliant option since these are the 4 products you will end up buying as part of your exploration anyways.
Jack the Lad products have a smidgen of fragrance – a light manly musk. Nothing that will compete with your cologne!
SALT SPRAY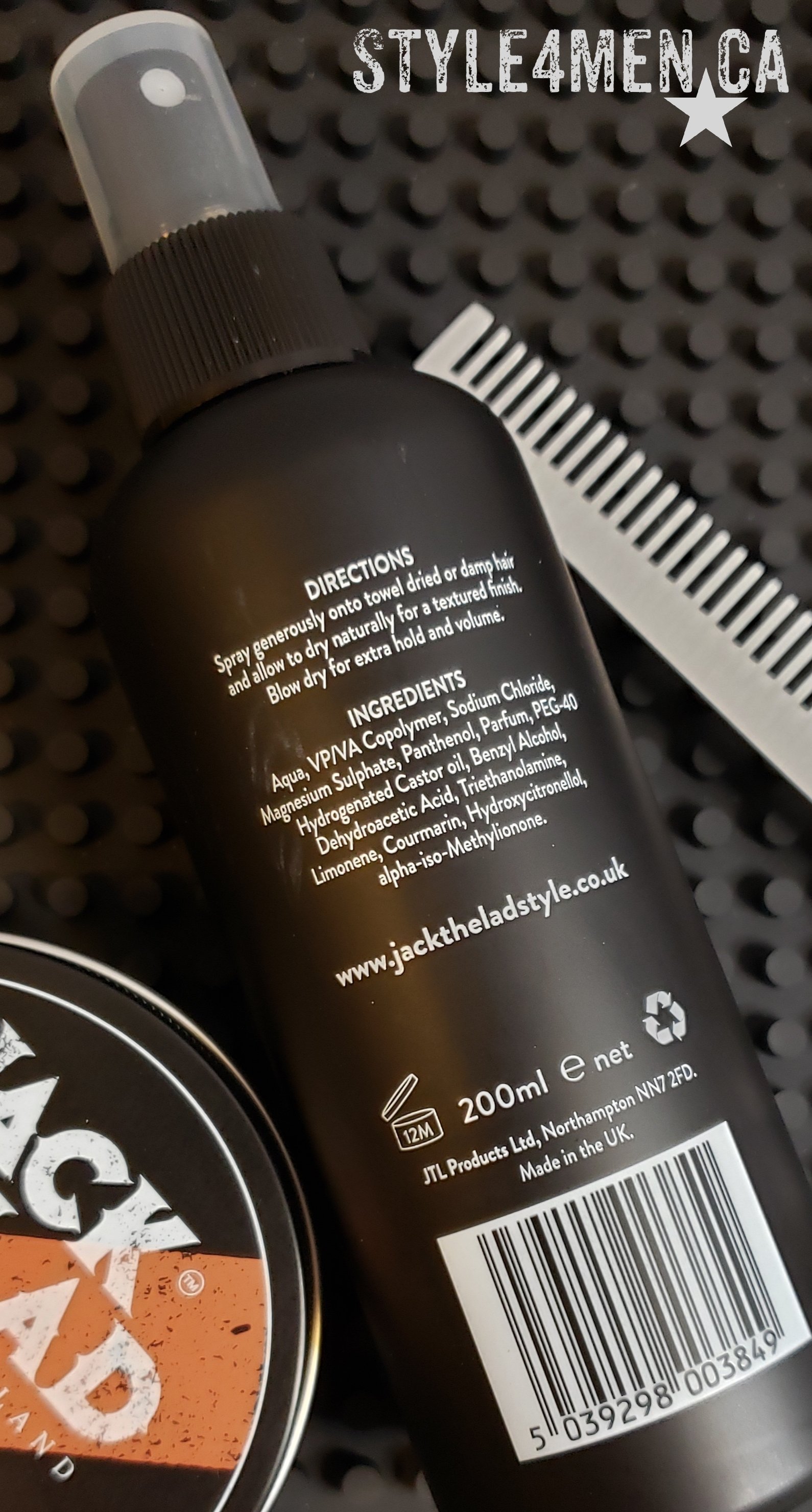 Salt Spray is a little bit of a discreet hero.  In fact most of you have probably never heard of salt spray.  I was in that boat up until about 2 years ago. Salt Spray is not like a standard hair spray, which is a finishing "lock everything in" fixative.  It is in fact more of a pre-styler.  I can hear you back there, going "oh goodie, this a** hole is going to tell us that we need to use yet another product!"  The short answer is – yes!  My counter argument goes as follow. Using salt spray requires no skill, next to no time and almost no planning.  It is also a flexible product that can be use at different points.
When to use?
Coming out of the shower with towel dried hair.  Squirt 4-5 shots in your hair before blow drying.  Be mesmerized with the new insane volume your hair now has!
How does it work?
Salt spray is essential nothing more than salted water with some stabilizers.  If you have swam in the ocean before you will have experienced your hair having a bit more volume and some element of grit.  The grit is the salt bonding the hair together.  This bonding results in some extra volume that you can then style into something.  I like a big 50's pomp so this type of product is key to creating volume before applying a pomade to hold things in place with a bit of shine.
Salt Spray is a bit of multi-role products.  I like to use it has a hair style revivier!  Eh?!  On the morning after, assuming I don't have time for a shampoo, I will simply shoot a few shots of salt spray to relax the pomade and restyle by adding a small portion of new product.  Simply amazing!
The salt spray by Jack the Lad is a well balance option where the level of grit is perfectly tamed and worked beautifully in my mope.
SHAPER
This turned out to be a very interesting option that in my opinion will be the most popular product out of the full line-up.  The Shaper is that sweet spot between pomade and clay.  The secret ingredient here is wax.  Nothing like a candle – don't worry.  When scooping it out you will feel a slight resistance, but as soon as you start relaxing it between your palms the product will become smooth and creamy in no time.  Super easy to blend in dry hair.  Now, I will say that on my first test I combine the salt spray and the Shaper and the resulting volume was insane.  I came to accept that the shaper on its own does a grand job.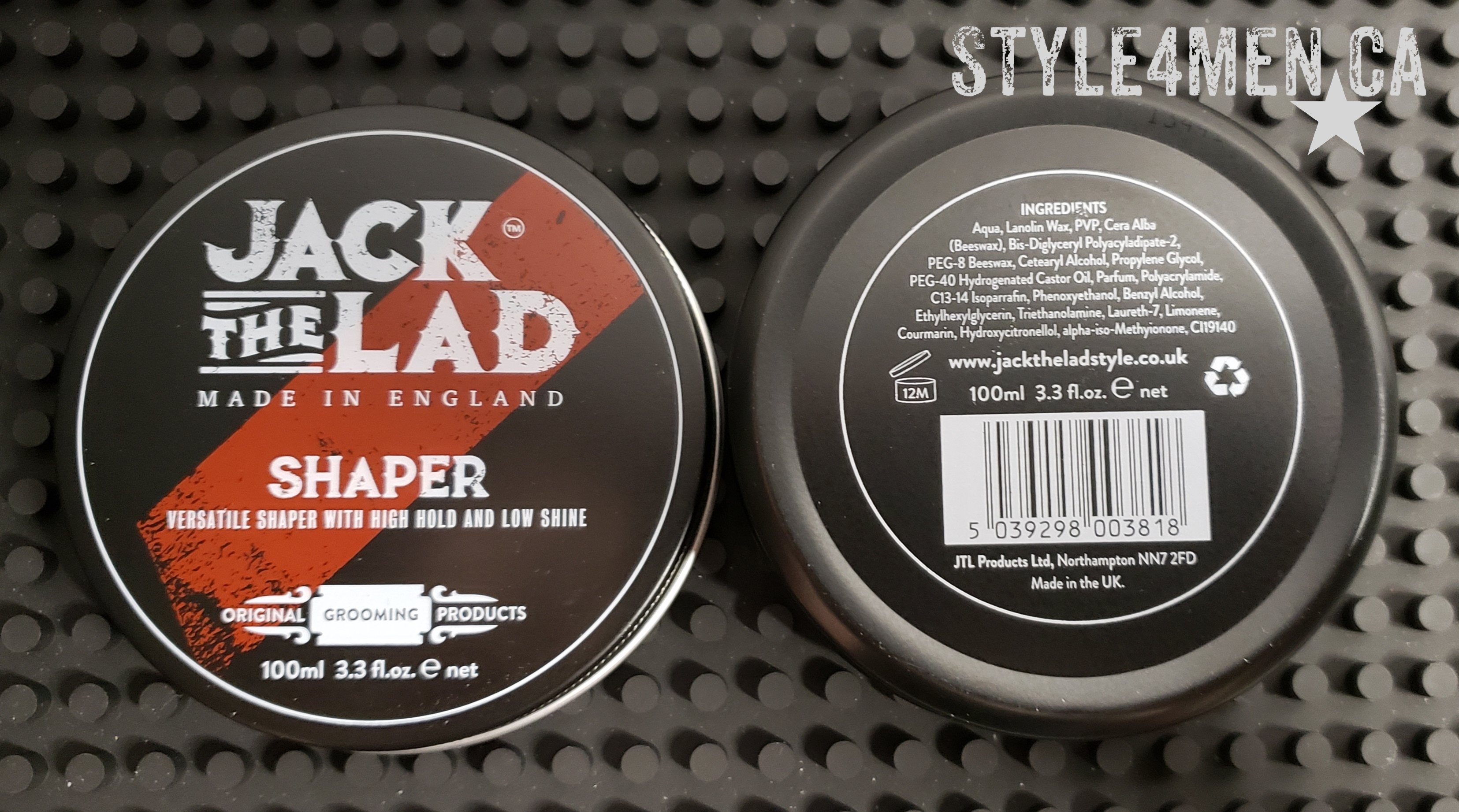 Here is the rating on a scale of 1 to 5, where 5 is a perfect score and/or the level of shine.
Hold: 4
Shine: 2
Texture: 5
Feel in hair: 4
Facility to wash out: 5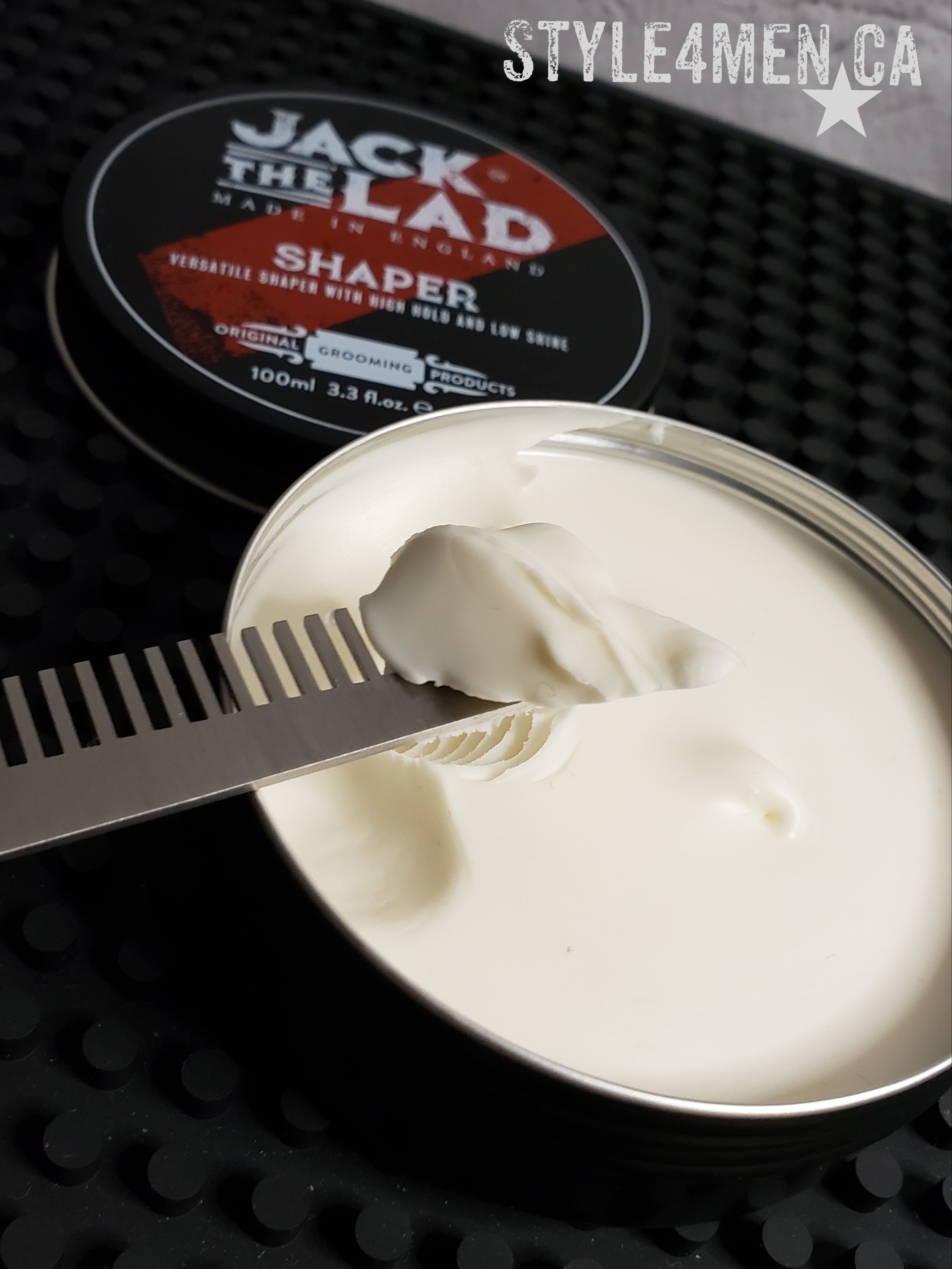 MATT CLAY
Clay is among the most popular options out there as it produces good volume with healthy looking matte results.  Basically, amazing style that doesn't look like product was used to create it.  Clay is a fairly complex solution requiring a number of ingredients.  This complexity also results in many products being duds.  Overly pasty.  Too thick.  Drying to fast. Difficult to work with. Jack the Lad has managed to not fall in the trap and produced an option that is light and creamy making it nice to blend in the hair.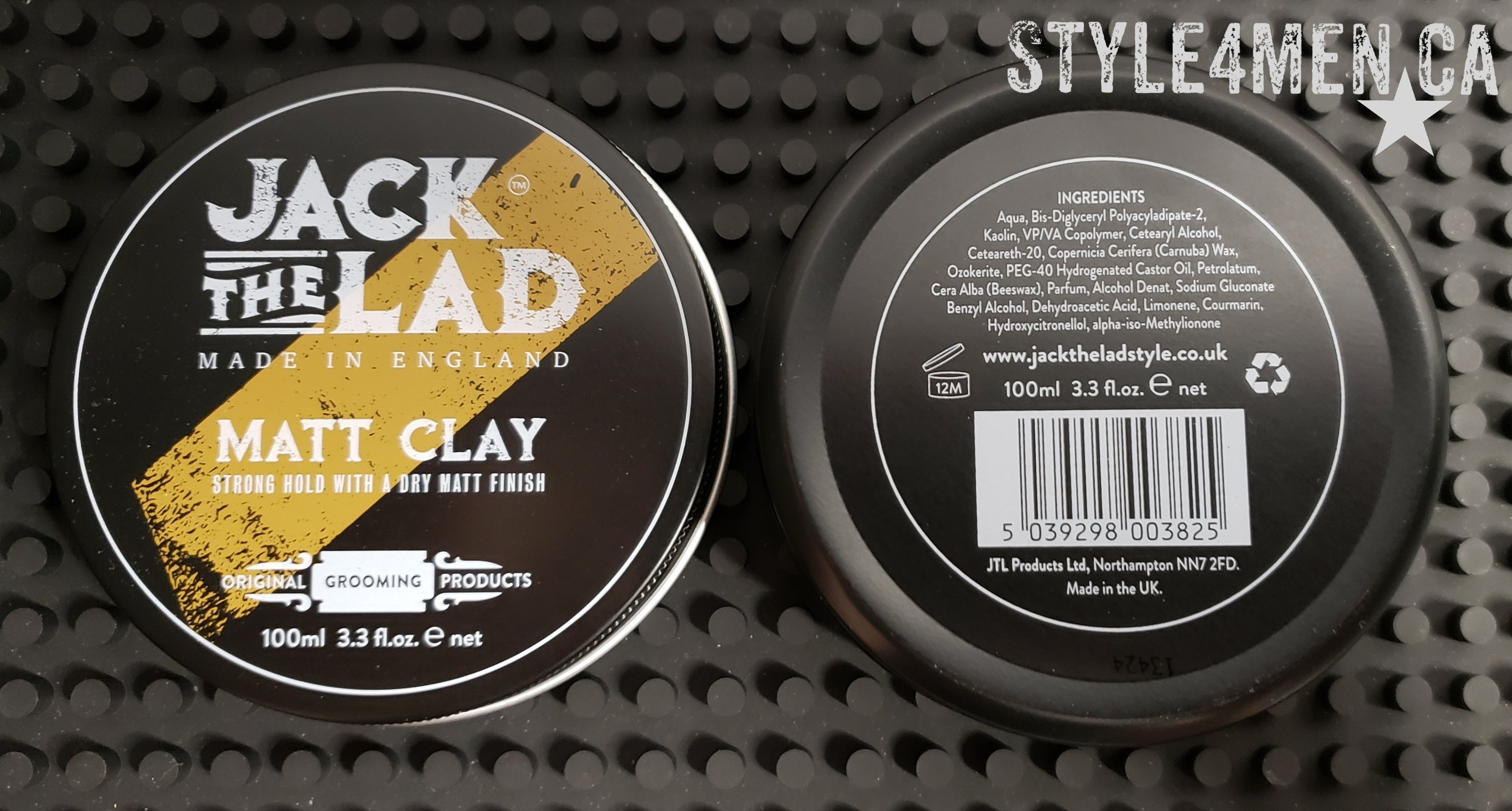 How do you work with clay?  The simple answer is, in damp hair.  Clean, towel dried hair.  Has the hair is damp it will moisten the clay and allow it to be blended easily in the hair.  You then blow dry things in place.
If you want to apply clay in dry hair, I would suggest that you do so on day 2.  Over the course of the day you scalp and hair will have produced a bit of oils which will ease with the application of a new coat of clay.
Here is the rating on a scale of 1 to 5, where 5 is a perfect score and/or the level of shine.
Hold: 4
Shine: 1
Texture: 5
Feel in hair: 4
Facility to wash out: 5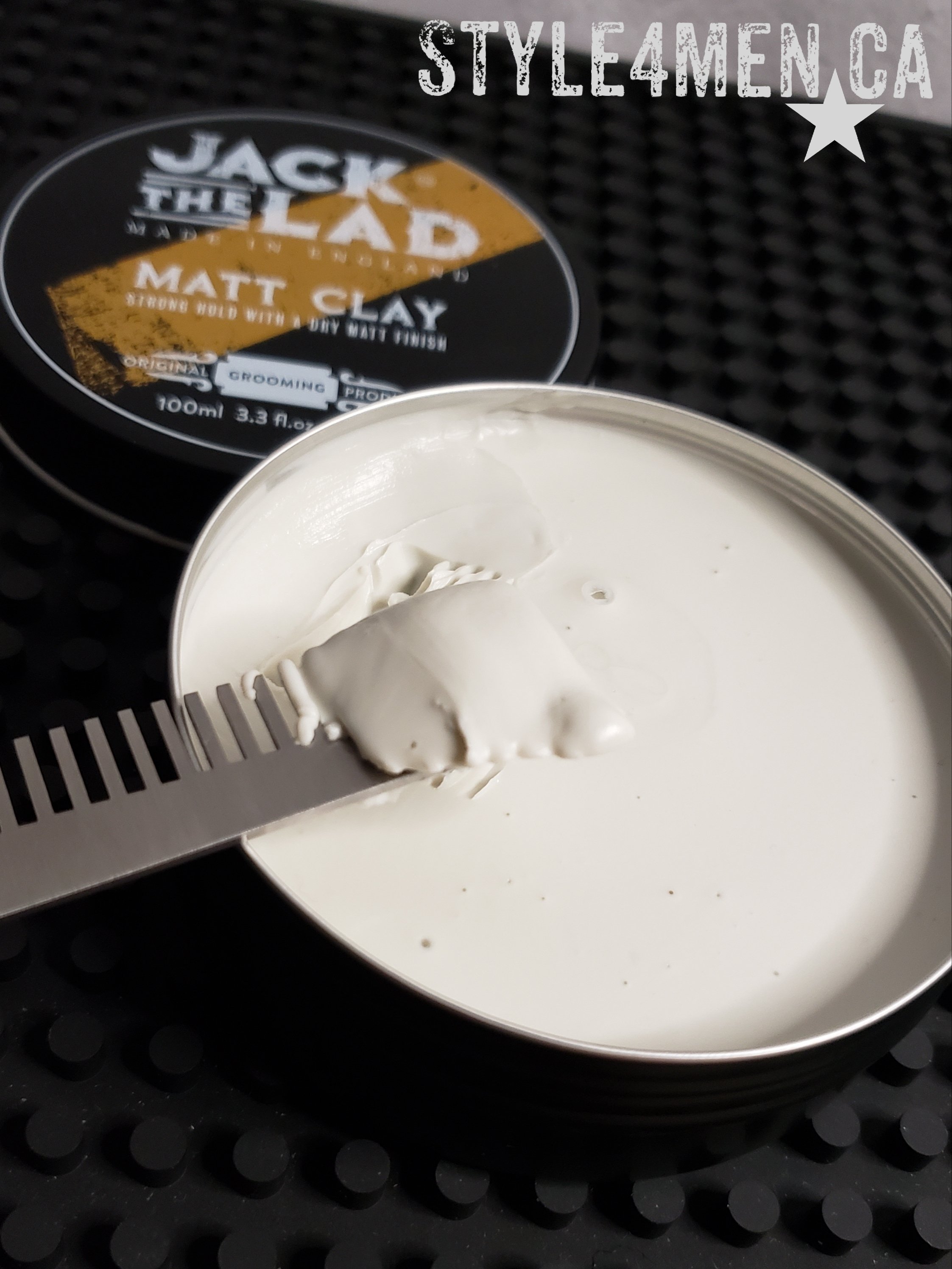 POMADE
The pomade was perhaps my favorite of the product set.  Yes, I am all about pomade, but it is a well-crafted product.  Beautiful colour, aroma, texture and workability.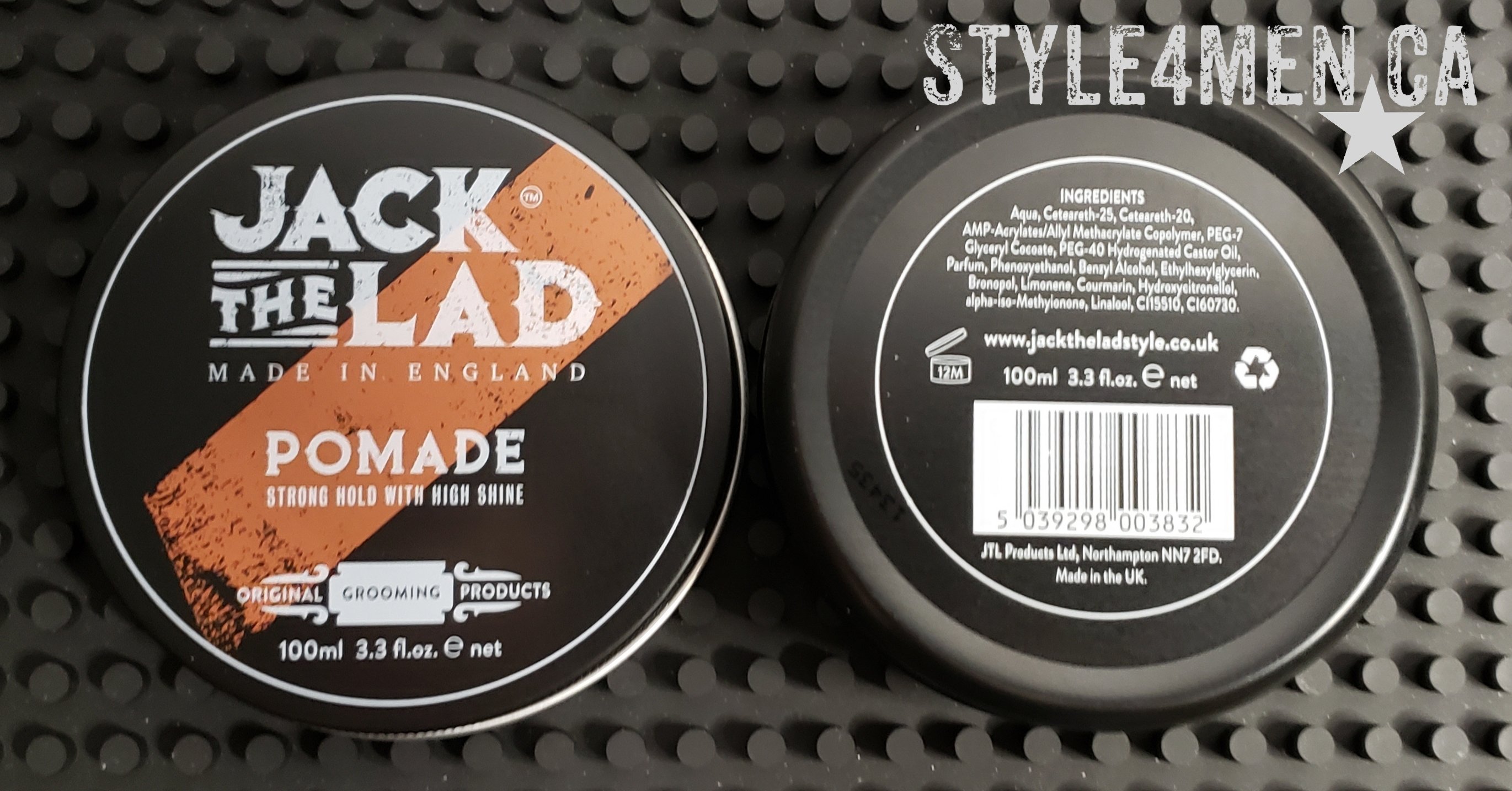 The hold was in the space between medium and strong. I have rebellious hair and this pomade was able to hold the style in place for the bulk of the day with minimal replacement.
Since this is a water based product, it washed out without effort under the shower and was easily revived with the salt spray.
Here is the rating on a scale of 1 to 5, where 5 is a perfect score and/or the level of shine.
Hold: 5
Shine: 4
Texture: 5
Feel in hair: 5
Facility to wash out: 5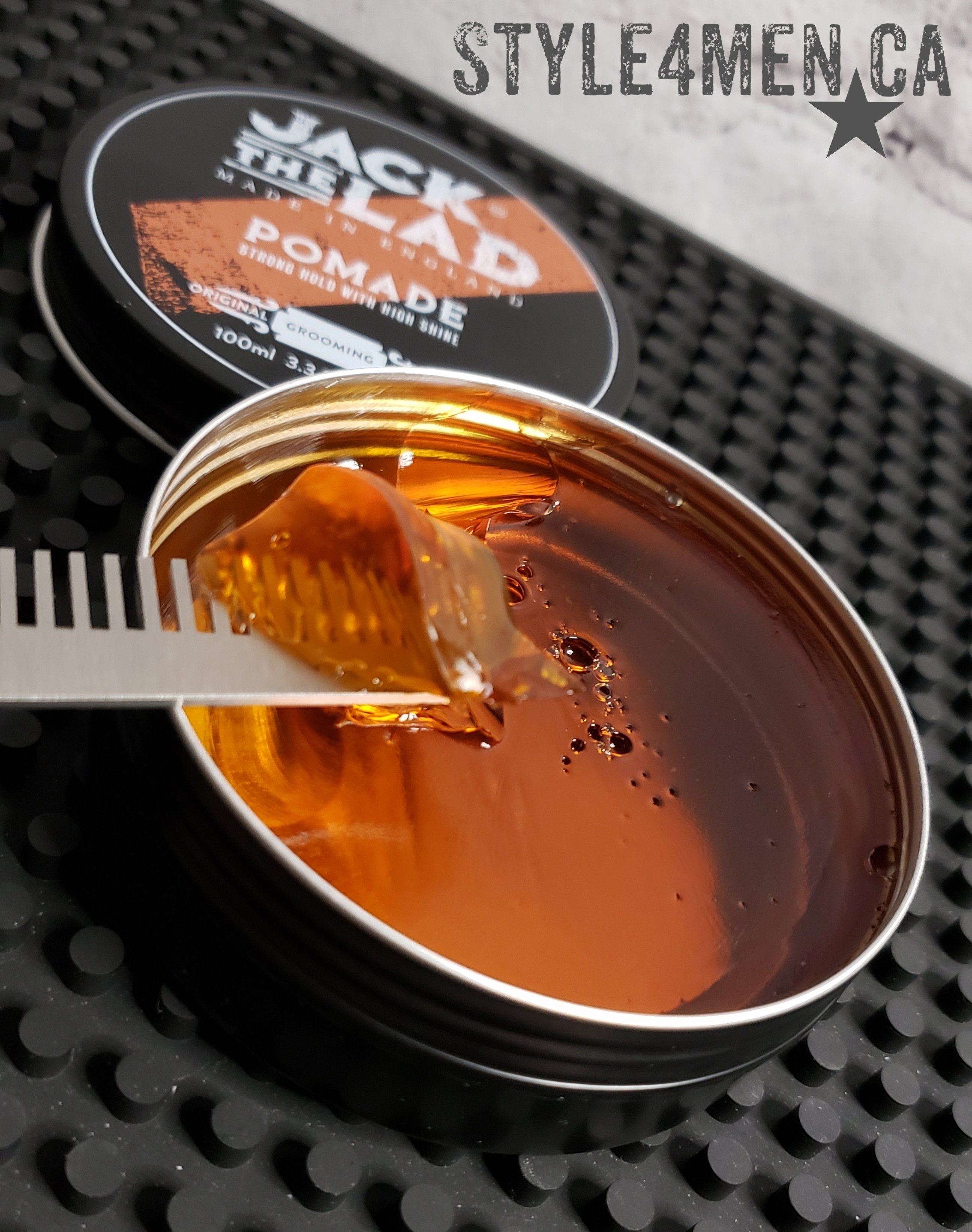 TO SUM THINGS UP
Jack the Lad enters the game with a full product range composed hair styling essentials; cream, clay, pomade and salt spray. These are the key 4 products that any man interested in styling his hair will need.  The same is true for any Barbershop or salon wanting to carry a slick brand. I was impressed and obtained exellent results using these products. If I had to chose 1, it would be the pomade and no matter what I would want a bottle of Salt Spray.
Shout out and thank you to the guys at Jack The Lad.