Hair Pomade by the Holy Barber
As you know, we review a wide range of men's grooming essentials, but hair pomade is what started it all.  Without a doubt, pomade still holds a privileged spot on our podium.  When I started following the Barbers at The Holy Barber on Instagram I was initially interested in their shop and cuts.  Then we started talking about their pomade …and here we are with a jar of their product.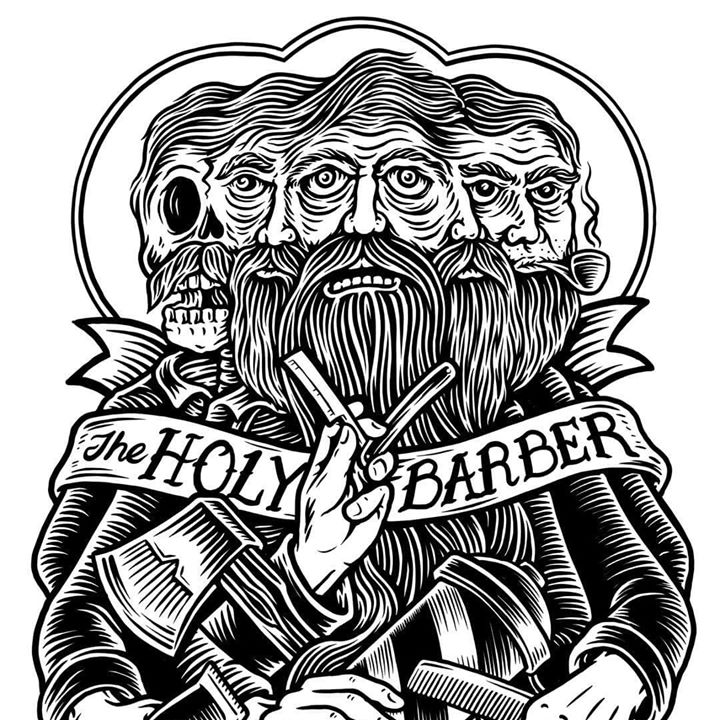 I realized that these guys spoke French, but I wasn't sure if they were here in Quebec or in Europe.  They are continued the proud Barber tradition in France!
Shout out and thank you to Jabrane at the Holy Barber for working with me on this one!
Obviously, there are many people and companies out there who can make hair pomade.  But when a Barber decides to develop a product and put their name on it, I am doubly interested.  Barbers and Stylists are cutting and styling hair day in and day out.  These folks are also very often inhabited with unique creativity and pride. Why else would you open up a Barbershop, right?!   This same creativity and pride is what appeals to me when trying out a Barber's pomade.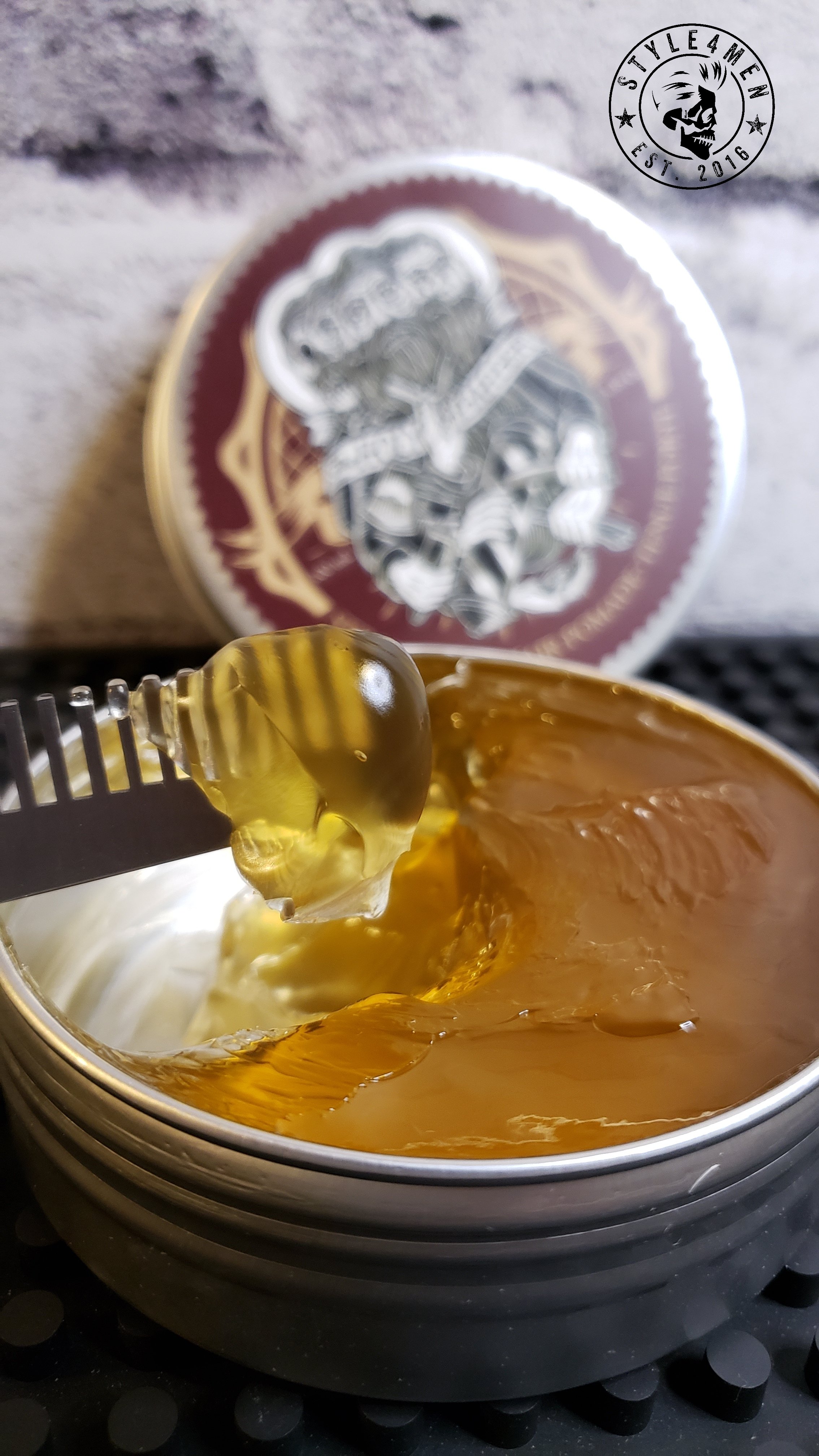 Let's jump into it! The pomade is housed in a classic aluminum thin can with a unique label depicting what I assume are Barber Monks.  The label indicates that it is a strong hold.  This is something I always take with a grain of salt since the reference point is unknown.  That said the usage demonstrated without the shadow of a doubt that this is a STRONG HOLD POMADE!
Upon opening the jar, you will first be welcomed with a clear earthy fragrance.  There is nothing shy about it.  But it is also not overbearing.  I want to say, cedarwood, musk, perhaps vetiver or fougere and a trailing element of sweetness.  A classic men's fragrance tailored for this product.  In some way, it reminded me a bit of the Suavecito signature scent.  Roughly in the same space!
The pomade itself is a nice clear bronze.  Quite thick and sticky.  It feels like a firm gel-pomade.  Easy to scoop out and equally easy to relax in the hands.
I like to blend my pomade in clean hair that has been blow dried and then slightly humidified again with a Barber spray bottle.  Not to make things wet, but more to add some moisture and lubrication for the pomade.  I scooped out about the size of a Canadian dime which was sufficient to cover and style my uppercut.
The Holy Barber pomade dries quickly but remains workable.  As mentioned above – this is a real strong hold.  Consider your hair locked in for the next 4 hours or more.  Your hair will be a little firm but most certainly not crunchy.  In other words, your date won't mind touching it.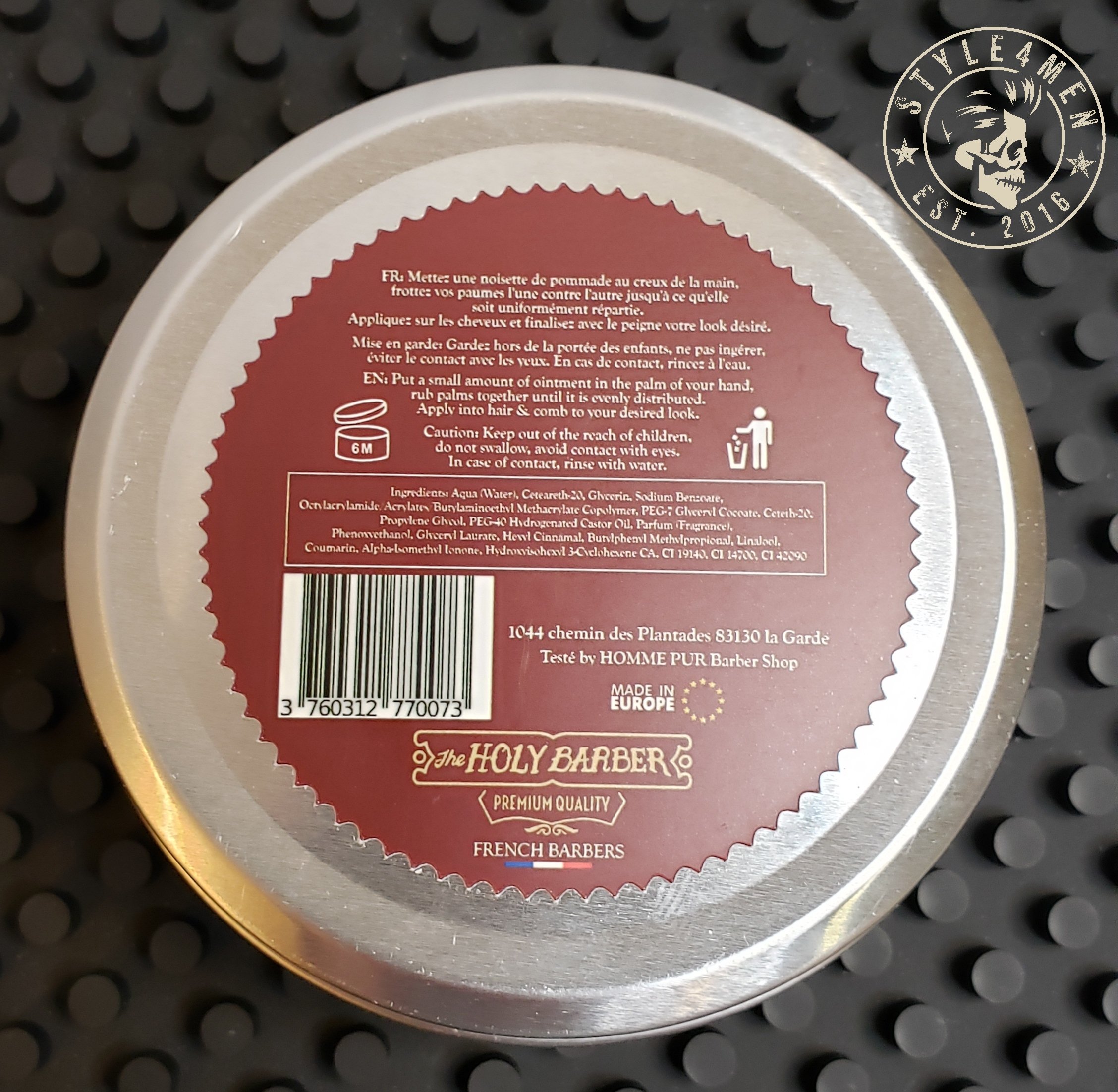 It is a water based product, so there won't be any commitment issues when the time comes to part ways.
Here is the rating on a scale of 1 to 5, where 5 is a perfect score.
Hold: 5
Scent: 5
Shine: 2.5
Texture: 5
Feel in hair: 5
Facility to wash out: 5
As you can see in the pictures, I enjoyed this product allot and have already used a fair bit of it.
I want to add a mention about shipping.  For most Canadian shoppers, any out of country shopping is usually done with the US. As you know, the shipping delays can be minimal if you are willing to re-mortgage your home.  Otherwise, your parcel can take anywhere between 5 to 25 days to show up.  From my experience, items coming from France or Great-Britain are on a totally different scale.  My jar of the Holy Barber was delivered in 3 days!  The longest I have waited for an item coming from France was 10 days and that was more or less an anomaly.  Another crucial piece of information, duty or customs is not a given for items coming from France and the UK.  I think that our great nations have worked out some sort of deal.  I am not saying that you will not be paying customs, but I am saying that it would appear to be rather rare.
In closing, this is a solid pomade that does not disappoint and honors its Barbershop heritage.  It holds your style in place gracefully while giving you a little something extra in the scent department. When you are done with it, a simple regular hair wash will take care of business.  In simple terms; I loved it!