Hairgum FIBER+ a beautifully scented light pomade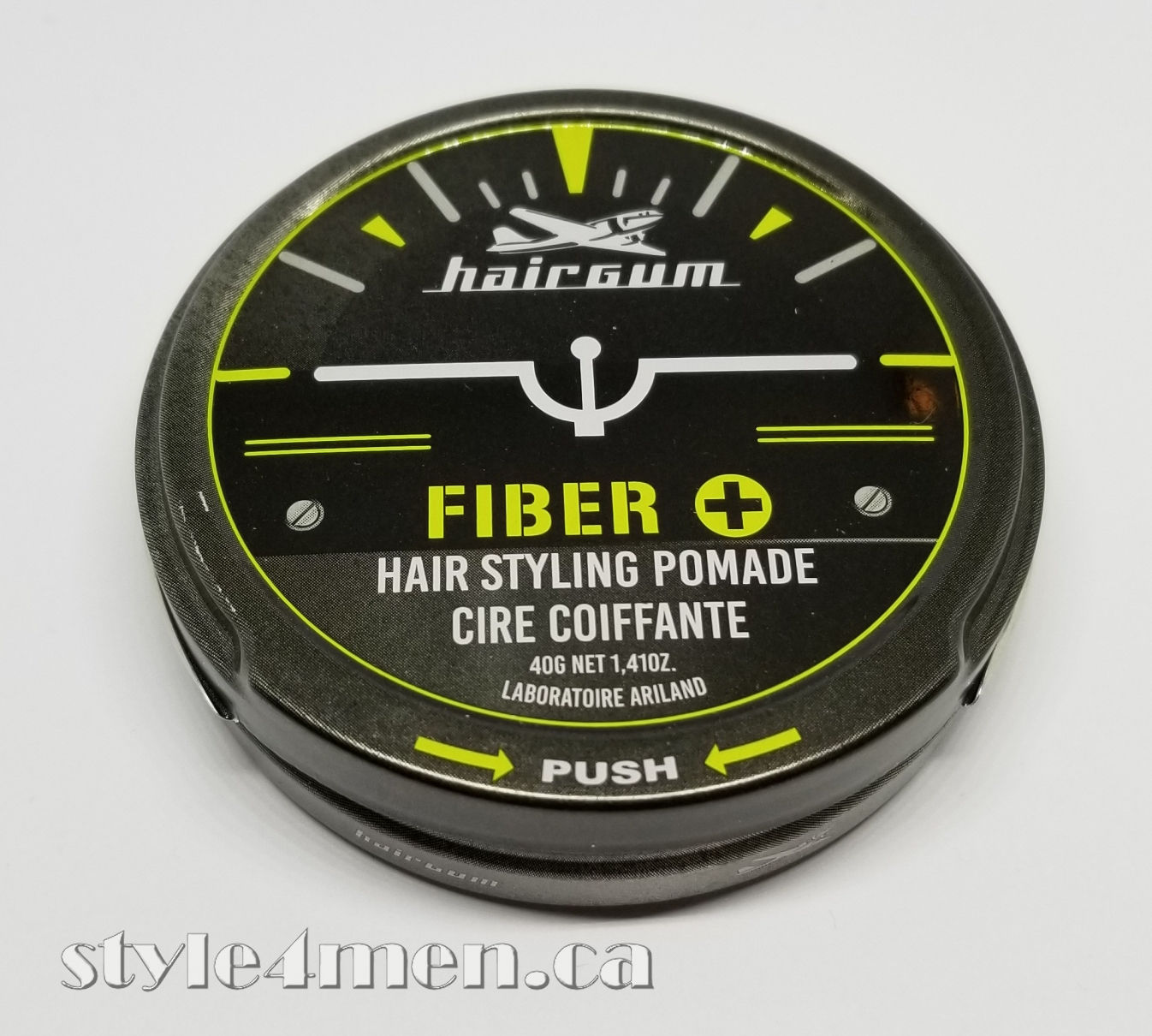 Hairgum is one of these companies that pulled me in with their attractive and original packaging.  Their WATER+ pomade which I tried out some months ago was so impressive that I set out to try more products from Hairgum.  I recently took advantage of their shaving supply sale.  Since there was a bit of back and forth with the folks at Hairgum, I had the opportunity to mention Style4men and my previous positive experience with their pomade.  To thank me for the review they also included a sample/travel size of their latest iteration, the FIBER+ pomade.  Merci Floriane!  Your support of Style4Men is most appreciated!

This morning was test time for the FIBER+.  As with many other hair product maker, Hairgum is expanding their offering in men's hair fixatives.  Hairgum already had  a number of successful "grease" based pomades as well as the fantastic WATER+ solution.  BTW – Laboratoire Ariland which makes the Hairgum series, also makes Mr. Ducktail's pomade range.  BTW2 – As part of my recent purchases, I have a jar of Hairgum's STRONG grease based pomade to try.  Stay tuned for that review in the coming weeks.
The FIBER+ is most likely a direct result of the awesome performance of the WATER+ pomade. The Hairgum WATER+ is one of my favorite pomades, both for the hold as well as for it's scent of pure summer happiness.  Up front, the FIBER+ jar speaks to me!  Green and black (or dark grey) is my favorite colour combination.  I also love the retro-vintage flight dial presentation.  It suggest the gentleman-pilot persona.
Upon opening the jar you are presented with a nice semi-opaque pomade.  Very neutral and a good choice if you don't want your hair product to have any impacts on your hair colour.  As with most pomades, it might make your hair a shade darker while giving it a healthy shine.
To date I have been impressed with the fragrance selection of Hairgum products and it is no different with the FIBER+.  Your nose will be greeted by a discreet sweet lemon-lime aroma.  This is one of these forgotten scents that I am very glad to have reappear in products lately.  Back in the early 90's Gillette's made a lime shave cream that was equally awesome.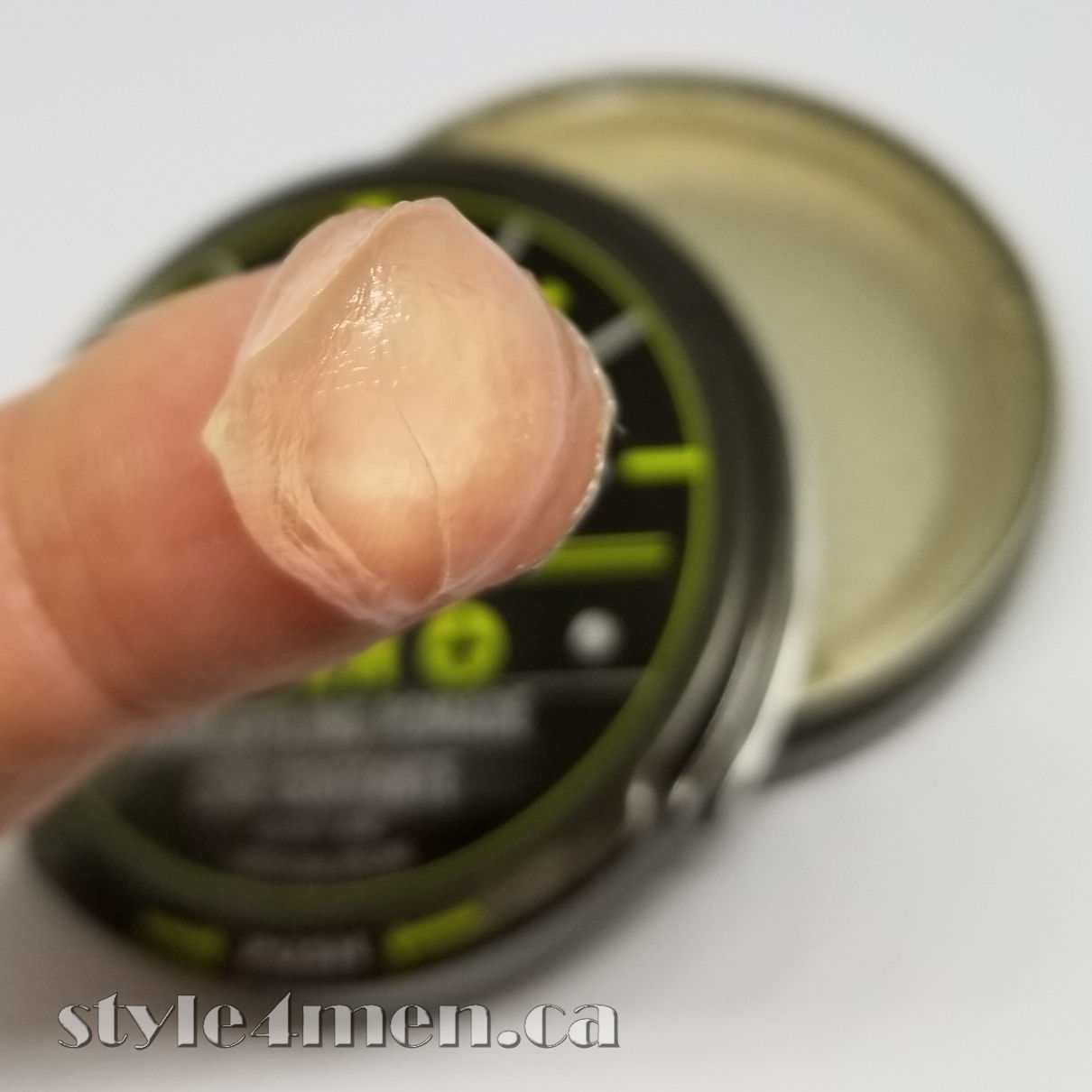 Getting out of the shower with clean and towel dried hair.  I sprayed 4 to 5 shots of my favorite salt spray (John Frieda) to give my hair as much volume as possible.  These days I am enjoying a big and high pomp.  Salt spray gives volume to the hair by bonding it and not weighting it down.  In my opinion salt sprays are one of the better kept secret.  It is a super easy step to add to your hair routine and it will give your hair some surprising volume.  Not all salt sprays are created equal, but considering the simplicity of this product (water, salt, stabilizer, preservative) you will not have to spend much to find a suitable bottle.  See my other posts on salt spray.
Without deviating too much from the subject at hand, here are the salt sprays I have tried so far in order of preference:
Johnny's Chop Shop – Trigger Happy Spray

, $10, London Drugs

John Frieda Beach Blonde – Sea Waves

, $8, Shopper's Drug Mart

Not your Mother's Beach Babe Salt Spray

, $12, Amazon
Trésemé, $5, Walmart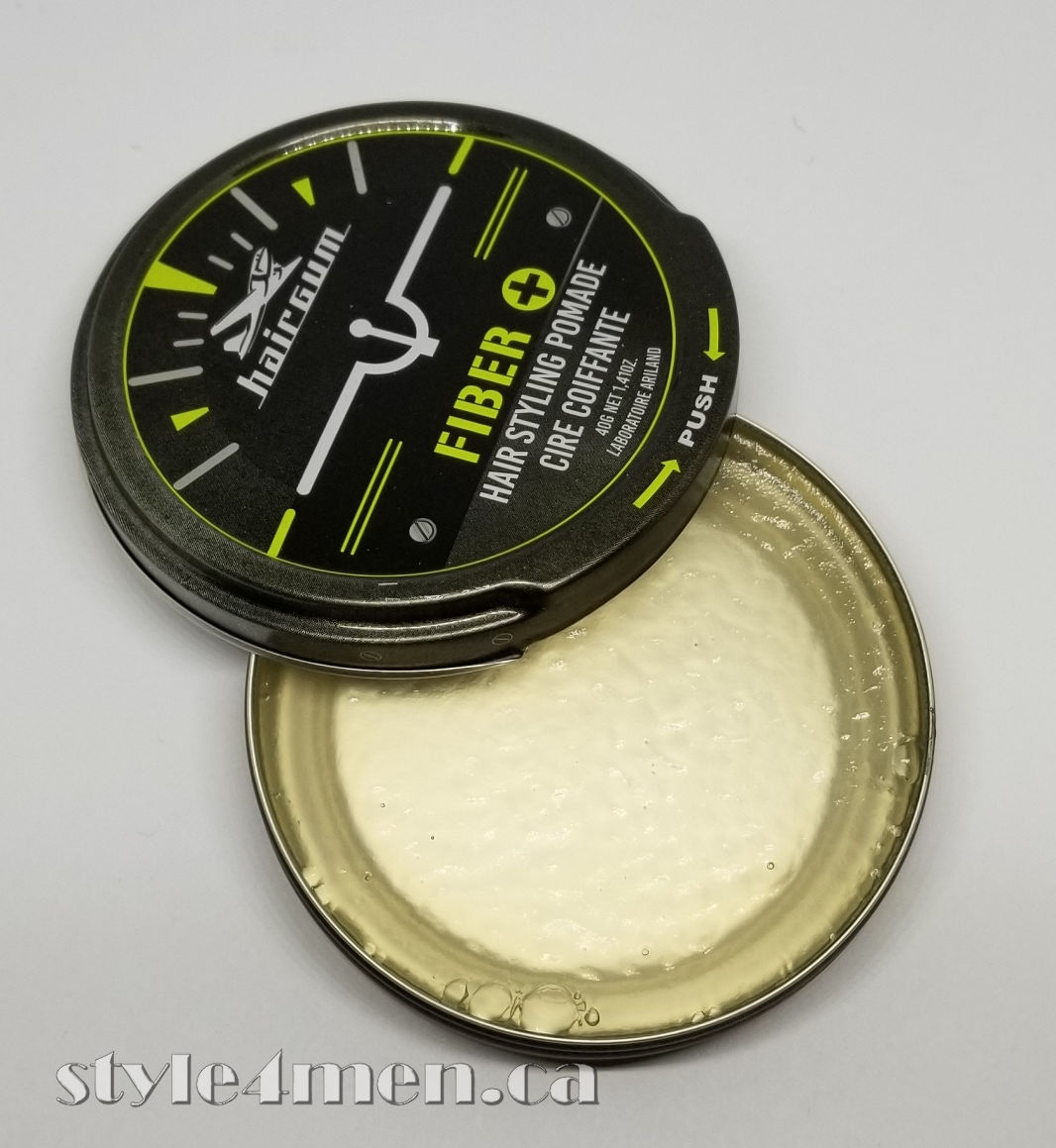 Having applied a bit of salt spray, we move onto the hair dryer.  Since heat is damaging for the hair, I use the cold setting on my dryer.  The hair is dry in no time and ready to style.  Note that by then the effects of the salt spray are quite visible and as per my wife, I look like a mad scientist. In so many words, I apply pomade in dry hair in order to get the firmest hold the pomade can offer me.
TEST STAGE:
State: Out of the shower with towel dried hair
Pre-Styling:

John Frieda Salt Spray

and cold hair dryer
Pomade: Hairgum FIBER+
Hairspray: None
Scooping out a finger's worth of FIBER+ I start relaxing it and spreading it in my palms.  This is a very nice and smooth product requiring mostly just to be spread.  Application is comfortable and easy.  It goes in the hair well and is no trouble to distribute evenly.  Since the FIBER+ is rather light, I was able to style my hair in a decent quiff (high pomp).  The product took very little time to dry.  The pomade is also fairly light and won't weight down your hair.   At this point I was very pleased with the results.  As always, I take the pomade jar with me to work in case a re-application is needed.
Sporting a fairly long uppercut pomp (7″ – 8″), I generally need a strong hold pomade to get things going for a full day.  For my hair thickness, waves and length, the FIBER+ turned out to not be strong enough to keep the party going for more than about 2 hours at a time.  My first application was at 7 AM, then at 9:30 AM and my hair was coming undone by about noon.  Take that as the FIBER+ is a light to medium hold solution.
At 23 ingredients it might not be the shortest list on the market, but there are no parabens here.  Being a water based product, washing it out is no more complicated than rinsing your hair under the shower head.

Here is the rating on a scale of 1 to 5, where 5 is a perfect score and/or the level of shine.
Hold: 3
Shine: 3
Texture: 5
Feel in hair: 3
Facility to wash out: 5
Because of the softer hold, I ended up applying a bit more FIBER+ throughout the day.  This led to my hair being weight down and feeling a bit waxy and sticky, thus my rating it at 3 for the "Feel in hair".
In closing, the FIBER+ pomade is a light to medium hold pomade that is pleasant to work with while offering a discreet and fresh lemon-lime fragrance.  What's not to like?
Use these links to shop for Hairgum products: