HairGum Water – High Shine, Medium Hold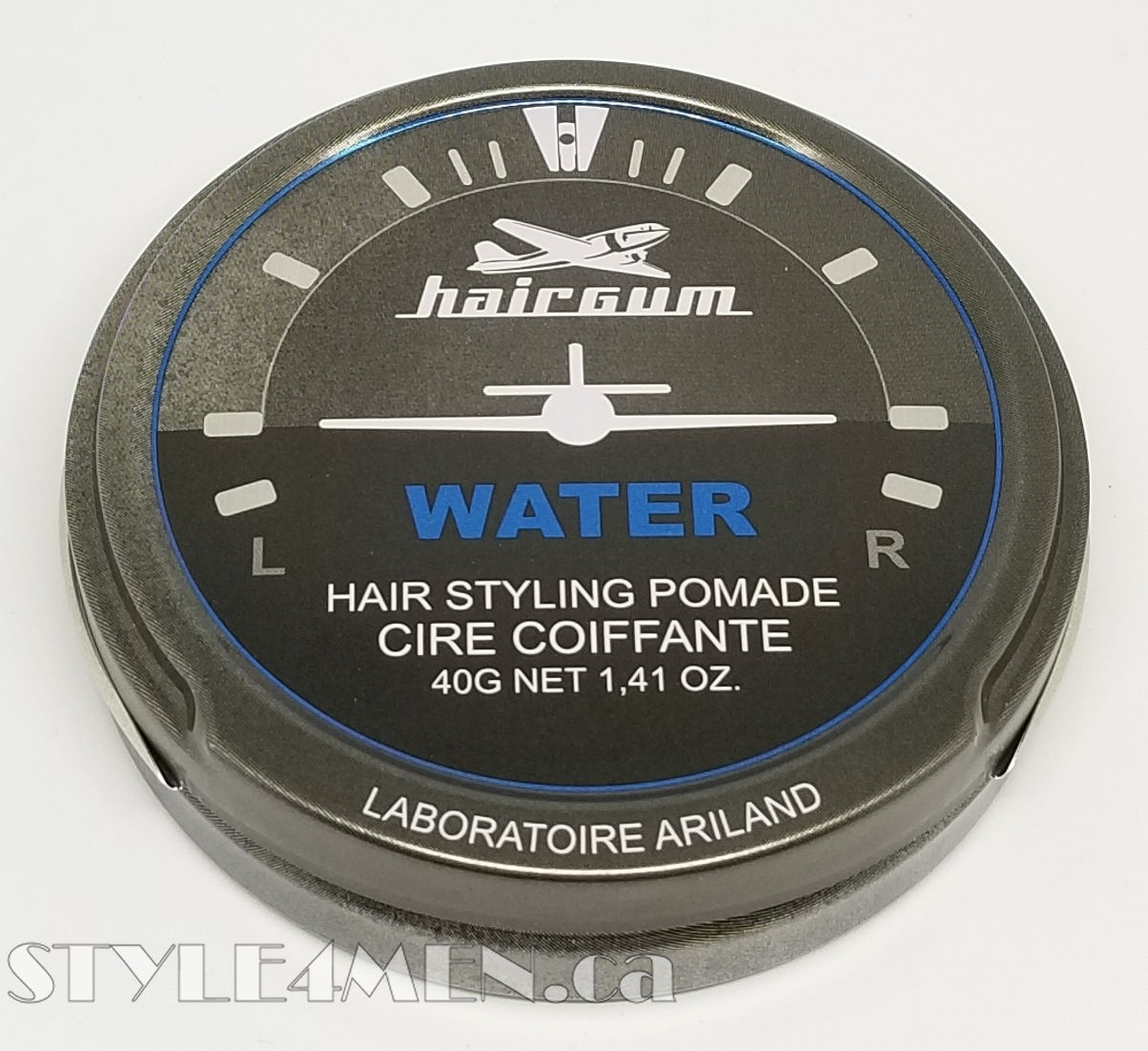 I am fairly excited about this post since this HairGum will be the first pomade from France to go under test in our labs.  I have had the luxury of trying some fabulous products from, Great-Britain (Dapper Dan) and Germany (Rumble 59 Schmiere), but nothing from France yet.
There are a number of small elements in the packaging alone that are worth mentioning before getting into the pomade itself:
It is a proper aluminum can
The printing and colouring is impeccable and done directly on the can, no stickers!
As you can see, the imagery is taken from an airplane dashboard and is a turn indicator
You will also notice that the lip on the lid doesn't go full circle.  It is partly cut out on about 1/3 so to serve as the push point to open the lid.  A slick touch.
The only thing I am not thrilled about is the actual size of the jar.  It is rather small at 40 g.  The standard pomade jar size being 100 g, this more like a big sample portion.  To my surprise, this would appear to be the only size available.
I came across the HairGum brand while researching European pomades and was impressed with the marketing and reviews.  It was just a question of find a jar at the right price to bring it in for testing.
I bought my jar from an on-line seller off of eBay for 6 euro and another 6 euro for shipping to Canada. That works out to be $9 + $9 CND.  This pomade looked very promising and because of that I was willing to pay the shipping.  The delivery took one week.  I have gone on at length to praise the Royal Mail service from the UK, but aside from our own Canadian Postal service which impresses me on a regular basis, the French postal service is right up there.  Every time I order something from France, it shows up in under two weeks!  I think their working number is 7 business days.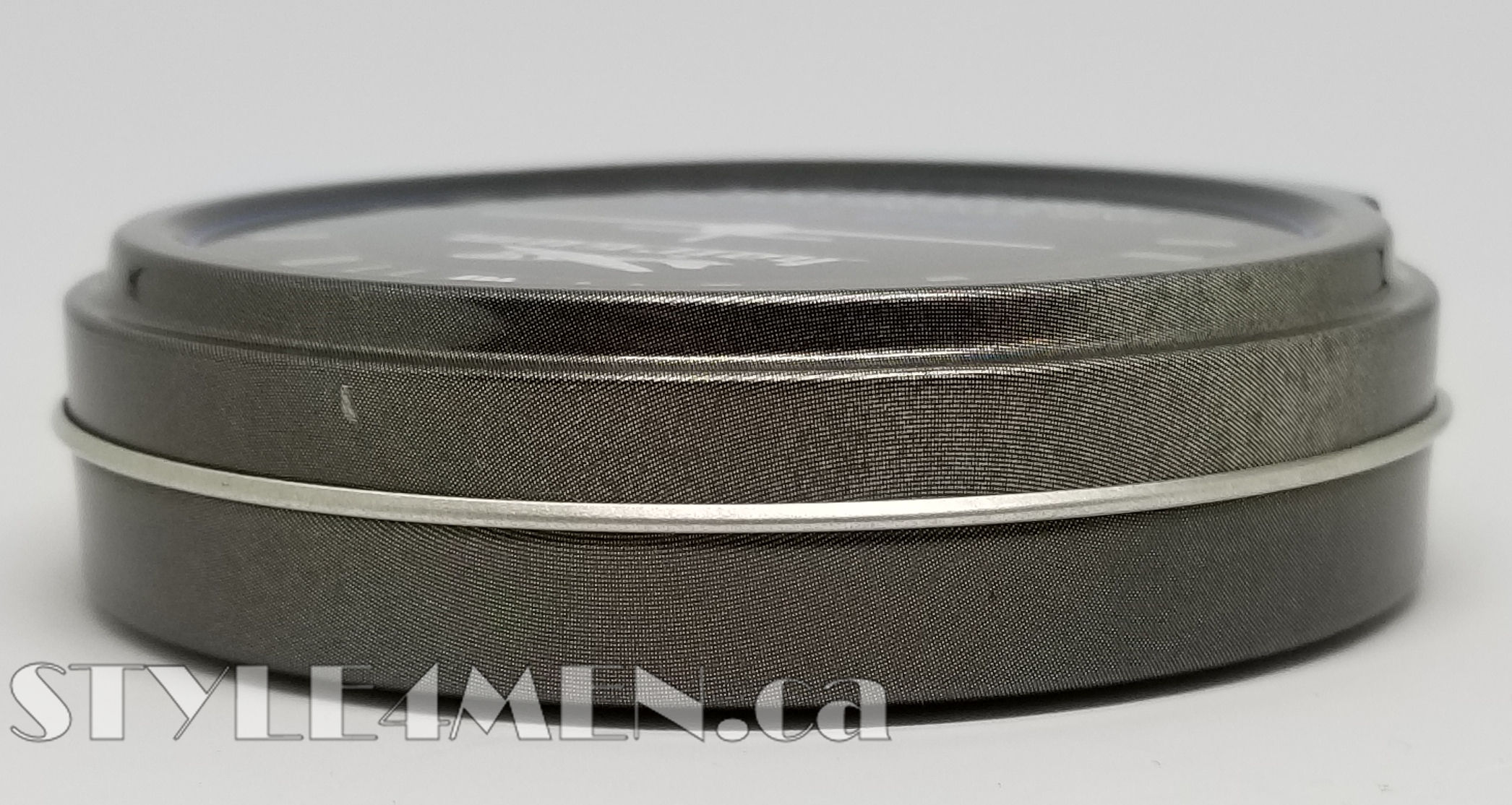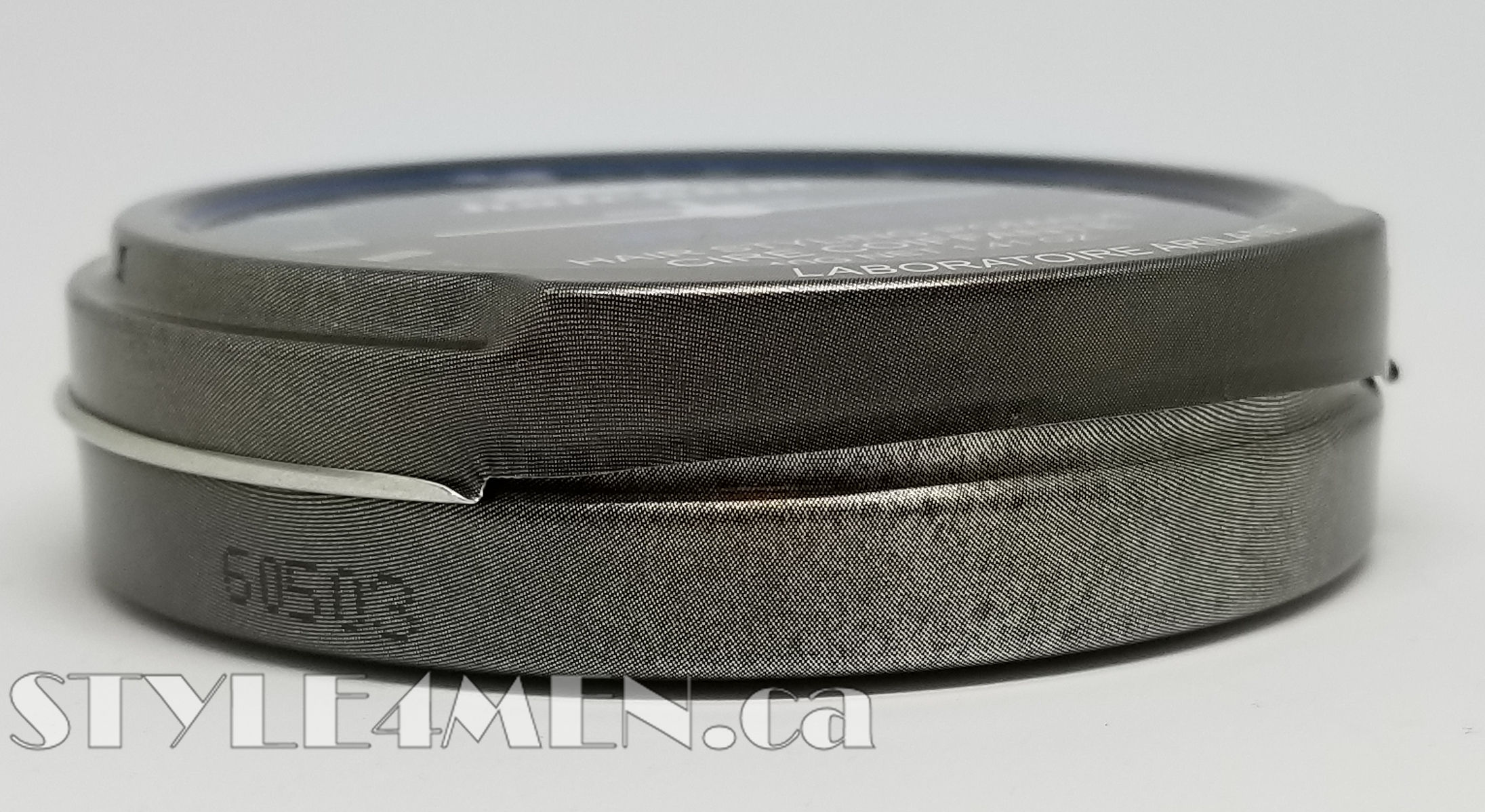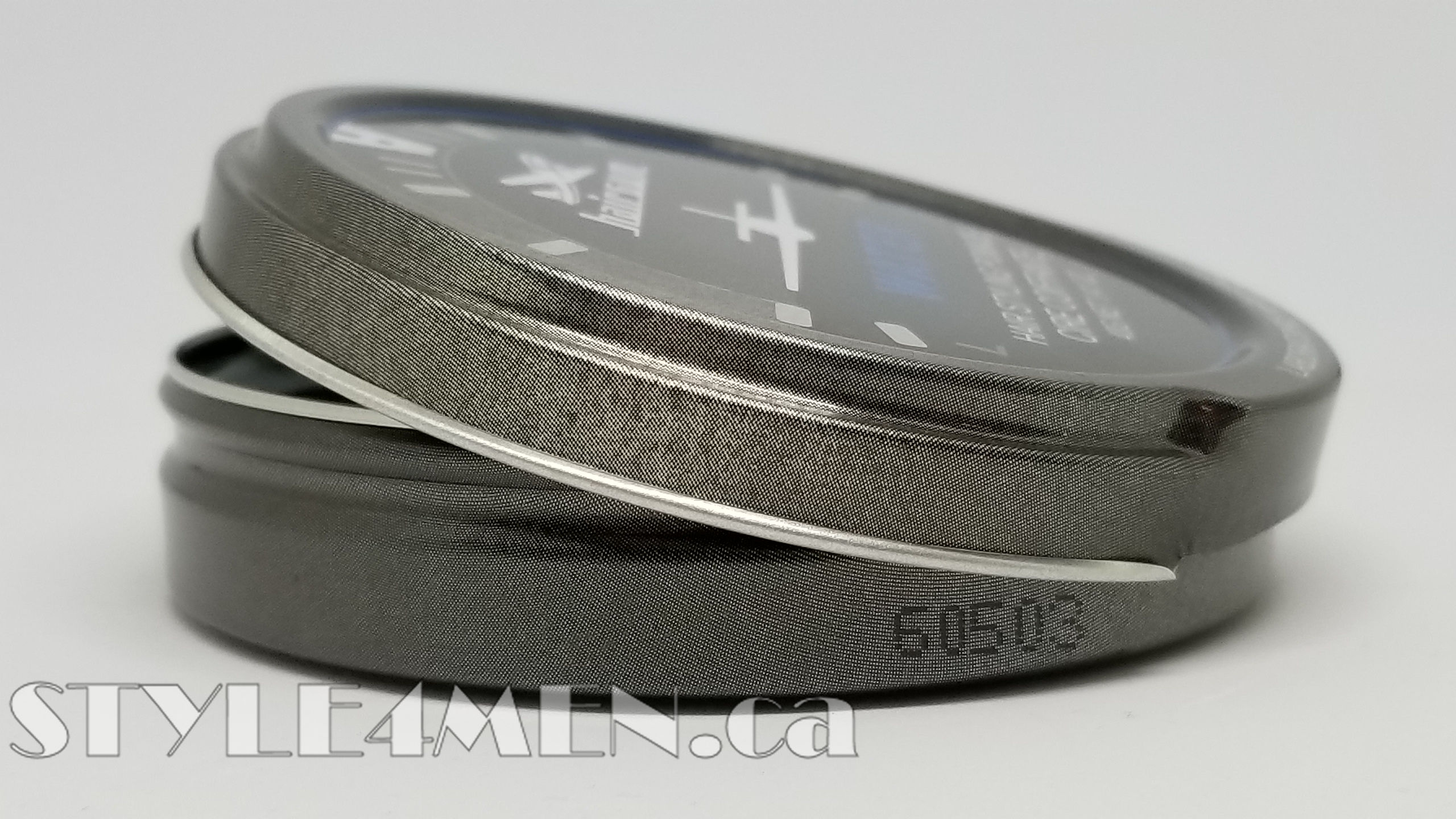 This morning was test time for this new pomade.  The texture is nice and it is extremely easy to relax making it a breeze to work with.  Usually pomades have a jello-ee/waxy texture.  This one was surprisingly lite. It turned to a gel like texture when relaxing it.  This made it very easy to apply and I started to style.  This revealed that the pomade has a high oil/grease content.  I was initially able to get decent hair placement, but this placement did not last long.  Perhaps 30 minutes.  By then things had started to curl and fall out of place.  That being said, it was not a bad result.  In fact it was a very authentic 50's look.  The shine level was also high.  The product felt nice in the hair.  A lot less greasy than I was expecting considering the wet look finish.  The product didn't feel wet nor dry.  This sensation is true to oil based pomades.  In fourth position in the ingredient list is Paraffinum Liquidum AKA mineral oil.  This is certainly good for the hair, but you can feel the slight touch of oil.
The ingredient list might need some talking about since there are parabens in the concoction.  I counted 4 paraben elements:  Methylparaben, Propylparaben, Ethylparaben, Butylparaben.  See the label at the bottom of the post.  Parabens have a bad rap and with that being the case, most hair product manufacturers have simply removed them or replaced them with something better or something that hasn't made the news yet.  I honestly can't say anything for or against parabens because the little bit of information I was able to find was weak and was only referring to skin products.  That being said, considering the way big business pumps out chemicals I could easily be swayed to believe that parebens are bad for us like so many other man-made concoctions have been proven to be. What I find somewhat odd is that European countries tend to be years ahead of us on such issues, both socially and legally.  France is clearly in that space and a product made within its borders would clearly have to be up to par on chemical usages and regulations.  But this is bigger than the Style4Men blog.
Check out the review of the Hairgum WATER + pomade.
Back to the core business!  The fragrance is simple and pleasant, like a Slush Puppy drink or candy.  The intensity is appropriately mild and won't be setting off any alarms.
With firm hold water based pomade, there is next to no limits to the elevation you can achieve while also being able to gain some good volume.  The Hair Gum Water pomade follows a different approach.  My hair looked nice according to my wife.  Her words were: It is not your usual style but I like it.  But by comparison it was rather flat and wavy.  Yes, an acceptable style, but just not the one I like to sport.
HairGum Water is comparable to the American Crew Pomade, albeit a tad better.
It is an interesting product in the sense that it behaves like an old-school lite grease but with the removal benefits of a modern water pomade.  This stuff came out without trouble when rinsing the hair under warm water.
Here is the rating on a scale of 1 to 5, where 5 is a perfect score and/or level of shine:
Hold: 2.5
Shine: 5
Texture: 5
Feel in hair: 4
Facility to wash out:  4.5
As a side note, Hair gum also makes the Mr. Ducktail pomades.  The imagery and branding of Mr. Ducktail is totally rocking and I was certainly wanting to get a jar to try it out until I understood that they do not offer a water based variety.  Too bad.  I might just get a t-shirt then.  🙁
In closing this is a high shine pomade with mild to medium hold that is easy to wash out.  It is thus a good alternative to a pure oil based pomade if you fancy the shine more than the hold.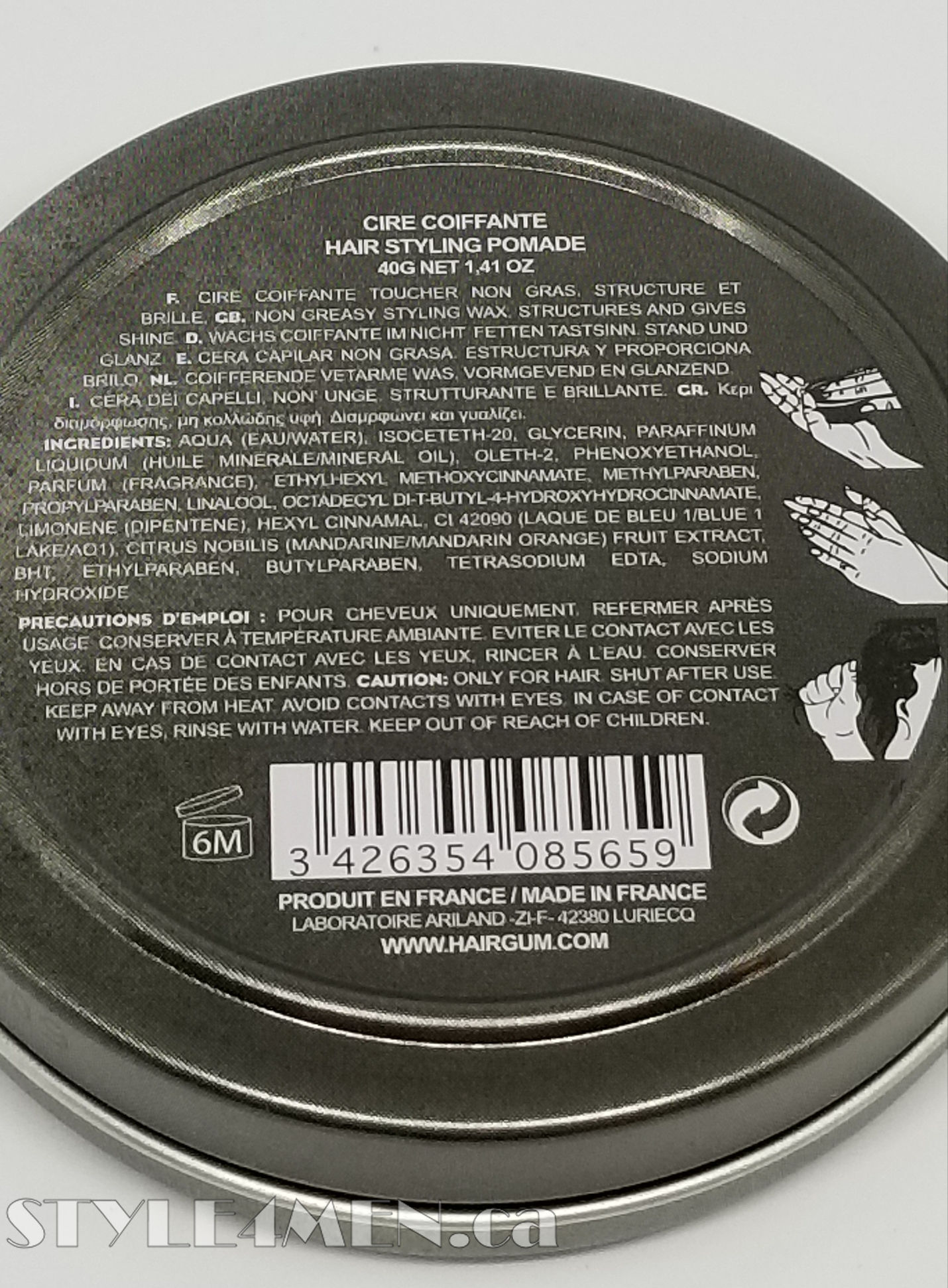 Use these links to shop for this pomade: