HEADGEAR Cruel Clay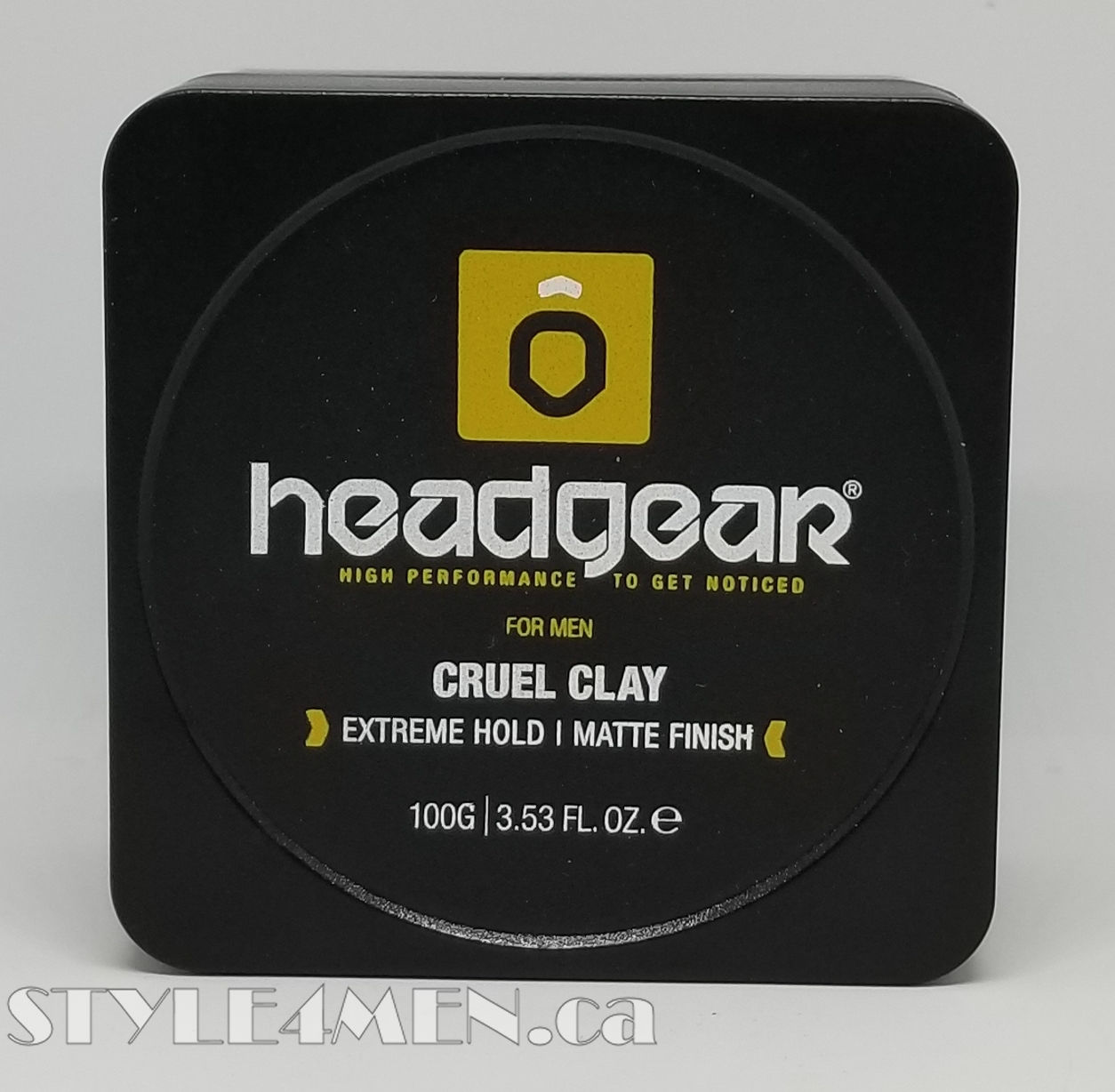 With the support of OBSCO, I was able to try out another clay from our Aussie friends at HEAD GEAR; Cruel Clay.

When I was last at OBSCO, they still had a good amount of HEADGEAR products and based on my previous clay and mud tests I felt it might be time to give these products another round of tests.  I now know that mud's and clay's work better in dry hair and that a minute quantity is sufficient to achieve proper styling.  Clay being light and extremely sticky it is a good candidate for hair style with elevation.  I was hoping for a high volume quiff.
As mentioned, clay is extremely sticky so start with a pea size amount and relax it in your palms/fingers. At this point, you have less than a minute to apply it.  Having longer hair on top, I started with very little and did a few areas.  The stickiness kicks in so fast that it is nearly impossible to distribute evenly.  Forget about trying to put a comb through that.  Clay is thus a good option for a slightly messy look.
The application being done, I was actually impressed to see my mug sporting a rather awesome quiff.  This kind of made up for the unplesant and hard to work with product.
In the past I have tried to apply clay's on towel dried hair, but realized that it was a tad easier to apply on dry hair.  Go figure!  Based on that, I took a slightly different approach and prepped my hair with the REUZEL Grooming Tonic.  This tonic has two interesting properties that made me think it would help with the clay application.  First off it coats the hair with a very small amount of oil making it easier to work with.  Secondly, because it is a somewhat of a pre-styling product, it give a decent hold foundation for the the style "to-be".  Sort of setting the stage and needing less fixative.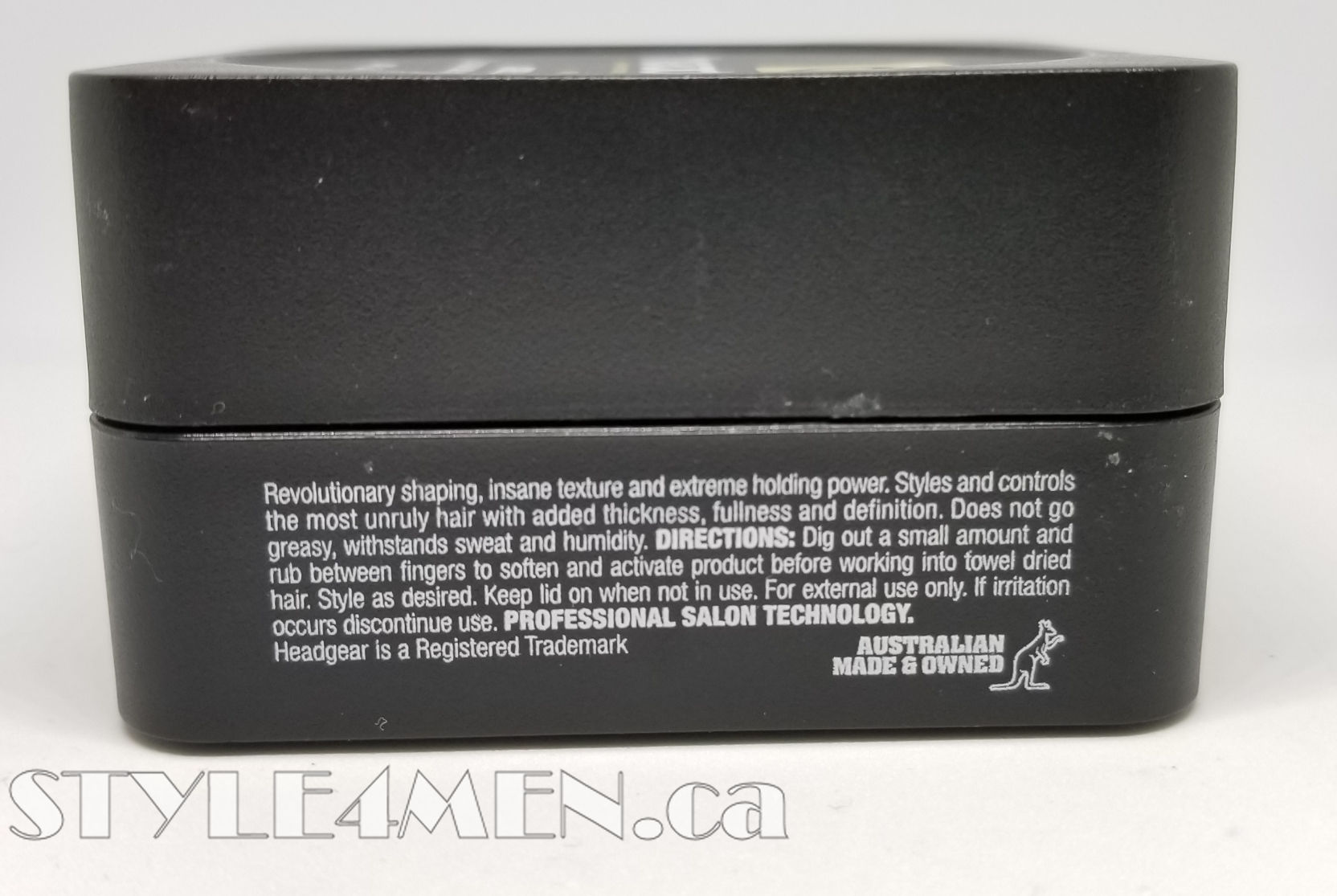 As it turned out, the Grooming tonic did not really offer much of a gliding surface for the clay and the clay's stickiness was nearly instant.  In fact, it became active even faster than the Molding Mud from HEAD GEAR.  It was so sticky that I even pulled out 2-3 hairs.  Not approved!
Now, not everything is bad.  Clay is very light.  Much lighter than pomade, making it a good option for hair styles with elevations such as a big volume quiff.  For one of the first times, I was able to sport a totally high quiff for about 2½ to 3 hours.  After this time, things started to fall go pretty much all over.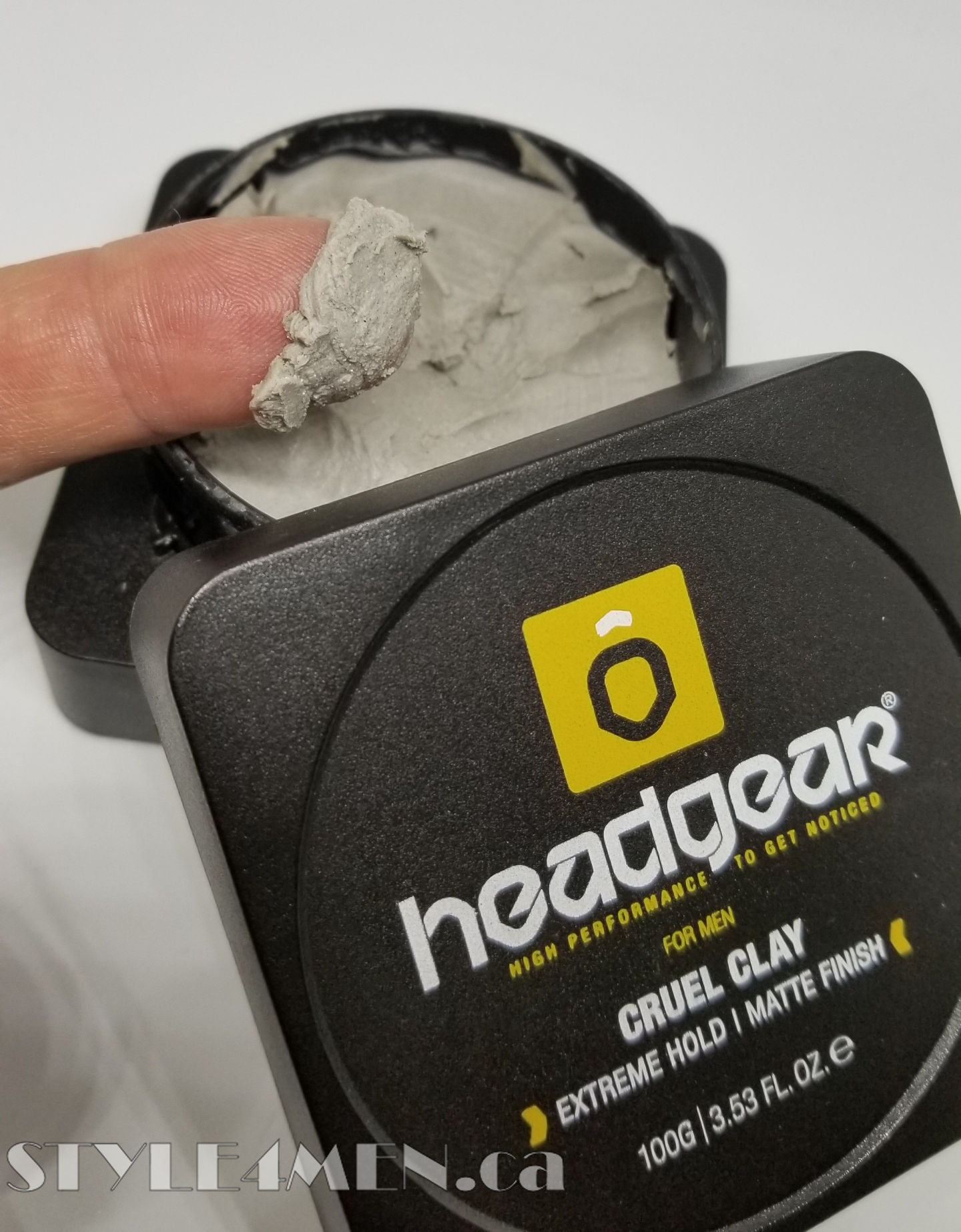 The initial limited "workability" fades over time and the hair become easier to re-style while remaining light.  Pomade being heavier and often containing some elements of wax, it can end up weighing down the hair.  Easy enough to restyle, but clay doesn't leave as much of a residue as pomade does.
As you can see read there are a number of trade-offs between clay and pomade.
Clay is lighter than pomade
Clay has less residues than pomade
Clay makes high volumes quiffs totally possible
Clay is so sticky that the application and styling window is under a minute
Clay is not re-workable in the first couple of hours
I always mention the scent of products so you have an idea what you might be getting into.  This has a scent so we can not call it "unscented", but if anything it might just be the odour of clay.  Up to some point it reminded me of simpler days playing with plasticine. Not unpleasant nor strong.  A very mild background scent that will become nearly indistinguishable after application.
We should make a small mention of the ingredient list.  It is fairly short with water being in first position and petrolatum in second.  Petrolatum is the No. 1 old-school ingredient used to make greaser pomades.  It offers great hold in cooler climates, but tends to be harder to wash out.  Further down the list there are 2 parabens: Methylparaben and Propylparaben.  I am no Chemist or Biologist, but the word on the street is that parabens are not cool anymore.  Most hair care manufacturer in north America have now removed or replaced them with something else.
This clay's performance reminds me of an entirely different product.  The Rough and Ready from Sexy Hair.  This is closer to a gel in the jar and has a good volume of alcohol in its concoction, but it is similar in how fast it dries in the hair.  It is also incredibly light making a good candidate for high hair scenarios.
Here is the rating on a scale of 1 to 5, where 5 is a perfect score and/or level of shine:
Hold:5 (Amazing hold and extremely light)
Shine: 0 (This is a matte product)
Texture: 0 (Very hard to work with)
Feel in hair: 0 (Too sticky to touch for the first 2 hours)
Facility to wash out:  4 (To date, I have found that anything with Petrolatum tends be a bit difficult to wash out.  The ingredient lists it in second position.)
You can find this clay at: