Henri et Victoria Cognac and Cuban Cigar Pomade – Phenomenal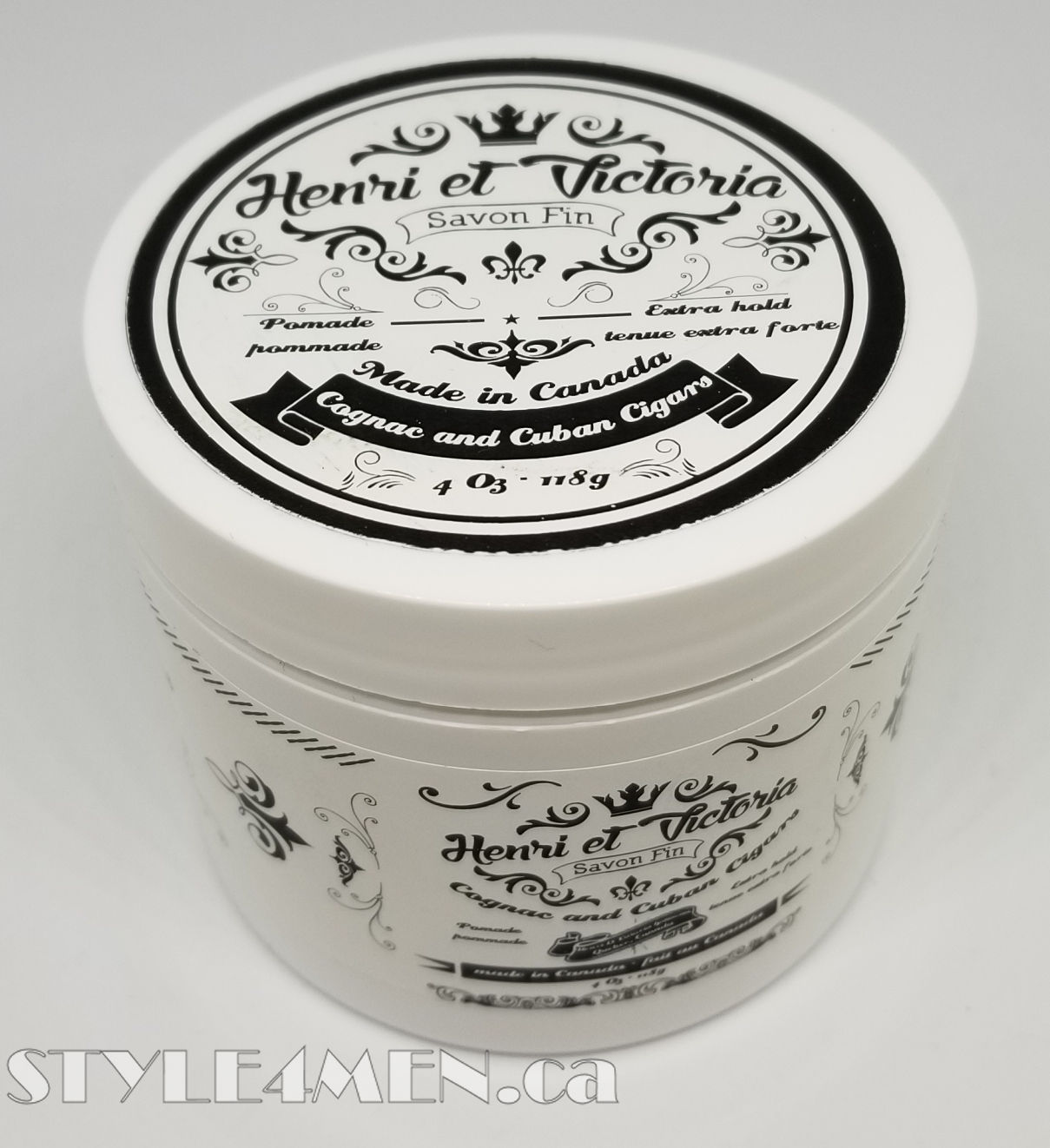 Months ago one of my friends at the office mentioned a local company (Henri et Victoria) that produces shaving soaps and a pomade. Obviously, I was very interested but it stayed on the back burner until my recent August trip to Toronto.  When visiting the Men Essentials shop on Danforth I was reminded of this brand as they had both the soaps and the pomade.
As with many other products in the store, they had a tester. Even though this is a simple white plastic jar, the vintage looking black and white labeling gives it a distinct and classy presentation.  The jar is a tad bigger than the standard 100g by being 118g.
Upon opening the jar your nose will be surprised by the unexpected fragrance.  The label indicates: Cognac and Cuban cigar.  Certainly and interesting mix of fragrances and something unique in the pomade world.  The only other pomade I came across that tampered on something like a cigar fragrance, was the Billy Jealousy Plaster Master with their fabulous tobacco scent.  This cognac and Cuban cigar fragrance fits very well in that authentic-classy  space. I was transported to a Cuban villa where I was smoking a nice cigar and sipping a rum.  It's 1953 and I am wearing a light coloured suit along with appropriately styled pomade hair (of course).  It is said that scents is one of the fastest doors to the memory complex.  Imagined or not, this fragrance brought me to a happy place.  Not being much of a alcohol connoisseur, I don't quite know the difference between Cognac and Rum.  To my nose it smells like a sweet 7 year old rum.
Since this is a product produced in my home town of Gatineau, I figured that I would make the effort to buy directly from Henri et Victoria when I was back home. When looking on their web site, I was hoping to find a "where to buy" section.  I didn't find one, but there was an email and a phone number to reach Claude Pilon who is the master mind behind this brand.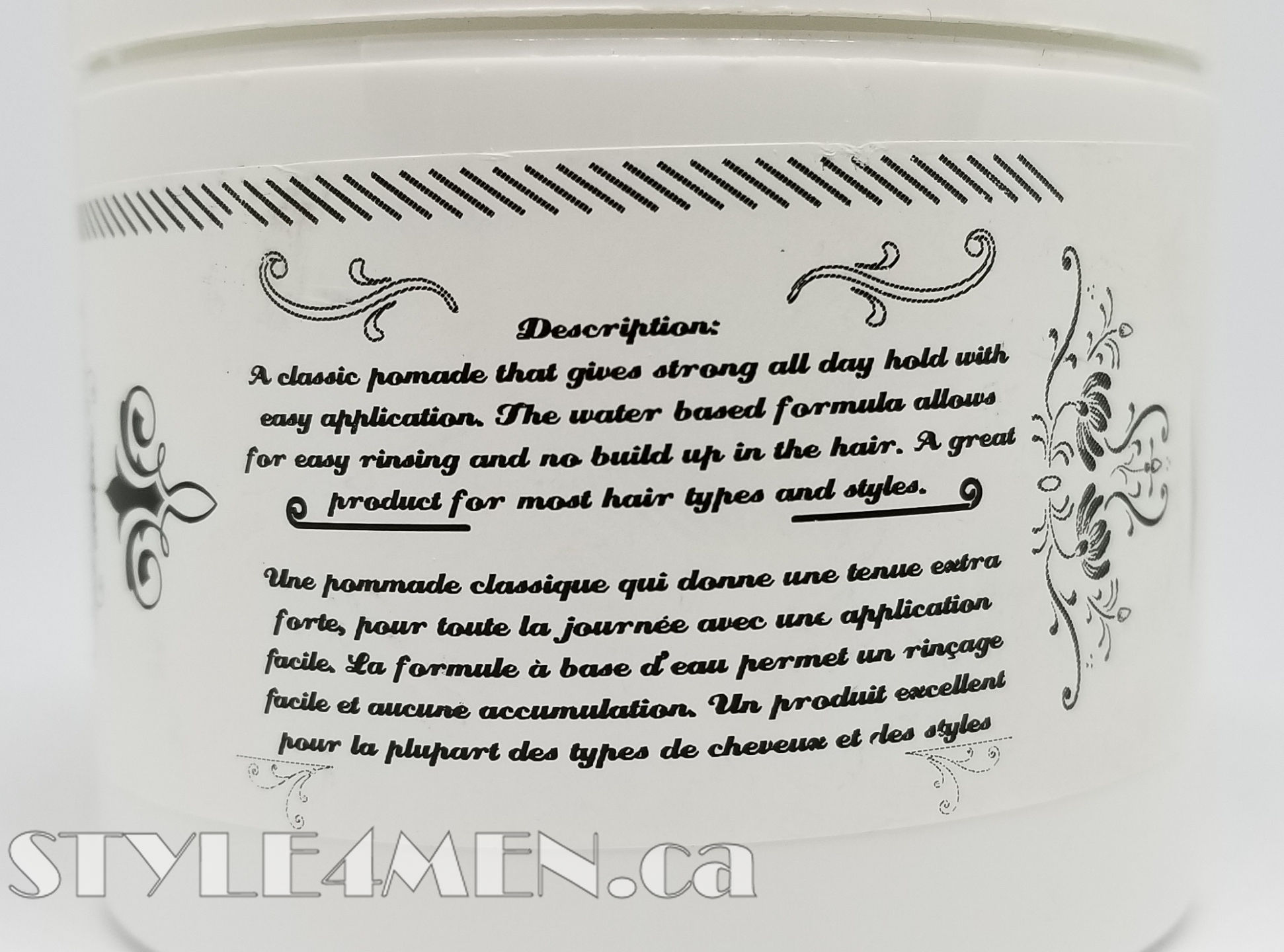 BTW – looking into this again, I did find the "Distributor" page which will help you find a store.
We made contact and met a few days later.  As mentioned on their site, Claude is a biochemist and lawyer by trade.  At some point he started experimenting making soaps and from word of mouth this humble activity grew to become a brand.  Although, the products are produced in an artisanal manner, Claude's biochemist background comes into play and the ingredient mixing and production follow a strict protocol. He mentioned building a kitchen-lab in order to  produce the soaps and pomades.
As you know, at Style4Men we are very interested in brands and products that are made with passion on a small scale.  With only 9 ingredients on the label, this pomade also scores further points for it's simplicity.  It is worth mentioning that there are no parabens listed.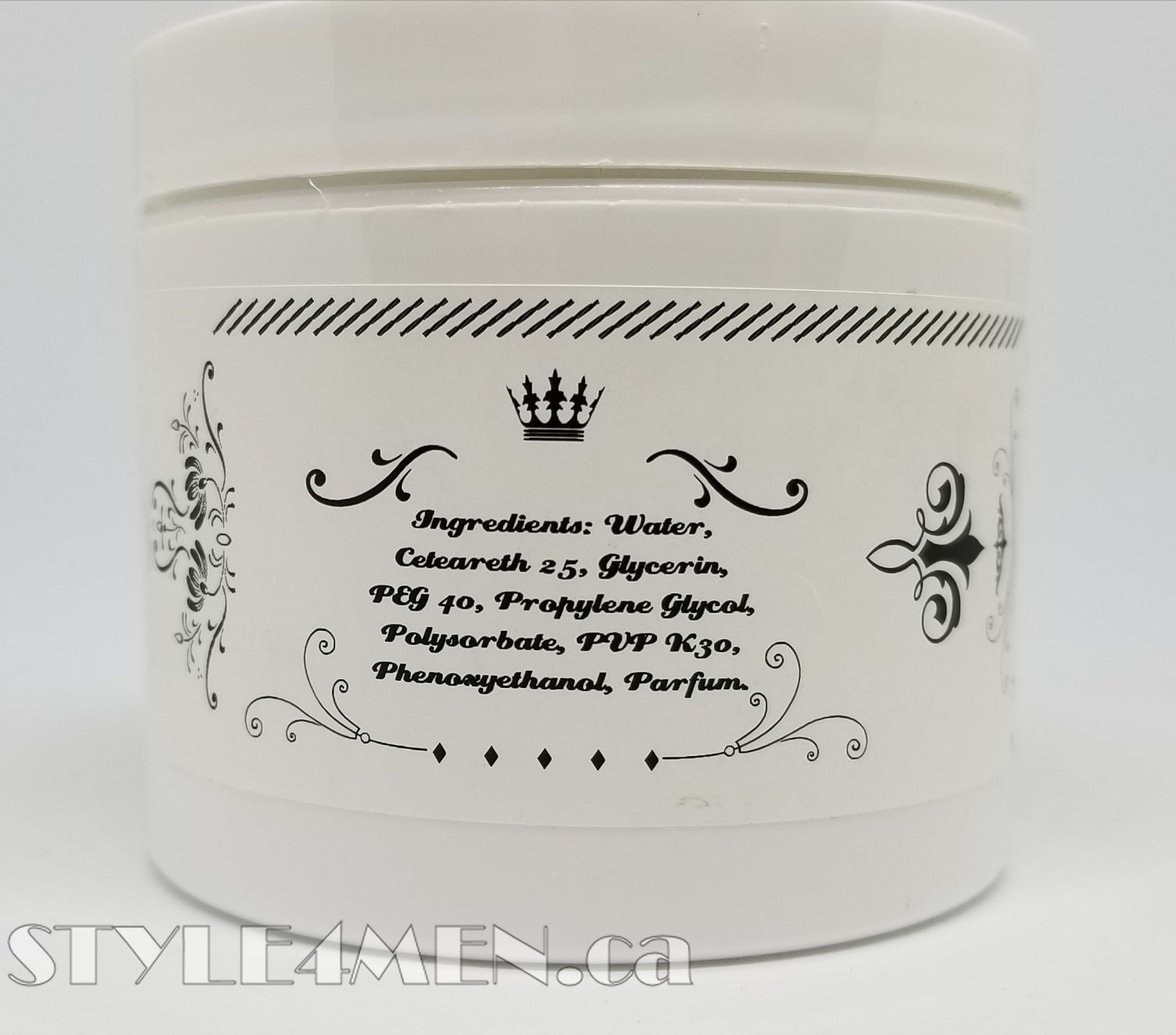 On price, this jar goes for $24.  If you buy directly from their site, shipping and taxes will push up close to the $40 mark.  Alternatively, you can go to the clothing shop "Le Local" on Eddy street in Gatineau where a number of their products are sold. This is a nice shop and you might find a number of other things. 🙂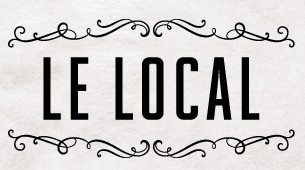 This first test will specifically be about the pomade.  Over time, we hope to test and review some of their shaving soaps
We are now at test time for this awesome smelling pomade.  I presented the jar to a few people to smell and everyone liked it and agreed that this fragrance screamed Cuba!  🙂
I applied this pomade in clean and dry hair (blow dried).  On contact the pomade is a nice medium to firm jelly like texture.  Not as firm as Grant's for example, but not as soft as Suavecito.  This gave me confidence that we were are working with a good product.  I spread the product in my fingers and palms and applied it.  Very nice and easy to work in.  In an instant, my hair was styled.  No re-working or re-combing.  Lately I have been needing to lock in my style with hairspray, but it was not necessary here.  We are now almost 2 hours later and everything is still were it was placed.  The product has dried but it does not feel crunchy or "dry".  Nor does it feel waxy or oily.  You obviously can tell there is product in the hair, but it's actually a perfect texture.
I will venture a further comment on how it feels on the scalp.  Many water-based pomades dry the hair and the scalp as a result.  Some product add an element of oil or moisturizer to counter that.  I don't see any such ingredient in the listing, but there is no dryness and the resulting itchiness.  It is a perfectly comfortable pomade.
My hair styling lasted without issue until about 2PM when I went outside for coffee and it was exceptionally windy.  But it's not like my do was wreck, it just got loosened a little.
Since I have let my bangs grow a fair bit, it has been getting harder and harder to find a suitable hair pomade that can handle this amount of hair for any length of time.  At almost 8" this is the longest it has ever been. The hard working Henri & Victoria pomade got the job done.
Hold and shine are always the two main aspects sought after by pomade enthusiast.  For my mop, hold is a simple 5/5!  As for shine, like most water-based pomade, there isn't all that much.  If anything it simply makes your hair look natural and healthy with mild shine to it.  Personally, that it is my preferred outcome.
Here is the rating on a scale of 1 to 5, where 5 is a perfect score and/or the level of shine.
Hold: 5
Shine: 2.5
Texture: 4.5
Feel in hair: 5
Facility to wash out: 5
In short, I am totally impressed with this product.  The fragrance is a very original hit for my collection and the hold is real.  The label state "Extra Hold", but I have come to not always fully believe the labels.  The labeling on the Henri & Victoria jar is accurate. Because of the unique fragrance and fabulous hold, this pomade also gets to fit in my #Favorite grouping.
Use these links to shop for this products: