Jack Dean Finishing Pomade – A light oil based pomade
Jack Dean is a British brand that caught my eye some months back.  Beautiful and original packaging along with an interesting product line.  The brand image conveys a sense of cool nostalgia of the 30's. World travel and adventure at a time where new technologies made things possible for more than just the upper social echelon. Personally, I find it bang on. Click here to read on about the branding/history.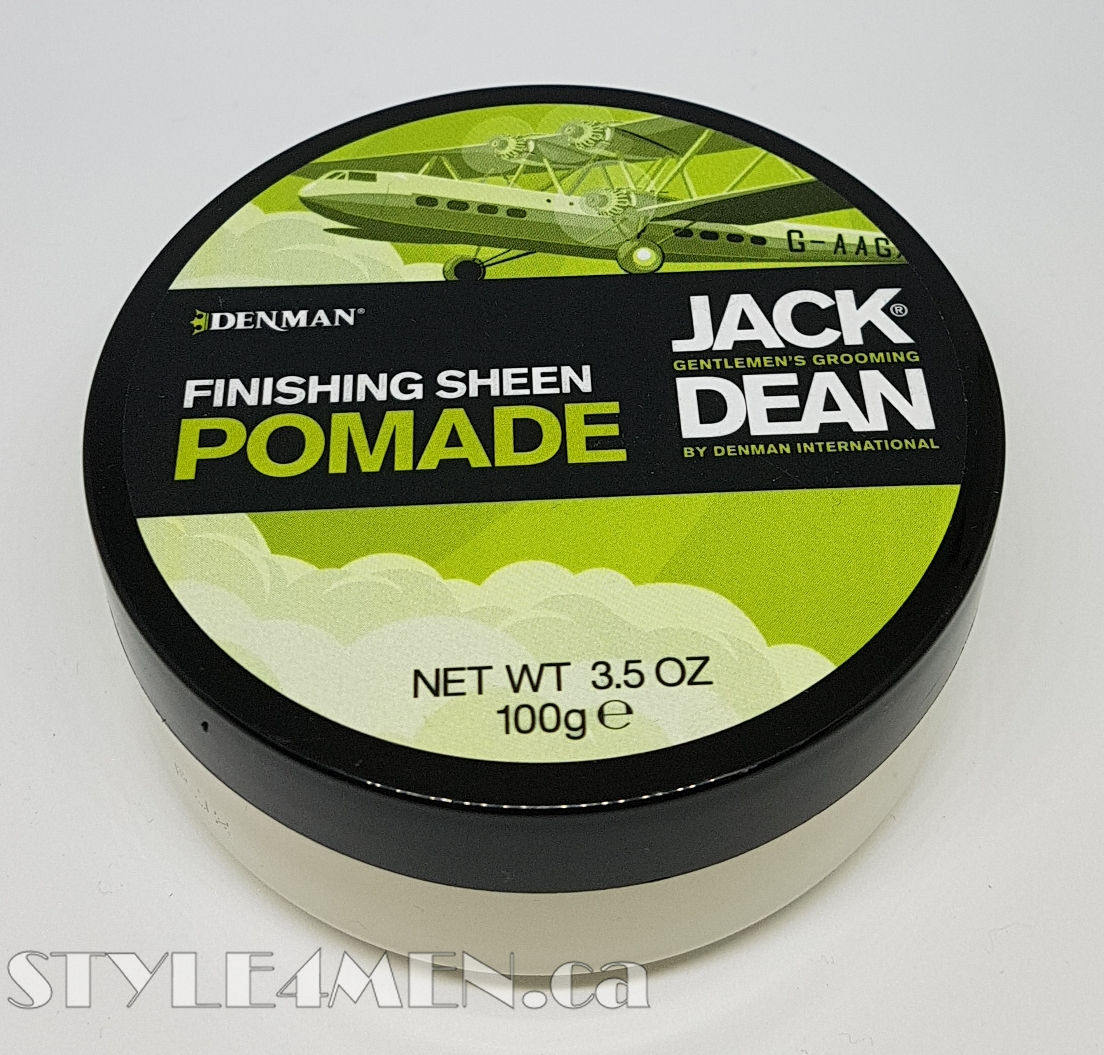 After some shopping, I finally found a jar at "The modern Man" where it was selling for $14 CND along with free shipping to Canada.  So I went ahead and placed my order.  A note on "The Modern Man",  this will have been the 3rd or 4th purchase I made with them.  Every time the pricing was better than everybody specially when considering the free and incredibly fast shipping to Canada.  It usually takes between 4-6 business days for delivery. That is considerably better than almost anything purchased from the US.  This is an observation I have made before, but I will mention it again: Canada Post and the Royal Post have an incredibly tight and efficient working relationship.  Being on the receiving end of their service I am totally impressed.
So here we are, my Jack Dean Finishing Pomade has been delivered and I am looking at the jar.  I love the totally retro airplane on the lid.  The presentation is classy and original.  Upon flipping the jar over to see the ingredient list my happy bubble popped.  The first ingredient in the list is "petrolatum".  For some reason, I was thinking that this stuff was a water based pomade.  Obviously, I jumped to conclusion and made my purchase without first properly "finishing" my research.  Let me clarify why I am disappointed: Petrolatum is essentially petroleum jelly.  This is the original old-school approach to making pomade.  The caveat to petrolatum is the difficulty to wash it out.  From my experience, even when petrolatum is listed way down the ingredient list, it still presents some difficulties to get ride of it.  The only efficient way I have found to clean this out is to apply a shot of olive oil to your hair in the shower before washing with shampoo.  Read my post on the Dax Wave and Groom to get that full story.   Had I realized this was a grease pomade I most likely would not of made the purchase.
Generally speaking grease pomades do and perform the same as water based pomades.  Grease or oil based pomade offer more shine, but the main difference comes at washing time.  An argument in favour of grease pomade is the beneficial effect of petrolatum on dry or damaged hair.  From my experience and testing, I have been happier with water based pomade for both the hold and the ease of washing it out.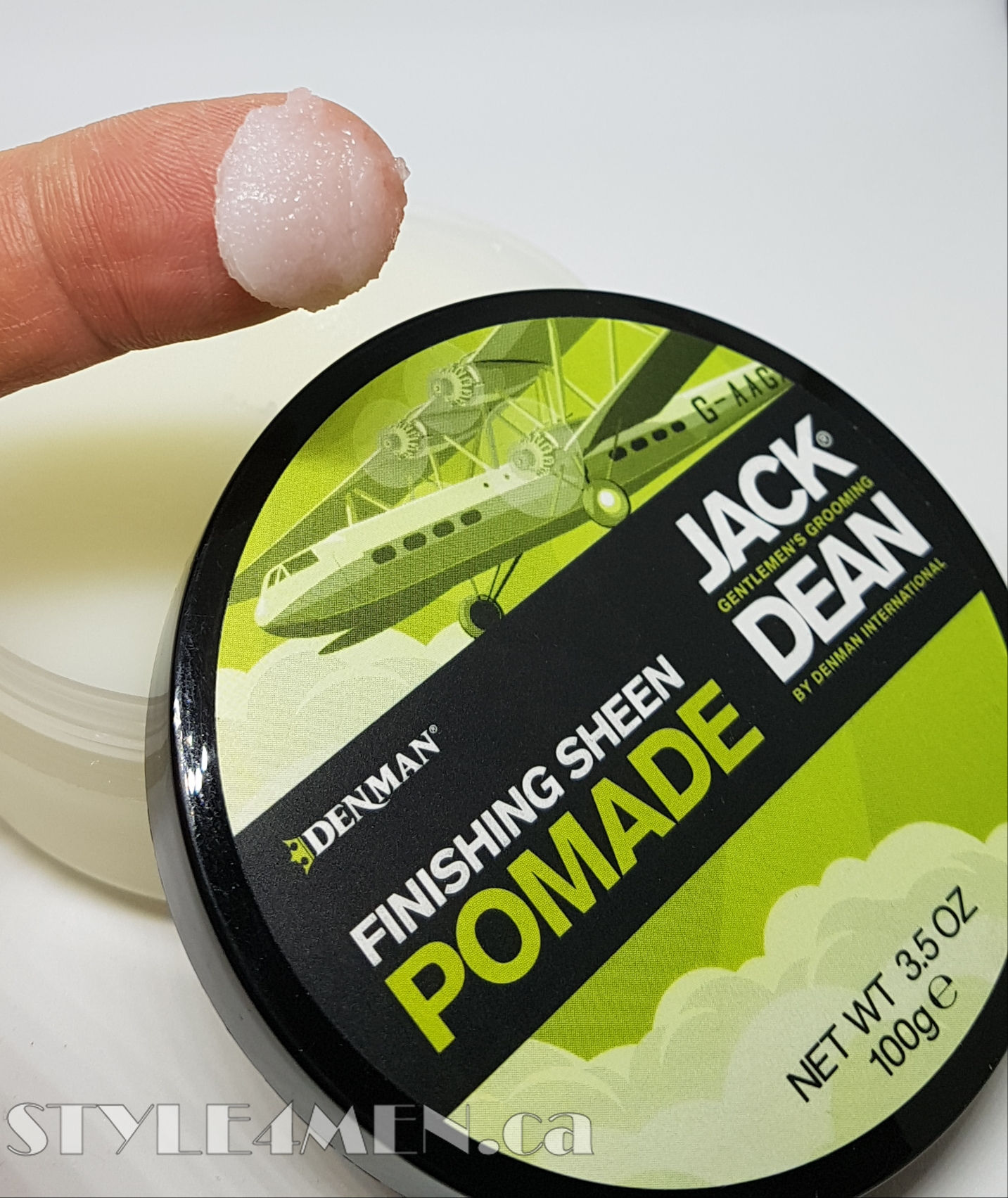 Back to the Jack Dean pomade jar at hand.  Contrary to the DAX wave and Groom, the Jack Dean pomade is quite soft on contact and you can recognize the typical petroleum texture.
Based on my previous experience with grease based fixative, I am thinking of tackling this product a bit differently.  Instead of using this as the main styling products, it might make sense to mix it up a bit and use a very fine coat to add some shine to the style as a finishing touch.  The jar does indicate "finishing sheen pomade".  So let's tackle it that way.
This morning was test time.  I styled my hair using the Spring Suavecito pomade which is a strong hold concoction.  After letting it set over breakfast, I applied about the size of a dime (same quantity as in the picture above) of the Jack Dean pomade as an evenly distributed coat over my hair.  I most certainly did not want to undo my styling but rather add some shine to it, which is what this did.  Being an oil based pomade, shine is something it does well and it added a nice touch of brilliance to the mix.  It also improved the feel of my hair by relaxing the firm pomade a little.  My hair felt less firm, but without losing its hold.  I would also venture to state that it added a bit of moisture.  Water based pomade can dry your hair and scalp while at the other of the spectrum oil based pomade do the exact opposite.  Balancing the dominating water based pomade with a small part of oil based pomade resulted in a great hair day!
I did a second test the following day where the main water based pomade was Steadfast.  This is a strong hold pomade but perhaps not as strong at Suavecito and as such the slight addition of the Jack Dean pomade weight down my hair.  It also didn't feel as nice as it did yesterday.
Fragrance wise, my nose detected: musk, spices (maybe pepper) and lemon.   Something that smells  original on a classic background.  It makes me feels like I just walked in a Taylor shop to get fitted for a new suit.  This is now the second time I use this pomade and I like using it for that added shine and it's nice fragrance.
When reading the ingredient list I was initially disappointed to see "Petrolatum' as the first ingredient as was I expecting the washing process to be a challenge, but to my surprise the washing was effortless.  Granted, I used only a very small quantity as a finishing touch and this pomade is also considerably softer than anything else I have worked with that had a dominating proportion of petrolatum.  Murray's and DAX for example where almost rock solid on contact compared to the Jack Dean pomade.  Clearly, this pomade is a new and more agreeable twist on a classic.
On its own, this finishing sheen offers to mild of a hold, but used as a finishing touch to add shine to a water based pomade, the results were very nice.
Here is the rating on a scale of 1 to 5, where 5 is a perfect score and/or the level of shine.
Hold: 2
Shine: 5
Texture: 3.5
Feel in hair: 3.5
Facility to wash out: 5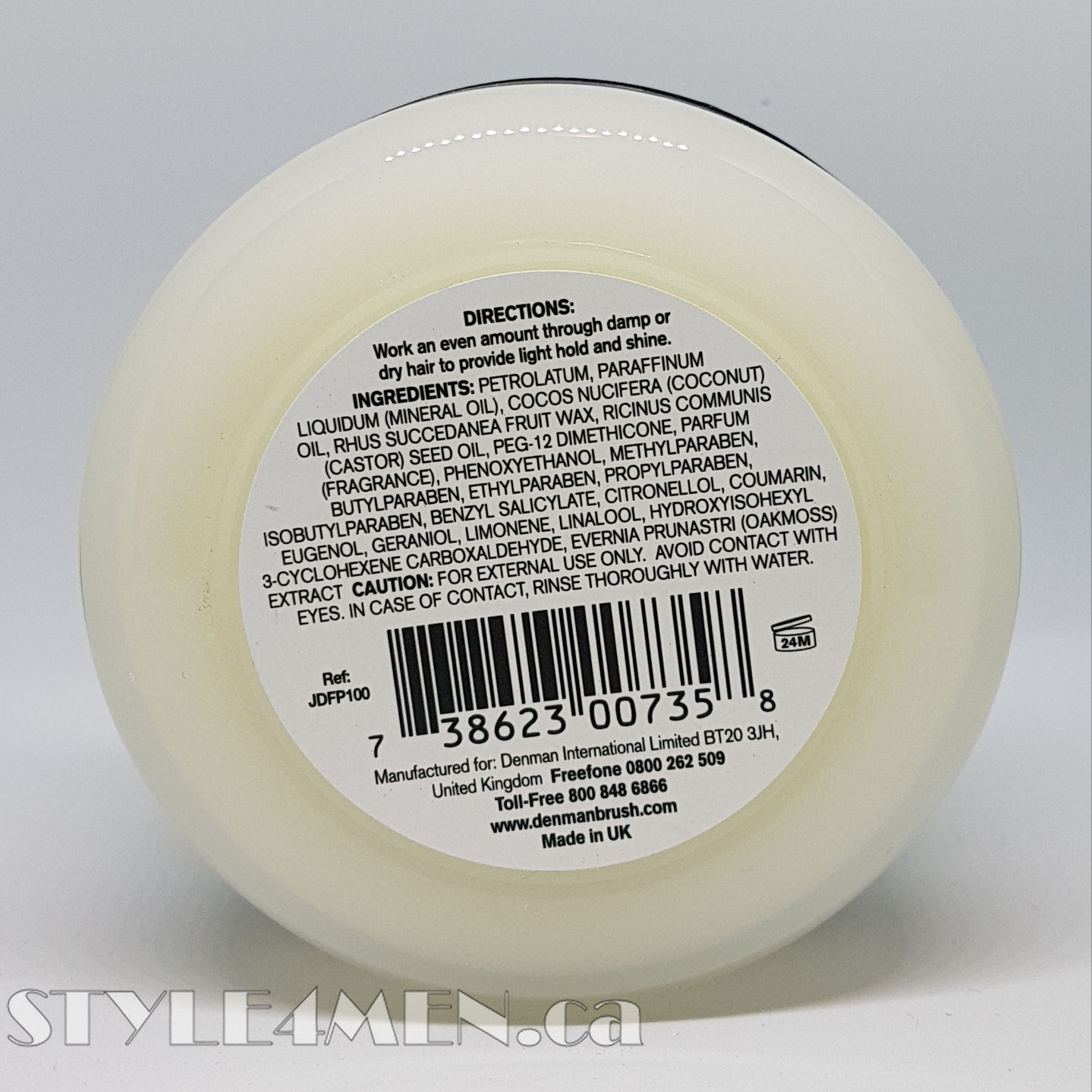 You can pick up a jar of Jack Dean finishing pomade from our friends at The Modern Man for some $14 CND.