Johnny Sheen Hair Pomade – A well deserved star
Via the issuu magazine application on android and iPad I was made aware of a very interesting publication: Barber NV. This is an Irish/British magazine covering as you can guess, barbering topics. The layout is very nice and the contents are totally on the mark. I actually ended up subscribing to the print issue as well.
Through this magazine I am discovering many UK brands of hair products as well as the stories of the people behind these brands. One of which is Johnny's Chop Shop, a London barber shop located in the hot SOHO area.  Johnny's Chop Shop on top of being a Barber Shop, also had a full range of men's grooming products, from the shampoo to pomade. The branding is very cool retro-vintage.  The shop looks totally inviting, down-to-earth as well as being a trip back in time.  What more could you want?  Since I am stuck in Canada for the foreseeable future, I am going to have to make due with trying out some of their products. Otherwise, I would be dropping in for a refresher of my uppercut.
As a result of the Barber NV magazine, I checked out a few YouTube videos about Johnny's Chop Shop and the Barber, Toasties Styles that was featured on the cover of edition No. 5.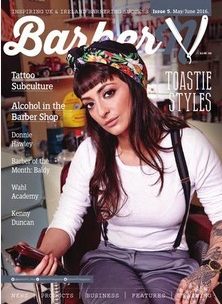 I was initially hoping to buy directly from Johnny's Chop Shop, but they are currently only setup to sell within the UK.  I dropped them a line and they suggested to visit: London Drug which is a Canadian Pharmacy chain out west  Being overzealous, I had already found another on-line UK vendor (ASOS) who offered shipping to Canada, ASOS.  The product that seamed right for me to try first was the: Johnny Sheen Hair Pomade.  I know, it's always pomade-pomade-pomade!  Be quiet back there!   My order was placed on January 27th and was received on February 20th, so just over 3 weeks.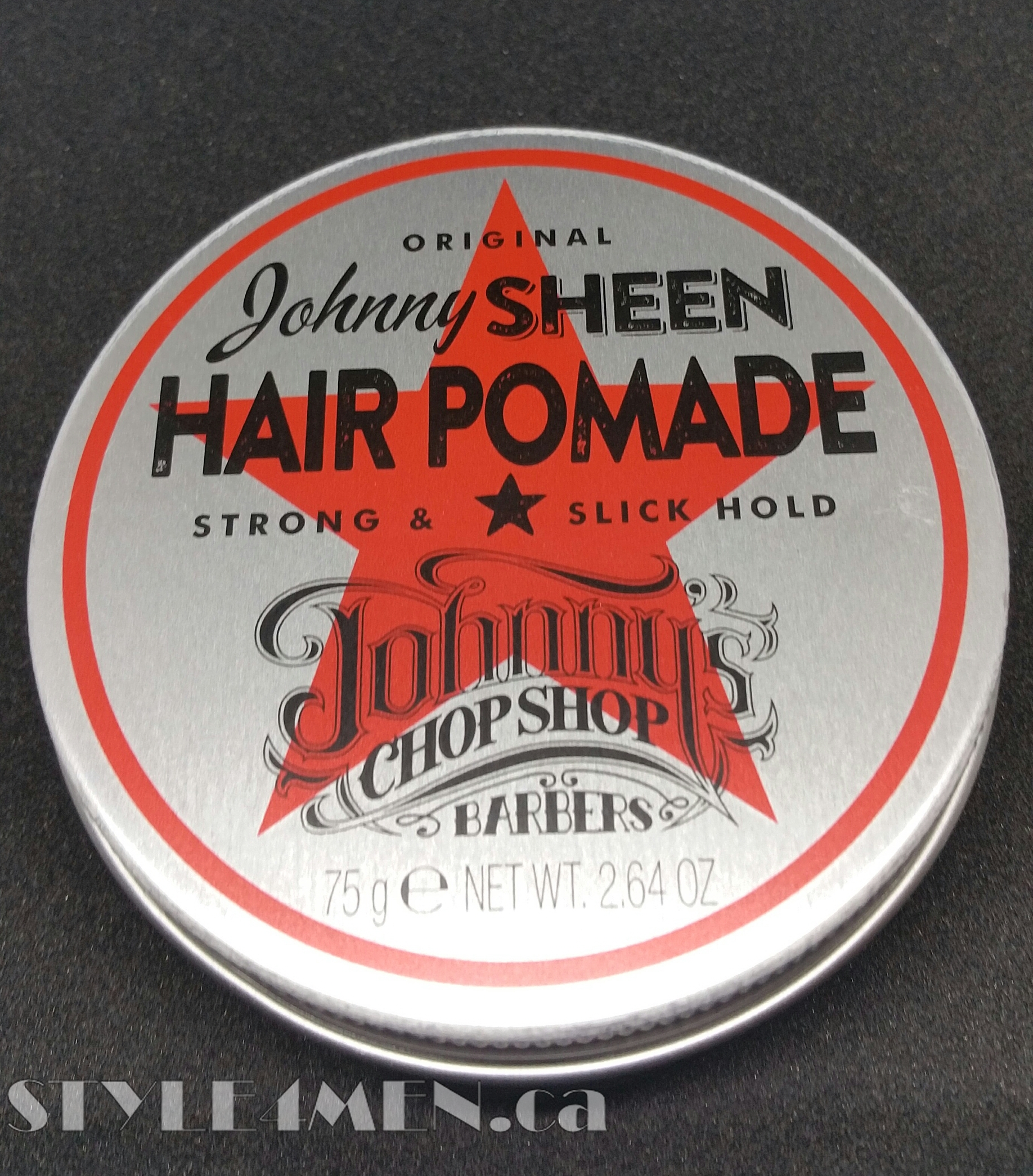 As you can see the pomade thin can is presented in that perfectly cool vintage fashion.  For that alone, I wanted to get a can.   Quantity wise, at 75 gr it is a tad on the smaller side.  The standard seeming to be 100 gr.  But we will see on usage if less product is needed and therefore making this quantity bang on.
The 17 ingredients used to make this pomade are as follow: Aqua (Water), Ceteareth-25, Glycerin, Propanediol, PEG-12 Dimethicone, Polyacrylate-14, Phenoxyethanol, Simmondsia Chinensis (Jojoba) Seed Oil, Parfum (Fragrance), Caprylhydroxamic Acid, Caffeine, Disodium EDTA, Panthenol, Methylpropanediol, Sodium Hydroxide, CI 15985 (Yellow 6).
This listing is very much in line with other quality pomades I have had great success using.
In the can the pomade has a fragrance that made me think of ginger ale right away.  Simple, sweet and pleasant. Tomorrow morning will be test time for this stuff.  Having tested out a number of creams, muds and clay's lately, I am totally excited to have a can of proper pomade to test.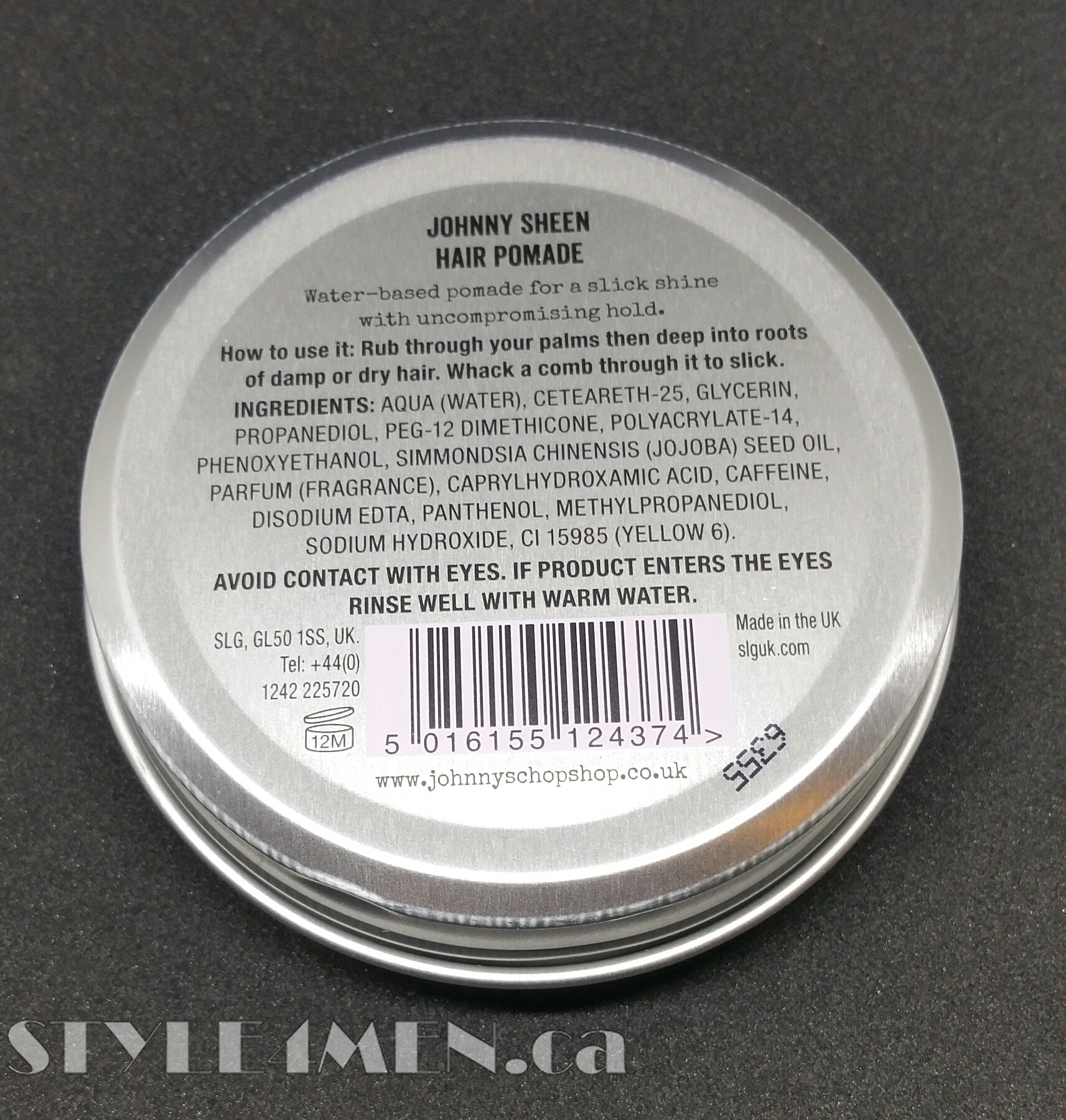 Coming out of the shower with towel dried hair, it was time to slap in some of that Johnny SHEEN hair pomade.  Aaaaaaah! (as in a sigh of contentment)  I have been trying out pastes lately, so putting my fingers in a proper pomade is a welcomed return to Greaseville.
Like most other strong hold pomade, the goo is firm and needs some relaxing in order to be applied.  It goes in perfectly and is a synch to blend into the hair.  The product is light and strong enough to allow higher hair dos.  With 2-3 small finger scoops I was able to get proper hair placement with my bangs set in a proper pomp
I mentioned earlier that the pomade has a fun ginger ale scent in the can.  This scent becomes extremely discreet in the hair and honestly no one will be able to tell unless of course their nose is in your hair.  I love original scents, but something has to be said for not sharing with the world.
The shine is a bit more than a typical water based pomade and perhaps warrants a 3 on our shine scale.  It's nothing extravagant.  It's renders a healthy looking shine.
Like other quality pomades this stuff feels nice in the hair.  You can actually put your fingers through it without getting stuck, or having a waxy and sticky residue on your digits.  It's not crispy and it doesn't flake.  About 11 hours in, my hair is still up and feels great.  I even got compliments on the hair with this stuff.
Another element to discuss when considering water based pomades is the drying factor.  The product dried in place fairly quickly, but it did not dry my scalp or hair in the process.  Read that as in my scalp is not itchy.
To me it's a winner product!  The only limitation is availability in Canada.  As I have ordered directly from the UK, I can't speak to how well or quickly it can be obtained from London Drugs.  Since I am impressed by the quality of this brand, I will for sure try other products from them.  Their main web site shows a very nice selection as well as a number of kits or packages at some incredibly enticing prices.  Sadly, none of which are available to us Canadian shoppers.  There are a number of re-sellers that offer speedy shipping to Canada, but they won't necessarily have the same sweet deals currently available on the Johnny's Chop Shop web store.
Here is the rating on a scale of 1 to 5, where 5 is a perfect score and/or the level of shine.
Hold: 5
Shine: 3
Texture: 5
Feel in hair: 5
Facility to wash out: 5
You can find this product in Canada here:

PS – A nice little bonus with this shop is that when your subscribe to their mailing list you will get free shipping on your first order.