Johnny's Chop Shop Wild Cat Hair Clay and Trigger Happy Spray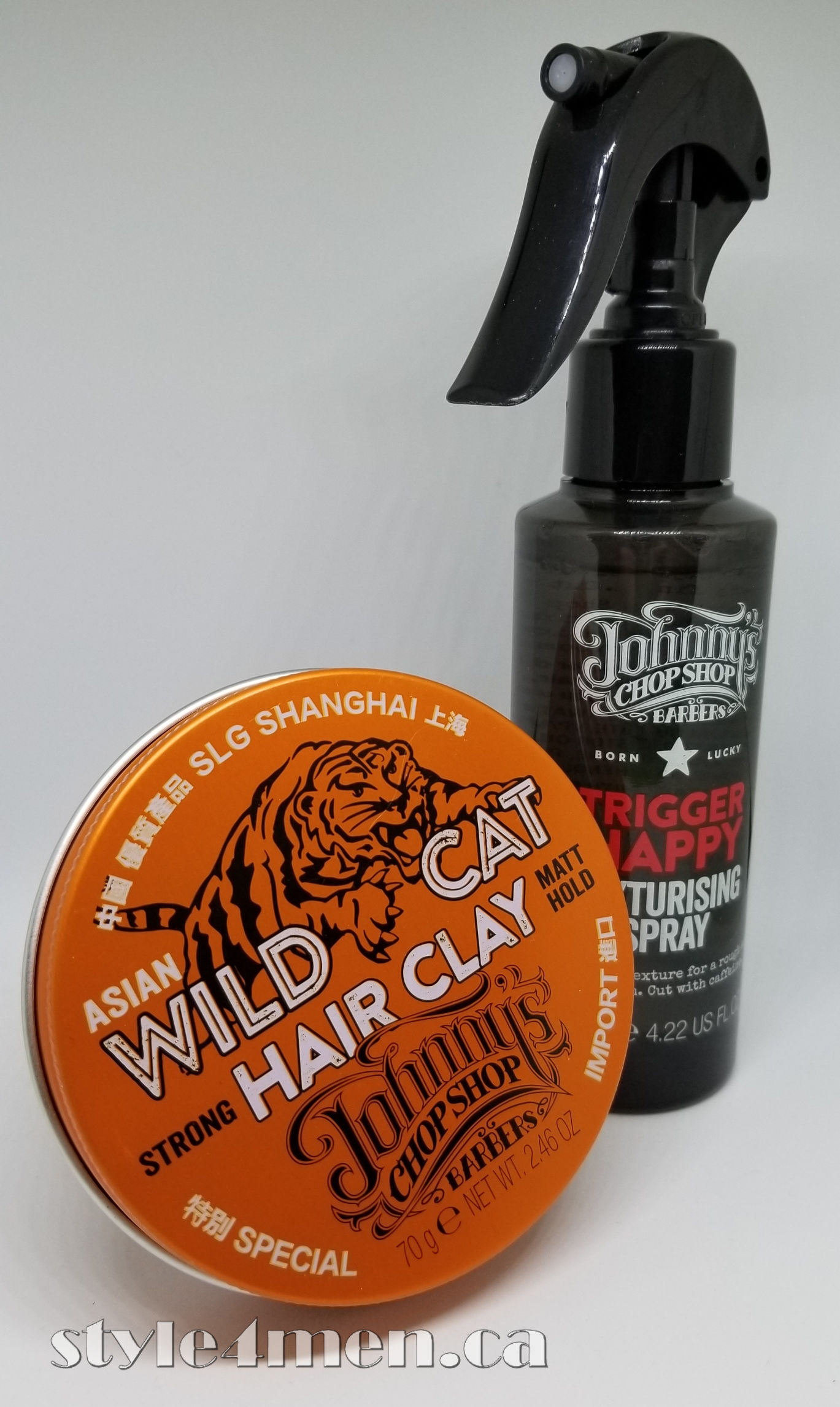 Many months ago, I tried an awesome pomade from the London Barbers at  Johnny's Chop Shop ; the Johnny Sheen Hair Pomade.  This pomade was so good, that I set out to try more of their products. The folks at Johnny's Chop Shop informed me that their Canadian distributor was London Drugs.  Don't let the name of the store fool you, this is a Canadian pharmacy chain out west. London Drugs not only has Johnny's Chop Shop products, but the prices were also fantastic where each product was $10 or under.  Shipping is some $9 via Canada Post.  I ordered two products: the Asian Wild Cat Hair Clay and the Trigger Happy texturising spray.
My rational for buying these two products is nothing more than the promotional video where Stephen James styles his hair using both the spray and the clay.  My hair is nowhere as good as his, but it is certainly as long and of similar type.  My hope was that I might be able to get as good results as Stephen. 🙂 I was also hoping that these products would help me achieve a decent quiff every now and then.
I didn't get the Johnny's Chop Shop hair spray because in my humble opinion: even though every spray is different, hair sprays is an area where the delta between products is marginal.  I also figured that my trusty Marc Anthony Argan Oil spray would do the trick and save me a few bucks.
So here we are, I finally got around to testing these products out this weekend.
First off the texturing spray is a bit of an odd product.  I sprayed it in my towel dried hair before blow drying it.  At first it just feels like you have added more water, but as the hair dries you start feeling the grit.  It is more subtle than just grit.  There is texture and volume as well.  This is not, nor does it pretend to be a fixative, but it does give some elements of hold and style albeit a rather messy style.  Clearly this is a "first" step type of product.  So far I had been mostly using the Reuzel Grooming tonic  as that first step.  It gave my hair some texture while offering some protection from the heat of the hair dryer.  But the product form Reuzel, as cool as it might be, does not offer any texturizing or volumizing aspects.  In so many words, this type of product is completely new to me and somewhat of a revelation.

All along, the intention or ultimate goal was use the clay as the styling agent.  So now that my hair was "volumized" and is dry, it's time for the clay to join the party.  The texture of this clay is perhaps the nicest I have worked so far.  I have found clay's to be hard to work with because of their texture and mostly because of their nearly instant stickiness in the hair making it nearly unworkable within seconds.  This clay is much nicer on initial contact than any other clay like product I have tried.  It is not too soft, nor too hard.  It is easy to distribute in the fingers and palms.  On contact with the hair it starts to seize very quickly, but I found that it is not as quick as the others.  Therefore giving me just enough time to style my pomp.
At this point, the results were pretty good and I wanted to lock it all in place so I reached over to my blue can of Marc Anthony Argan Oil spray and did the deed.  The quiff lasted a good number of hours.  Be forewarned, this is not a full day solution like a pomade might be for example  But, together these 2 (3) products made a good team.
Clay is a very light substance.  The exact same jar (Dapper Dan) when filled with a water based pomade, comes out weighing 100 g, while being only 70 g when filled with clay.  This lightness also can be witnessed when manipulating the product and obviously with the results it produces in hair.  The product being light and sticky allows for height and volume in a more natural looking style.  Being used to the feel of pomade in my hair, this is somewhat of a change as the hair is not weighted down, but once the sticky properties have dried the hair might feel a little tangled.  My hair is too long to use clay for that slicked look.  But for a slightly messy pomp – yes!
Considering how little of the Wild Cat Hair Clay is needed, this 70 g can will last you a number of months.  You won't need more than the size of a dime per application.  Roughly what you see in the picture below.
Up top, I mentioned that these items were $10 a pop.  Considering the ever so increasing price-point of good hair products, this is a bargain.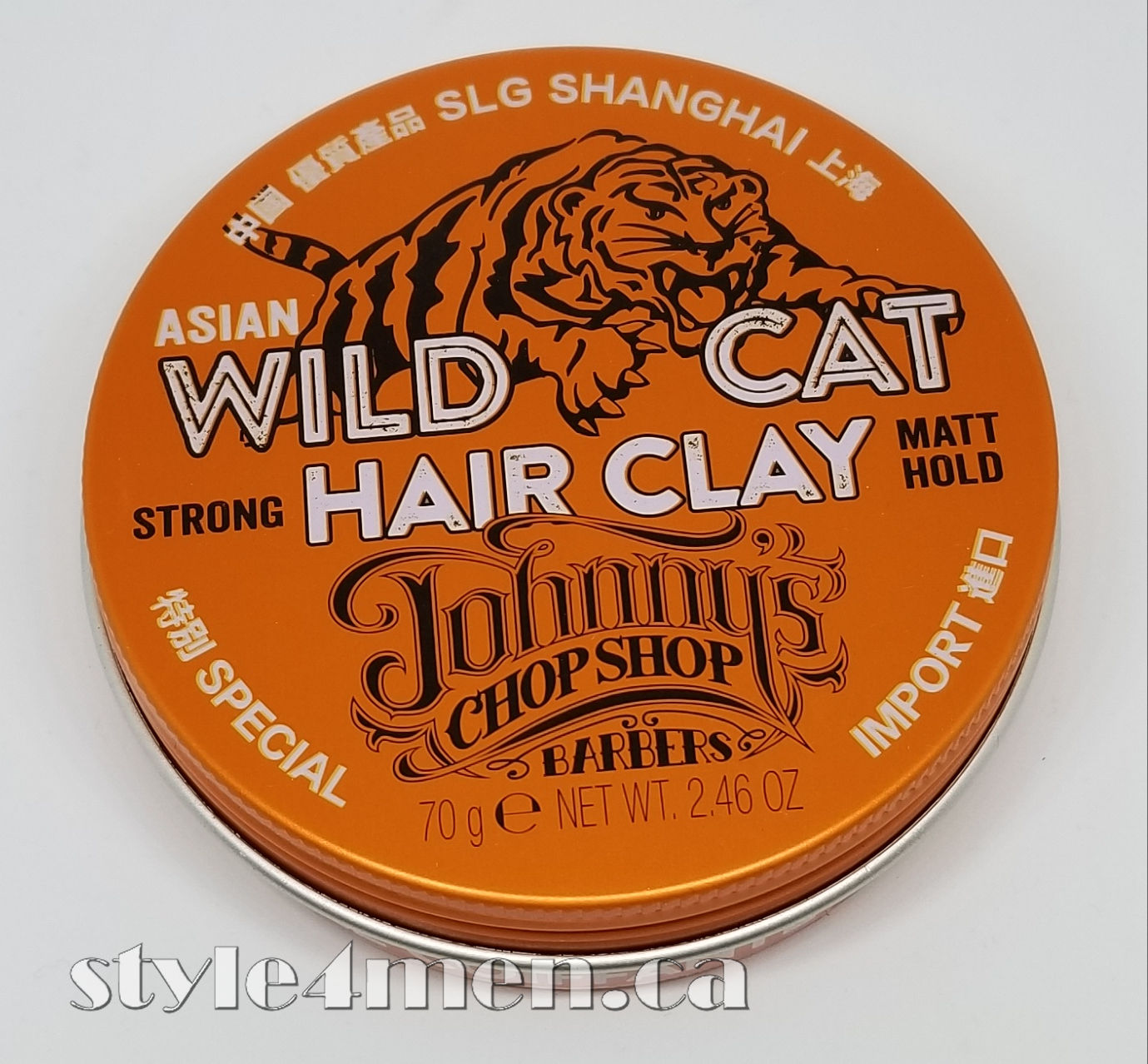 We obviously need to mention fragrance.  The Trigger Happy has an extremely mild scent that I can not identify.  I almost want to say; unscented.  The clay is in the same space and I can barely identify anything.  Maybe  little sweetness, but I want to say unscented again.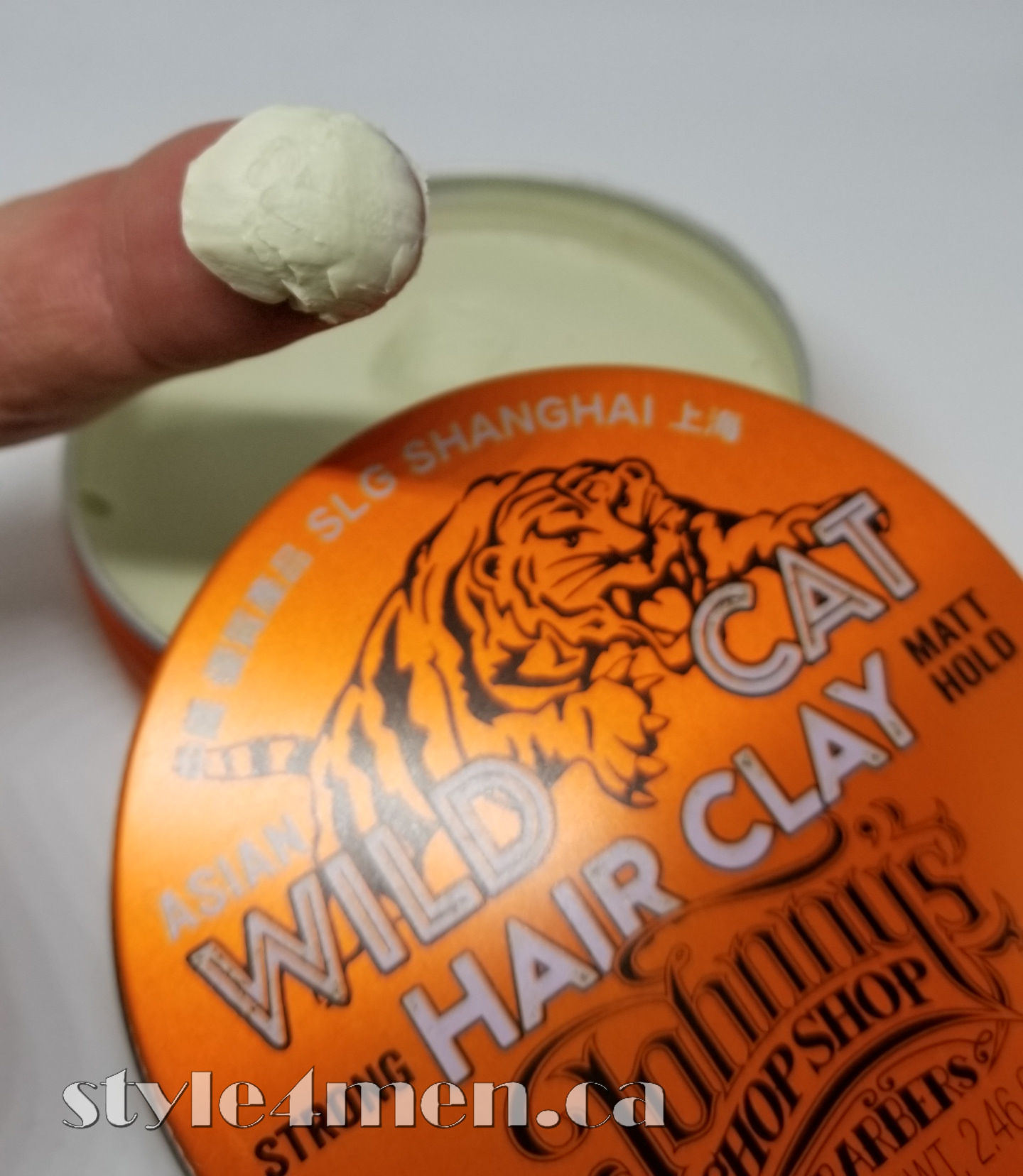 As you know, I always like to talk a bit about the packaging.  The Wild Cat Hair Clay jar is perhaps the nicest hair product jar I have seen.  The orange colour is unique in the clay-pomade space.  The overall lettering, font choice and jumping tiger give it a very cool vintage look.  For my retro cravings, it's a winner.
As with all good thing, there comes a time for them to end and wash them out. The Trigger Happy spray was a new thing for me and I wasn't to sure how it would come out and the clay contains parafinum which is a notoriously rebellious ingredient to wash out.  Well…it was no trouble at all.  One shampoo and this stuff was down the drain.
Here is the rating on a scale of 1 to 5, where 5 is a perfect score and/or the level of shine.
Hold: 3.5
Shine: 2 (By definition, this is a matt product)
Texture: 5
Feel in hair: 4
Facility to wash out: 5
Further about the Trigger Happy texturising spray, the texturising/volumising qualities of this stuff are such that this product has made the short list of products I use regularly.  With my thick and longer hair, I am realizing that prepping my hair before the pomade is giving considerably better results.  By using a bit of the Trigger Happy spray I am able to achieve much nicer elevated styles such as quiffs and pomps.
These are awesome products, but only available through London Drugs in Canada.  As far as I am aware.

PS – A nice little bonus with this shop is that when your subscribe to their mailing list you will get free shipping on your first order.