King Brown Matte Pomade – A new school take on a classic
Making my way through the King Brown range, today it was up to the Matte Pomade.  There are a number of things I really like about the whole King Brown experience.  First off, the jar themselves are simply stunning.  They scream retro-vintage in a harmony that rings pure fun for my taste.  Their Premium Water based pomade was so impressive that it was the first to the get the Style4men.ca "Skull" award for 2018.  This is a new thing, where products that stick out by their overall performance and experience, get extra kudos from us.
Shout out and thank you goes to Daen from King Brown for his support and trust for these reviews.  We really appreciate it!

The Premium water based pomade from King Brown is somewhat of a side project for our Aussie friends, since authentic grease is where it's at for them.  In other words, their pomade catalogue is essentially composed of products where the first ingredient is "petrolatum' or petroleum jelly. So that cool retro looking can is no empty promise to an authentic experience.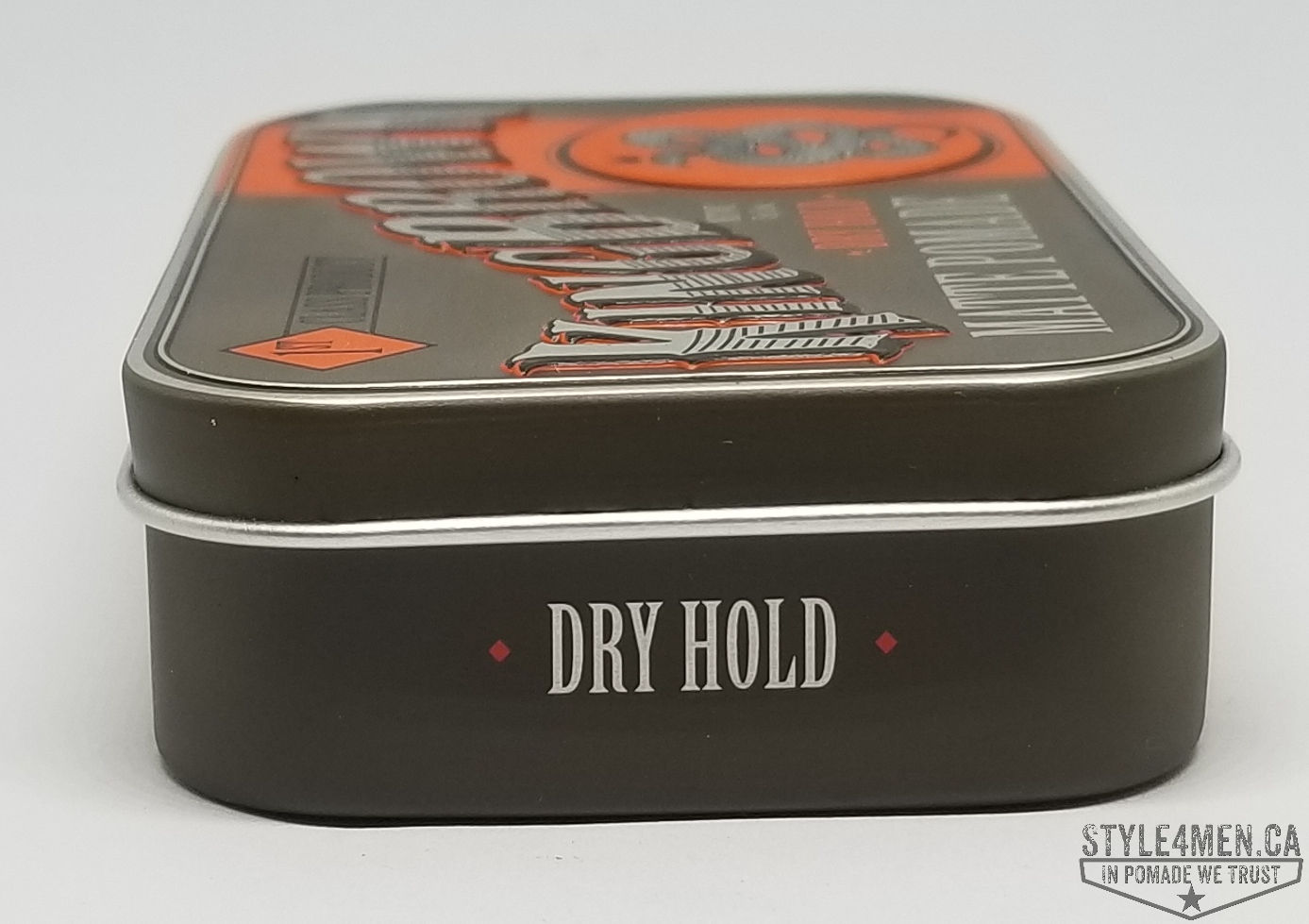 The ingredient listing to the Matte Pomade is similar to the Original Pomade where petrolatum is the No. 1 ingredient.  That makes these pomades, true classics.  Classic, yes, but there is a fair bit of refinement going on here.  You are not getting an old-school, petroleum and fragrance goo.  That jar might look like it just popped out of 40's but that is where the resemblance stops.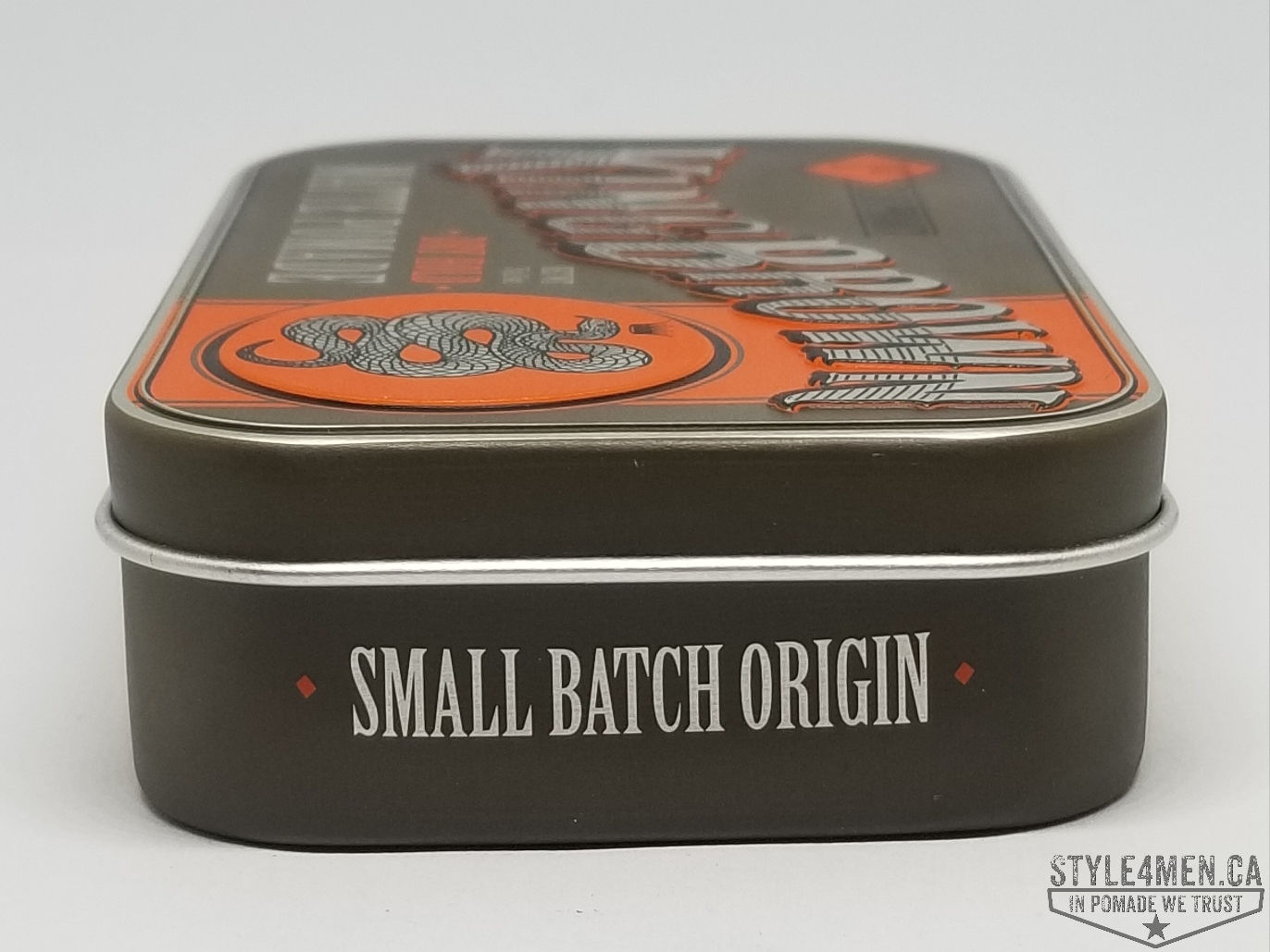 Working with the Matte pomade, turned out to be a very nice experience.  First off this stuff has a unique fragrance; think something along the lines of spicy cinnamon.  Very mild so it won't be interfering with anything else.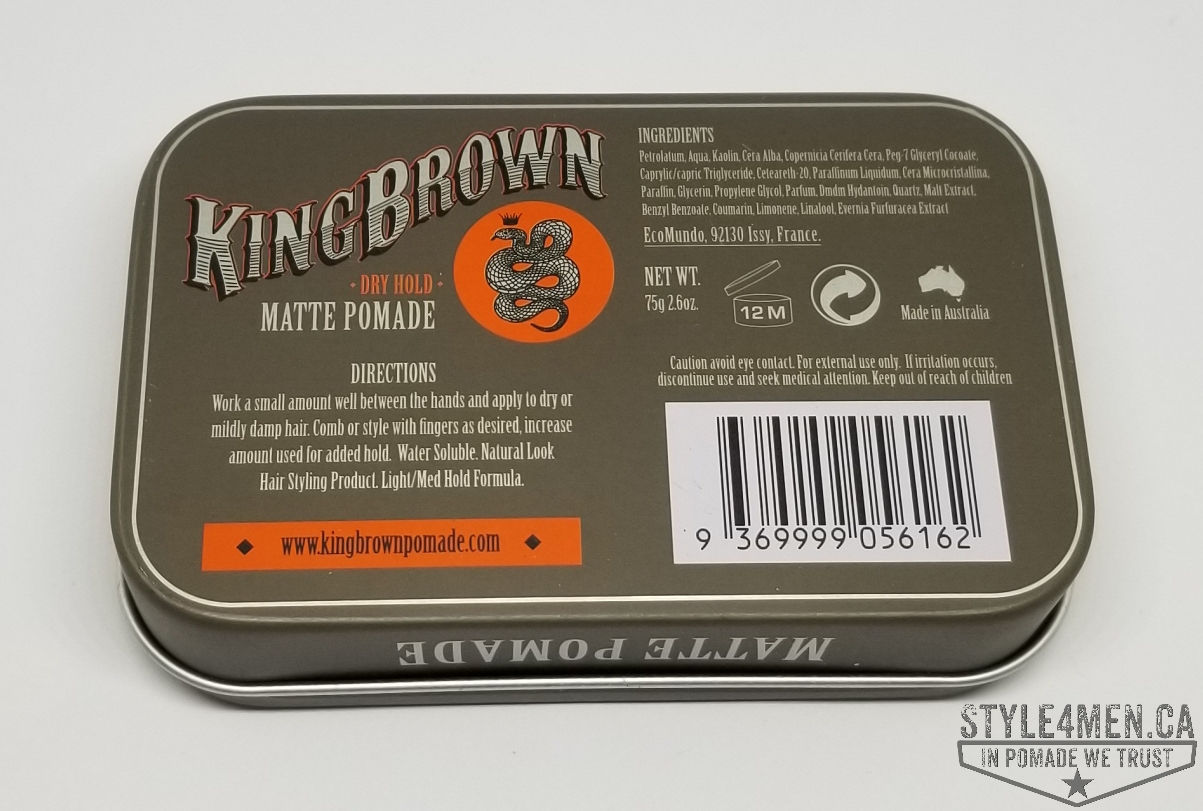 This pomade is essentially a clay and being wiser of how to work with clay, I applied a small scoop of this stuff in very damp hair.  The clay being totally absent of moisture, it soaked up most of the available water in my hair and I was able to shape things into a very agreeable pomp.  If you try to put this stuff in dry clean hair, expect some tugging.  If on the other hand you are reapplying pomade later in the day or on the next day, the existing pomade will help the process.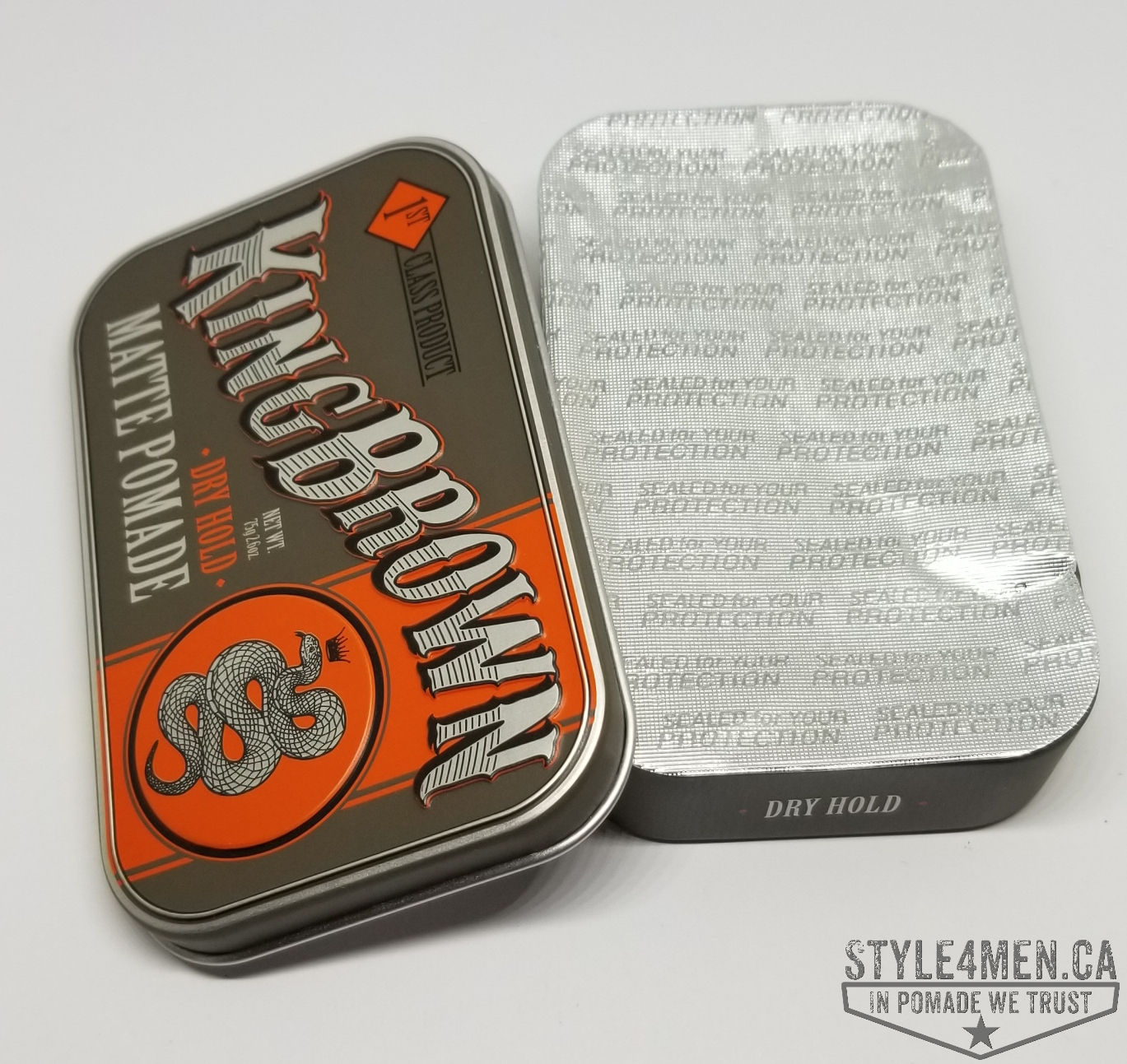 When scooping the pomade out of the jar, you of course have to relax the clay in your palms by warming it up.  It will become cream like in 3 to 6 seconds. At which point it is ready to be applied.  I used about the size of a dime.  Very little clay is required and my uppercut is rather long on top at some 6 inches.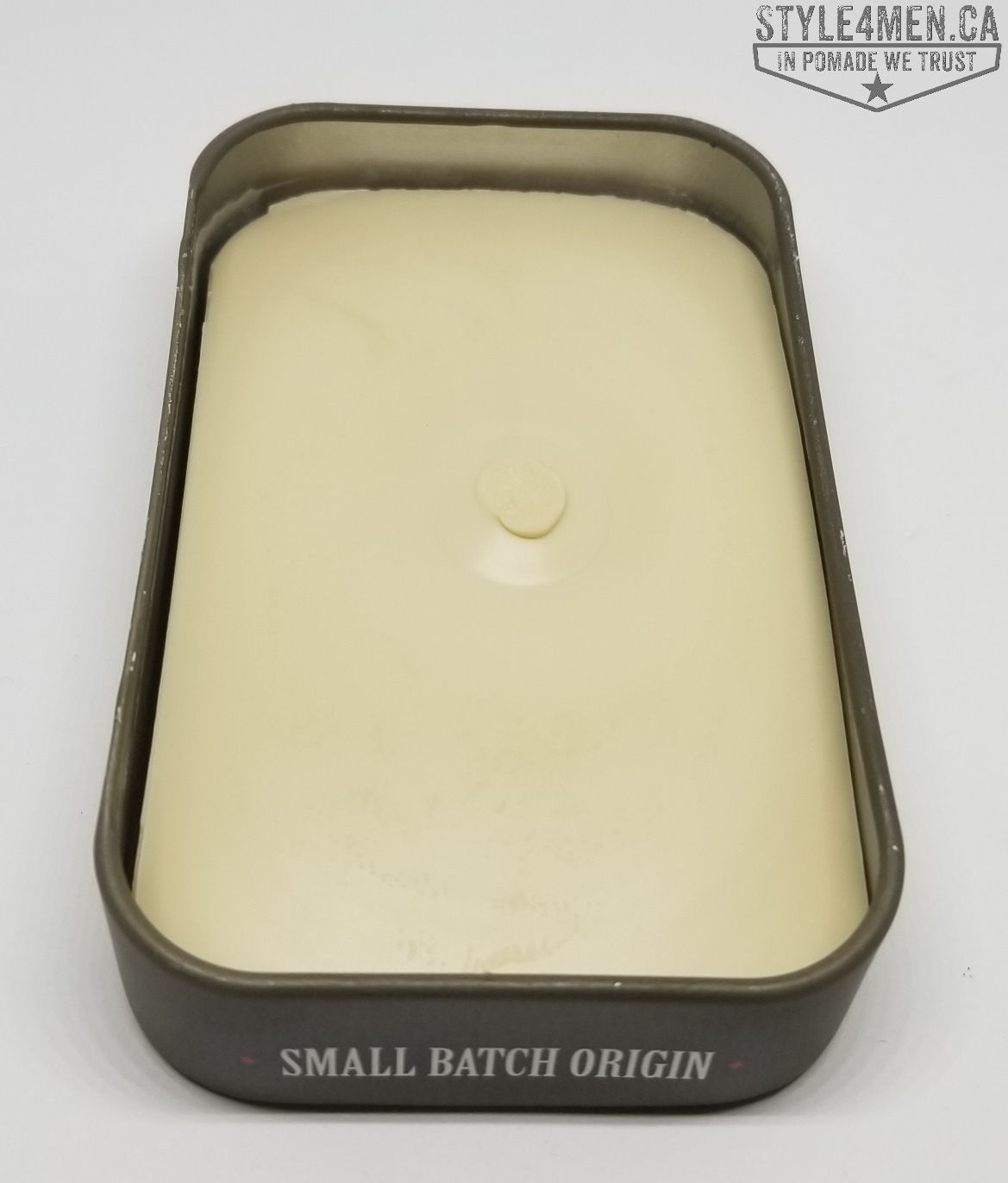 Some 30 minutes after application, I started to feel the style relax.  To solve this I used my hair dryer on hot a setting.  The heat caused the clay to soften some more and bond with the hair.  This gave a very nice and natural looking result.  To lock all this in, I applied a nice little coat of hair spray (Marc Anthony Morocan Oil).  This combination lasted me the whole day.  What's not to love?!
So old school pomades composed predominately of petrolatum are highly affected by heat: the current weather and your own body heat.  For those pomades, you will most certainly need to keep a comb handy. For this new-school clay pomade, even though petrolatum is one of the key ingredients it is balanced out by the other elements.  It is therefore not affected by heat in the same manner.  In this case, the clay composition of the pomade will in fact be somewhat enhanced when exposed to heat.  For example, when applying this pomade in damp hair and then blow drying in place, the hair-dryer heat will relax the clay even more and cause it to bond or fuse with the hair rendering a very natural looking result.
Here is the rating on a scale of 1 to 5, where 5 is a perfect score and/or level of shine:
Hold: 4
Shine: 0 (this is a "Matte" solution)
Texture: 5
Feel in hair: 4
Facility to wash out: 4
At the beginning of this post, I mentioned that this pomade jar looks like it was straight out of the 40's, but that the concoction itself had nothing to do with those old school pomades.  This becomes especially relevant at washing time.  Being a grease pomade, it won't come out by simply rinsing your hair under the shower head, but it will be a lot easier than a exorcist.  Get your hair wet, pour yourself a good portion of conditioner.  Yes, you read that right.  Conditioner first!  Its high oil content helps dissolve the grease based pomade.  Work it in and let it sit while you take care of the rest of you.  Rinse it out and shampoo.  I like another conditioner treatment after, but I am high maintenance and its probably not necessary.  Voilà!  You are now ready to rock another day without having to drag a contract with Lucifer. 🙂
In closing, the Matte pomade from King Brown is a real title contender: superb product presentation, original scent, very decent hold, natural looking results with full day commitment!
Visit King Brown's web page to shop directly with them: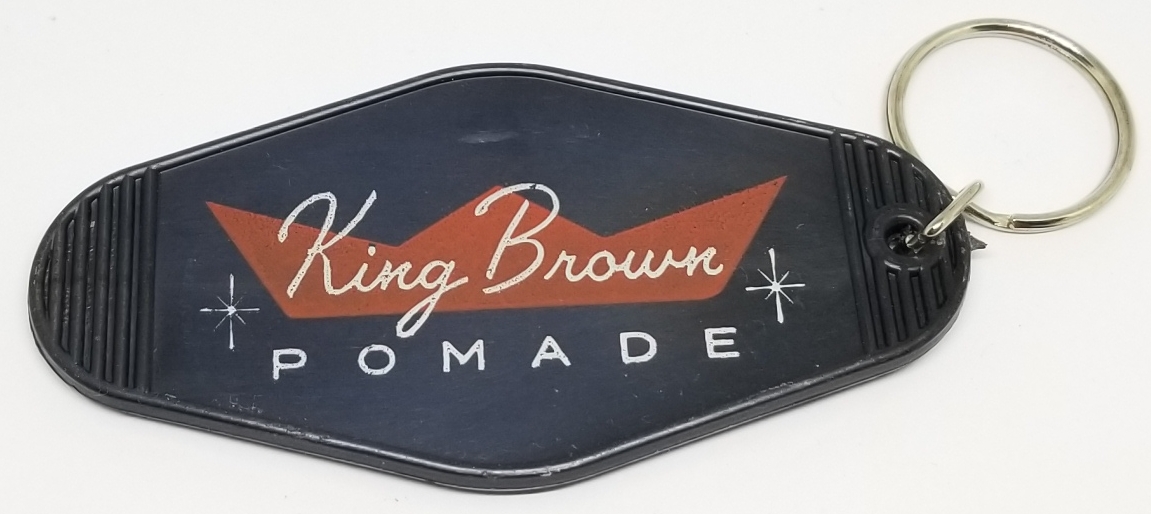 Thanks to the folks at Café Délice in Ottawa at 197 Kent Street for their daily perfect cappuccino and willingness to play along to make this photo happen.  Your delicious coffee starts my business day right!