King Brown Premium Pomade – Slithering perfection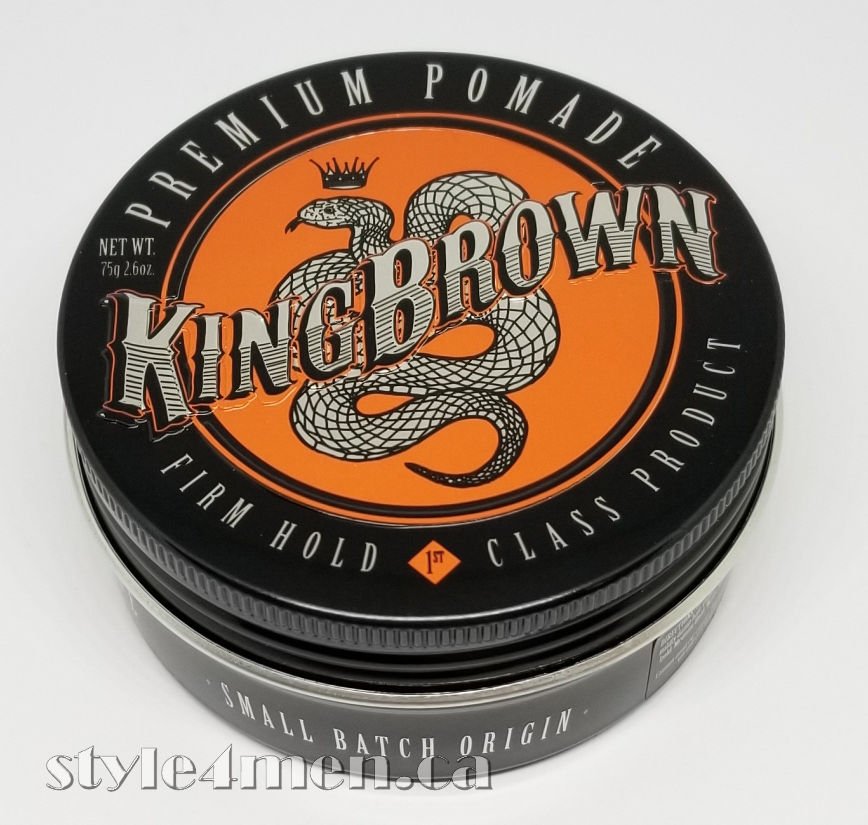 This morning I am trying out the King Brown pomade. This one comes to us from Australia. The packaging is Sublime! With a very cool snake and an awesome retro font that is stamped into the lid.

The King Brown brand name comes from the deadliest snake found in Australia, thus the snake on the jar.  I personally find that the presentation of this jar along with the infamous snake is totally slick.  It is both original and vintage looking which suits my memorabilia cravings. I also like that the jar is black as well as being a proper aluminum can.  Bothering to package the product in a true recyclable package is the right way of doing things.  Going all the way and painting the can black is yet another little extra I enjoy.  There are a few pomades packaged in black jars but not so much that it is common.  To me, it sticks out and makes it look unique.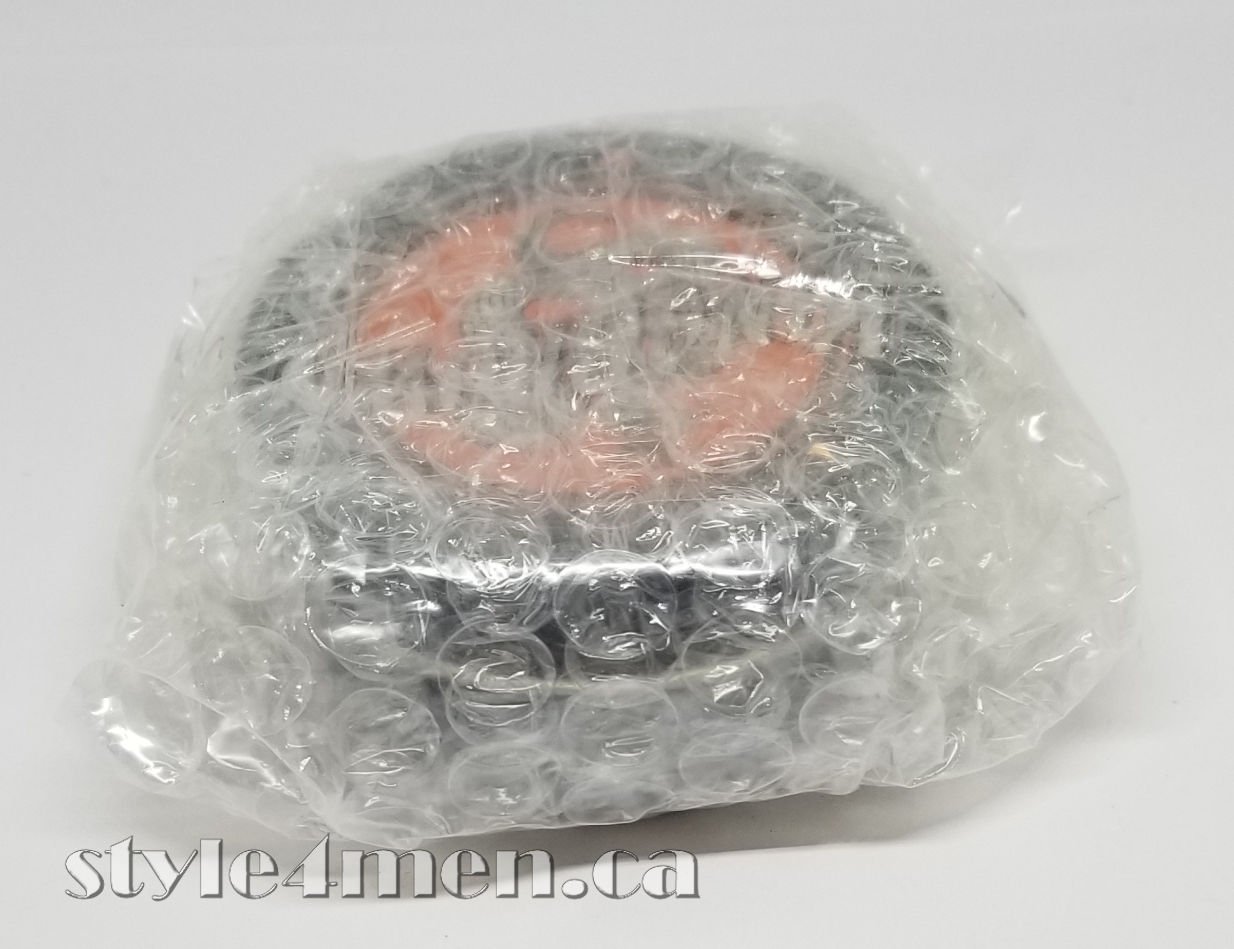 The King Brown pomade came up a number of times in my product searches, but the product price or shipping costs were always to high for it to make any sense to try.  It was always well over $30.  To complicate the shopping, this product is not readily available in Canada and buying on-line is pretty much your only option.  I finally found a jar from a UK seller on eBay at a reasonable price.  It think it was some 12 GBP including shipping.  At the time this was in the ball park of $20 CND.
BTW – Shipping from the UK is both fast and inexpensive.  In the past 2 years I have been nothing but impressed by the efficient relationship between the Royal Mail and Canada Post. The parcel arrived within about 7 business days.  Not too bad, eh?!  My jar was in a plastic envelope with some serious bubble wrapping and the said jar was in pristine condition.
So this pomade was made in Australia, bought by a merchant in the UK and then sent to Canada for my order.  Even considering all the traveling, this product still felt surprisingly fresh.  Almost makes you wonder how old some of that other stuff might be…?
To date I had only seen the King Brown Pomade in a rectangular jar – very very vintage looking. They're newer edition comes in a round jar to be more in line with all of the other pomades I assume.
There is next to no scent.  Perhaps maybe a very distant orange fragrance. The pomade is a slight orange color and once relaxed in your palm will become simply transparent.  It will thus blend very nicely in any hair color.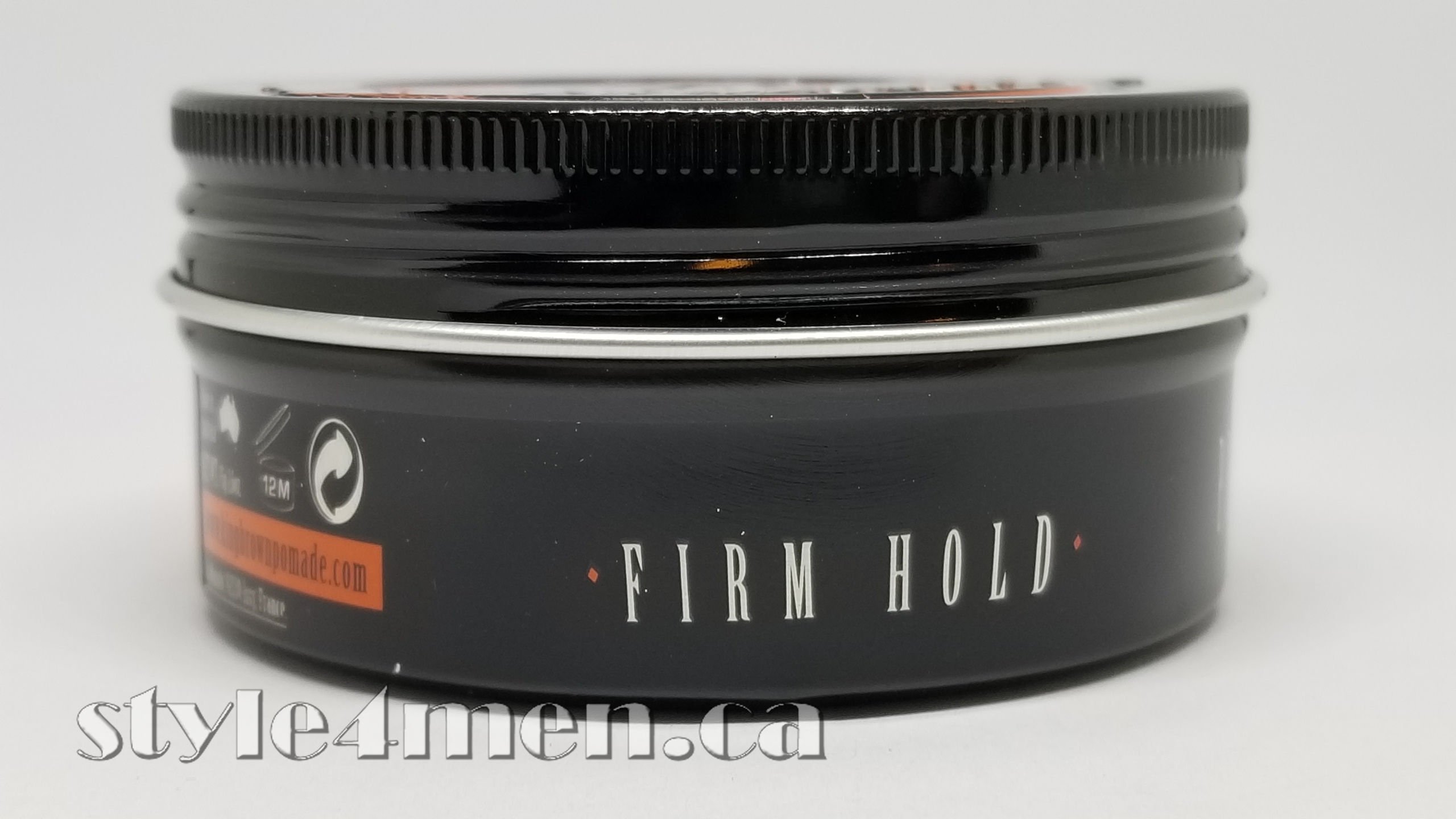 When scooping it out. I noticed a very present fibrous element to it.  It made me think that maybe the pomade would be slimy to work with, but not at all.  In fact it was breeze!  Easy to blend with a proper amount of stickiness.  This is one of these pomade where very little styling is required as the products holds well immediately.  It does not seize and remains workable.  Nothing like clay or mud.  This is a "real" pomade.  I used about the size of a dime and this was sufficient. I was blown away with the durability of this pomade.  It is an all-day participant and not one bit crunchy!  Firm, yes – but a comfortable feel.  Sometimes, strong hold water based pomade can have a drying effect on the scalp leading to some itchiness – not here.  This snake was smooth.
As per the labeling on the can, this is a firm hold pomade.  Often enough the strength of a products is based on the makers own scale and might be of little relevance to your hair, needs or expectations.  Take it from muppet hair here, this stuff is a true "firm hold".   Generally speaking if you are in the pomade games it is one of two properties: hold and/or shine.  Having unruly hair, my number one attraction to pomade is "hold".  As stated above this stuff does hold, but what the shine?  It's a nice healthy looking finish.  Tamed but noticeable.
At 75 g, this jar is a little bit smaller than the 100 g norm. But since the pomade is so good, there is almost no point in mentioning it.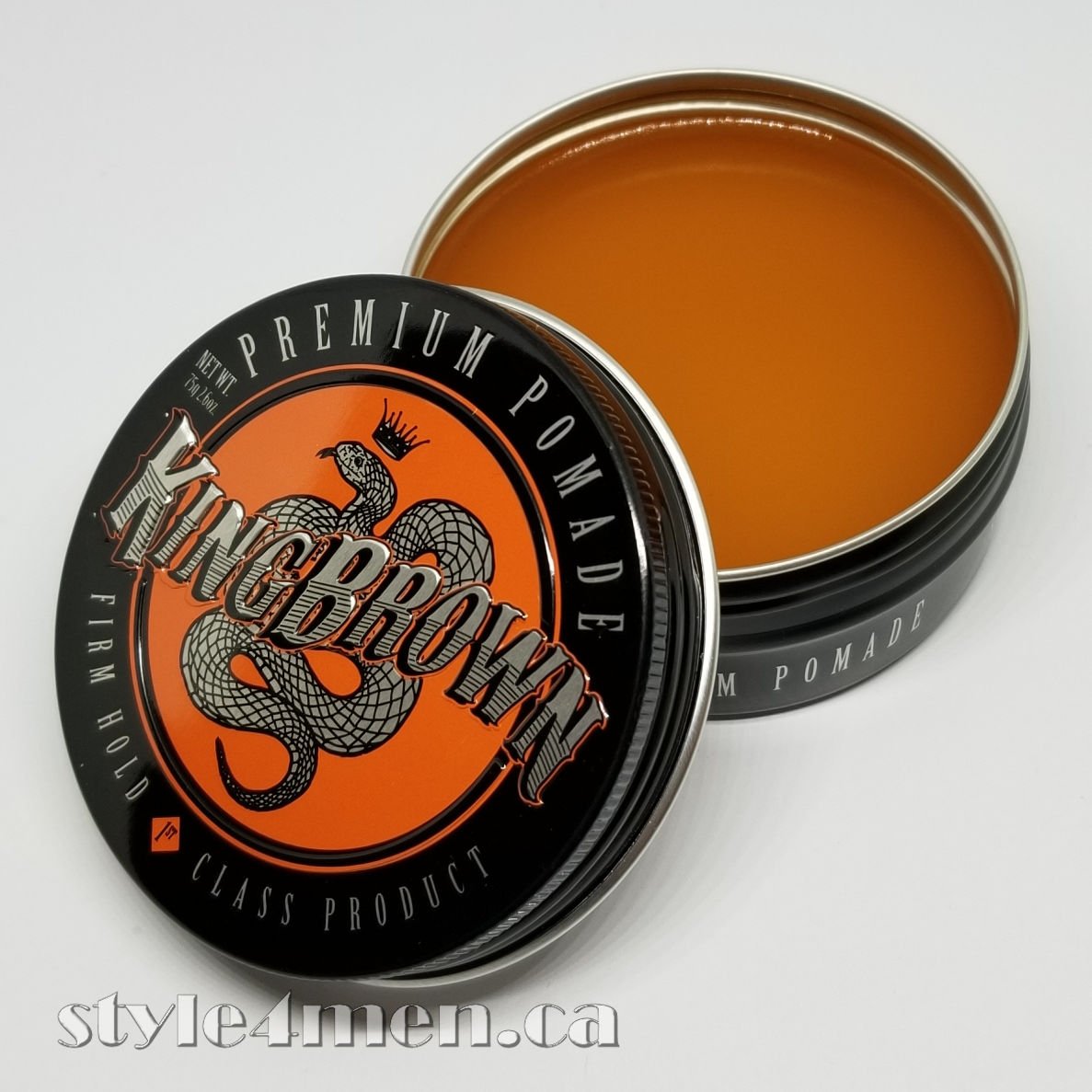 I enjoyed this pomade very much and went ahead for another day with it.  My approach to revive the pomade before restyling for that second day was simply to spray a bit of salt spray.  Salt spray relaxed the left over pomade without breaking it down like a hair tonic might.  Blend the spray in and then apply a small new coat of pomade and you are good to go.  Being a water based pomade, parting with this stuff is the simplest thing.  No contract breaking or legal representation needed.  A shower rinse and you are done!  Naturally, a shampoo might be better, but is not a necessity.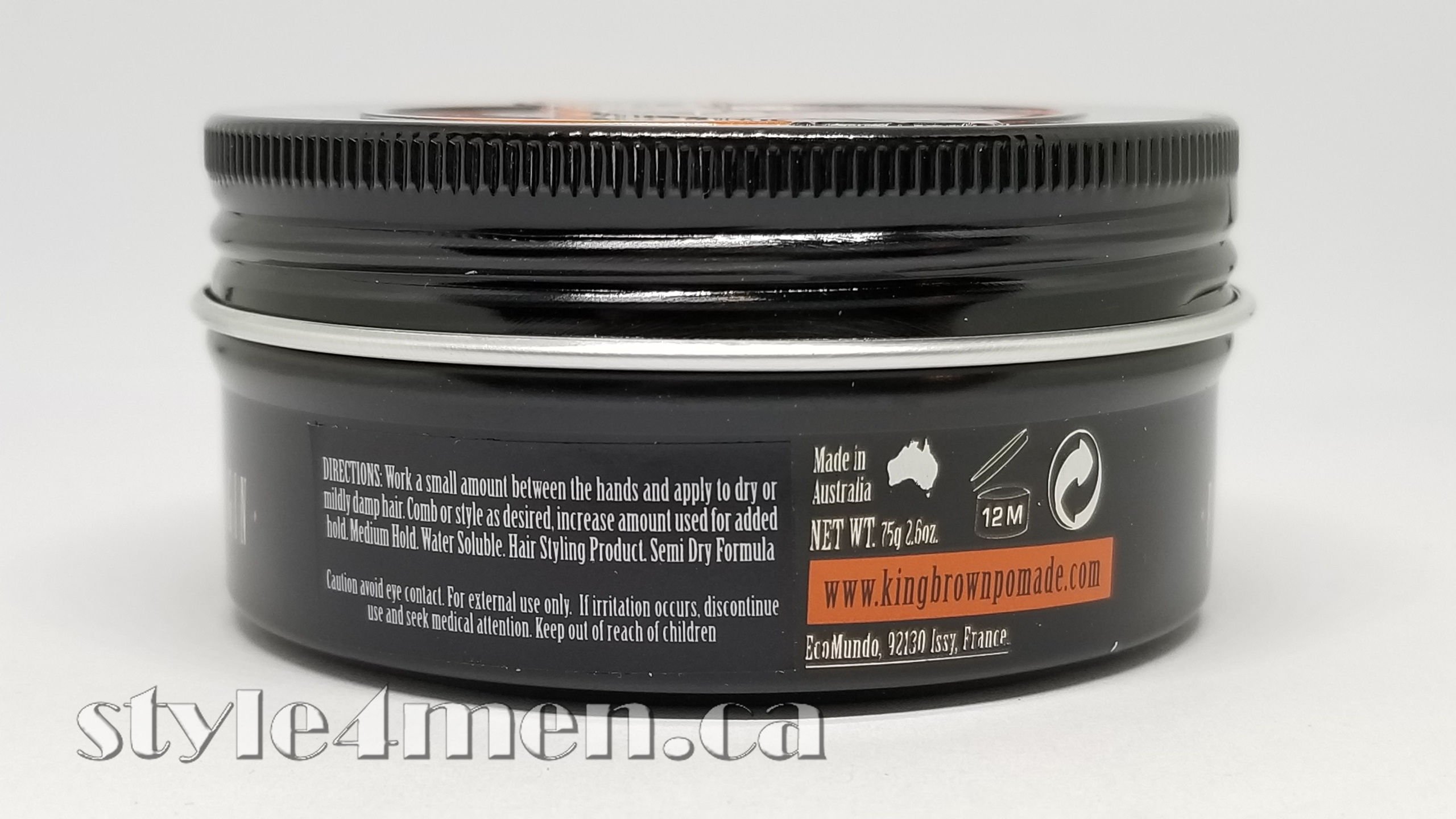 My apologies for the poor readability of the ingredient listing.  The printing on the can was a little smudged.  That being said, from what I can read, the ingredients are essentially our regular water base pomade players.  Bonus: I see no parabens!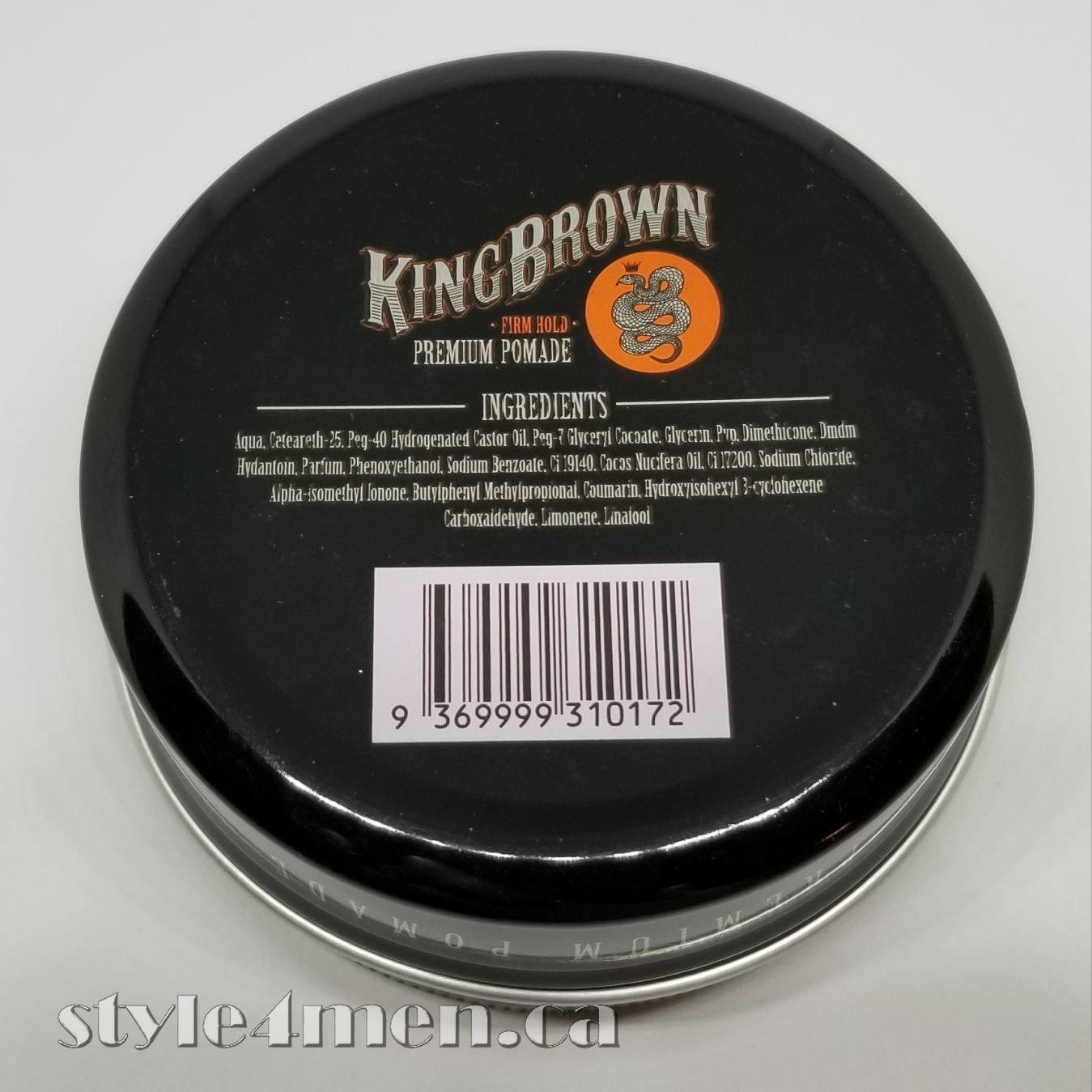 Here is the rating on a scale of 1 to 5, where 5 is a perfect score and/or level of shine:
Hold: 5
Shine: 3
Texture: 5
Feel in hair: 4
Facility to wash out:  5
In clear terms, the King Brown pomade gets a 5 star rating from Style4men.ca for both its real firm hold and all day participation.  I am looking forward to trying more King Brown products.
As a new thing going forward, awesome products (pomades and so on) will get the Style4men.ca "Skull" award.  The first one goes to King Brown's Premium Pomade.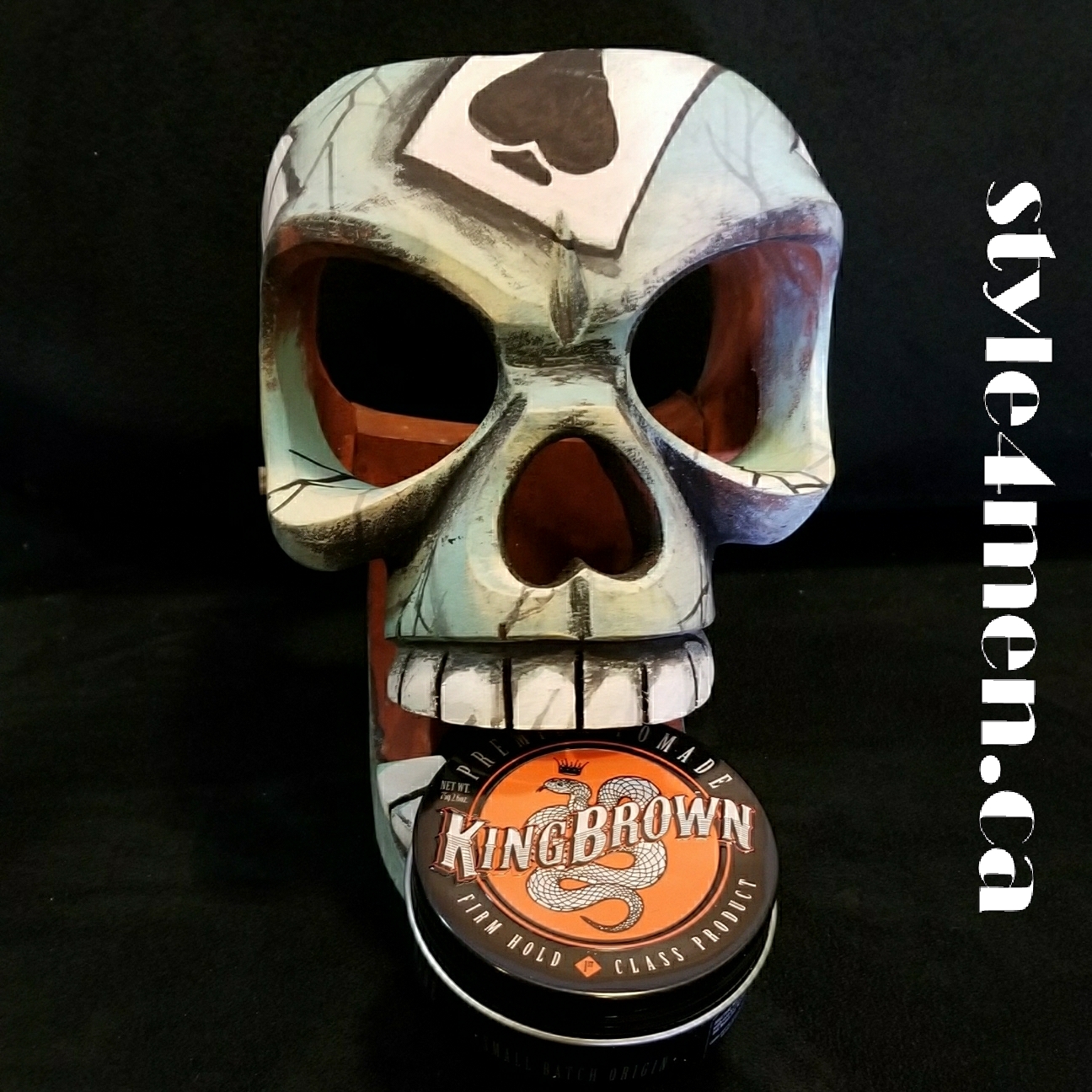 Use these links to shop for this pomade: