KIPA Toffee Fibre Paste – Smelling Delicious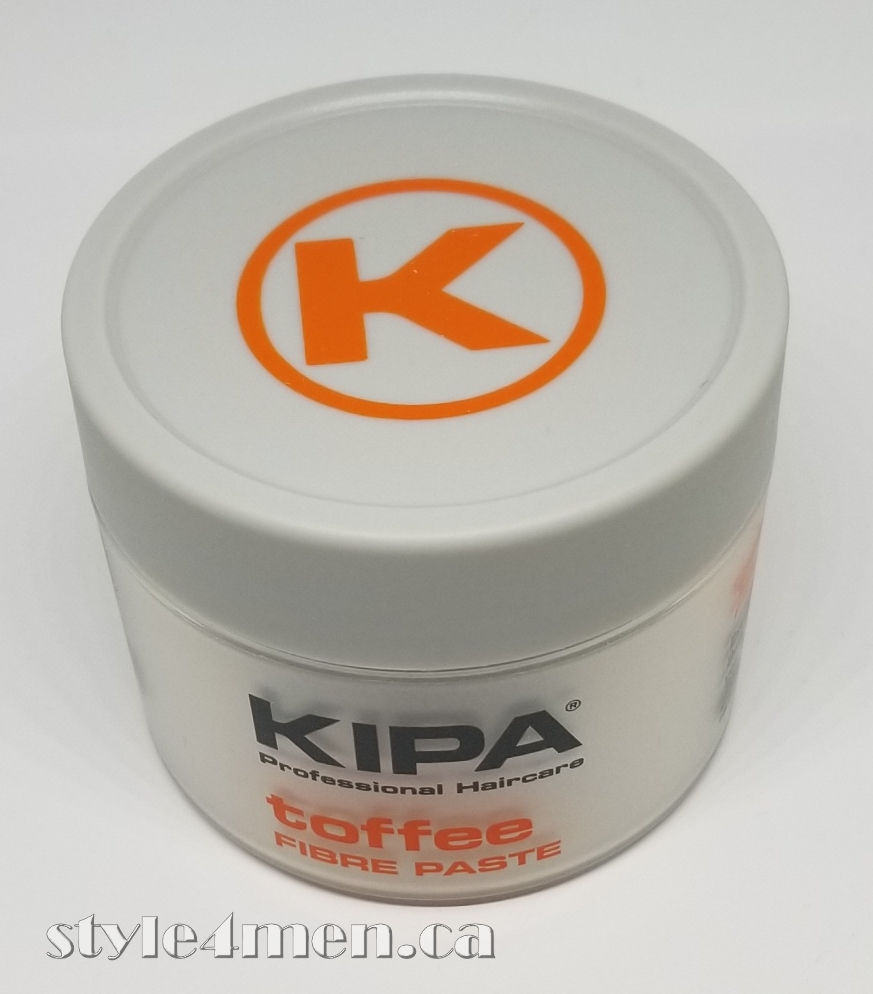 Last month, while going through The Barber magazine on the ISSUU platform I came across this slick and modern looking hair styling brand; KIPA. The advertising mentioned a Toffee Fibre Paste. As interesting as that sounded, I essentially just went along as this being a catchy name.  I had no clue how big of a surprise I was really in for.
KIPA is a British hair grooming company and I am not entirely sure of its availability in store sin North America as of yet.  But I expand on the incredibly easy and cheap shipping from the UK to Canada lower in the post.  As you can see in the pictures, the branding and packaging is modern and chic.  I especially like the frosted jar.  It is stylishly made and gives the jar a classy presence. I usually mostly talk about the content of the jars, but when a company goes through the extra effort and cost of making a nice packaging I take it as they are proud of what they have produced and want to put that product in a nice suit to present it to the world.  KIPA makes a number of hair fixative which all follow this same branding approach.  The product names and the cool "K" on the lid are rendered in different colours to differentiate each option.  Below is the the current product catalogue.  As you will see, the names are original and inviting.  With names like that, I want one of each!  This review will focus on the "TOFFEE – Fibre Paste"
Toffee  – Fibre Paste
Magma  – Matt Clay
Play Up  – Texture Cream
Minted – Pomade
Hard Hed – Dry Shaper
Pulp – Fibre Gum
Chaos  – Shaping Paste
There are also 2 bottles:
Sea Salt – Texturising Spray
Head Shot – Gel Spray

The folks at KIPA were awesome and sent me a jar of both their Toffee Fibre Paste and they Magma Matt Clay to review.  Thank you Paul for trusting us for this review and for your support of the Style4men.ca project..
Before getting into the product review I want to address, why hair products from the UK are of interest to Style4men.ca. First off, the UK has twice the population of Canada and thus a considerably bigger market when it comes to hair grooming options.  There are therefore more options and more interesting options as well.  Secondly, and this one is less obvious; the postal service between Canada and the UK is rather unique.   I can't mention this enough in these posts.  As a norm, for a item coming from to the UK and being delivered in the Canadian National Capital Region, we are looking at no more than 4 business days.  Often 3!  So essentially, its the same delivery standard as if the parcel was shipped and delivered in Canada.  Then there is the pricing of the shipping.  Generally speaking, shipping is roughly half the cost of anything coming form or going to he US.  The parcel from KIPA was rather heavy and was stamped at 8 GBP ($14 CND).  As a comparison, my last pomade order coming from the US took two full weeks and cost $12 US of shipping for 1 jar of 100 g.  Its literally two different worlds.  So you can see that shopping in the UK can be a very interesting proposition.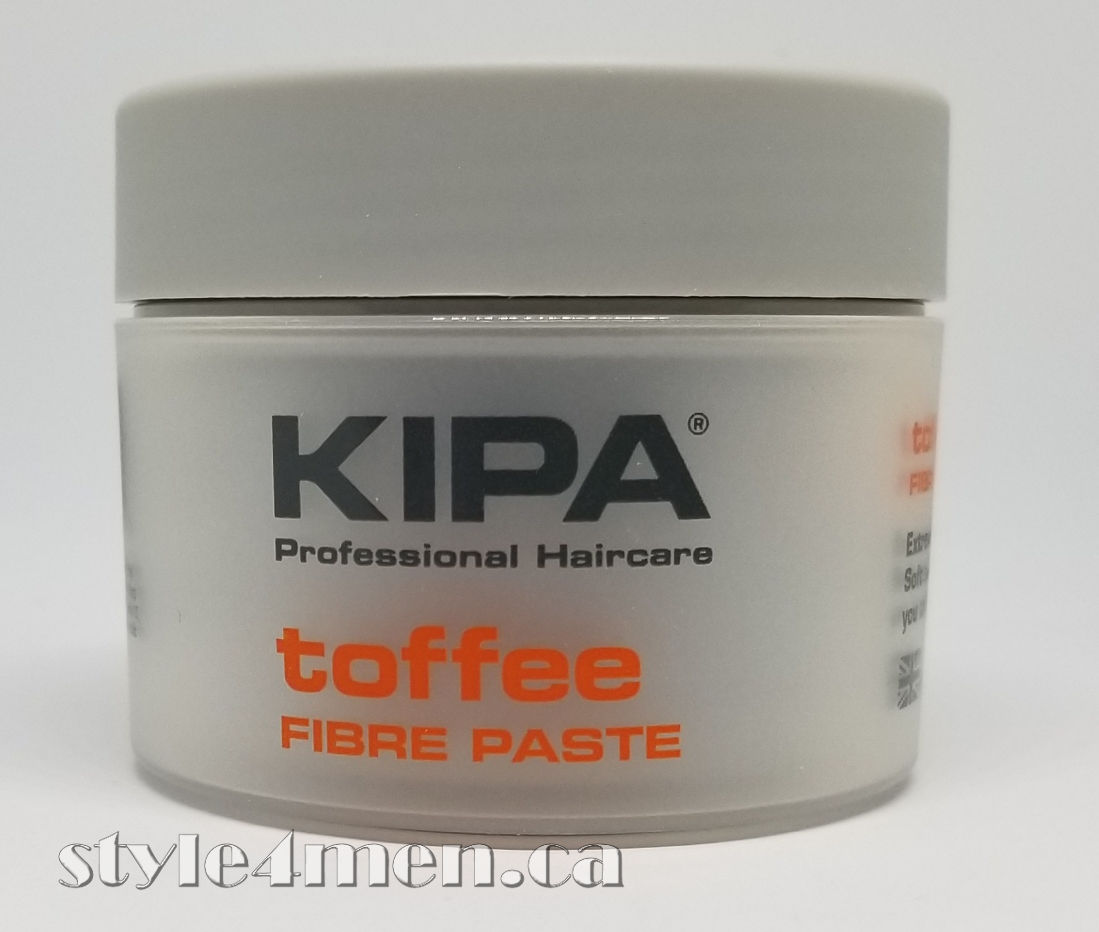 As per the product catalogue mentioned above, it is clear that KIPA has something for every hair type and style, but there is a penchant for styling products that will give volume and a matte finish.  Pastes, clays and creams are hair styling solutions that are ideal for stylings with height and volume.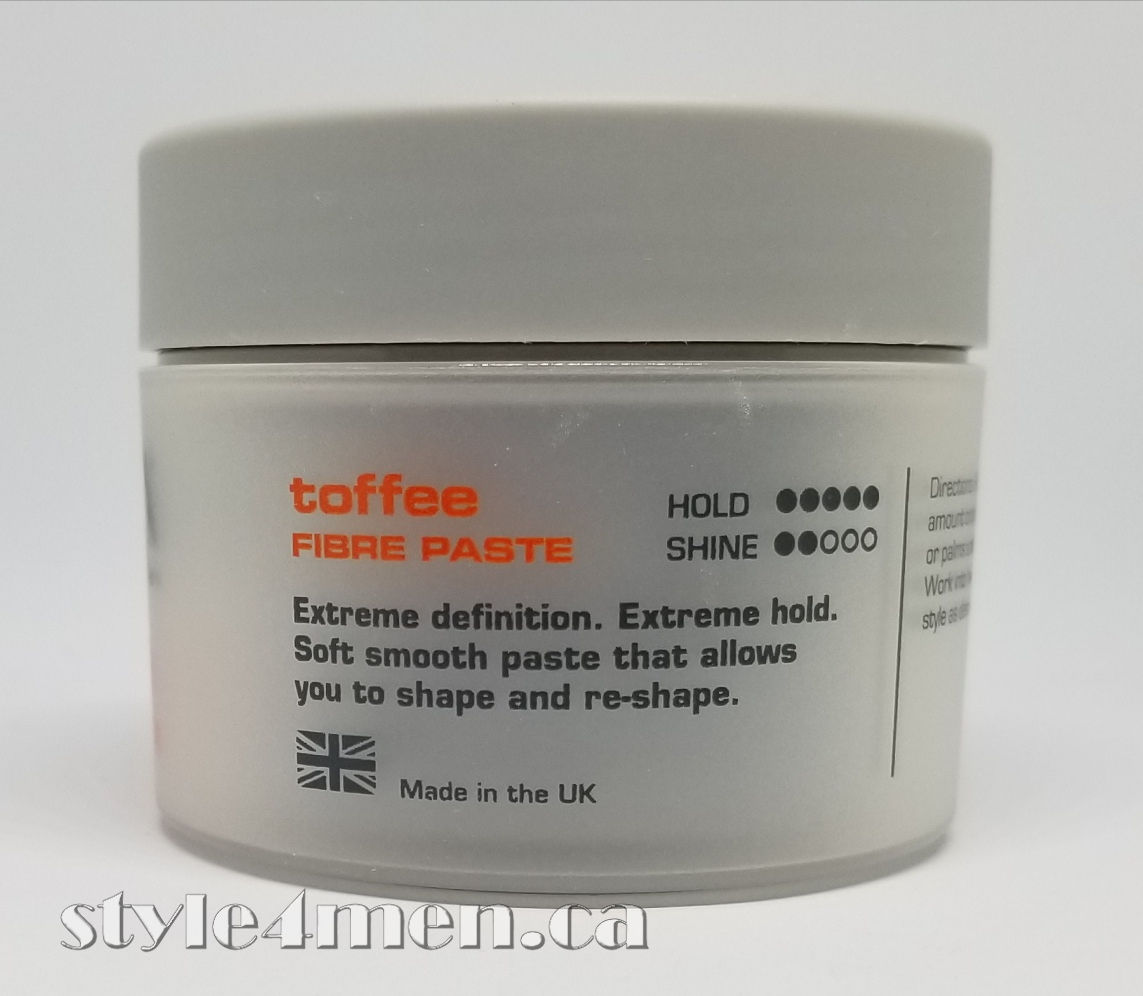 KIPA as a easy rating system on a scale of 1 to 5 for both hold and shine.  This make product selection a breeze.
I often comment on the fact that these scales are awkward references as they tend to be relevant to that given brand.  So if you have not used products from that brand before, the value of this information can be limited. In the case of the Toffee Fibre Paste, the KIPA scale suggest a 5/5 for hold. Going with the understanding that "paste" tends to not be as strong as pomade, it is a surprisingly decent holding solution.  On the Style4men.ca hold scale, it's a 3.5 or 4 on 5.  Where 5 is almost helmet hair and 1 will barely survive a walk to the car on a sunny day.
Paste as a whole is not a "shiny" option and KIPA is rating itself as a 2/5 in that department.  I agree, as it is just a healthy and discreet luster.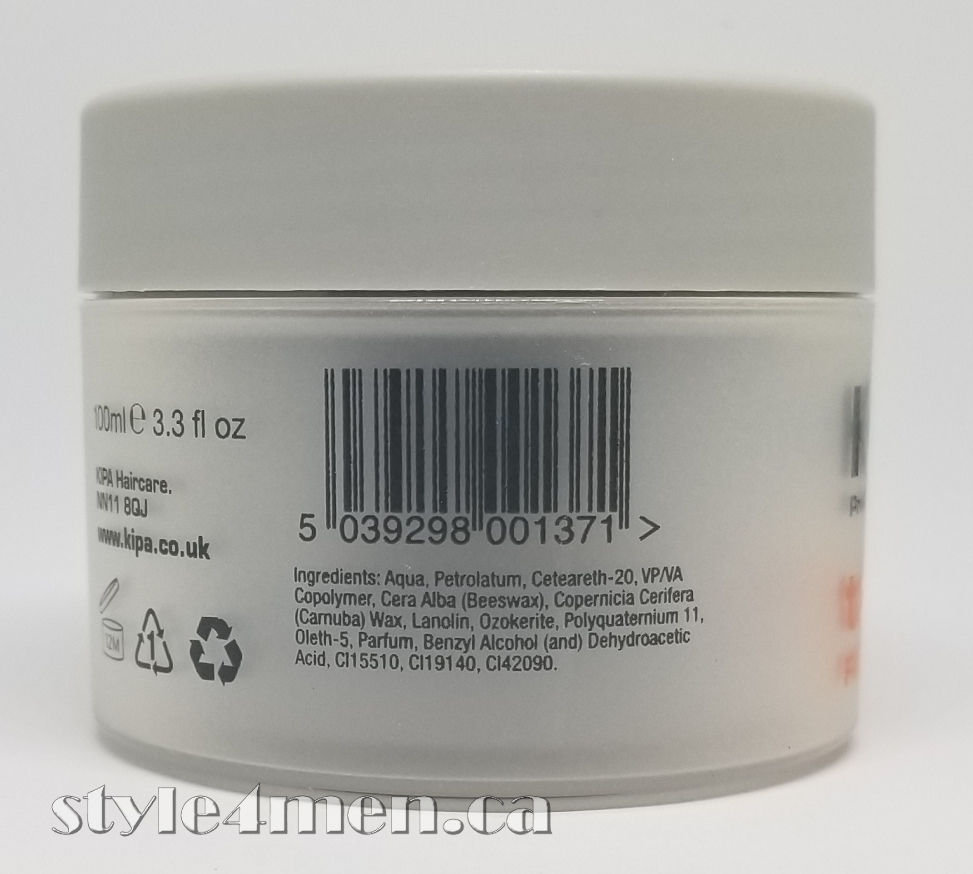 At 15 ingredients it is not the shortest lists, but it is not a chemical party either. Happy to report that no parabens have been invited. This is a water based solution which is no trouble what-so-ever to wash out and when its time.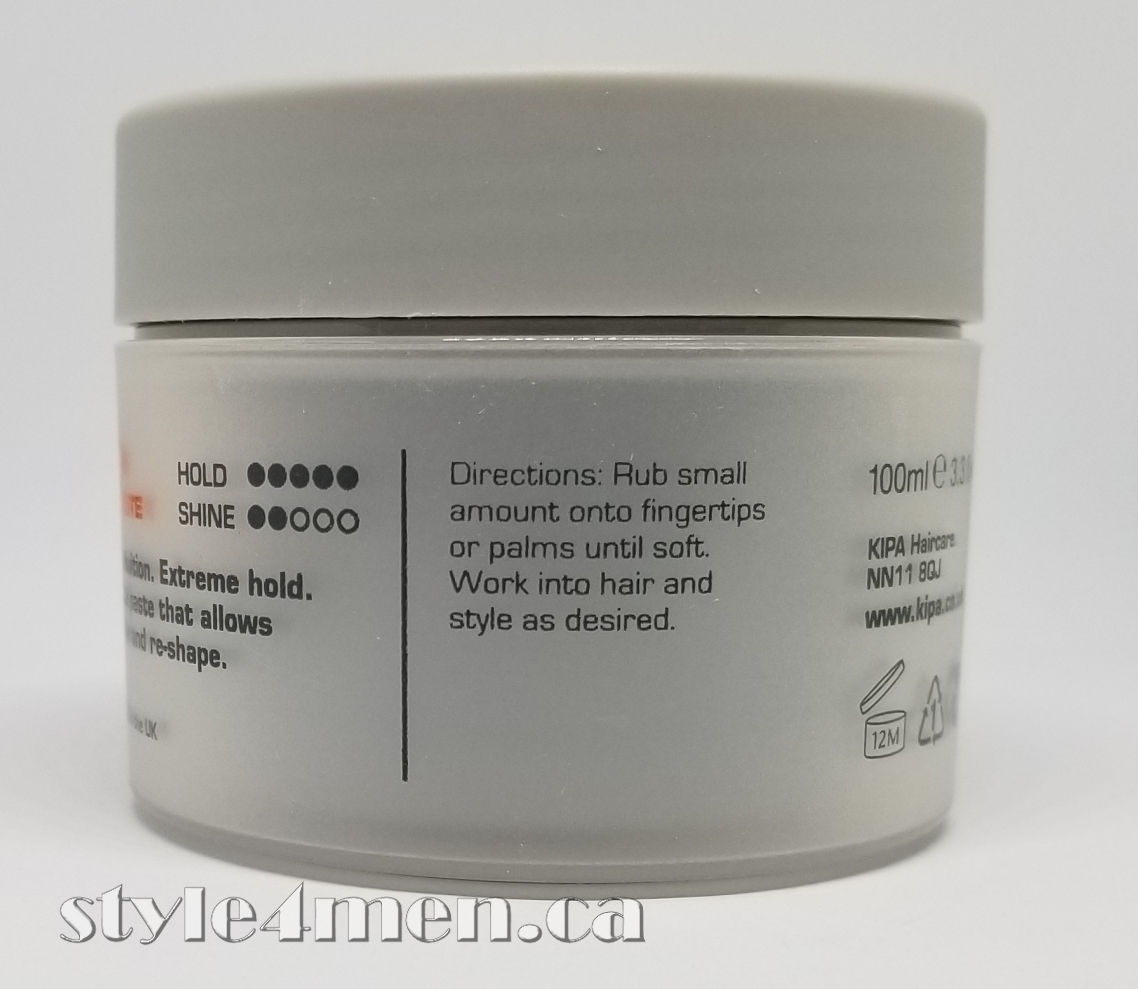 As you can see in the picture, this Toffee paste looks very much like a butter.  Then there is that moment of total surprise as you are greeted by an absolutely delicious toffee smell.  It is so well rendered that your mind will start playing tricks on you and you might be reaching for a spoon to tackle this jar.   At the beginning of this review I mentioned a surprise, the actual toffee scent is the surprise.  It is perfectly done…and completely unheard of in the hair fixative space.  The scent is strong enough and so original that you might consider skipping your cologne when sporting this stuff.  It is not over bearing or dominating, but it is also unmistakable, so you need to consider not over doing it.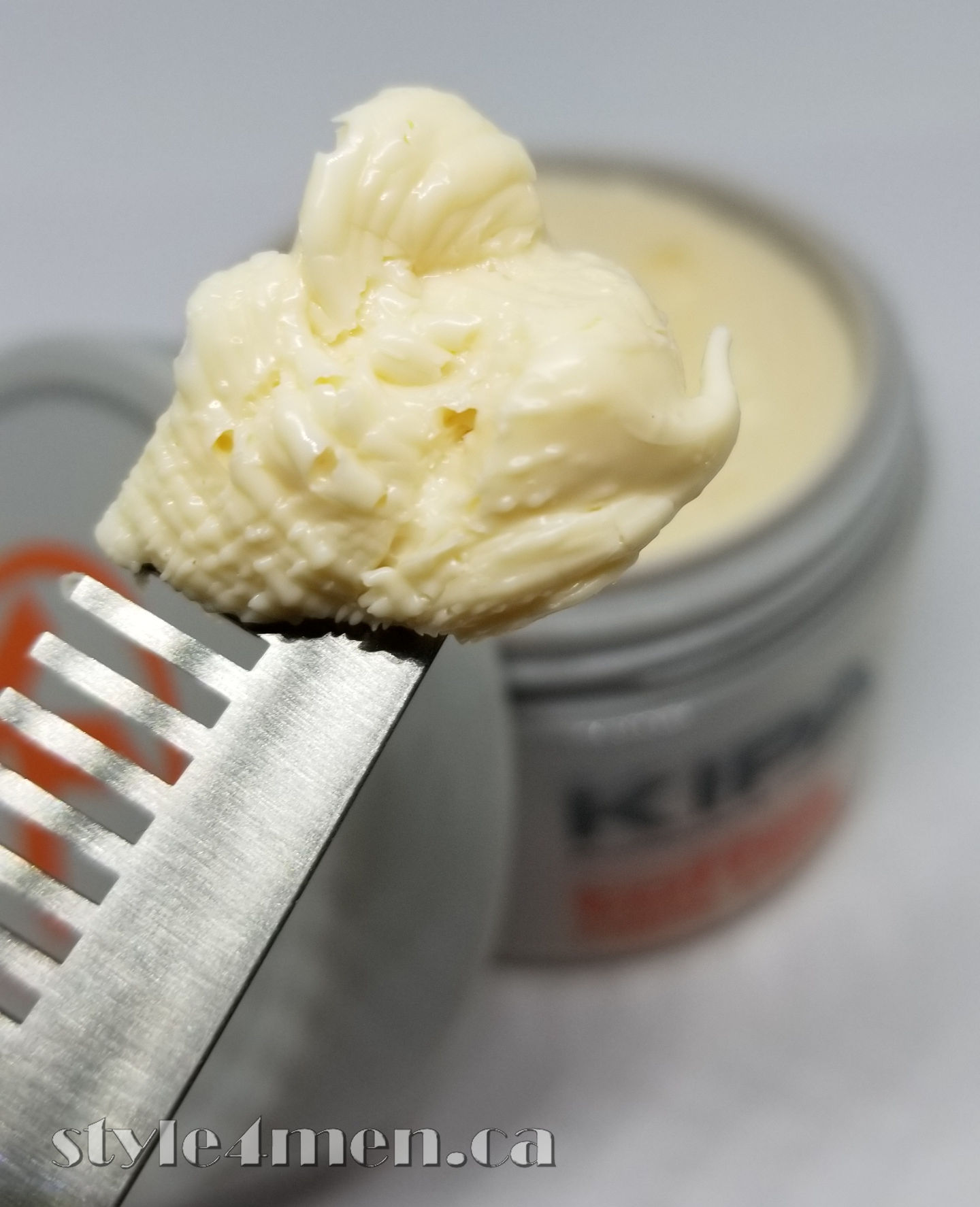 Quantity wise when styling, it is important to start small.  I started with about the size of a nickel.  When scooping the product out, there is no resistance as it is a soft product.  You basically just need to distribute in your palms and apply it to your hair.  The goal is to get it in everywhere for an even coverage and good hold.  Pastes and clays can tend to be hard to apply to dry hair as they seize or dry very quickly.  I was pleased to see that the KIPA option did not seize up nearly as fast as what I have become accustomed to.  I will suggest that applying to slightly wet hair might also make the process easier and follow that with the hair dryer.  By slightly wet, I mean towel dried hair that is almost dry.
The results are very interesting.  Natural looking with great volume and height.  This is NOT the Rockabilly's delight!  It's a more current and natural looking finish.
Considering my fairly long uppercut and thick hair, using only the Toffee paste was not enough to keep things going all day for me.  The styling lasted a good 3-4 hours before having trouble. In response to that I would suggest using a hair spray to seal your style in place.
Here is the rating on a scale of 1 to 5, where 5 is a perfect score and/or level of shine:
Hold: 4
Shine: 2.5
Texture: 5
Feel in hair: 4
Facility to wash out:  5
In closing, the KIPA Toffee Fibre Paste is a total surprise with its fabulous and unique toffee scent and a great volumising hair paste.  Stay tuned for the next KIPA review  covering the Magma Matt Clay.  I will also aim to try their Sea Salt and Hair Spray.
Visit KIPA directly to shop for their products: