Oil Can Grooming – Crafting Clay & Grease Pomade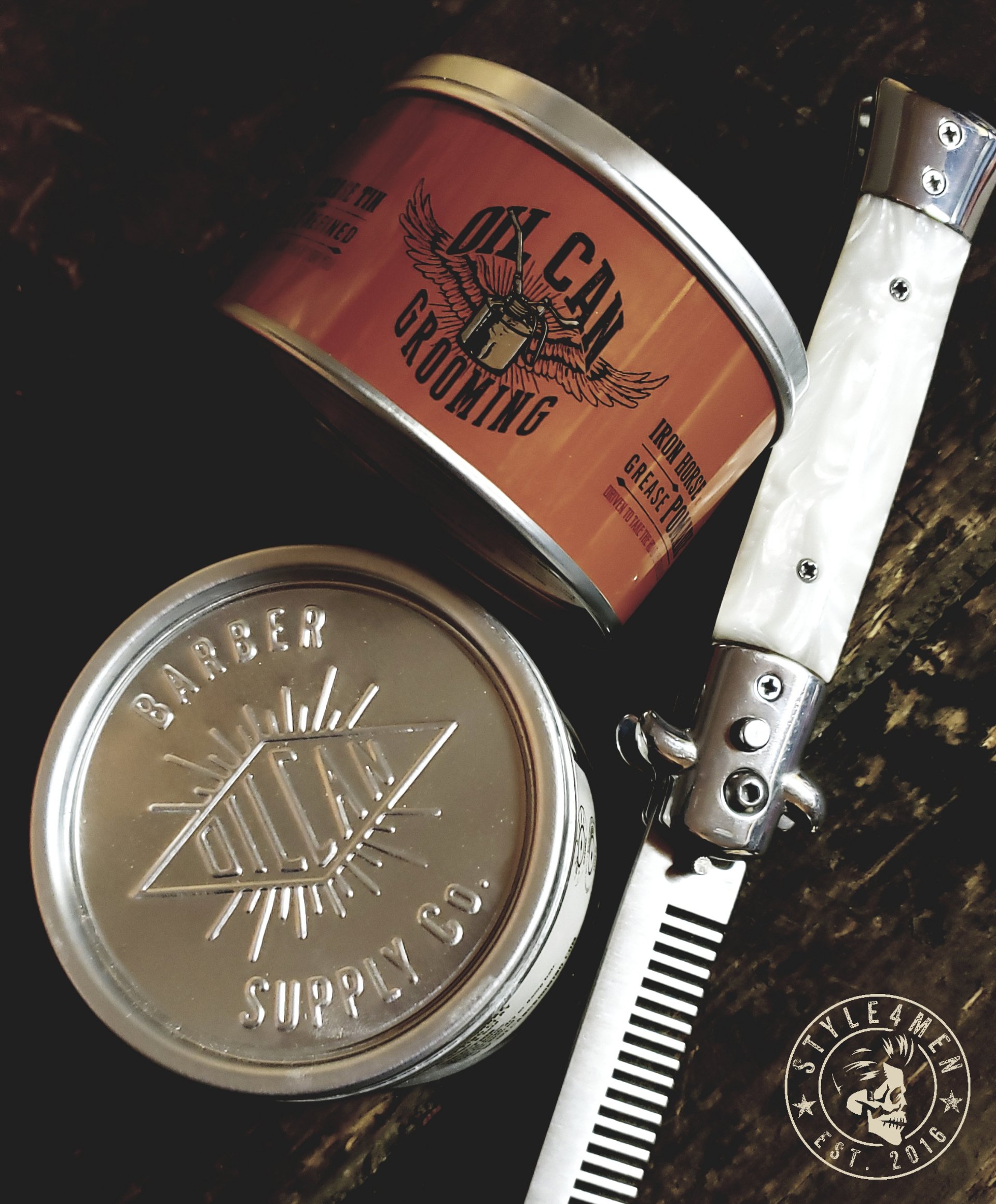 Oil Can Grooming pomades and beard oils are perhaps some of the most originally packaged.  Their unique vintage thin cans stand out.  It's a tribute to the mechanical age and how handy having a can of oil was/is.  Everything runs smoother with a drop of oil.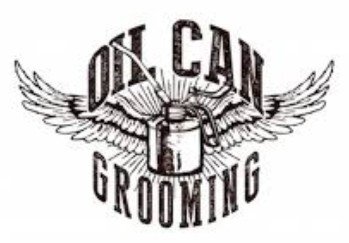 There is an obvious parallel to be made between mechanical fascination and pomade.  After all, are we not called "Greasers"?!  The pomade jars look in every way to those that were used in garages to hold greases, lubes and other mechanical ointments.  And the beard oil cans looks like the classic jerry gas tanks.  You get the idea!
These pomades come in full metal cans with painted labelling.  The only sticker to be found is on the bottom to accommodate for multi-lingual ingredients listing and instructions. The lid is stamped which is something rarely seen now-a-days.  Sticking to that vintage approach of thing, the lid is a slide-on versus a screw-on.  Freshness is ensured by a rubber film in the lid groove.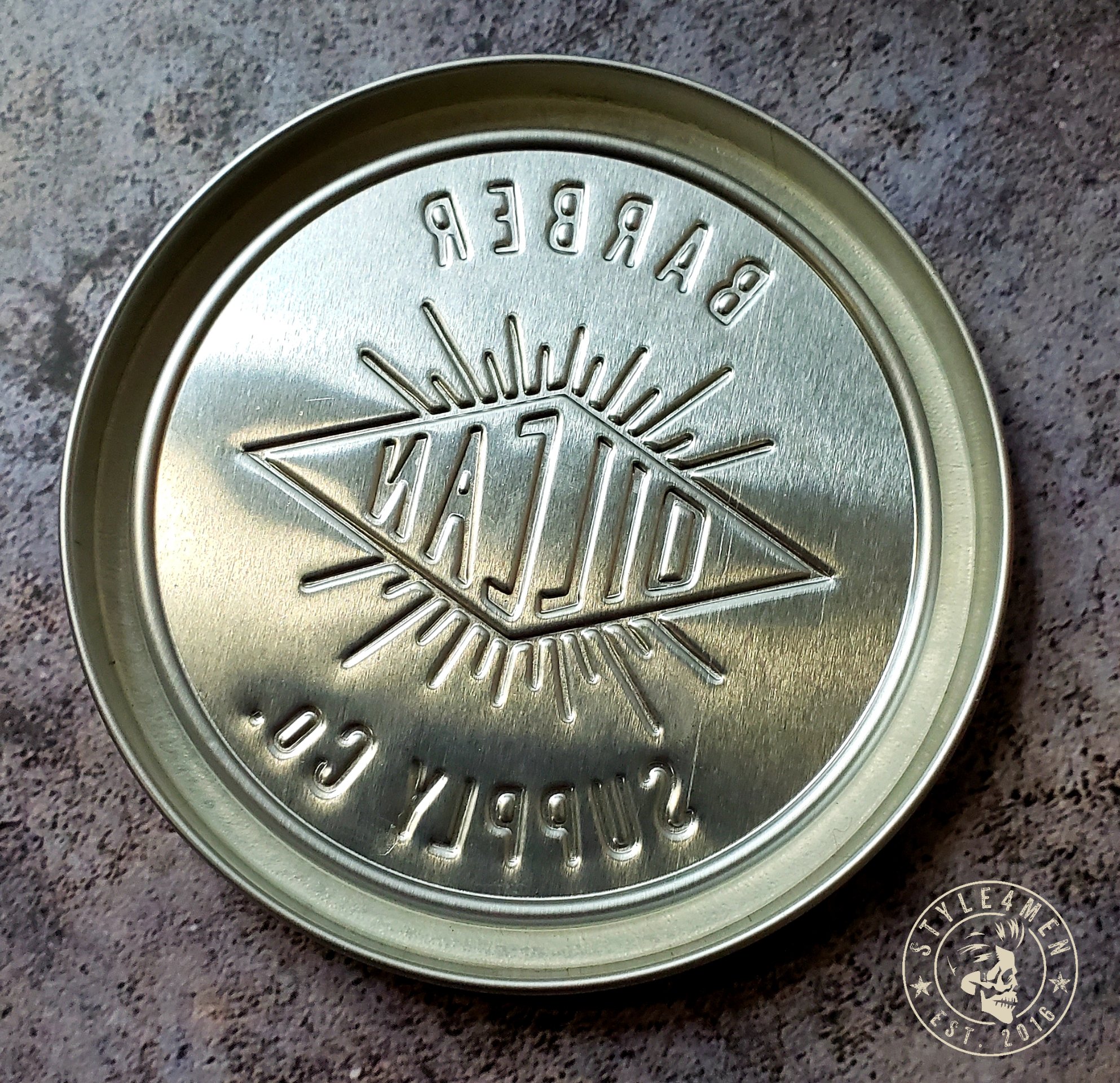 For a vintage buff such as myself I was hooked as soon as I saw these and I was getting a can no matter what.
A number of months back I was fortunate enough to try and feature the Oil Can Grooming beard oils (Check this review out here) which are fantastic so I am thrilled to be collaborating with Toucan Trading who are the Canadian distributor of Oil Can for this review.  Thank you guys for poring oil in my machine and keeping me going!  You rock!
Use the exclusive "STYLE4MEN" discount code for 15% off when shopping at Toucan Trading.
We are going to focus on two hair fixative by Oil Can Grooming; the Iron Horse Grease Pomade and the Angel's Share Crafting Clay.
IRON HORSE
This pomade is more of an oil hybrid pomade, that is because instead of relying on petrolatum or other petro-chemical derivatives, the Iron Horse uses lanolin which is sheep oil.  Lanolin is water soluble and thus considerably easier to wash out.  The second and thirds ingredients are water and ceteareth-25 which is the foundation of almost every water based pomades.
The lanolin delivers that element of shine and weight which is sought after by Greasers. In practically every way, this pomade behaves like a classic grease base product and as such will be a very interesting alternative to petrolatum based pomades.
Something I have thoroughly enjoyed with the Oil Can Grooming beard oils is their fragrances and I am thrilled to find that this is continued in the pomades.  The Iron Horse fragrance is an arrangement of amber and vanilla.  Think, sweet, warm and classic.  I might even be suede to believe that it smells like Toffee.  The aroma has good staying power for a pomade and I could still identify it 1-2 hours in.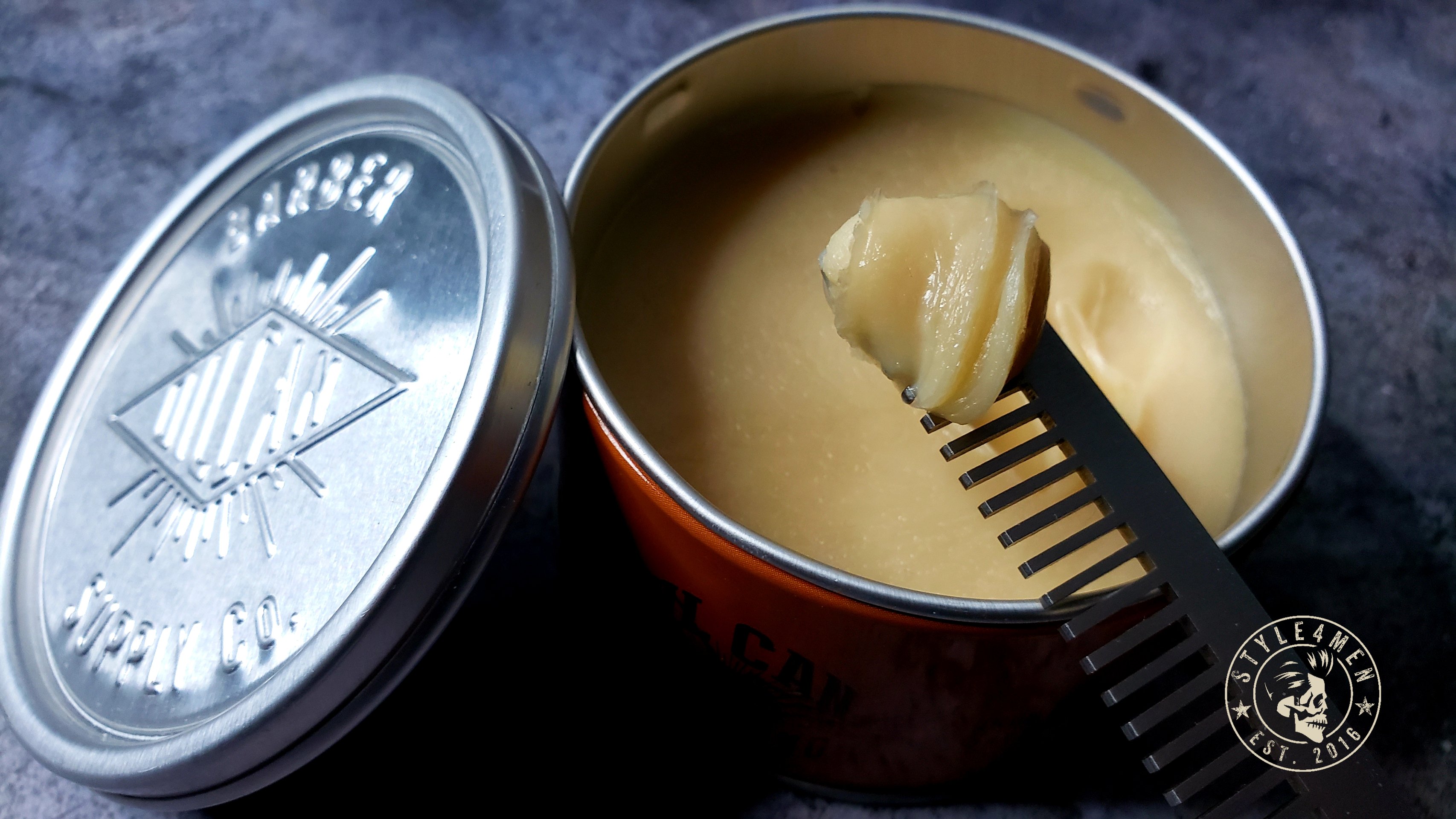 I personally like this product very much as a finishing pomade where I am using a small dab to give my pomp a bit of shine and tame down any fly-away.
Here is the rating on a scale of 1 to 5, where 5 is a perfect score.
Hold: 4
Scent: 5
Shine: 5
Texture: 5
Feel in hair: 5
Facility to wash out: 5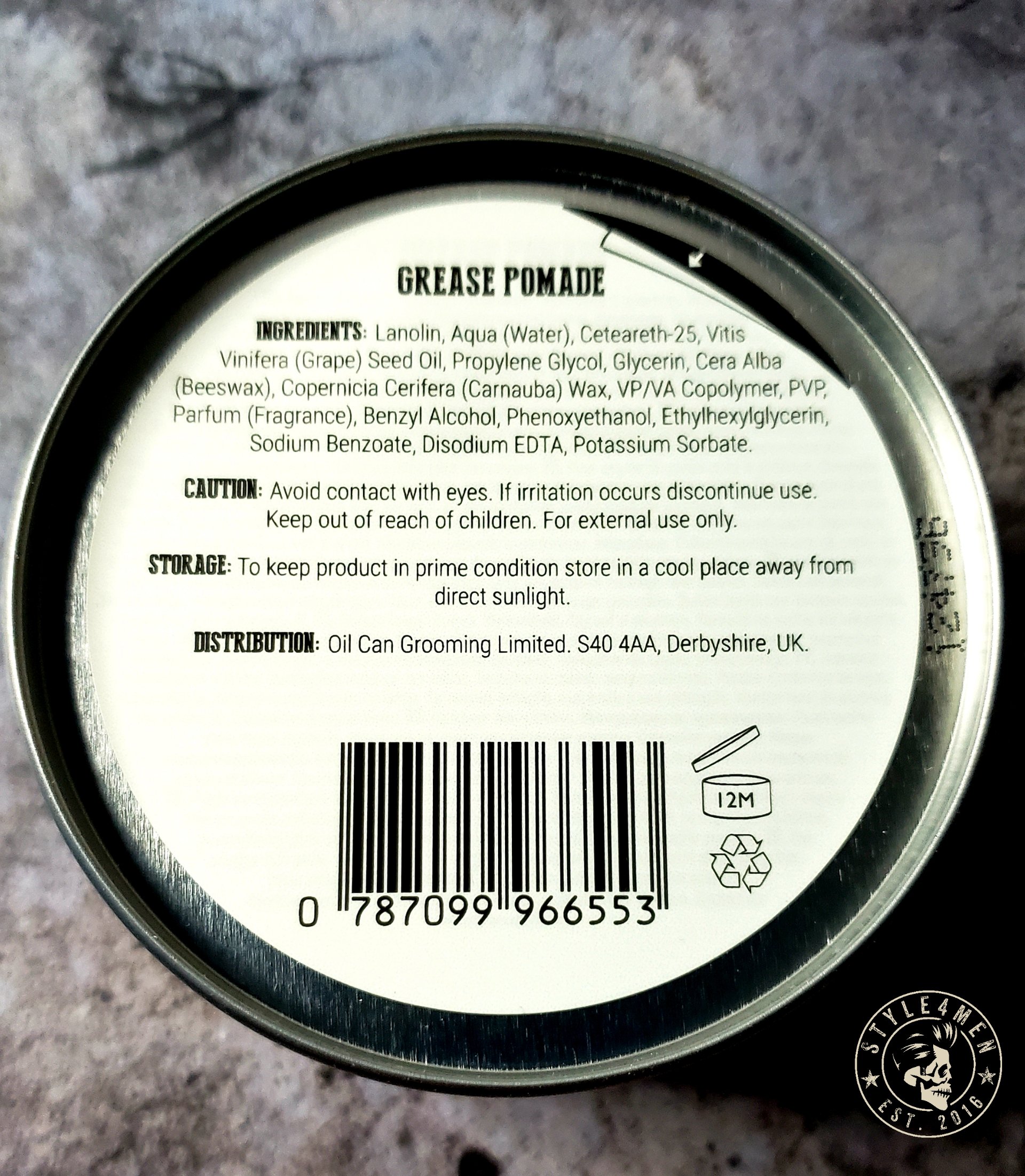 ANGEL'S SHARE
As for the Crafting Clay it is smoother and easier to work with than a pure clay.  I would say that it is more like a thick paste.  Yes, I know it's like splitting hairs. 😉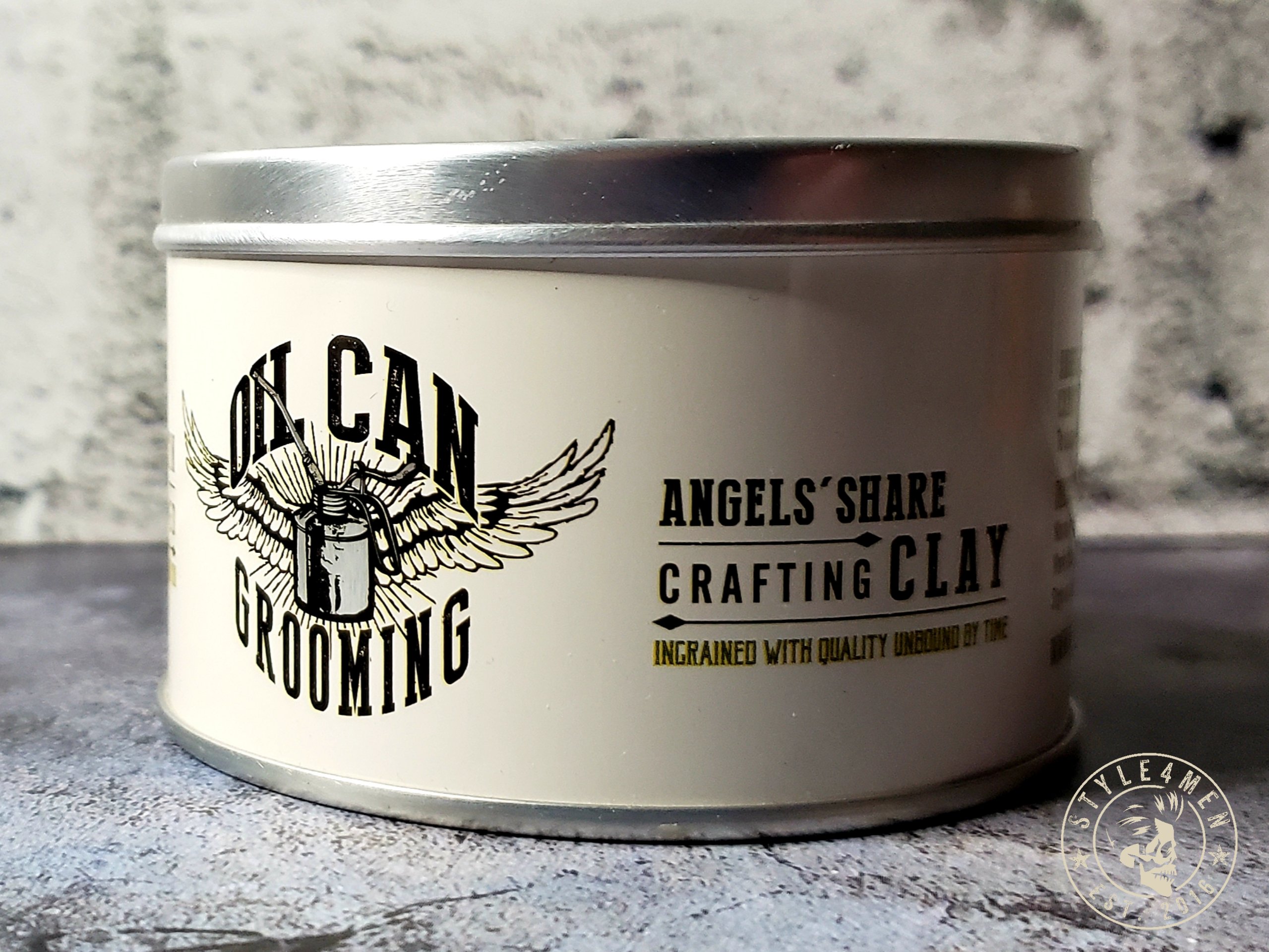 Pastes and clay have very interesting properties as they offer superior hold along with a matte finish. The results are also incredibly natural looking.
Very little product is needed and warming the clay for an even blending in the hair is key.  You will want to work quickly and get it in everywhere.  Note that for folks with very short hair or who are going for the messy look, this will be a favorite.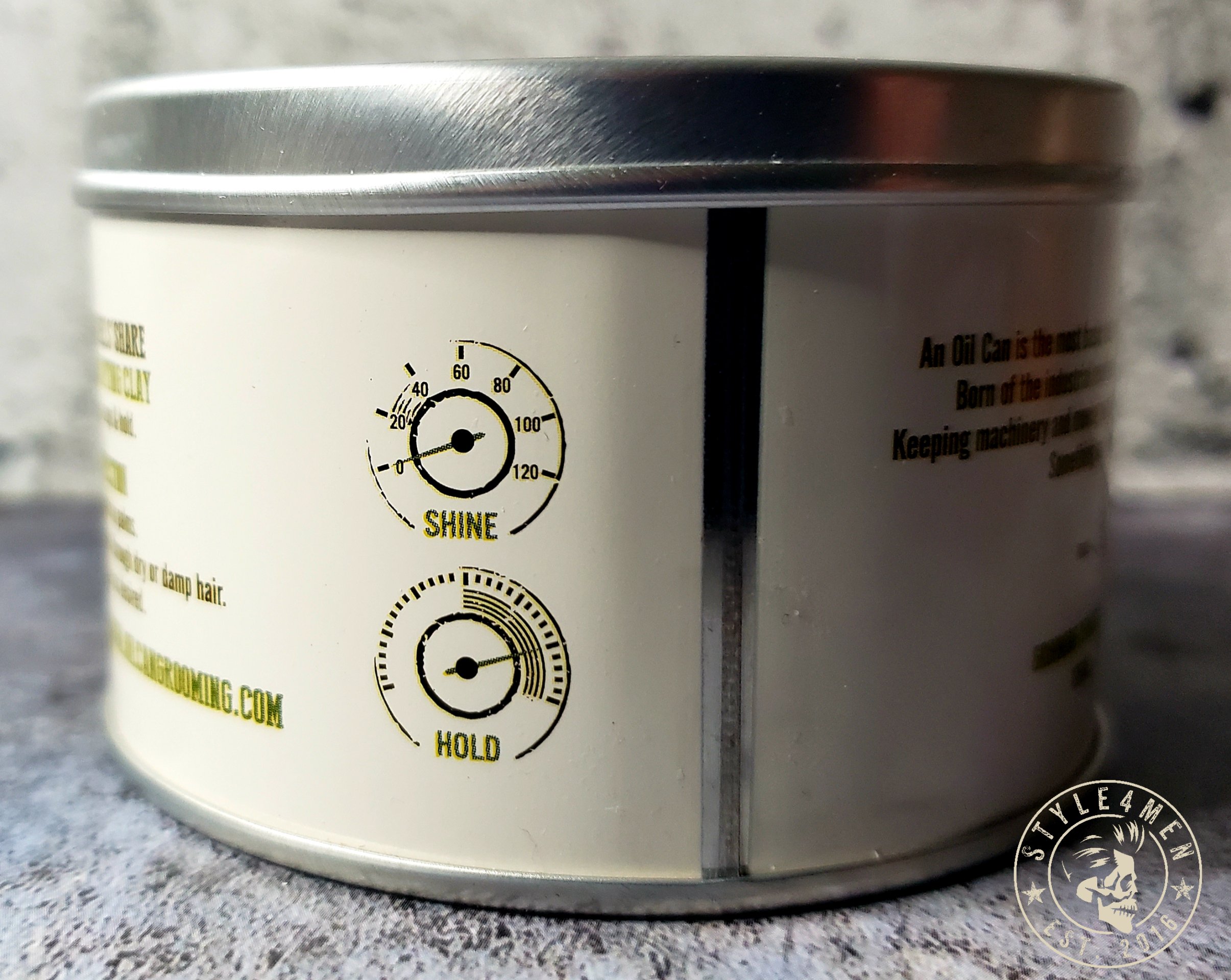 Clay has a bit of volumizing effect.  If you have thinning hair, this stuff will make what you have look fuller.
It is worth mentioning that the clay is white and like all clay's it does not have any darkening effect once in the hair, like pomade does.  That being the case, my greys and whites are somewhat more obvious if I were to just use the clay.
For my rebellious hair, the Angel's Share is a great product as a small dime size scoop is enough to get things into shape.  As of late I am finding that I am getting more creative and am generally using both products.  First the clay to create the volume and shape I want and then the pomade to lock things in place and add a little shine.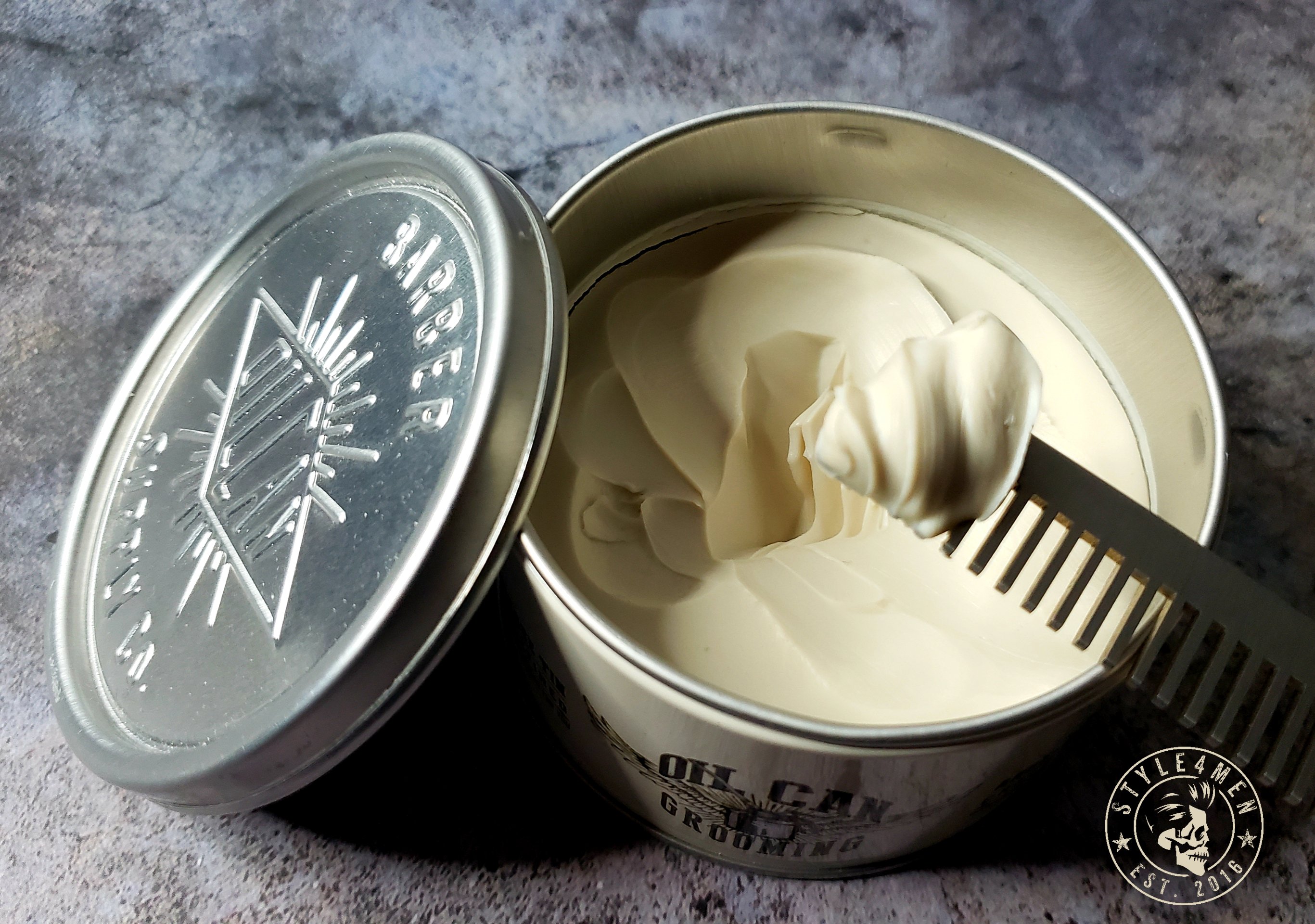 The fragrance of this one is listed as Sandalwood and Patchouli. To my nose it is more of an herbal freshness which I like very much. Sandalwood is generally a sweet and woody aroma while patchouli is a deeper and mossy scent.  As I am using both the clay and the pomade together it is important to note that these fragrances blend rather well.
Here is the rating on a scale of 1 to 5, where 5 is a perfect score.
Hold: 4.5
Scent: 5
Shine: NA
Texture: 5
Feel in hair: 4.5
Facility to wash out: 5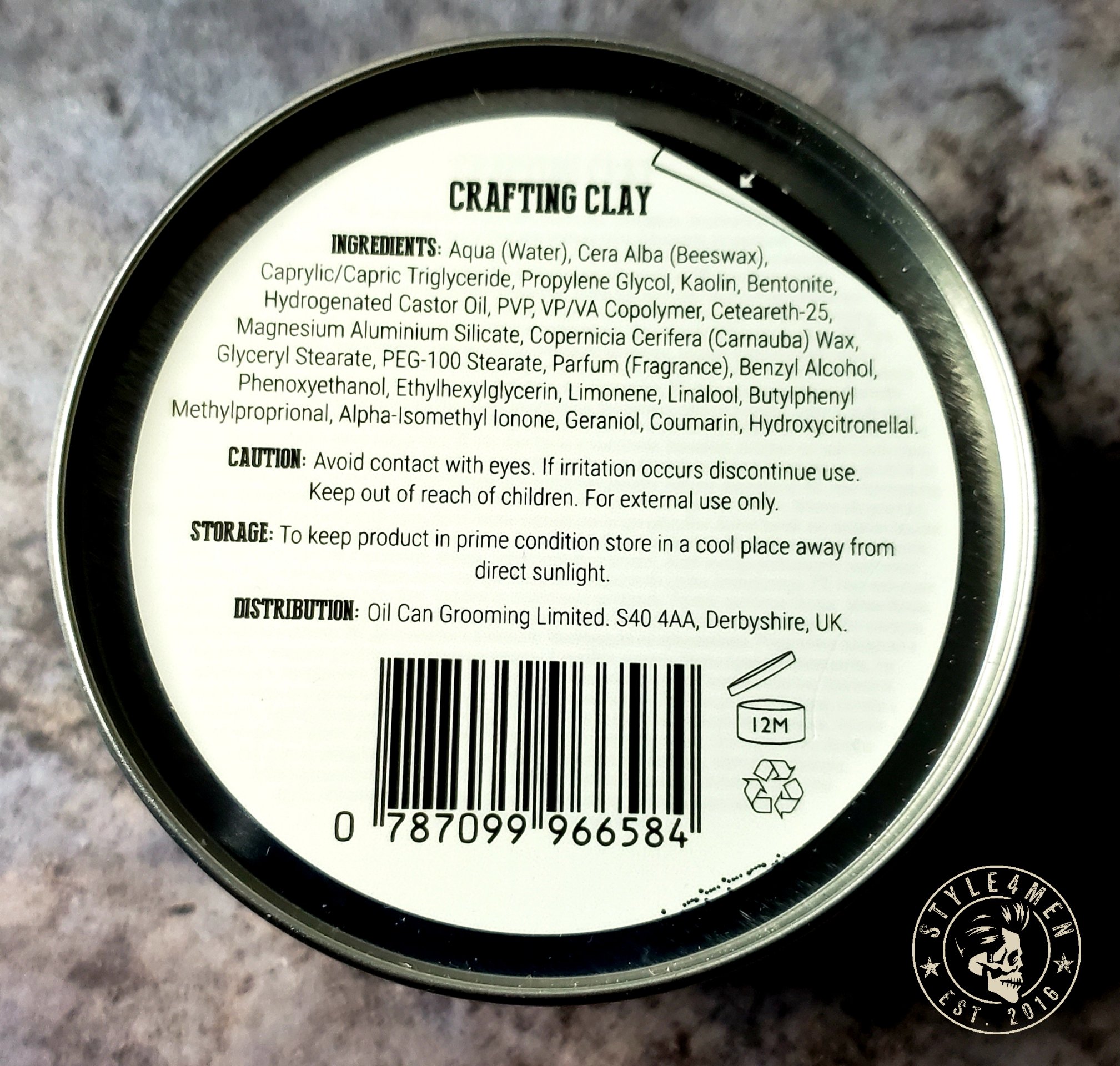 To sum things up
The presentation of the Oil Can Grooming range will appeal to those seeking some nostalgia. But the vintage vibe stops there.  The products inside are totally modern – No petro-chemicals here!  The products smell great and perform extremely well.  Clearly Oil Can Grooming made huge efforts to stand out with a unique brand image, but the efforts didn't stop there as the clay and pomade are nothing short of excellent.