Opening up the Byrd Classic Pomade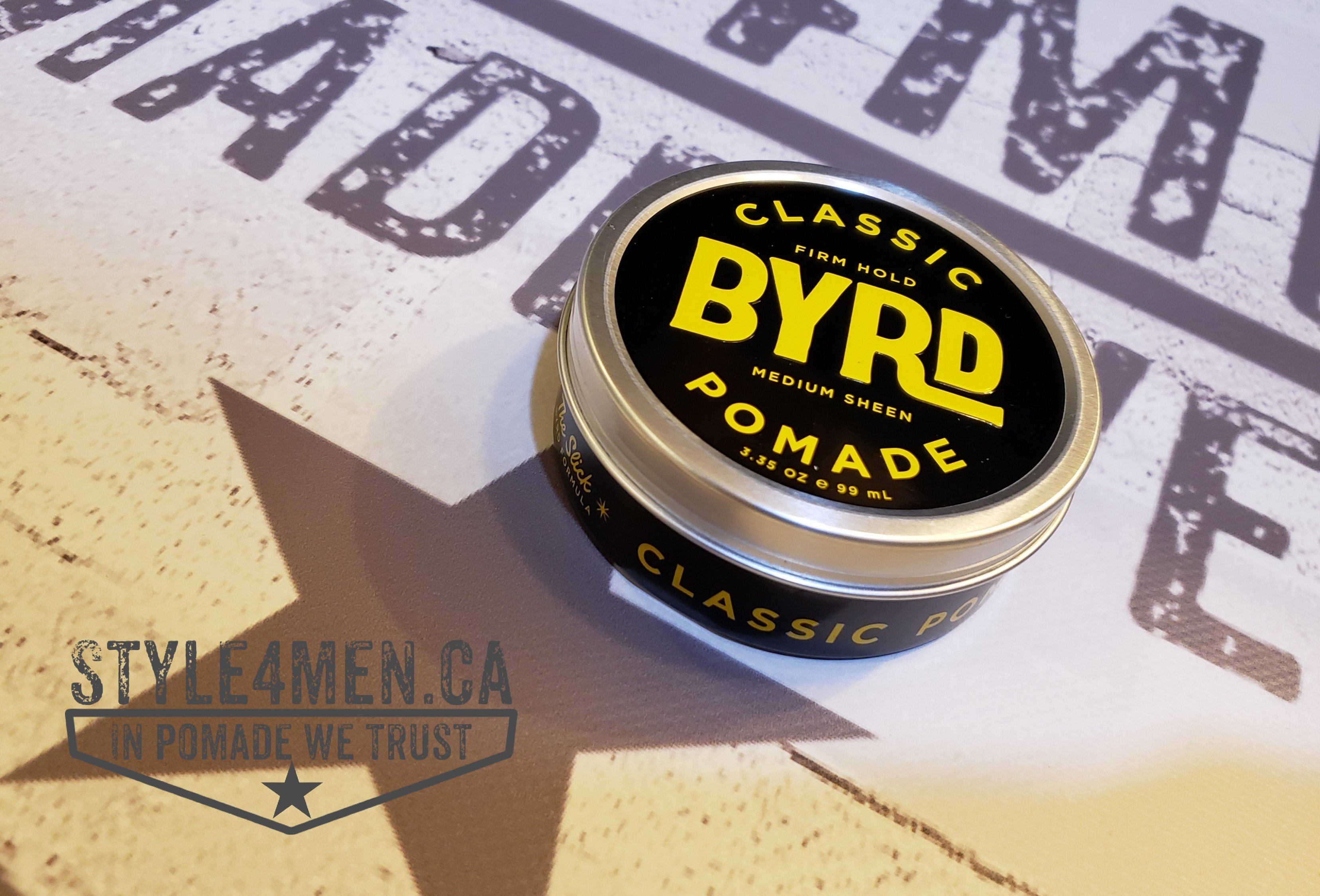 Catching up on my unboxings, tonight we are discovering the Classic Pomade by our Californian friends at Byrd Hairdo Products. Everything about this can screams 1950's American classic.  Basically, our happy place!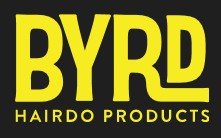 Shout out to the guys at BYRD for trusting us for this review.  We are thrilled to be trying your original greaser.
Byrd has been on my wishlist for a number of years.  Their unique twist on the vintage labeling and the positive feel branding make this product line unmistakable and very inviting.  The California sun comes right through.  You would almost expect to find a a surf board key-chain inside the pomade. Plainly put, I am thrilled to finally be able to devote some time to explore this pomade brand.
This classic pomade is a paraffinum and wax based concoction or in other words, a grease based pomade.  The promise is firm hold and medium sheen.
As you know we generally favour the water based types, but that doesn't mean that we are pomade snobs.  On the contrary, Style4men.ca is an equal opportunity pomade platform and we love it all!
That said, I don't get to work with that many grease based pomades, so every time I get to work with one I feel like a bit of a newbie again.  For example, gauging your quantity is important with any pomade as you don't want to overdo it.  With a grease based it is crucial as there is no turning back.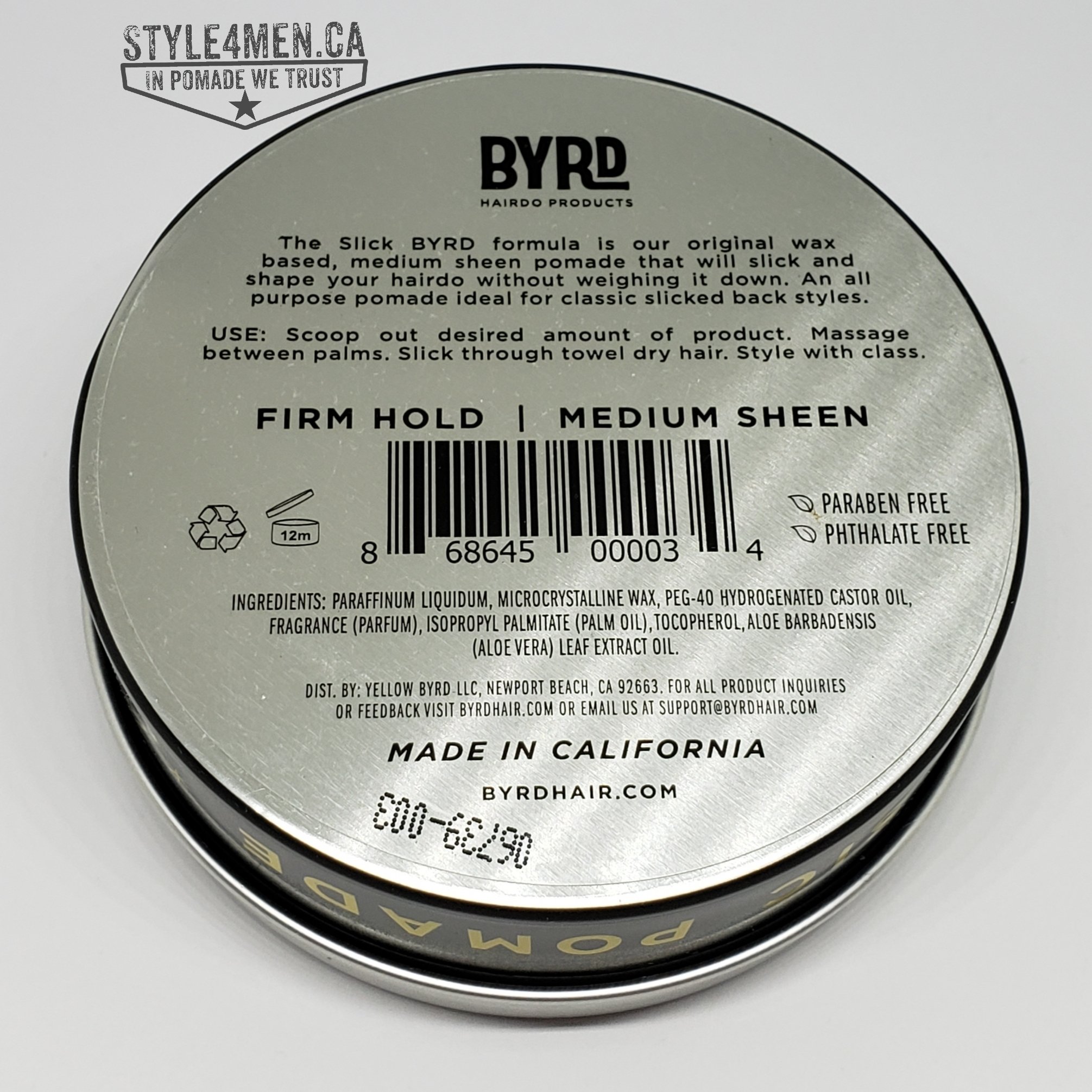 Having a long upper cut, I knew up front that I would most likely need about the size of a nickel and maybe the size of a quarter by the time it is all said and done, but I started with perhaps a dime size scoop.  I applied this to clean and dry hair that had already been prepped for volume with a texturizing spray.  Volumizing/Texturizing sprays are a fantastic way to insure a rocking pomp.  So here we go, back to front, left to right, right to left and front to back.  I was already able to see that this pomade was going to hold.  Combed everything in place!  I use a tight comb for my sides just to make sure that everything lined up and then a hair pick to create that elevation in the front.  Yeah!
This pomade creates a nice moderate shine.  You won't be reflecting sun light back in space, but you can tell that you are using a grease pomade.  The hold was very decent.  Often enough I have found greases to offer less hold than their water based counterparts.  Here the BYRD classic did a commendable job.  Not knowing this at first I left the house with a comb in my back pocket expecting to be restyling about every hour.  By 5 PM, I had recombed maybe twice.  Very decent!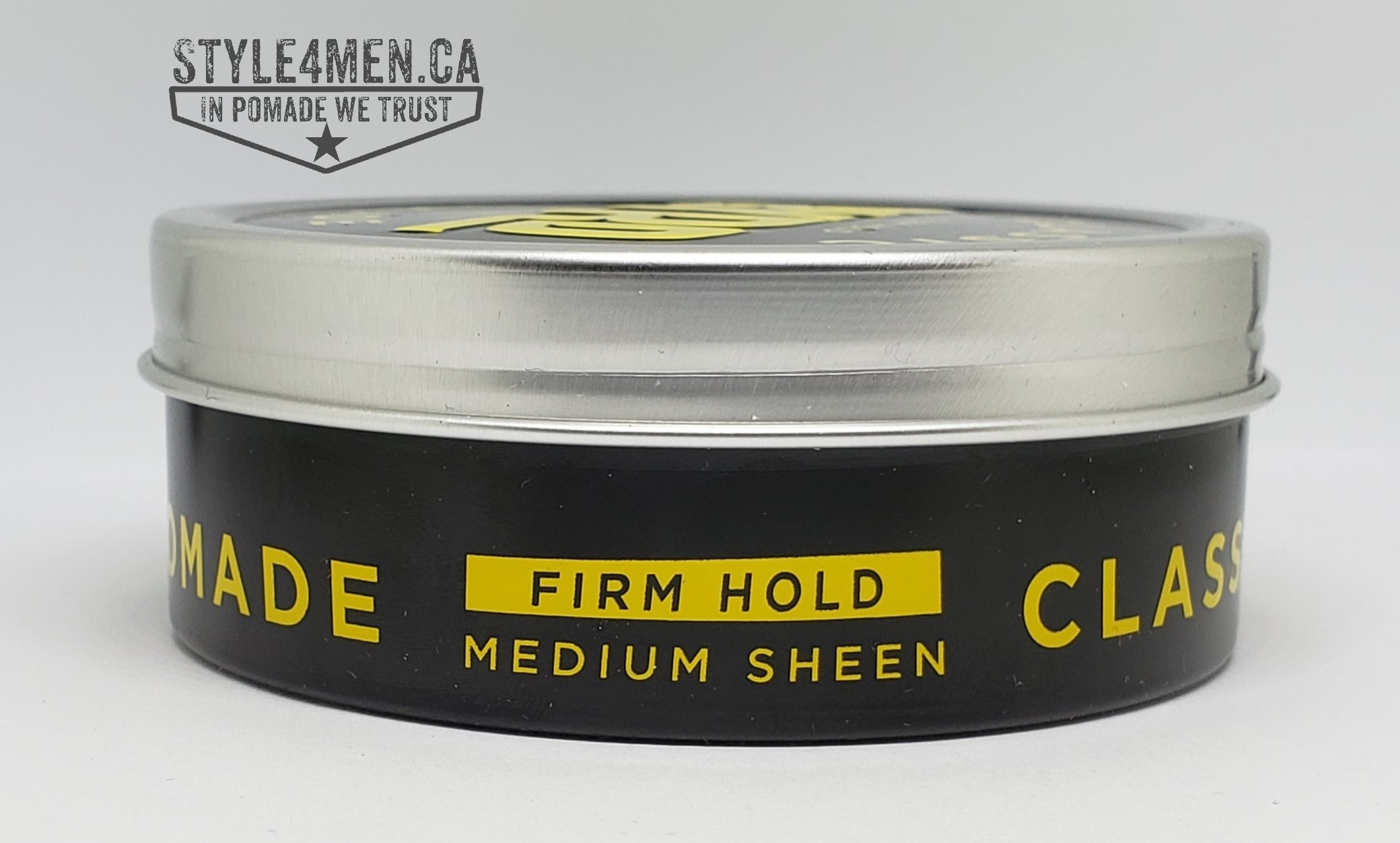 Grease offers a more natural hold by not locking your hair in place.  It is also a very reworkable styling product.
Here is the kicker.  When I styled my hair this morning, I was pleased with the results but we were not in that life altering space. Mrs. Style4men even said that she didn't like it all that much.  By 5PM, my hair actually looked better!  When meeting back up with the Miss's after work I got a compliment from her on the hair.  A recurring statement from Greasers is that they like their hair more and more over time as a bit of a grease buildup accumulates.  I didn't add more pomade during the day, but there certainly an aging process to be appreciated as the pomade gets absorbed and warms up.  My initial plan was to try this pomade for a day and wash out before moving onto another product, but now I am going to create a bit of a buildup and use it all weekend.
How does it feel in the hair?  In the morning it was a bit tacky to the touch and left an ever so slight film on my fingers.  By mid-day, that feeling was more along the line of "silky" and by night fall it was very smooth with no film whatsoever.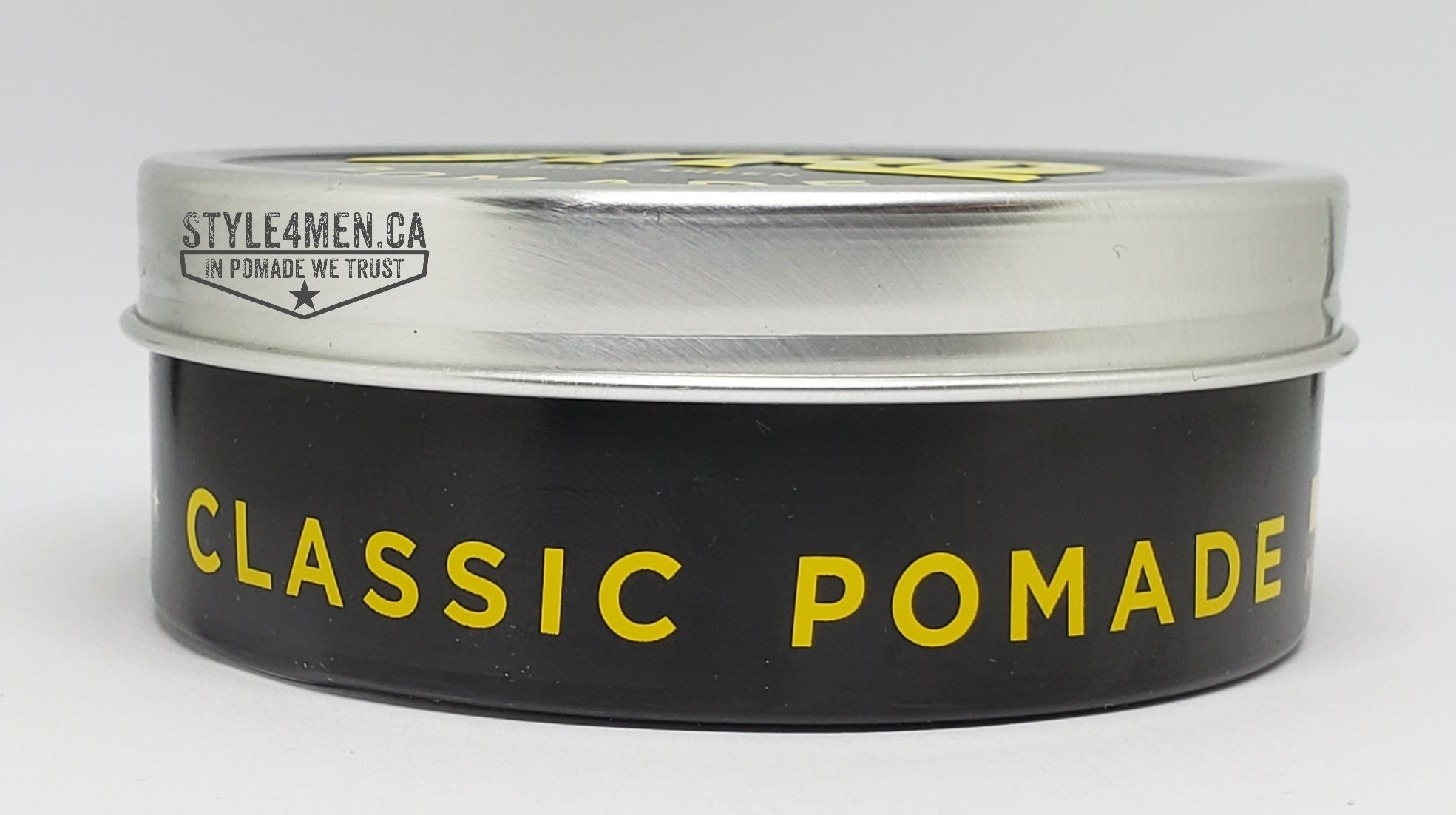 Here is the rating on a scale of 1 to 5, where 5 is a perfect score and/or level of shine:
Hold: 4
Shine: 4 (Very nice!)
Texture: 4
Feel in hair: 5
Facility to wash out: 3 (See below)
Scent wise, this is an extremely discreet product.  I can identify a mild musk and perhaps lime.  This will by no means interfere with your cologne and will only be identifiable to that someone putting their nose in your hair.
I should touch on the weather in Ottawa today as this is an important and relevant element to a grease based pomade's performance.  The reason why I find that this is an important piece of information is that contrary to a water based pomade, a grease one changes moods with the weather as the grease will contract or relax.  We were at some 15'C, so cool enough.  We also need to consider the body temperature as the head disseminates a fair bit of heat – certainly enough to affect a pomade. Instead of having my hairdo melt, everything stayed high in place.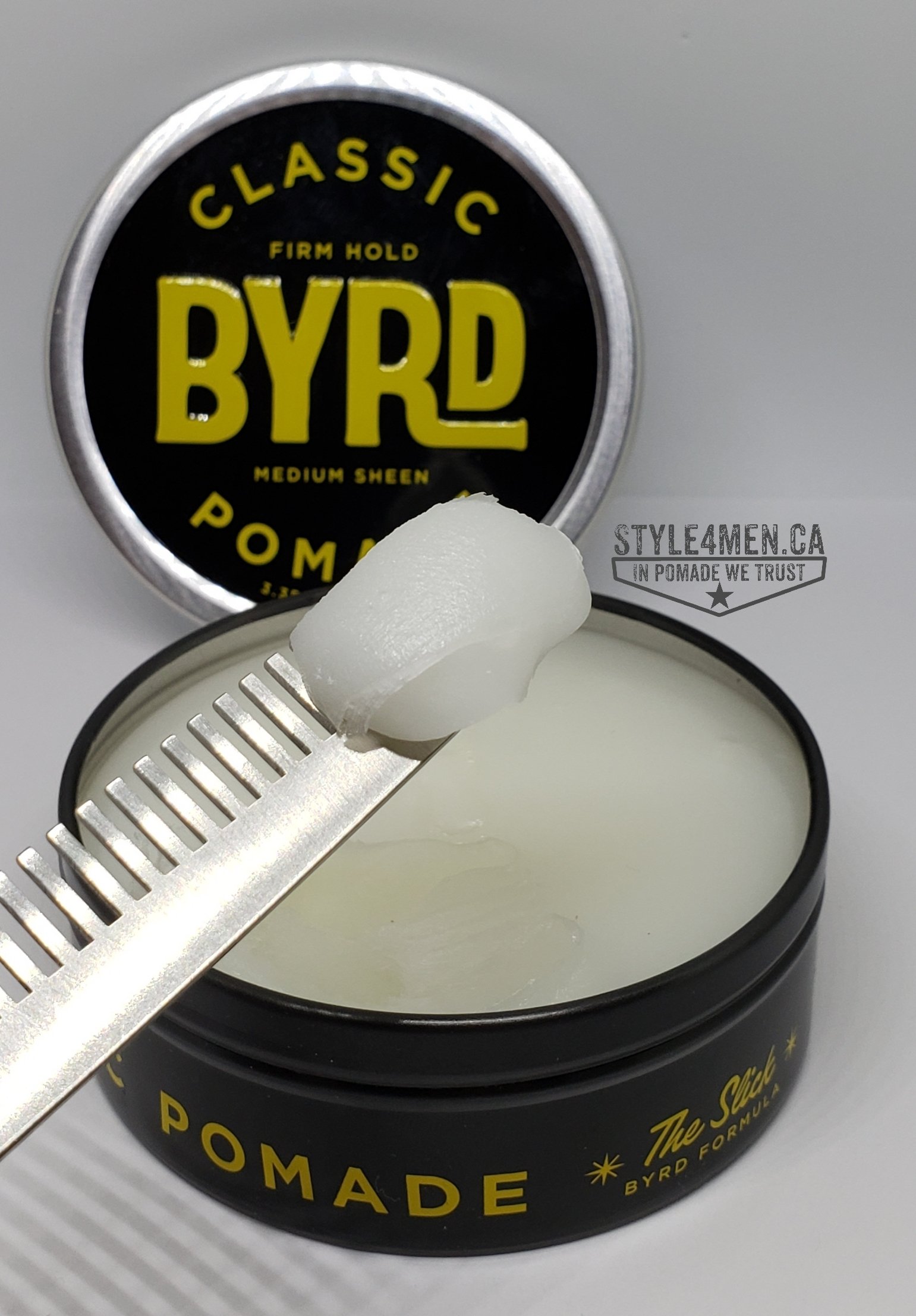 BYRD is a Californian enterprise which associates itself with that surfer spirit.  This makes perfect sense as a water based pomade would have nothing to offer after an outing on the waves.  A grease based player on the other hand will survive rather well and have some style to spare coming out of the ocean.
Washing this pomade out was fairly straight forward, assuming you follow a few basics.  In the shower I brought along a small portion of olive oil in a shooter glass which I poured over my wet hair to dissolve the grease.  The lower density of the oil breaks down the grease.  Then I applied a very generous portion of conditioner to blend the oil in and help things along.  This was followed up with a normal shampoo and finished off with a small portion of conditioner to restore things to their default state.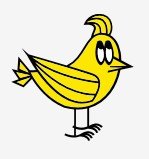 In closing, this pomade by BYRD is a true "classic" while offering more hold than many of the classics.