Rocky Mountain Barber Company Pomade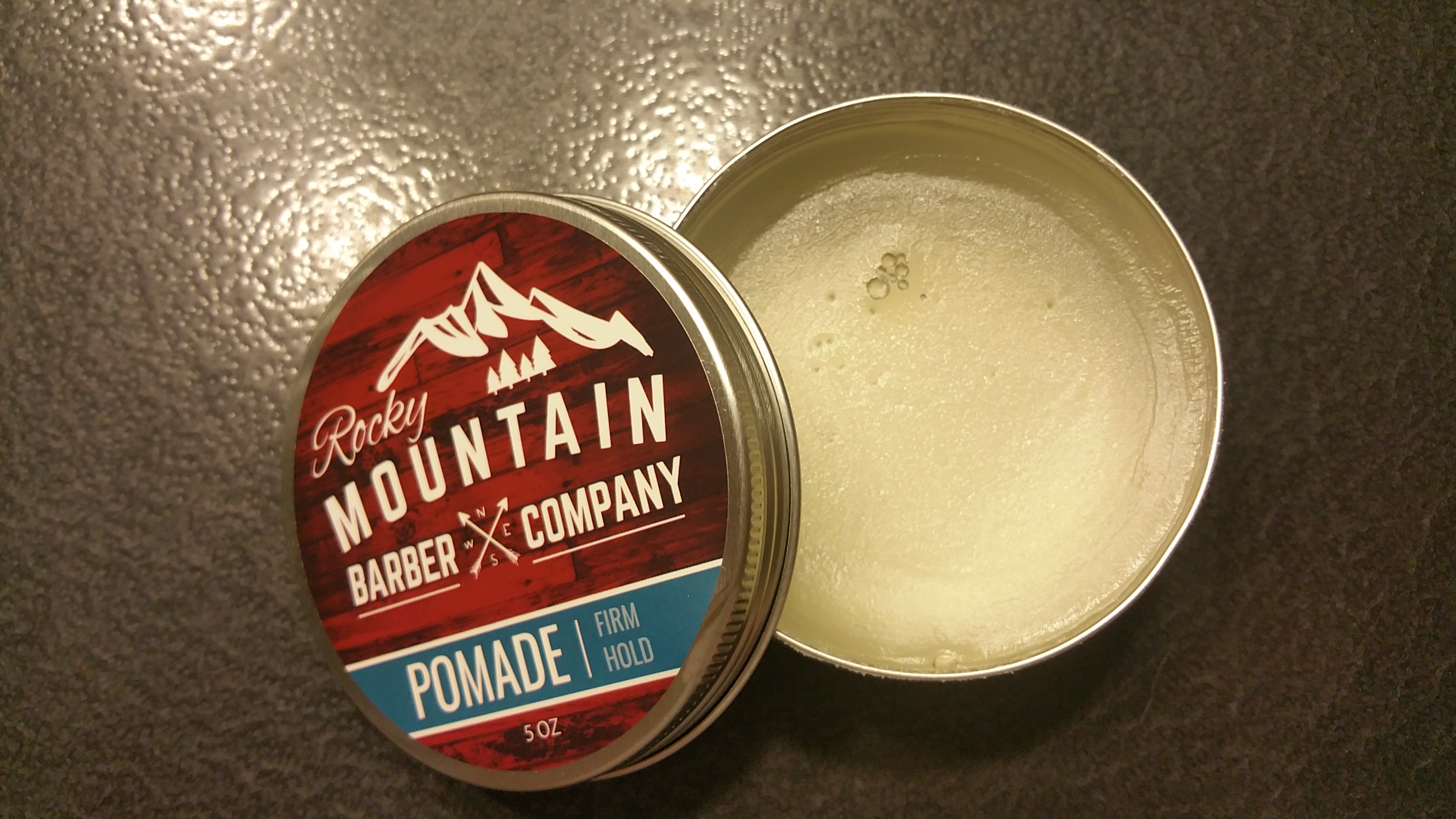 While doing some research earlier in the week, I came across a brand I had not seen before. The "Rocky Mountain Barber Company".    This discovery was doubly rewarded by the brand being a Canadian one.     With a name like that you might think that their are from British Columbia or perhaps Alberta, but no they are from Niagara Falls, Ontario.  The site and the branding suggests a tough outdoorsy type. I also found a fairly big series of advertising video on YouTube supporting that profile.  Check it out, they are fun.
They offer a wide range of products and I was hoping to try their pomade first and buy it directly from them.  Sadly it was unavailable or sold out on their site.  I checked on Amazon and they had it at a very decent $16.99.  I ordered my jar and it was delivered today.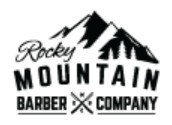 The pomade comes in a nice full metal thin can.  The can oddly  gives measurements in "oz" as opposed to "ml" suggesting that it was meant for the American market. It is interesting to note that you are getting a bigger jar at 148 ml, compared to the more or less standard 100 ml container.
Further on the packaging, the ingredient list or rather the short ingredient list caught my attention. Obviously, since this is a water based pomade, water is the first ingredient or the ingredient in the largest quantity.  Then in third position we have; Beeswax.  Most water based pomade I have tested so far, do not contain beeswax.  Instead it is substituted by one or multiple chemicals, probably to reduce the costs or simplify the production process.  Since the pomade is going in your hair and that beeswax is generally inexpensive, I am thrilled that these guys are going the natural route.

Once opened, the pomade presents itself nicely.  It is clear and almost see-through.  There is no real scent that I could identify.  The texture is typical of other quality water pomades.  Yes, I did my the little tap test and it had a slight ringing vibration.  😀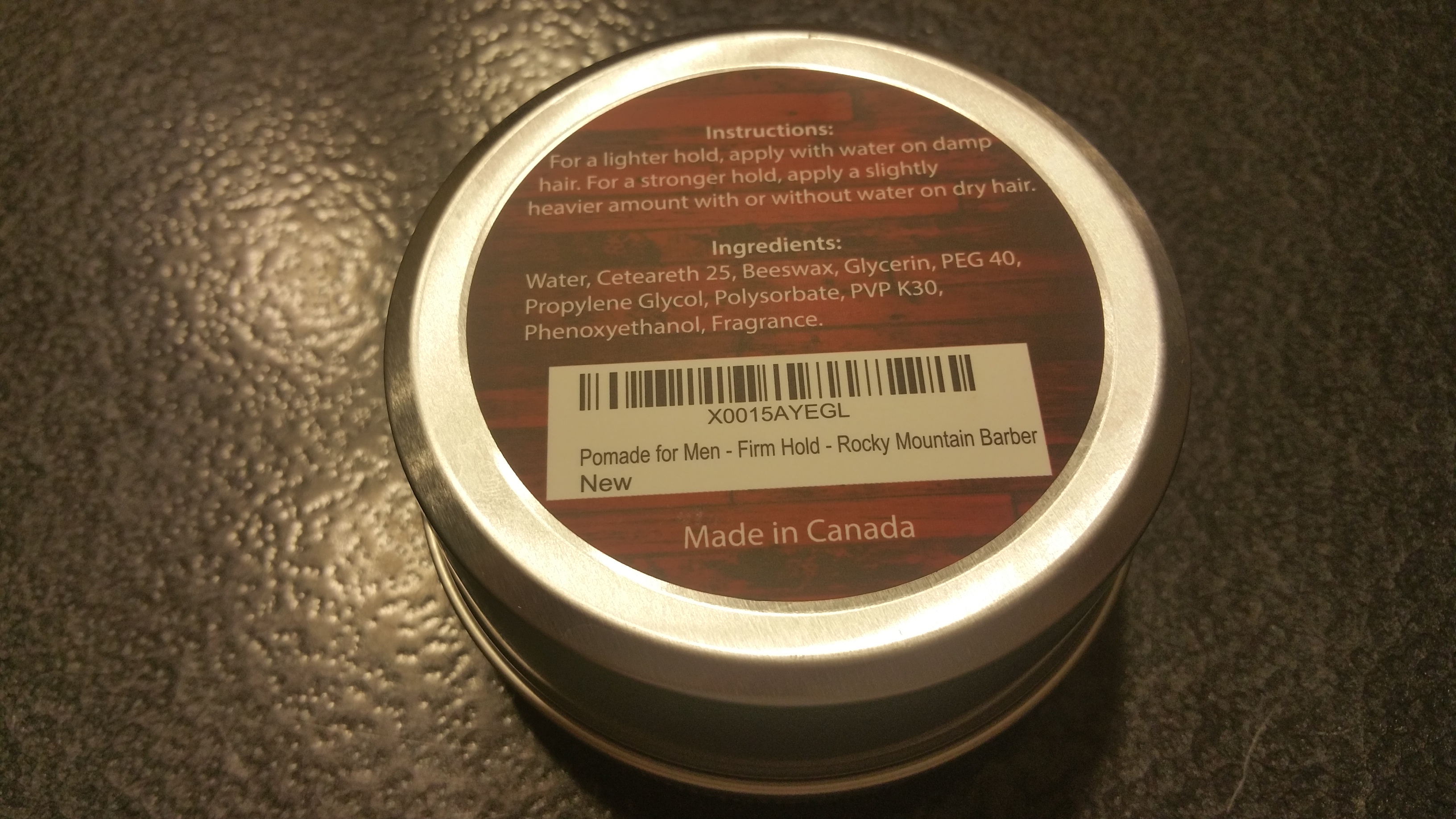 The actual application test will be tomorrow morning.  The post will thus be updated later with the "in-hair" results!  But suffice to say, I am expecting to be impressed.
2016/09/14
Applying the Rocky Mountain Barber pomade was typical.  The pomade texture is firm'ish and it needs to be slightly relaxed in the hand by rubbing it a bit.  Again, it is wise to use a very small quantity.  I mention it, since I got a bit carried away trying this new pomade and probably scooped too much in my first application.  I was expecting the fragrance to reveal itself when scooping it and relaxing it in the hands, but no.  It remained a practically neutral scented product.  In itself that is a good thing as you may want an unscented good quality pomade in your arsenal.
I then did my typical combing on the sides and back while spiking the front a bit.  As expected, the achieved style was locked in place.
When comparing it to lets say, Layrite, the Rocky Mountain pomade dries a bit more.  The hair is thus firm.  It's not unpleasant or crunchy like what you might get with gel, but I want to mention it as it is a little more firm than the others.  Granted this might very well be because I also used a little bit more than I normally do, to do my do!  Sorry, it was just too easy let it pass.
Shine is also an element that needs to be discussed, since hold and shine are the two main quality sought for pomades.  This one is not very shiny.  Perhaps a 2 on 5 where 5 is the shiniest.  If shine is your thing, this one is not for you.
Rocky Mountain also offers two other pomade like products, a styling clay and a texture paste. All of which advertise a firm hold.  Clays and Pastes are not usually solutions offering much shine, so super "shine" seekers abstain.
Here is the rating on a scale of 1 to 5, where 5 is a perfect score.
Hold: 5
Shine: 1
Texture: 5
Feel in hair: 3.5
Facility to wash out: 5
Overall, I like this product and am giving it a 4.5 on 5.  I am taking half a point away because of it's firmness in the hair.  Now it is important to state that the product labeling makes no secret that this a "firm hold" product.  I guess, a "medium" is usually enough for my hair.  Let's hope that Rocky Mountain makes a "medium" hold in the future.
Use the "STYLE4MEN" discount code when shopping directly with Rocky Mountain Barber Co.
Use this link to shop for this product: