Seppo's Automotive Super Grip Pomade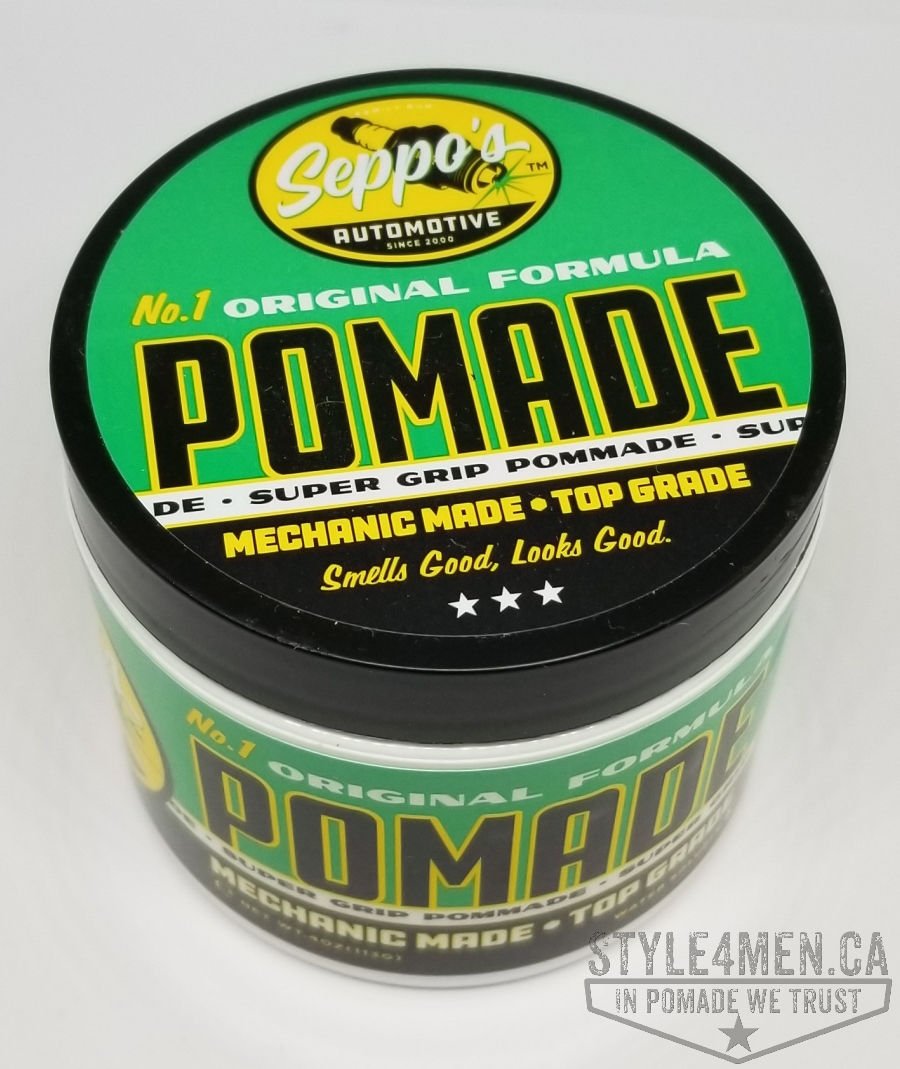 The past few days  have been intensely humid here in Ottawa.  Thus making pomade testing somewhat of a challenge.  Challenging, but not impossible!   And bottom line, these very hot and humid days are the "new climate reality" so testing hair fixative in "real" conditions is pretty much what we want.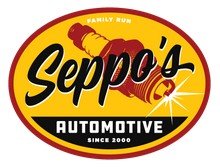 The pomade under test is the one from the folks in British Columbia at Seppo's Automotive.  Yes, you are reading that right.  These guys are mechanics and greasers.  They had the novel idea of just making their own darn pomade and aftershave.  Why not, right?  From my perspective, this drive and desire to contribute something different and interesting to men's grooming products is totally welcomed.  We can also appreciate that vintage automobile enthusiasts are probably also quite interested in the rockabilly life style and hair style and in that light this venture makes perfect sense.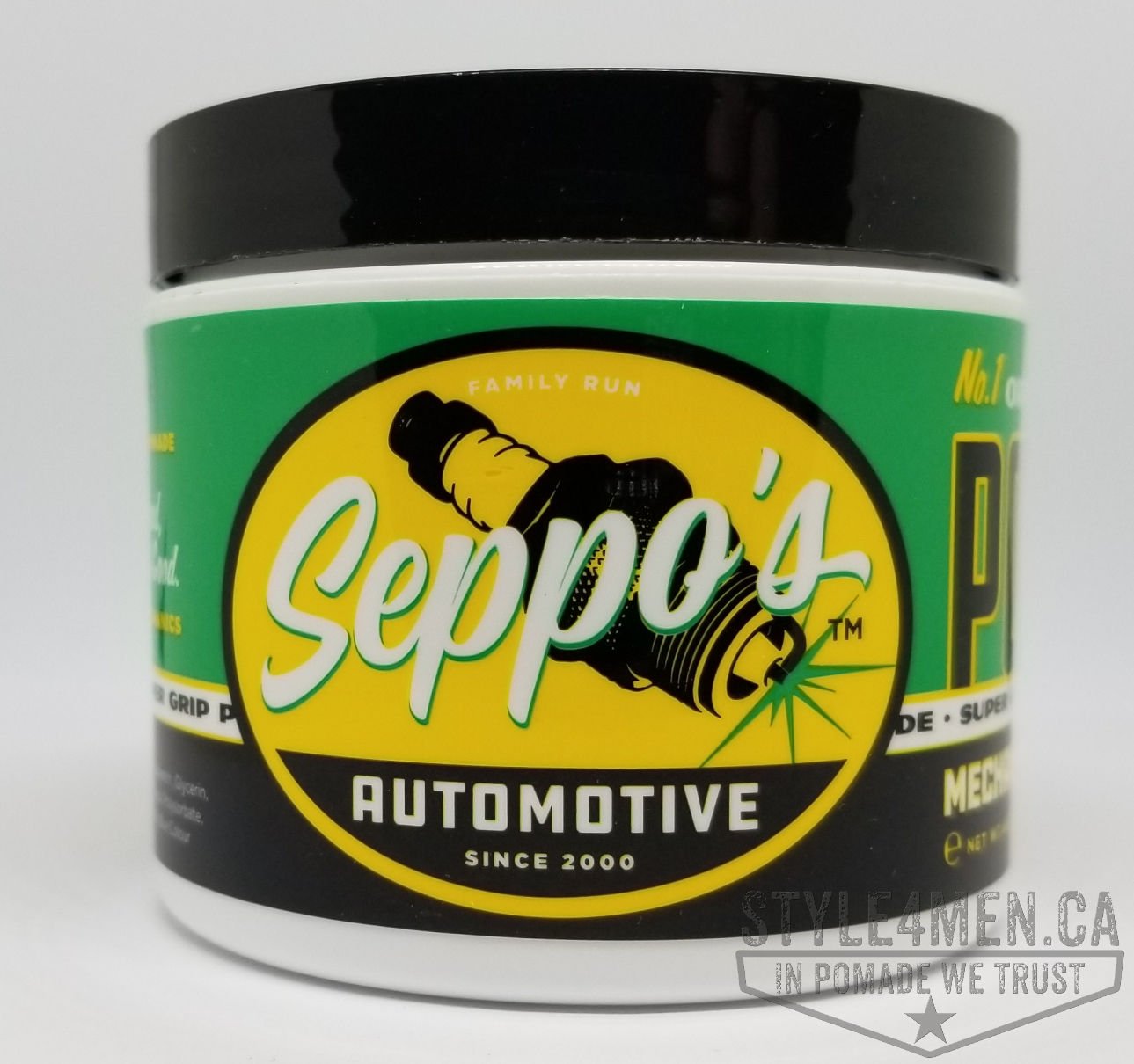 I got my jar of Seppo's through my local purveyor of Suavecito pomade here in Ottawa: Not Your Father's Barber.  As far as I know, They don't stock the Seppo's line on their shelves, but they can get you a jar within a couples of days for some $20.  Aaron is your guy for this.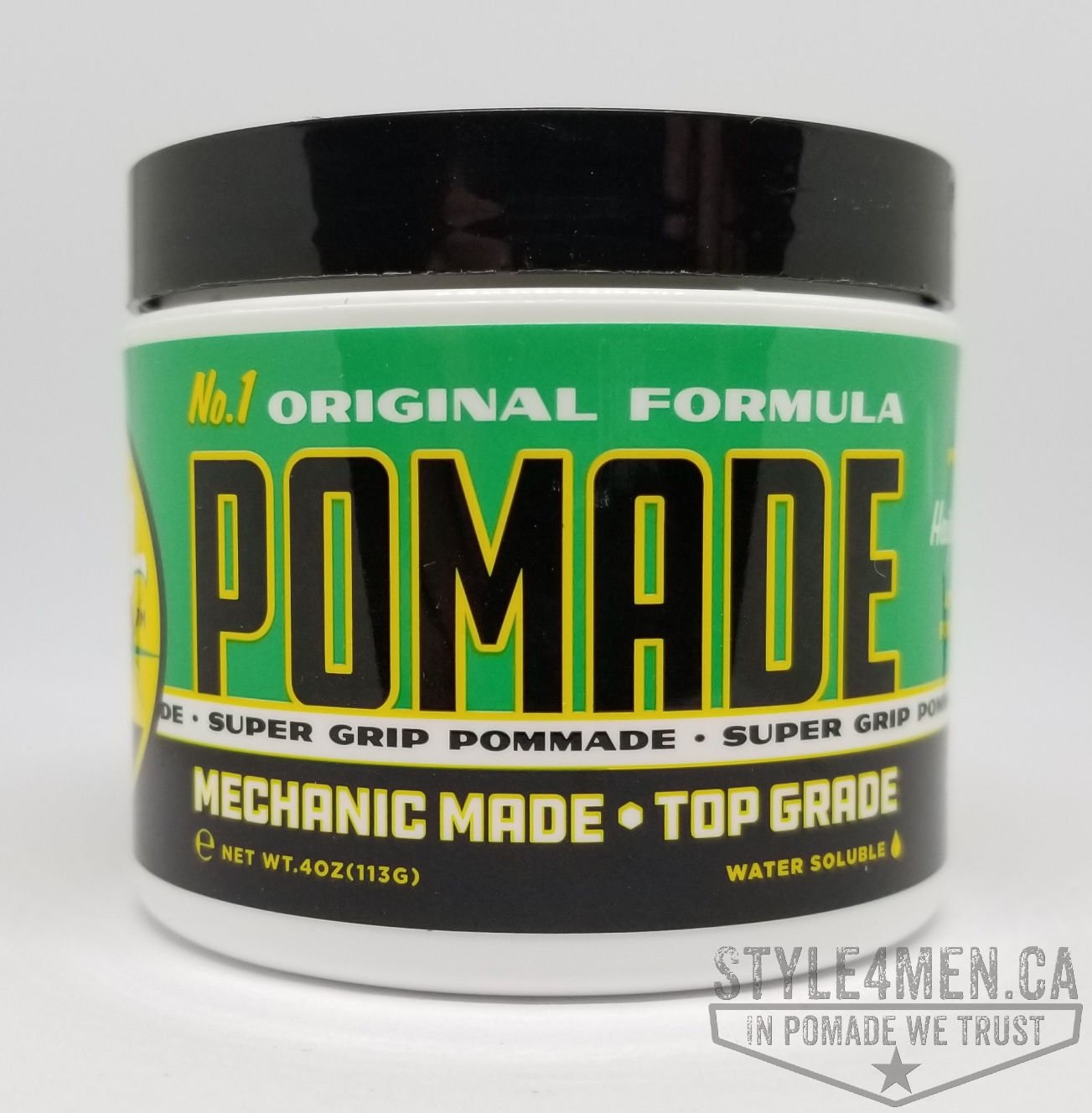 The packaging of these products is totally fun and perfectly in line with retro automotive care product packaging.  Think: Greaser and 1950's car memorabilia.  For my taste, it is bang on!
With so many pomades coming to us from the States, it is awesome to have a Canadian made option. So let's get into it.  The pomade has a light green hue and renders a lemon-lime fragrance.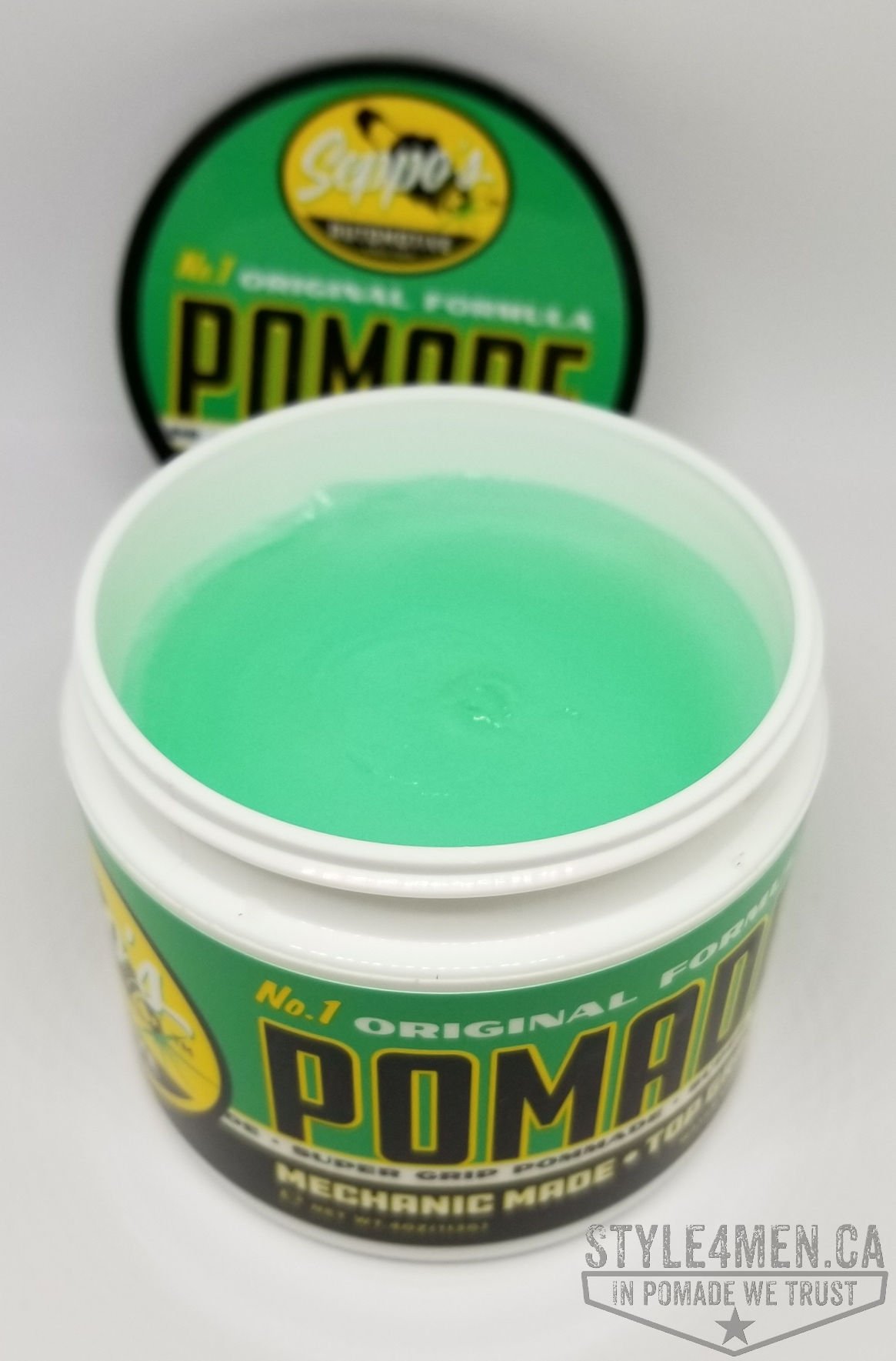 This is a man's man pomade.  Totally unpretentious!  Bay Street (Toronto, Canada) and Wall Street (New York, US) guys – abstain!  The fragrance also goes along these line.  It's a lemon-lime fragrance that you will recognize.  It's fresh, clean and simple.  Keep in mind that it has some staying power and might hinder your cologne or after shave.  My rough estimate is that the scent will be recognizable for about 3 – 4 hours.  It's not wildly intense so don't worry about leaving an olfactory trail behind you.
This is a water based pomade and will rinse right out under the shower head.  So you won't be giving it a key. 🙂 As you will see the ingredient list is extremely short at only 10 participants – that's the way we like it!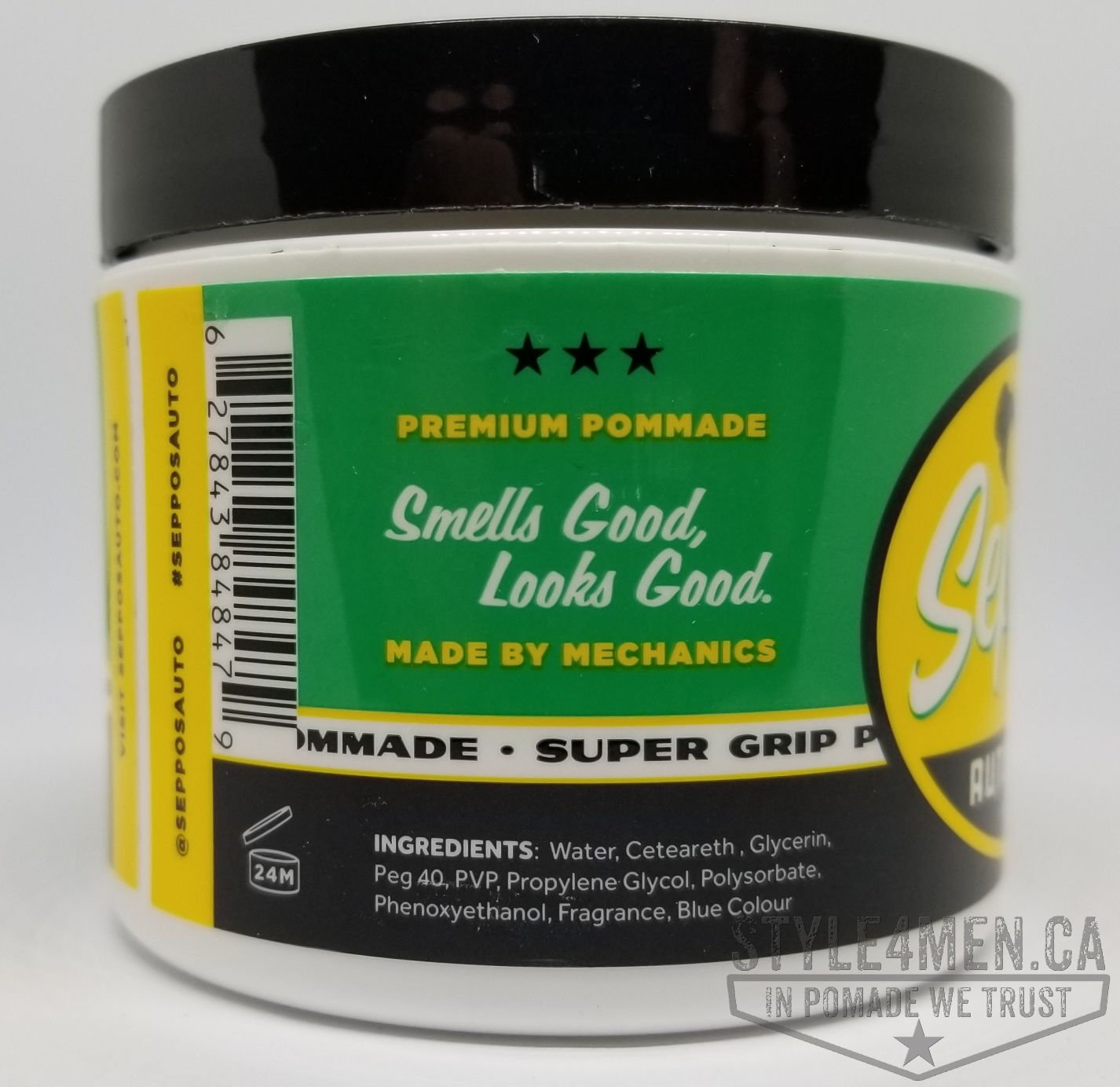 As for the pomade itself, the texture is nice and soft.  I am taking this as a freshness indicator.  In so many words, this product is incredibly recent and fresh.  From my experience, pomade has something like a 3 year shelf life and will firm up over time as the water gradually evaporates. Some times when you get a pomade from somewhere than the manufacturer you might be getting a slightly older product.
Working with this pomade is very agreeable.  No trouble to scoop out and spread in your palms.  It goes smoothly in the hair and distributes evenly.  I used about the size of a Canadian dime.
The resulting hold is not as strong as I was expecting based on the jar labeling which suggest "Super Grip".  In my humble opinion it hold similarly to the Suavecito Regular hold.  As per the jars suggestion, you will get better holding results when applying this pomade in dry hair.  For my unruly mope, applying pomade in dry hair always renders the best results.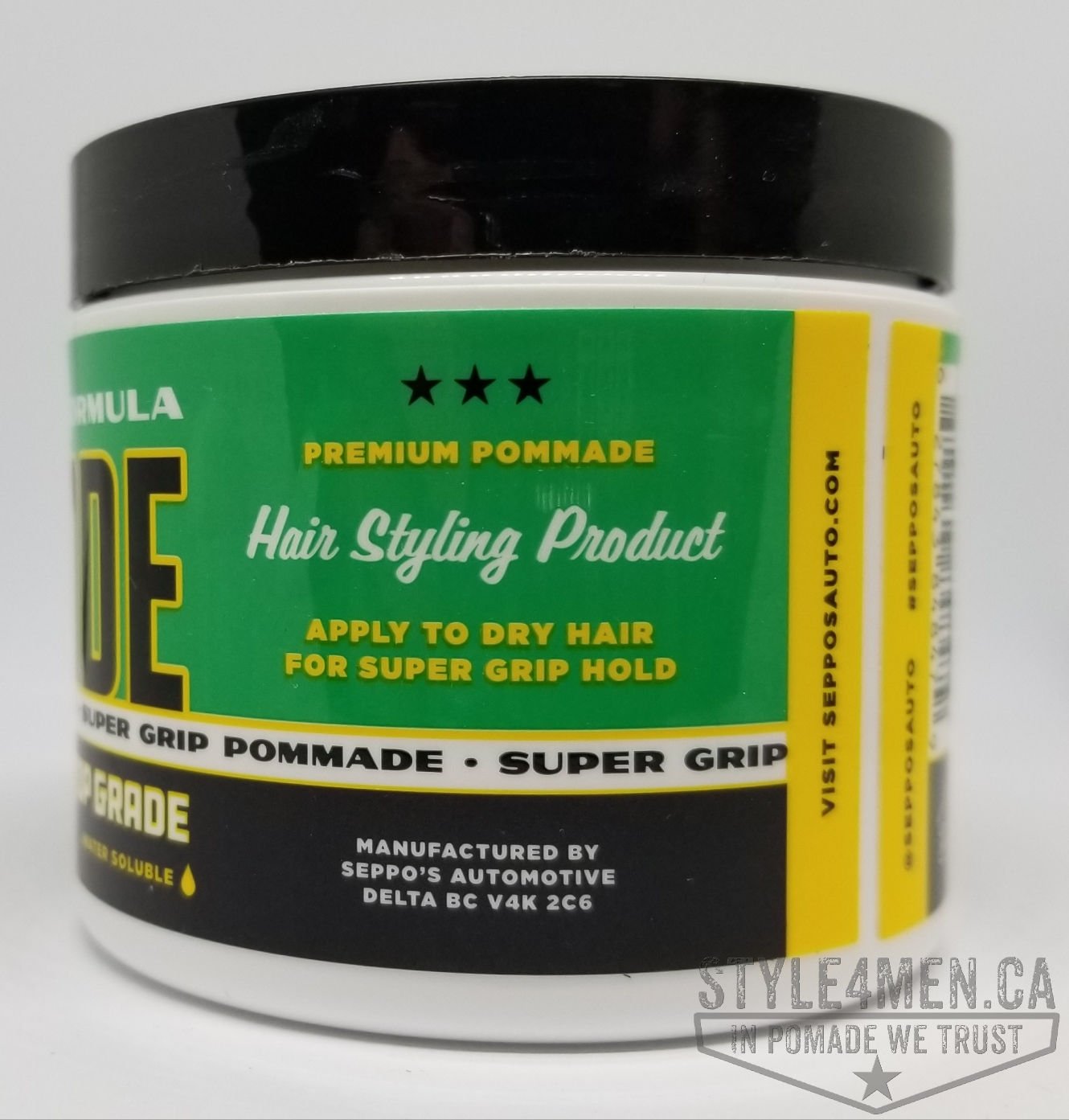 I tried two styling techniques and got slightly different results.  On day one I did my usual hair wash followed by a salt spray application to give my hair lots of volume before using the hair dryer.  The pomade is applied after. It did good but I felt it necessary to lock things in with a touch of hair spray.
On day two, I was short on time and simply applied the pomade in towel dried hair which was practically dry by the time I got to it and this gave me more control and some good height.
Here is the rating on a scale of 1 to 5, where 5 is a perfect score and/or level of shine:
Hold: 3.5
Shine: 3
Texture: 5
Feel in hair: 5++
Facility to wash out: 5
Overall, this is a very interesting and down to earth Canadian pomade.  For anyone into; cars, 1950's memorabilia, rockabilly life style or who simply wants decent hair goo,  the Seppo's Pomade will give you satisfaction.
You can find this product via these vendors: