SPRAY by Victory Crown – Dry Shampoo or Salt Spray? Or something new?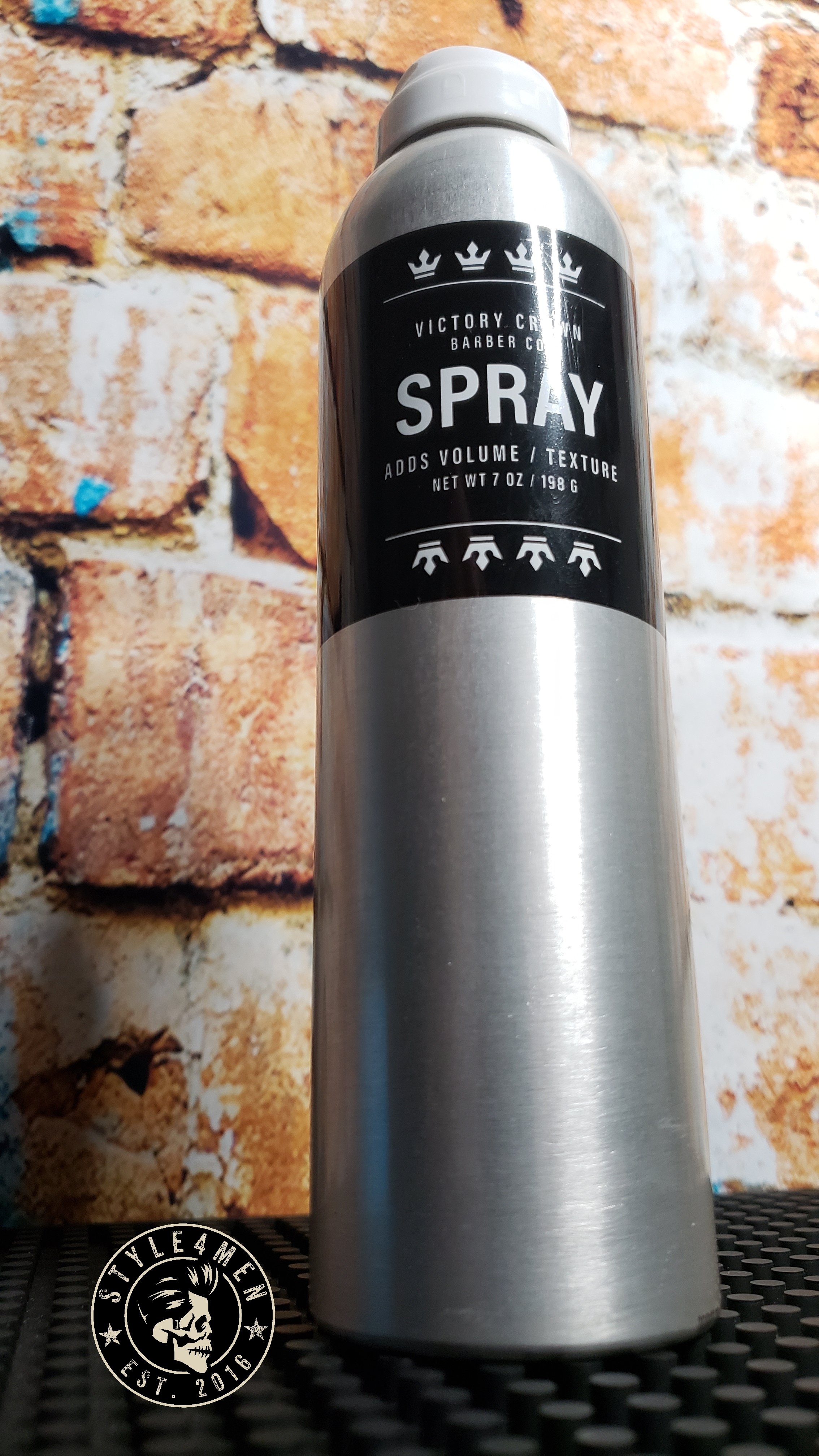 You might remember the Victory Crown brand from some of my earlier reviews where I tried out their Slick pomade and Paste.  These are products I thoroughly enjoyed working with so I was thrilled when Victory Crown announced some product expansion.  This new product is called the "SPRAY"!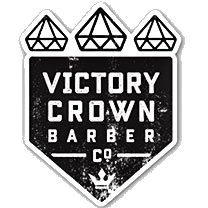 Shout out to Classic Barber Products who is the distributor of Victory Crown for putting a bottle in my hands to try out.

Hair spray usually refers to that "Lock everything in place" aerosol hair glue.  This is not what this is.  It's somewhere between a dry shampoo and a styling spray.  So what is it?
It's a culmination of the best solutions mulched into something new.  First off, it is in an aerosol can. Then it feels like a dry shampoo, but it acts as a salt spray.  I can see your eyes saying – WTF?!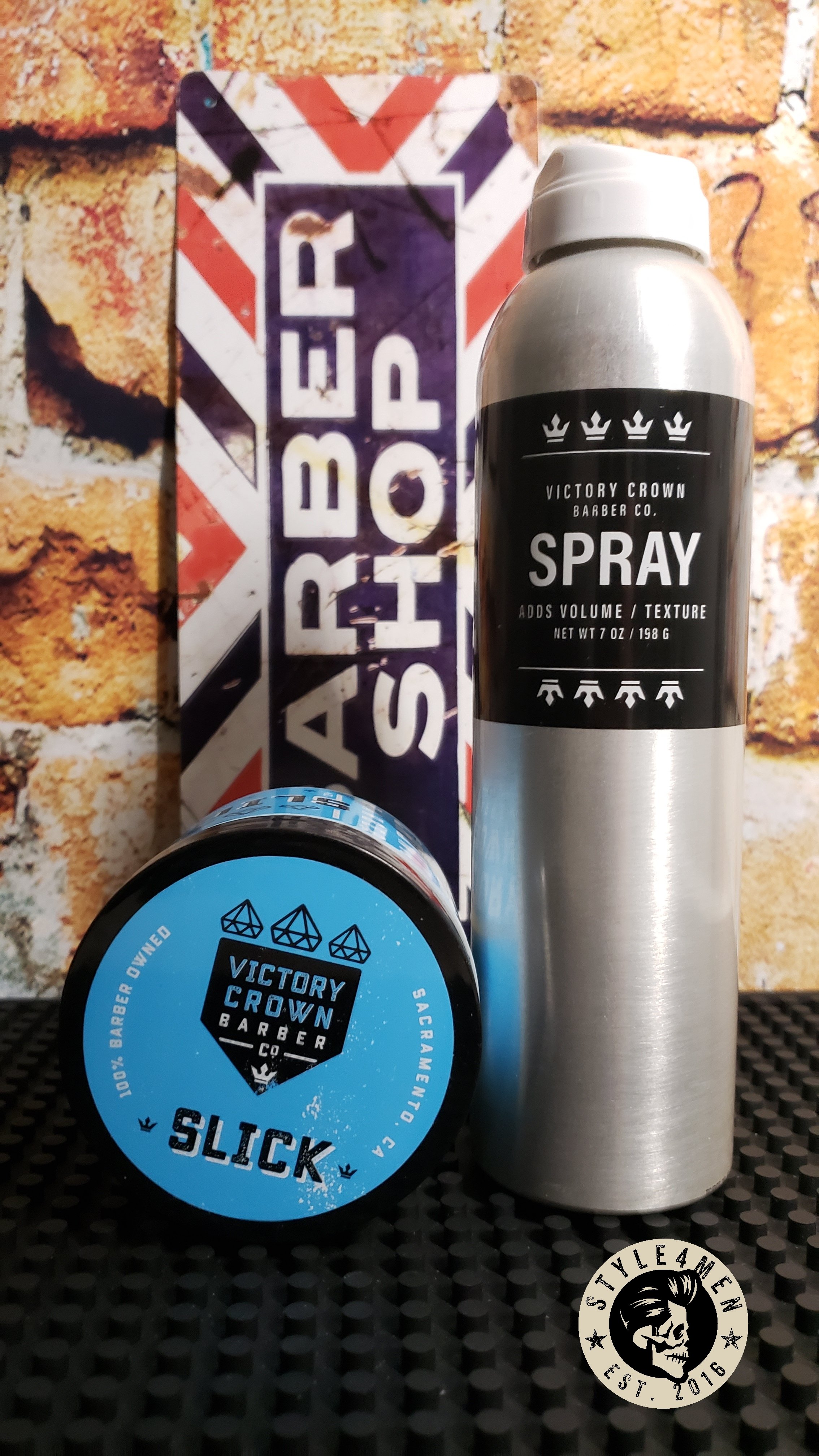 A dry shampoo is an aerosol product that will soak up oils and dirt out of your hair while giving it a bit more volume making it look pretty much like if you just washed it.  Ladies have been rocking dry shampoo for years!
Salt Spray is more of a liquid tonic like solution that you spray into your hair to create some volume and add some grit to gently hold it together.  The high salt content is what creates the grit.  Pretty much like when you come out of the ocean after a swim.  Generally speaking, this is a pre-styler before applying a fixative like pomade.
The Victory Crown "SPRAY" essentially does both of these actions.  This morning after blow drying my clean hair, I added a bit of SPRAY and was immediately impressed with the volume and slight grittiness that it created.  I felt like this performed better than my usual salt spray and was certainly more interesting than dry shampoo.
I then styled with the SLICK pomade by Victory Crown and rocked a great hair day.
How do you use it?  Super simple!  Spray moderately in dry hair and fluff it a bit with your fingers or a hair pick to create volume.  You will notice a mild grit right away.  Repeat if needed.  Keep in mind, that I would not consider this a final styling solution as it does have enough hold to last you all day.  That's where the pomade comes in.  The Spray creates the volume with a little hold and a bit of pomade will keep it together for you.

The SPRAY fits in a products category that everyone is trying to have a presence.  There are powders, numerous variations of dry shampoos, salt sprays, styling sprays, texturing sprays and so on, but this is the first one that I have encountered that combines the behaviors of the salt spray and dry shampoo.  And it does so extremely well.
Interestingly enough, just last week I was trying out a new dry shampoo which performed quite well and offered a fresh reference point.  While salt sprays and styling sprays have been an integral part of my routine for the last couple of years.  What Victory Crown brings to the table is a marriage of these behaviors which I consider to be a welcomed innovation.
If you missed the unboxing, see it on the Style4men.ca Instagram page.