Suavecito Fall 2017 Pomade – Our favorite skull does Halloween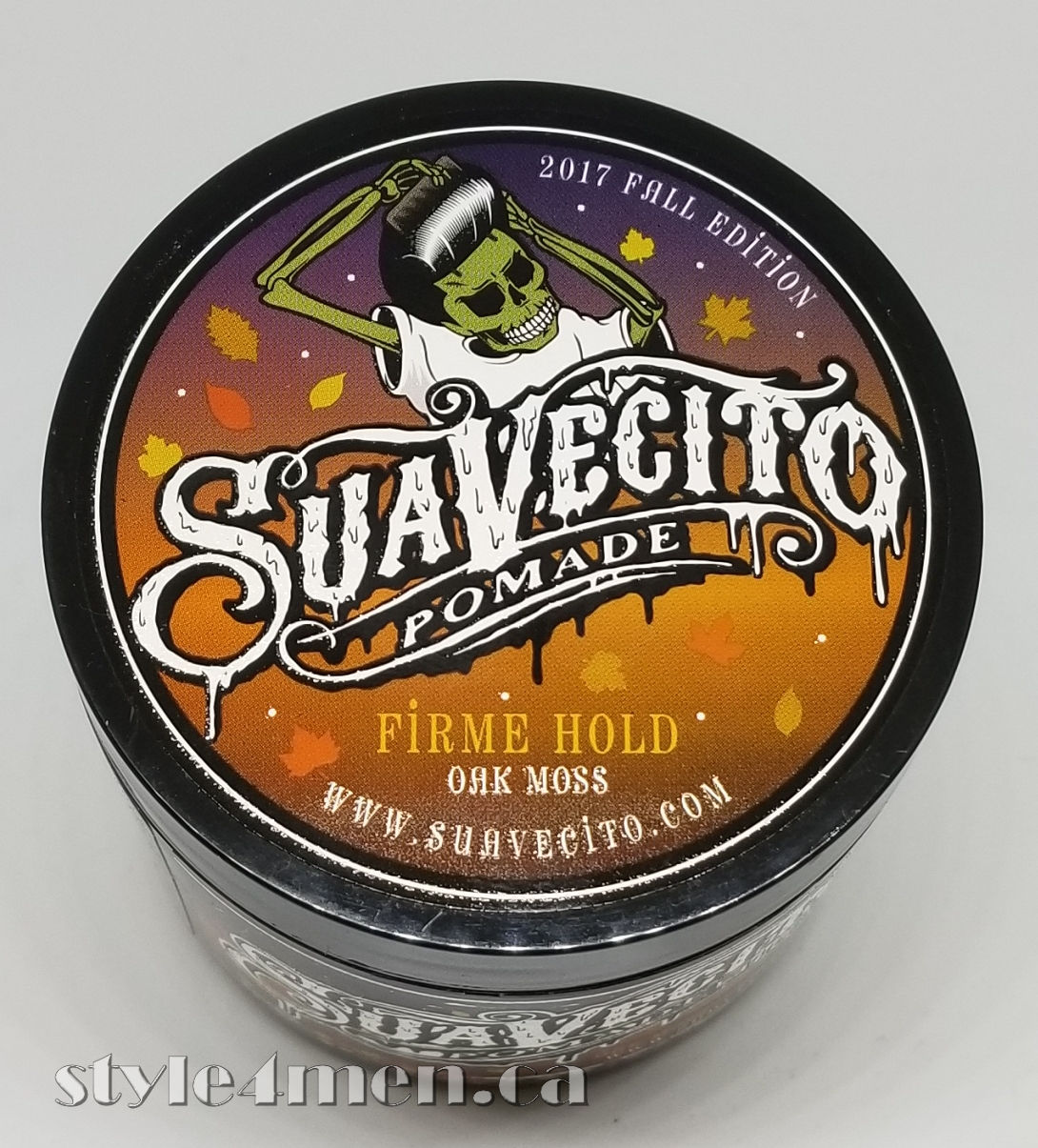 Loving all things Suavecito, I was thrilled to learn that they were continuing on the path of producing a new seasonal pomade edition for Fall.  Producing seasonal fragrance is becoming a popular thing in the artisan pomade world with brands like LOCKHART'S and Shear Revival.  That being said and as far as I know Suavecito was among the first to take this approach.  Lest we forget, Suavecito was still an artisan-like project driven by filling the void in the Rockabilly hair community, not so long ago.  Yes, Suavecito has grown up into a successful business but in my mind, these seasonal pomade novelties are both an original and fun way of keeping their audience engaged.  Bottom line, what is not to love?!  A cool new jar labeling, a completely unique scent, along with the same fantastic core hold!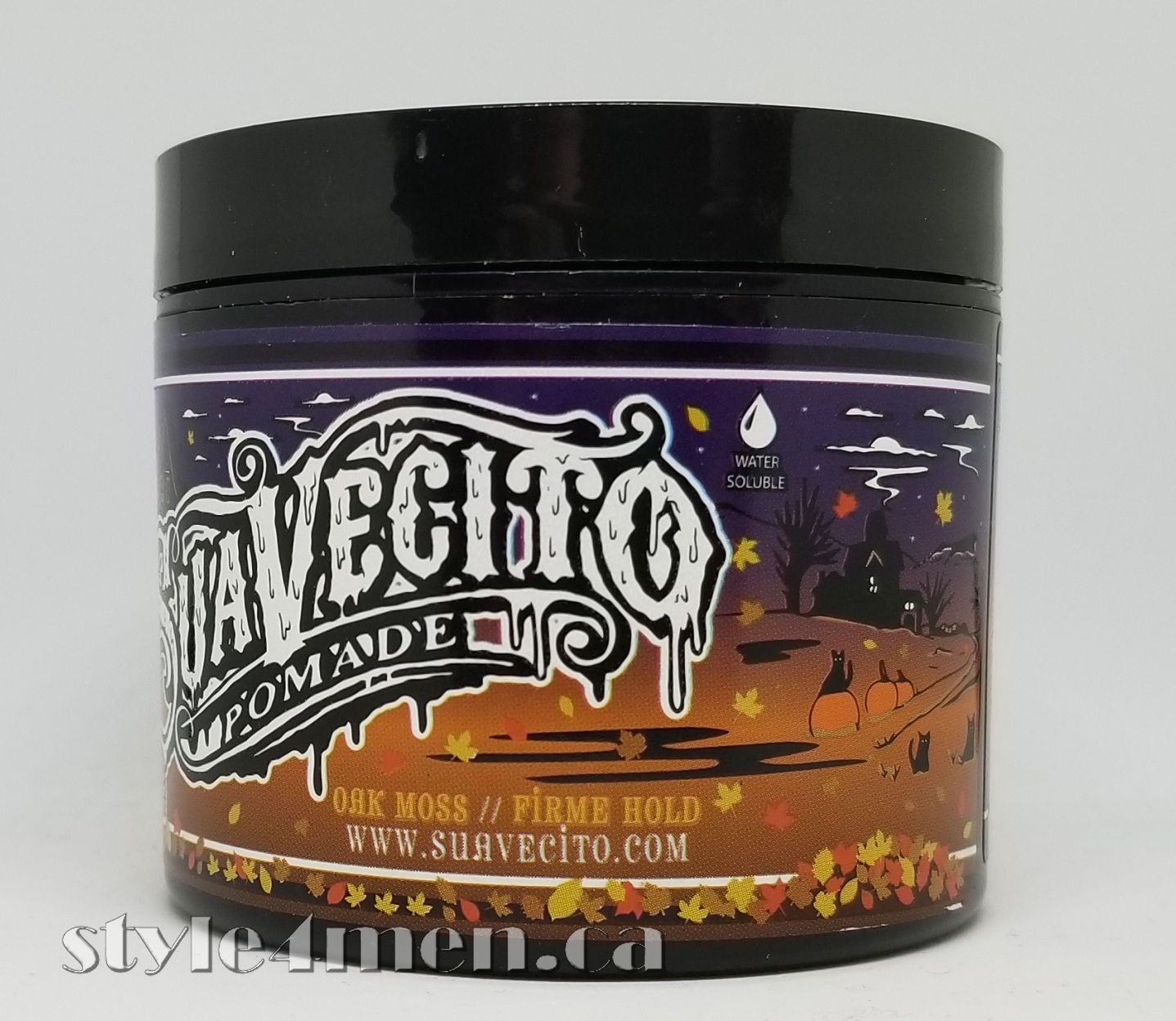 So here we are with the Suavecito Fall 2017 pomade.  As you can see in the pictures, the jar is still sporting the coolest skull in Santa Ana along with a perfectly appropriate Halloween background.  Just in time for October 31st.  Actually, about the date to market, this pomade has been in the works for a few months and was recently listed on the Suavecito site as "Coming soon".  Two weeks ago it still wasn't available from Suavecito, but I was able to get it through the Suavecito Canadian reseller.  Go figure?!  We have to assume that there was a lag between the product being ready and the web site being updated.
FYI – the regular hold and strong hold jars are very similar.  I actually ended up walking away with the regular hold jar when I wanted the Strong Hold and only realized the next morning when I was about to use it that I did not have the right jar.  The only visual difference is the mention of strong hold in a yellow font on an orange background.  In the picture above it is rather clear but in regular lighting, I missed it.
I got my jar at Not Your Father's Barber in Ottawa who orders from Ultimate Barber Supply in BC.  By getting it at my local Barber Shop, I paid $21 and saved a few bucks on shipping.  Since I am reviewing one pomade or shaving cream at a time, I rarely get to benefit from the "large order – free shipping" scenario.  Believe it or not, my bills go beyond pomades! 🙂
How well does the pomade work?!  Well, it's a proper and true strong hold.  It held my mop in place for the full day without a fuss.  In fact I was expecting to have to apply more pomade sometime around 2 PM since that is usually about the time most product starts to give up on me. Not the Suavecito!
I would like to expand on an unforeseen benefit of the seasonal editions. The product is so incredibly fresh that it makes you wonder how old was the other stuff you were working with?  Rest assured, generally pomade has a fairly long shelve life.  So far I have not had any incidents with Suavecito product curling or going bad on me.  The general consensus is that hair product have a 3 years + shelve life.  Just be ready for a smoother product.  If you want to read more on pomade shelf-life, check this post out.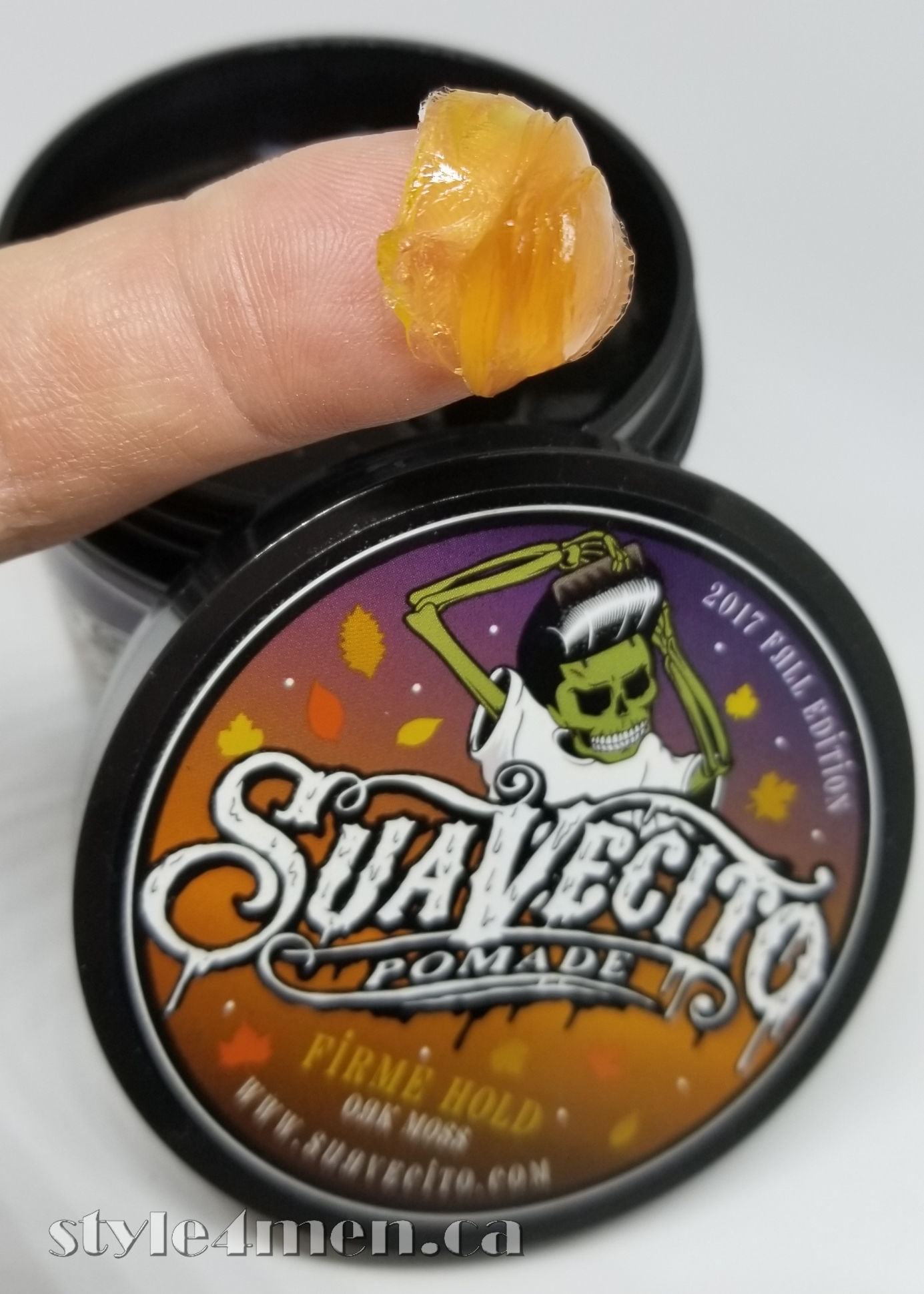 The freshness of these seasonal pomade means that you are working with a product that is softer or smoother than what you might be use to.  don't think that this will mean that it won't hold – no worries it most certainly does hold.  In this case we are looking at the strong hold and in the Suavecito range this is what works best for my fairly long uppercut.  The top is in the 6-8″ in length.
This is a water based pomade so there is absolutely no trouble washing it out.  Just rinsing your hair under the shower head will do the trick.  In fact that is generally all I do every second day as to give my hair a break from the shampoo.
The main selling element for this pomade is the new scent targeted for the Fall  (2017) season.  Suavecito is on an expansion path with their regular new product launches, but not forgetting their core business: pomades.  In that light, they continue to develop and innovate by pumping out these totally fun seasonal pomades.  Same great hold that we have come to love with a fun new packaging and sporting an original new scent.
The summer edition pomade smelt fantastic, but I got a regular hold when really I needed a strong hold.  As such I didn't use it as much.
So about the Fall 2017 scent, the label indicates OAK MOSS.  It's certainly woodzy and a little musky too.  It is not a wildly original fragrance as you will most likely recognize some of the base elements.  That being said, I find it well done and more timeless, or less "in your face" then the original scent might be.  Take it as a more tamed fragrance.
Since I like to wear the OSCURO fragrance I wanted to make sure that this new pomade would not clash.  The pomade fragrance lasts about 2 hours and although it is different from the OSCURO fragrance, some parallel can be made.  In short, I find that they  cohabited well together.  Further on the scent and as I mentioned in other Suavecito posts, my lady is asthmatic and tends to react when I am sporting something too strong.  No reactions here and I got the thumps up!
At 12 ingredients, Suavecito is keeping it simple for a water pomade and that's the way we like it.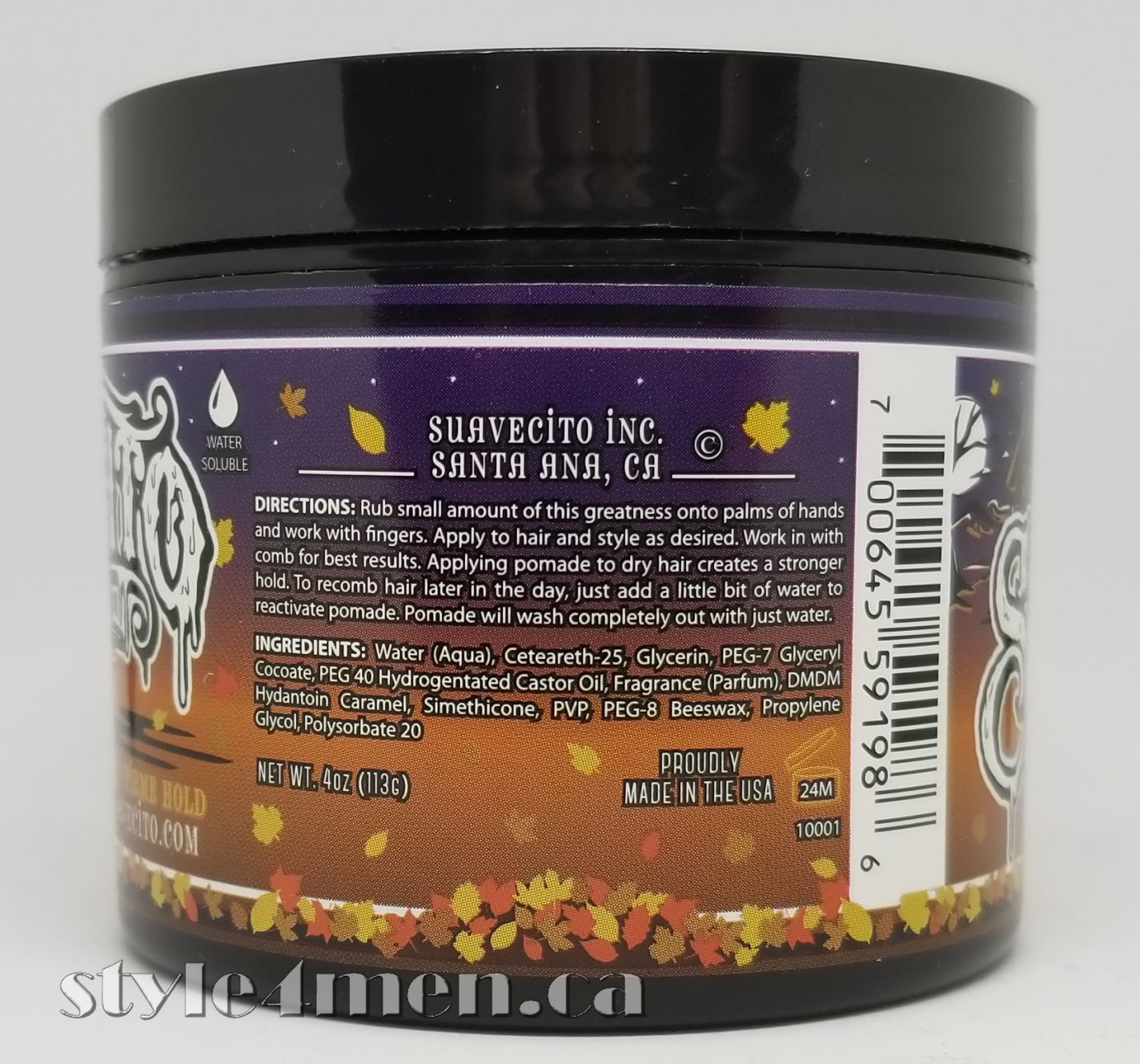 Here is the rating on a scale of 1 to 5, where 5 is a perfect score and/or the level of shine.
Hold: 5
Shine: 3.5
Texture: 5
Feel in hair: 4.5
Facility to wash out: 5
As far as good pomades go, Suavecito is still in my top 10!  Personally I find that making an effort to continue to stay on top of their game by producing new seasonal pomade is a cool and fresh way to avoid complacency and remain relevant.  For the great hold and for the novelty it is worth to:  Get it Hombre!
At the moment this pomade is only available via these following businesses: