Suavecito Summer 2017 Pomade – Perfect Summer Fragrance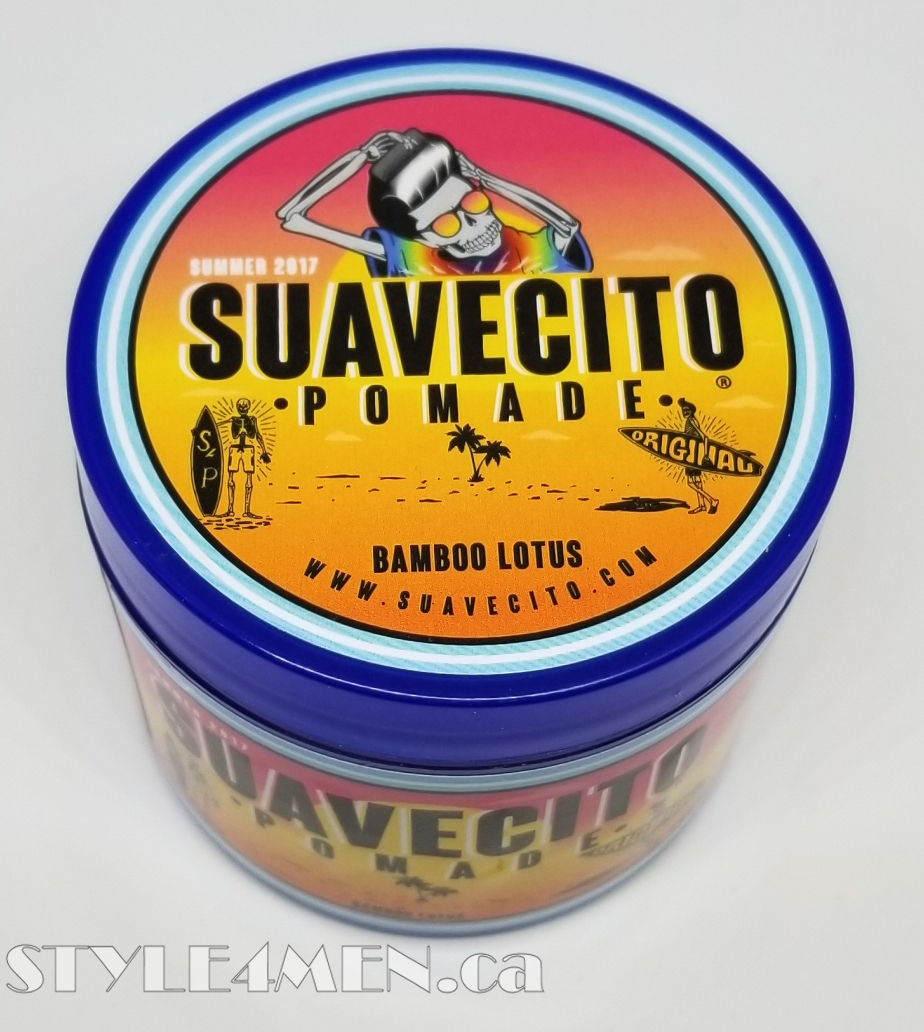 About two months ago, I became aware that Suavecito was producing a Summer 2017 special edition pomade.  In the past, I have tried their Spring edition pomade and was extremely impressed.  With that in mind I set out to get a jar of this summer edition.  Getting a jar of this pomade turned out to be somewhat of a saga.  At first I looked on Suavecito.com but again the incredibly expensive shipping costs to Canada were a deterrent.  At the time I was not seeing any other options. I wrote to Suavecito to inquire if they might have a Canadian distributor.  They responded and pointed me to the Ultimate Barber Supply.
By the time I got my act together, the Ultimate Barber Supply was sold out.  I then turned back to Suavecito and they were also sold out as well.  I reached out to my Ottawa Suavecito supplier, Not your Father's Barber to see if the shop might have some.  They did not, but they were going to order some.  By the time they got to ordering they too were informed that the pomade was sold out.  With that being the case and the pomade being a summer 2017 novelty, I simply figured that this was it.  I had simply missed out on a one batch run of this stuff.  A few days later I was back on the Suavecito site and noticed a little email trigger to be notified when the item would be back in stock.  I signed up thinking that this would be a non-event.  I even asked my son to keep an eye out for this on his regular trips to the mall.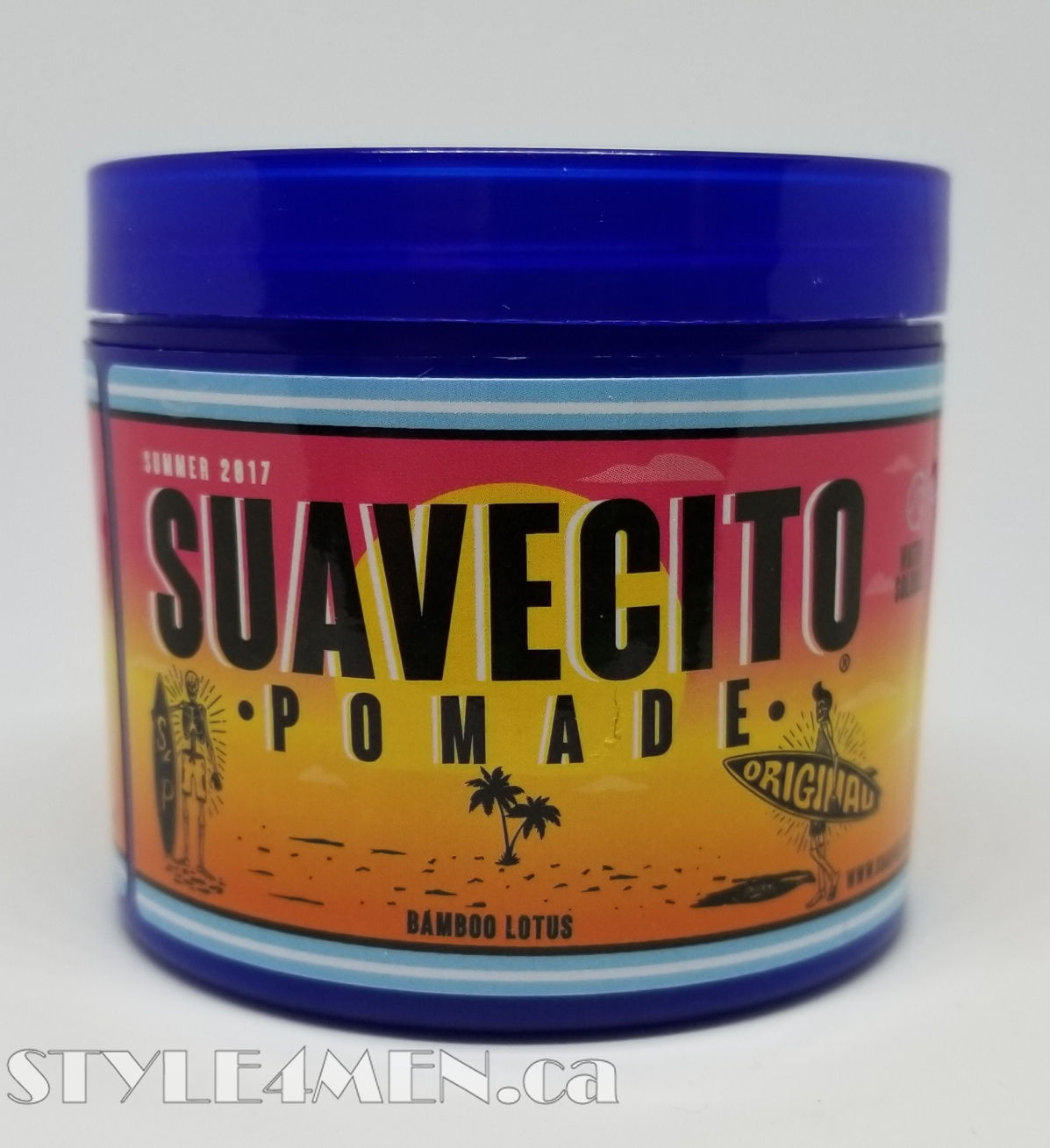 A few weeks went by and boom I was notified that the pomade was back in stock.  This was around 10 AM last Wednesday.  By the time I could get around to placing an order it was 9PM and they were sold out.  Darn!  Out of the blue I figured I might check the site of the Ultimate Barber Supply – they had it and I placed my order!  The next morning, Not your Father's Barber let me know that they too got their hands on a number of jars.  About 5 days later my Summer 2017 pomade was delivered.  What a ride!
The container is the same 113g (4 oz) jar as before, but in blue. Presentation wise, it is clear that the folks at Suavecito are getting more confident-comfortable with their greasers and are having fun with it.  The skeleton dude is now sporting a summer shirt and other skeleton dudes are on the beach with their surf boards.  In my mind, everything about the packaging conveys: summer, cool, fun, don't take it so seriously, enjoy, chill, but man the hair is still important.
In the jar, the pomade looks to be bluish but is in fact clear like the unscented rendition.
As with other Suavecito seasonal pomade editions, the twist is with the fragrance.  The folks at Suavecito realize that you love their schmiere it would be madness to change it. But spicing it up with a cool new fragrance and maybe even blending it into a new colour for the season, it's going to be a fun twist in their product line.  Because of course, this a special edition, not a replacement of the core products.  Yeah ,we're safe!
On the packaging, there is a mention of "Bamboo Lotus".  This must be a reference to the scent.  Everything about this fragrance says: fresh, summer, clean and fun!  As with their other scented pomades, the fragrance is strong enough that you can still smell it once applied.  I enjoyed it so much that I did not want to confuse the experience by using any other cologne when wearing this.
Since my jar was from the second batch, it was extremely fresh.  So fresh that the pomade is only firm in the jar.  As soon as you start scooping it out it relaxed very quickly.  I am even wondering if the regular hold edition might not have become more of a lighter hold?  In the past, I found the firm hold to almost have too much grip.  The Spring edition which is a regular hold was considerably firmer.  I want to assume that this is due to the extreme freshness of the product where the pomade has not cured long enough.  I had a similar experience with their unscented pomade which I bought directly from Suavecito.
That being said, the pomade will work best in dry hair.  Applying it to slightly wet hair will act as a solvent and render unsatisfactory results.  I noticed that this pomade also had a touch more shine than what I have been accustomed too with Suavecito.
Here is the rating on a scale of 1 to 5, where 5 is a perfect score and/or the level of shine.
Hold: 3
Shine: 3.5
Texture: 5
Feel in hair: 4
Facility to wash out: 5
To me the scent of this pomade was a clear winner for summer, but the hold is a tad to light to see me through the day and another small application was necessary.  Oh the hard life! I know!  🙂
Use these links to shop for this pomade:
BTW – Use the STYLE discount code when shopping with the Ultimate Barber Supply for 10% off your order.