Suavecito Winter 2017 Edition – Getting it right, again!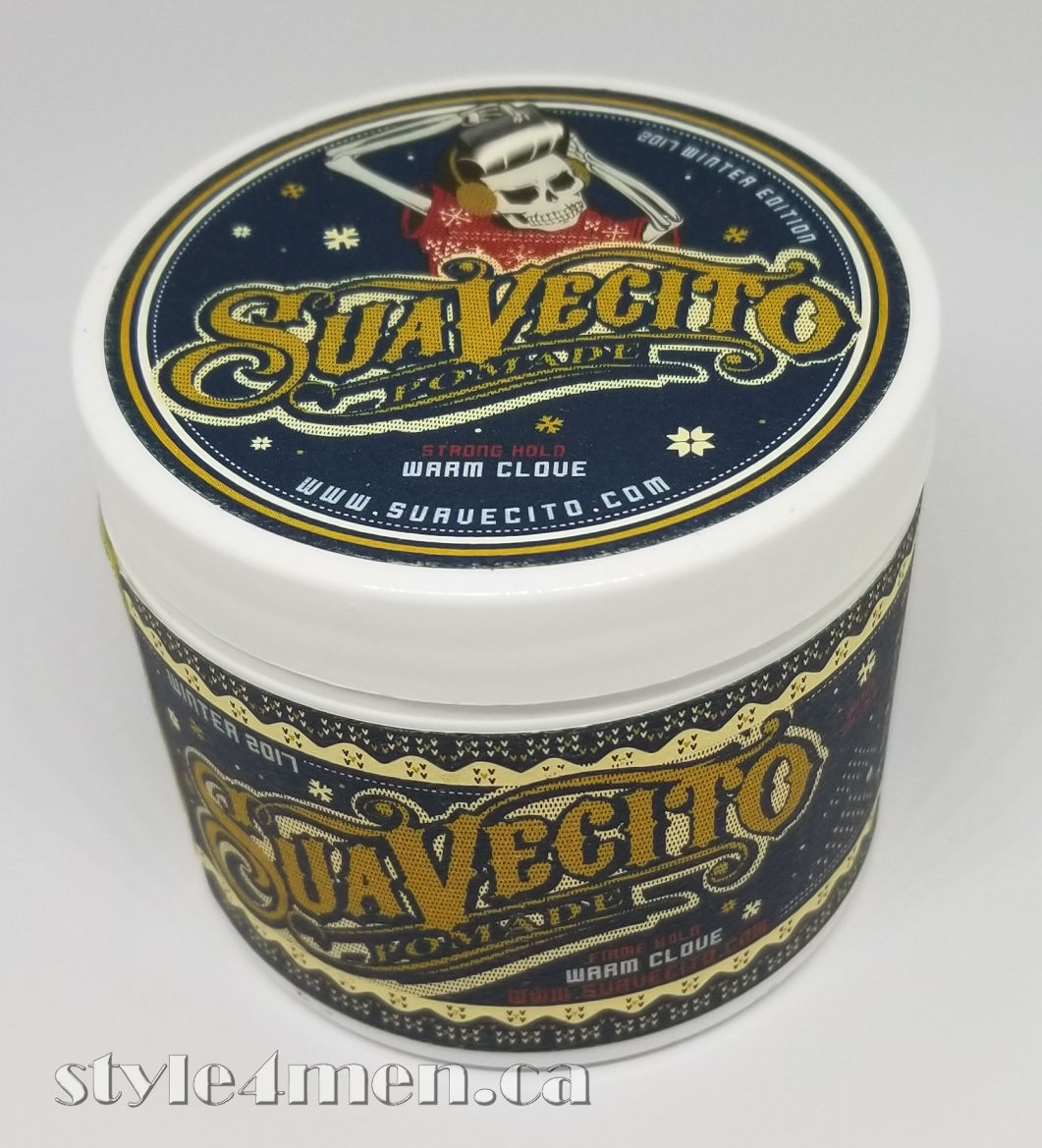 As part of this wonderful project that is Style4men.ca,  I get to try some of the best and most original things being produced in the pomade and shaving space.  I am regularly blown away by the human genius and the originality of some of the products coming to life.
Even though there is much excitement in discovering new products, there is also peace and serenity to be found when rejoining with that first love.  In my case, Suavecito was that first pomade love.  It is the brand and trigger that sparked this pomade passion and grooming product review project.  Over the course of the last 10 or so months, I have been busy with a number of other brands and ended up skipping over a few of the seasonal releases from my favorite bunch.  A few weeks back Suavecito was having an inventory sale to make room for their next upcoming seasonal batches.  As such, I took advantage of the opportunity to get a jar of their Winter 2017 strong hold edition.
As always, a unique and totally fun seasonal label was produced and a very special fragrance was concocted for the occasion.  Cinnamon!  As in a hot cinnamon apple cider Christmas drink.  I love cinnamon for all that it is: sweet and warm smelling, but also for its health benefits.  Cinnamon in my tea or treats is one thing, but putting it in a pomade is completely unexpected.  And totally original!  You guys can still surprise me and that is awesome!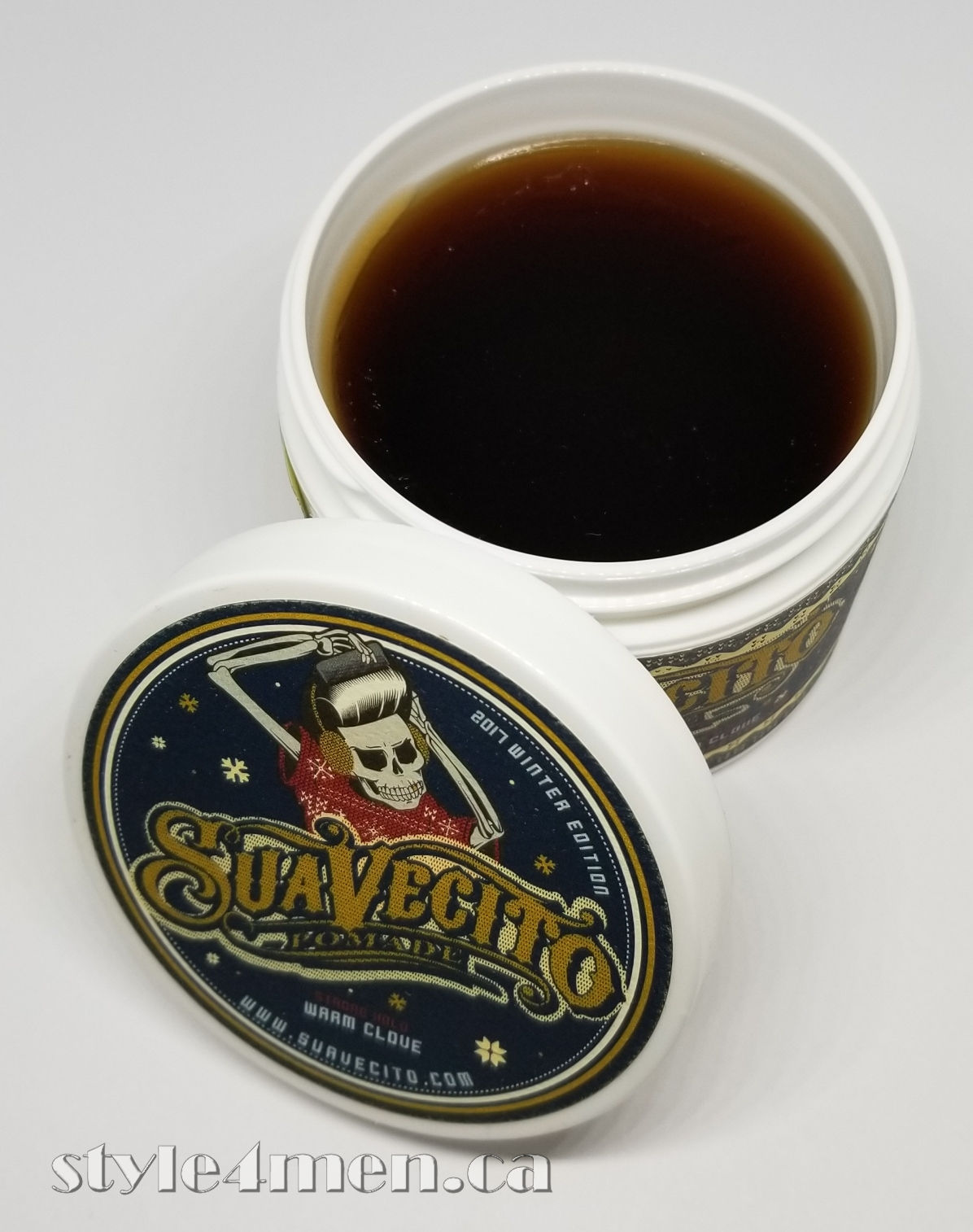 Suavecito has certainly brought a number of fun fragrances to the party over the last years.  With this experience has also come fragrance maturity.  This cinnamon scent is more delicate and subtle.  The scent here is true cinnamon, but it is perfectly gauged and totally smooth.  Seriously less direct than that rocking original Suavecito fragrance.   It's even asthmatic-wife approved!  I got a nice; yummm from her. Yeah!  What more can I guy ask for!
They gave this fragrance the name of: Warm Glove.  Very appropriate!
The labeling clearly finds its roots in the "Tacky Christmas Sweater" drawer and is bang on!
The product colour is very similar to the "Original" formulation in a darkish brown.  This is not a hair darkening pomade and you will notice that the product will essentially become clear when relaxing it in your palm before application.
I also did that little tap test on the bottom of the jar and it rendered that slight ring confirming a perfect product consistency.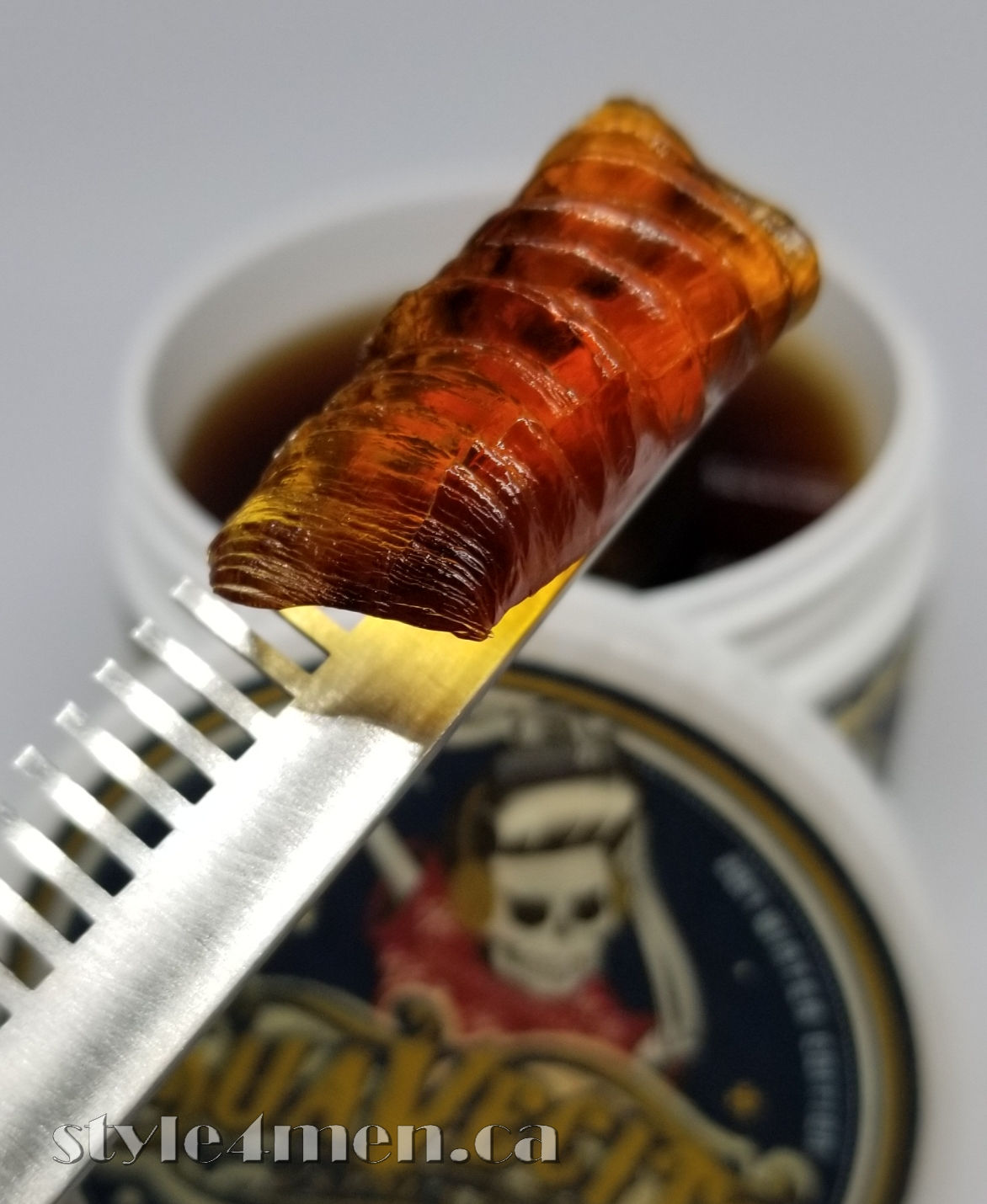 Pricing for Canadian shoppers is always a multi-layered process.  US to Canadian exchange rates, shipping costs and in some instances, duty.  The jar was 50% off so some $6 US.  UNBEATABLE – you say to yourself!  Then there is the shipping to Canada.  I will say that Suavecito shipping fees have stayed constant at $12 for their standard pomade box (6″ X 4″ X 3″).
Pomade jar:  $6 US
Shipping to Canada: $12 US
Total: $18 US or $22.75 CND
Had I gone to my local Barbershop connection, Not Your Father's Barber, I could have picked up a jar of regular hold pomade for $19 or the strong hold for $21 CND.
Performance
As indicated above, this is the strong/firm hold pomade.  Considering my thick and unruly hair, the strong hold is what usually works best for my mope.  I styled my hair after washing it and drying it with some salt spray to give it some volume and height.  The pomade offered a little resistance when scooping it out which makes sense for the strong hold concoction.   The pomade was easy to relax in my palms and distribute evenly in the hair.  I used about a nickel size worth of product for the first application and about half of that for touch ups. I had a rocking pomp in less time then it take to order: 2 strawberry vanilla milk shakes and a burger with fries, from the roller-skating waitress at the drive-in.  And as you would expect a strong hold pomade to perform (but don't always get), my hair style lasted the full day without needing care.  Just perfect!
As with most water based pomade, shine is more subdued that in the grease based counterparts, but it nevertheless produced a discreet healthy shine.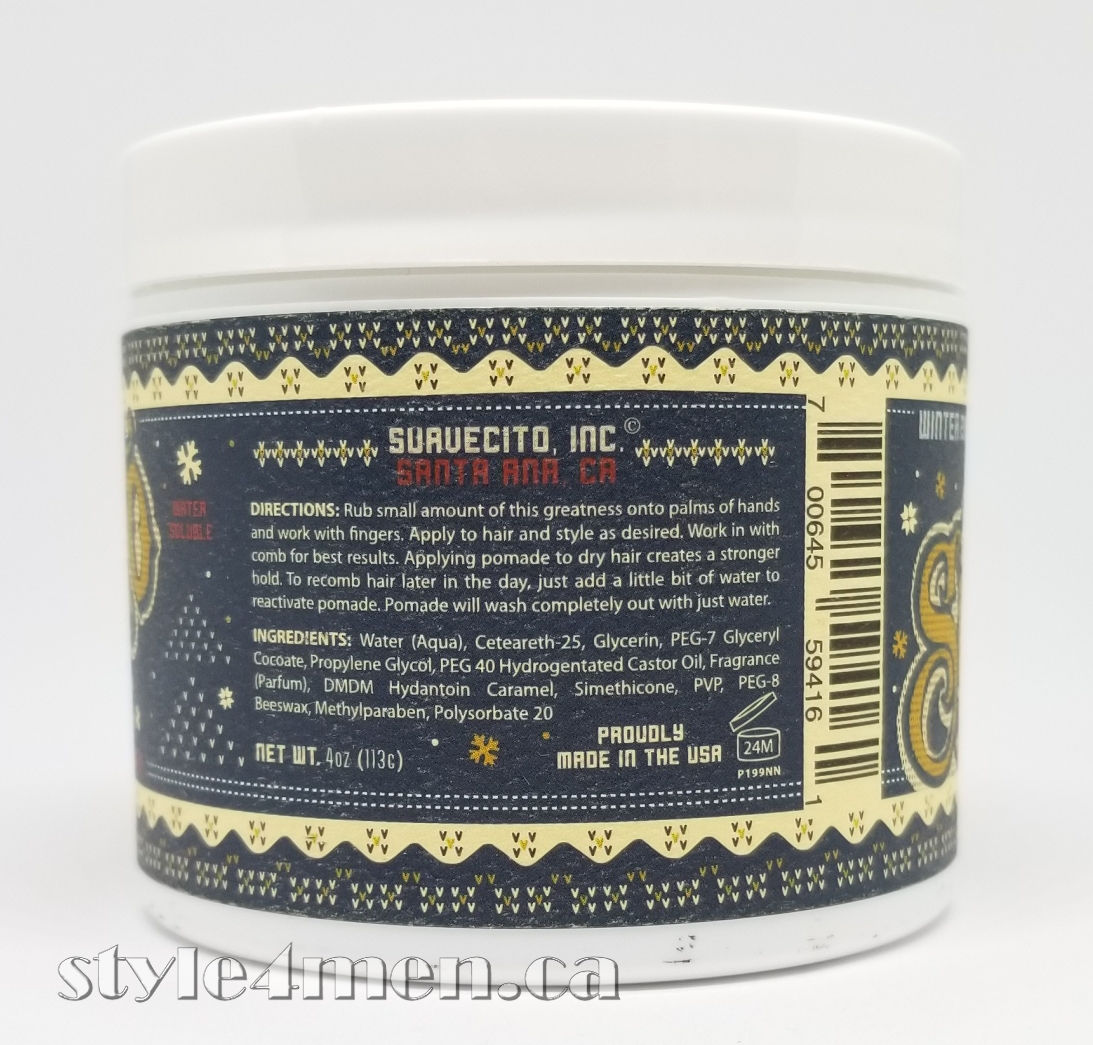 Here is the rating on a scale of 1 to 5, where 5 is a perfect score and/or level of shine:
Hold: 5+
Shine: 3
Texture: 5
Feel in hair: 4
Facility to wash out:  5

As part of my order I also added a pack of 4 Suavecito combs.  These guys are nicely stamped with the Suavecito branding and are some 3.5″ long (13 cm).  Small, convenient and practical.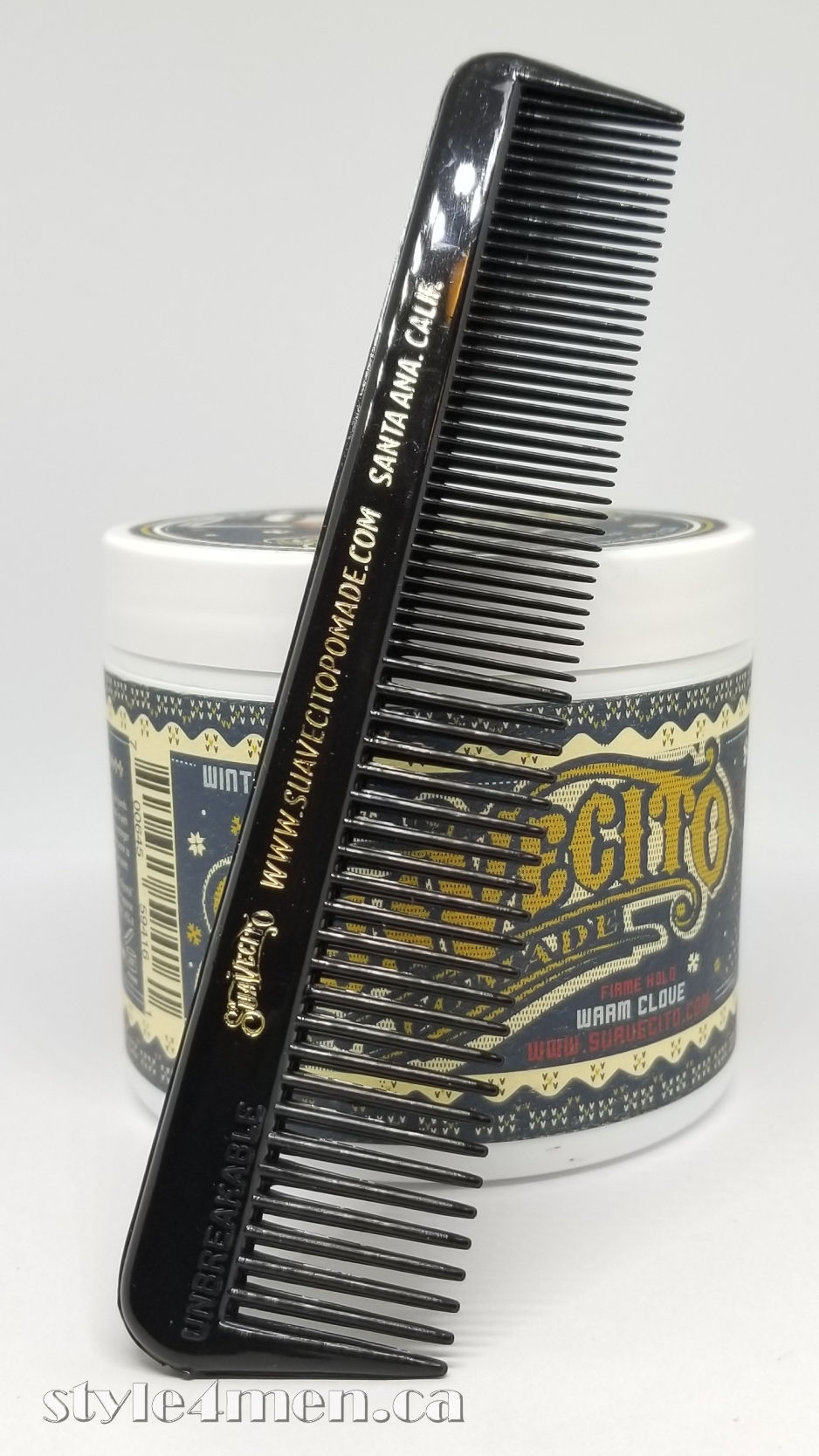 In closing, this original scented and proper holding pomade is yet another strong product from a company that has clearly no intentions of stopping to impress us.
Use these links to shop for this pomade: