The Holy Black – Clay, Pomade and Supermax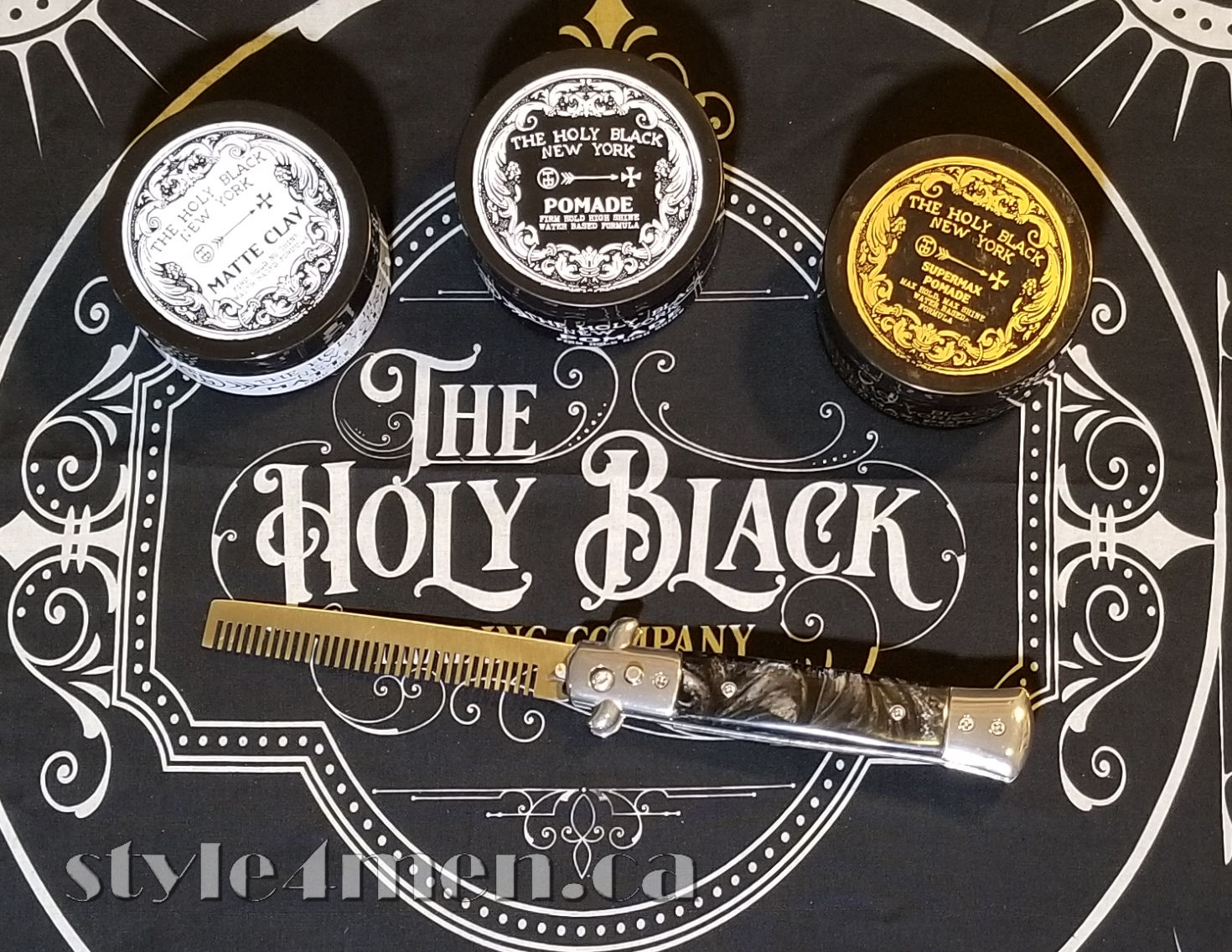 This is the second installment covering products from The Holy Black.  In the first review we covered their shaving gear: Shaving cream, shaving brush and their big boy safety razor.  In this second post we will explore their pomades.
The Holy Black is an American New York based project that finds its inspiration from a simpler time, the 1800's.  A time where a Gent would go to town to get: supplies, a drink and a shave.  On top of offering a solid range of men's grooming products, The Holy Black also has an extremely interesting supporting web site.  If you have any nostalgic cravings, this will be a good "fix"!
There are more and more men's grooming product companies, but it many cases it's somewhere in between the very small scale artisan business with one or two totally rocking products or it's the large corporation with an enormous catalogue of products which you end up being hard pressed to differentiate.  What I like about The Holy Black is that it has that small scale artisan feel to it, while offering pretty much everything a guy needs.  In so many words, they've got your basic grooming needs covered from shaving to styling.  As I reported in the first post on their shaving supplies, you are dealing with quality stuff.  So we are diving into this second review with fairly high expectations.  Spoiler alert – their pomades do not disappoint!
A big shout out and thank you goes to Stefan of The Holy Black for his support and trusting us for these reviews.
These New York guys offer the following 3 options:
Pomade: Firm Hold / High Shine
Matte Clay: Firm Hold / No Shine
Super Max Pomade: Max Hold / Max Shine
I will state this up front so there is no confusion, all 3 of these products are water based.

---
Regular Pomade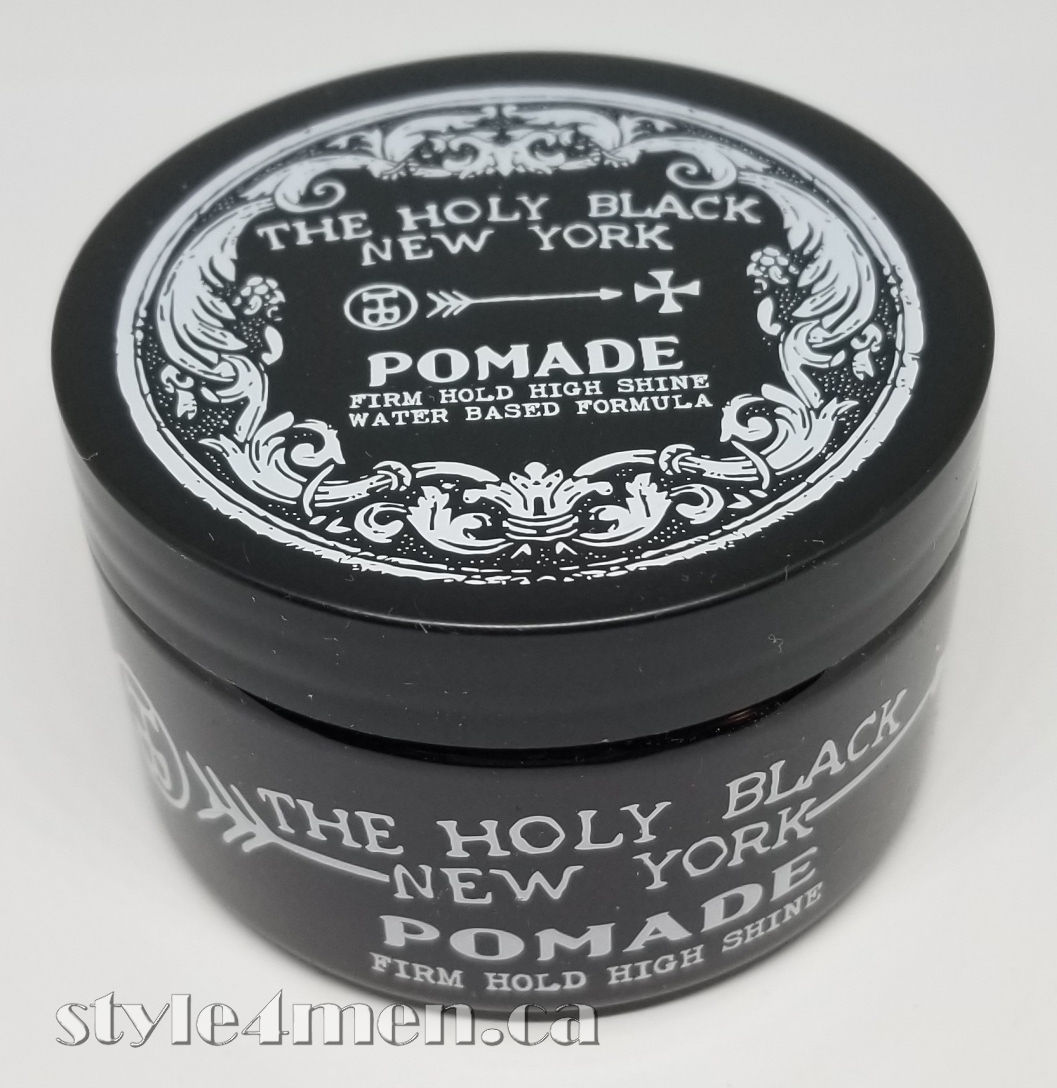 I went with the rational that I should start testing these products from smooth to strong and as such started with the "Pomade".
When opening the jar you might be caught off guard as the pomade looks very much like a grease based product.  In fact, I took a double take and checked the ingredient listing again.  Yes, there is castor oil, but it's further down the list (4th position).  This is a "water based" pomade.  When scooping out a portion my finger met very little resistance.  This usually is a sign of a mild hold holding product.  When relaxing this scoop in my palms I started to think that this would offer little hold.  Note that the product is extremely light.  It went in very well and I was able to distribute the product evenly.  This is when the "reveal" happened.  I was able to achieve a proper styling with more height then I though would be possible.  The second surprise is how long my styling lasted; a full day!  For my fairly long uppercut, I used about the size of a nickel, twice.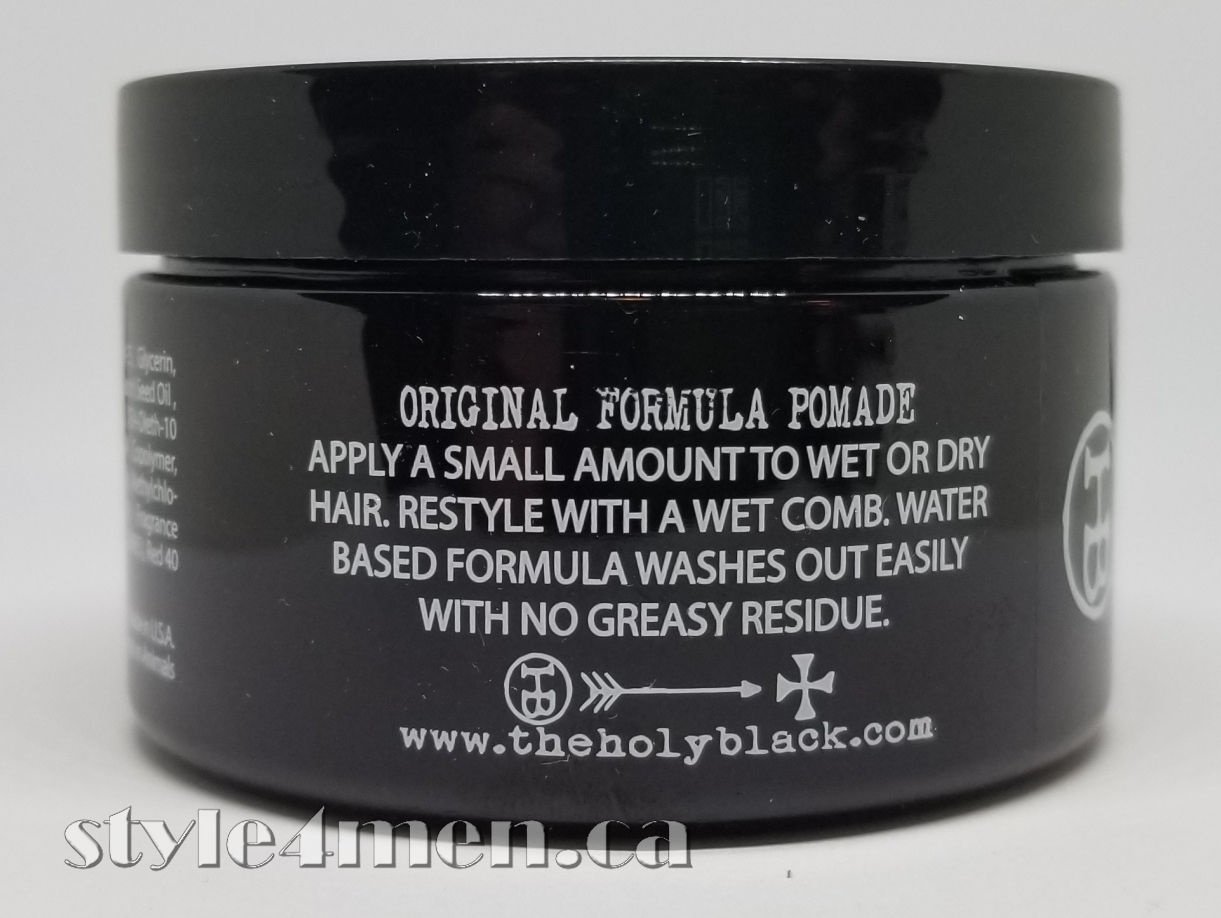 At first I really wasn't too sure what to think of this pomade.  Because it reminded me of other products that although were officially water based, also contain a good amount of oil and offered very little hold.  This pomade turns out to be rather unique as it is a softer texture in the jar but still manages to offer some serious hold.  The benefit of this softer texture is its ease of application. I have been testing a number of other pomades this month but I keep coming back to this jar on none test days.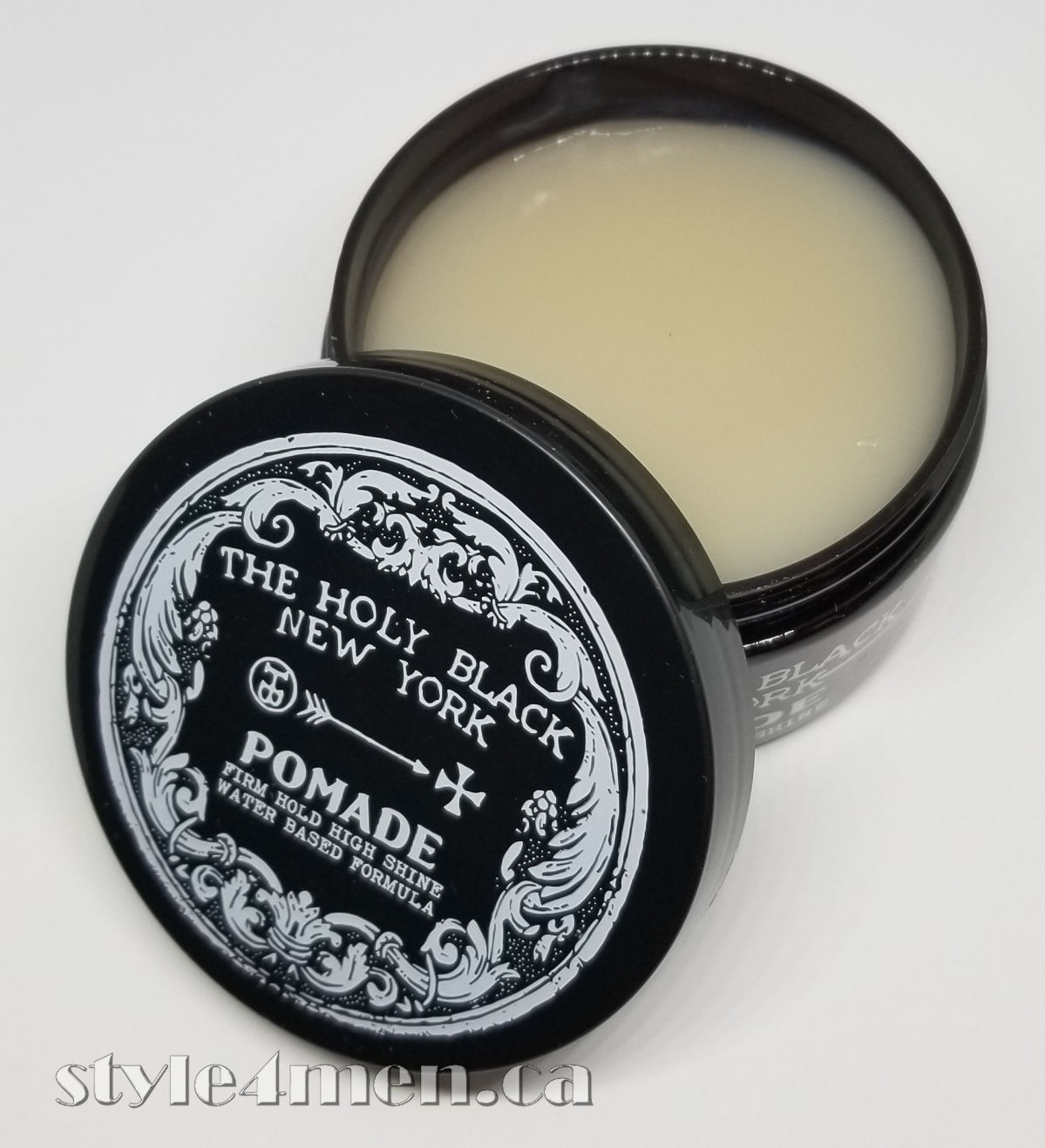 Ingredient-wise, the pomade is perhaps the simplest of the 3 products at 16 ingredients.  No parabens, no petro-chemicals, no animal testing!
Scent-wise, I think it is a very discreet and manly lavender with some elements of spice.  I like it, but as mentioned it is discreet so you can carry on with your after-shave and what-ever else you might be inclined on splashing.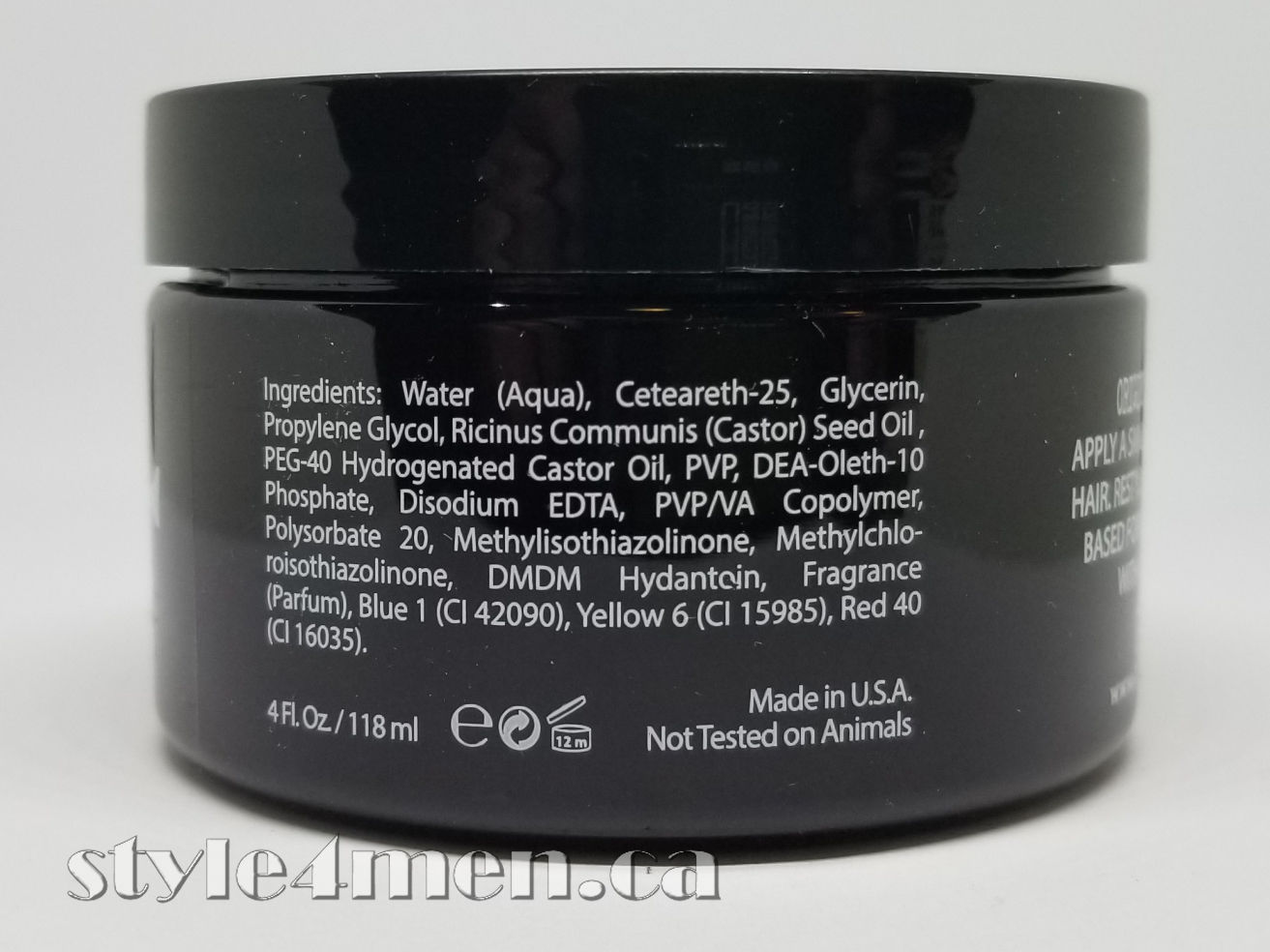 Here is the rating on a scale of 1 to 5, where 5 is a perfect score and/or level of shine:
Hold: 4.5
Shine: 4
Texture: 5
Feel in hair: 5
Facility to wash out:  5
The skinny on this pomade: extremely easy to work with, proper hold, long lasting, easy to wash out.
PS – when wanting to stretch out the pomade an extra day, I squirted a bit of salt water spray in my hair to relax the pomade and restyled by adding a touch more new pomade.  Perfect for another day!
---
Supermax Pomade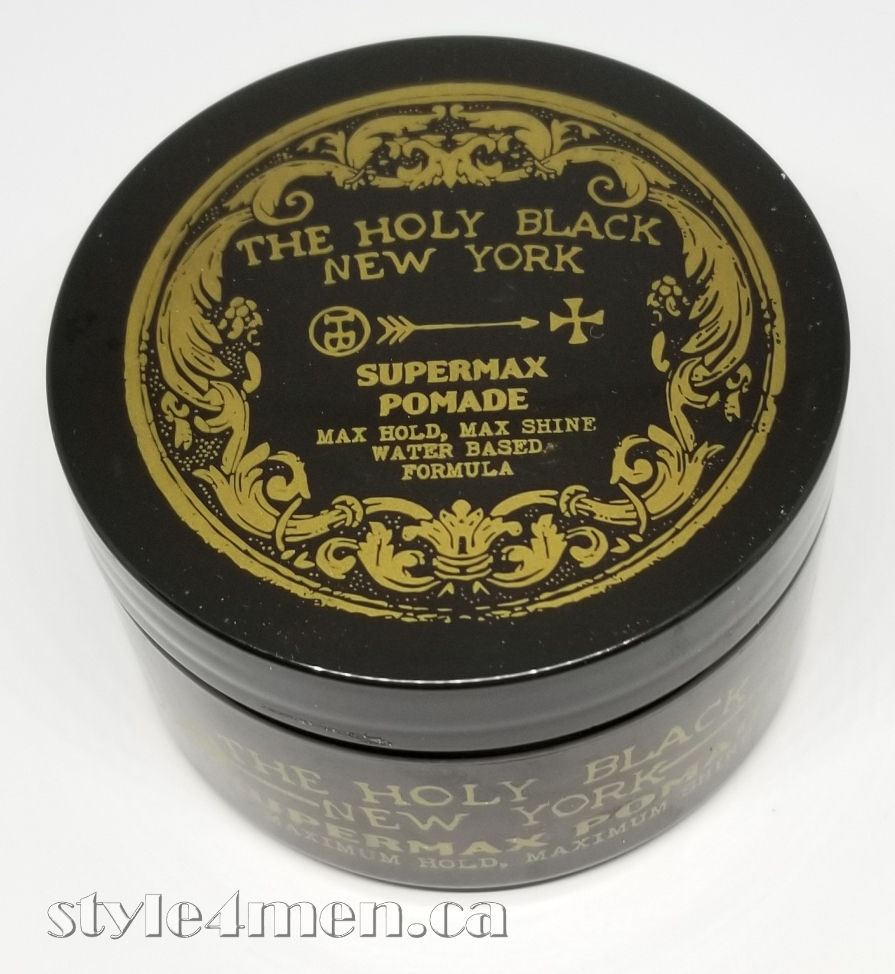 The Supermax Pomade from The Holy Black has a very distinctive whiskey scent. It is somewhat unexpected to have this fragrance in a hair product. We are very accustomed to having it in an aftershave for example, but here it pushes the originality to a whole new level. Note that this is not a very strong scent.  You will be able to recognize it but it will not be overpowering or dominating, so don't worry about smelling like a whiskey barrel. 🙂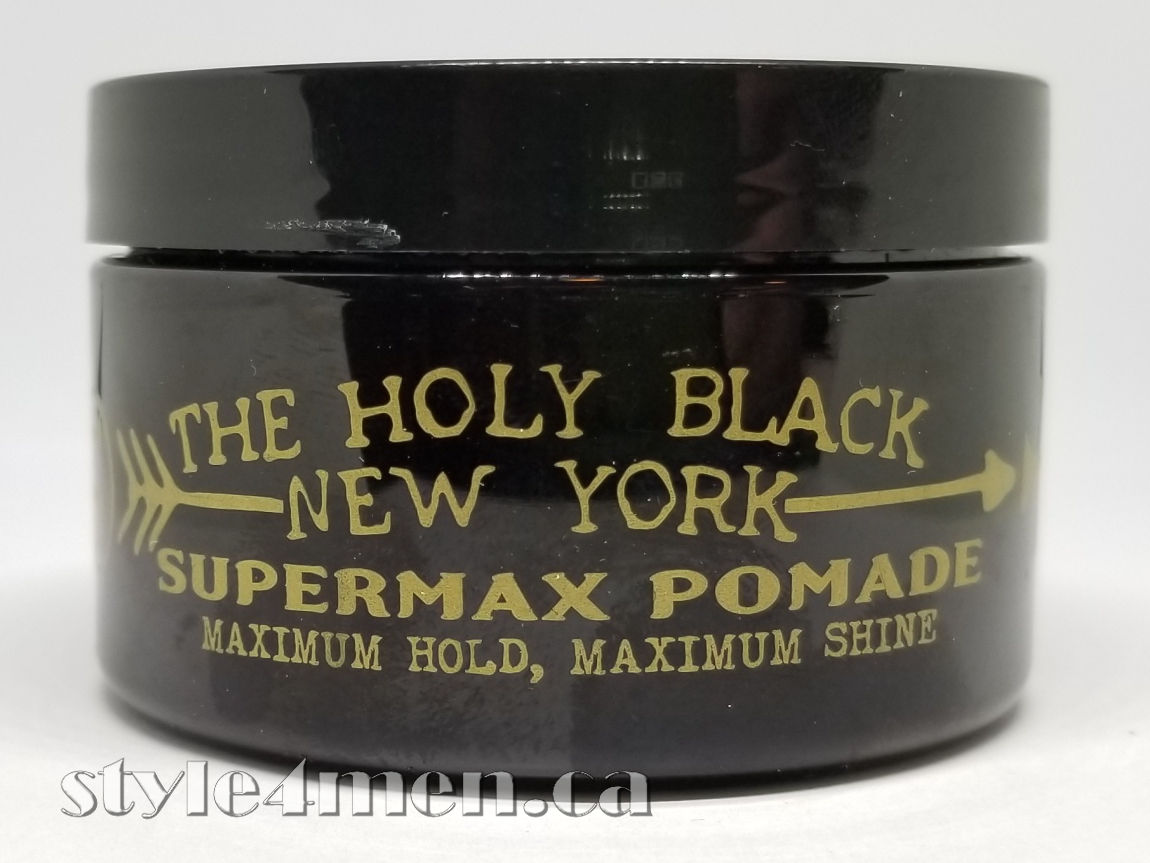 The Supermax qualifier is quite accurate. This is a proper strong hold water based pomade. Considering my fairly unruly hair this stuff could tame it and make me look totally presentable. I should also mention that this is one of the most original looking pomades I have come across. There are many fun colors out there like; red, blue, green, purple, clear and even black, but this one is silver. Once you relax the Supermax in your hands the product becomes clear which is a the typical behavior. No need to worry about this product making your hair gray or making your white hair silver.  It will actually just leave your hair looking nice and shiny.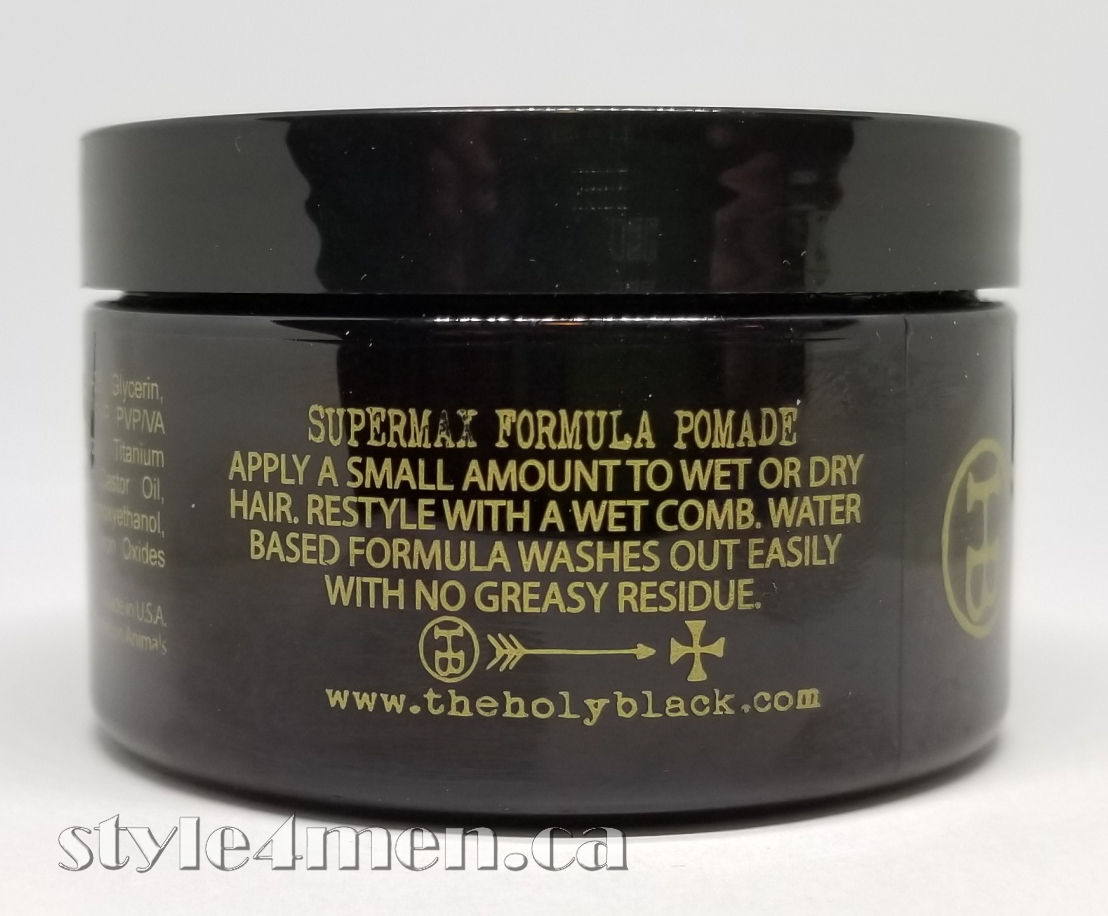 Usually pomades will do one of two things very well; either give you strong hold or give you lots of shine. This one is giving me fantastic hold and a very decent shine. That is something fairly rare in a water-based pomade. Further on this water base aspect I should add that as expected it washes out very nicely. Simply rinse your head under the shower head and 90% of this product will be gone. Add a little bit of shampoo and a job is Thoroughly done. So no major commitment on your part when using this product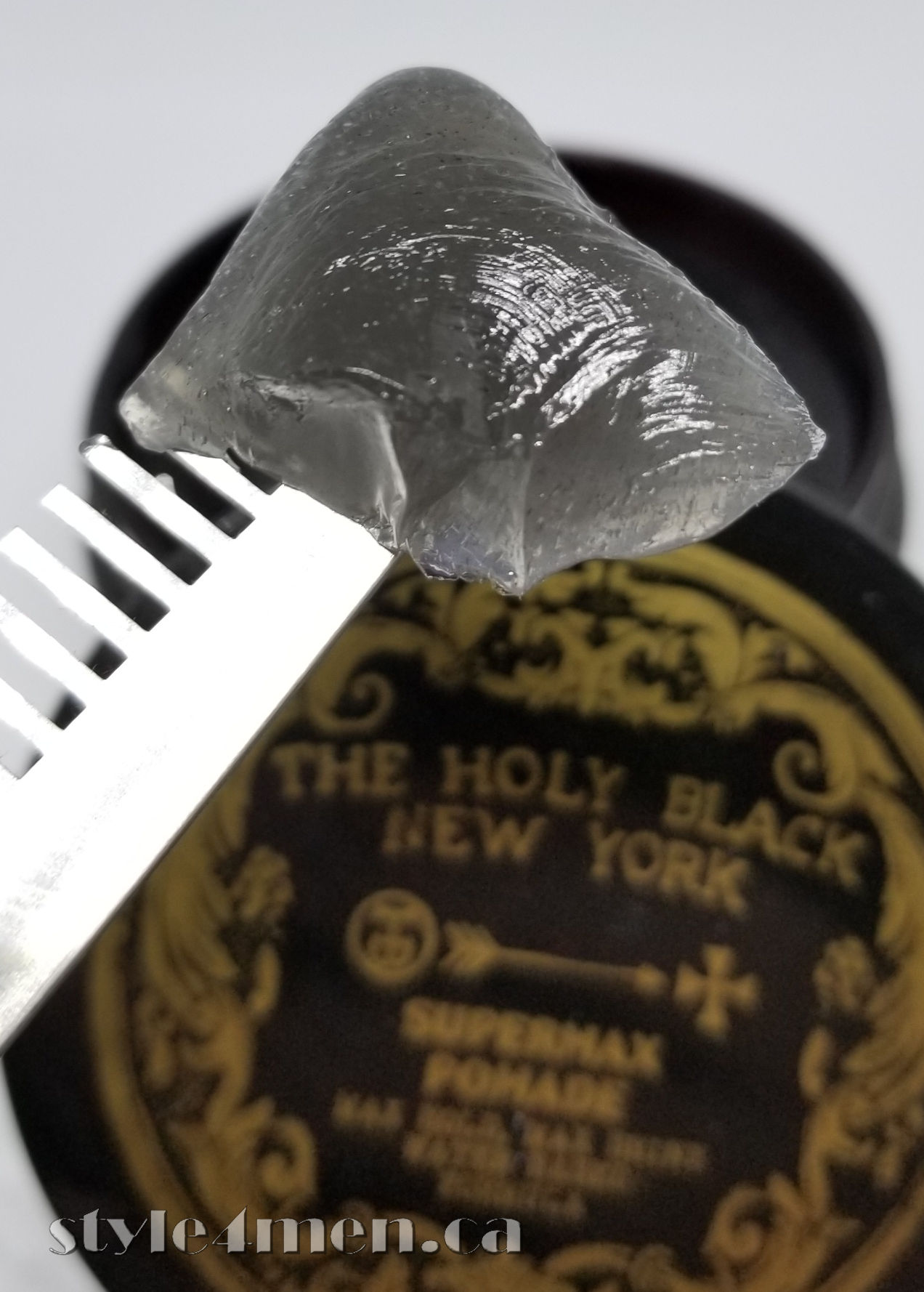 Here is the rating on a scale of 1 to 5, where 5 is a perfect score and/or level of shine:
Hold: 5
Shine: 4
Texture: 5
Feel in hair: 5
Facility to wash out:  5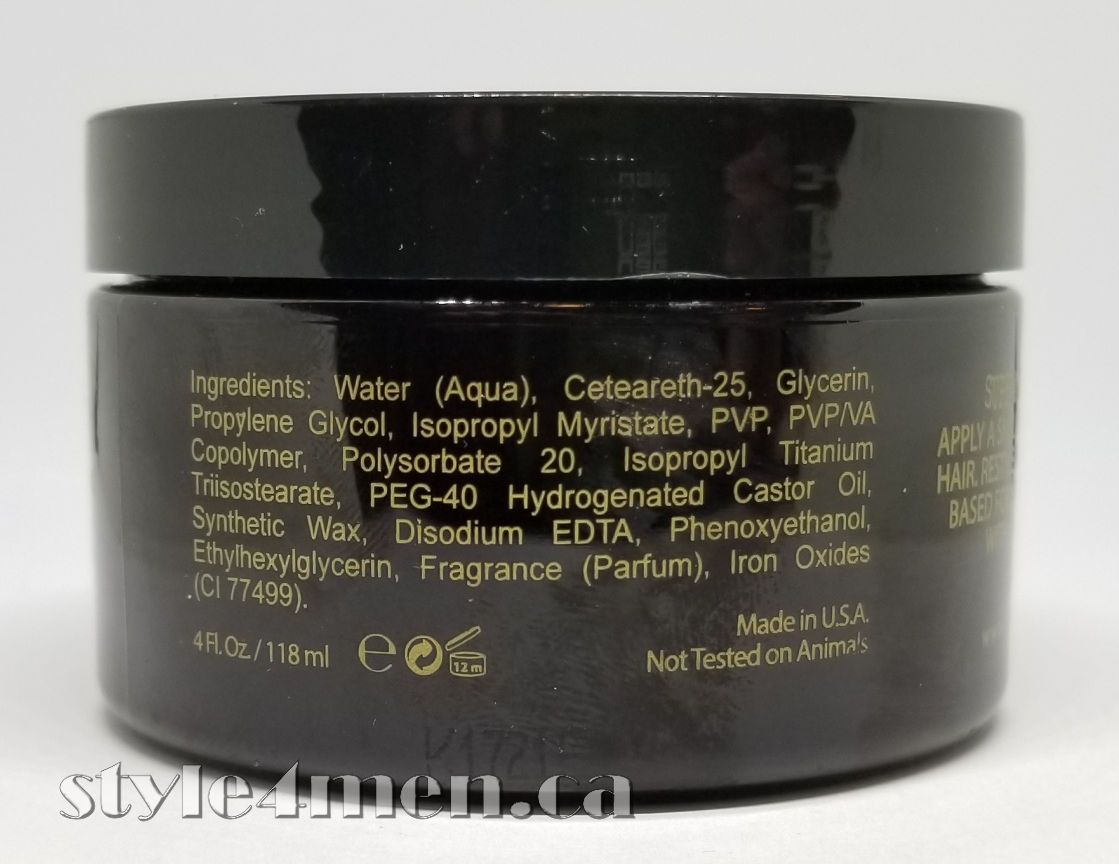 Kudos have to be given to The Holy Black for managing to make water based hair pomades that offer both some decent shine and incredible hold.  It is usually one or the other.
---
Clay pomade is a very interesting proposition as a hair fixative for the following reasons:
Extremely thick and dense substance
Very light
Offers a matte finish result
Easy to wash out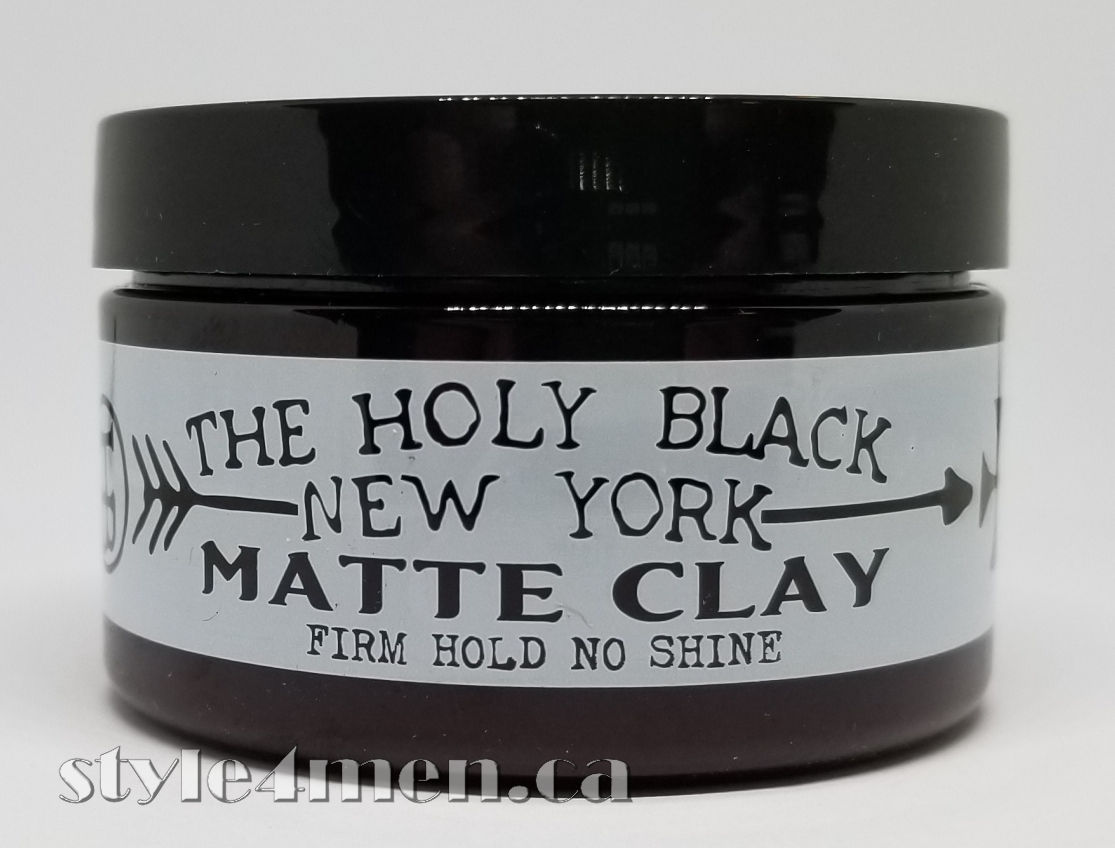 Generally speaking, when you see a hair style that could not possibly be achieved in nature, but yet the hair looks surprisingly "natural", odds are that you are seeing something that was accomplished with hair clay.  A smooth-matte quiff for example would be done with such a fixative. You can start to see why "clay" is causing a bit of a fuss in the hair care industry.
For all of it's virtues, clay also has a few weaknesses:
Clays tend to be hard to work with since they seize or dry extremely fast during application.
The hair styling results are about half-day's worth
The necessary re-application tends to make the hair waxy and tacky to the touch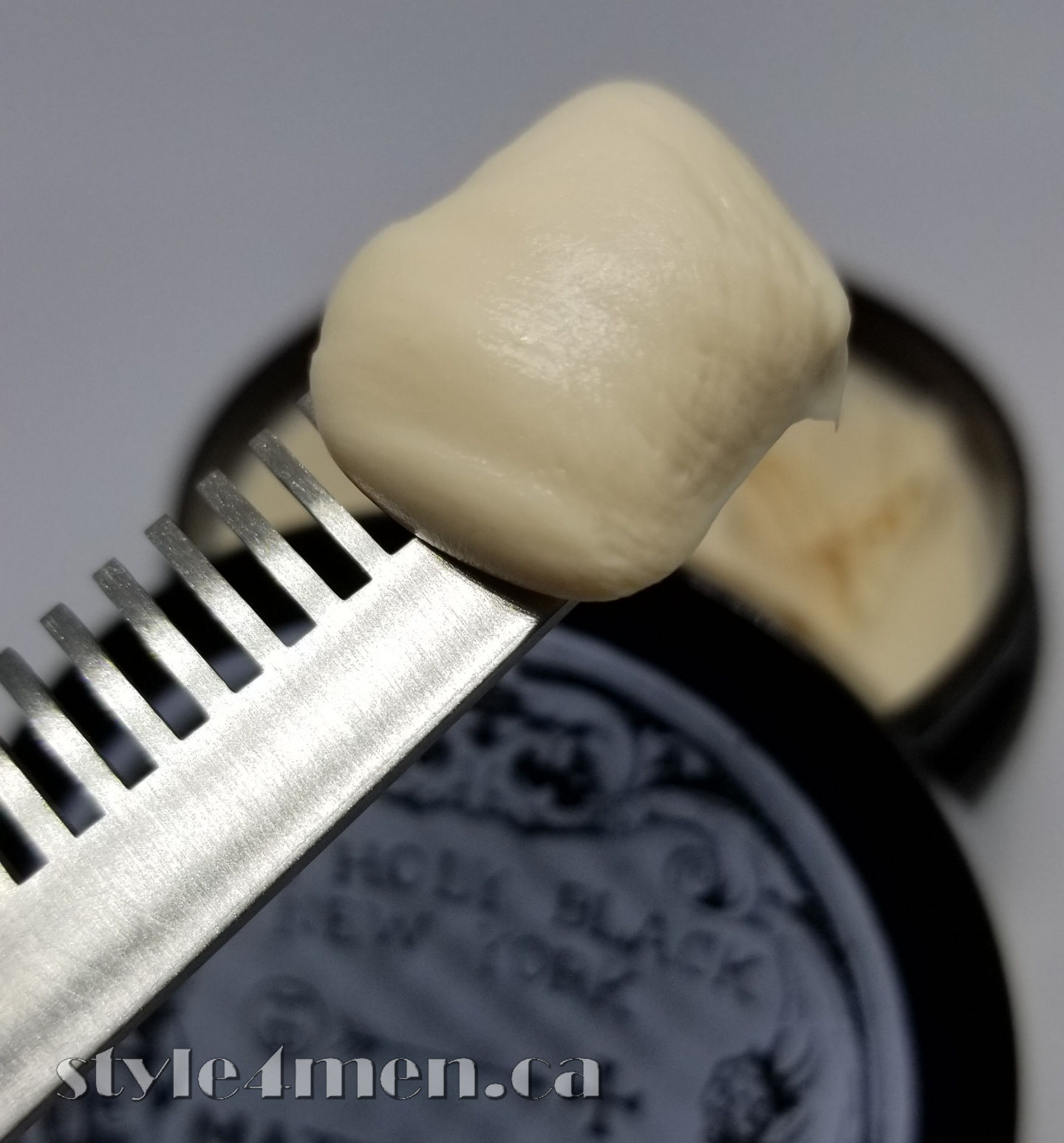 What is different about the clay from The Holy Black?  Up front the initial texture of the product is very soft.  It reminds me more of a cream than a clay.  This makes the portioning process effortless.  Very little relaxing of the product is required  to get it to a perfectly smooth cream like state.  If you are applying to dry hair, it will start off smooth but as with most clays, you will have limited time for styling before the products dries.  Clay has low water content and that becomes apparent within a few seconds.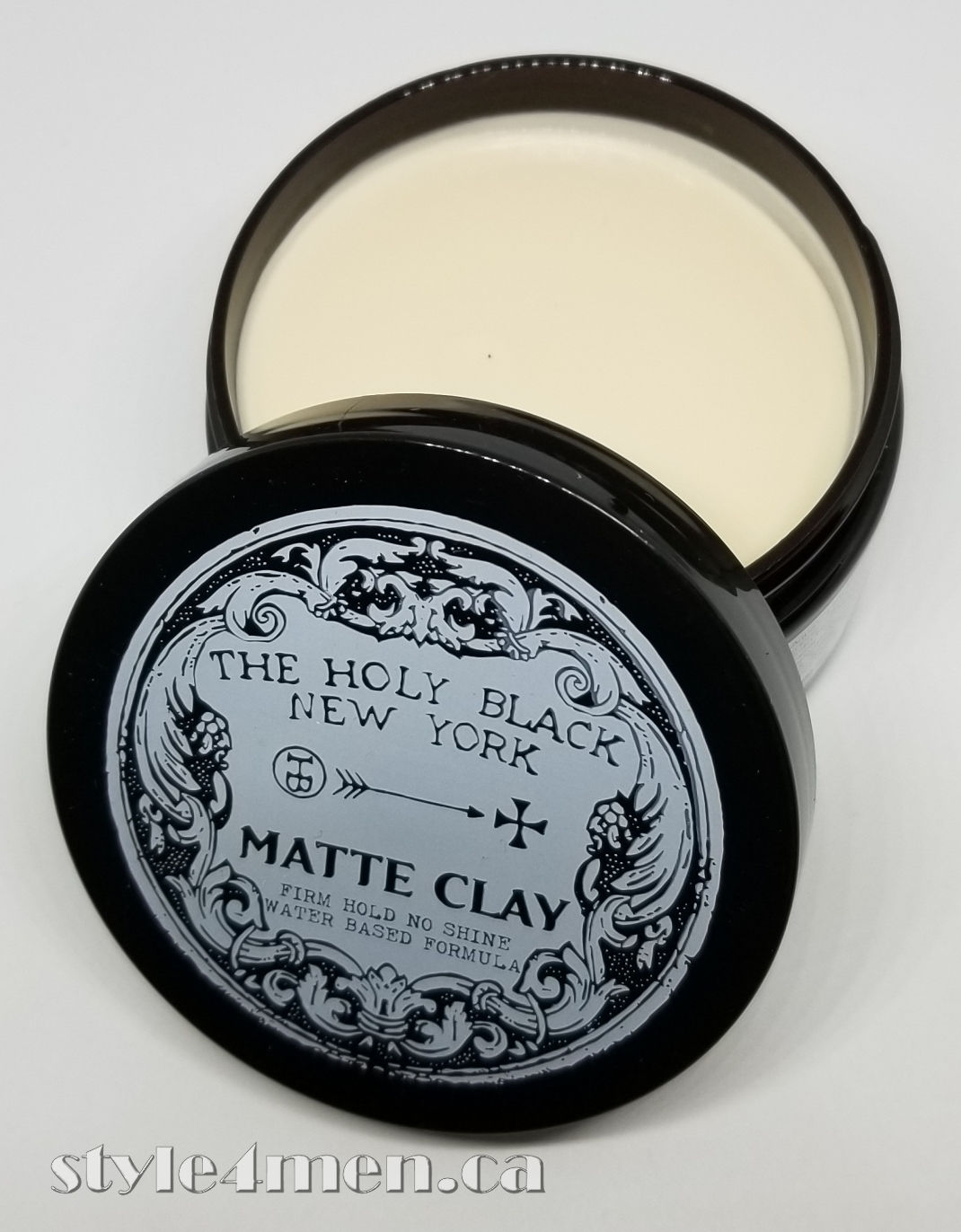 An alternate way of working with clay is to apply it to slightly damp hair.  And you might actually want to use a decent amount, like a good nickel.  Get it in everywhere.  Forward, backwards and sideways.  Then, use your hair dryer and brush to style.  The heat of the dryer will relax and activate the clay and it will be absorbed by the hair.  This method has work quite well for me, rendering great volume and height.  The hair is very fluffy though and I turn to a hair spray to lock that volume and height in place.
Clay can also be a very interesting option for short hair when aiming for a slightly messy look.  Think: surfer dude!  As mentioned above, clay has some volumizing and texturizing qualities.  This means that such a product will make your hair look thicker and fuller.  For anyone with a thinning hair line, clay is something you should try.
As drawn as I might be to clay, I find that I need to restyle more often than with pomade making it a tad more demanding option.  But that trade off is not without reward: volume, height and texture.
Here is the rating on a scale of 1 to 5, where 5 is a perfect score and/or level of shine:
Hold: 3
Shine: 0
Texture: 4
Feel in hair: 4
Facility to wash out:  5
---
In closing, being a pomade disciples I want to lean toward the pomade and the Supermax, but this is the first time I work with a product line where all the products are performing at a comparable level in their respective space and therefore I can't pick a unique favorite.  If you are looking for a styling product that won't give up on you no matter what – get the Supermax!  For a slick finish with proper hold, it's the pomade.  And finally if volume is what you are after, the clay is the jar to get.
Use this link to shop directly with The Holy Black:
Plug in the STYLE4MEN code for a bonus discount