UP FRONT, BED HEAD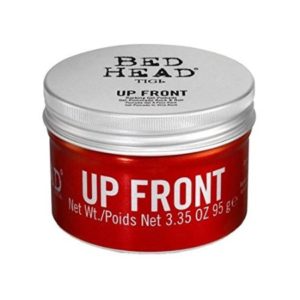 Nice pomade for the wet look, but not enough hold
I had good results with Bed Head products in the past, specifically their mint shampoo and conditioner.  I figured that their pomade would be worth trying.  A seller on Amazon had it for under $10 and a few days later the pomade was in my hands.
The pomade has a firm texture and good quality feel.  The fragrance is discrete and pleasant. Upon application it provide a nice shine. As a water based pomade it also washed out with ease. It did not entirely dry in the hair , but it was neither greasy or sticky to the touch. The hold on the other hand was negligible at best. If anything is weight the hair down. If you are just after that 50's greaser look, this will work perfectly. If you are looking to get a higher pompadour, look to another product like: Suavecito, Zeus or Steadfast.  This is not a bad product by any stretch of the imagination. It just wasn't the right product for how I like to style my hair.
In some respects it compares to the AXE pomade.
Here is the rating on a scale of 1 to 5, where 5 is a perfect score or the level of shine:
Hold: 2
Shine: 4
Texture: 3.5
Feel in hair: 4
Facility to wash out: 5
Use these links to shop for this product: