Trying out the O'douds Traditional Heavy Pomade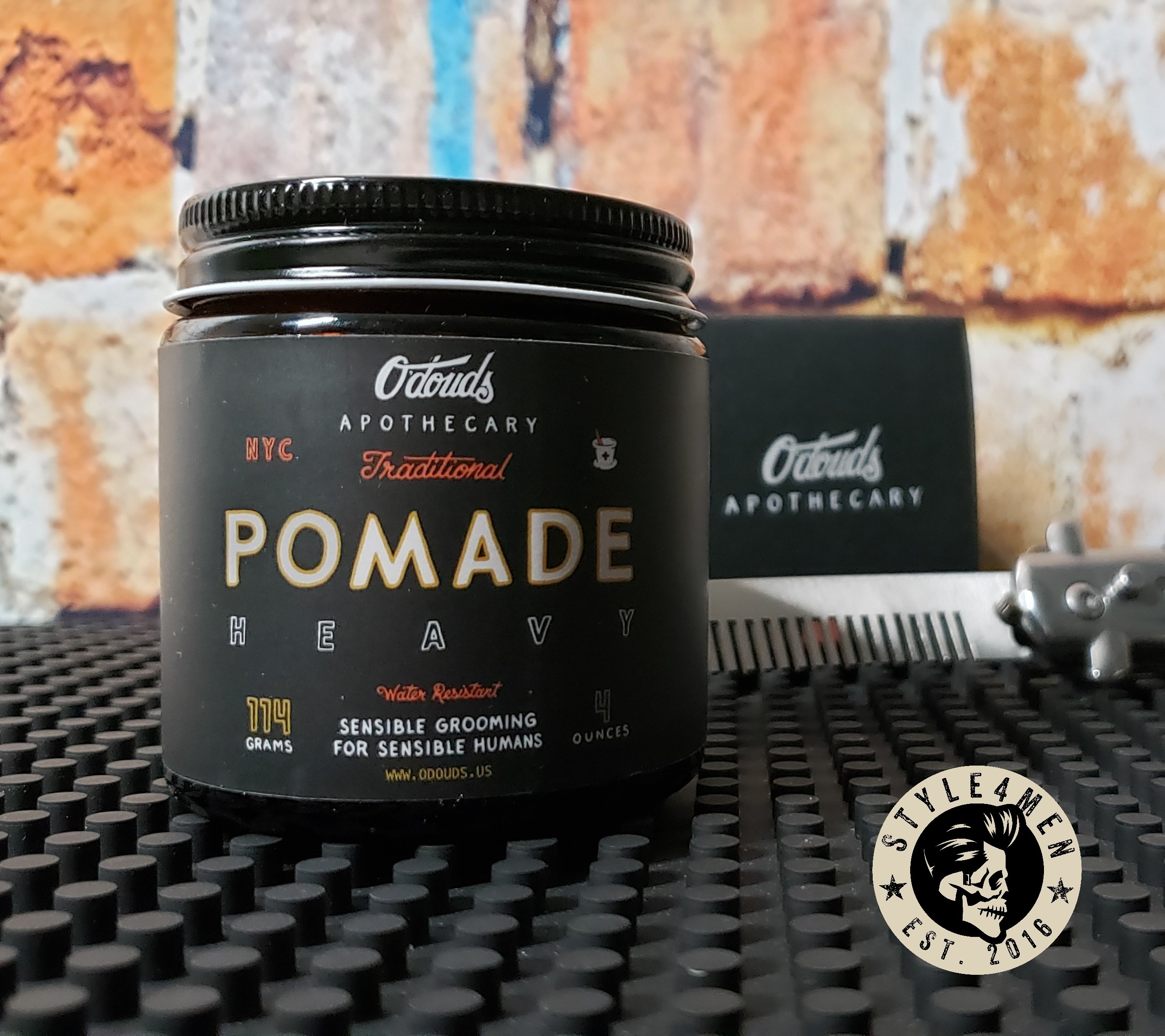 Today's post is about a pomade I picked up a while back in Montreal  at our friends at Dillingers.  Sadly, this jar has been sitting there for some time.  For sure, I did do an initial test when I first got the jar but as it wasn't conclusive I figured I had to give it another try at a later date.  Well that was today!  The pomade in question is no other than the O'Douds Traditional Heavy Pomade.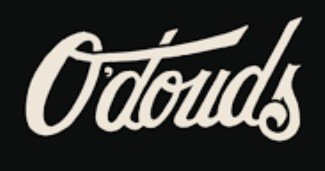 You will immediately recognize the O'Douds name from their elegantly presented products.  It certainly drew my interest.  The timeless black packaging  screams "classic".
I want to bring your attention to the ingredient listing.  This is essentially a "natural" product and for that we have to give it big kudos.  The main participant is castor seed oil which certainly is a reputable and healthy participant.
Benefits of castor oil for hair.
We can't say that this is a water based pomade as no water is present and it isn't a grease based either. So what is it?  A natural oil and wax based pomade.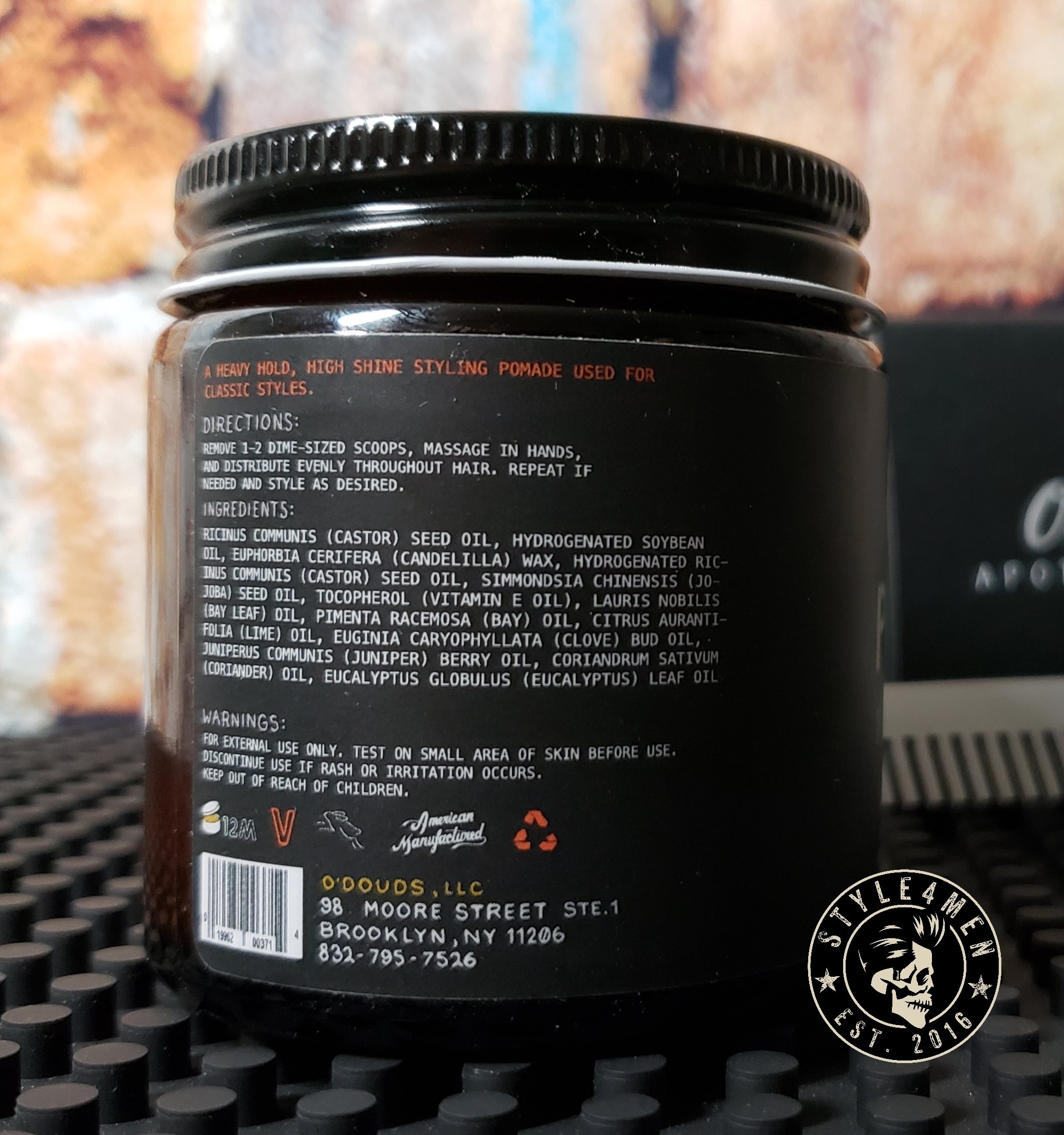 As any man in this day and age, using healthy products on my body and in my hair is a big deal.  Working with a brand who shares this concern is paramount.  So far we have impressive packaging and natural ingredients – pretty good.  Onto the usage!
Here is where things get a little sticky.  First off, this product is more like a wax than a pomade.  Not a deal breaker by any means.  But it does imply a slightly different approach.  Upon opening the jar, the product is too hard to scoop out as is so I had to melt it down a bit with my hair dryer.  Within about 30 seconds I could scoop out a small portion.  As this is a very thick product, take your time to relax it well as otherwise it might feel clumpy. Then onto the application in dry hair.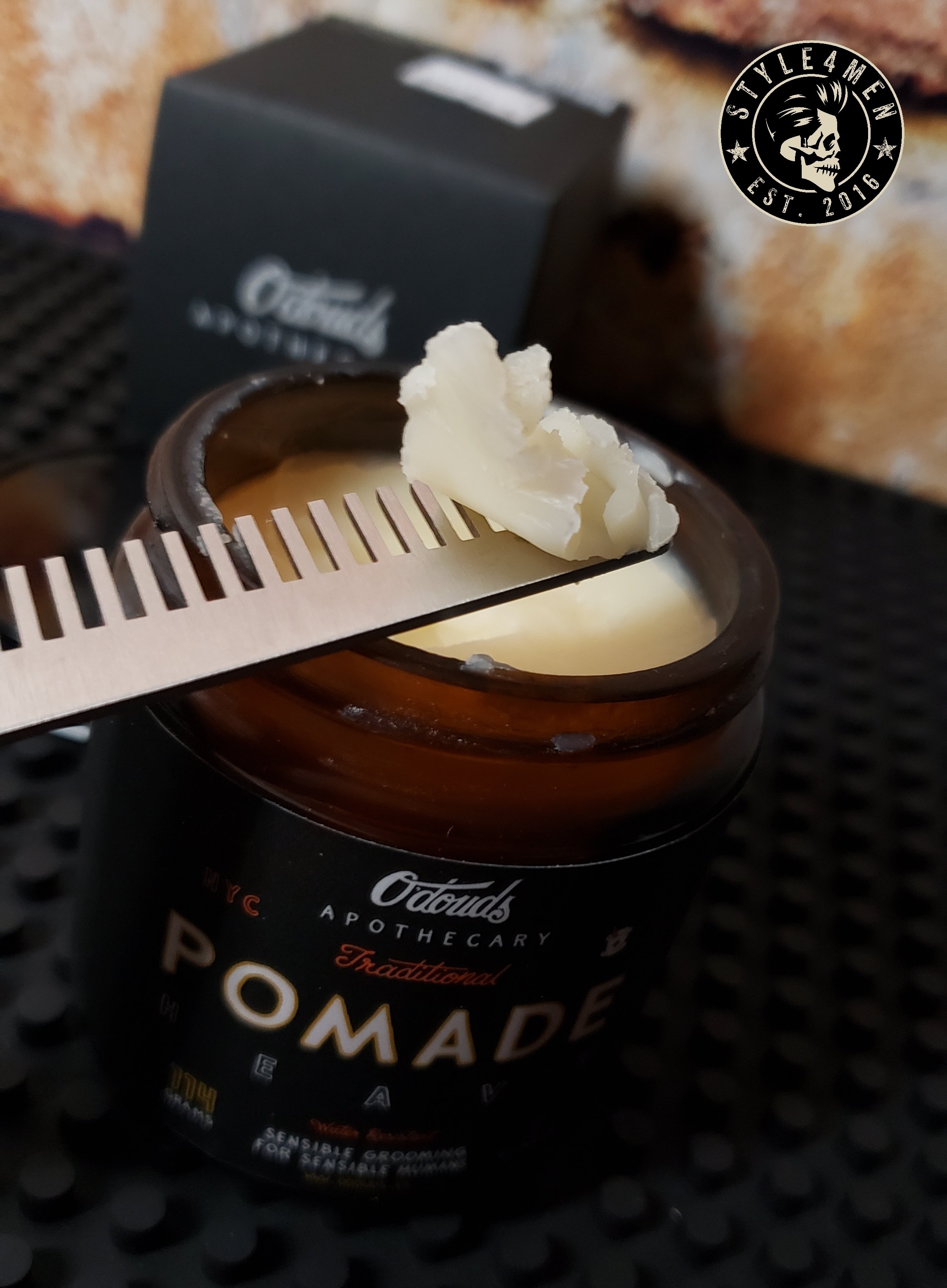 As the products is quite sticky it doesn't blend in as smoothly as a typical pomade. I only used a very small amount since the heavy texture led me to believe that if I overdid it, the whole thing would be too greasy.  A little bit hard to comb, but I am more inclined to think that this isn't the pomade's fault but rather my tangled up messy hair.
The results are good; nice healthy shine, medium hold and not bad at all to the touch.  The pomade has some staying power and required some scrubbing to wash off my hands.  will see if this remains an issue when comes the time to wash the pomade out.
The scent of this pomade is pine or tea tree.  Strong enough to mask the odor of any of the ingredients, yet not strong enough to compete with your cologne.
Here is the rating on a scale of 1 to 5, where 5 is a perfect score and/or the level of shine.
Hold: 3.5
Shine: 4
Texture: 4
Feel in hair: 5
Facility to wash out: 4.5 (Be sure to use conditioner as this will dissolve any extra oil)
Fragrance: 4 (this one is completely subjective to my nose)
The styling results are very nice.  Healthy shine, strong enough to hold a style, slight curl/wave  enhancer.  The results of this product will please many people.
O'Douds has carved quite a space for itself in the last years and it was just a question of time before I finally tried out some of their creations.  The O'Douds branding is top notch and they gets bonus point from us for going "au naturel".  If we were to compare it directly to a traditional grease based pomade, O'Douds is a more interesting product because there are no petro-chemicals and because castor seed oil is a known friend to hair follicles as well as being considerably easier to wash out. Being an older guy, fighting hair loss is something that is very high on my hierarchy of needs and using products that go along these lines win me over. The one down side is that it requires a bit more effort to work with.  Considering the results and benefits, we figure that it is well worth it.  I will be making it a goal to try more of their products this year.