UPPERCUT DELUXE is back with a new salt spray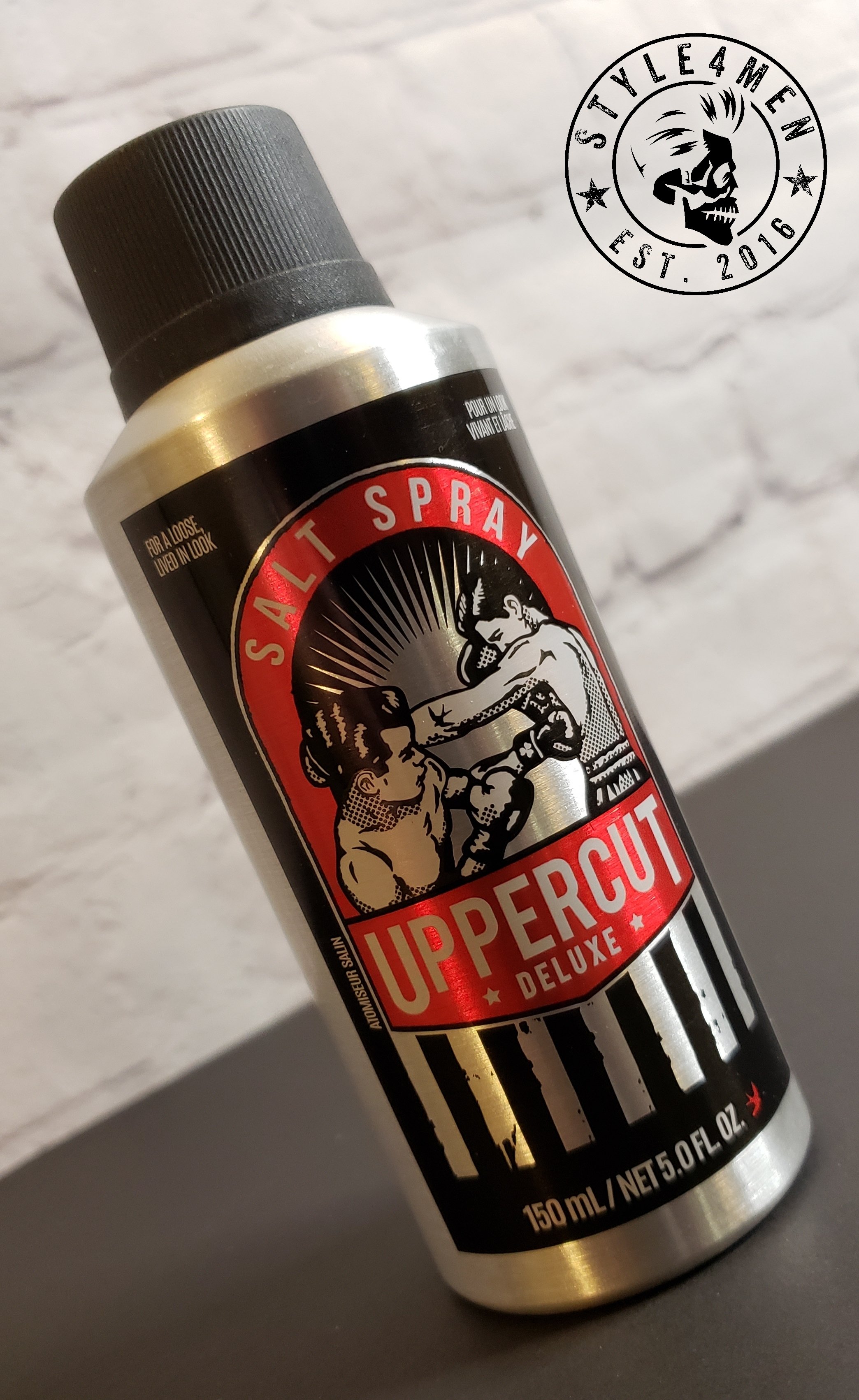 A few weeks back I was pleased to report that a new product by UPPERCUT DELUXE had made its way to our Canadian shores, the Salt Spray!  This is the second new volumizing product launched by UPPERCUT this year.  The first one was their dust.

Shout out and thank you to Toucan Trading who is the Canadian distributor for having me try this new offering.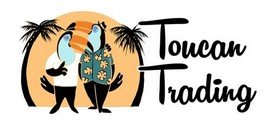 Hair powder, salt spray and dry shampoos are in so many words the secret weapons of hair styling.  They add volume, suck oil up and give your hair a revived humpft! There are in fact a few small differences between powder, dry shampoo and salt spray:
Hair powder: absorbed oils, creates volume, but can be a bit messy if you aren't careful.
Dry shampoo: Is essentially hair powder delivered in an aerosol which can be a bit easier to use.  The drawback is that there are also more chemical participants.
Salt Spray: In its simplest form, this is an arrangement of water and salt. Salt creates a slight tackiness or grit in the hair which allows for more volume. If you have been in the ocean, you will have experienced that slight grit in your hair when in dries.  This grit can then be used as the base for a larger hair-do.
My personal favorite is the salt spray. It is easy to work with and mess free.  It is generally also a simpler product ingredient wise.
This new product comes in a proper metal can with the classic UPPERCUT boxers branding painted on.  It's a small detail, but this is something that is becoming rarer and is worth mentioning.
Everything about the bottle suggests that this is an atomizer:  It's a metal bottle, there is a bead inside and you need to shake it like a can of spray paint.  Note that the dispensing head needs to be pumped a bit.
Application couldn't be more straight forward. Just spray a bit of the salt in your hair evenly and blend it in. You can do this in damp hair before blow drying or in dry hair to give yesterday's do a bit of an uplift while relaxing the left over pomade.  Being a big fan of salt spray, I use it in both situations.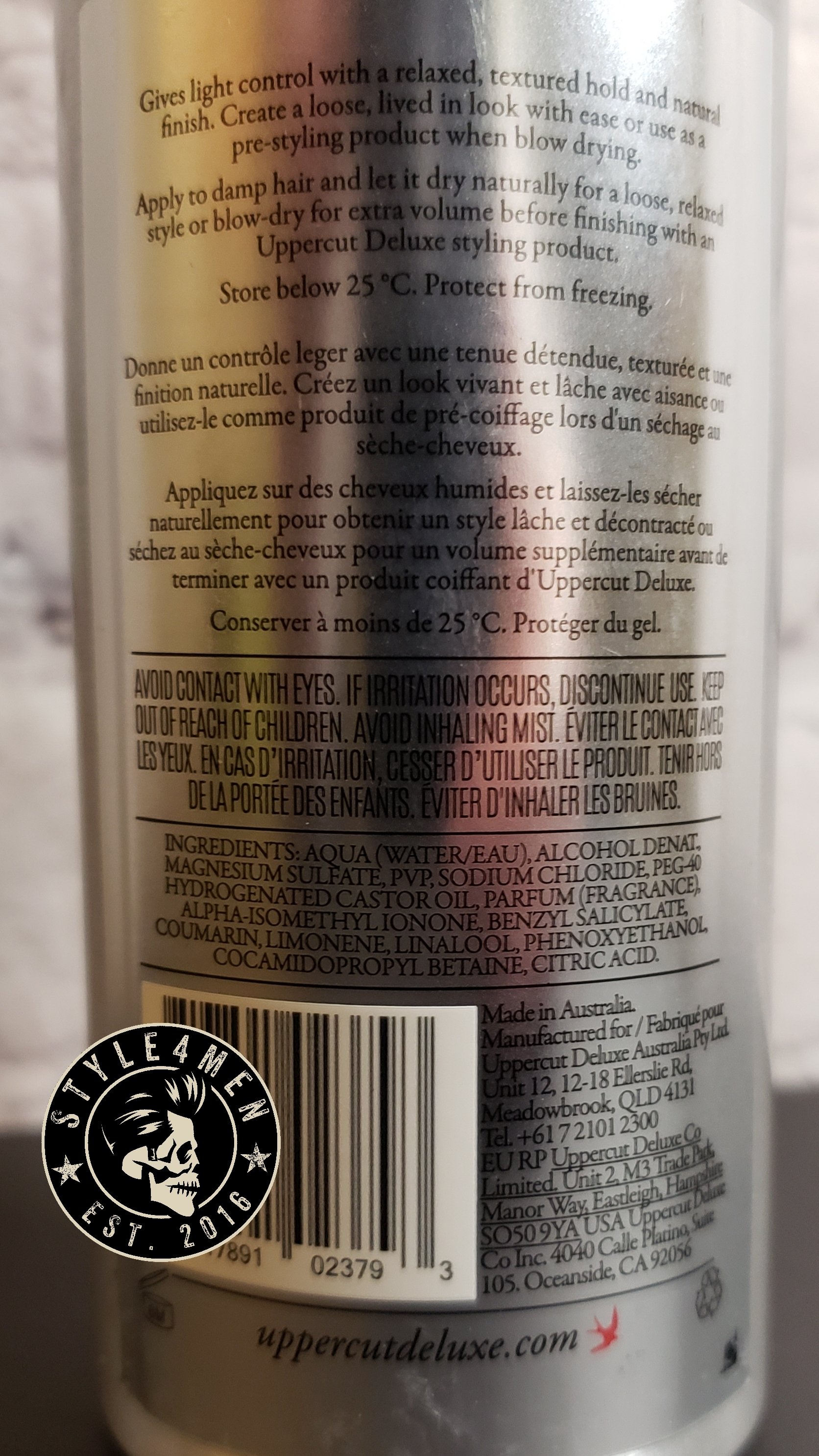 Not all salt sprays are the same nor will they offer the same level of resulting grit.  One of the first products I tried was essentially just water, salt and a stabilizer and it offered the exact result as walking out of the Atlantic.  What UPPERCUT is bringing to the table is considerably more refined.  In fact, I might even go as far as suggest that this is a rather delicate product – yeah?!? I know.  What I mean by this is that it is not clumping you hair together.  It is a more subtle volume generator.  This also makes it very nice to work with as you will be able to comb through it.
Salt Spray can be your single hair product solution and it will offer a soft hold for that relaxed surfer look.  Having thick and wavy hair, I see salt spray as a helping step for my pomade or paste.  I use it to create that extra volume so that when I apply pomade there is a bigger canvas to work with to attain a rocking pomp.
Coming out of the shower with clean and towel dried hair
Spray a few shots of salt spray – don't overdo it. Moderation is key!
Blow dry
At this point, I look like a poofy poodle. The volume is just insane.
Scoop up a small dab of pomade, blend it in and comb with a hair pick
You hair is as cool as the King!
Obviously, you can style your hair into whatever you want.
As with most of UPPERCUT's products, there is a fragrance.  To be honest, I was a little surprised by this one as I pretty much expected for it to smell like their delicious pomade.  The scent is manly and pleasant, just not what I was expecting.  I am guessing here, but something along the lines of musk, cedarwood and maybe a small touch of lavender.
One of the big things that pulled me in with the UPPERCUT pomade when it first came out was the original and playful beach scent. Up to some extend I associate that scent to UPPERCUT.  I totally understand that things can't stay the same for ever and change is part of it, but I would have liked to for this spray to continue on that solid foundation.
The fragrance is mild enough that it will succumb to a stronger scent, like the one in your pomade.  Just keep in mind to work with similar fragrances, so that the result works.
To sum things up, UPPERCUT DELUXE's salt spray addition is very relevant and show a continued commitment to grow as a hair styling brand.  In my humble opinion any man making an effort to style his hair should have 2 key products in his cabinet: a salt spray and a pomade.  This spray was easy to work with while creating a great foundation for volume and texture.