REAL SHAVING CO.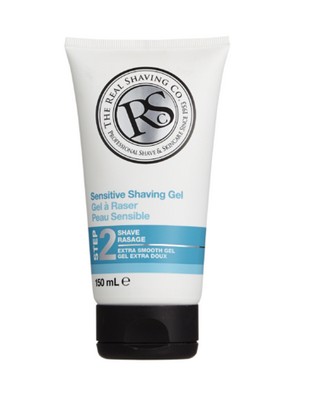 A fancy product for every day use
The Real Shaving Company is a British enterprise of the 50's.  They have a wide foot print and their product can easily be found in pharmacies and some large surface stores.  I decided to try their shaving cream a few years back and had mixed feelings about it.  The cream was of very good quality but I didn't enjoy the shave it offered.  I decided to try their "Sensitive Shaving Gel" and was very pleased with the results.  In fact, I went on to buy it many more times.
Shaving with a gel versus a foam, is a different experience.  It feels more like lubing your face as opposed to lathering it.  Gel is definitely a good option as it gives a very decent glide to the blade.  I would suggest that you experiment with the quantity to use.  At first, I clearly was not using enough, but I quickly found the sweet spot for my face and shaving style.  This gel is also water based and you might gain in lubrication by adding a bit of water during the shave.  As mentioned in my other commentaries about shaving gels, since the gel is clear there is barely any reference to where you are at in your shaving.  But this is a small annoyance that will not live past your first shave.
To date, I have tried 3 gels: Real Shaving, L'Oréal and Sulfilo Del Rasoio.  The one from the Real Shaving Co. is my second favorite with Sulfilo being my current favorite. Since it widely available in Canada and reasonably prices at about $10 that makes it an every day option.