MEN ESSENTIALS DOUBLE-EDGE SAFETY RAZOR
August 14, 2016
My next shaving tests are going to be with a double-edged safety razor.  Other guys out there are are presenting some pretty good arguments for going back in time and shaving with a safety razor. Cost and quality of shave being the recurring arguments.  After some shopping, I opted for the Men Essentials house razor which is only $13 as my starter razor.  I also ordered a sampler pack of 45 blades for $13 from Amazon.  The cost argument is pretty strong. We'll see if the shave quality argument is valid.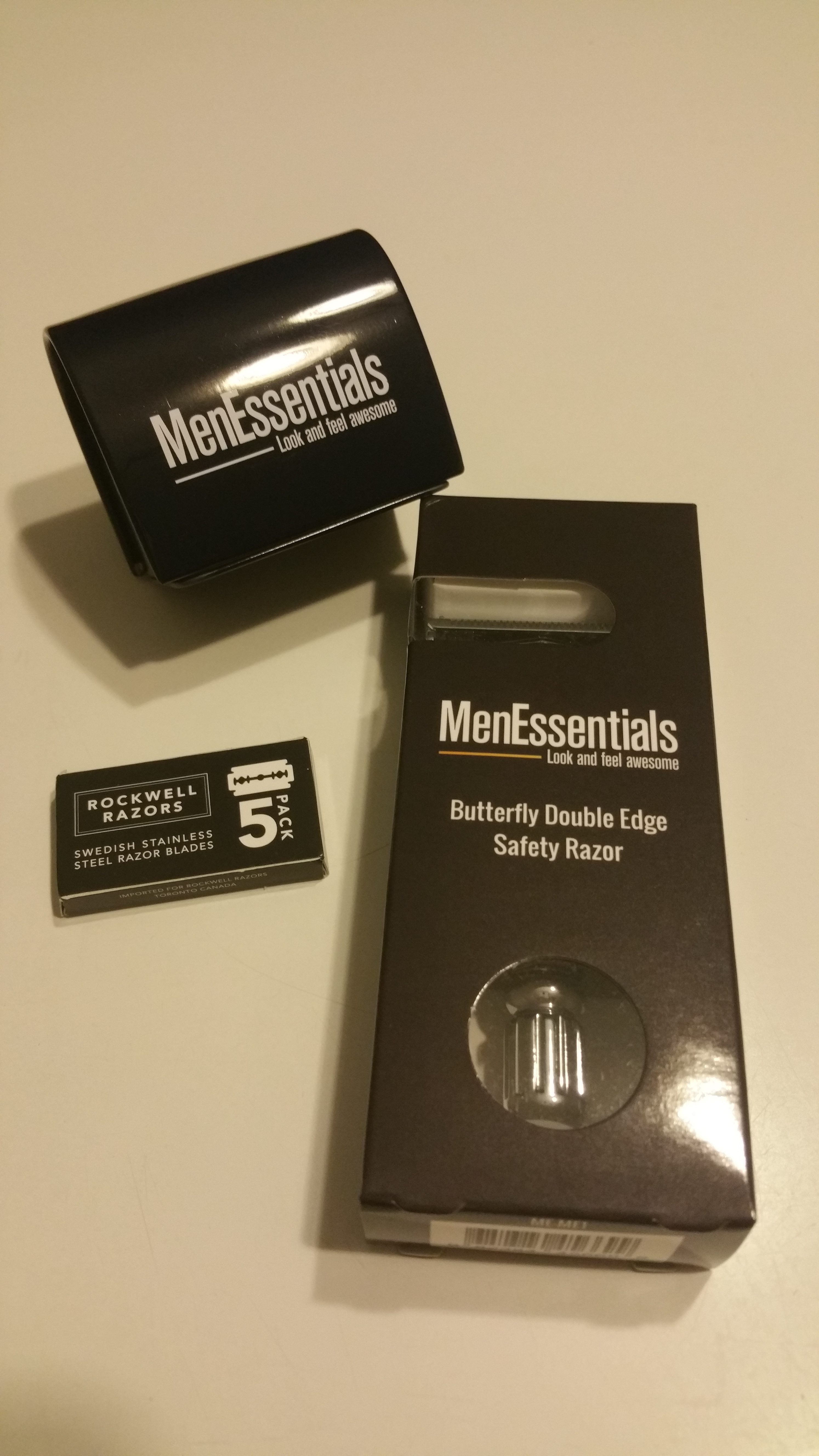 Finding a suitable razor might be a bit of challenge as there are a number of options, most of which quite expensive ($30 – $250).  Obviously, the quality of the razor is important as is the quality of the blades you are using.  But it should be feasible to find something that is suitable to your: hand, face and wallet.  Over the next months we will start exploring this almost forgotten razor.  I say almost forgotten as you will probably not be able to find such a razor in any pharmacy.  The same might be true for blades.  I tried today and my local pharmacy only had one brand of double-edged blades and no companion razors.  On-line would appear to be the only real "shopping" option.  On-line is great but it's also partly guess work as not everyone give out the same information for safety razors.  Size, weight and construction are important elements.  Sadly, there is no substitute for hands-on experience.
From what I have read so far on this shaving option, the weight of the razor is the number one concern.  The logic being that you should not be applying any real force when shaving with such a razor.  The weight of the tool should be enough.  Considering the sharpness of these blades, I will take that comment as gold.
The secondary preoccupation would be the release mechanism of the blade.  There appears to be two main solutions, a butterfly opening and a dismounting of the razor head.  Both seams valid, but the butterfly solution might be the more popular one.  I have no opinion on this as of yet.
Lastly, the length of the handle can be different.  This is an appealing element since I am a fairly tall man with big hands.  Working with a small tool is not always the most comfortable approach.  And lets be honest, if you are working with something this sharp on your face, you want everything going for you.   The MERKUR brand caught my attention for this last criteria and they would appear to offer at least two different handle sizes: a long handle and a classic.
August 19, 2016
This morning was testing time for the double edge safety razor from Men Essentials, the ME1, loaded with one of the provided Rockwell blade. I will admit being somewhat intimidated and excited to try such a razor.  Since you have to load the razor yourself you get see how sharp and slim these blades really are.  The shaving cream for this test was the Blue Beards Revenge from the UK.  The cream was applied using  a nice badger hair brush.  Apparently using a brush raises the hair and covers your face in the best of manners.  So far, I am not finding that using a brush is the best approach as I end up with less foam than if I apply it on directly by hand.  But this an observation that should have a page of its own.
The razor being loaded and my face being covered with the Bluebeards cream,  I was ready.  First impression was very good.  The comb like edges on the razor offer some help and protection while guiding the blade.  A double-edge razor being a totally different configuration than a cartridge razor like the Gillette Fusion, it takes a moment to get use to holding it and angling the razor for certain areas such as the neck.  I felt like I got the angle right and applied the advice of doing short strokes.  The ME1 razor was comfortable in the hand and it is also heavy enough that you don't feel like you need to put more pressure to get the job done.  Soon enough my face was done.  The good news stops here.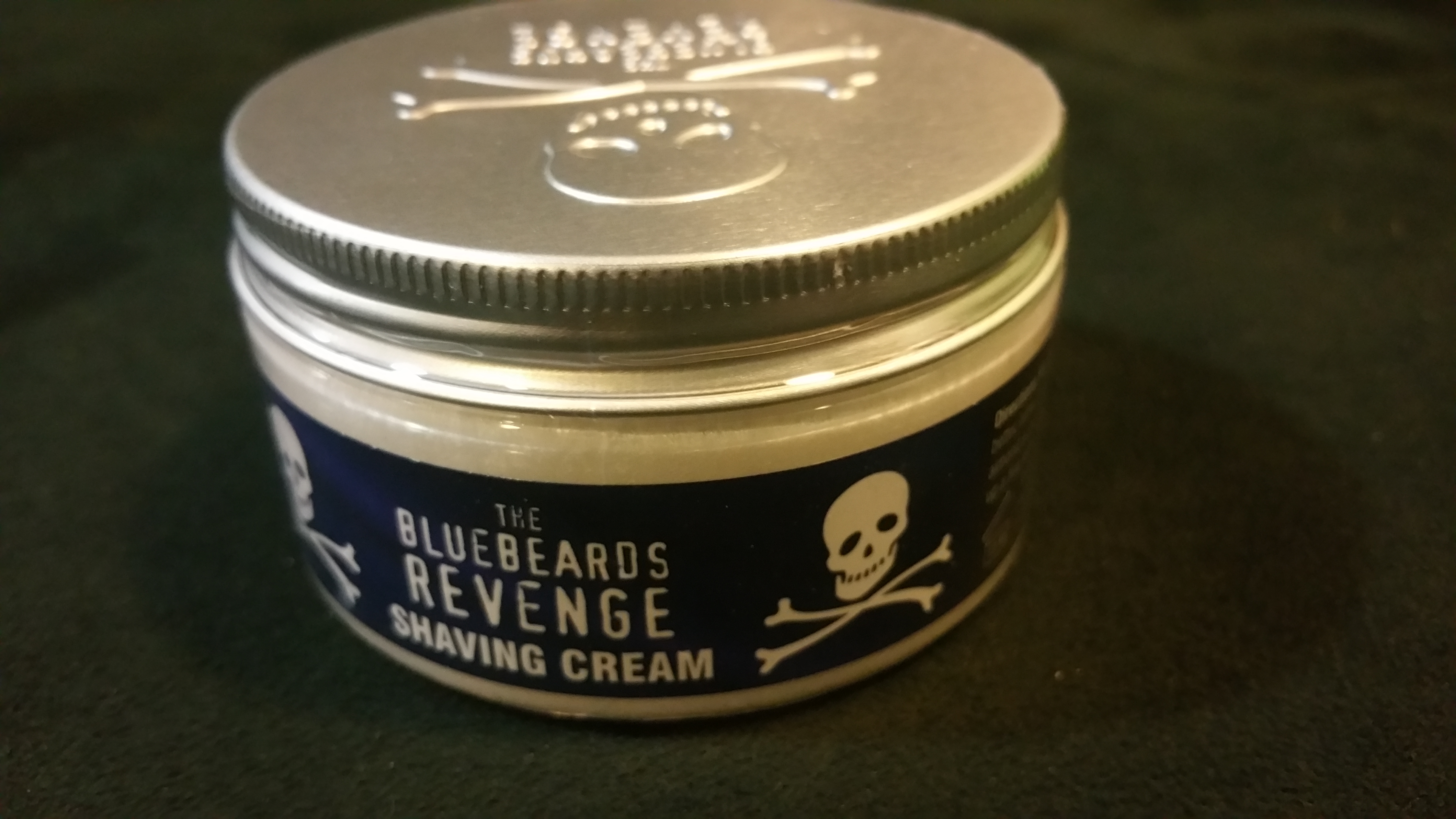 Within a few seconds of being done I started seeing something I had not seen in years while or even after shaving – blood.  In fact, I counted somewhere between 20 and 30 tiny cuts and maybe 2 bigger ones.   During the shave I noticed absolutely nothing – everything was smooth. Being left with an irritated and cut skin was disappointing to say the least.  It is important to state that I do not have a problem skin or acne.  Just regular skin.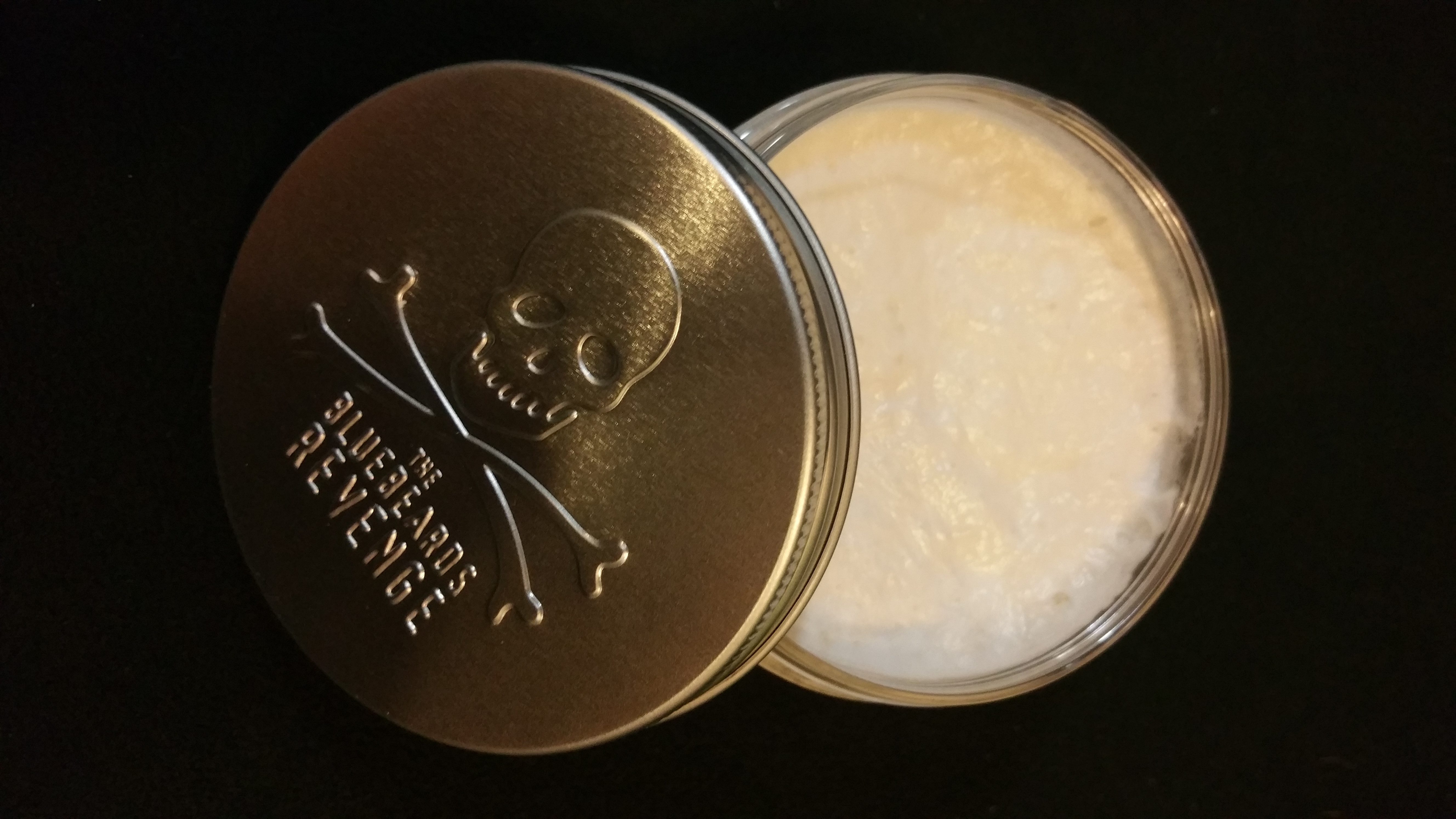 Most of the arguments in favour of the double-edge razors focus on cost and the fact that the skin does not get as irritated as it might with cartridge blades.  I am not finding that this is a very good argument at the moment.
Let's also mention the actual shaving results, since bottom line this is what we are interested in.  It was mediocre!  My skin was rough and you could certainly feel the beard hair.  Mostly in the neck area. It was about the same length it might be by 5 o'clock after a morning shave.  Now some guys swearing by the safety razor are also saying that you might not need to be so demanding and expect the "baby bottom feel".  This is a valid point-of-view.  But one should be getting a proper shaved feel after having shaved.
I want to lean on the side of a bad blade.  The Rockwell blades seems to be of decent quality.  From all accounts Rockwell looks like a legit and detailed oriented company. On that, check out the multiple shaving angle razor they make, the Rockwell 6S.   But honestly I have no way of measuring the blades sharpness or angle or the steel quality.  I just don't have a microscope or any tools for such an evaluation.  If I did, this review would probably a hole lot more "scientific".  Bottom line, the only way I have for evaluating  the Rockwell blades is by results I got this morning and these results were not impressive.
When I bought my ME1 from Men Essentials I also bought a sampler pack of blades from Amazon.  I will certainly give this shaving approach another try once my skin is back to normal.  But this time it will be with a different blade than those by Rockwell.
For this review, I will rate the blade as opposed to the razor since at the moment I am not sure if the angle of the blade (how the razor holds it into place) is to blame.  I will need to buy another razor make that comparison at a later point.
Comfort: 3
Shave Closeness: 2.5
Addendum – April 7th 2018
As part of a little internal revision process, I am revisiting some of the early posts to make sure they still stand and make corrections as need be.  This post was published well over a year ago and my shaving technique has tremendously improved as has my overall knowledge and access to proper tools and products.  In the above post, I initially assumed that the Rockwell blade was to be blamed for the poor shave experience.  I have come to realize that the Rockwell blades are in fact superb when used in the Merkur 180 razor for example.  Over the course of the Style4men.ca adventure, the Merkur 180 razor has become the reference point by which all razors are measured and compared.
Secondly, I have retested the ME1 razor from Men Essentials on a few occasions during the last year as I had better shaving creams and blades.  The shaves were proportionally better than what I describe above, but I never reached that sweet spot of smooth perfection like I have with the Merkur razor.  I will say that the spacing between the blade base and razor head is just too big and making for a slightly more aggressive shave than what my mug needs.  That is to say that if you need a steeper shaving angle, this will do you good.
The last but not the least item I revisited was the Bluebeards Revenge shaving cream.  Actually quite recently for that matter.  I was using some of my best performing options: the Merkur 180 loaded with a Treet carbon blade.  A combination that has given me repeated "stellar" results.  The shaving cream was the Bluebeards Revenge.  Wouldn't you know it, my skin got seriously irritated; redness and shaving bumps in most of the neck area. This narrows down why that above describe shave was what it was.  An aggressive shaving angle on an irritated skin. Not a winning combination. If anything it gives more context to what went wrong and why.
Considering that the ME1 was only $13 it was a good enough option to try shaving with a safety razor.  If anything it got me engaged and interested in looking further and trying more blades, creams and razors.  In fact, we could argue that it was one of the sparks that fed the Style4men.ca quest.