Barburys Shave Cream and Aftershave Balm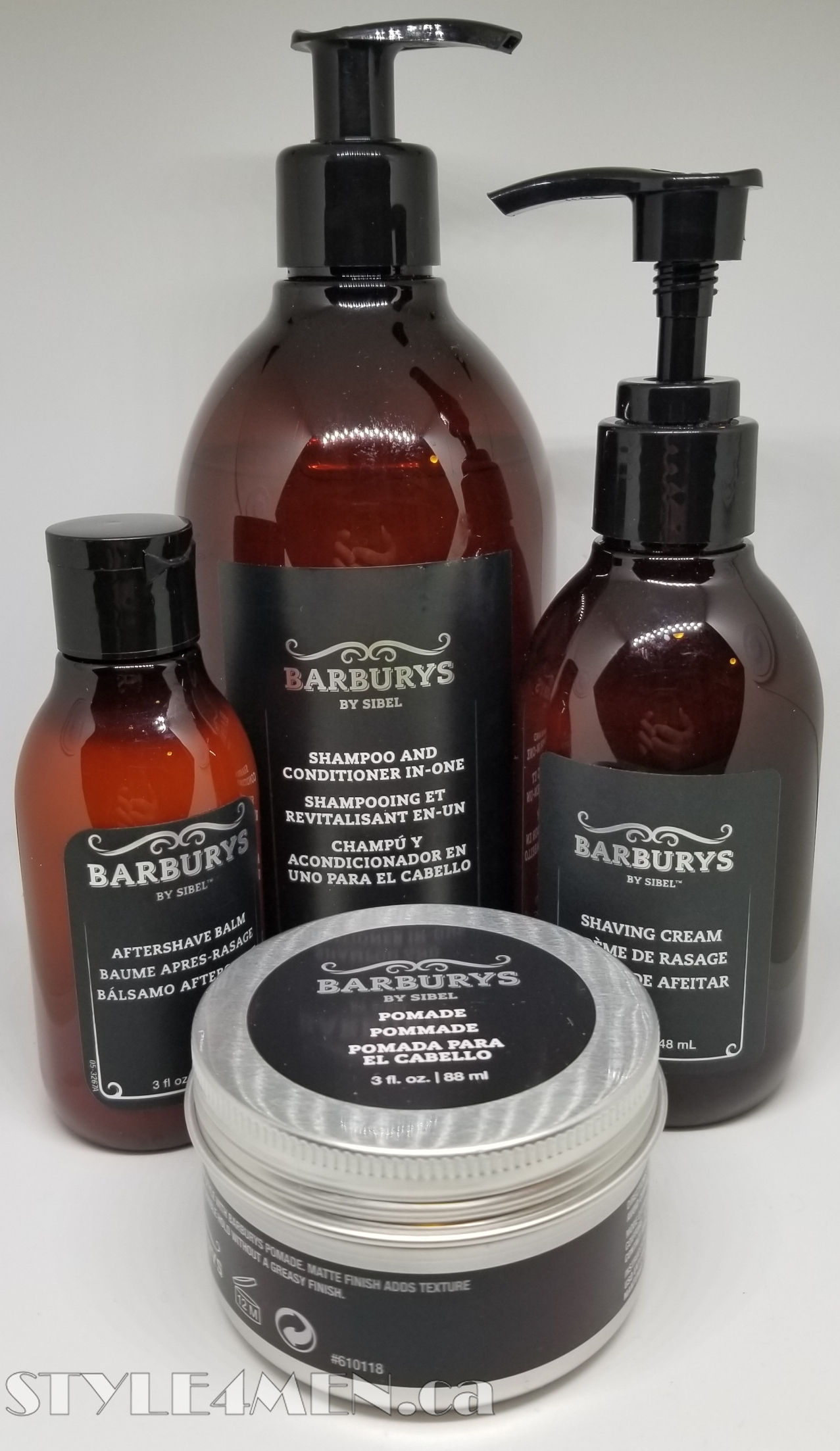 Having been impressed with the Barburys pomade I picked up at Sally Beauty, I decided to try more products from their line.  I got a bottle of their shampoo-conditioner combo, shaving cream and after-shave lotion.  This review will cover the shaving cream and after shave lotion.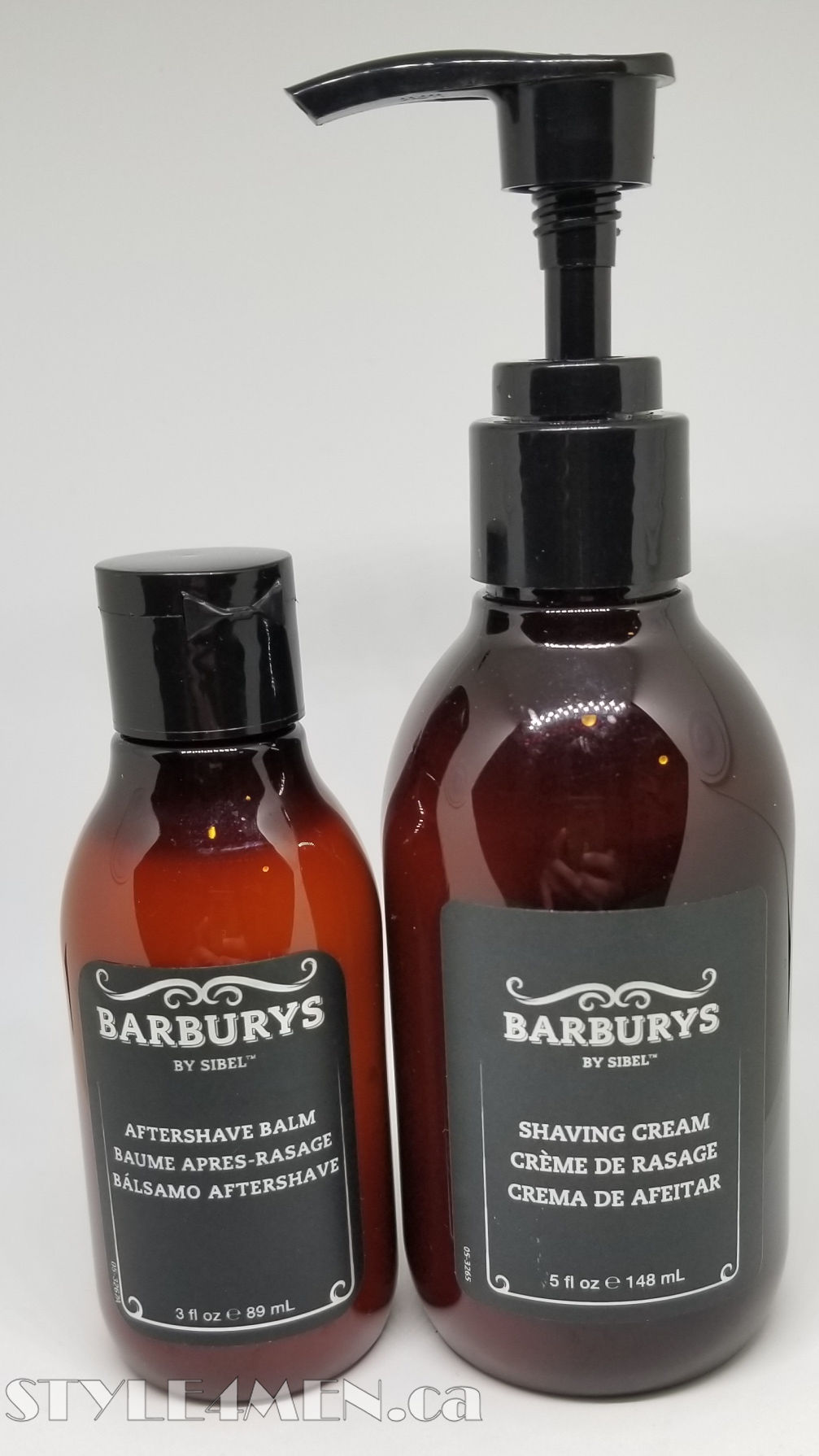 First off the Barburys products are fairly well presented.  I like the brown-shiny and semi-transparent bottles.  Looks elegant and you can see how much product you have left.  The labelling is also well done.  Simple and too the point.  The quantities also make sense.  Often enough, the shaving cream and after shaves are sold in identical sized containers.  From a manufacturing point of view this is economical and practical, but at usage time, you don't need the same volume of both of these products.  You will end up using considerably more shaving cream than the after-shave.   Barburys has acknowledge this by using two different containers.
The shaving cream comes in a pump format.  This is a first, but it is also practical.  I pumped 2-3 shots in my wet badger brush to apply it on my mug.  I was a little surprise to see that the cream was not really sudzing up.  In fact I more or less felt like I was not covering anything at all.  Being persistent I continued to work the brush until I finally got a better consistency.  The feel and coverage felt very similar to that of a shaving soap.  The cream also starting offering a bit of a tingling effect on my skin.  As would a pre-shave cream.  Visually,  the cream is white-transparent and might even be a little hard to tell if you are totally covered.
The label is printed very small.  My apologies if it is not coming out so well.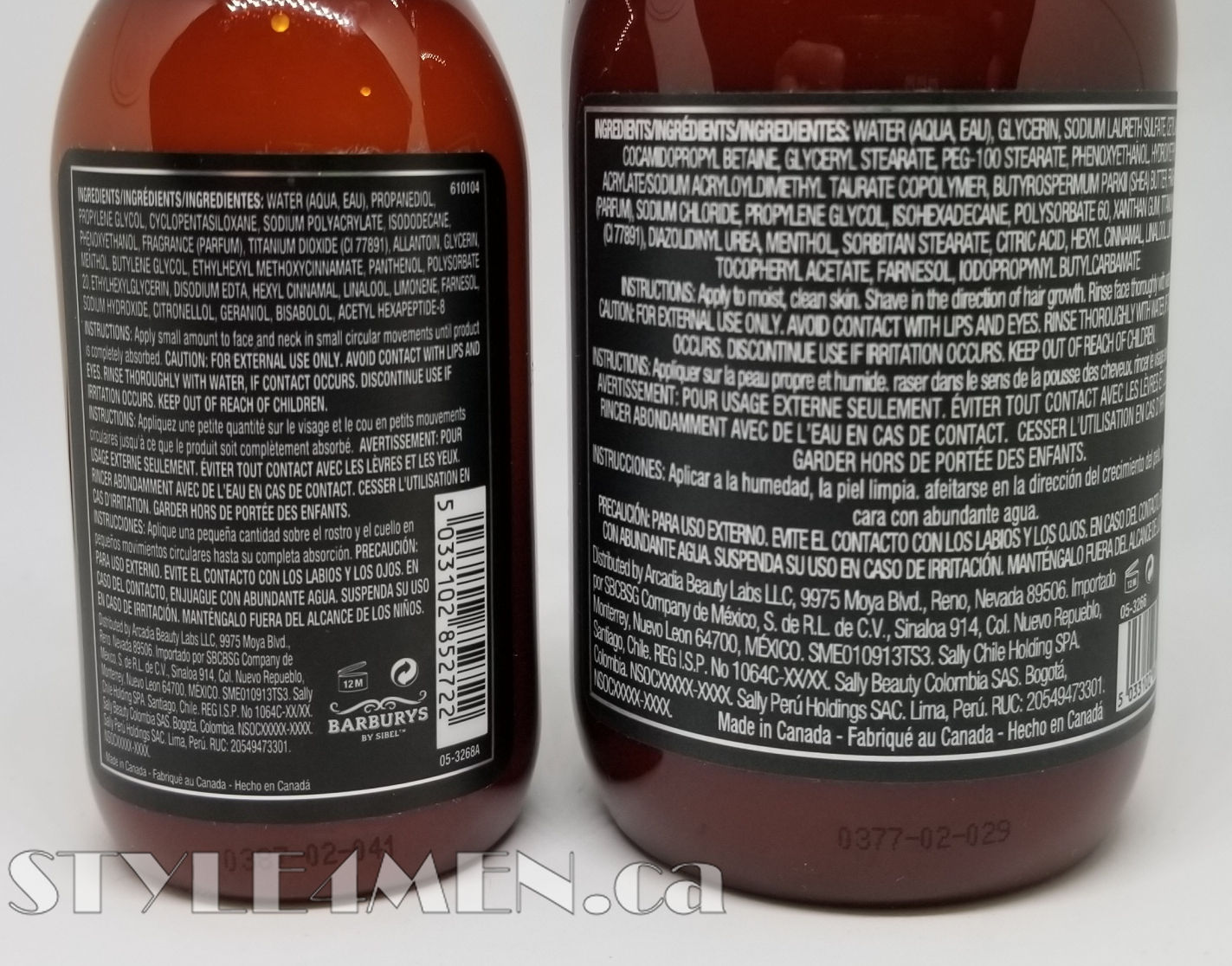 TEST STAGE:
State: Out of the shower
Razor: Merkur 180
Blade:

Rockwell

Pre-Shave: None
Shaving Cream: Barburys Shaving Cream
After-Shave:  Barburys Aftershave Balm
Onto the shave itself. The product is fairly thin and I didn't feel super well protected, so I went very gently.  As you can see in the picture, the cream is very liquid.  Oddly enough, the aftershave balm is thicker.  Lubrication wise, this cream did well enough.  The blade did not have any trouble gliding on the skin.  Overall, it was a comfortable enough product.  Note that I added water and touched up my mug with the left-over in my badger brush here and there throughout the shave.  The results were goods.
I should expand here and mention that I tested this shave solutions for a few days and came to realize that the shave cream renders better results when simply applied by hand on the skin as opposed to the brush.  I ended up using less product and obtained better coverage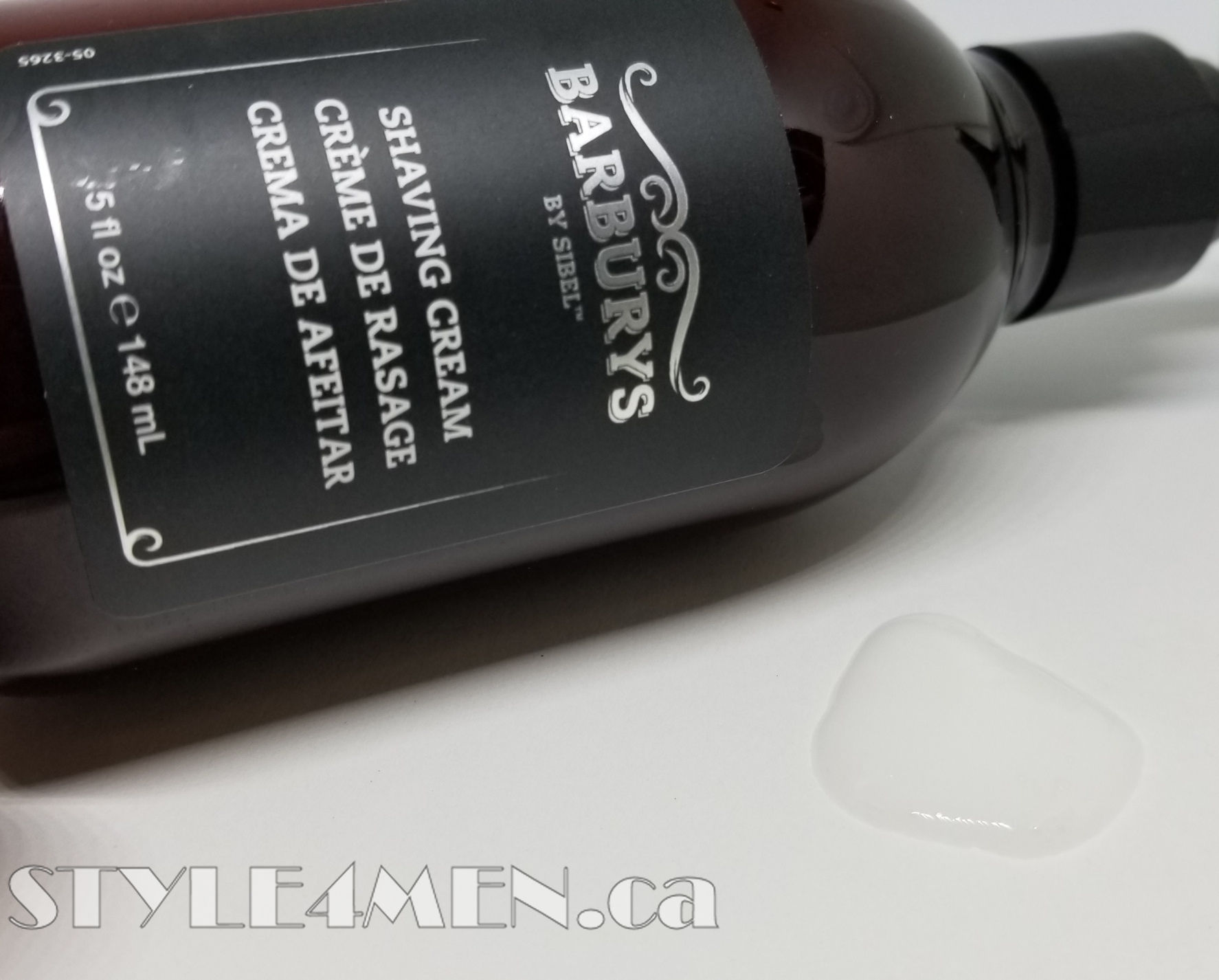 Since this shaving cream is "soap-like", rinsing out the razor between passes was a breeze.  By the end of the shave the blade is usually full of gunk – not this time.  It was perfectly clean.  Rinsing my mug with a warm and wet wash cloth also gave very good results.  I didn't have to apply any pressure to remove the left-over cream.  The last thing you want is to irritate your face after the shave and make things worse.
My mug did feel a little dry after.  The same way your skin might feel after using a bar of soap which does not have bonus oils to maintain the skins elasticity.  For my taste, there could be a touch more moisturizing ingredients. I will temper this statement by indicating that over the course of a few days of using this shaving cream my skin got use to it and everything was comfortable.
Onto the aftershave balm.  The cream is very light and looks like a refined product.  I used less than the size of a dime and this was sufficient to cover my whole mug.  My skin drank this up very quickly.  The product has a bit of that same slight tingling sensation as the shaving cream.  A nice little edge.  Note that it is short lived.  But again, the after-shave lotion, like the shaving cream is weak in the moisturizing effect.  My skin felt tight and dry within the hour.  Obviously you don't want too much oil in the after-shave and end up feeling oily for hours afterwards, but a compromise between feeling dry and oily can be reached.  I will do like I did above and temper my comment by stating that over the course of my usage of this after-shave, my skin got use to it.
Scent wise, these products are discreet.  The fragrance might be something like, pine-wood.  Fresh, earthy and manly.  To my nose, it is inviting.
In conclusion, this is an interesting product set which smell fresh and perform adequately.  Read that as in it is better than the main stream Gillette's stuff.  Considering the price point, the set was under $15 as a result of a buy one get another at half price, it is a perfectly affordable shave option.
Use you can shop for these products via this link: