Billy Jealousy – SHAVE3SOME: The right kind of fun for your face
The name of this package just makes me smile.  As mentioned in the Lunatic Fringe pomade review, every one of the Billy Jealousy products has an original name.
This set is called the "SHAVE3SOME" and contains the following items:
Pre-Shave: Hot Towel
Shaving Cream: Hydroplane
Post-shave: Shaved Ice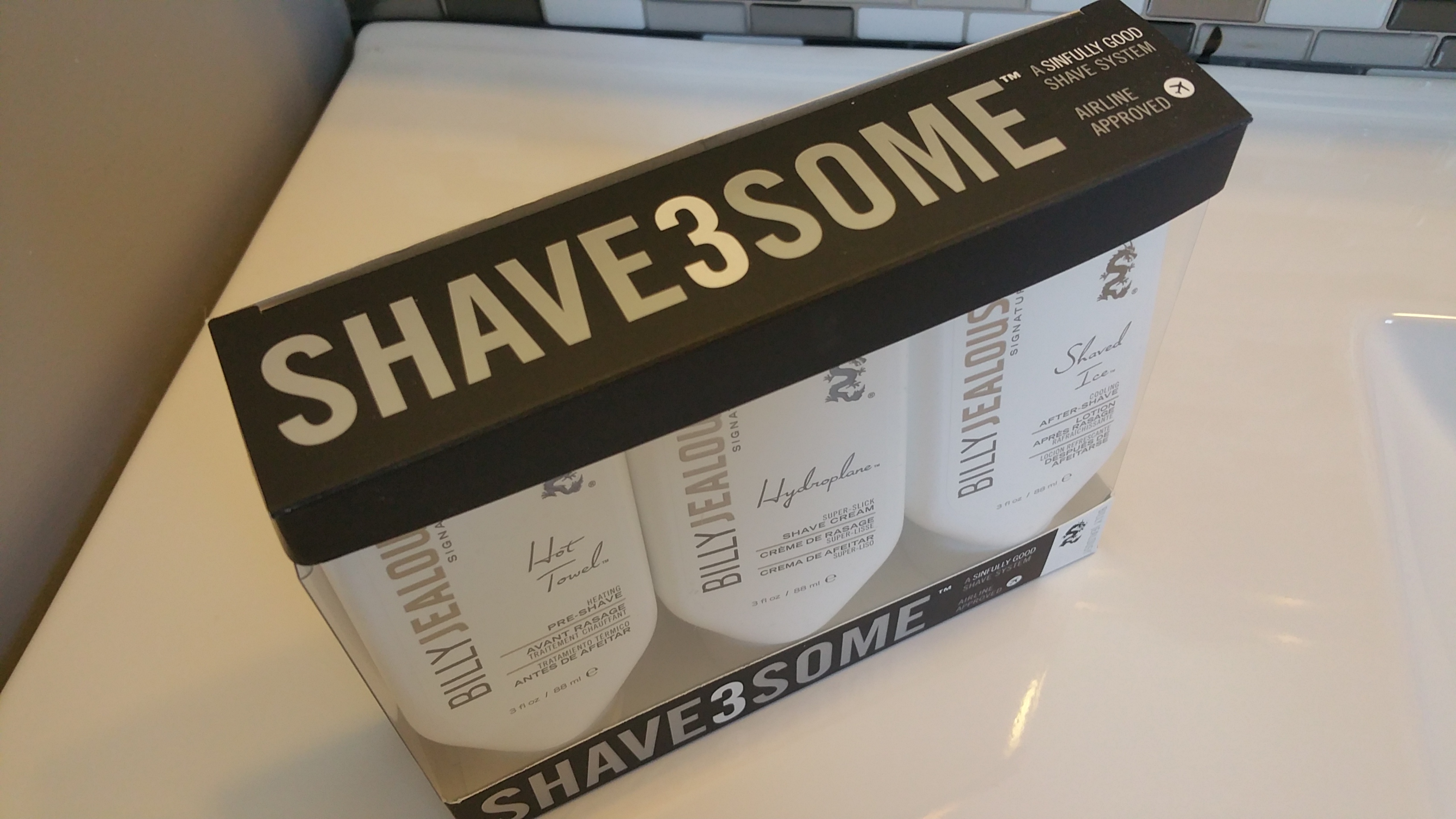 The shave set was sent to me to review by my friends at Billy Jealousy – Thank you for sending it!
This review will cover all 3 products since this is clearly how they are intended to be used.  Personally, I like to try products that are meant to work together as you get the maker's full intended effect.  Note that they all can be purchased individually.
As a set it is very nice and contains the key shaving products a connoisseur will be seeking.  If you are still shaving with maybe just a foam, you are in for a treat.  Assuming this kit is your first exposure to a pre-shave, or a quality shaving cream and after-shave it will forever change the way you think about your shaving routine.  I use to not enjoy shaving and after exploring different and quality products I now have this blog where I try to spread to good word.
My first exposure to a pre-shave product was with Proraso.  A pre-shave is now part of my shaving ritual.  If I don't have a pre-shave, I at the very least will seek a shaving creams that offers something more.   The Billy Jealousy – Shave3some fits in that category of products offering you "something more".
TEST STAGE:
State: Out of the shower
Razor:

Merkur 180

Blade:

Derby

Pre-Shave: Billy Jealousy – Hot Towel
Shaving Cream: Billy Jealousy – Hydroplane
After-Shave: Billy Jealousy – Shaved Ice
Let's starts with the "Hot Towel" pre-shave.  As a pre-shave it's a bit different than what I have used before.  The main 2 differences are the stickiness of the lotion as well as the fact that it warms up.  The Proraso pre-shave I normally use is a creamy/paste and it has a cooling minty or orange effect that raises the beard hair prior to the shave.   By warming up your mug, the Hot Towel pre-shave litteraly make it feel like a "Hot towel".  Nothing wild or uncomfortable. Just the right amount.  It is thus a very appropriate name choice.
When portioning out the pre-shave, just get a little.  Maybe the size of a quarter at most.  Very little is needed.  Be aware that it is very sticky and it might initially feel like it is not spreading easily.  Within a second you will feel it relax and become quite workable.  Within about 5-10 seconds the warming effect kicks in.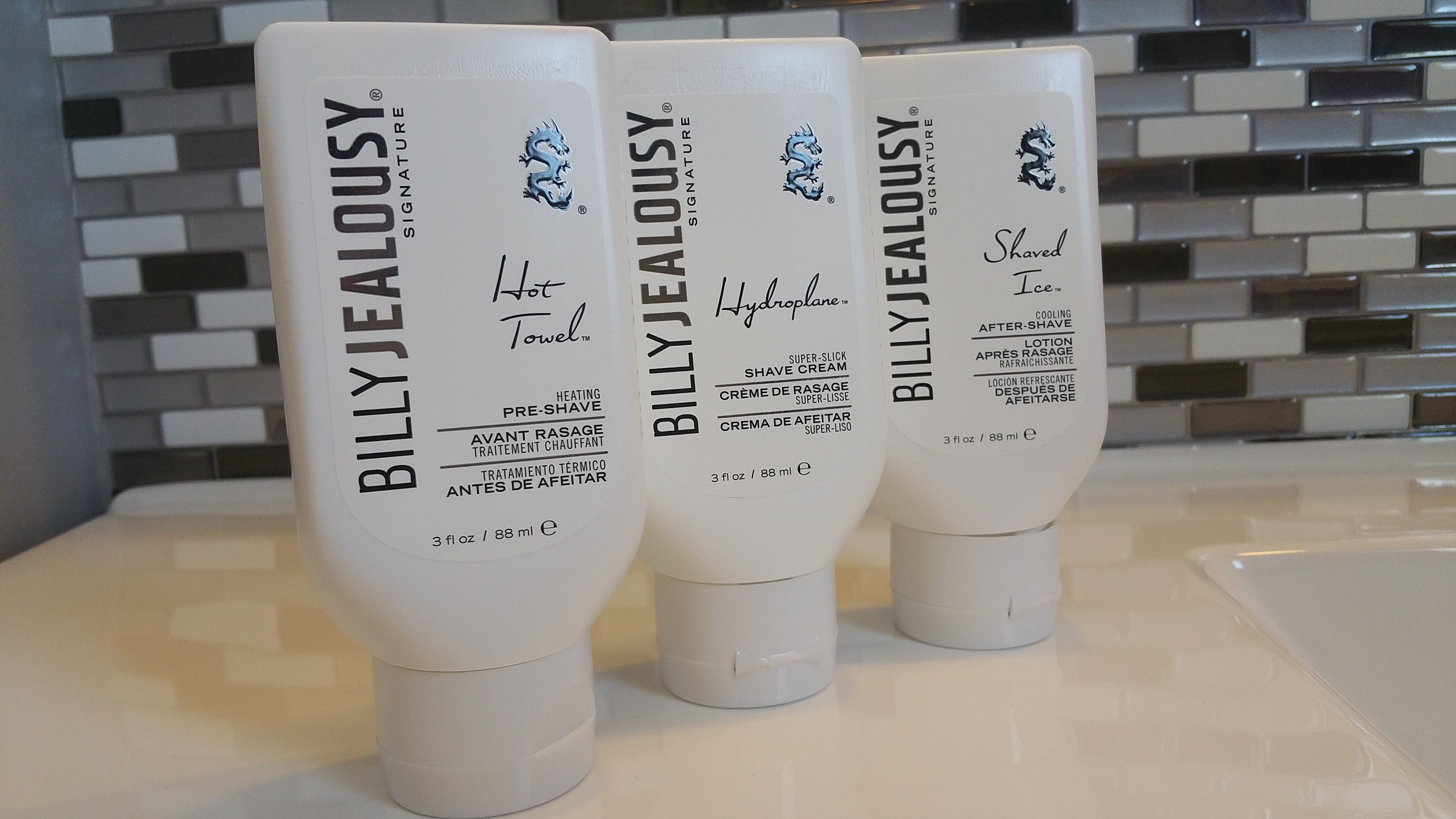 With the Hot Towel pre-shave I could not tell or feel my beard hair rising or anything of the sort, but considering the fantastic shaves I experienced using it, it certainly is doing something right.
The pre-shave being applied, onto the main attraction of the show, the "Hydroplane" shaving cream. The shaving cream has the biggest job: protection and lubrication.  By comparison to the pre-shave, the shaving cream is very creamy.  It is not a lotion or a foam.  It is more of a liquid cream.  In fact it is a perfect balance between liquid and cream.  Upon application it will also halt the warming effect of the Hot Towel.  The products are whitish transparent but there is an obvious and easy reference of where you are covered.  I mention this since these products are somewhat similar to clear shaving gels which give you no visual indication of where the products has been applied.
Onto the shave!  Simply put, the Hot Towel and Hydroplane offer an excellent level of protection and glide for the blade.  It is extremely comfortable to work with.  The Hydroplane shaving cream is strong enough to still offer very decent glide and protection against the 2nd or 3rd pass.  Something that not every shaving cream can claim.  Since I use a safety razor, it might take 2 passes or more in some areas to accomplish a proper shave.  That extra protection is appreciated.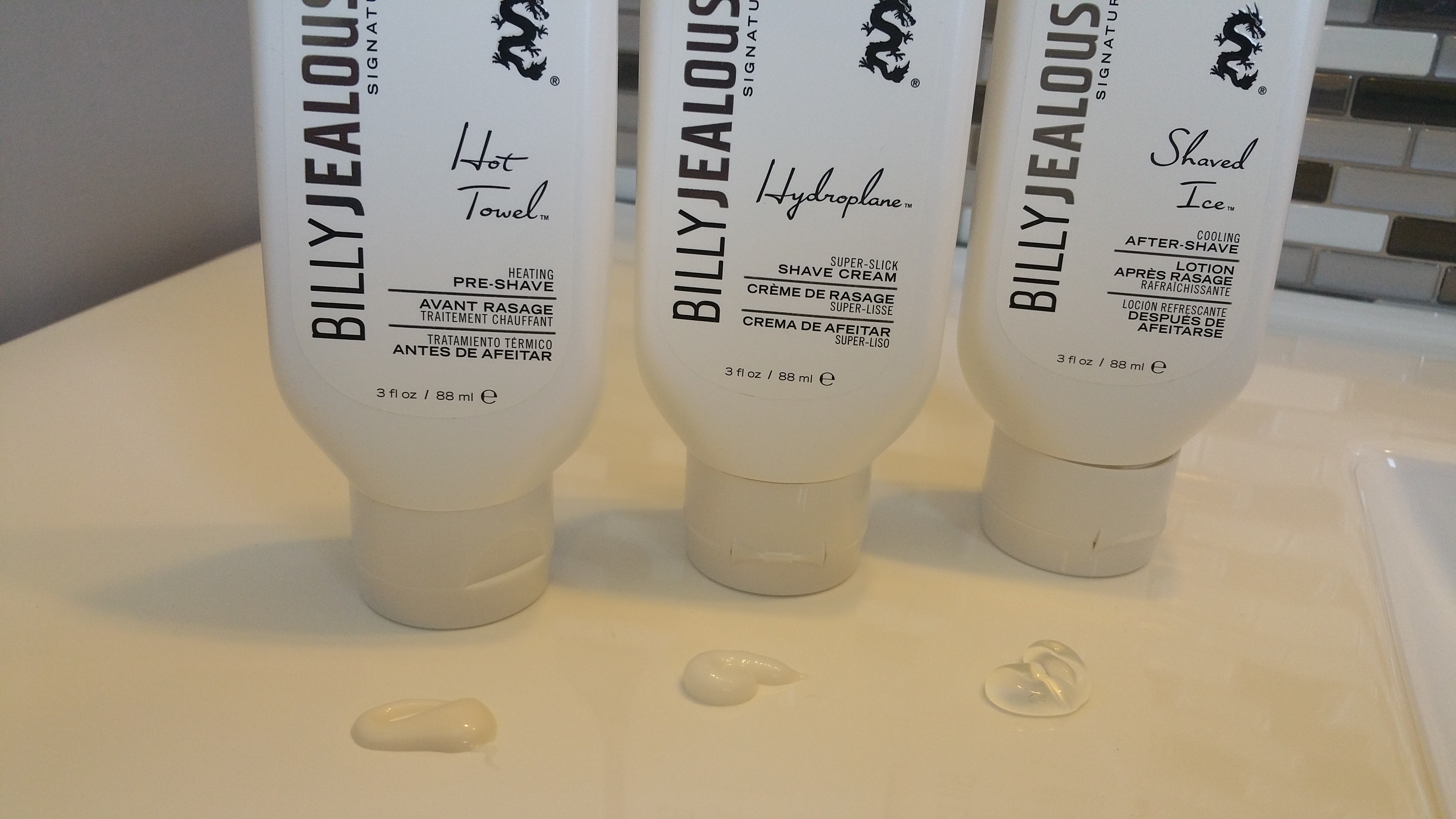 While we are on the topic of the rinsing the razor out between passes, this can often be an issue as the cream gets stuck.  These products rinse out surprisingly well.  No frustration!  Once the shave is completed, I usually rinse my face with a warm wash-cloth.  Again, no trouble rinsing the products off.  As silly as this might be, if you are having to scrubs your face to get ride of a shaving cream and end up irritating your already vulnerable and raw skin, you are no further ahead.
I was now nicely shaved and had a very pleasant experience.  No cuts, no irritation!  Time for the after-shave.  This product is a gel.  Again, very little is required to cover your face.  The gel is a bit sticky, but nothing like the Hot Towel pre-shave.  The Shaved Ice felt like it was in fact sealing my face.  It leaves no oily or sticky feeling as the product is absorbed and/or dries nicely.  Out of the SHAVE3SOME, the Shaved Ice after-shave would be my favorite if I had to choose one.  The shear originality of the after-shave being a soothing gel as well as how it dries, won me over.  That being said, I would recommend to try this shaving solution in it's intended configuration of 3 products.
Portion wise, although the bottle seams fairly small at 88 ml the quantities are in fact quite sufficient and should last you a month of daily shave if not more.  I have now shaved 3 times using these products and as a general rule, very small quantities are needed to get the job done.
On pricing, these products are not cheap.  The set goes for some $50 or $16.67 per item.  All I can say is that these products are better than the average shaving solution out there.  They are quite comparable to the Brickell shaving solution I recently tried which is also roughly in that price range.
As a shaving set of products, it was a 5/5  for my mug.  Approved!
Note that you can shop directly on the Billy Jealousy or About the Best sites and use the "STYLE4MEN" code at check out for a discount.  These are both Canadian sites, so no surprise duty charges.
You can also find it on Amazon:
As of June 2018, Billy Jealousy products can also be found at: