Brompton & Langley Luxe and Rich Shaving Cream – Smooth Luxury For Your Mug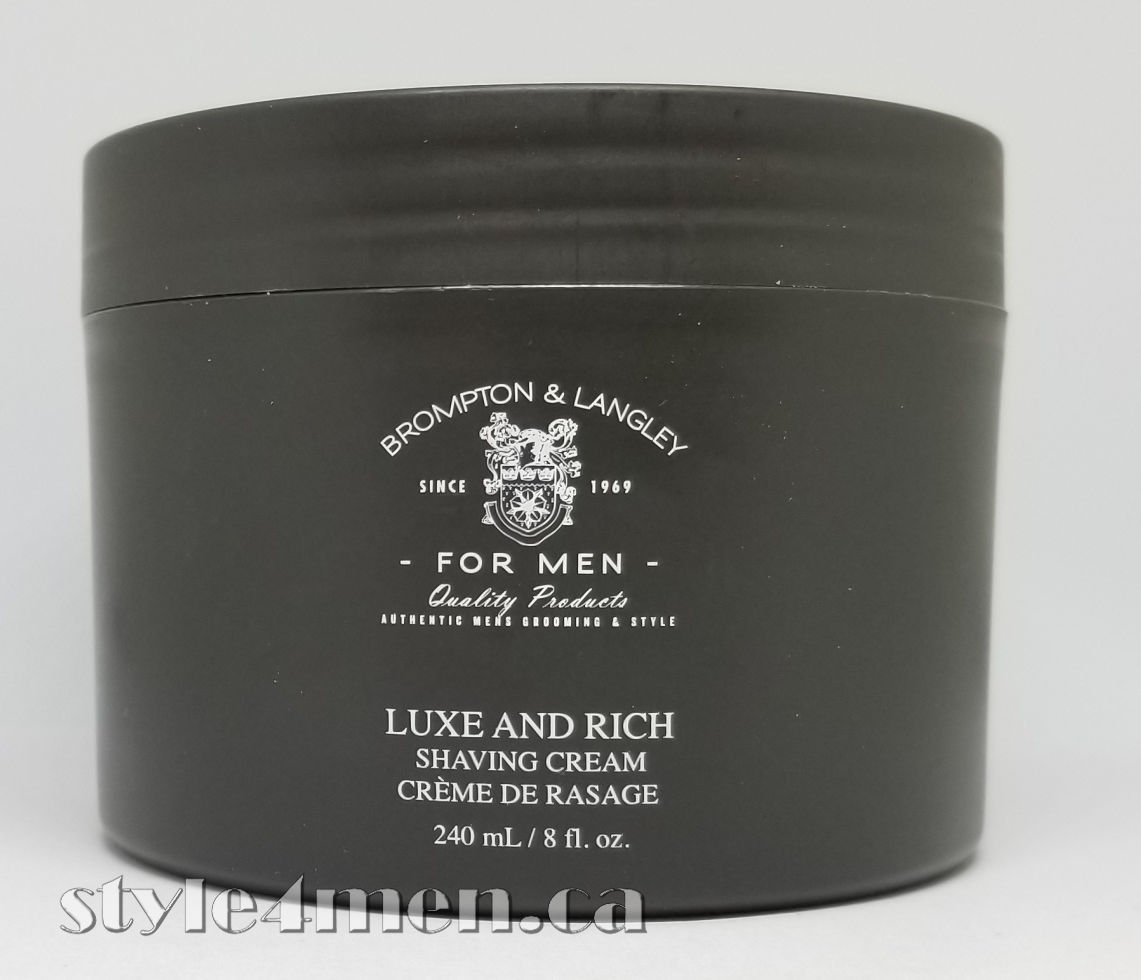 Overall Style4Men.ca score:
This morning I tried a surprising shaving cream.  A product going by the name: Brompton & Langley – Luxe and rich Shaving Cream.   The jar is fairly inconspicuous in dark grey.  I picked it up at Winner's on my last visit.  This isn't a brand I knew or recognized, but considering the size of the jar and the $10 price I figured I would take a chance on it.
At 240 ml it is considerably larger than many of the modern shaving creams I have tried.  I say modern, since the old-school shaving cream like Lucky Tiger come in equally large tubs.
Brompton & Langley is an Upper Canada Soap Company brand name.  You can see their product line by clicking on the logo.

This jar was being sold for $10 at Winner's.  Depending on how we look at it, you can either see that as a deal or as being fairly pricey.  It's a deal if you are purchasing fancy brand name stuff or even artisanal unique solutions which will fetch in the $12 – $20.  In fact, this product is being sold for $20 on the Upper Canada Soap Company which is the owner of the Brompton & Langley brand name.  If you are currently buying the pharmacy Gillette's stuff, $10 will sound like allot.  That is until you try some of these seriously superior shaving solutions.  I was like you up until just a few years ago when I did the switch.  As you can tell my side project, Style4men.ca, I haven't looked back and it's been full steam ahead since.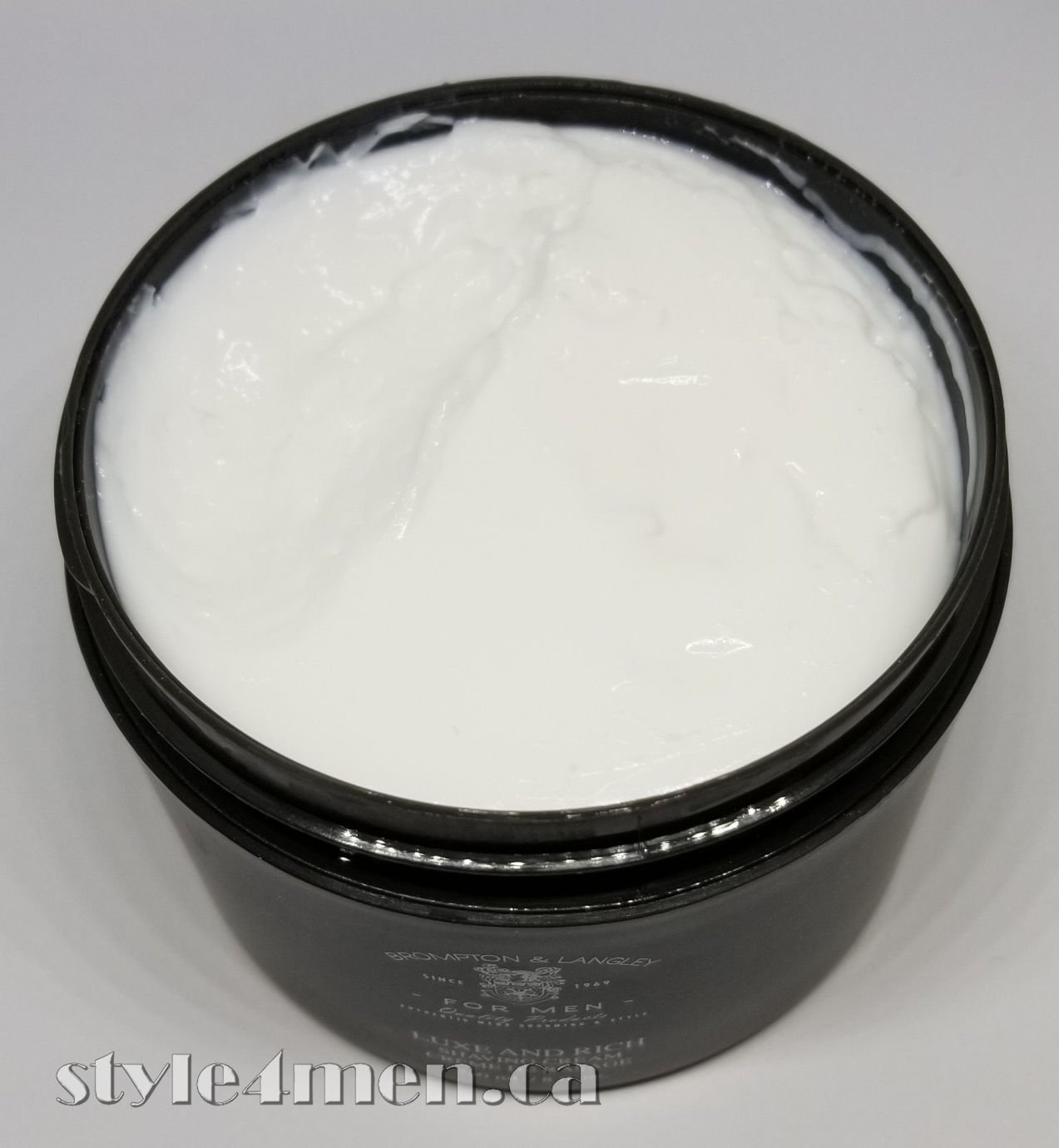 So what about this shaving cream? Upon opening the jar you are presented with a buttery-yogurt like white texture.  Taking a scoop out you will be impressed with its thick consistency.  I applied directly on my mug after the shower, no pre-shave or anything.  It covered very well and I felt totally insulated.  The job at hand was 3 days' worth of beard growth – the weekend.
My trusted Merkur 180 loaded with a Treet carbon blade and we started slicing.  Smooooth!  What a nice shave!  It was phenomenally comfortable.  And I have to mention the scent.  A very retro-vintage fragrance in deed; vanilla-tobacco.  All of sudden it triggered a memory of my uncle packing up his pipe with his sweet flavored tobacco.  A very classic and pleasant scent! Don't worry; it is not a dominating fragrance.  Just enough to bring you to a different place and time. 🙂
Usually, these rich and thick shaving creams have one small down side; getting them out of your razor between passed.  Not this stuff.  It rinsed out without a fuss.  Very easy.  I will venture that the shaving cream offered some elements of pre-shave as my beard was extremely well prepared for the shaving and I got through the job even faster than usual.  No cuts, no nicks, just a perfect shave.
TEST STAGE:
State: Out of the shower
Razor: MERKUR 180
Blade: Treet Carbon
Pre-Shave: None
Shaving Cream: Brompton & Lasngley Luxe And Rich Shaving Cream
After-Shave: None
As usual, I wiped my face down with a wet wash cloth to remove any excess cream before moving onto the aftershave step.  Feeling that this cream had done such a great job of protecting my skin, I opted for an alcohol based aftershave; my Crown Shaving Tonic!  Totally refreshing and smooth!  No stinging what-so-ever.  I realized that this cream is so good and thick that it continues protecting you even after washing up.
For my sensitive skin and strong beard growth, this stuff is a total winner!  I also feel pretty happy to have another thick shaving cream solution in my arsenal as I have recently purchased a couple of Dr. Jon's alcohol based aftershaves from Men Essentials using their 40% off liquidation sale.
As always, ingredients composition is an element of concern.  As you can see from the label, there are a few of the skin care Rock Stars, like:  Shea butter, Aloe Vera, and Jojoba.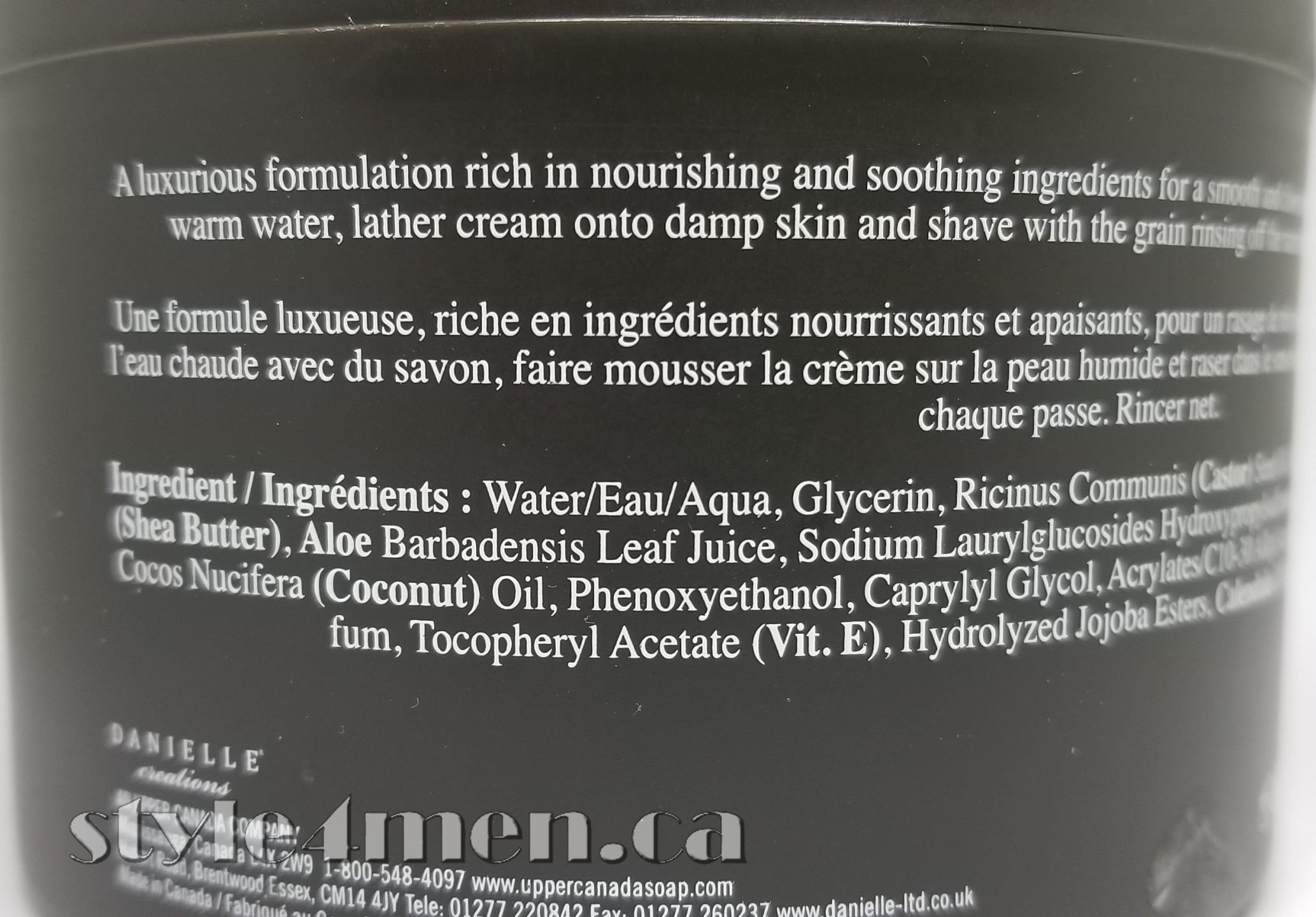 I am also proud to note that this is Canadian Company.  Not exactly sure of the business structure as the top level parent company would appear to be Upper Canada Soap Company, but there is also the DANIELLE  brand appearing in the identification area.

For those of you with even more sensitive skin than mine, I would I like to mention that I experienced no redness, irritation or reactions to this product.
In summary, an impressive thick shaving cream that is easy to work with.  Exactly the way I like them!  I am actually looking forward to tomorrow morning's shave to use that stuff again and finish the job with the Dr. Jon's aftershave. 🙂
Use these links to shop for this shaving cream: