DERBY Shaving Cream – Superb lemon scent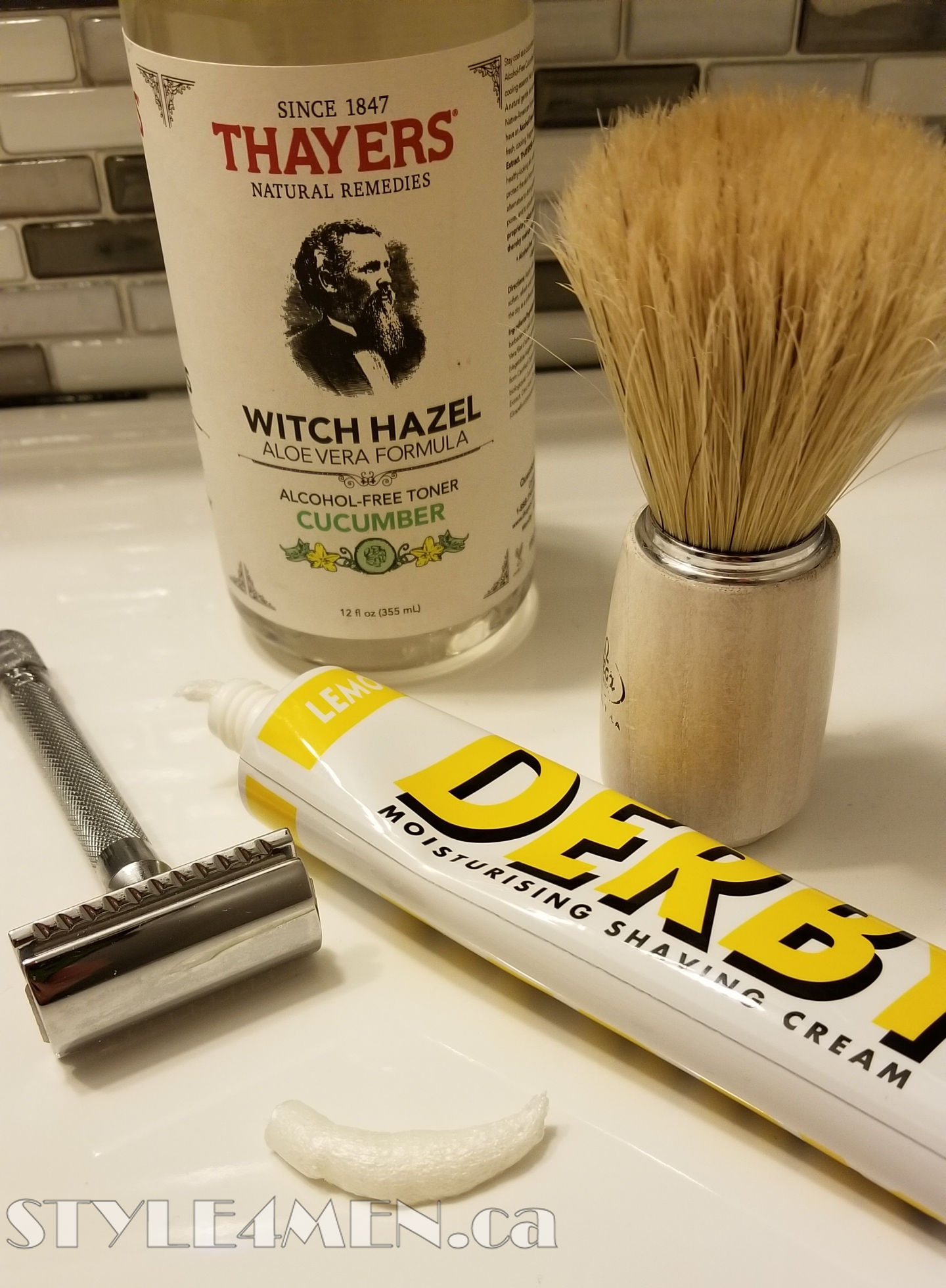 As part of my on-going quest to find and try new product I am always on the lookup for: pomades, blades, razors, shave creams and so on.  Having been quite impressed with the DERBY double-edge razor blades, I was thrilled to come across a shaving cream from them.  I actually had no idea DERBY even produced a cream, but one of my recent "DERBY" related searches on Amazon showed that they did in fact produce a shaving cream.  It is not necessarily meant for the Canadian market since the labeling is in Turkish and in English.
My purchase was made through Amazon.ca but the sellers was a third party in the UK; Beauty Cloud.  I have done business with them on a number of occasions.  The selling price was under $5 along with free shipping and delivered within some 4 business days.  Good enough for me! (Note that the price has since gone up just over $7)
Way back when I was still using the Gillettes shaving foam, I especially enjoyed their lemon scented product.  This fragrance was more or less discontinued somewhere in the late 90's.  In fact, lemon as a base fragrance fell in disgrace pretty much at that time.  The DERBY shaving cream came in a few other scents, but I couldn't pass on the lemon.
So here we are at test time with this shaving cream.

TEST STAGE:
When opening the tube, I got a nice and pleasant whiff of the sweet lemon aroma.  It is very tastefully done and appropriately subdued. Because this is a tube cream, I figured it would make sense to squirt a shot in my wet badger brush.  I then worked that onto my mug.  The resulting cream is seriously thicker than I was expecting and perfectly insulated my face.  Usually, when creams are too thick they tend to dry and not offer as much glide as the blade needs.  Not this DERBY!  It retained a very good amount of moisture and offered a perfectly slippery surface for the blade.  I did touch up with water here and there, but only as an enhancer, not because it was needed.
The thickness of the cream can also be an issue when rinsing the razor between passes.  I was pleasantly surprises to see that the cream came right off with a hot water rinse.  Because the cream offered good coverage and lube, the resulting shave was just perfect.
The DERBY shaving cream does not have a companion after shave cream.  It's not a question of availability, it's sadly just not being made.  That being the case I had to turn to another brand.  Normally, I don't like that situation because you are entering unknown territories.  Products can react and cause undesirable results on your mug like redness and/or irritation.  But here, it's not like I had much of a choice.
Having been really impressed with the Thayers Toner as a cleaning step after the shave, I repeated the experience.  No problems!  I then opted for an efficient but mild after-shave, the Proraso sensitive lotion (white).  This combination worked out perfectly.
This DERBY shaving cream is both both comfortable and great smelling.  The price is also well within every man budget at under $5.
The only one thing that might play against it is the inclusion of methyl paraben in 17th position of the ingredient list.  As mentioned in other posts, most hair and body care products sold in North America have removed parabens as a whole.  Note that parabens are not illegal.  Their removal has essentially been a voluntary action from the industry, probably not to loose their market shares.  Not wanting to be sarcastic, but parabens have probably been replaced by another preservative that hasn't yet made the news.  Since this product is made in Turkey and not officially meant for the Canadian market, the paraben issue was probably not a concern. I am no Doctor, Chemist, or Biologist so I don't have a scientific opinion on the subject, but like you when I read the documentation on the subject I am certainly preoccupied.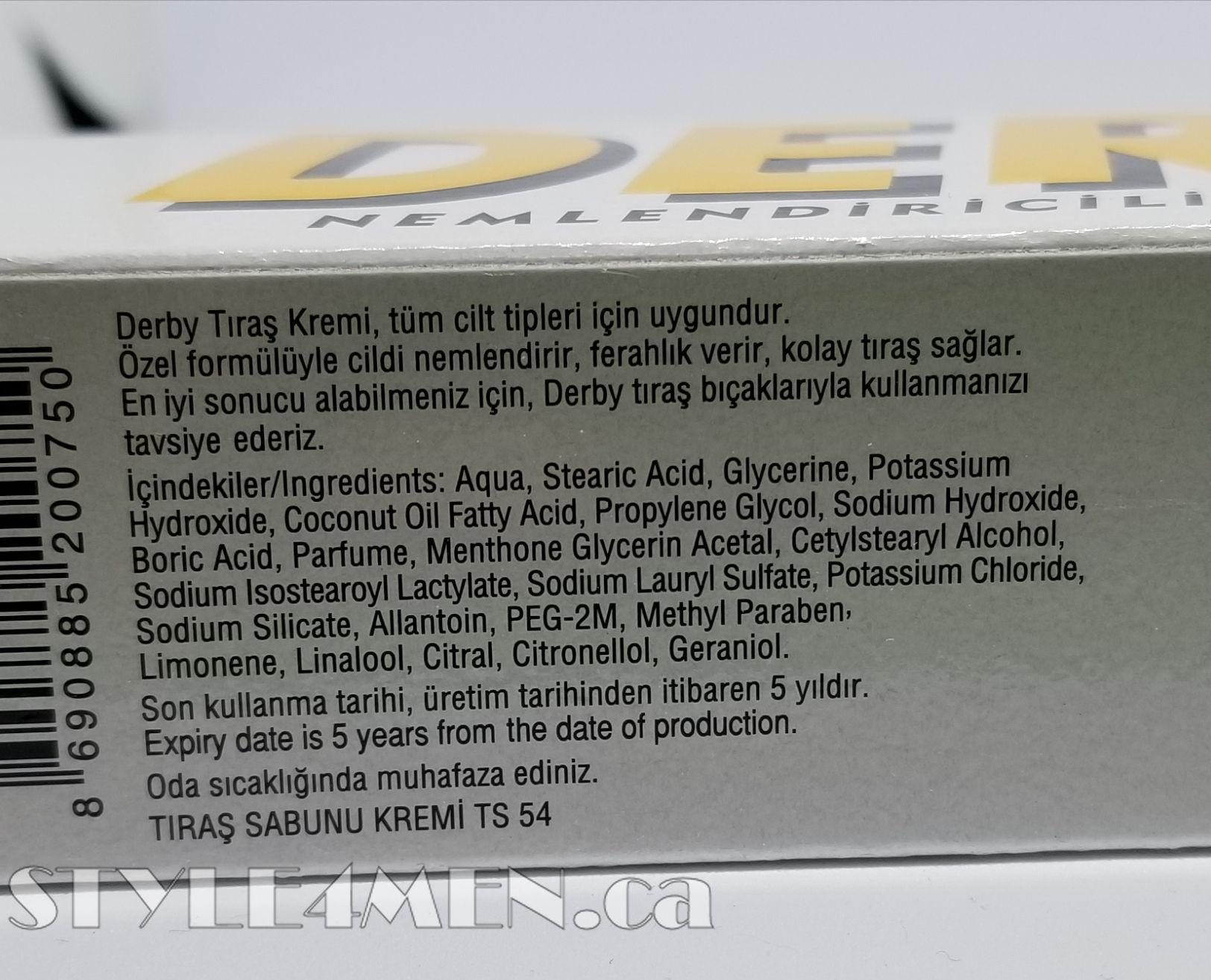 Maybe we can think that as men we are not using many other products containing parabens, if at all, therefore the risk of over-exposure is likely reduced.  We might also think that because the shave cream is on us at most perhaps 5 minutes, again the exposure is minimal.  If parabens were used as an ingredient in the after-shave and meant to be adsorbed by the skin, then this would be a different story all together.
I didn't want this post to deviate onto parabens, but the Style4Men mission is one of information sharing.  Now you know about this shaving cream, that it performs and smells great but that it also contains a chemical with bad mojo.
You can shop for this product using these links: