Dollar Shave Club
Last week a friend of mine made me aware of an on-line company called "Dollar Shave Club".  A simple search showed me what this was about.  A simple and economical way to buy your razor blades on-line and have them delivered to your door step.  Somewhat like Harry's you might ask!  It is different in the sense that Dollar Shave Club does not offer (at least at the moment) supporting shaving products like shaving creams and so on.  It is also not as "slick" as Harry's.  The Dollar Shave Club is bare bones and essentially focused on the blades.  They offer three different blades and the companion handle for each blade option.  One might think that a common handle might of been a simple solution, but they offer a free handle as per the type of blade you picked.  They also offer a free handle for which ever blades you decide to upgrade or downgrade too.
To get an idea of what they are about and what their business model is, they offer a little intro video which I found to be totally entertaining and to the point.  It conveys a completely unpretentious image.  Basically, if you are a wet shaver and feel like you might be spending too much on the main stream razor blades, here is an alternate simple and cost-effective option.
I opted for the "executive" blades, which is the 5 or 6 blade cartridge along with the companion handle.  The price was $10 (CAN).  Sounds like a deal.  We'll see what they ship.
The one caveat is that you are by default signed up for automatic restocking.  I understand the business rationale and many guys might like that inclusive convenience.  I would of preferred to buy an intro package and then receive an email offering me to sign up for the restocking.  They offer an any-time-cancellation option, so I will need to test that option.
Once the blades and razor handle are received, I will update this post with the testing results.
October 24, 2016
The package from the "Dollar Shave Club" arrived with Monday's mail.  It is discreet and the company logo is rendered tastefully on the back side.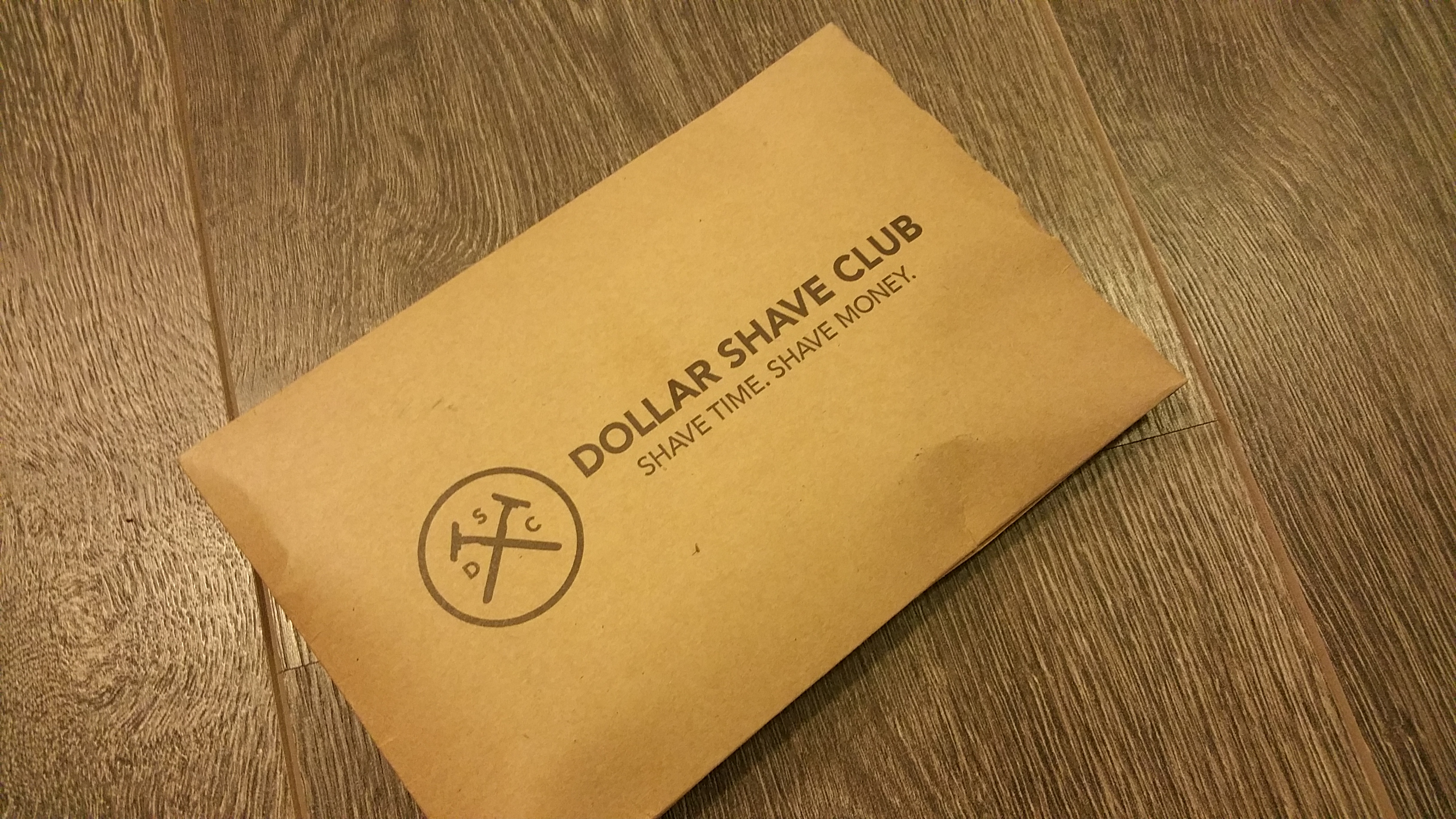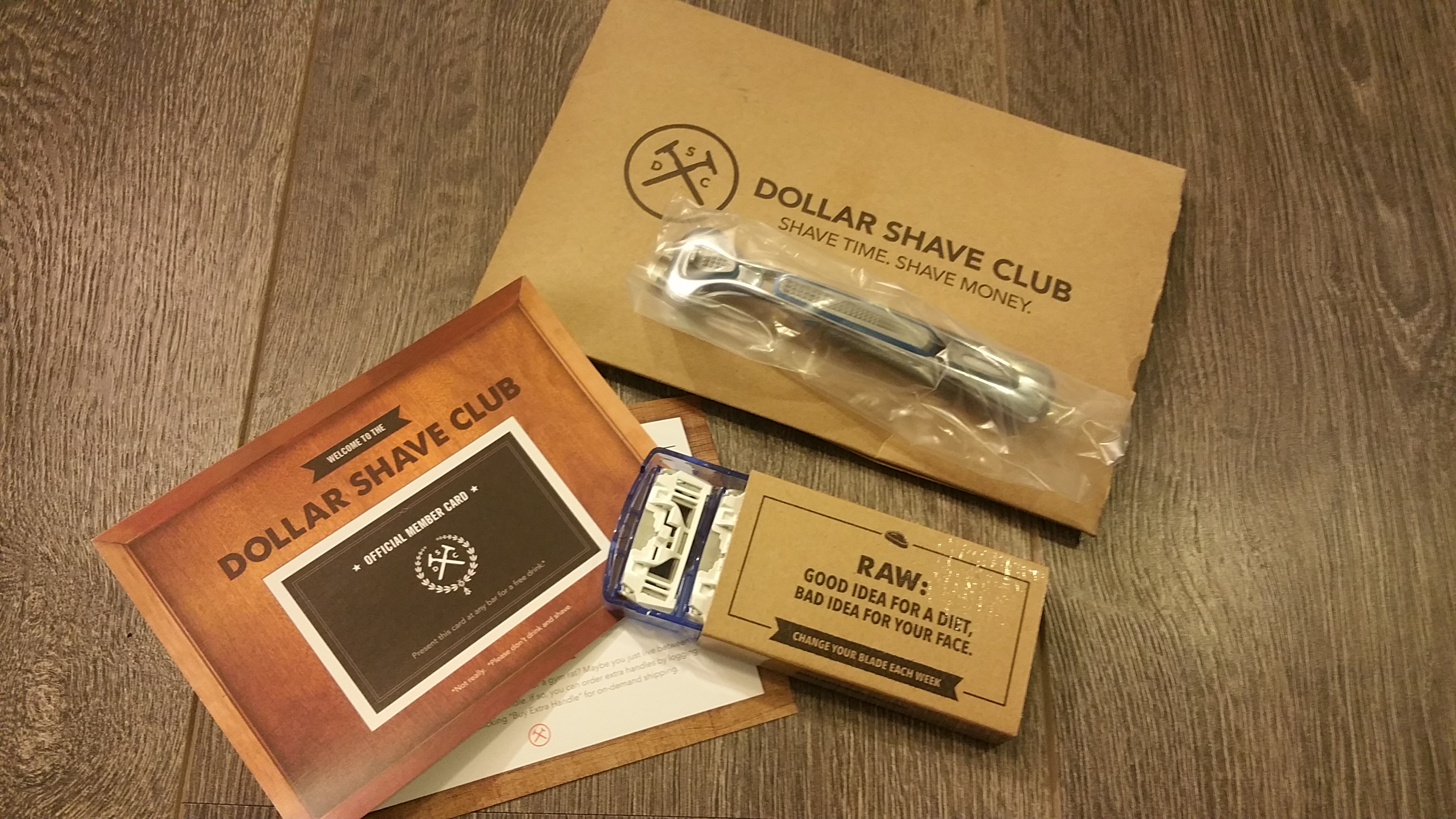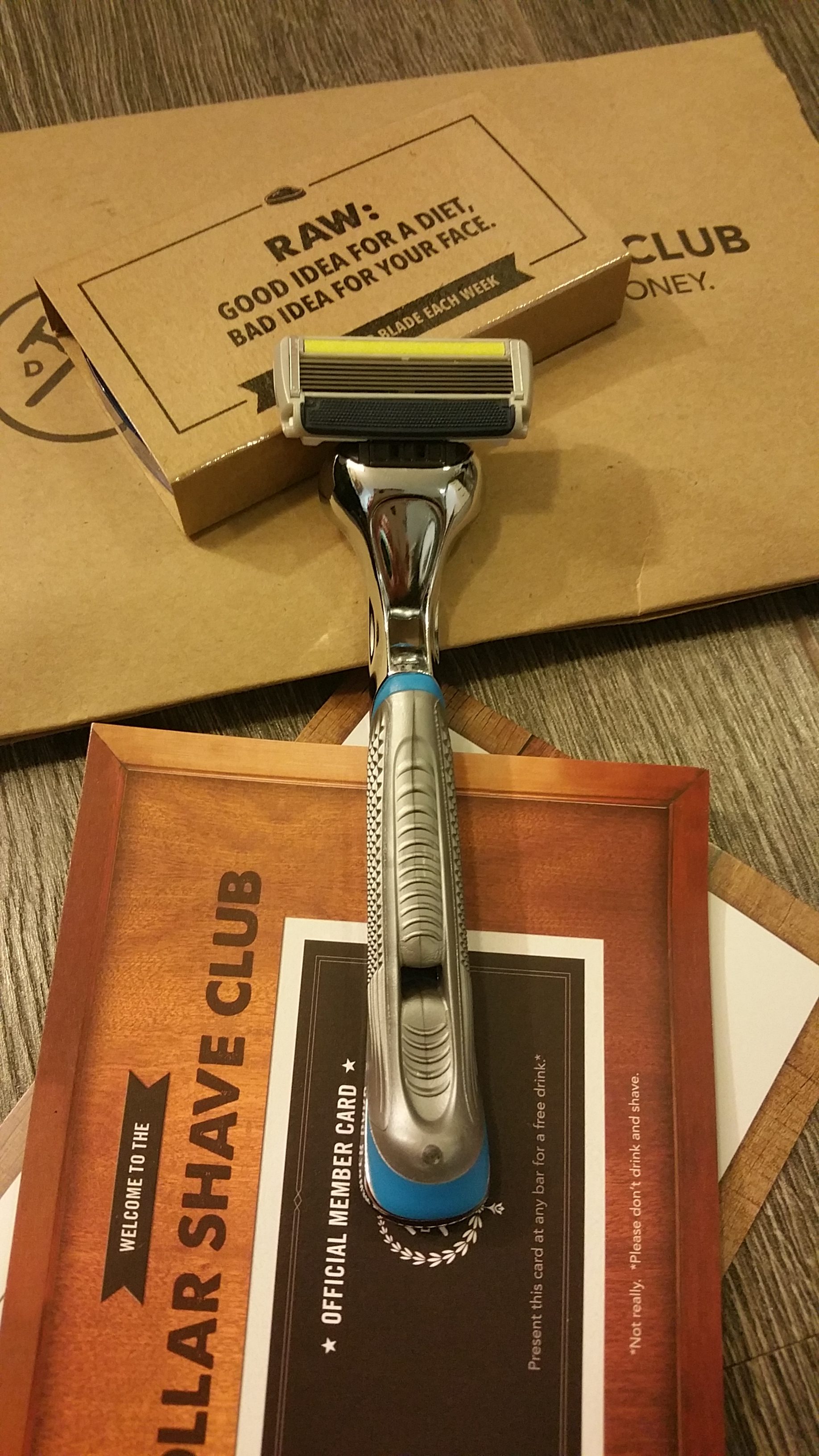 In line with the Dollar Shave Club "no-fuss" approach, the content of the parcel is simple and straight forward:
– A razor handle
– A little case of 4 blades
– Two cards; membership and promotional
The razor itself does not look like a disposal razor.  It is constructed with metal and a decent amount of rubber gripping.  Design-wise, it looks good and can compete with a Gillette razor.
The cartridge heads for the "Executive" model has 6 blades plus a trimming blade on the back of the head.
TEST STAGE
Pre-Shave: Proraso white
Shaving Foam: Vichy
Razor: Dollar Shave Club "Executive"
Blades: Dollar Shave Club "Executive"
 After-Shave: L'Oréal Sensitive
The shave was comfortable enough, although a tad more aggressive than the Gillette Proglide.  The beard is properly shaved and I didn't have to go over the same spots multiple times.  Rinsing the blade out was surprisingly good.  I found that shaving under my nose was a bit more trouble-some than with the Gillette razor.
A trimmer blade is a must in my mind and this cartridge comes equipped with one.  I usually use the trimmer to touch up the side-burns and under the nose areas.  It did a good job for my side-burns but not as good of a job for the nose area.  I had to do multiple passed to get the job done and the end result was not perfect but acceptable.
As we know, the increased number of blades also adds to the irritation level of the skin.  At six blades, my skin felt appropriately shaved but also a bit irritated.  Nothing a good after-shave cream could not handle, but more irritated than with the Gillette Proglide blades.
If we compare these blades with the Harry's solution for example, the Dollar Shave Club (DSC) blades did a better job for me.  I have a strong beard growth but fairly sensitive skin.  In my previous tests with Harry's blades, rinsing was problem as the shaving cream could barely be removed.  The blades were possible stacked too close together.  The DSC blades rinse amazingly well and it felt like I got an overall better shave than with the Harry's razor.
A note on the razor handle ergonomics and feel.  The handle has a good length to it and since it is made out of metal and rubber it also has good weight to it.  The rubber grip points are well designed and placed making the overall manipulation of this razor quite comfortable.  Basically, everything is in the right place.  As you can see in the pictures, it is similar in design to the Gillette handle.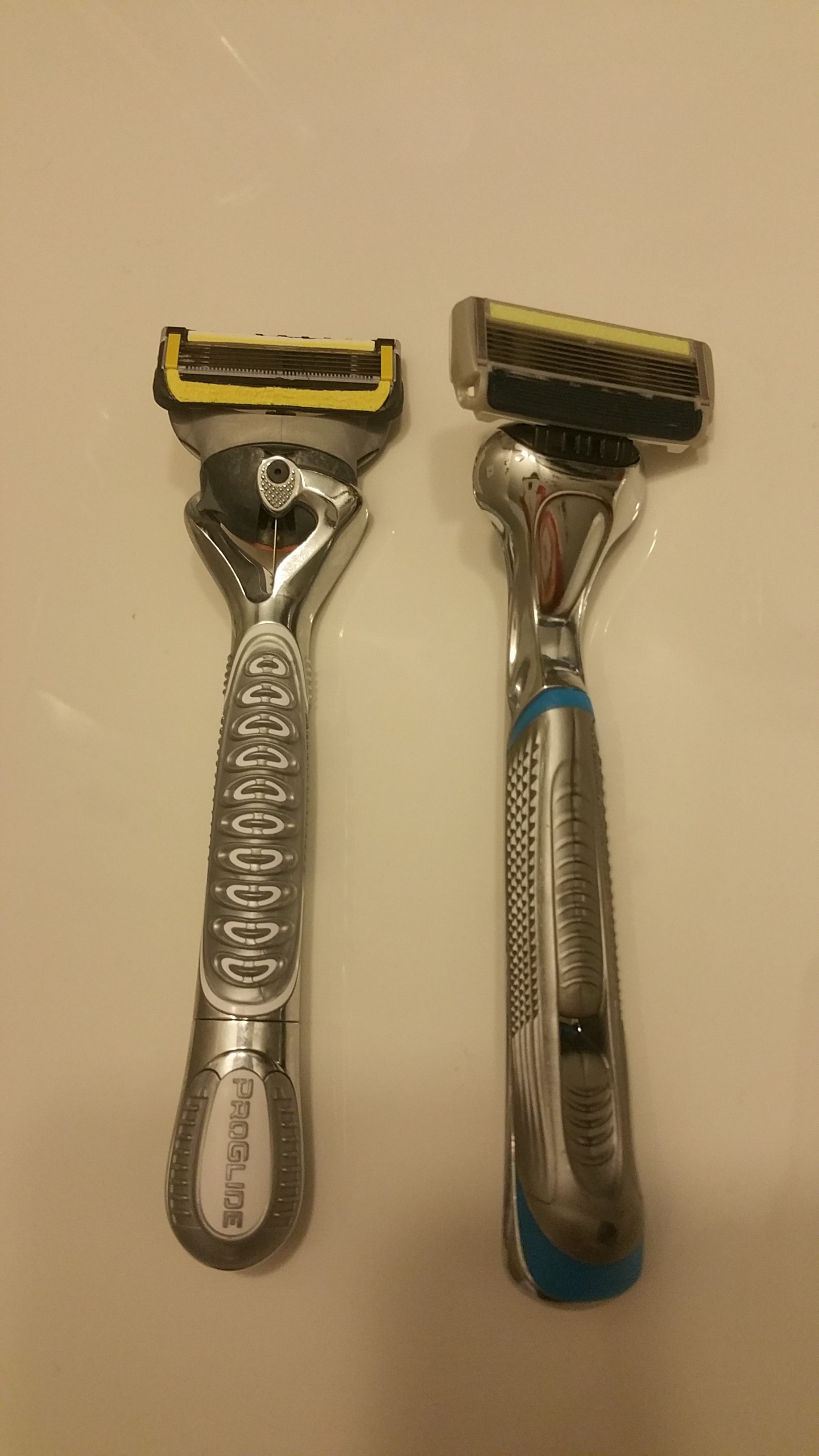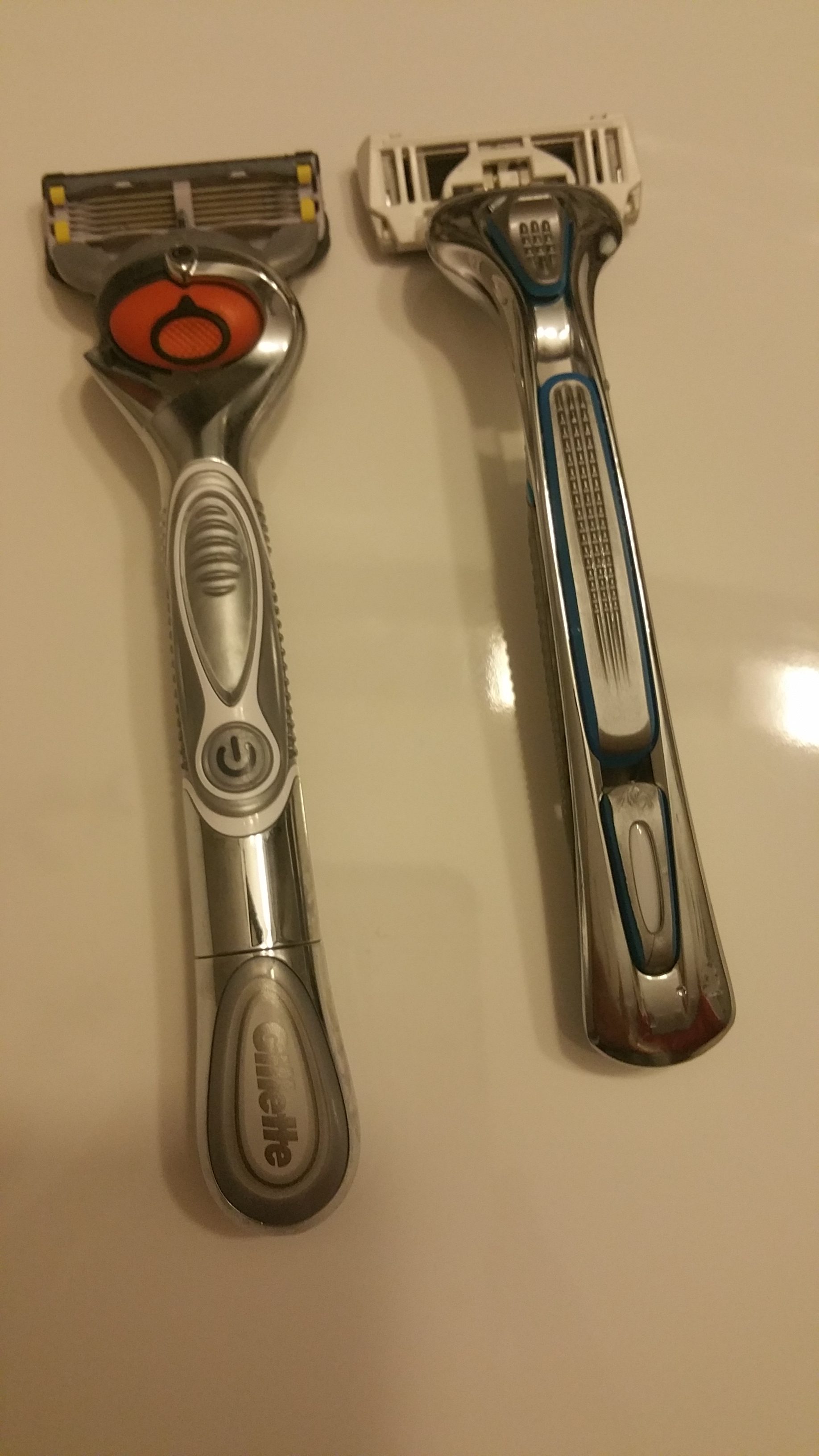 Side by side with the Gillette Fusion Proglide.  In the first picture it looks bigger but that is just because of the photo angle.  The shot on the right gives a more accurate view.
Overall, the DSC does a better job than the Harry's shaving solution and is pretty close behind Gillette's.  For my face Gillette does a slightly better job, but no one can argue with the DSC pricing model.  I got a razor handle and four blades for $10 delivered to my door.  The Gillette solution would be at least 3 to 4 times that price.
Here is the rating, where 5 is a perfect score:
Pricing: 5
Ease of manipulation: 5
Ergonomics: 4.5
Shave results: 3