Dr. Jon's Aftershaves – A new generation of the classics
Overall Style4Men.ca score:
My recent focus has been on after shaves and more after shave.  With the recent closing of the physical Men Essential store on Danforth Avenue in Toronto, the shop was having a 40% inventory liquidation sale.  As disappointed as I might have been at the store closing, a 40% sale is worth looking into. One of the brands I came across was: Dr. Jon's.  Almost a year ago, I had tried one of Dr. Jon's shaving soaps and was very impressed.  In fact, at the time it opened my eyes as to what a shaving soap could be.  But being busy with other brands and tests, I never got back to Dr. Jon's and to their aftershaves.  The Men Essential sale gave me a reason to get a couple of bottles for about the price of one.  I opted for the Defiance and 1803. Our Toronto friends at Men Essentials use Canada Post for their shipping and I had my after shaves in some 3 business days.  You can't beat that!
Before getting into the after-shave review, I would like to write a few words about Men Essentials.  The current retail situation is such that shops are squeezed from every side; high rents, low walk-in traffic, extreme on-line competition, changing salary models and a tight profit margin.  Considering how nice of a store it was, it's sad to see it close.  I think that the mighty capitalist forces that drive business and consumers to seek the lowest price are shadowing the innate human need of going getting out to the market (stores).  At a basic level we are Hunters and Gatherers and historically speaking; hunting and gathering has also been a social experience of our species. We need to get out to hunt and gather and bring stuff back to our dens. I enjoy shopping on-line and then picking my parcels up from my mailbox, but it is nothing when compared to the experience of going to a nice store and enjoying a moment in that space and interacting with the people there. Living in Ottawa, I could only go to this store occasionally.  For the past few years, my family and I have taken a few days in August in Toronto as an urban vacation.  During these holidays, we would always drop in at Men Essentials and would inevitably walk away smiling with a bag of new goodies. Fortunately Men Essentials is not totally disappearing.  The on-line companion store has been established for some time and by all accounts, is doing well.  From the consumer perspective, they offer a great selection with competitive pricing. We wish them success and prosperity for many years to come in this new and exclusive version of themselves.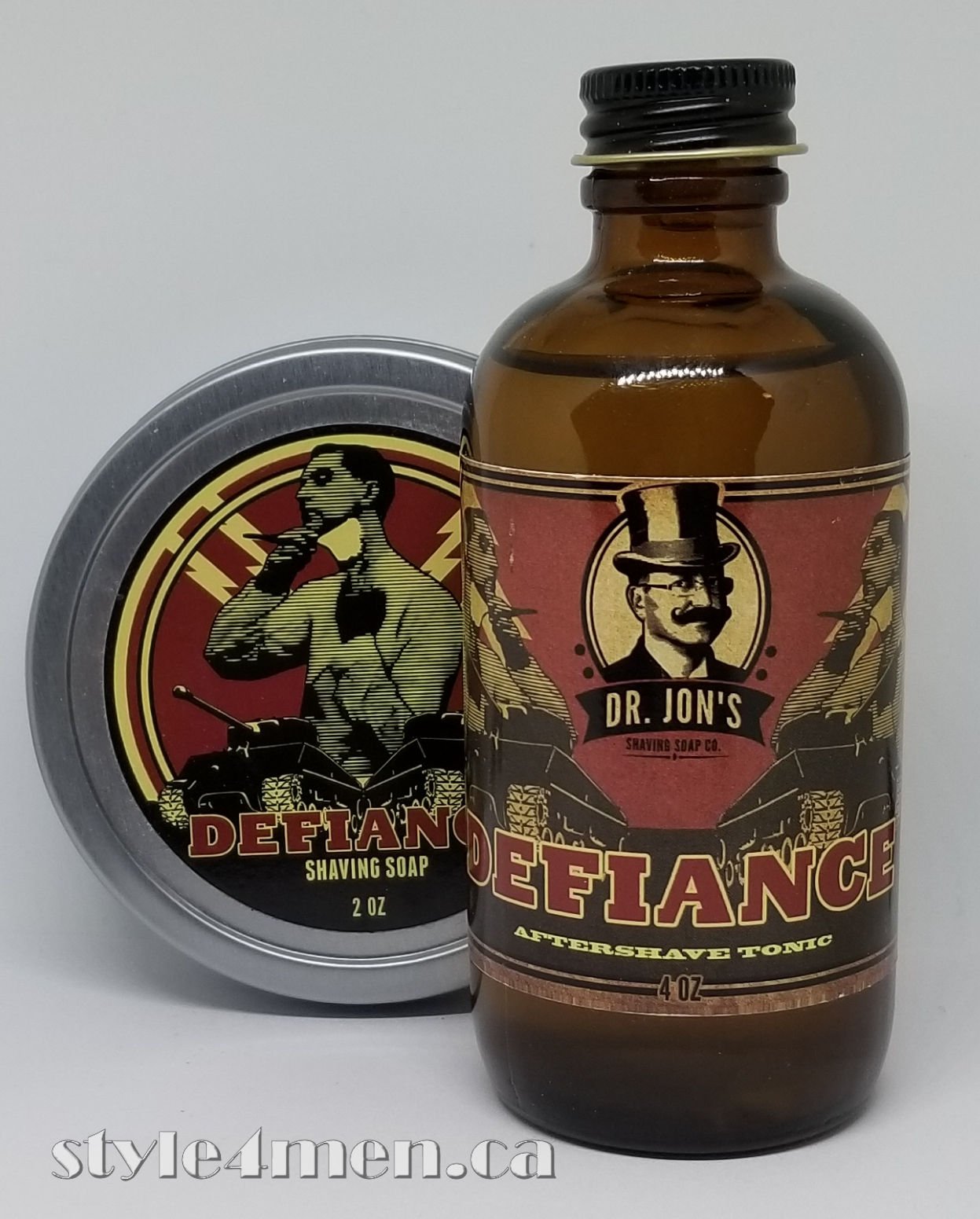 So what is interesting about the Dr. Jon's brand and aftershave in particular?
Dr. Jon's is essentially an artisanal product line that is hand crafted in Ohio USA.  It is both original and natural.  As more and more people become aware of the nasty chemicals we are exposed to via our grooming products and seek alternatives, the relevance of more natural options becomes clear.  I am extremely fortunate to not have allergies or reactions to most products, but this doesn't mean that I am less concerned.  As a result of the Style4men.ca adventure, I have been learning more and more about how hair care and shaving products are made and what ingredients they contain.  Interestingly enough, I have come to realize that simpler and healthy products are rendering identical if not better results and they often tend to be considerably more original and fun.  This is most certainly true of the Dr. Jon's product offering!
Dr. Jon's after shave ingredient list is very short at only 7 ingredients: Alcohol, Witch Hazel, Rose Water, Fragrance, Glycerin, Alum, Menthol.  As you can see below, the ingredient composition is identical in both the Defiance and 1803 aftershaves where only the fragrance is different.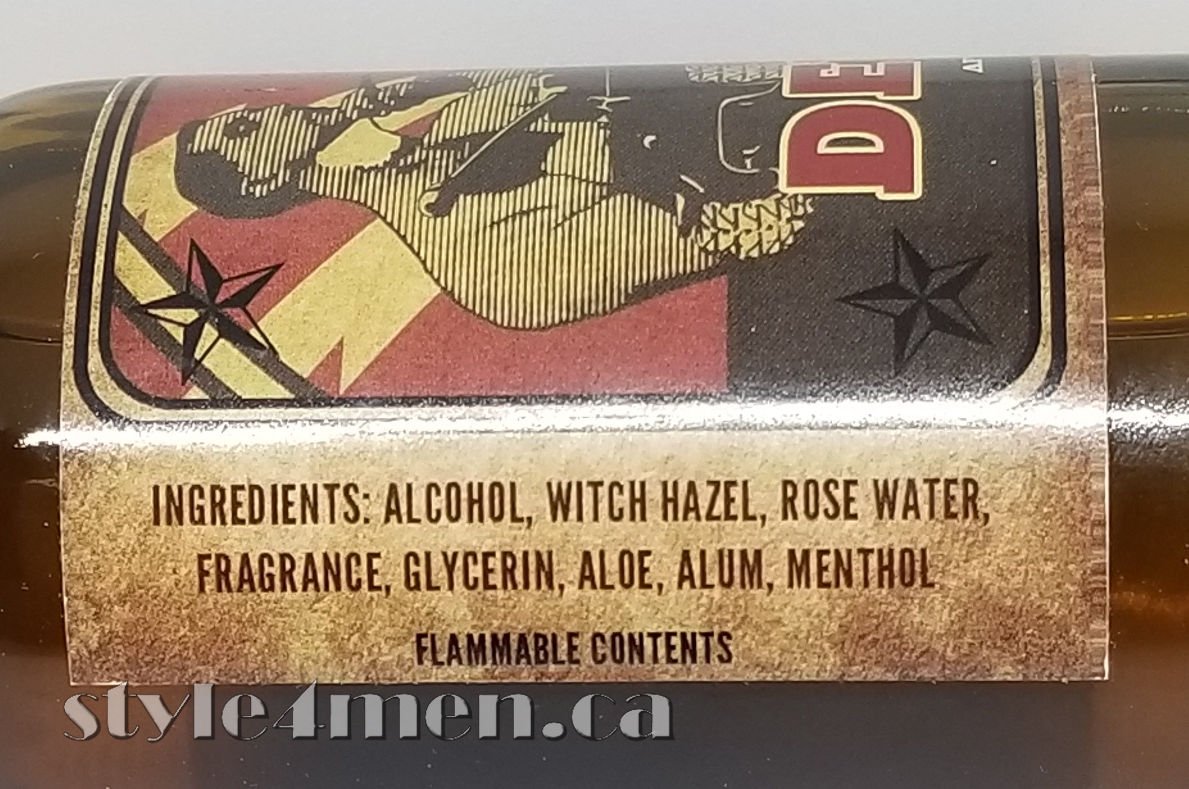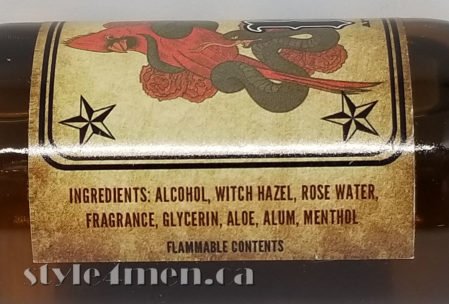 This is a classic alcohol based aftershave.  A typical alcohol based aftershave would contain alcohol and then water along with some fragrance and possibly colour.  Because of the usage of witch hazel as a substitute to water I will venture that this aftershave fits into the new generation of the classic aftershave.
For the longest time, I had an aversion to alcohol based aftershaves because they were simply too harsh and did nothing for my skin when compared to the smoother lotions and balms options.  This held true pretty much until I tried the Crown Shaving after-shave tonic.  This tonic was constructed more along the lines of a classic aftershave using alcohol as the primary ingredient but bringing witch hazel in second place to make it a tremendously smoother and healthier experience. This aftershave became one of my favorites for both the results and its phenomenal scent.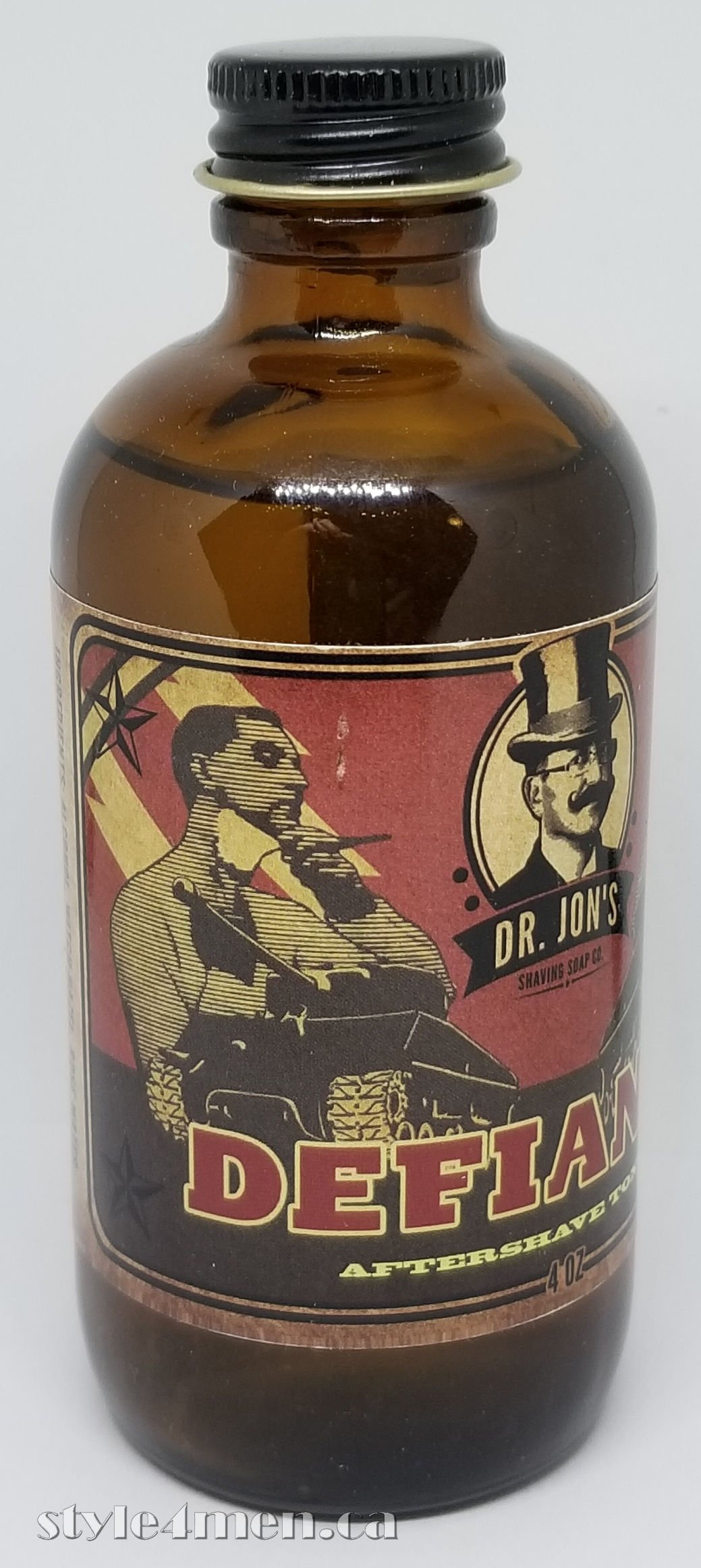 This is essentially what opened to the door for my reconsidering the Dr. Jon's aftershave line.  Dr. Jon's aftershaves follow this same marriage of alcohol and witch hazel.  The second reason why I was interested in this type of aftershave solution was for the scents.  Most lotions and balms have very discreet fragrances.  This new generation of classics offers considerably more excitement for your nose.
The Defiance after shave is perhaps my favorite of the two.  It has a unique and manly scent.  I am at a loss to correctly describe it so I will simply paste how Dr. Jon's sums it up:  Defiance combines the sweet notes of mandarin and sandalwood with the spicy, sharp notes of allspice and black pepper making this the ultimate cool weather fragrance. The mandarin and pepper are the two dominating scent I recognise.

The 1803 after shave has some similar foundations, but it is an overall slightly more floral or green arrangement.  As per Dr. Jon's: The top notes include pineapple, guava, peach and green apple; the middle notes include bamboo, teak wood, blue gardenia, white rose and jasmine; the whole fragrance is tied together with a base of musk, cedar, sandalwood and bergamot.
Presented in a perfectly old-school brown bottle, this aftershave tonic is a true classic inside and out.  At 4 oz, it might not appear like all that much aftershave, but I am seeing that very little liquid is needed to get good coverage.  If anything, it's my sporadic second application during the day that might do me in as I am enjoying the scent.
As you can see in the pictures, the art on the labeling is both original and meant to appeal to that vintage seeker.  I specially like the cold war art of the Defiance series.
Early this week, I tested the Brompton & Langley shaving cream which is a rich and thick solution that lends itself very well to an alcohol based aftershave.  At first I was using my Crown Shaving tonic, but figured that this would be a perfect scenario to try the Dr. Jon's aftershaves.  As stated above, I bought two bottles: the 1803 and the Defiance.  The 1803 because of the fragrance descriptions and the Defiance because I had already tried the companion shaving soap which had impressed me with its mandarin and pepper arrangement  For the last 2 days, I have been splashing the 1803 on my mug.  What a nice aftershave!  Yes, it is a an alcohol based product, but it is and extremely tamed down experience by the usage of witch hazel and rose water.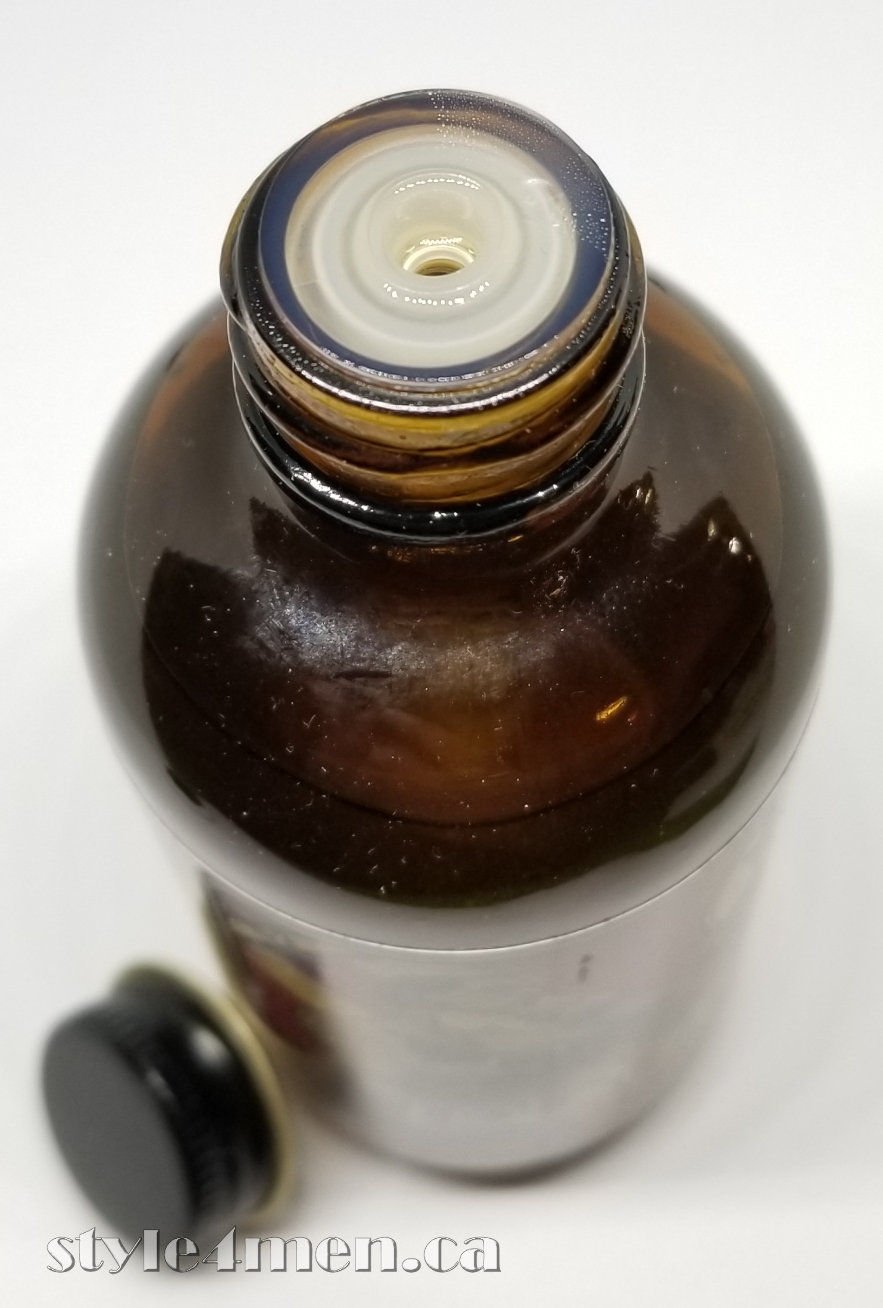 Splashing this room temperature tonic on is both refreshing and smooth.  Forget that full-on alcohol sting!  This is seriously smoother.  Obviously, it is not a cream or a balm and you need to expect some slight sting, but the witch hazel completely changes what you have come to expect from an alcohol based after shave.  After that first refreshing blast, the witch hazel kicks in at their is a very real appeasing process.  If you have ever used witch hazel on its own to threat burns or bug bites or any other skin irritation, you are already in the "know", but for those of you who have not, this will be a treat.  Another important aspect to note, the experience is not over after splashing it on your mug.  No, your skin will feel good for a number of hours thereafter.
Assuming you have used a thick shaving cream or soap, you will be rinsing the excess off before using the after shave, but there is generally some amount of product left on your skin.  This type of aftershave acts as a toner.  A toner is skin cleaner that prepare the dermis for the next treatment, usually the application of a cream.  Using a toner is way to much for most of us and that is why such an aftershave is interesting because you are essentially getting a toner and a skin post-treatment in one product.
In the new classic aftershave space Dr. Jon's is among my favorite brands.  The scents are like a backdoor gateway to a Barbershop of the 40's while offering results you won't get with a "classic" alcohol only aftershave.
I am sad to mention that between the time I bought my aftershaves and then going live with this post, Men Essentials is no longer offering the Dr. Jon's brand.
PS – Earlier in the week I had a bad experience with another shaving cream and had to take a few days off of shaving.  When I shaved again it was with the Dr. Jon's Defiance shaving soap and I finished with the Defiance aftershave.  In one word: perfect!
Just visit Dr. Jon's directly: