Fine Accoutrements – L'Orange Noir Shave Soap / Aftershave & Lather Bowl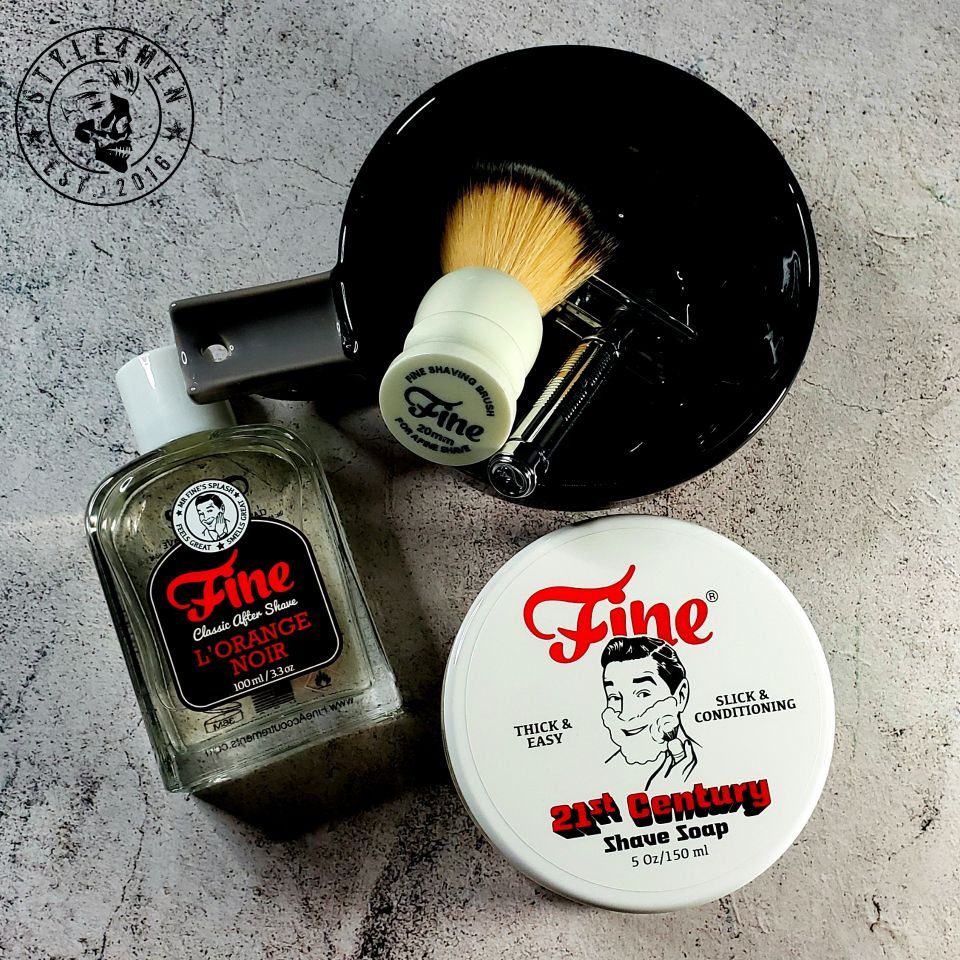 It goes without saying that I am always excited to try a new shaving soap.  Even more when it's from Fine Accoutrements.  I first tried their shaving soaps almost 3 years ago and loved them.  Fast forward to now and these soaps have undergone a reformulation.  Anytime, we talk about altering something that was pretty darn phenomenal there is room for concern.  Well wouldn't you have it, the new formulation is even better than the old.
This is labelled as soap, but it is more of firm cream.  Extremely easy to scoop up and work with. This is also my first contact with the fragrance "L'Orange Noir".  Woooo!  Nice, citrusy, dark, deep, rich, classic, refined, pleasant, inviting.  It certainly makes you want to rub it on your face!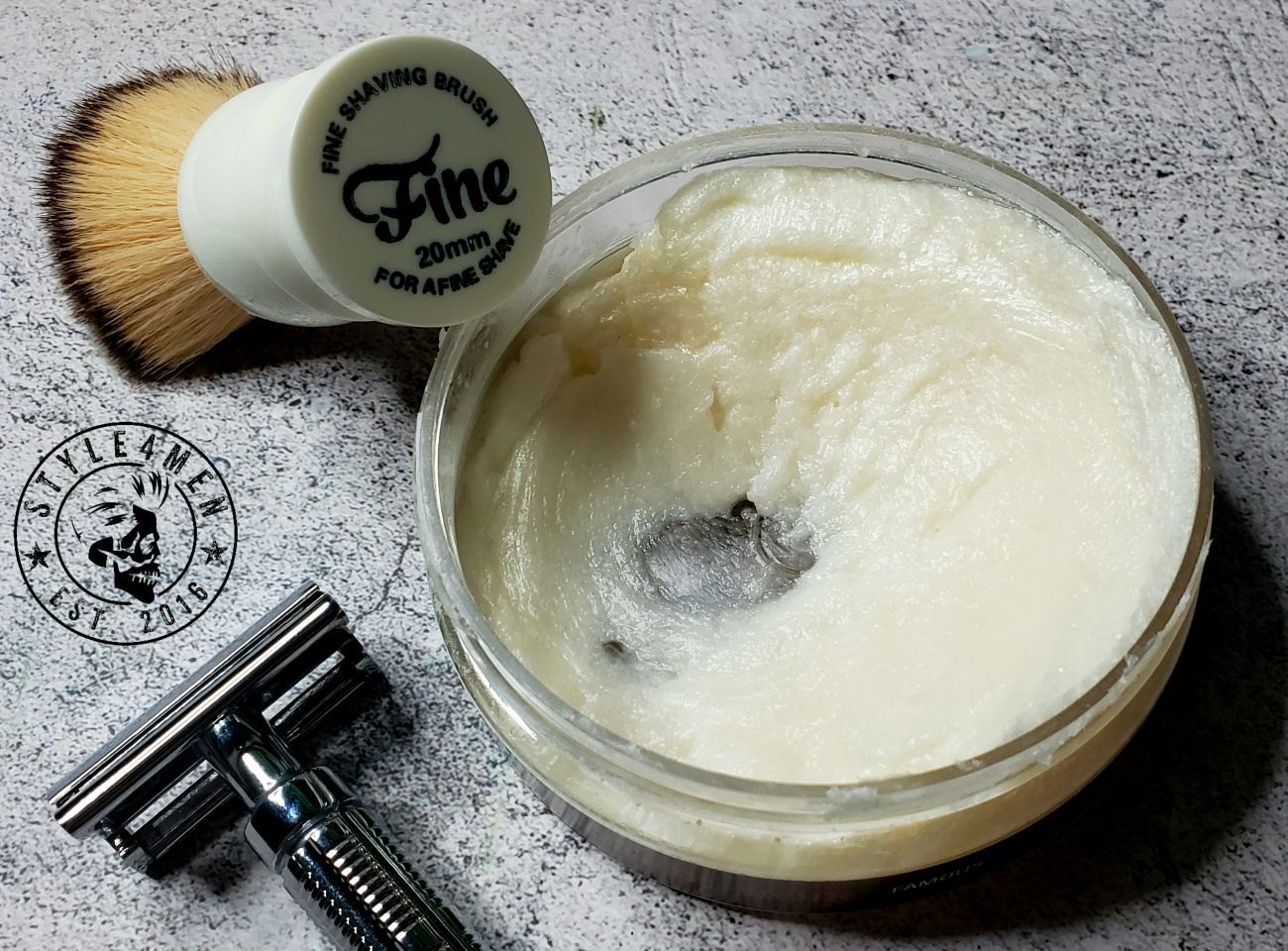 In the early iterations, Fine Accoutrements didn't offer their soaps in a plastic tub.  Note that this soap comes in its own jar. From a practical point-of-view this is something I appreciate allot as the soap will retains its moisture and aroma considerably longer.  It is also much easier to store.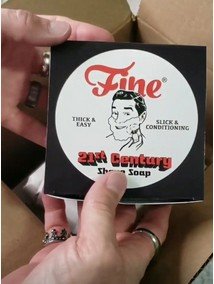 If you like unboxings, catch me opening up the Fine Accoutrements products in this Instagram Reel (click the picture).
Since the soap comes in it's own tub, you can obviously dip your brush in there and the party started, but for the purpose of this review I also wanted to work with Mr. Fine's lather bowl.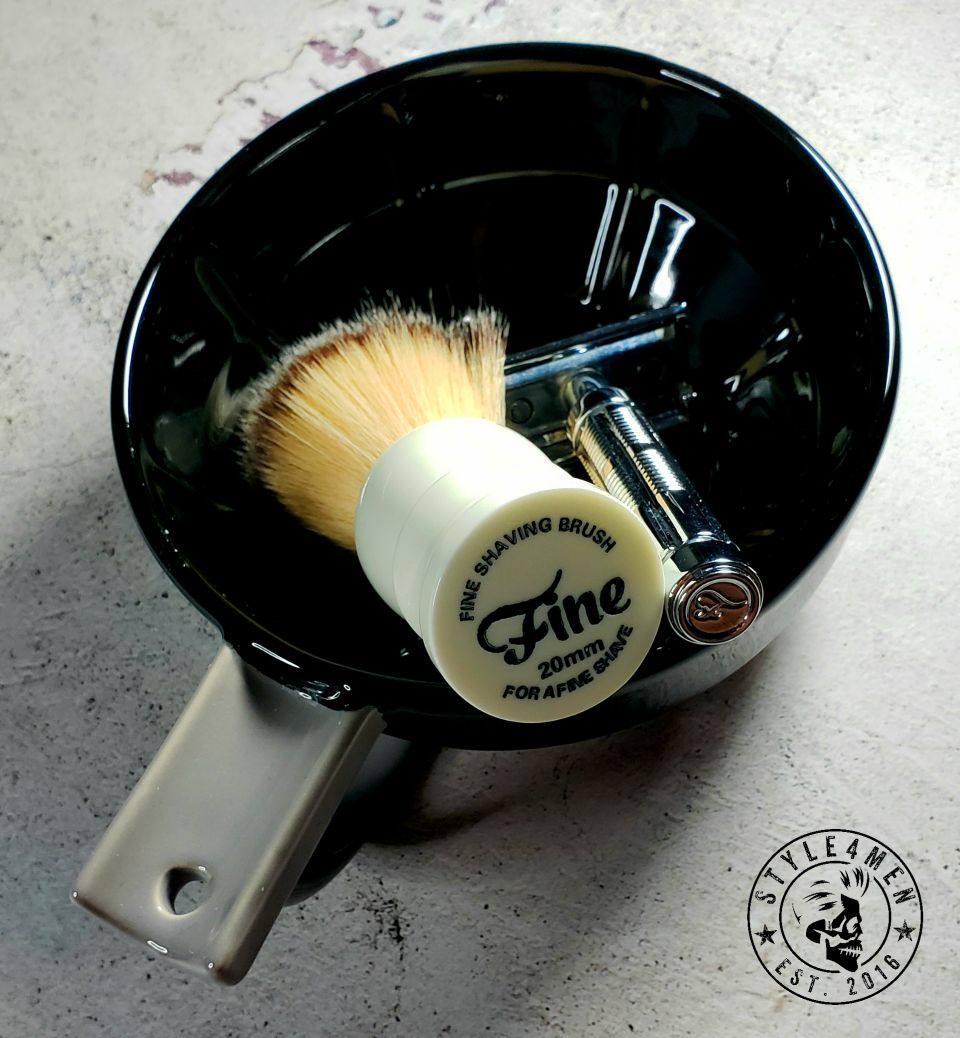 Up till now I had only used rather simple bowl designs with smooth bottoms.  The big differentiator here is that the inside of the bowl has raised grooves.  As you spin your brush with soap on this surface the lather builds up at an unprecedented speed and foams up like nothing I have experience before.  It is quite something to see.  I will say that I have never (until now) been able to create such a lather with a soap.  The bowl is a thick ceramic and is rather large at some 5 inches in diameter.  Let's just say, that this is now my go-to bowl!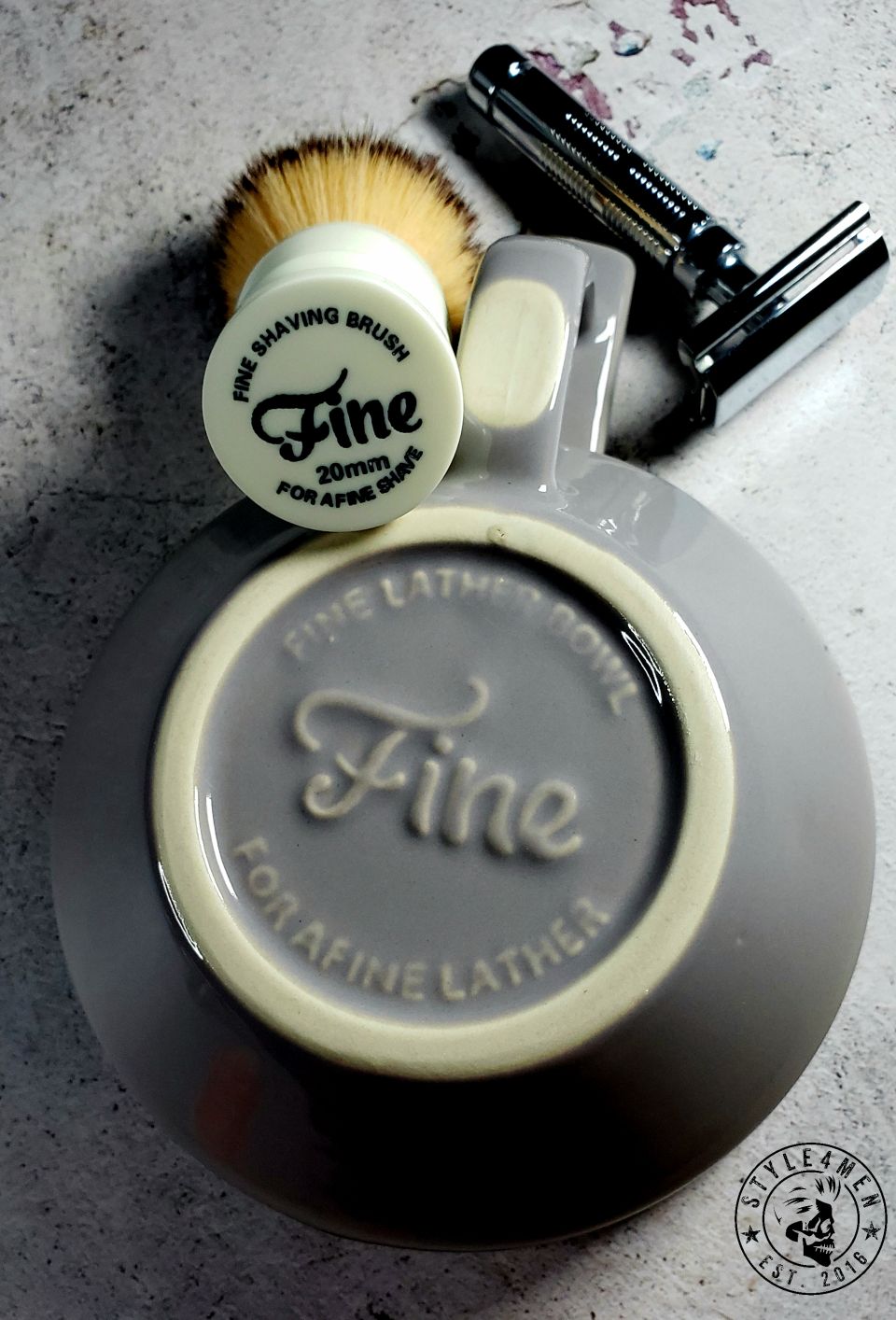 As for the feel on my mug, this soap offered insulation and comfort vastly superior to the norm.  It feels rich and luxurious almost like a whipped butter.  Perfect insulation preserving a great amount of moisture to keep the hairs soft and excellent lubrication for the blade to navigate the terrain without resistance.  I will go as far as to say, that this is my new reference point.
I had a perfect shave!
You can see a demo of how quickly the soap lather up in this bowl in my Instagram Reel (click the picture).
After wiping up the remaining soap with a wet towel it's onto the after shave.  As per the picture, the scent of both the soap and after shave is L'Orange Noir.  Which is per verbatim "The Black Orange" in French.
TEST STAGE:
Fine Accoutrements has done something beautiful here as the fragrance is manly, classic and elegant.  When splashing L'Orange Noir on I am transported to a simpler time. It's 1947 and the war is over. The notes are that of an aged or maybe even cooked orange, thus the dark orange.  This is followed by a clear and cool alcohol along with possibly menthol.  The cooling effect is real and is more pronounced than the typical sting of a splash.
As per Mr. Fine, L'Orange Noir is inspired by Terre d'Hermes (2006).  I do not own a bottle of this and thus cannot give you a side-by-side comparison, but as you get from my analogy above there is a classic vibe going on here.
Generally speaking an aftershave splash is rather short lived.  Something in the ball park of 30 – 60 minutes in my experience.  This has more staying power and remained identifiable for 2 hours.  I will also mention that Mrs. Style4men who is asthmatic was not inconvenienced which speaks to the simple composition.  There are no: artifical colours, emulsifiers, petroleum, silicones, gluten, phatlates or parabens.  Thank you for that!
Alcohol based aftershave tends to have a drying effect on my skin.  I don't know if it's because the soap is so rich or because of the absence of all those naughty chemicals in the splash, but my mug felt smooth and comfortable all day.   No dryness or itchiness.  And that fragrance, well it's just perfect.
Fine Accoutrements now offers L'Orange Noir in an Eau de Toilette (EdT) which is something I have been itching to get, but due to cross-border constraint with alcohol based products I haven't been able to order directly from Mr. Fine.
To sum things up; If we say that experiencing a good shave first thing in the morning will pave the way for the day to come, then this trio is the perfect day starter!