Fine Accoutrements – Shaving Soap Perfection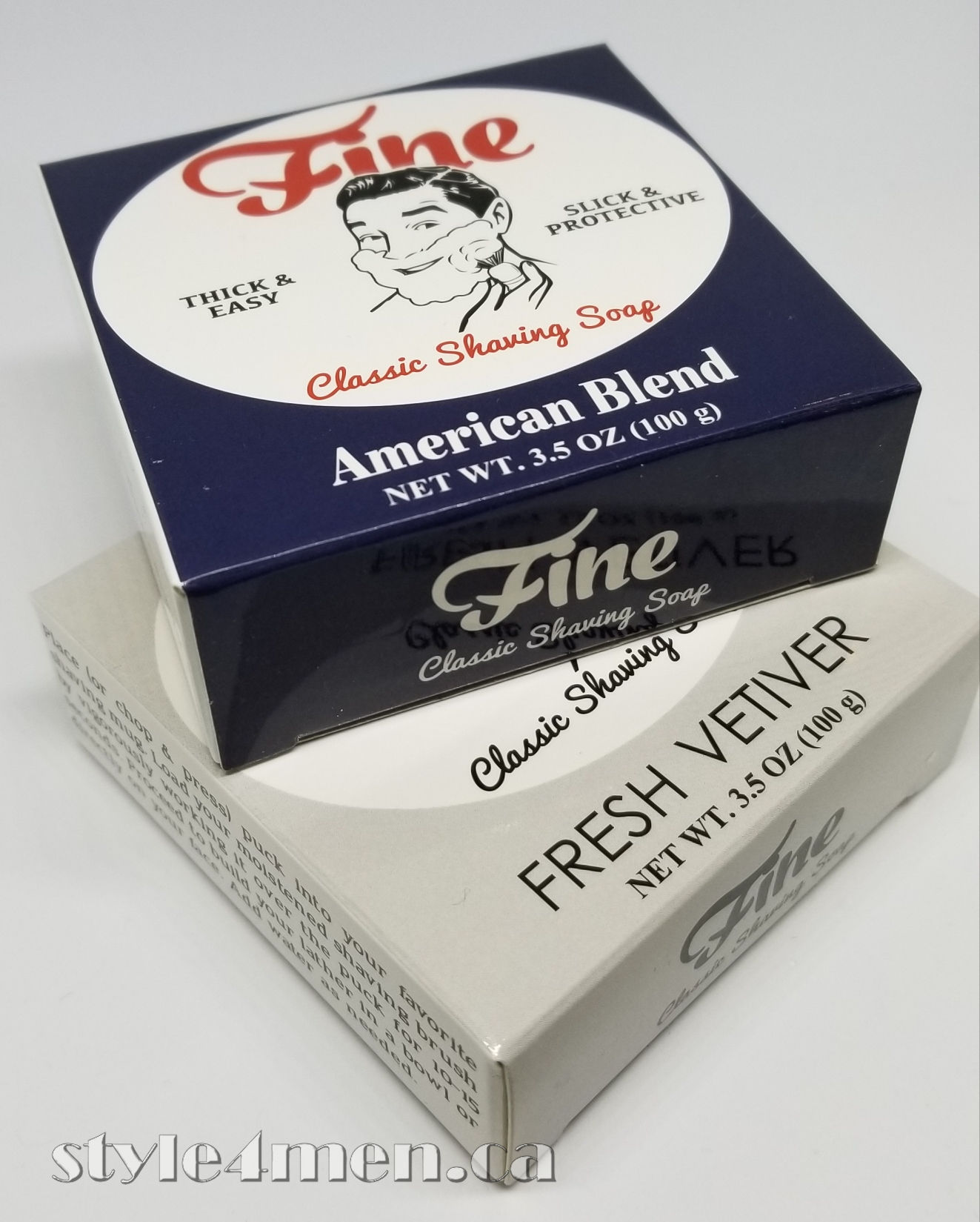 Overall Style4Men.ca score:
Today's review will be covering a brand I have been wanting to try for some time; Fine Accoutrements.  The packaging and presentation of this brand is so perfectly retro that I first assumed that it was an old brand that had passed the test of time, sort of like Clubman-Pinaud.  But as it turns out the brand appeared in 2005.  Being inspired by the revival of the Barbershop and traditional wet shaving, Todd Cerami AKA Mr. Fine decided to jump with both feet in and launch Fine Accoutrements.
As mentioned above, everything about the branding screams authentic retro-cool.  Looking vintage doesn't always equate to a successful or a quality product.  In the case of Fine Accoutrements, I believe that looking the part is perhaps a side-product to embracing the full wet shaving experience and the associated nostalgia.   The product offering covers everything you will need:  the shaving soaps, the shaving soap bowl, the shaving brush and the alcohol splash aftershaves.  Fine Accoutrements has gone full out and offers 9 fragrances.  Note that each fragrance comes with a full companion set: soap and aftershave.
The fragrance range is as follow:
American Blend
Fresh Vetiver
Green Vetiver
Italian Citrus
L'orange Noir
Lavender Pour Homme
Platinum
Santal Absolute
Snake Bite
An interesting aspect to the fragrance line up is an effort to live up to the way things use to be and the actual fragrances are scents that were popular back in the day.  Sadly, many of these scents were no longer available until the recent barbershop revival.  Mr. Fine sent me 2 soaps, the Fresh Vetiver and the American Blend, but I can totally see myself enjoying every one of the 9 fragrances as they are all equally appealing.  Italian Citrus and L'orange noir might even be more tempting to me.
A few months ago, Style4Men made contact with Mr. Fine is hopes of buying sample sizes of all of their soaps to review them in our pages. This resulted in Mr. Fine sending us an intro package consisting of: a soap puck of Fresh Vetiver and a puck of the American Blend, a soap bowl and a shave brush.  Thank you Mr. Fine, your support of Style4men.ca is most appreciated.  We hope that our humble review site will help spread the good word to other wet shavers.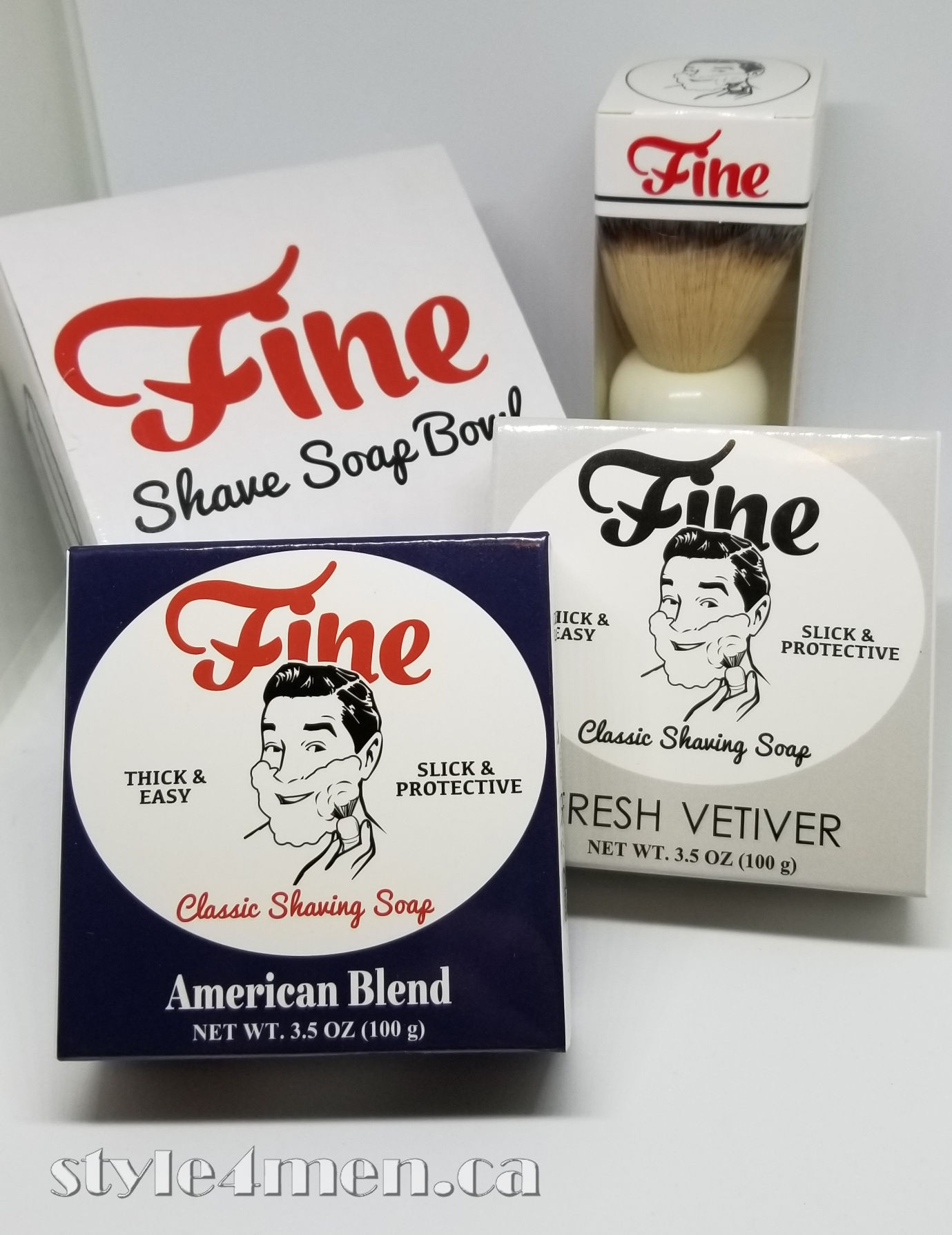 Perhaps we can make a little detour and mention the brand name; Fine Accoutrements.  "Accoutrement" is a French word identifying your clothing arrangement (style) or in military jargon, the soldier's extra gear.  In my mind "Fine Accoutrements" is a very fitting brand name for shaving supplies.
TEST STAGE 1:
TEST STAGE 2:
For the first encounter with the Fine Accoutrements shaving soaps, I opted for the Fresh Vetiver.  It has a nice fresh scent.  You will obviously smell the soap elements, but you will also recognize that vintage inspired fragrance.  To my nose it's green, earthy, fresh and uncomplicated.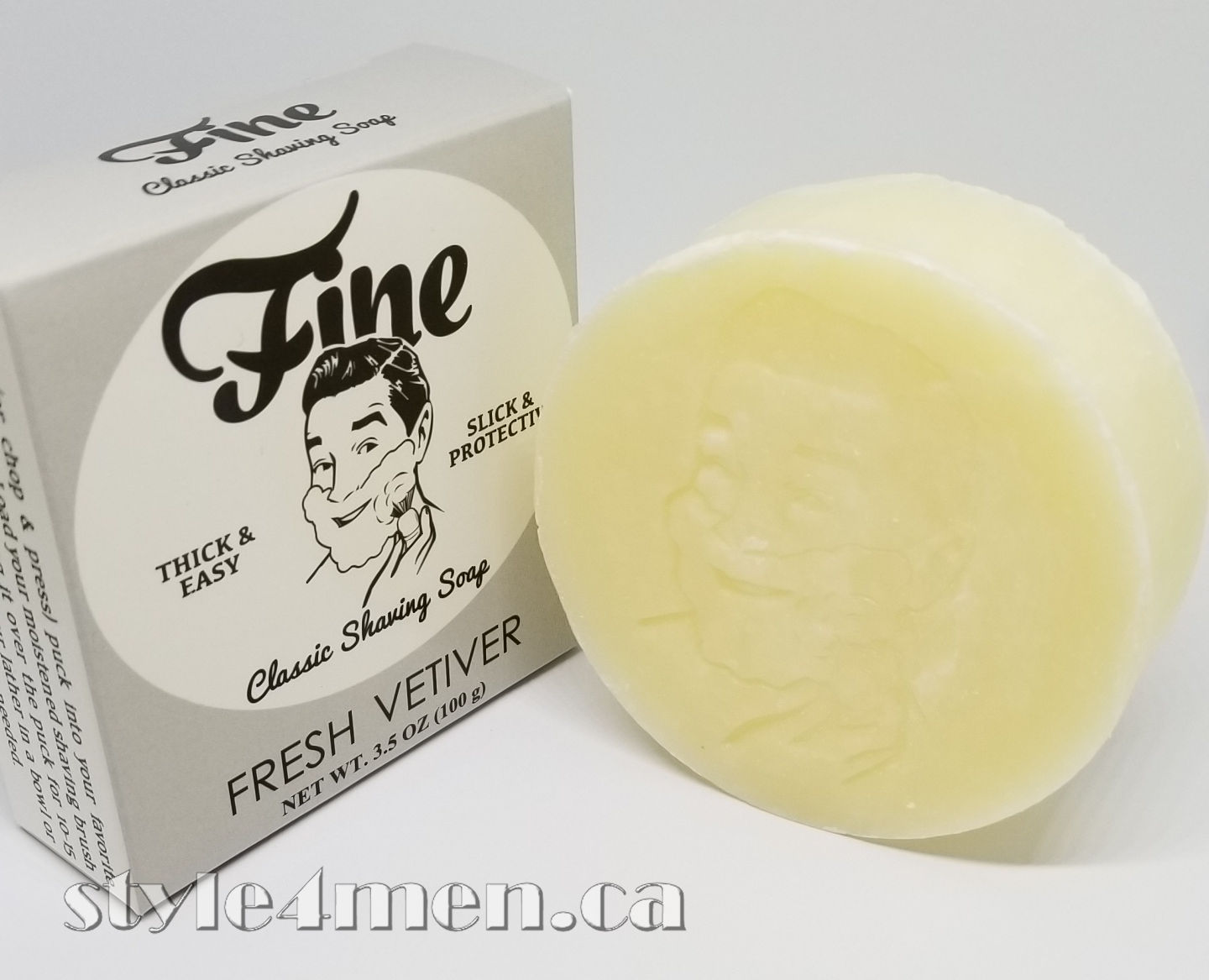 Manipulating the soap puck itself you will notice a slippery element to it.  Considerably more than a bath soap.  After all this is a saving soap and you most certainly want it to have good lube.  You will also notice that the Fine Accoutrements friendly shaving dude is stamped in the soap puck.  A nice touch!  Mr. Fine tough of everything and also sent me a lovely ceramic shaving soap bowl which perfectly fits the puck.  The bowl has no lid which allows for the puck to dry between usages.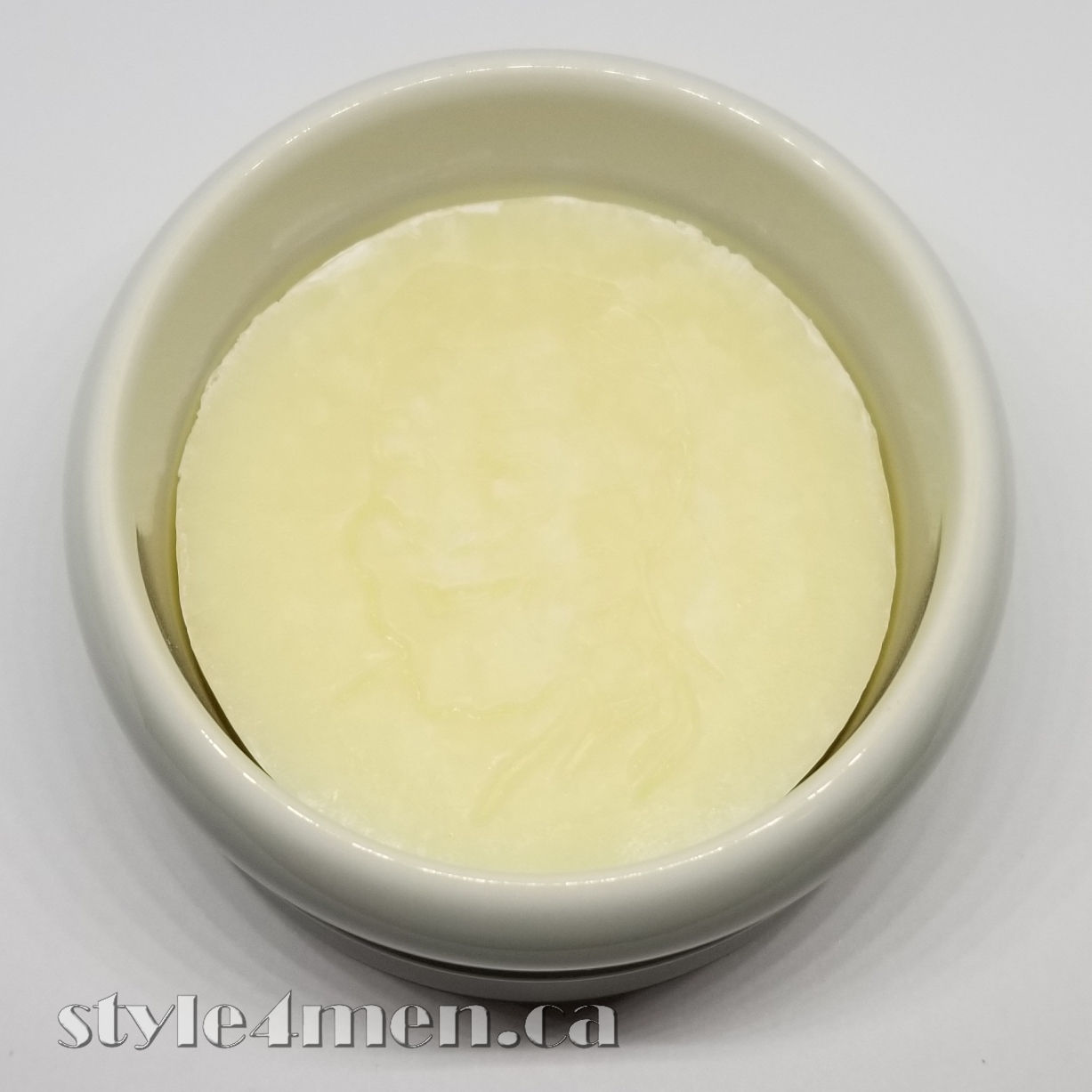 Mr. Fine also included a lovely brush in the package.  This brush impressed me by its softness.  It felt more like a cotton than badger hair.  The label refers to it as "Angel Hair" fibers.  I concur that it felt exceptionally smooth on the skin, but firm enough to work up an impressive lather when wet and brushed against the soap puck.  On the lather aspect, I will add that this is the first soap I have had the pleasure of working with that produced a lather comparable to a shave cream both in thickness and volume.  Once applied to my mug it went on very easily and covered better than any other soap.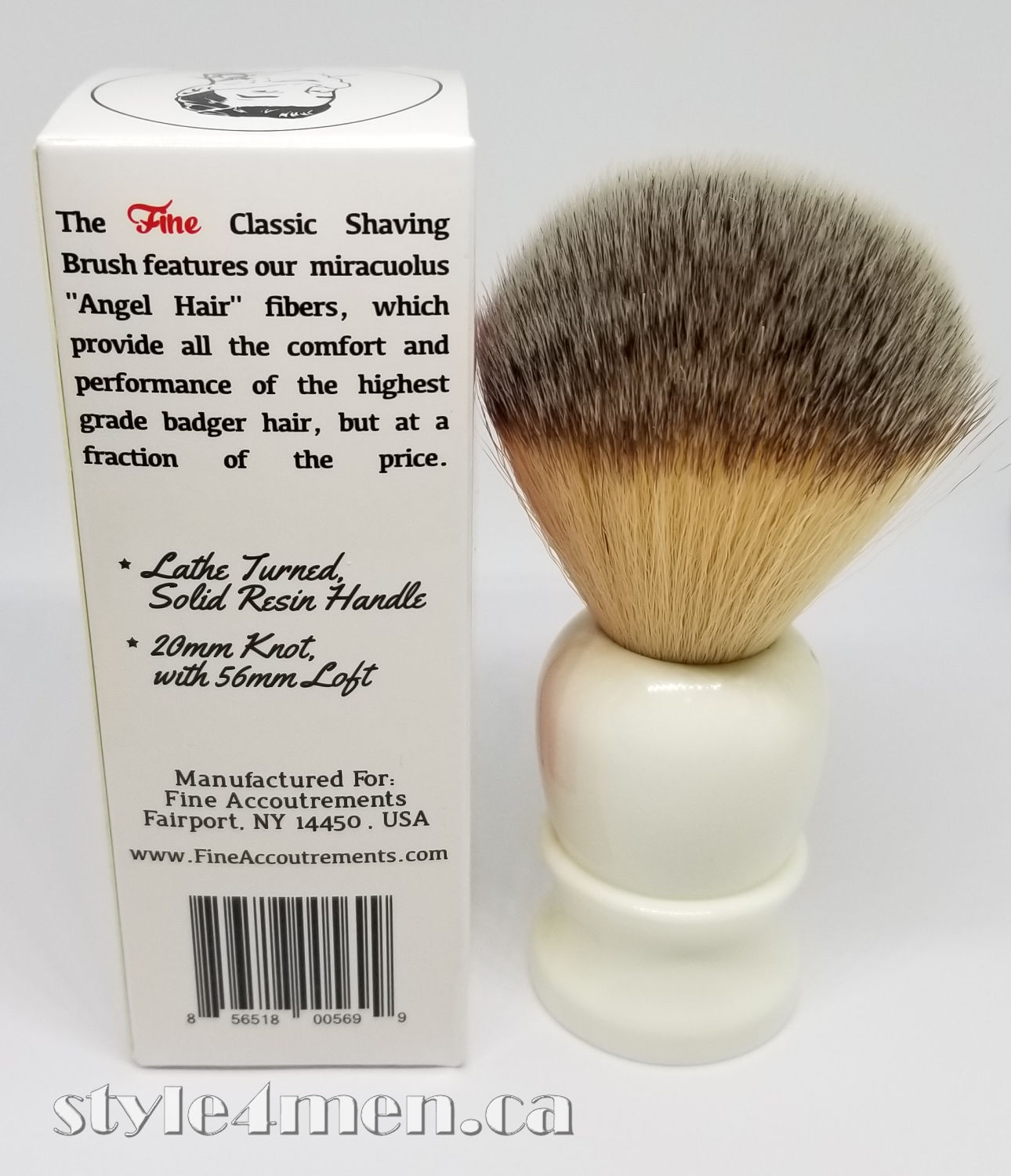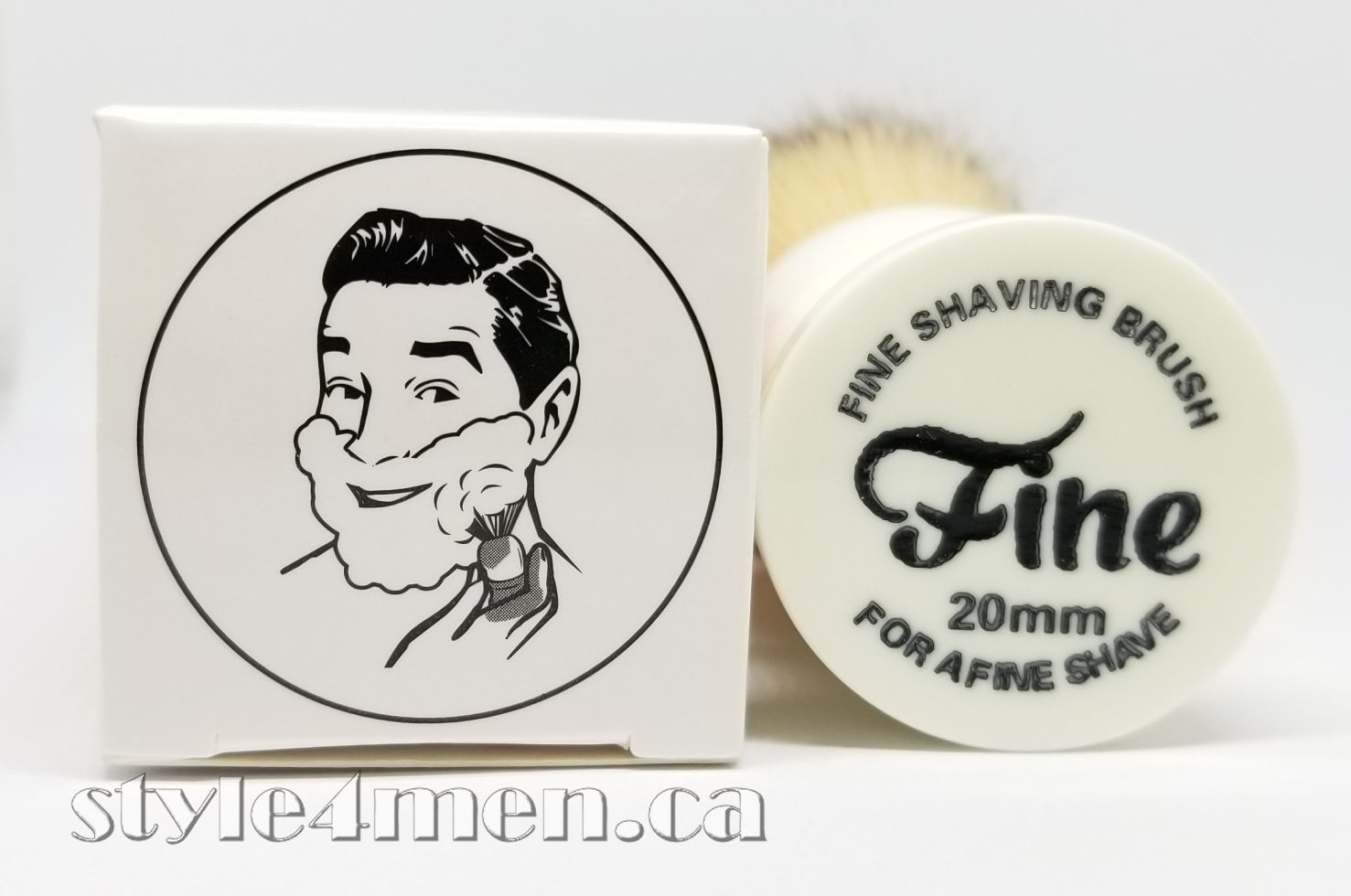 At this point, I started the shave.  I should indicate that instead of being a morning shave after a hot shower, it was an after-noon shave where my mug was prepped with a wet and hot towel application for 3 minutes.  It being the season's holiday, my routine is somewhat out of whack.  No matter what option you choose to cover your face with before shaving, you generally want 2 basic things: moisture containment or insulation and lubrication.  Since the soap made such a generous lather, the insulation requirement was met right away.  Some soaps need you to work at it to get good coverage and maintain the lather. Not with Fine Accoutrements. When making contact with the razor I was seriously impressed by the gliding power of this soap. It was almost like I had used a pre-shave oil.
The job at hand was 3-4 days worth of growth.  No trouble what-so-ever for this shaving soap.  I chose one of my best blades for the job, the Treet Carbon Steel which offers incredible strength and sharpness while being surprisingly forgiving.  Normally, I would use a thicker cream option than soap to protect myself from the blade, but the Fine Accoutrements soap turn out to be up for the task.  Soap has a bit less staying power than cream so I kept my brush handy and reapplied as need be when doing second passes here and there.
As with most shaving soaps, rinsing the razor between passes is the simplest of things.  A bit of warm water will do the trick to keep your blade clean.
Using a warmish wet towel to clean off the soap and close up the pores was a breeze.  Not having a Fine Accoutrements after-shave on hand, I turned to my Proraso sensitive (white) lotion.  Both products cohabitated very well and I was impressed with the shave.  I should explain that I did not have the after-shave on hand because it is alcohol based and such products have specific shipping restrictions.  In fact alcohol based products can not be purchased and delivered at the consumer level between countries.  It's a "No" between Canada and the US as well as between the UK and Canada.
A note on the ingredients, the list contains 19 items.  At a glance this is in line with most "soaps".  I am glad to report that there are no parabens. 🙂 Continuing on the other information printed on the packaging, I was somewhat surprised to see that this soap is manufactured in the Netherlands, but then again that goes hand in hand with our new world economy; working with anyone around the globe is now totally possible.
Coming back to the scent, it is strong enough for you to smell it will shaving but it will barely survive beyond that making it a nice and discreet option.
Being the wet shave enthusiast that I am, it doesn't take much to get me excited about products, but I want to convey to you that this product set was simply impressive.  First off the soap offers the best lather I have experienced in shaving soaps as well as a most impressive lubrication for the blade.  The Fine Accoutrements soap will now be my benchmark for comparing any other soaps going forward. The shaving brush brings a welcomed level of smoothness to the application process and the ceramic soap bowl is just well done and easy to hold on to.  Overall, the Fine Accoutrements shaving suite leaves me impressed and well shaved.
In the coming weeks, this post will be revisited to include the American Blend shaving soap.
You can purchase Fine Accoutrements shaving supplies using the below links: