Hairgum Barber Shop – Shaving Soap and After Shave Smoothness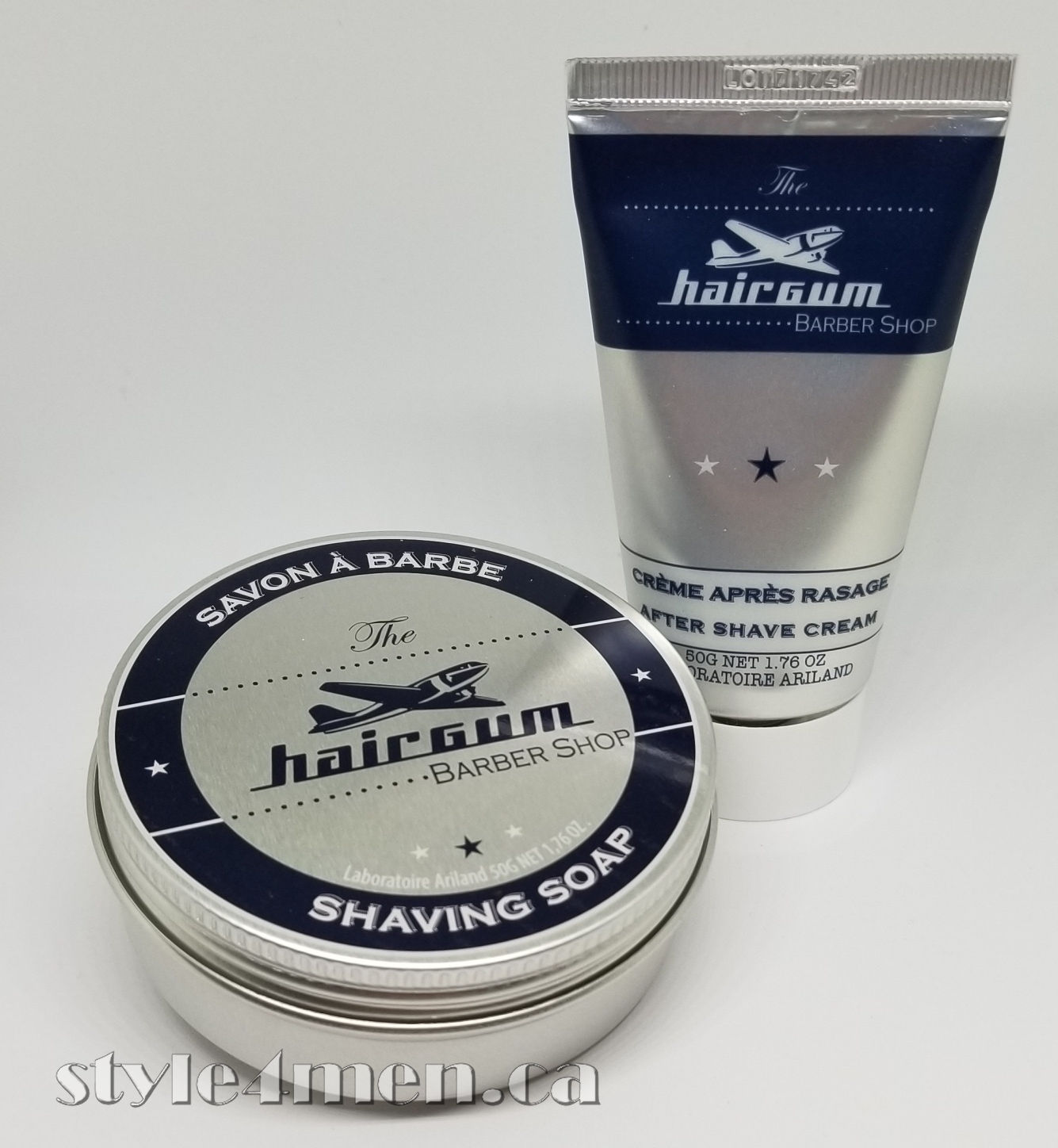 Overall Style4Men.ca score:
If you are a regular at Style4men.ca you might agree that when I try out a new product that performs well, it is reported as the best thing ever.  Yes, I will admit to being enthusiastic about the stuff.  This brings us to this morning's first shave test with the Hairgum shave soap and after shave lotion.

I generally like shaving soap as they are a practical, economical and very long lasting shaving option.  But shaving soaps have their limitations.  Specifically, they typically don't offer as much protection or as much lubrication as a shaving cream might.  They also tend to dry the skin out.  This has pretty much been my opinion on soaps until recently when I tried the superb shaving soap from Fine Accoutrements.  The shaving soap from Hairgum takes things a notch higher!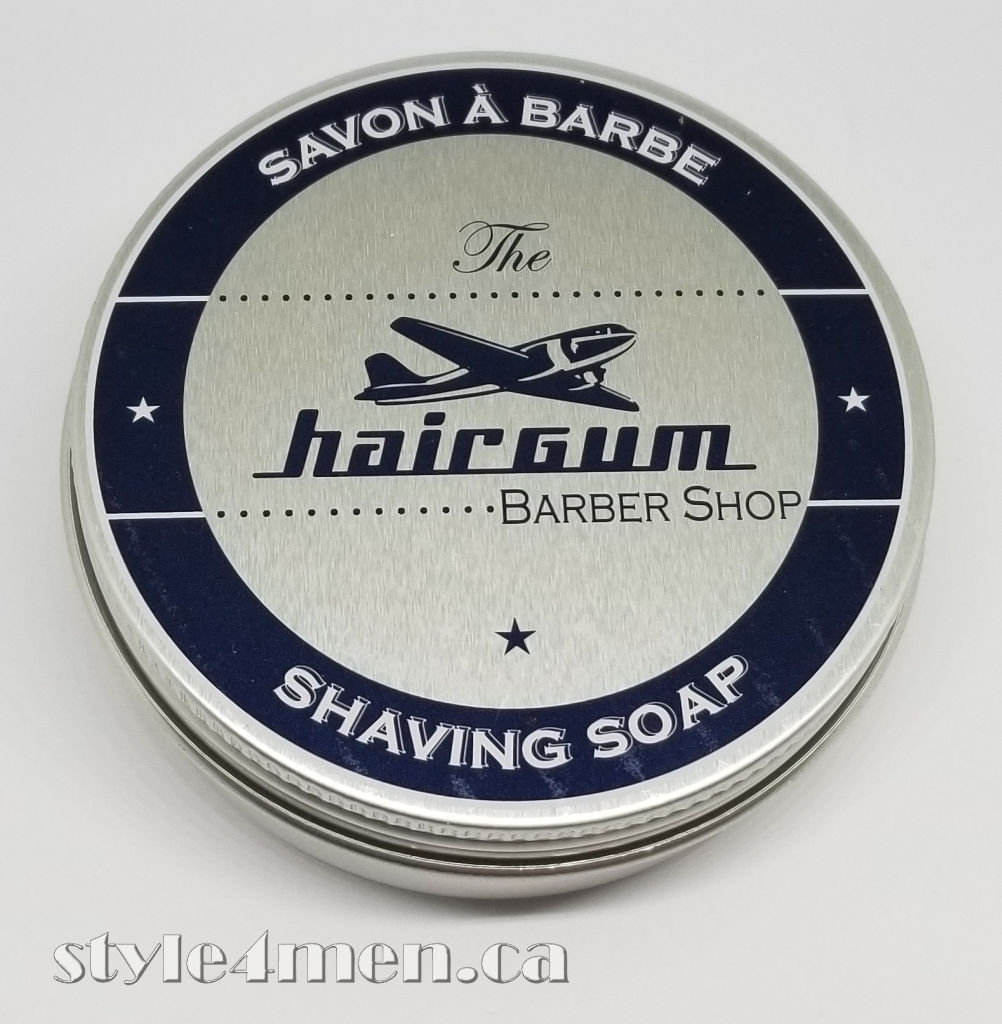 Not all shave soaps come in their own canister.  As an aspect of practicality, I like that the soap is self contained. I don't have to get a special bowl and I don't have to worry about things dripping.  It's just easy! Further to that, the can itself is just slick!  I love the retro-vintage approach that Hairgum has taken.  It's chic and stylish.  At 50 g it is on the smaller side of most pucks, but I still expect to get a number of months worth of shaving out of it.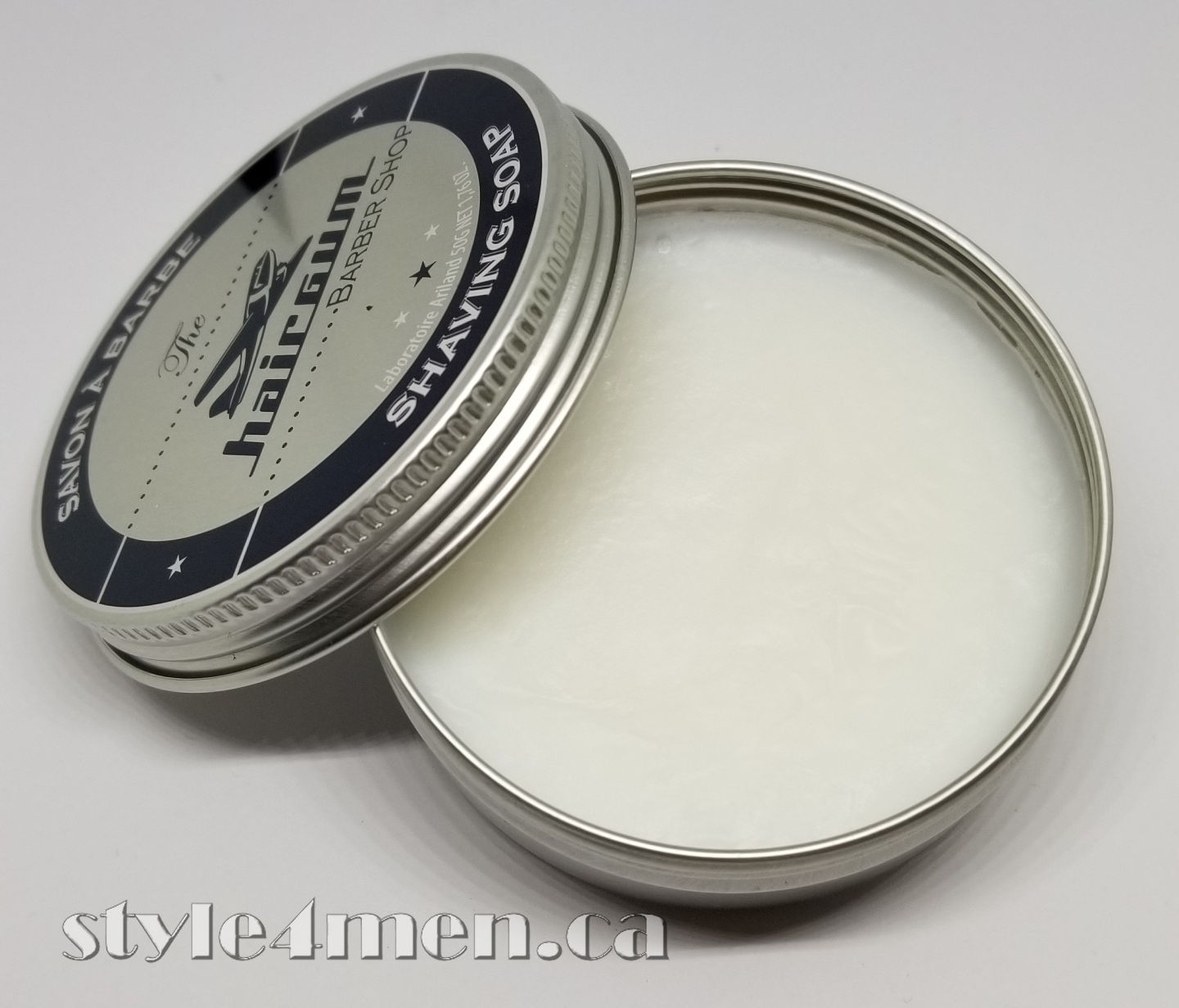 I used the very soft shave brush from Fine Accoutrements to lather up this soap and apply.  With hot water and a bit of rotation a lovely thick lather was produced in no time.  The soap sticks well to the skin and offers a coverage I was not expecting.  Shaving soap often just cover your skin with a more or less thin and see-through layer.  This stuff covers for real and remains white.  The lather being thick made my skin feel covered, protected and insulated.  By that I mean that the moisture felt well trapped.  I find that soap is usually too thin to do a comparable job to a shave cream for example.  This soap works like a cream!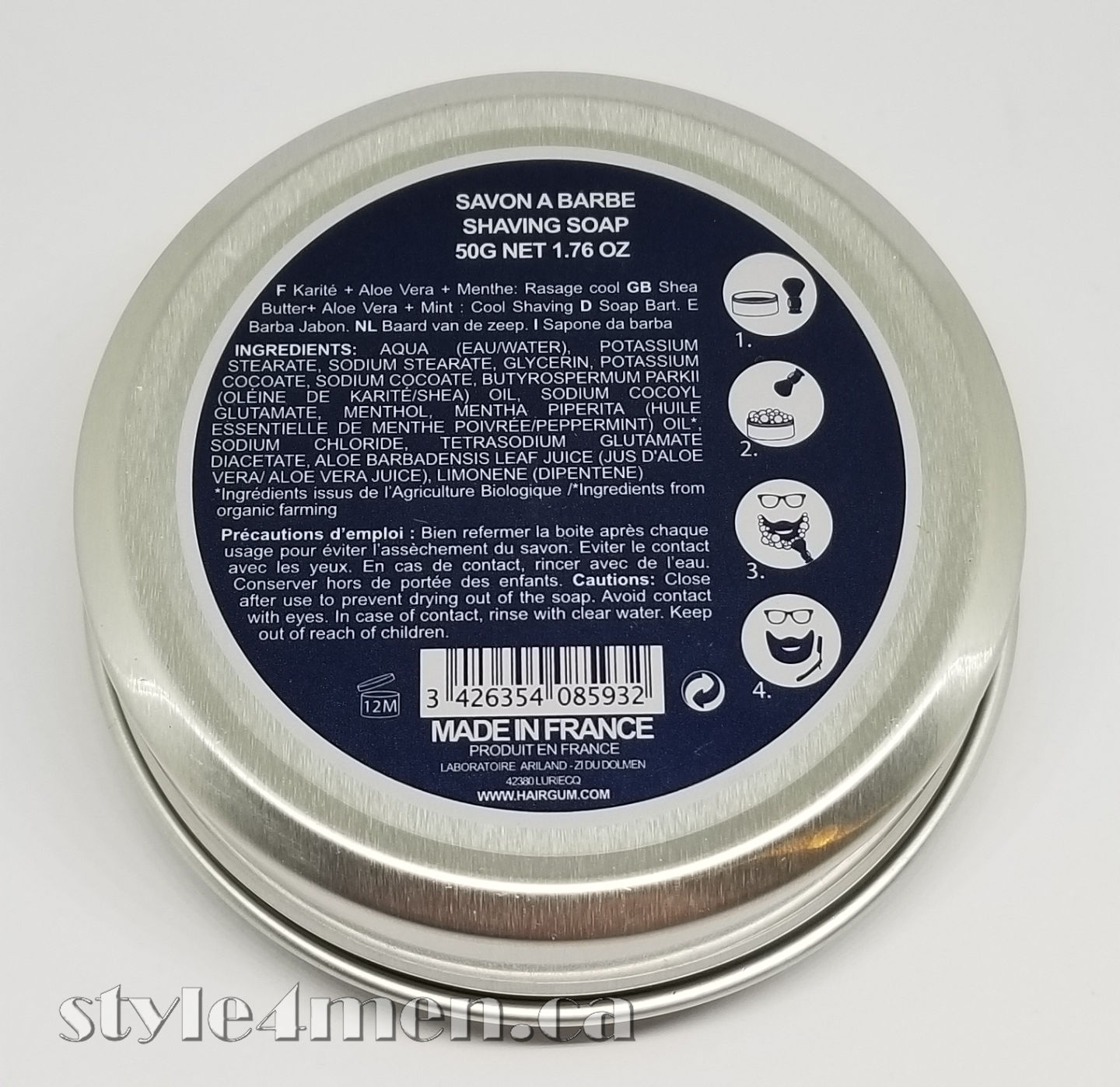 TEST STAGE:
State: Out of the shower
Razor: Merkur 180
Blade: Treet Carbon
Pre-Shave: None
Shaving Soap: Hairgum Barbershop Edition Shaving Soap
After-Shave: Hairgum Barbershop Edition After-shave
Onto the shave!  I opted for one of my trusted black Treet carbon blades.   The job to take care of was 3 days worth of growth.  The soap offered splendid protection and lubrication and the blade moved smoothly and comfortably across my mug.  It was so smooth that I barely had to do any second passes.  As with all soaps, very little is left behind for second passes.  Having kept my brush close by I simply touched up my jaw line which generally needs a second pass.  Again, a perfectly smooth experience.  No cuts or nicks.  A delight to use. As mentioned above, soaps tend to have a drying property to them and your skin might feel thigh after the shave.  This was true for the Hairgum shaving soap as well.
I should expand on an unexpected outcome of using two different shaving brushes.  On the first shave I used my Fine Accoutrements brush which is very soft and synthetic.  On the second shave I used my trusted Omega badger brush. The badger brush produced considerably less lather than it's synthetic counter-part.  this brush is messier to work with as it takes in more water initially which than gradually falls out, but this is a small inconvenience in comparison  to the nicer lather and better resulting shave.  Now don't read this as the badger brush led to a bad shave – no way.  This soap is fabulous no matter how you get in on your mug.  It was just an even better experience when using the Fine Accoutrements brush.
Before getting into the after-shave I might add a note on the fresh-hair-raising-tingling sensation provided by the soap.  It felt very much like eucalyptus or a similar ingredient that are often used in pre-shave solution to prep the hair and skin.  This added touch definitely made it feel like a complete solution.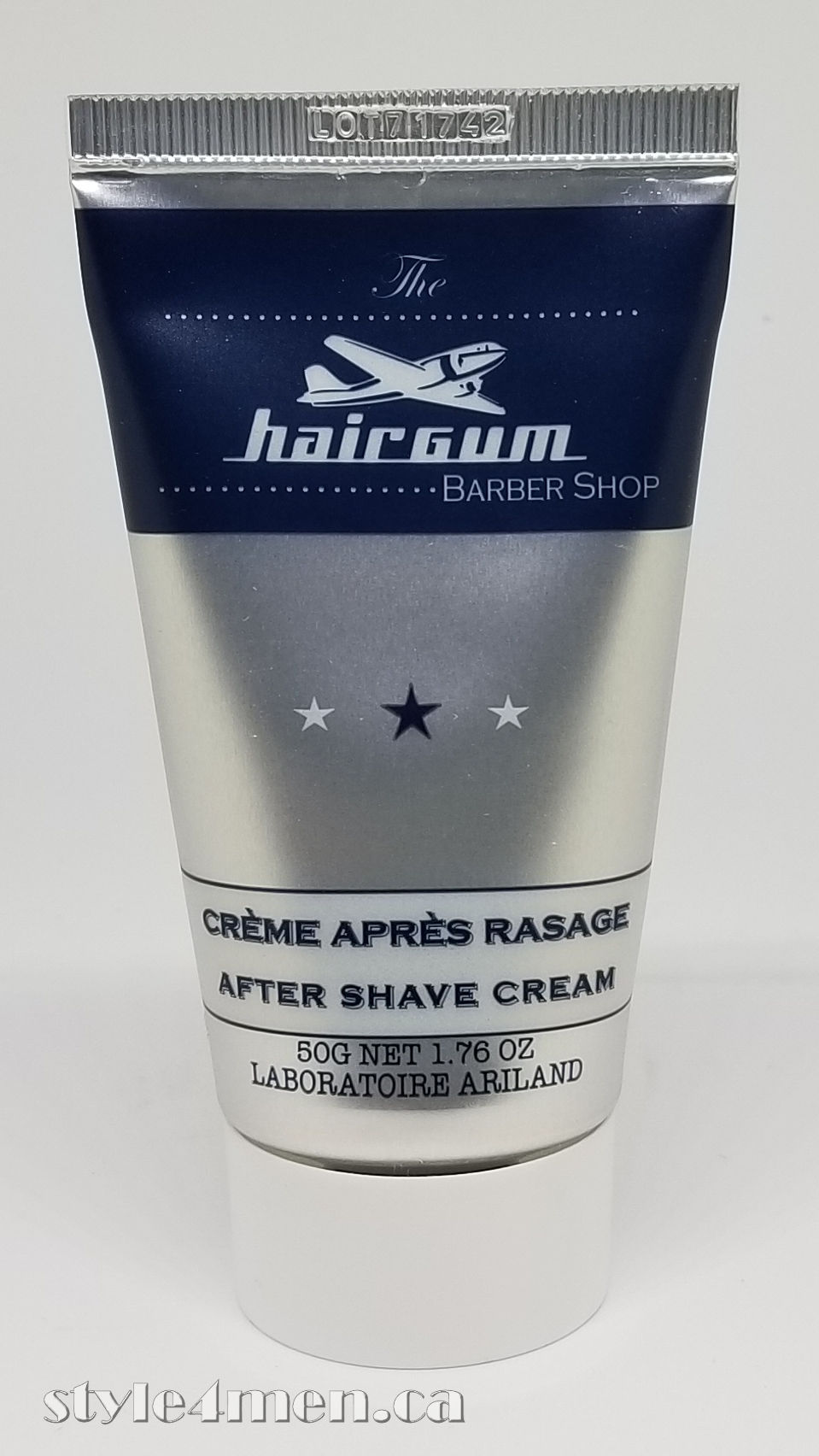 This brings us to the Hairgum after shave.  Oh my!  What a fabulous product.  At first I was a little disappointed by the tube being so small and was thinking it was a sample size.  It is only when dispensing some cream out that I realized what a treat I was in for.  The cream is delicate and refined while still having a good consistency. My portion was a little bit less than the size of a Canadian dime and that was the perfect amount to cover my cheeks and neck.  This is when the magic moment happened.  The cream is so gentle that it felt like being caressed by the feathers of a Vegas burlesque showgirl.  No honey, I am not in Vegas!  This is just a colorful comparison to keep my reader interested.  And then the fragrance of this after shave comes to delicately tickle your nose with it's subtle vanilla and…pepper (I think) aroma.  Like most people, I associate positive memories to the smell of vanilla. The pepper or spice component comes in and makes it a more complex, original and manly fragrance.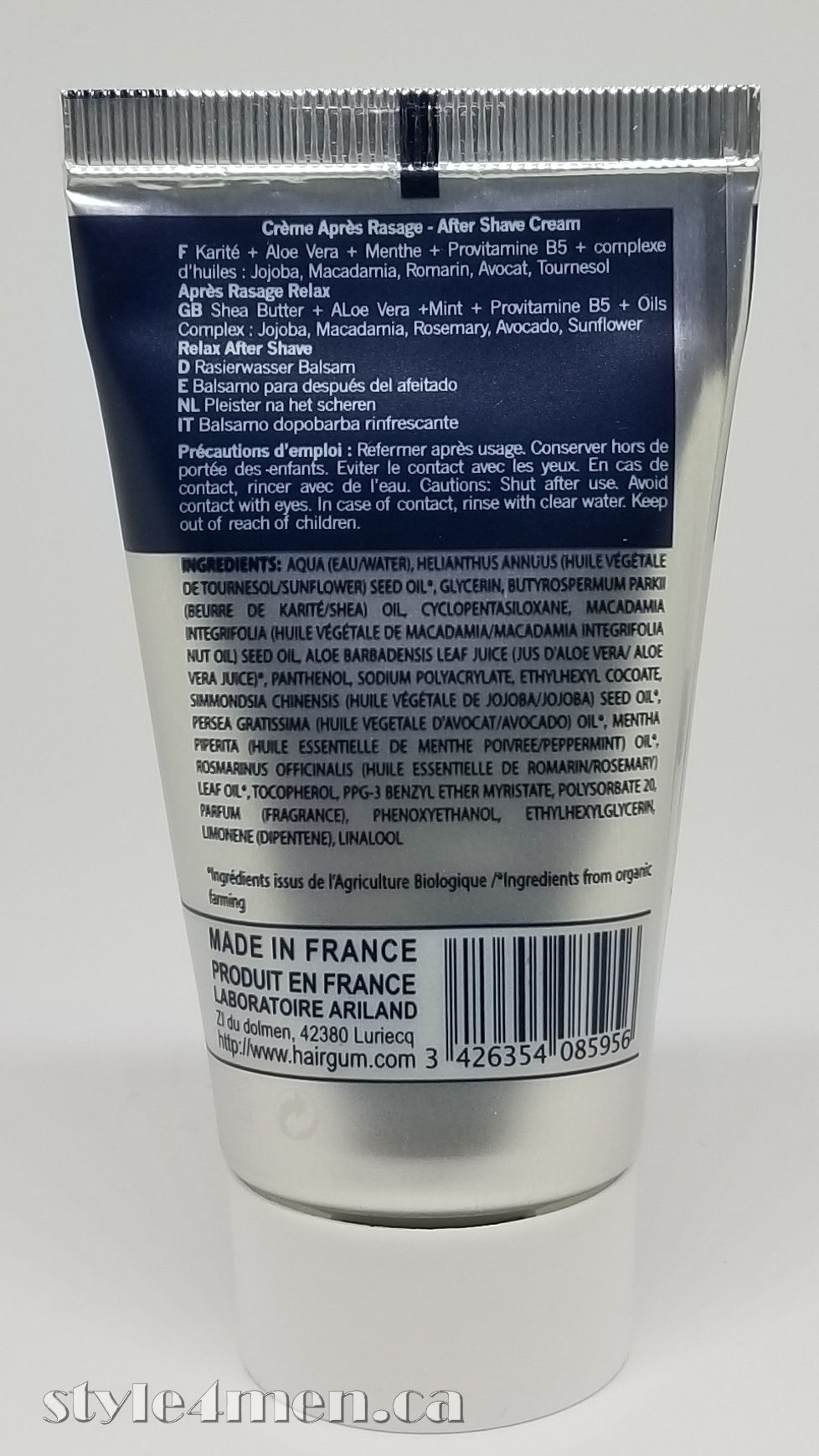 Some 4-5 hours after shaving my skin still feels great.  No reaction, redness or irritation.
Having explored some old-school alcohol based aftershaves lately, the Hairgum cream was a delightful treat.  Anybody can make an after shave and many people can make a decent smelling aftershave, but only a handful of people can create something that is all things: refreshing and soothing to the skin while also smelling "known" and new.
We often think that the biggest player is the shaving soap or the shaving cream and maybe diminish the importance of the aftershave.  That finishing product has the big job of restoring your skin after the very shocking experience that shaving is.  The superior quality of Hairgum's shaving soap rendered a perfect shave, but you are nevertheless still scrapping a blade across your face and some repairing agents are needed.  Otherwise you will feel uncomfortable,  itchy and dry for a good part of the day.
Often enough when companies produce a suite of companion products, the products are not of the same caliber and you end up liking one over the other.  With the Hairgum suite, I wouldn't be able to pick one.  They are both to be placed on that 'top" shelf.  In so many words, I am very impressed.  This was one of my most pleasant shaves.  if I were opening my Barbershop or restocking my product inventory, I would become a Hairgum shop.  It's just that good!
I need to indicate that these products are unfortunately not readily available in your local pharmacy.  It's gonna be an on-line purchase.  I bought directly from Hairgum and although shipping from France to Canada is very fast, it was some 17 Euros.  The shipping was actually more expensive than the products as they were on sale.  Even with that being the case, if I were opening my Barbershop or restocking my product inventory, I would become a Hairgum shop.  It's just that good!
Use these links to shop for these products: