Hard Butter Pre-Shave and Post-Shave Salves
This post is a follow up to the initial post on the Hard Butter post shave salve I tried a few weeks back.  The makers of the Hard Butter product line liked our review and were kind enough to drop off a full suite of their 5 products for Testing/Review.  A big thank you for supporting Style4Men and trusting us to try out and comment on your products.
Hard Butter is a Canadian brand name made locally here in Ottawa by a Barber.   In the coming weeks I am hoping to have a chat with the Hard Butter Mastermind.  This conversation would then be posted for the Style4Men readers.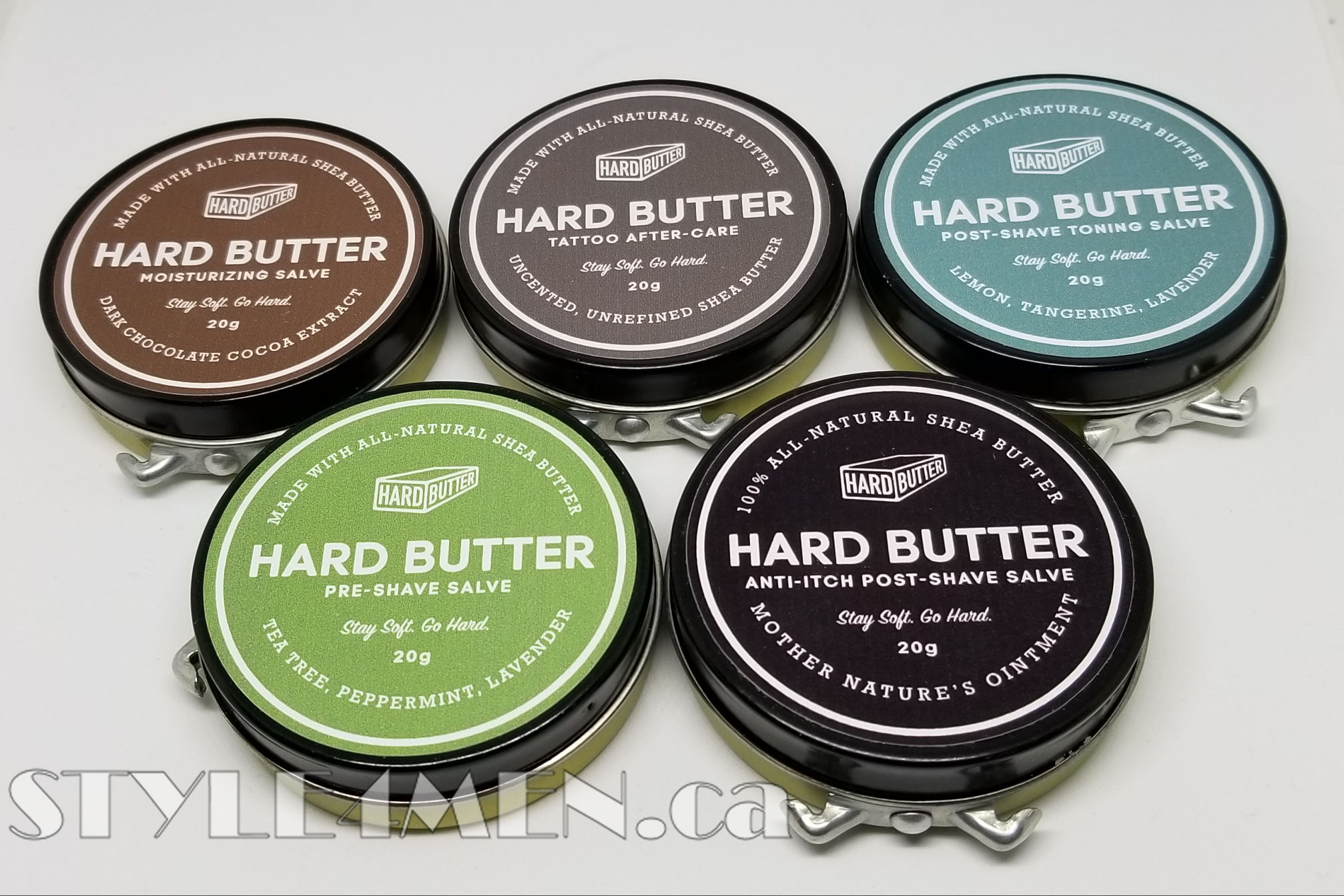 Yes, you read correctly, Hard Butter produces "5" products.  I originally understood that only 2 products were available: the pre-shave and the post-shave, but here is the full line up:
Pre-Shave Salve
Post-Shave Toning Salve
Anti-Itch Post-Shave Salve
Moisturizing Salve
Tattoo After-Care
All of these products are available in the same retro-cool 20 g thin can.  The label colours are the only differentiating feature.  As mentioned in the previous post, I am a fun of the metal can and the overall vintage presentation.  Very well done!  The artisanal-natural approach using shea butter to craft shaving products is also
As you can see, Hard Butter also covers the Tattoo space.  Not having any body art myself, I gave out some samples to 2 of my tattooed friends asking them for their feedback on this product. Both said they liked it and used up all of the sample quantity.  Since they aren't verbose, the fact that they used up all of the product is the feedback. 🙂
So now for the actual testing of these products.  I was mostly interested in trying out the pre-shave salve on my own, since it had rendered such a good shave during my visit at the House of Barons.  My excitement to try this product was slowed down by a question; which shaving cream to use with it?  I needed something that would obviously work well with the Hard Butter and not take over.  I was also concerned by not using  a shave cream that does it all, since it would be very hard to isolate the hard butter performance.  Looking at my options, I decided to go with the Proraso white foam, the sensitive skin one as it offers top performance in a most discreet manner.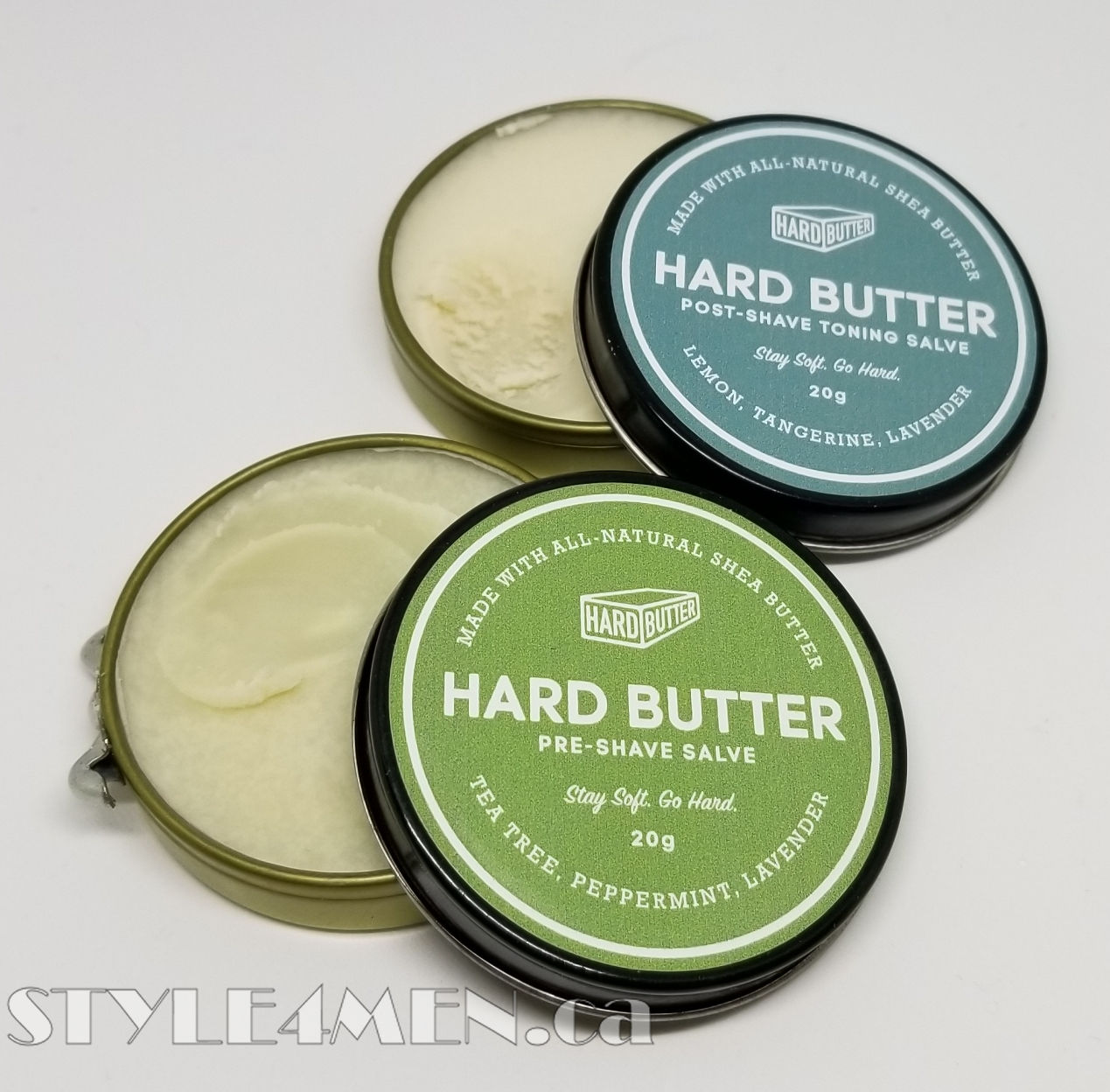 These two products have a touch of fragrance, but it is extremely discreet.  When putting my nose into the can, I can distinguish the pleasant aromas listed on the labels.
Pre-Shave Salve: Tea Tree, Peppermint, Lavender
Post-Shave Toning Salve: Lemon, Tangerine, Lavender
The pre-shave salve is hard on contact and you must scoop it out and then relax it in your fingers.  The purpose of a pre-shave is to prepare the skin and the beard.  Usually that correlates to lubing the skin an extra notch as well as to soften the beard hair. Application went well and I had a nice thin layer of the salve on my mug.  I then applied the shaving foam to insulate the moisture.  The foam stuck well to my mug.  This is important to note as I have used some pre-shave that had such lubrication that the foam barely held on.  If you have not previously loaded your razor with a fresh blade, be careful as your digits will be slippery. Onto the shave!
TEST STAGE:
State: Out of the shower
Razor: Merkur 180
Blade: Treet
Pre-Shave: Hard-Butter Pre-Shave Salve
Shaving Cream: Proraso White Foam – Sensitive skin
After-Shave:  Hard Butter Post-Shave Salve
The beard to trim was 2 days old and I was impressed to feel that the blade was gliding through with ease and comfort.  In fact, each pass was so efficient that very few second passes were done. The pre-shave and foam were no trouble at all to rinse out of the razor between passes.  The razor stayed nice and clean.
Rinsing my mug with a warm wet wash cloth was also trouble-free.  I have previously found that using a pre-shave oil tends to be a little messy and it often leaves your skin feeling oily.  The Hard Butter Pre-Shave  has oil-like qualities without being an oil making it generally easier to work with.  Easier to portion, easier to apply and easier to wash off.
The shave is done .  My skin is not irritated or red and I am pretty happy with the results.  Time to apply some post-shave salve.  Having already tried the Anti-Itch Post-Shave Salve, I went for the Post-Shave Toning Salve.  Up front, there is not a big delta between these two post-shave salves, but I preferred the Toning Salve.  It felt perhaps a bit smoother.  Read that as: a bit less oil content.  My mug drank it up better.  It could also just be that since the product was a tad softer, I portioned my quantities better.
I should mentioned that during the shave I made a little nick in a problem area on the neck.  The post-shave salve did a good job of appeasing any discomfort and stopping the bleeding.  This post-shave also felt lighter and my mug drank up all of by lunch time.
For my mug, these are winner products.
You can shop for Hard Butter products directly on their site as well as in the House of Barons barber shops on Preston and Sussex Street in Ottawa, Ontario.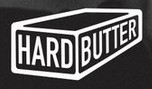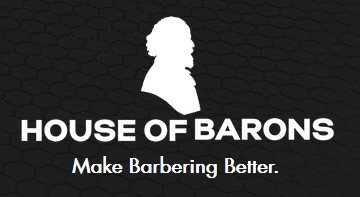 Addendum
October 12, 2017: While visiting my friends at OBSCO today, I noticed that they now carry the Hard Butter brand.  If I understood things correctly, the products are being sold for $7 a piece.  A nice deal!