Jack & Joel Shaving Soap – A local and natural option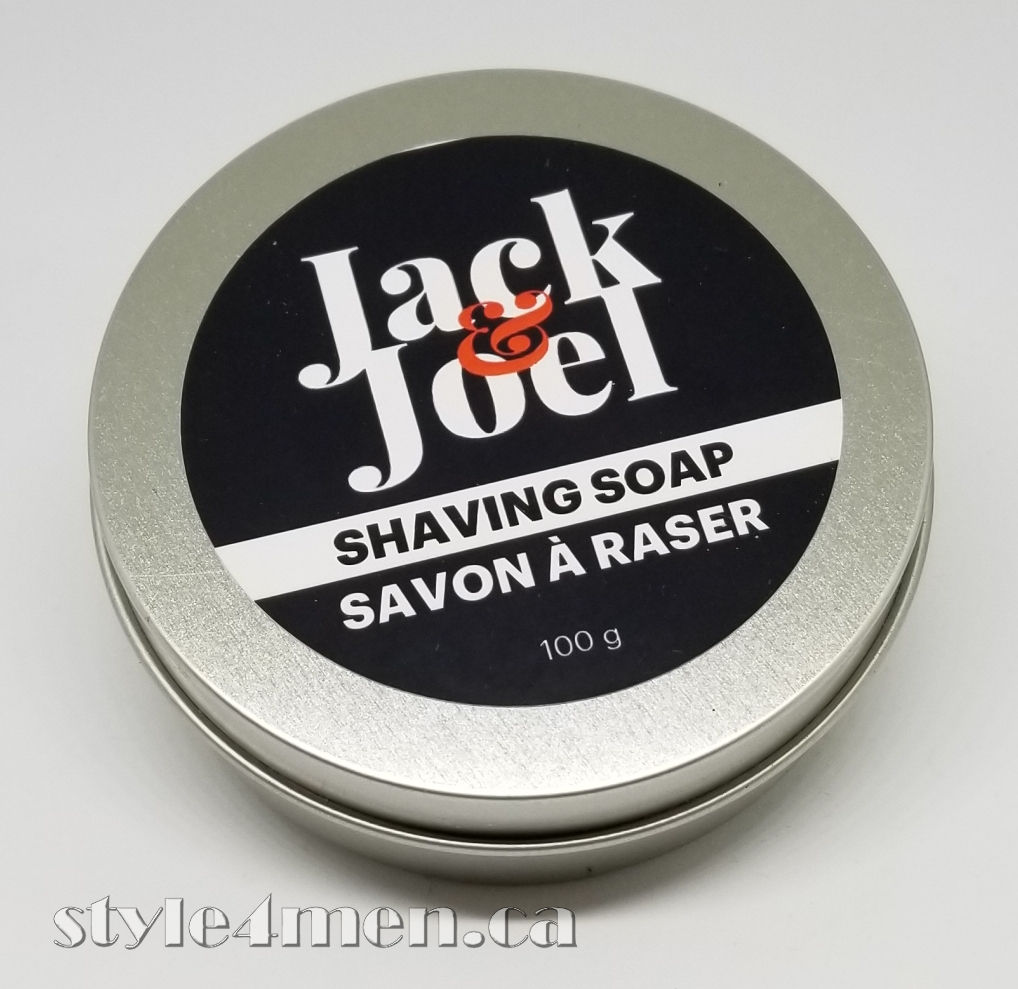 I was recently visiting the shop "Le Local" on Eddy street in Gatineau for some of the "Henri et Victoria" products and Geneviève informed me that other "natural" men's products would be coming in soon.  When I dropped in yesterday, the Jack & Joel product line had been added to their men's grooming section.  I picked up a jar of the Jack & Joel shaving soap for $12.
I am going with the understanding that this is a natural product, but based on the jar itself am not in a position to confirm as the packing has no ingredient labeling.  I thus turned to their web site.  As per the Jack & Joel web site:
All of our soap is made from the same base of saponified lard, olive oil, coconut oil, castor oil, plus just the right amount of premium essential oils to make it smell great.  
Other organic materials include: dried sage from my garden, ground orange peels, burdock root that we gather from the Gatineau Hills, activated charcoal, kelp powder from Nova Scotia, cocoa powder, lemongrass powder, french green clay, green tea, bentonite clay, and collodial oatmeal.
The main reasons I wanted to try this soap is because it is produced locally here the National Capital region and it's a natural option.  For those of you who are regular visitors at Style4men, you know that we have a preference for the old-school / artisanal way of doing things and this brand fits that bill.
This morning was the first shave with this product.
TEST STAGE: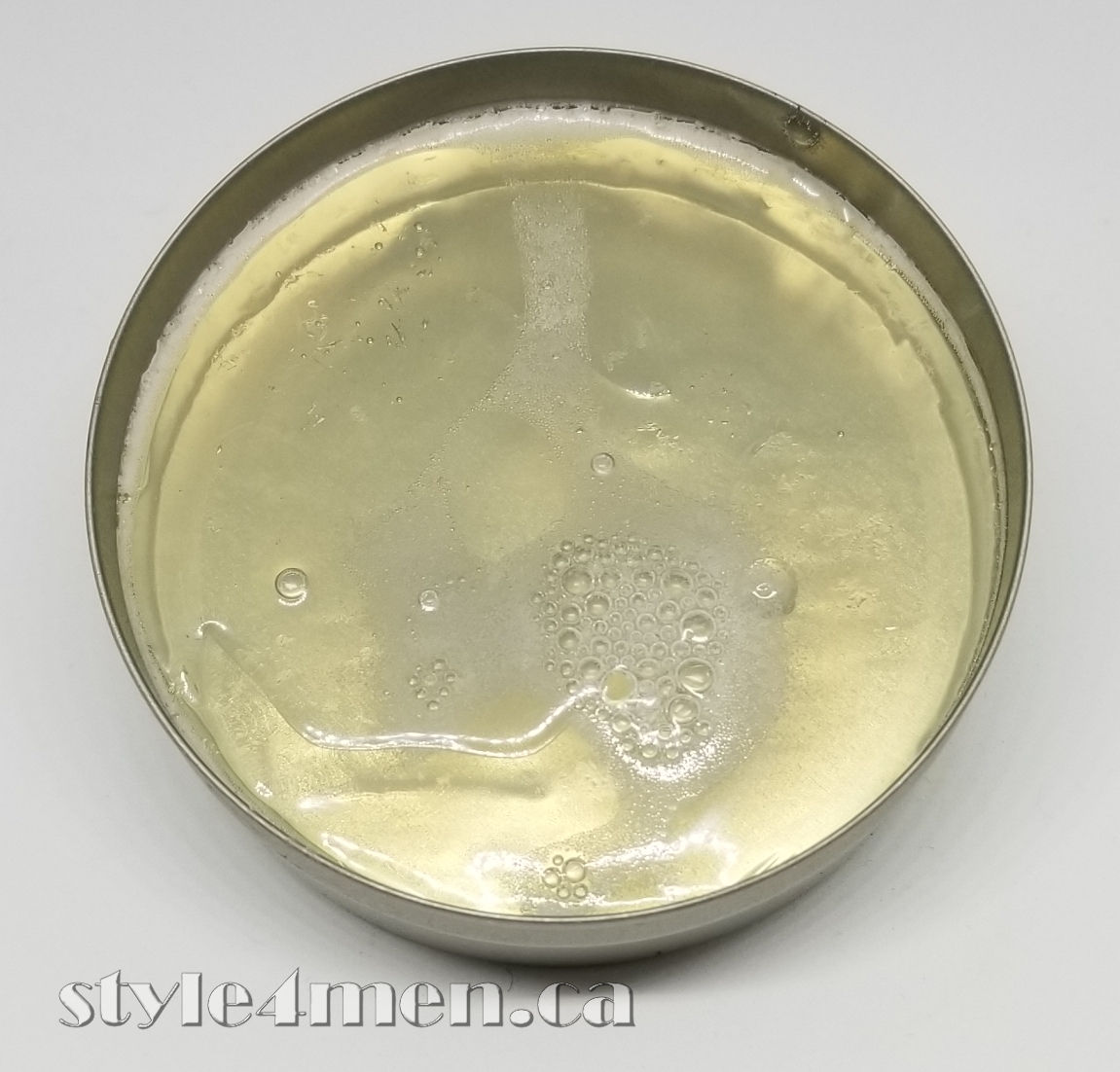 As you can see in the pictures, the soap is clear.   I ran my badger brush under hot water and proceeded to build up a lather in the jar.  The brush filled up nicely and I went onto the application.  It went on well and did not drip. The coverage was good.  Fragrance wise, it is extremely mild, so I am tempted to  say that this is an unscented soap but there is a little hint of something like evergreen to my nose.  Perfectly nice.
About the jar itself.  It's simple in an elegant way.  The labeling is to the point. At 100 g you will have enough soap for many-many months. The can is aluminum and will thus be recyclable.  Note that the lid is not screwed on but just pop-on.
Onto the shave.  Soap is a little different than cream and it is important to add a bit of water to the mix or to keep your brush handy and touch up for any second passes.  In so many words, soap dries fast on the face.  Soap also tends to dry the skin so if you are usually working with a thick cream, you will notice a slight difference.  As far as soaps go, this was a very nice option.  It rinsed out of the razor very well  between passes.  It was also easy to wash off my face once the shave was done.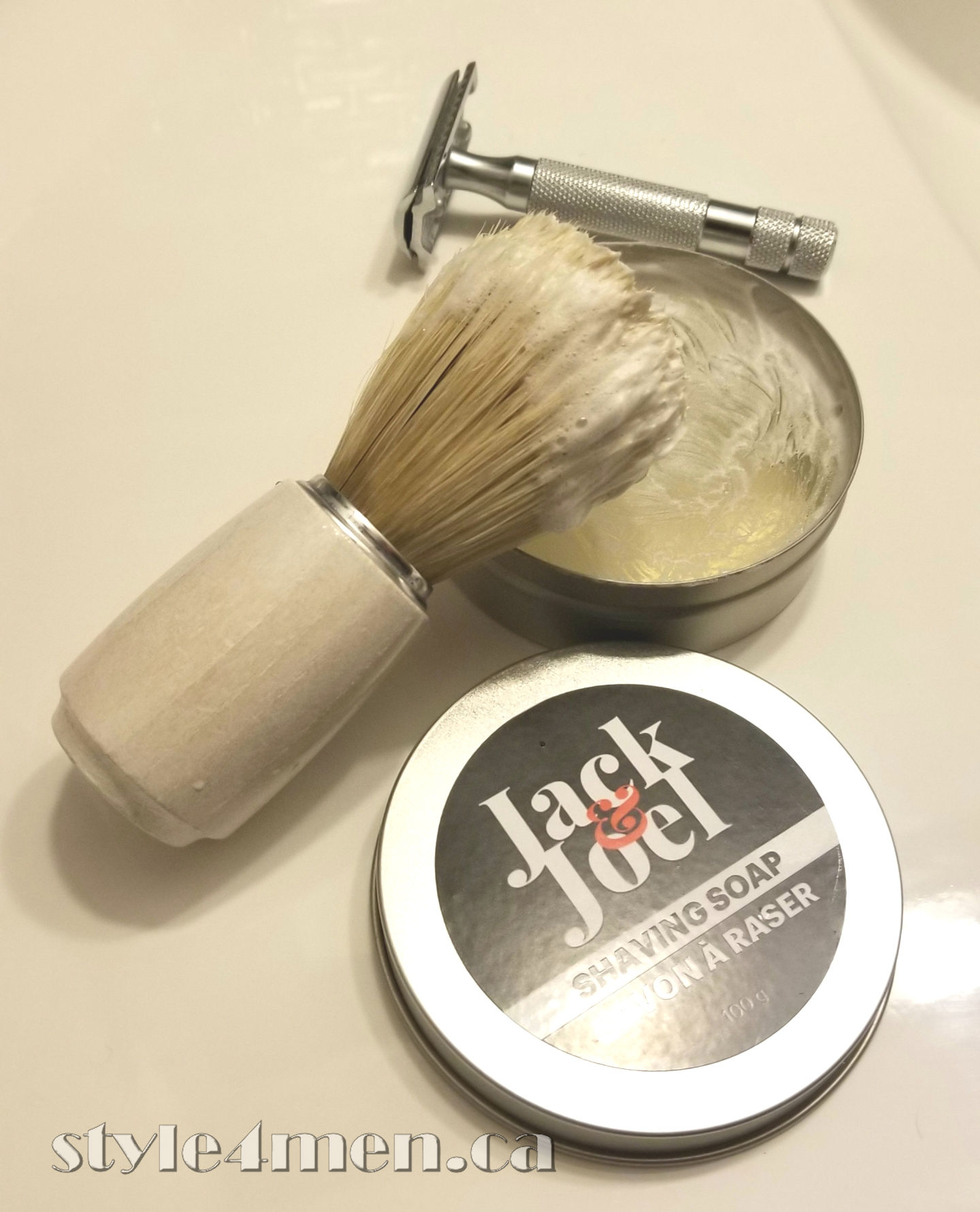 Since Jack & Joel do not offer an after-shave, I looked into my drawers for a suitable candidate.  The Mancave cucumber aftershave seamed like a good option as it is a very mild and refreshing gel.  My skin agreed, this was a good choice.  The gel rehydrated any dryness caused by the shaving and I felt ready to face the morning. 🙂
As always, I find it important to comment on how my skin felt while using the product as well as after.  No reaction, no redness and no irritation.  Overall, it was a pleasant shaving soap to work with.  If I were to compare it to other soaps I have used, it is much better than the commercially available Williams shaving soap and comparable to the Proraso soaps I have tried.
Bottom line, I got a good shave using this soap and I am thrilled that it is a natural product made right here in my home town.
You can shop this soap directly from Jack & Joel or drop in at Le local: