LEA – A smooth Spanish affair
For the last few days, I have been having a sweet affair with a Spanish treat.  LEA is smooth, gentle and totally lubes my blade.  It's only the beginning and I already fear the end.
LEA is a beautiful shaving cream coming to us from Spain. Months ago I had tried this shaving cream from a custom sampler pack I had ordered from Men Essentials.  It had impressed me, but I was focused on pomades at the time.  Recently, when perusing the sales at the Badger shaving company, LEA surfaced again and I procured myself a larger tube.  LEA is a total "find" in the shaving cream department.  For something coming out of a tube, you could easily be fooled and think it came from a can.  It's still a cream but as close as you can get to a foam in a tube.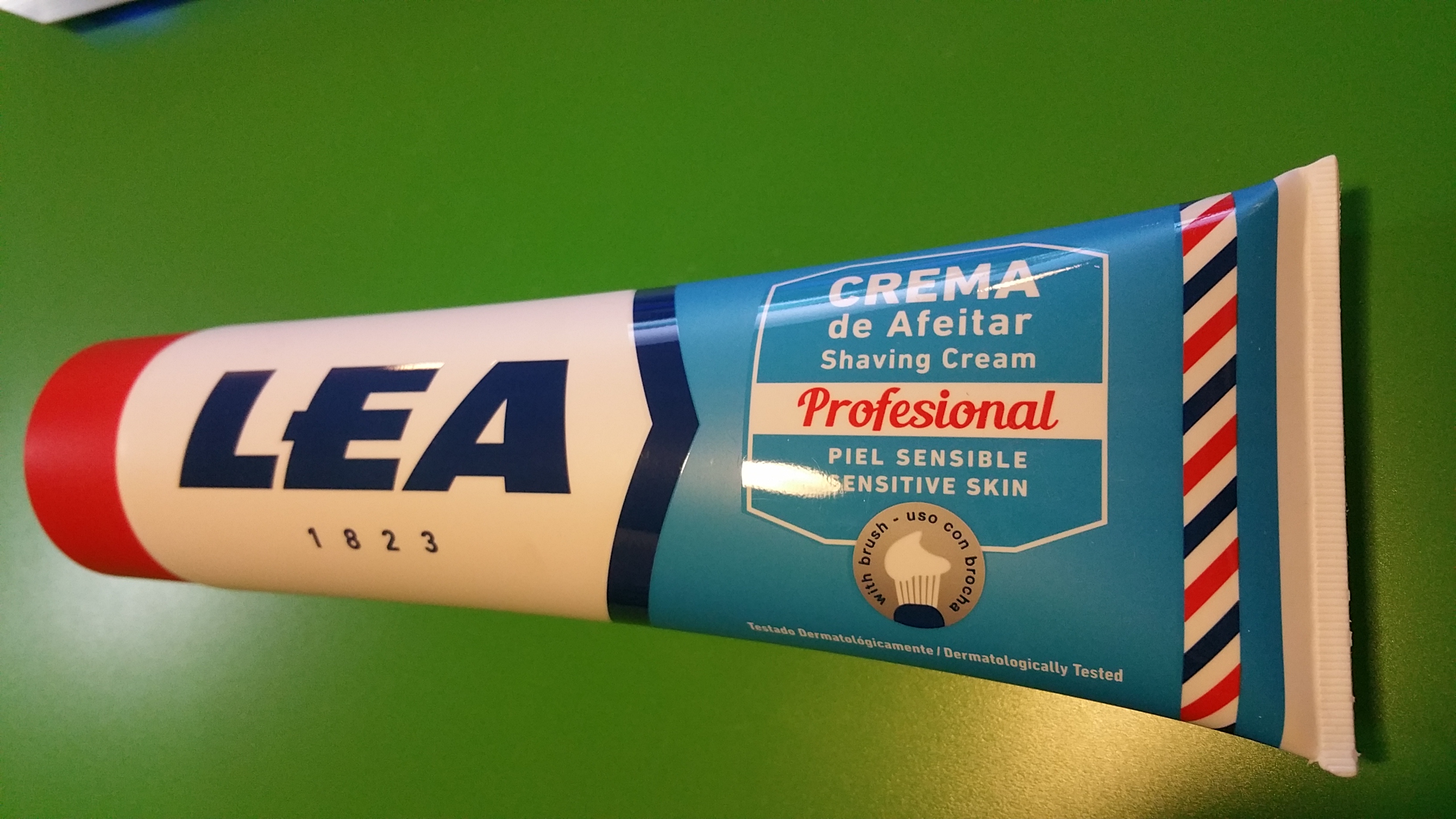 It almost feels like the cross between a soap and a foam.  It is a cream in the true sense, but yet it has properties of both a soap and a foam as well as the cream it is.  Imagine if the foam coming out of a can could be thicker and not as simple as a soap.  Then you start to appreciate what LEA is.
Scent wise it is quite discreet and somewhat old-school/manly.
The application is easy and the cream sticks appropriately to your mug.  As mentioned above it is thinner than foam and thicker than soap.  You need about the size of a toonie to get good coverage.  Take your time to spread it and rub it gently in to make it thicken. It feels very comfortable and you get the sense that the moisture of your shower is locked in.
TEST STAGE:
State: Out of the shower
Razor: Merkur 180
Blade: Derby
Pre-Shave: None
Shaving Cream: LEA
After-Shave: Proraso White
The lubrication qualities of this cream is what impressed me the most.  There was absolutely no resistance on the blade.  The shave was superbly comfortable.  I finished so fast that if felt like I might have missed some areas, but no.  Rinsing the blade out was also a breeze.  Often enough creams are so thick that rinsing is a real problem.  Not with LEA. The same was true with rinsing my face afterwards – one easy wipe.  The last thing you want is to be aggravating your skin after a shave just trying to get ride of the shaving cream. Often enough a single pass of the blade is not enough and some lesser shaving cream would have been wiped away with that single first pass – not LEA.  She has enough staying power to still offer some lube for that second or third ride.
In other posts I mentioned having added a pre-shave to my routine and that I now rarely use just a shave cream.  When I do, I am generally reminded of why I don't do that anymore.  The LEA cream fits in that category of shave product that does it all.  Or maybe I should say that it does the jobs of preparing the beard and skin, ceiling in the moisture and lubricating the skin extremely well. When using it, I am not using a pre-shave and I don't miss it.
OK so since LEA comes from Spain, you might be thinking: Oh great, how will I be able to get some of that action?  I will reassure you right away.  It can be found at Badger Shaving,  MenEssentials and a few other on-line vendors.  I was initially hoping that it might also be available at La Bottega-Nicastro in the Ottawa Byward market, but it is not.  I also checked LEA's site.  A nice site with a good catalog and you can buy directly from them as well.  The catch is the shipping.  I was presented with some 16 euro to ship a bottle of aftershave and a razor.  With today's rates that is $23 of shipping fees.  Really too bad!
To summarize; LEA is a total "find".  It's a 5/5 in our books!