Leaf Shave is back with the TWIG – a single blade safety razor
You might have heard of Leaf Shave who set out to revolutionize the shaving industry about 2 years ago with a completely serviceable 3 blades razor; the Leaf Razor.  One of the primary objectives of Leaf Shave was to reduce the amount of non-recyclable plastic produced for disposable and cartridge razors. The full metal construction was not only a work of art, but also a marvel of engineering.  Its head is designed to accommodate 3 single blades and can also pivot to follow the contour of the shaved surface. See our review here.

With an entrance like that we were all gasping to see what Leaf Shave would do next.  That answer is the TWIG!
Catch my Instagram UNBOXING. 
As much as the LEAF can be considered a modern razor with its 3 blades and pivoting head, the TWIG is more of a classic shaving instrument.  Classic doesn't not mean devoid of ingenuity.  Quite to the contrary, the TWIG is just as much of a marvel as is the LEAF.
Up front, Leaf Shave continues with the approach of using halved double edge razor blades.  Double Edge safety razor blades are: readily available, economical, efficient and recyclable.  As part of the product line, Leaf shave offers their own single blades.  There are also a few brands that offer single blades as they are commonly used by the Barbering industry.  If you are inclined, you can also split your own blades.  I have recently demoed this in an Instagram post, it is both easy and safe.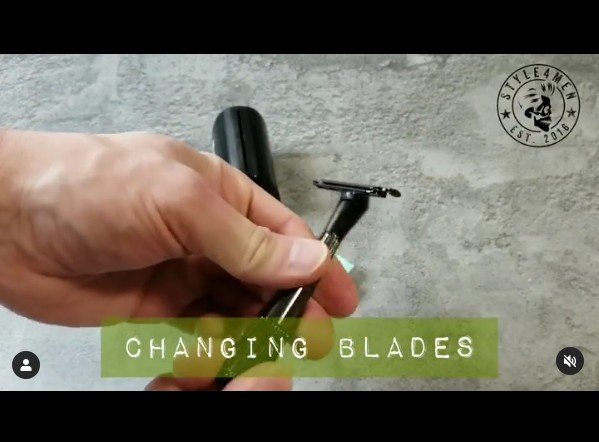 Just like the LEAF, the TWIG does not come apart.  The common approach with safety razor is the 3 pieces.  A handle, a base and a top for the head.  Leaf Shave razors have moving parts so that you can service the blade.  In the case of the TWIG, opening the head follows the classic approach of butterfly razors where by using the handle as a turning screw the razor head can be raised.  The Butterfly razor got its name because of how the head opened in two parts resembling butterfly wings.
In the case of the TWIG, the head is raised up by turning the base portion of the handle like a screw. The handle is another very unique design.  The hour glass shape and pronounced grooves make it secure and comfortable to work with. Being a big guy (6' / 220 lb) I totally enjoy this larger handle.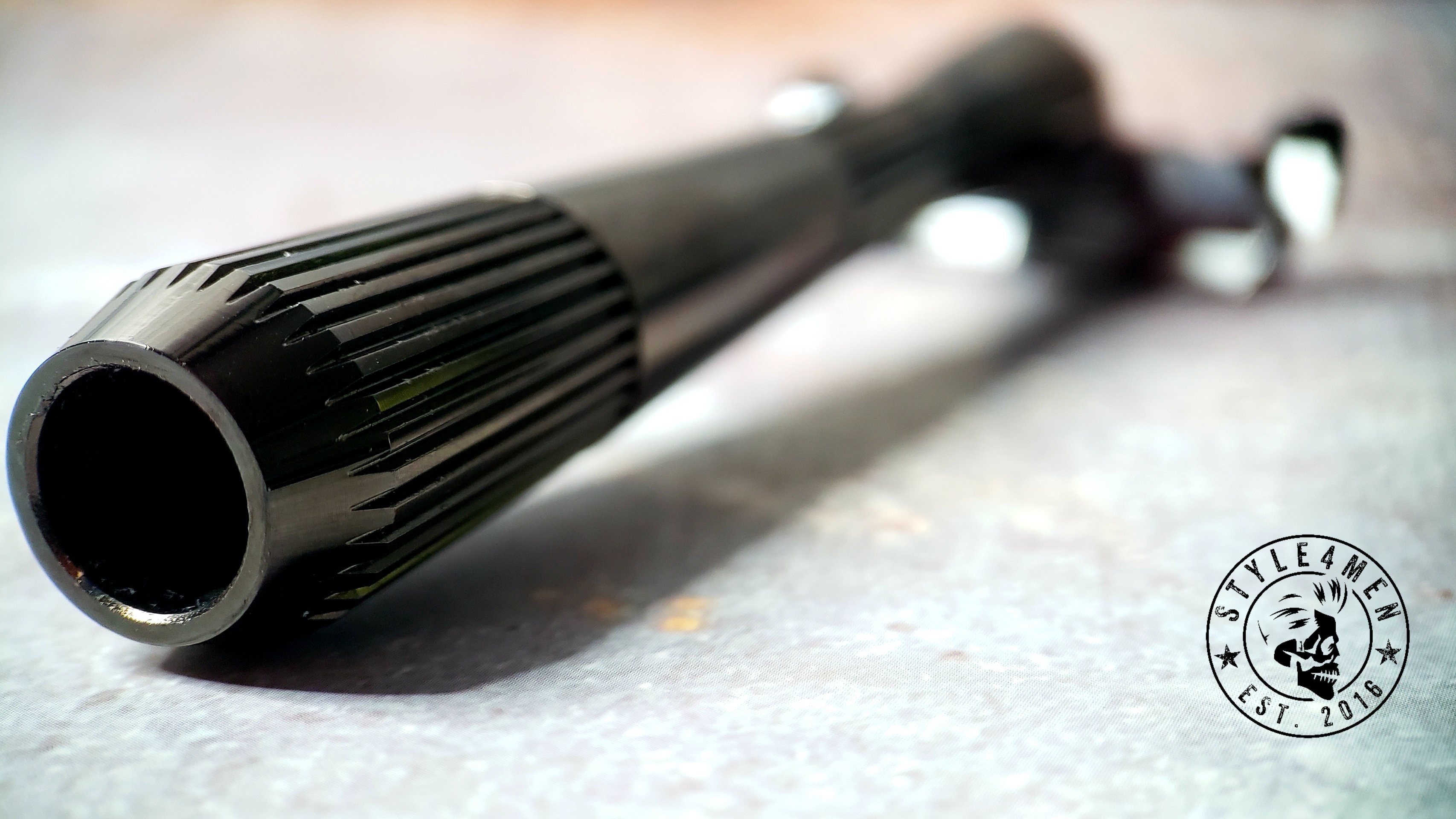 Some specs: The razor clocks in at 70gr and the handle is 10 cm long (2.5 oz. and 4 inches).
The head design is perhaps one of the more interesting as it is very open.  The cutting side looks typical to a safety razor, but the back side of the blade is also partly exposed.  The open approach makes it also very easy to rinse in between passes.  Bottom line, I like that there is no mistake to be made as far as what it is – a slick razor.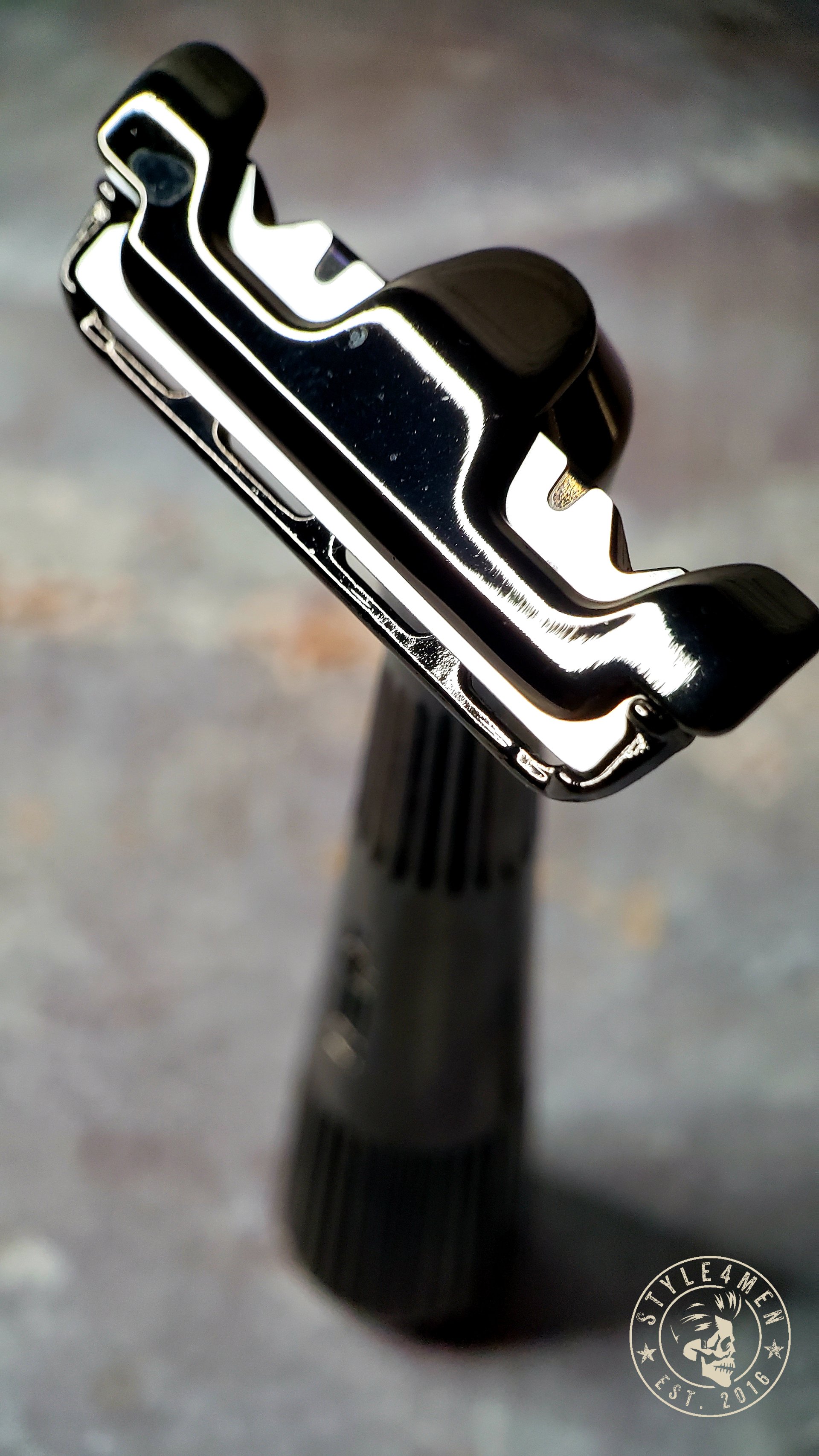 Just like the LEAF, the TWIG comes in different finishes.  This is a nice touch as everyone can find their match.  Yep, you understood right and this instrument is for everybody: men & women. I am working with the "mercury" finish which has a dark chromed aura.
Rose Gold
Black
Gold
Chrome
Silver
Mercury
The shaving angle is perhaps a tad more pronounced than some of my smoother double edge razors, but this is the norm with single blade razors.  That makes for an incredibly efficient shave.  These days I am sporting a beard and only shave my lower neck and cheeks.  Instead of having to do multiple passes to get things smooth, it's one pass.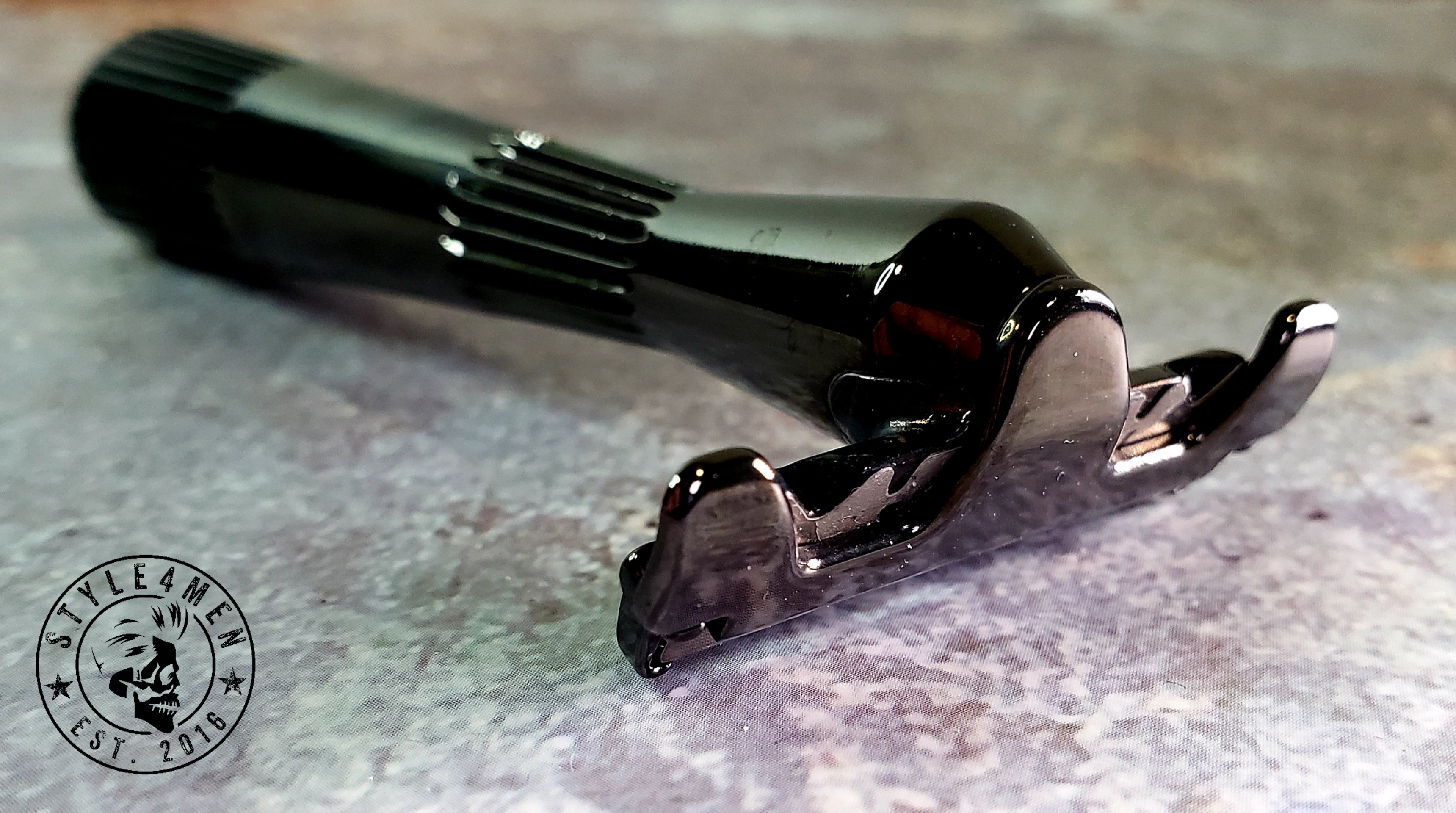 Shaving with a single blade is the closest thing to a straight razor.  Obviously, the TWIG is technically a single blade safety razor because of the T-shape configuration of the handle and blade.  This design makes it easier to hold the razor and find that perfect angle.  But the shave result is essentially identical.
I would caution you to consider your supporting shaving products.  As the angle and blade exposure are slightly more pronounced I like to use a pre-shave lube as the foundation on which I layer my thickest shave cream.  The result being supreme lube and insulation.
Single blade razors are currently living quite the revival with a number of companies offering their take.  While most options are essentially tributes to razors no longer being produced like the Injector that Shick no longer makes, the TWIG is its own thing in every way.  The rising head, the hour glass ergonomic handle and accommodating non-proprietary blades.
It is very clear that Leaf Shave designed and built this razor for it to be extremely durable. Nothing here feels or looks cheap.  The craftsmanship is impeccable and everything about the build quality indicates that this razor will outlive me.  This brings us back to that long term plastic reduction objective.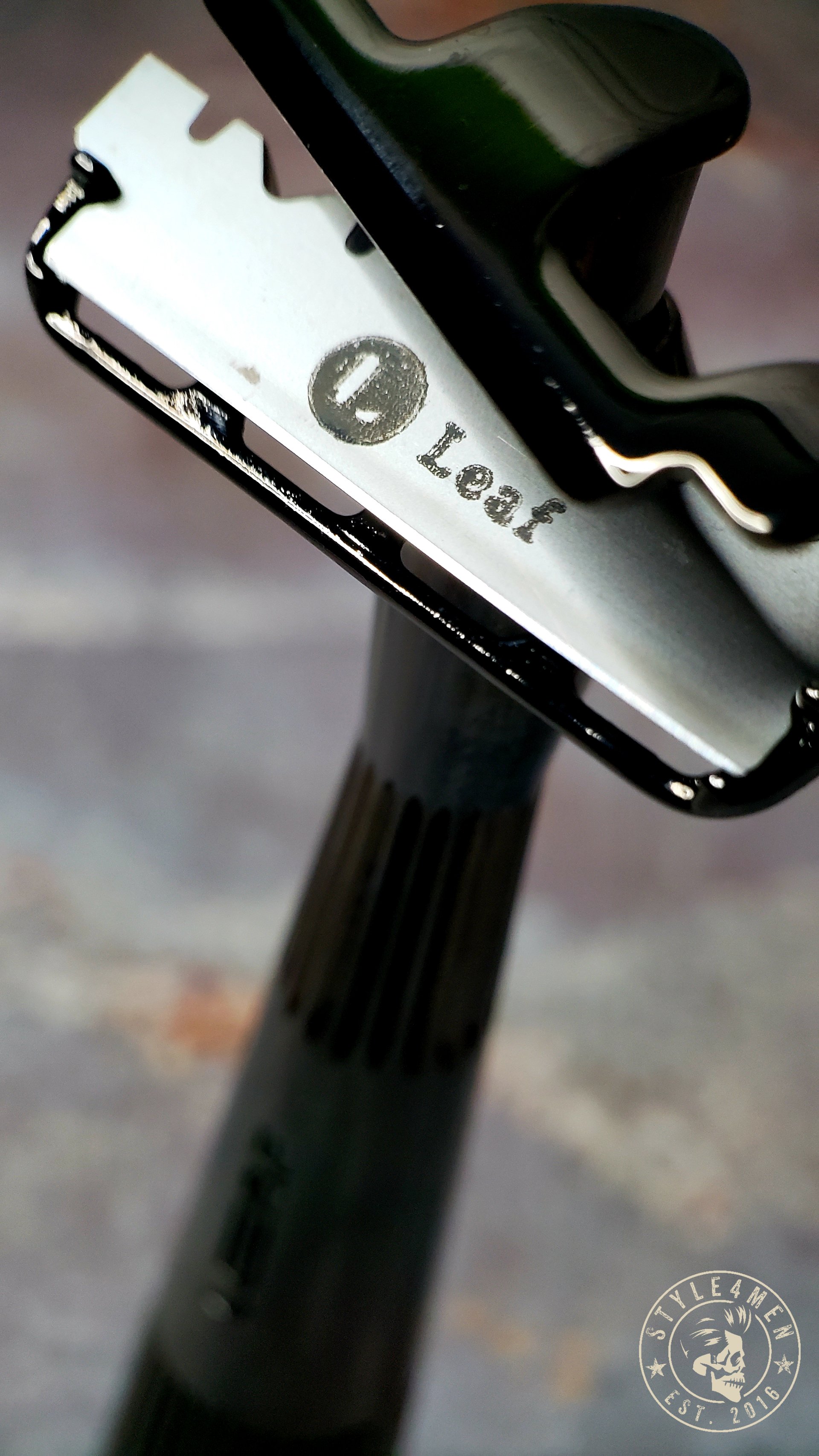 We should touch on price as the TWIG on its own goes for $59 US.  Without a doubt the initial cost is more than anything you could pick up at the pharmacy.  Where things start to make sense is when you look at your cost over a few months or even a year.  A cartridge razor might be only $20, but each blade refill tends to be $5 or more.  Let's say you use 2 cartridges a month for a total of 24 a year, that's $120 of blades plus $20 for the handle = $140.
The TWIG is $59 and a box of 100 of my favorite double edge blades is $17.  Once split in half that is 200 single blades.  In my case that is a bit over a year's worth of shaves for $76.
Cartridge razor handle         $20
24 refills a year ($5 each)    $120
Total                                      $140
TWIG                                      $59
100 double edge blades       $17
Total                                      $76
To sum things up, LEAF SHAVE has another touch-down with the TWIG.  By being a practical, inviting and durable instrument, it pretty much guaranties that once it is in your washroom, all other razors will be unemployed and you too will have reduced your plastic consumption.