Maggard Slant Razor Head – not for the novice
Our faces being what they are, using a straight tool to shave them seams like a compromise.  The idea of a slanted razor would thus be a perfectly normal evolution step in design.  If you are interested in the history of the slant safety razor, this page from the "Shaving Shack" offers a nice article.  Being on the quest for the perfect shave, trying a slanted razor head was the natural next step in my shave evolution.
During the recent "Black Friday" sales the Maggard slant razor head was going for $16 on the Men Essentials site.  I couldn't pass that up and I jump on it.  This one had been on my list of shaving gear to try for some months already.  The slanted head can be purchased separately or along with a handle.  I took my chances and bought it without a handle, hoping it would fit my trusted Merkur 180.  When it was delivered a few days later, I tried it right away with my Merkur.  It fit perfectly!   It's not totally clear on the Maggard site which handles fit on this but they offer a listing as a starting point.
There is no packaging or presentation to speak of, as the razor head comes simply packaged in a small zip lock pouch.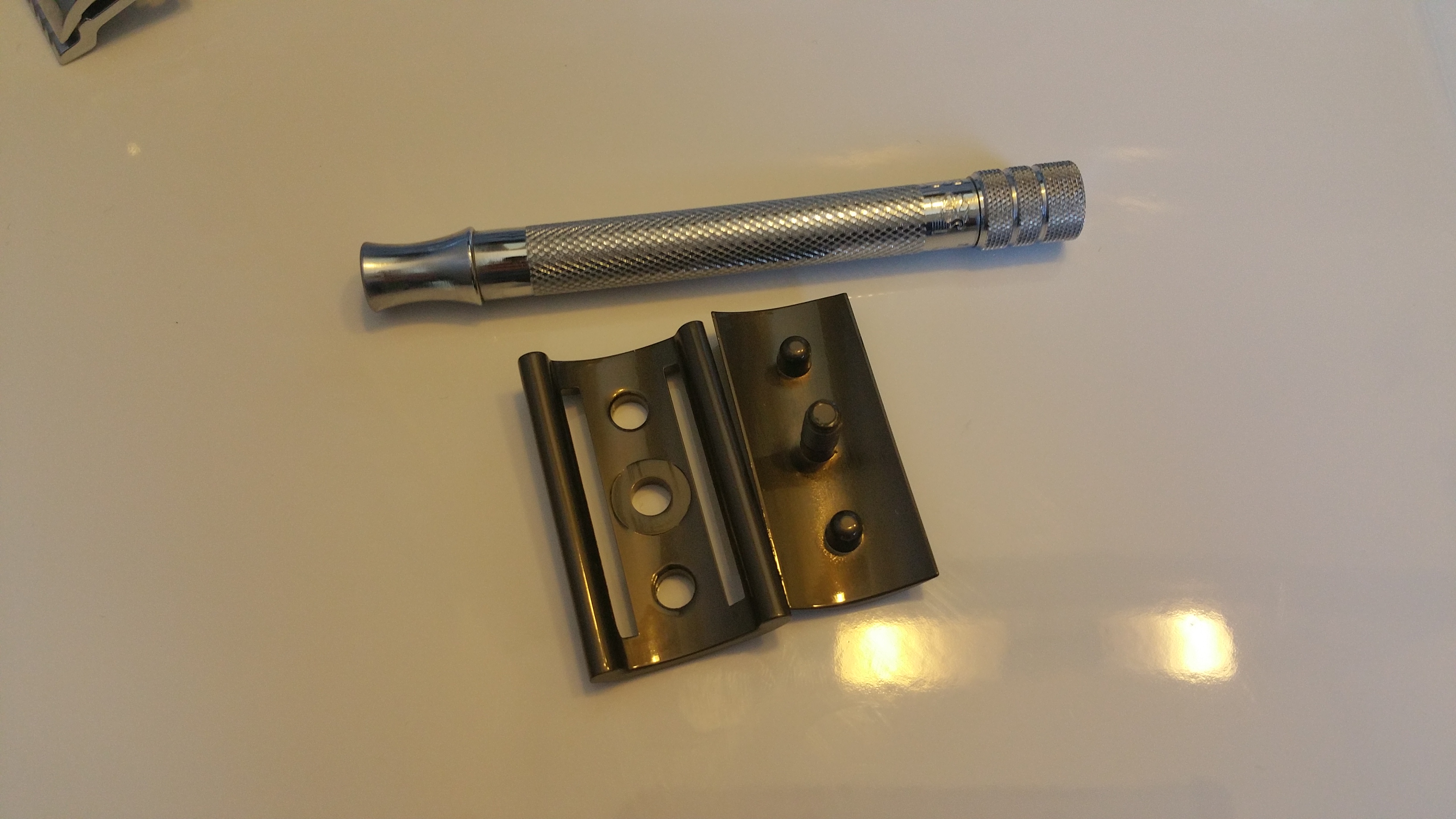 TEST STAGE: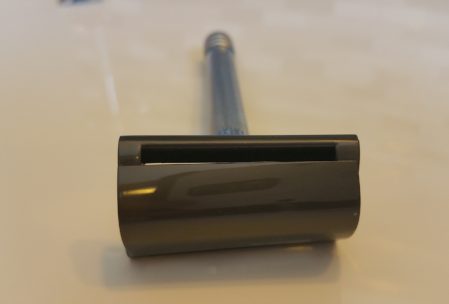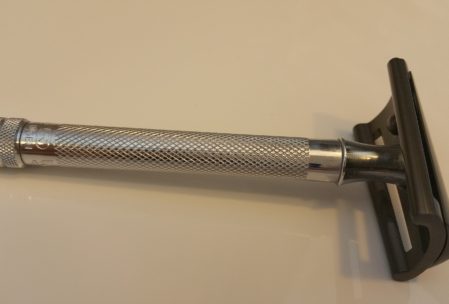 Shaving with this is more aggressive than with the Merkur 180 regular head.  More of the blade is exposed and the angles are obviously different.  Something to note and this is not pictured here, the blades is exposed a tad differently on each side.  One side is definitely more exposed than the other.  In itself this is a good thing as is offers you two shaving options for problem areas.  Typically with the regular Merkur 180 head, I have a difficult time shaving under my nose.  With this angled head it is was easier.
Because more blade is exposed, you certainly have to be more careful.  More exposed blade also requires a different set of products.  I used the Proraso white series which is my "go-to" set.  But this suite of product does not offer enough protection or lasting glide for such an aggressive shaving approach.  The more aggressive shaving angle also means that most of the protective shaving cream is being scoped away in a single pass.  You would thus need a product that offers a good deal of lube with some good staying power.  I am thinking that either Brickell or Billy Jealousy would offer that extra protection and lube.  Alternatively, a shaving oil might be a very good idea used in combination with a shaving cream.
My first shave was not all that comfortable or successful as I ended up with a few nicks and I had to use the Proraso Gel Riparatore.  Now that I have a better idea of what it means to shave with this tool, I will certainly use a different set of shaving products as well as a different blade.  With the blade going through a more pronounced curbing there is clearly some testing to be done to find which blade will best handles these demands.
Stay tuned for updates to this post over time.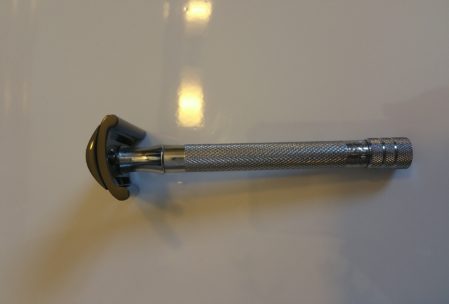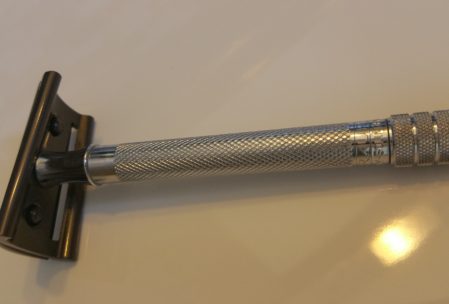 Addendum – July 22, 2018
I recently revisited this razor head to shave off 4 days worth of growth on a Monday morning.  My overall shaving technique has matured since I first tried this razor head and so have my options of shaving creams and soaps.  I opted for the following:
This turned out to be a PERFECT shave.  The Suavecito gel is thick thus offering excellent protection and lubrication.  Two things that are needed when using the slanted shave head.  I was surprised at how comfortable the process was as well as how much was being shaved off in one pass.  Remember, we are shaving off 4 days worth of growth.  The beard hair was being sliced effortlessly in a single pass. As the blade is more aggressive, it also swiped off nearly all of the shaving gel, but since no second pass was necessary this was a non-issue.  No cuts, no nicks, no irritation.  Basically, this razor head is not an every day option, but rather a tool for "big-jobs".  It has now been nominated as my "Monday morning razor head".  Also important to note, by preparing the work surface with a solid candidate like the Suavecito gel, the experience was most pleasant.  Together they made a winning combination.