MANCAVE Shaving Gel and Balm – Nothing Caveman'ish about it
As part of my regular shopping (that we will call "research"), I came across an interestingly presented brand called, MANCAVE.  Their focus is on the shaving products lines.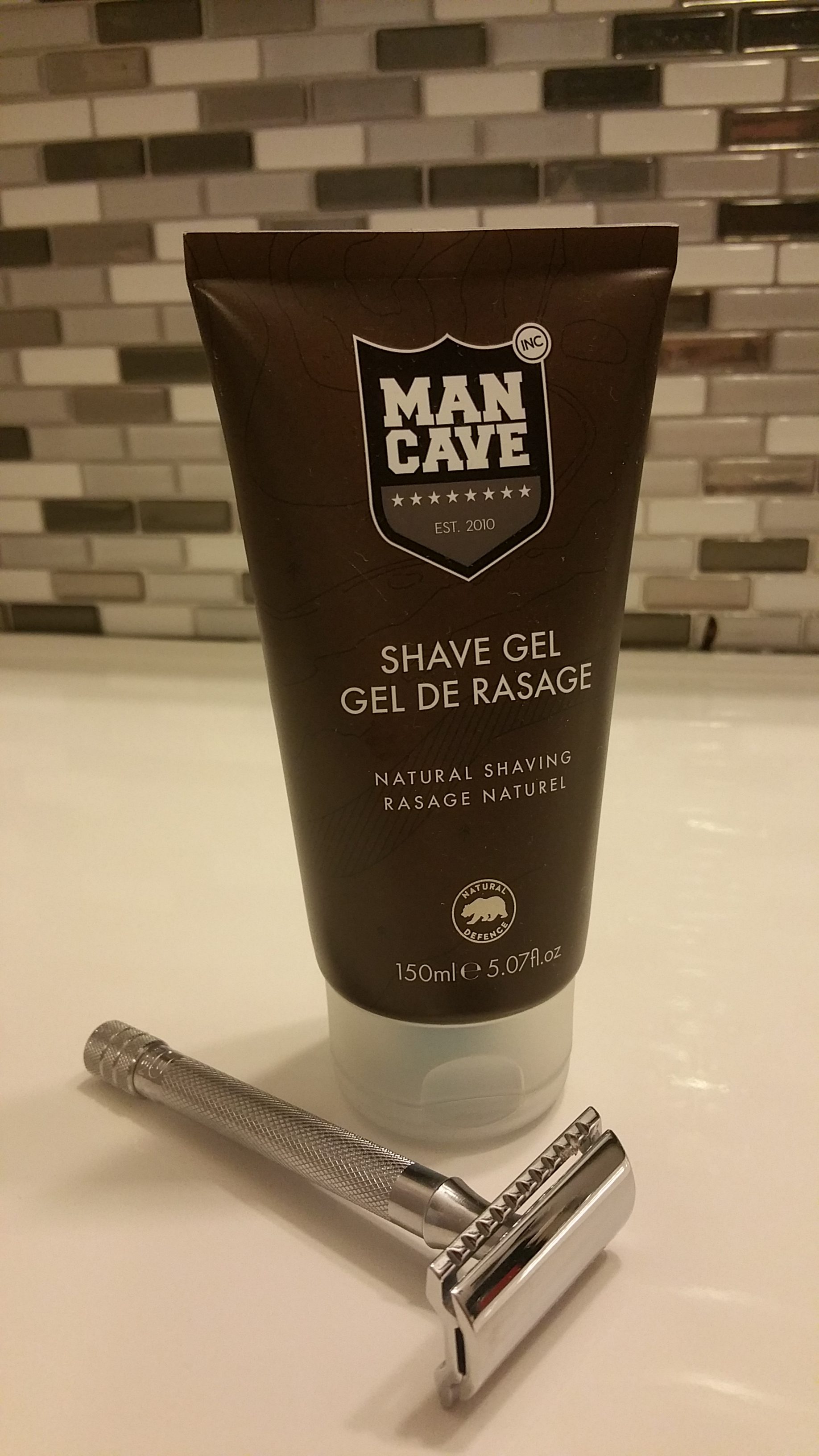 The packaging states that the product is made in the US but formulated in the UK.  On their site you can shop in the following currencies: UK, US, CND.  There is even a ".CA" website for us Canadian shoppers.
The price point is higher with individual products going for some $20.  I saw it at the Bay during the holidays and finally picked up a tube of the shaving cream at Sears after Christmas.  Unfortunately, Sears did not have the companion "After-Shave".  I found that to be a tad disappointing as I always prefer to test a shaving solution in full – by that I mean, using all of the products that were meant to work together.  This way you get to experience the full intent of the maker.  Otherwise it's like watching a movie without it's sound track.  It's only part of the experience.  Nevertheless, I picked it up anyway and this morning was testing time.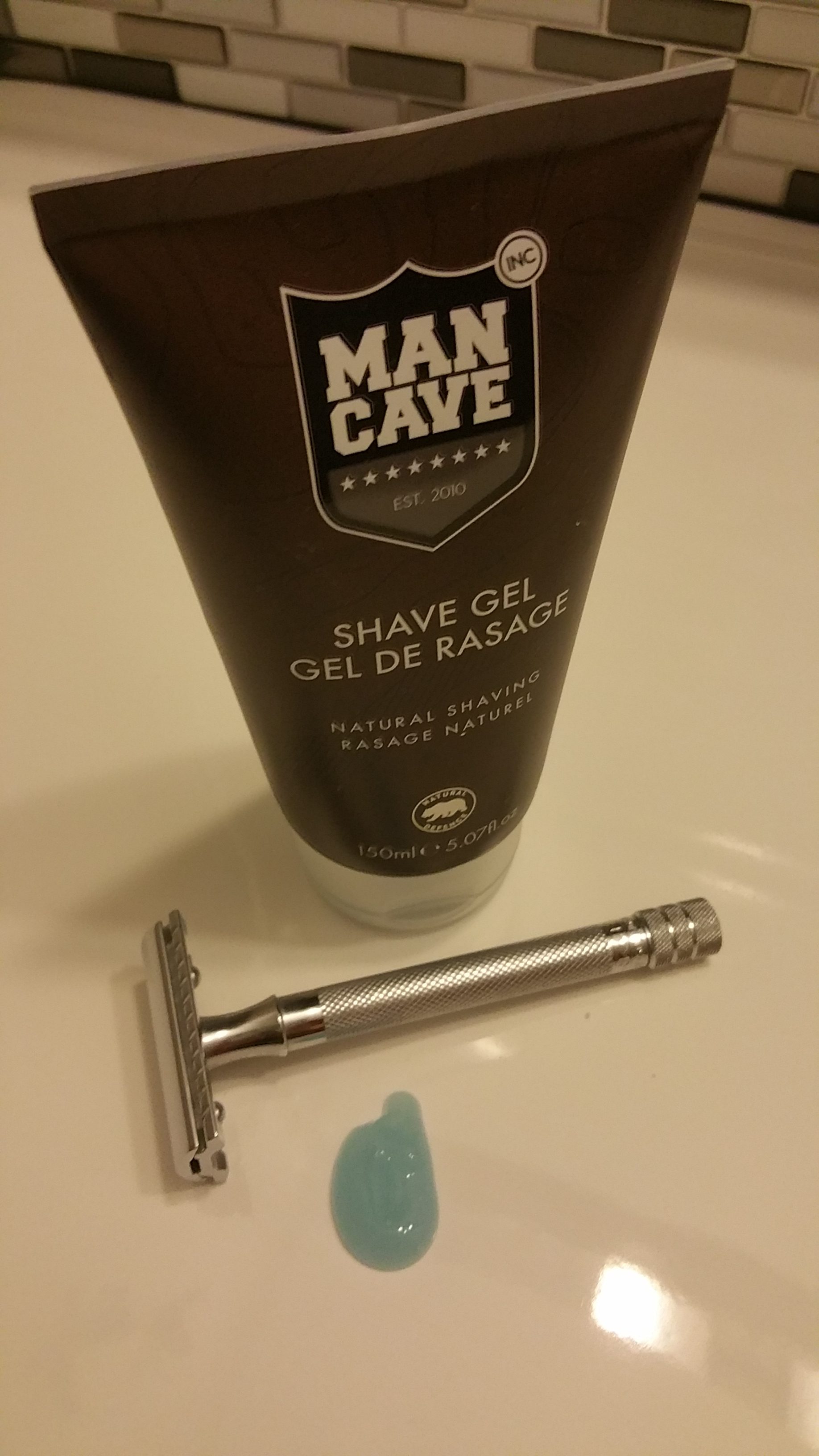 First off this is a "GEL"which will explain it's smaller container size.  The gel itself is blue'ish and thick. Its fragrance is musky/soapy.  Fairly discreet, but manly. I would also add that it is not unique.  You will certainly recognize this fragrance from some where else.  Suffice to say that it is an agreeable scent.
The Man Cave shave Gel presents itself as being made with natural ingredients.  The product contains no: parabens, sulphates, synthetic dye, petrochemicals or animal derivative products.  That's a good sales pitch.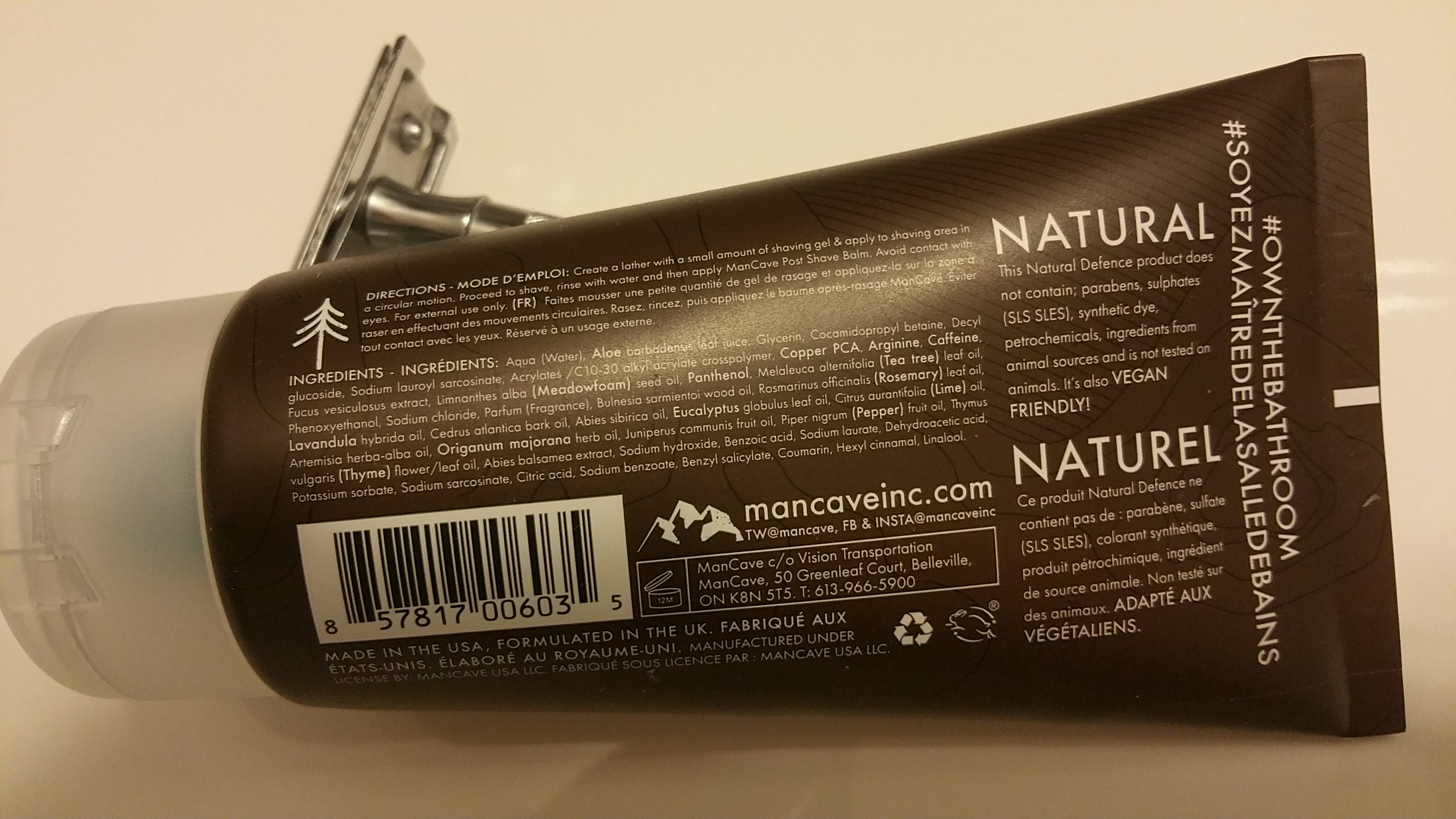 Coming out of the shower I was ready for the shave.  Not wanting to interfere with the shave results by introducing other variables, I did not use a pre-shave cream.  Just this shave gel.  It is fairly thick and it needs to be spread.  It is perfectly sticky so there is no dripping.  Since it is not as liquid as other gels I have tested, I ended up using perhaps double the amount to cover my mug.  Read that as two small portions.  Visually it is white-transparent once applied.  Feeling wise, you won't feel as insulated as with foam, but this is made up by the superior lube.
I shaved with the Gillette Fusion ProGlide and the blade had absolutely no issues moving.  It was perfectly comfortable.  Without a doubt this is a quality product.  I was able to do multiple passes in the problem areas without any discomfort or irritation or shortage or lubrication.
Rinsing the product off the blade was a non-issue.  It was equally easy to rinse the left over gel off my face with a wet wash cloth.  A superb shave was had.  No irritation or cuts.
I was a tad suspicious as to what might happen when using an after-shave from a different maker, so I opted for the most neutral option in my arsenal, the L'Oréal Sensitive skin after shave lotion.  No trouble what-so-ever.
Although this is an expensive option, the excellent shave results make it justifiable.
Looking on the MANCAVE site I can confirm that they make an after-shave.  I will procure myself a tube of it and update this post accordingly.  It looks like you can order it directly from MANCAVE for $18 + $10 of shipping, but at this time their site was not letting me complete the signup…  The Bay sales the CAVEMAN line but not in every location.  I could not get it in Gatineau for example.  I actually ordered it on-line for $18 along with a few other products and will be able to update this post in the coming days.
TEST STAGE:
State: Out of the shower
Razor: Gillette Fusion ProGlide
Blade: Gillette Fusion ProGlide
Pre-Shave: None
Shaving Cream: MANCAVE Shaving Gel
After-Shave: L'Oréal Sensitive
Two days after placing my order on the Bay's website, the MANCAVE Shave Balm (After-shave) was delivered by Canada Post.
The quantity is a tad smaller at 100 ml than the shaving gel which was 150 ml.  Since this is the after-shave you are also technically using less.  The packaging is identical to the shaving gel.  The shave balm is white'ish-green.  It is not a thick cream or an overly liquid lotion.  In that sense calling it a "balm" makes perfect sense.
Being curious I portioned out about the size of a dime to try it out on my mug.  It went in nicely and offered a nice fresh scent.   Obviously, I will need to update this post with actual shaving results to see how well it does on freshly shaved skin.  Just like as for the shaving gel, I noticed that more product was necessary than I initially assumed.  the portion I used to try the balm out was about a dime and that only covered my cheeks.  Compared to a the Proraso lotion for example, the same amount would have been enough to cover my neck as well.  The only relevance for this comment is to indicated the speed at which you might go through the tube.
Some of the ingredients that are printed in bold on the back label are: aloe, meadowfoam, witch hazel, cucumber, rosemary, eucalyptus, pepper and thyme.  It almost reads like a salad dressing ingredient list. One thing is for sure, a clear effort is being made to use natural element to make this stuff.  Aloe is an established and trusted plant used for skin repair/nourishment.  Witch hazel has an equally well established name for being an astringent and anti-inflamatory substance.  Cucumber probably help to give this balm an interesting scent.  My nose mostly recognized the thyme, rosemary and possibly the pepper, but they are tamed down by what I suspect is the cucumber.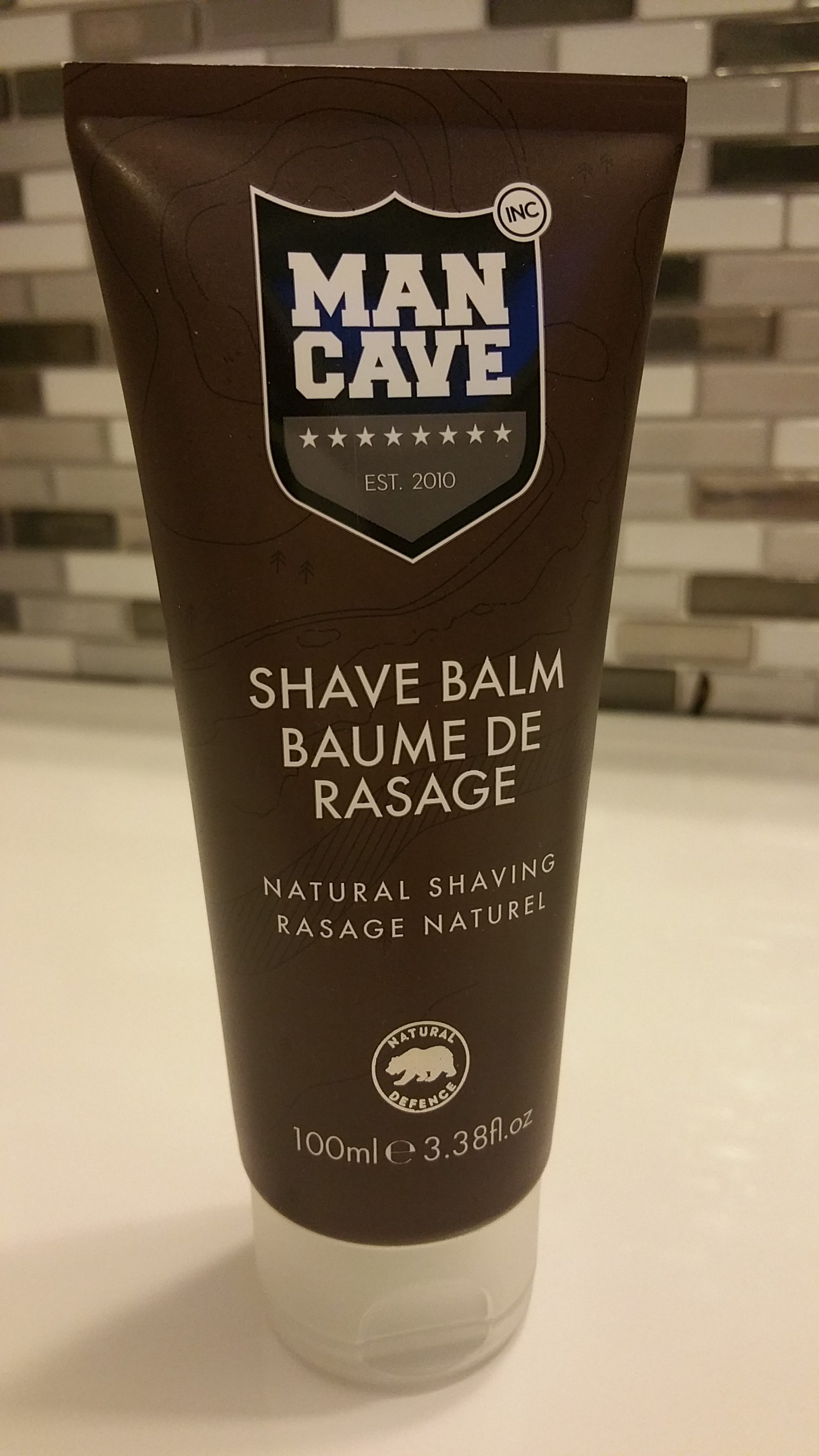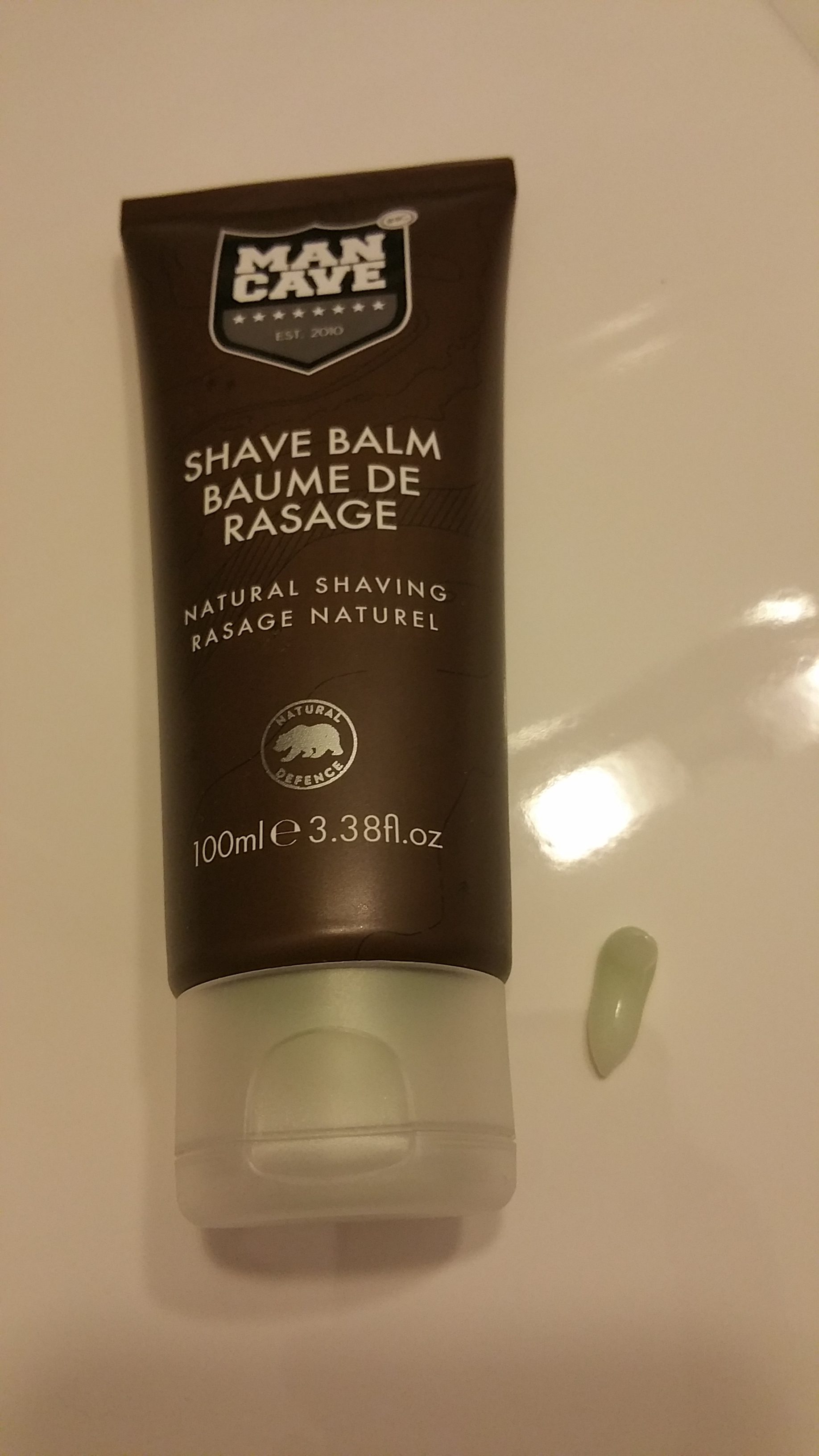 Hopefully this picture is detailed enough to read the label.
TEST STAGE:
State: Out of the shower
Razor: Gillette Fusion ProGlide
Blade: Gillette Fusion ProGlide
Pre-Shave: None
Shaving Cream: MANCAVE Shaving Gel
After-Shave: MANCAVE Shave Balm
So here is the update for a shave using the MANCAVE Shave Balm as the finishing touch.  The balm is very refreshing on the dry, freshly shaved skin.  It goes in very smoothly and I want to correct myself as the size of a nickel was sufficient to cover my whole mug.  The shaved surface makes it easy to apply.  My skin drank most of the balm up, but it did not leave me dry or oily.  It left my face feeling properly moisturized.  I will admit that it gave my skin a smijent more shine, but in an OK way. Almost 10 hours after the shave, it still feels good.  There was no irritation and I had no reaction to this product.  Considering it's mostly a "NATURAL" formulation that would have been a surprise.
Overall, I like this shaving duo. It is a bit more expensive than the pharmacy brands, but you are also getting in a higher quality range of products.
Use the below links to shop for these products: