MARRAKESH Bomber Shave Cream – Amazing lubrication without the oily residue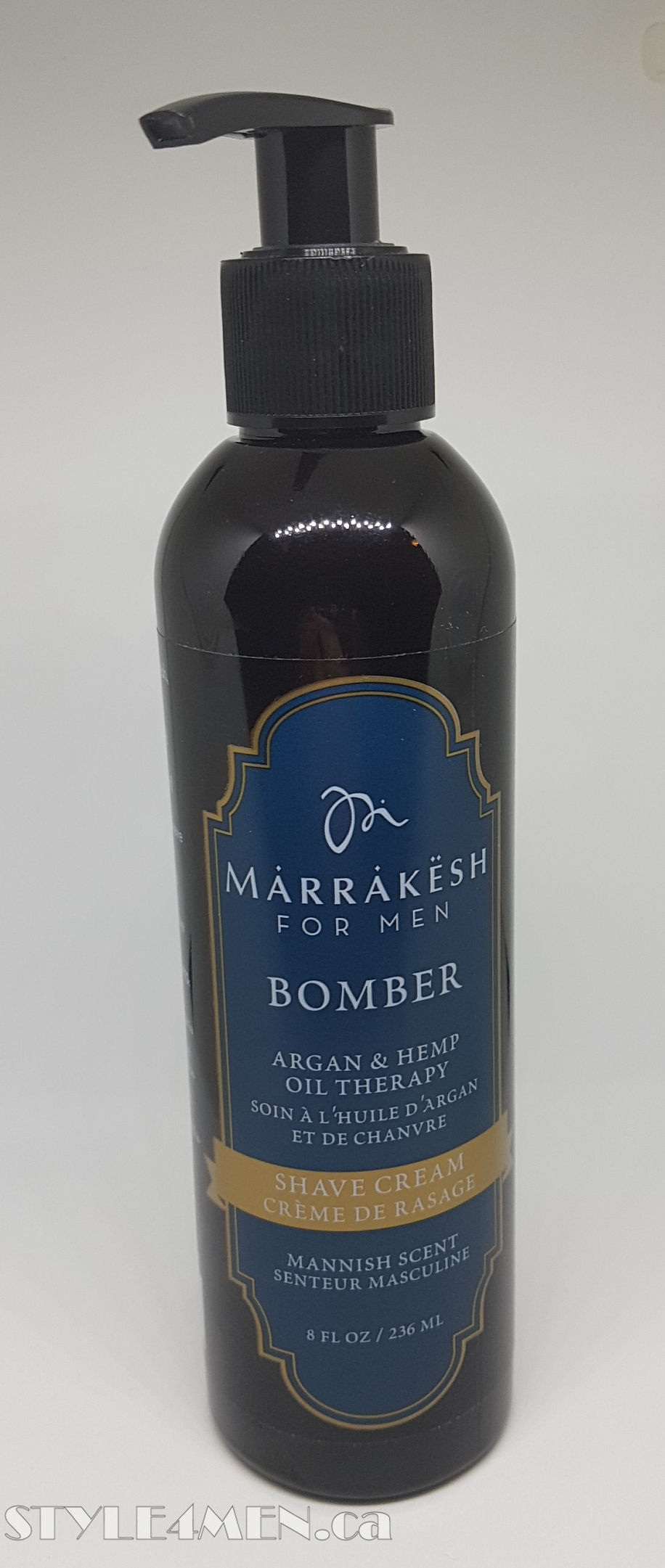 Always being on the look-out for new products to try, I picked up an inconspicuous bottle of shaving cream at OBSCO, the MARRAKESH Bomber Argan and Hemp oil Shave Cream.  Sadly, there was only the shaving cream, no companion after shave bottle.  As, you know I always prefer to try shaving product as they where intended by the makers: pre-shave, shaving cream and after-shave. I went with the rational that OBSCO goes out of its way to shelve interesting and quality products and that therefore this was most likely another product worthy of the style4men test bench even without an after-shave.
The bottle was $8.49 with my "Barber Friend" discount.  OBSCO being a wholesaler has two prices, one for regular retail sales and another for shops.  As a general rule, I have found their "retail" price better than other options.  yto top that off, go to the bottom of the review for an OBSCO discount code.
First off, the product comes in a format that is not typical for shaving cream; a pump bottle.  Once I unlocked the pomp head, I was a bit disappointed with what came out.  It looked like basic hand cream. Trying to be an impartial Tester, I put aside my first impression before being able to have a real opinion based on something tangible.  Good call, because everything that happened thereafter literally impressed me!
The creams goes on very nicely.  It sticks well to the skin and spreads like a butter.  Yes, this was by no means like a basic hand cream, it was a lot more like a rich butter.  With next to no effort it covered the shaving area.  I used perhaps 3 pumps to  prep my mug.  The cream is initially white but becomes partly transparent on application.  Not as much as a gel, but there is a parallel to be made there.  The cream as an amazing element of lubrication to it.  You can totally feel how slippery it is, but without being overly oily.  Just that in itself is a rare achievement. For example when rinsing my hands before the shave I only needed to use hot water.  Usually, soap would be necessary to remove the oil so that the razor doesn't slip in your hands.  Onto the shave.  It was "SUPERBE"!  I am a big believer in pre-shave because most shaving creams don't offer enough lubrication or relaxing capability for the bear hair.  This stuff was amazing on its own.  The pre-shave was not missed one bit.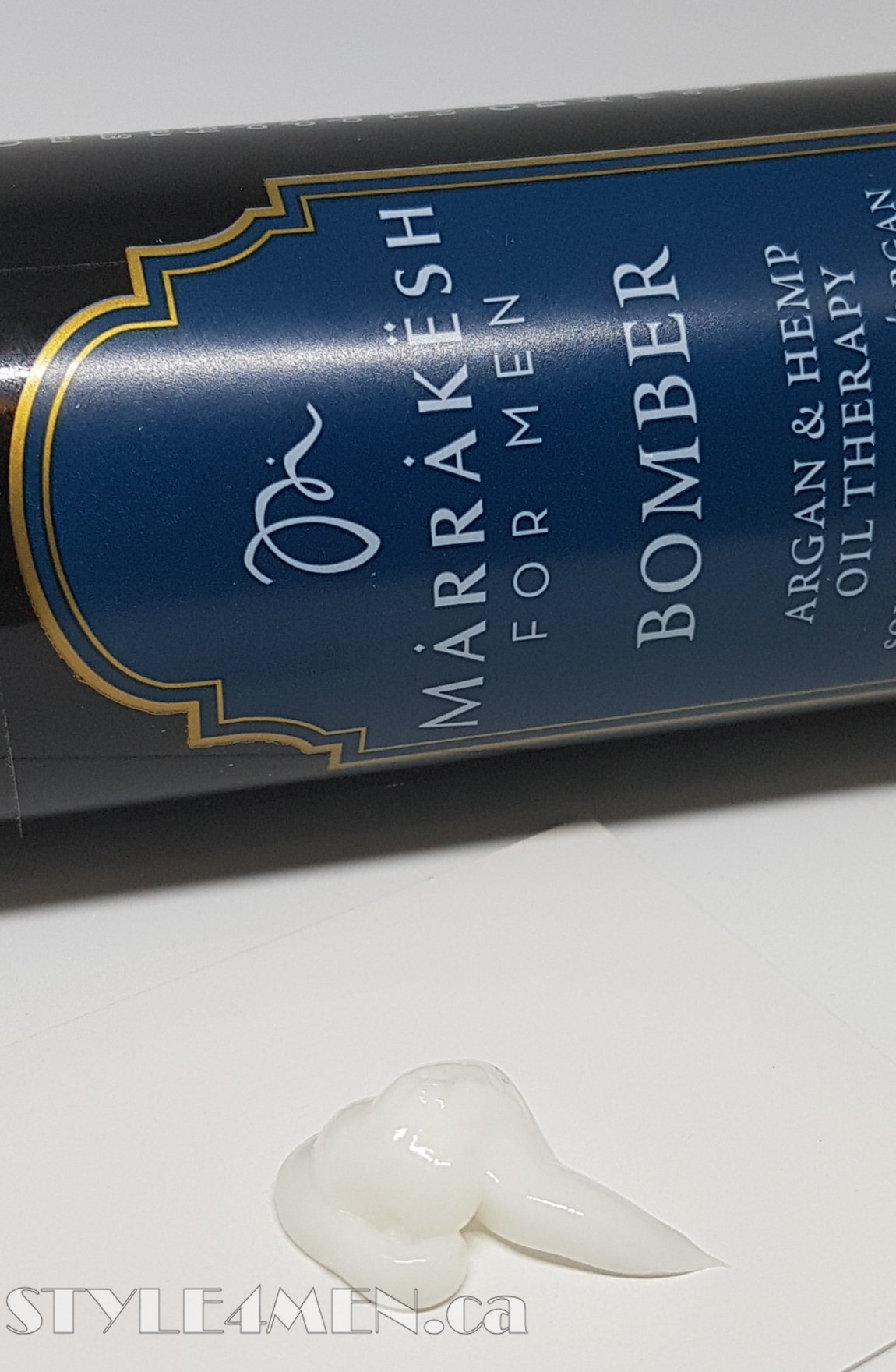 The shaving cream has a scent which I am struggling to describe.  It is original, musky, fresh and perhaps spicy.  I really need to educate my nose as to identify the elements better.  that being said, although the fragrance is active, it will not survive the shave session.  Basically, once you are done shaving rinse your face you will also be rinsing the fragrance away.  So the scent is just for you for that moment.  Personally, I enjoyed it.  In hopes are narrowing the fragrance down I consulted 2 other noses who also struggled to identify the scent but who all enjoyed it.
Let's back track a bit, one applied the cream felt very much like a gel and I didn't think there was much insulation.  That was a misconception since the moisture was thoroughly trapped.  The razor slid without any effort and was able to do a splendid job on the first pass.  Yes, very few second passes were required.  The razor was a total breeze to rinse.  From my experience, these higher oil content shaving cream end up getting stuck in the razor and a good deal of hot water is required to clean the blade out between passes.  Not here.  It was the easiest rinse.  In fact the cream was nearly falling off of the razor.  For those spots were a second was needed there was still plenty of cream or lubrication to get the job done without having to add more cream or suffering any irritation.  On the issue of irritation, this was a wonderfully smooth shave.  Considering I was working on a 4 day old bear, this was a full proper shave job.  And did I say it was a superb shave?
As mentioned above this bottle was purchased without a companion after shave. As it turns out, OBSCO did not have the after-shave since MARRAKESH does not make an after-shave.  That being the case I went for my most neutral after shave the L'Oréal Sensitive skin after-shave cream.  The products worked well together and there was no irritation.
TEST STAGE:
State: Out of the shower
Razor: Merkur 180
Blade: Astra
Pre-Shave: None
Shaving Cream:  Marrakesh Bomber
After-Shave:  L'Oréal Sensitive After-Shave Cream
Some 6 hours after the shave, my face feels great.  The skin is hydrated, comfortable and does not have an oily feel to it.
The MARRAKESH Bomber shave cream fits into my top 10 and I have been using it almost daily since.
PS – When shopping at OBSCO, don't forget to mention or use the STYLE4MEN discount code at check out.
If you can't make it out to OBSCO, use these below links: