Ming Shi Shaver 2000S – A Merkur Future for the little people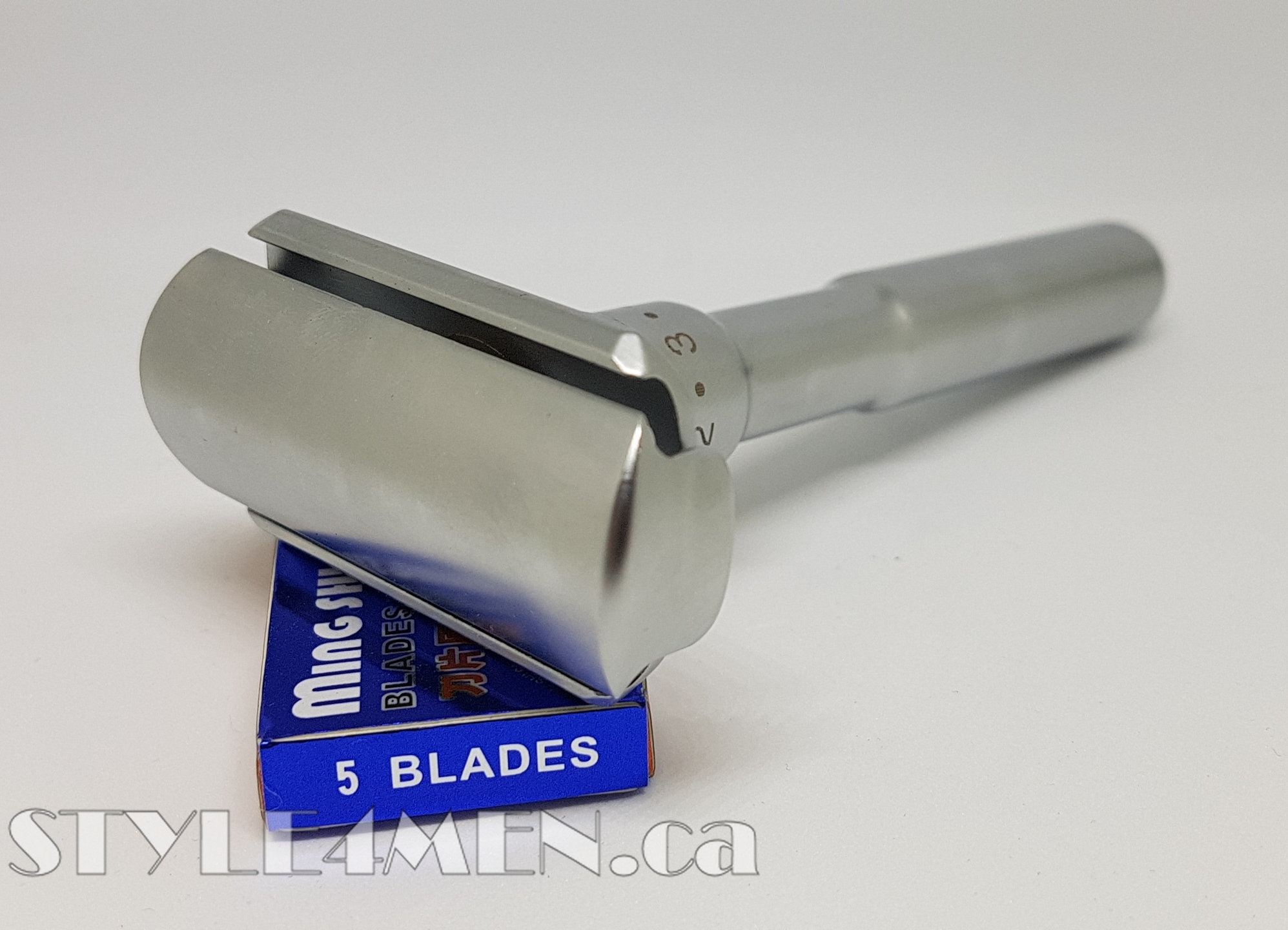 When I started getting interested in safety razors about one and half years ago, I was somewhat overwhelmed by the number of brands.  Quickly enough though a few brands started to stand out: Merkur and Edwin Jagger to name only these two. Merkur had the most interesting offering.  To top it off Merkur offered German craftsmanship and quality at a price point I could afford.  $40 for a razor already seemed like a lot but it certainly wasn't $100 or even more.  One such razor was the Merkur Future, a superb looking piece of shaving gear that was also "adjustable".  Obviously, I was interested, but at $120 or more this was completely out of my price range.  "No honey, I didn't do the groceries, I bought a razor instead." That's more or less the monologue going through my head.  I mean bottom line, no matter how cool the gear might be, you have to ask yourself where to draw the line in how much such an item is worth to you.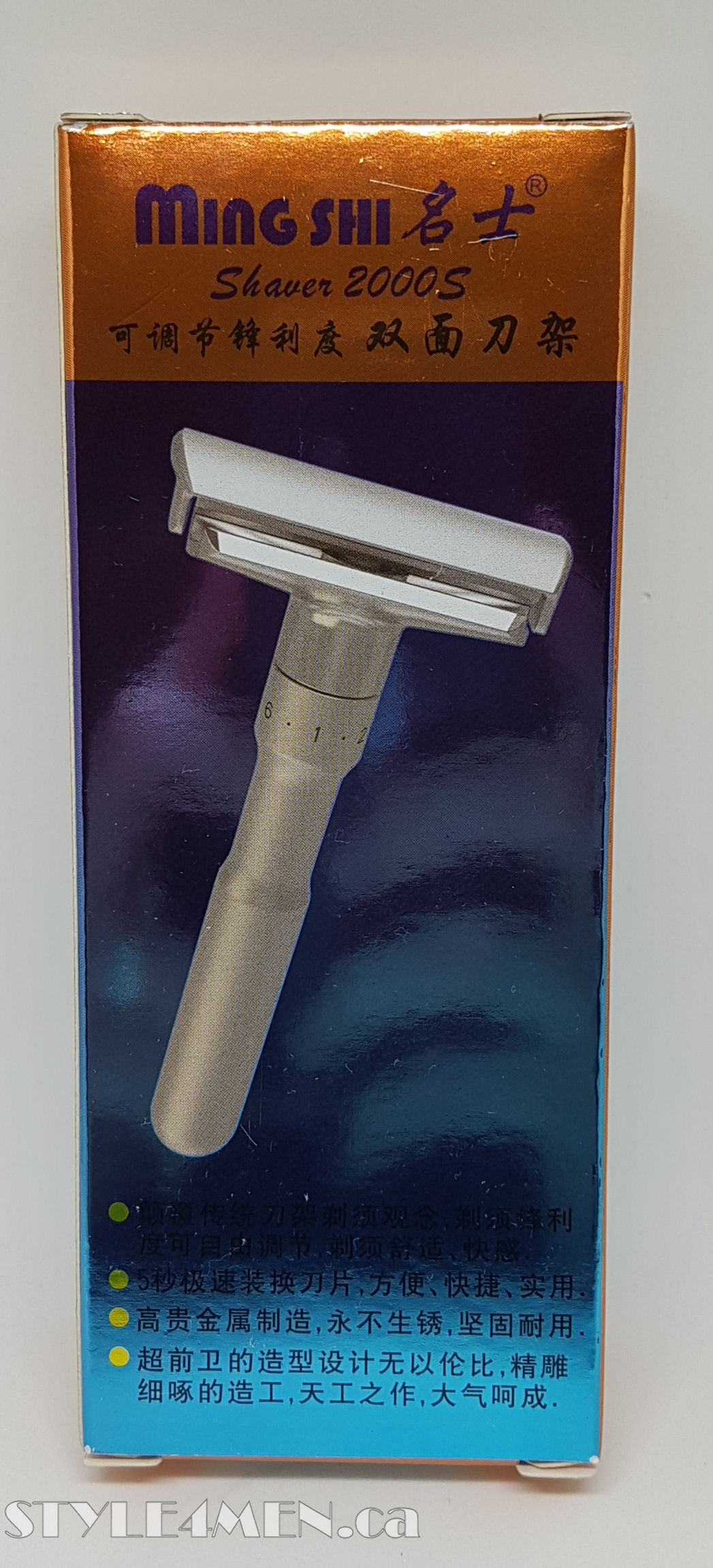 So the Merkur Future pretty much remained a fantasy item.  Until about 3 weeks ago when I received a promotional email from the folks at Maggard Razors.  They had a Chinese "clone" of the Future going for some $12.99 + $3.98 of shipping for a total of $16.97US, or roughly $22 CND.  Yeah Baby!  And the order was placed. The maker is a company called "Ming Shi" and the razor is called "Shaver 2000S".  It also comes with 5 Ming Shi blades
Some 18 days later, I am holding this interesting razor.  Not having a "Real" Future side by side to do a proper comparative analysis, I am simply going to report what you are getting for $20.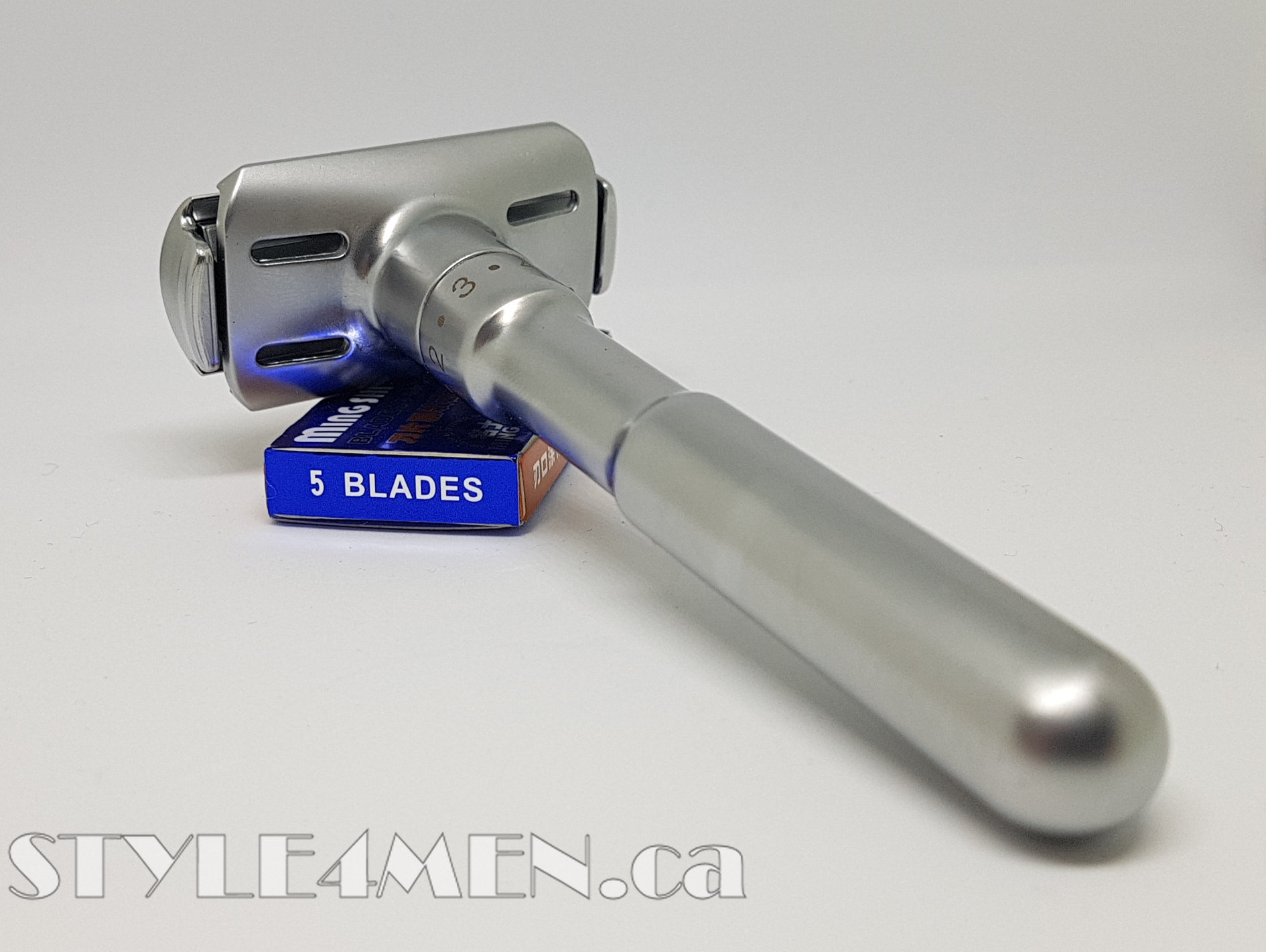 First off, this razor is heavy.  Well in the 100 g range if not more (My apologies as I do not have a scale to give an accurate measurement, but it weight about the same as a 100 g jar of pomade).  I  saw another reviewer listing 97 g as the total weight.  The weight of the razor is an important element since you want the weight of the razor to cause the pressure on your skin while shaving as opposed to applying force to accomplish the same and risk hurting yourself.
Secondly, it is extremely nice looking.  The finishing is worthy of a considerably more expensive razor.  It looks like a classy "brushed aluminum".
Thirdly, the simplicity of this device is remarkable.  To place or remove the blade, you simply need to pull the top protective plate or razor head.  The spacing appears to be quite correct as to avoid any unwanted injuries with the blade.  The main feature of this razor is being able to adjust the shaving angle.  For any man who has done a wet shave, you are well aware that not every shave requires the same treatment.  Sometimes there is more to shave, sometime there is less.  What better solution than to be able to adjust the angle of the blade to offer you the best shave for that moment?!  Plainly put, an adjustable razor is a brilliant idea. Adjusting the blade's shaving angle is as simple as rotating the handle between positions 1 through 6.
Now, I have to admit feeling cheap in buying a copy.  I feel like I am cheating the Designers and Engineers at Merkur who through their work, know-how and creativity have created this razor.  But who knows, this copy might turn out to be a total disappointment that won't survive more than a few shaves and I will have been shown a lesson.  Another part of me is also thinking, why would I pay $100 for something that was probably made at the same manufacture in Asia but doesn't have the Merkur stamp on it?  How would I know the difference?  As a result of corporations wanting to maximize their profits even further, they have moved their manufacturing operations from our countries to Asia where labour is drastically cheaper.  So in that sense, if the production cost has dropped 10X but the retail price has remained the same, who is benefiting? Certainly not the little guy.
Sorry about that, this site is not about politics or economics, it's about shaving gear and pomade – Back on track Buddy!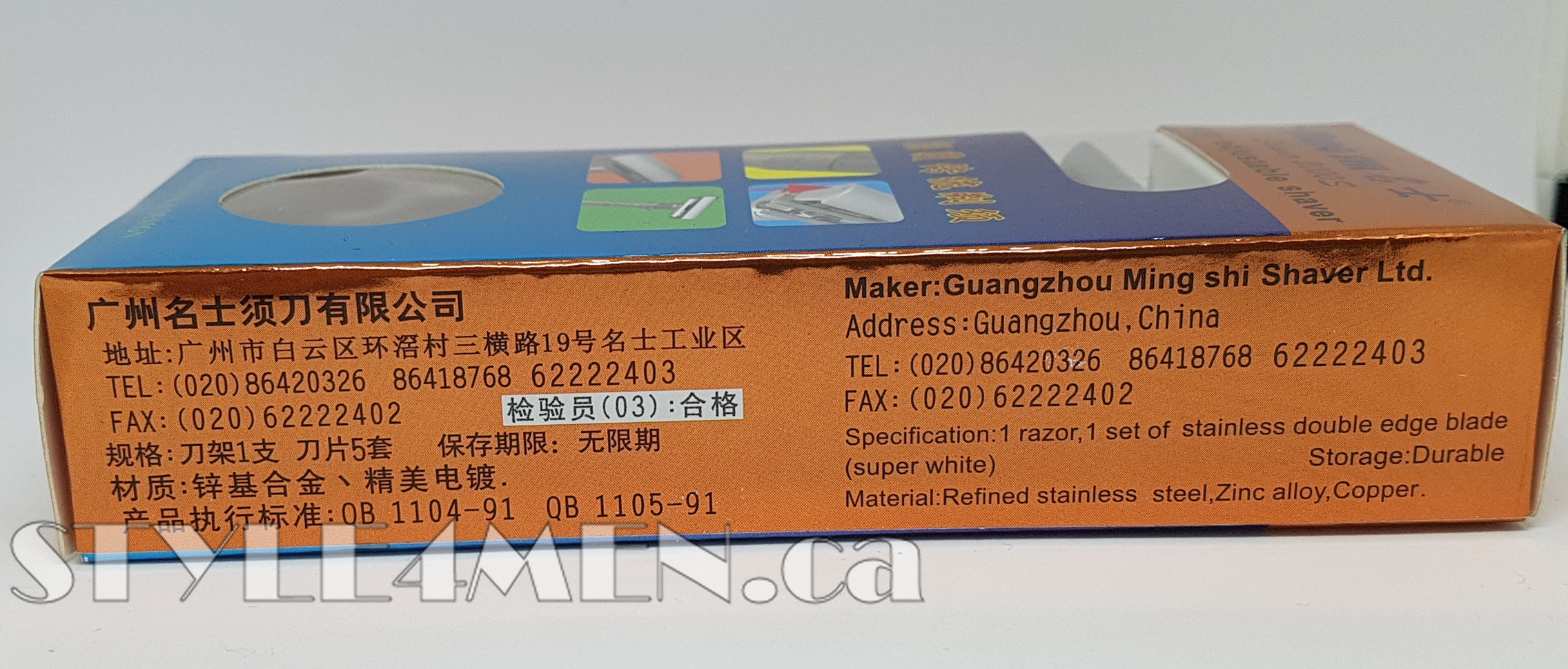 Design wise, I see one slight issue.  There is no hole at the bottom of the razor handle to drain the water that will inevitably end in it.   I would thus assume that once the shaving is done, that you should leave the razor up-side down to allow for proper draining and drying in between shaves.
As a perk, the razor came with a package of 5 Ming Shi branded blades.  I will not start with these as I will want to single out the variables to be able to properly evaluate the razor itself first.
TEST STAGE:
State: Out of the shower
Razor: Ming Shi Shaver 2000S
Blade:

Treet

Pre-Shave: None
Shaving Cream: 

LEA

After-Shave:  L'Oréal Sensitive After Shave Cream
This morning was time to try the Ming Shi Adjustable razor.  To put a blade in, you need to pop the razor head off.  Very simple as the head is held in place by pressure rods.  Placing the bade in place is a bit more involved has the guides to are very short and the blade is only really secured once the head is put back in place.  The head has two rods in the inside which secure the whole thing together.
Then comes the "adjusting" of the blade.  At first I assumed it was the shaving angle that would be adjusted.  It is rather the blade exposure that is adjustable.  The angle appears to remain the same, but more or less blade can be exposed.  Since this was my first shave with this razor, I opted to be cautious and went for the smallest blade exposure.  I used a shaving cream with good insulation and lubrication, LEA.  The LEA shaving cream is not my Go-To cream, but every time I use it, I am impressed.  The razor was loaded with a Treet blade as they have given me consistently good results.
Onto the shave.  Very quickly it felt like the shave was not going as smoothly as I had expected it would be. On numerous occasion I felt like I was getting nicks and cuts.  Considering I was using the smallest blade exposure possible, this was odd for sure.
Wanting to be as impartial as possible, this will not be the final verdict but rather the "first" impressions.  there are a number of things that I was hoping to not factor in, but I could have had a faulty blade and it is quite possible that although the LEA shaving cream has given me awesome results when shaving with the Merkur 180 it might not offer enough humpft for this razor.  The next tests will be done with Treet blades again, but I will use thicker products for the lube and protection.  Rocky Mountain pre-shave oil and shaving cream comes to mind right away.
Once the shave was completed, pulling the head off in order to dispose of the blade seemed like a slightly dangerous proposition.  Wet or slippery hands from the cream as well as a slippery  razor head.  I decided to wrap the whole thing in a towel to pop it open.  Since the main razor body has no real receiving components for the blade to stay on, the blade stayed within the removable head.  It was removed and disposed of.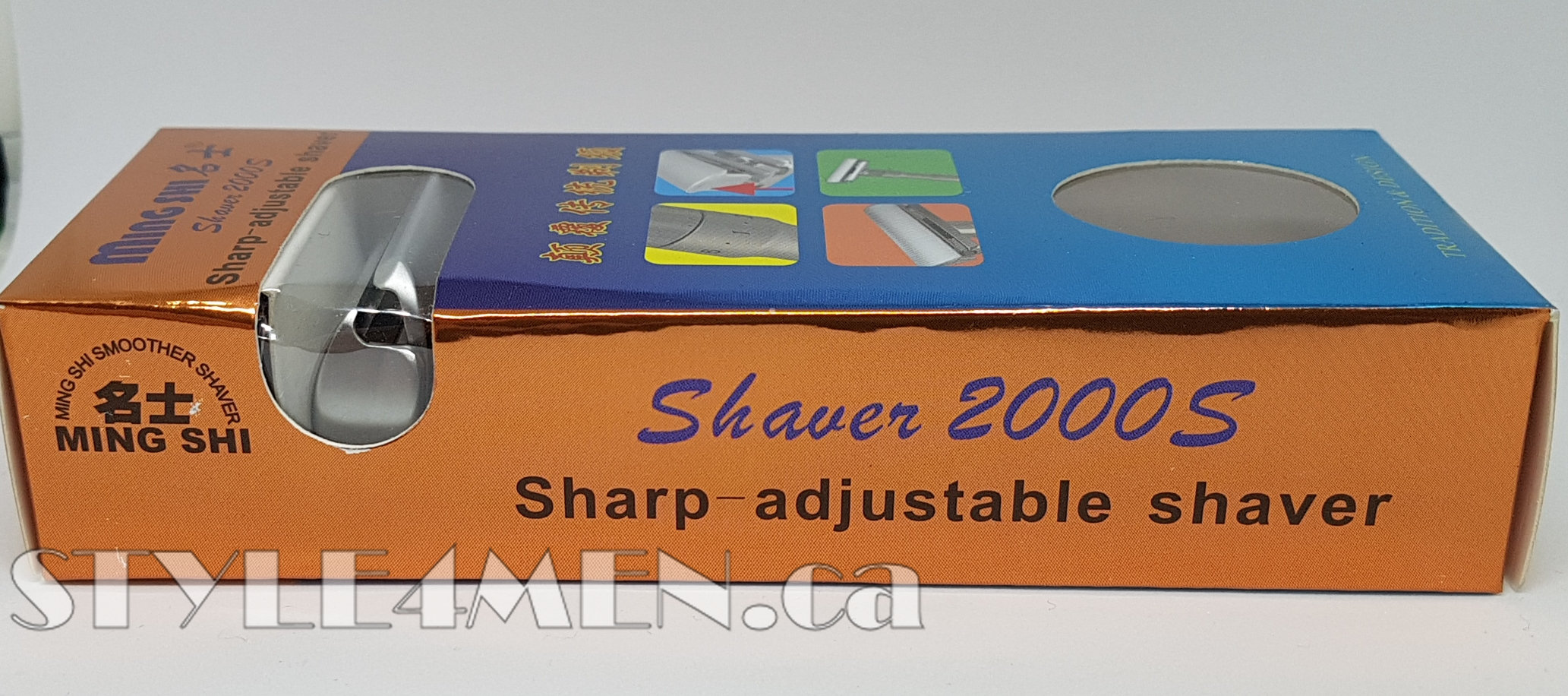 It is clear that more testing is required to narrow down which blades and shaving creams will work best with this razor, but at the same time considering that I have had numerous great shaves on the first try, it will not take countless tests to determine the worth of this razor.   You have to ask yourself, how many bad shaves do you need to experience before tossing that gear out? But as mentioned, these are my first impressions after 1 shave.  This post will be updated as the testing progresses.
Your can find this razor on the Maggard site (US) and a version of this clone can also be found on Amazon.ca for $24 as of last week.
Addendum for Test No. 2
This morning was Test No. 2 with the Ming Shi shaver 2000S.  This time the following conditions where used:
As mentioned above, the Rocky Mountain Bartber co. suite of products seemed like the right ones for this challenge.  Using these products rendered considerably better results.  There were no nicks, cuts or irritation.  Overall, a very decent shave.  I say "decent" as this still wasn't the perfect combination.  First off, instead of going to one extreme or the other in the razor setting, I opted for a middle'ish point.   The combination of the Rocky Mountain pre-shave oil and their shaving cream offered the best lubrication and excellent insulation.  Together these make a fairly thick layer and the razor was difficult to rinse out.  With my usual Merkur 180 rinsing this combination out is fairly simple with hot water.  With the shaver 2000S, it was seriously more involved.  Actually, in some cases the cream just didn't come off.  After the shave when removing the blade I continued trying to rinse out some cream that was stuck inside and again I was barely able to get it out.  Usually, on stainless steel this stuff comes off and leaves a greasy film.  On the brushed aluminum finish it is as if the surface has more adherence.  I am guessing here, but bottom line it was hard to rinse out.
Coming back to the actual shave results, this second test was considerably better and I will try a third combination to see if we can't get to that perfect shave.  This third test will be conducted with the ZIRH product set.  The ZIHR pre-shave oil and shaving cream are similar to the ones by Rocky Mountain but a tad thinner.  That might just be the right product set.