REUZEL Astringent Foam

As you know REUZELis one of my favorite pomade makers and brands in general.  They were among those first awesome pomades that were instrumental to my full spiritual conversation to pomade worship.  That being said, REUZEL produces more than just pomades.  They also offer a full line of men's grooming products.  They have the companion shampoos and have reached into the shaving space which makes perfect sense for the Barbers that they are.  In this post we will explore REUZEL's latest creation top hit the streets, the Astringent Foam!
I will admit not being entirely clear on what this product was for when I got it, we will therefore tackle it together. It is packaged in the same retro-vintage cool that we have become accustomed to from REUZEL.  It also has that distinctive guillotine which is the imagery of choice for REUZEL shaving products.  As you know, the pomades jars sport an awesome pig.  The bottle's shape is a tad different than other REUZEL products that are bottled, but the labeling makes it unmistakably REUZEL.
Based on the guillotine icon we know that this product is part of their shaving suite.   But what is an Astringent?
Astringent def.: a substance that causes the contraction of body tissues, typically used to protect the skin and to reduce bleeding from minor abrasions.
There you go! This product thus fits in the aftershave phase of your shaving adventures.  But is it an aftershave in its own respect  or is it something else?  In that spirit, I set out to try it after my morning shave.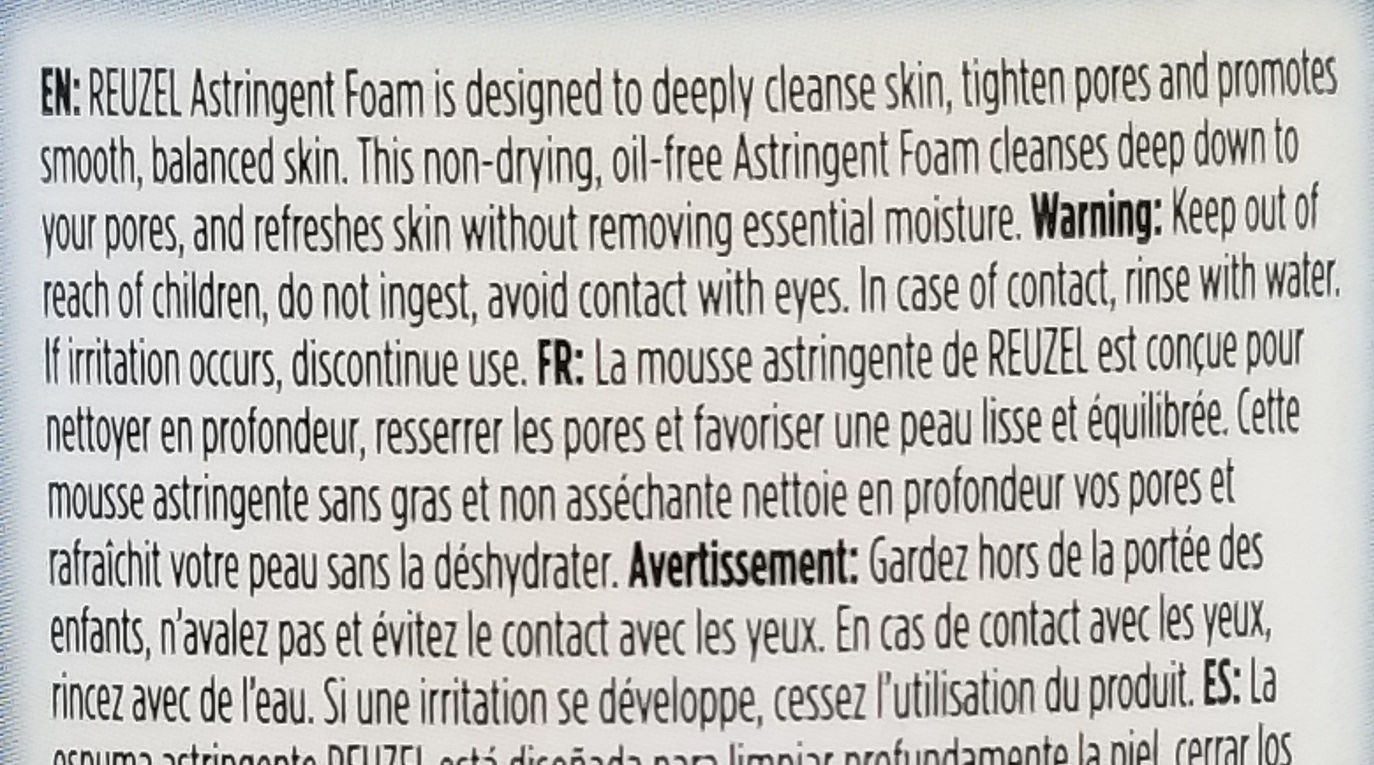 TEST STAGE:
Since this is a REUZEL test, I pulled out my REUZEL shaving cream.  The main perks of this cream are thickness (read that as protection) and lubrication.  In other words it is very comfortable shaving cream.  After a very nice shave, I cleaned up the remnants of the cream with a cool wash cloth and moved onto the Astringent.
This product is called the Astringent Foam and the foam aspect is delivered in a interesting manner.  The bottle is plastic and not a metal can with its content under pressure.  The contents of this bottle are clearly liquid, so how does the foam happen?  The bottle has a very original dispensing mechanism as part of its nozzle: a meshed funnel that caused the liquid to become foamy when pushed through.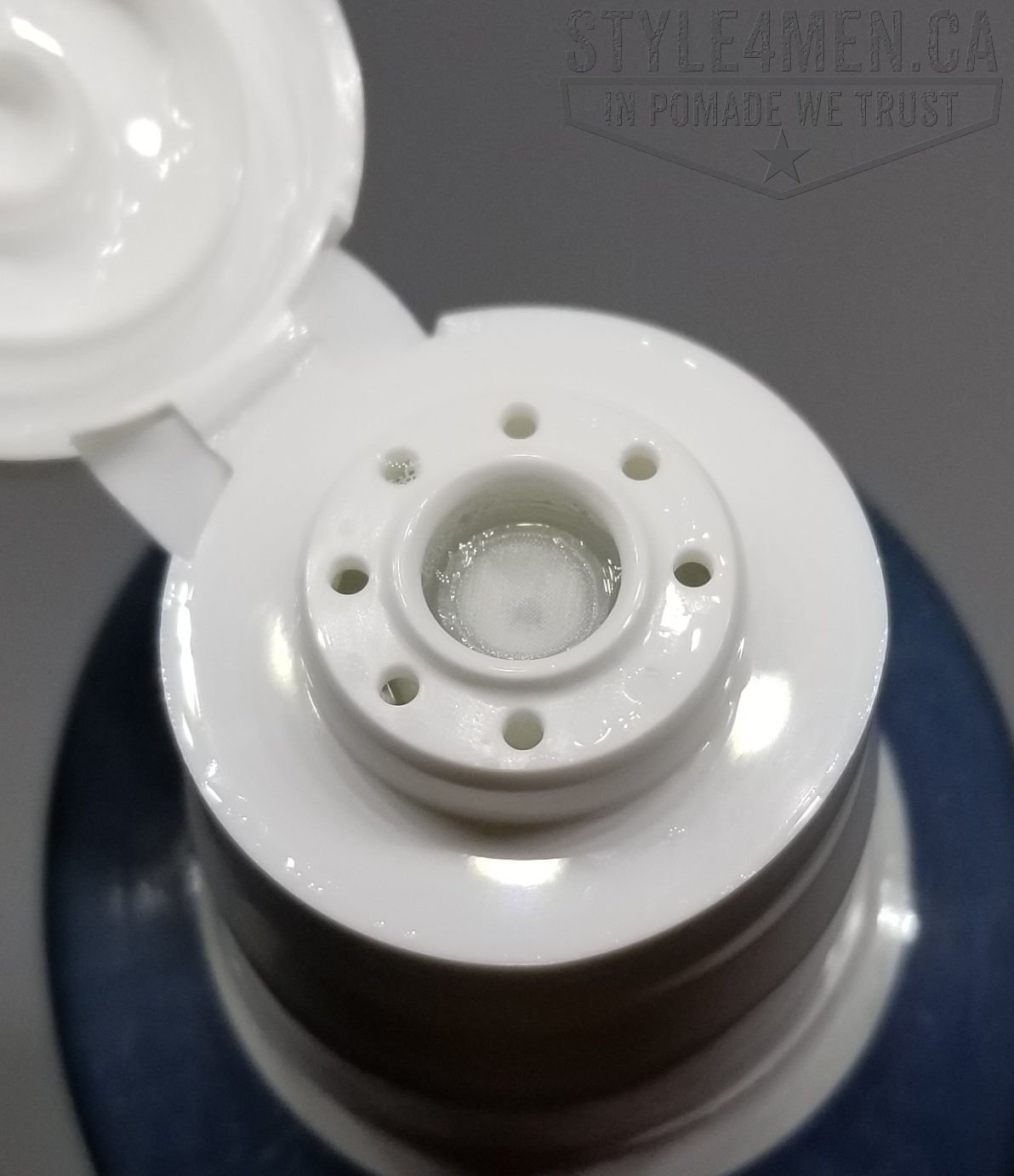 As per the above description of an astringent, I figure that I might not need all that much product and portioned out about the size of a Canadian quarter in my hands.  I rubbed my hands together to spread the product and splashed it on my mug and massaged it in a little.   Your nose will be the first to alert you about about a well known culprits that delivers cooling sensations; mint. Then your skin will confirm that.   It is well dosed and is a pleasant feeling. The product itself is very easy to work with and not messy at all.  The foam that it is is very light  and will be quickly absorbed by the skin.  The cooling sensation has a bit of staying power and feels great.
Looking into the ingredient composition of this product, I am pleased to find the presence of two skin care rock stars: Witch Hazel and Aloe Vera.  With Hazel is a well known and proven astringent and anti-irritant while Aloe Vera continues on that healing path.  Having such strong players in your aftershave make it a clear winner.  If you are a regular on Style4men.ca you might have come across some of my post covering what I refer to as "New-School" aftershaves.  these aftershaves are presented as old-school alcohol based aftershave but make usage of witch Hazel in various proportions.  In some cases there is no alcohol whatsoever and in other cases it is accompanied by alcohol.  bottom line, your skin is the recipient of this goodness.  This approach to aftershave as essentially become a new passion.
In fact based on the ingredient composition, I would most likely classify this product in my new-school aftershave category.
Coming back to the actual usage.  A few minutes after application, once the product had completely dried I was checking out the quality of my shave and noticed that my mug was a little tacky to the touch.  No tightness or dryness which would be a typical sensation after using an alcohol based aftershave,  just a little sticky to the touch.  Since the scent had mostly worn off, I opted to use a little REUZEL after shave splash to come full circle.  I wanted to remove that slight tackiness and essentially get the fragrance properties of the regular REUZEL aftershave. Note that the Astringent is not really an olfactory fiesta as it is rather discreet.
Having finished with the splash in this manner, it was a considerably smoother sensation since the bulk of the cleaning and pore closing effort had already been done by the Astringent.  The aftershave splash was thus doing more of fragrance job as opposed to the full aftershave service.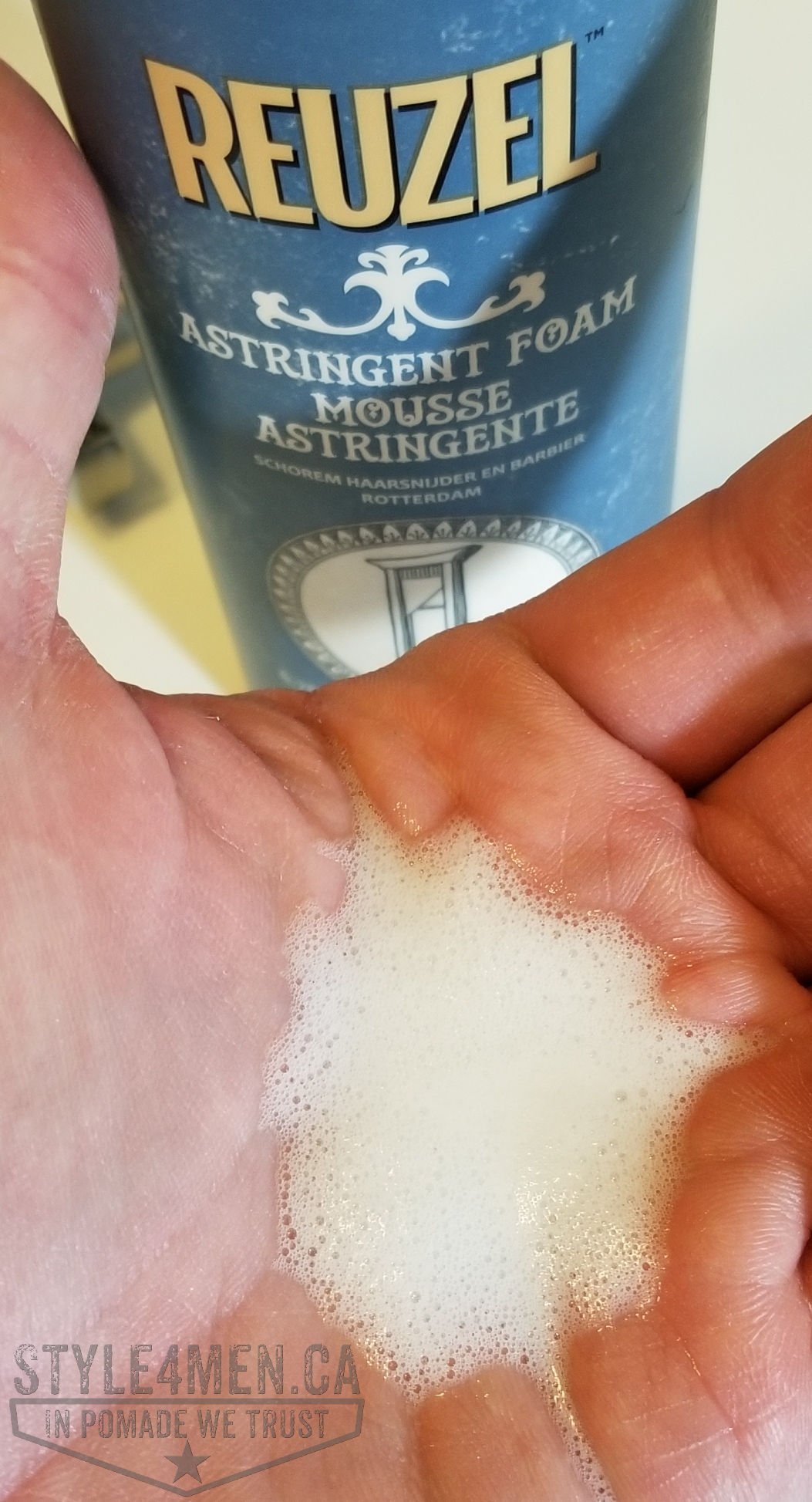 I take this new Astringent Foam as REUZEL filling the gap in their aftershave offering by including a "NEW-SCHOOL" aftershave that is seriously milder than a straight alcohol splash.  I personally enjoy the REUZEL after shave splash very much as it does a great job of cleaning up after the shave and it offers a very unique REUZEL take on sandalwood.  In so many words, it is one of my favorite fragrances.  That being said, an aftershave splash takes some getting used to and it is not for everybody.  We also need to consider people with skin ailments and/or allergies.  Alcohol being the predominant ingredient in "Splashes", they tend to have some drying effect on the skin.  I will take it as REUZEL took notice of that and added an alternative.
From what I can see, Style4men.ca has essentially gotten an exclusive on this new product as I haven't seen any other product reviews covering the Astringent Foam.  For that and for her ongoing support of Style4men.ca, we want to give a big shout out to Marta at REUZEL for trusting us again.
Use this link to shop directly with REUZEL for the Astringent Foam and all of their grooming products: