Shaving with FENDRIHAN's Aloe Water shave oil and shave cream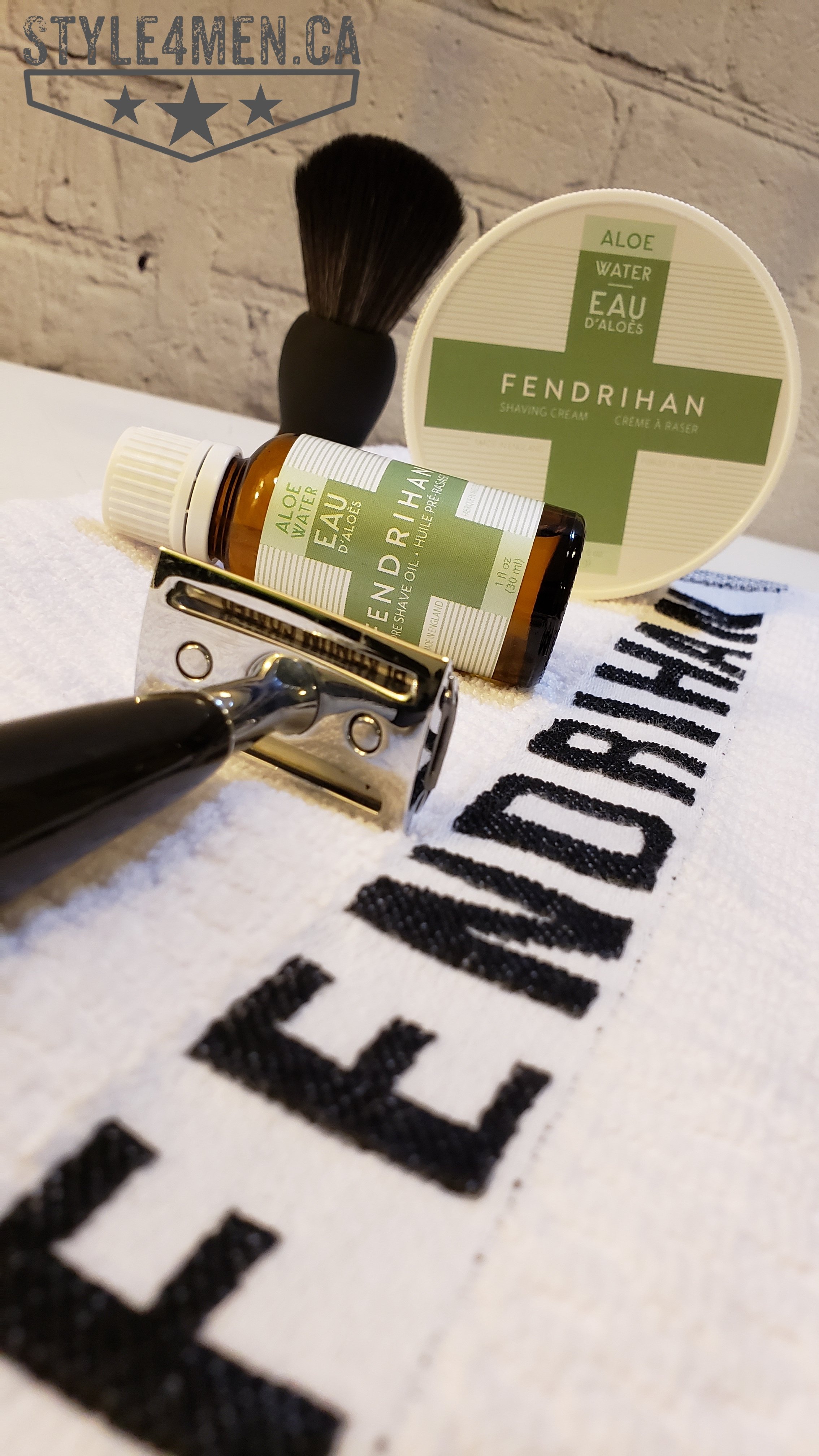 On the test bench today are the pre-shave oil and shave cream from FENDRIHAN.  As mentioned in the unboxing video, FENDRIHAN is a Canadian grooming goods on-line store which has expanded its business to now offer their very own product line as part of the catalogue.
Up front, the presentation of this line is clean and elegant.  The colour accents distinguish the 5 scents:
Bay Rum – Burgundy
Bergamot – Green
Charcoal – Black
Aloe Water – Mint
European – Blue
For the purpose of this review I worked with the Aloe Water shave oil and cream.
I will take off on a side tangent here, I really like the fact that FENDRIHAN is offering so many aromas for this collection.  Why is that? I rarely shave 5 days straight using the same products.  Obviously, I am testing a number of products on a weekly basis, but it is more of a "mood" thing.  The shave ritual is integral to my morning routine as it often sets the mood for the day to come.  The aromas and flavors in shaving products is something I really enjoy and look forward too.  Yes, I have recurring favorites, but having variety is a big thing.  I love vanilla for example, but maybe not every day.  There are days for Bay Rum, for Musk (European) or for Aloe Water.   These subtle and pleasant fragrances have a way of making you smile and accompany or enhance your mood. So kudos to FENDRIHAN this!

The actual jar for the cream is quite large at some 170 gr and the pre-shave oil at 30 ml.  You certainly won't feel like you are getting jypped on quantity.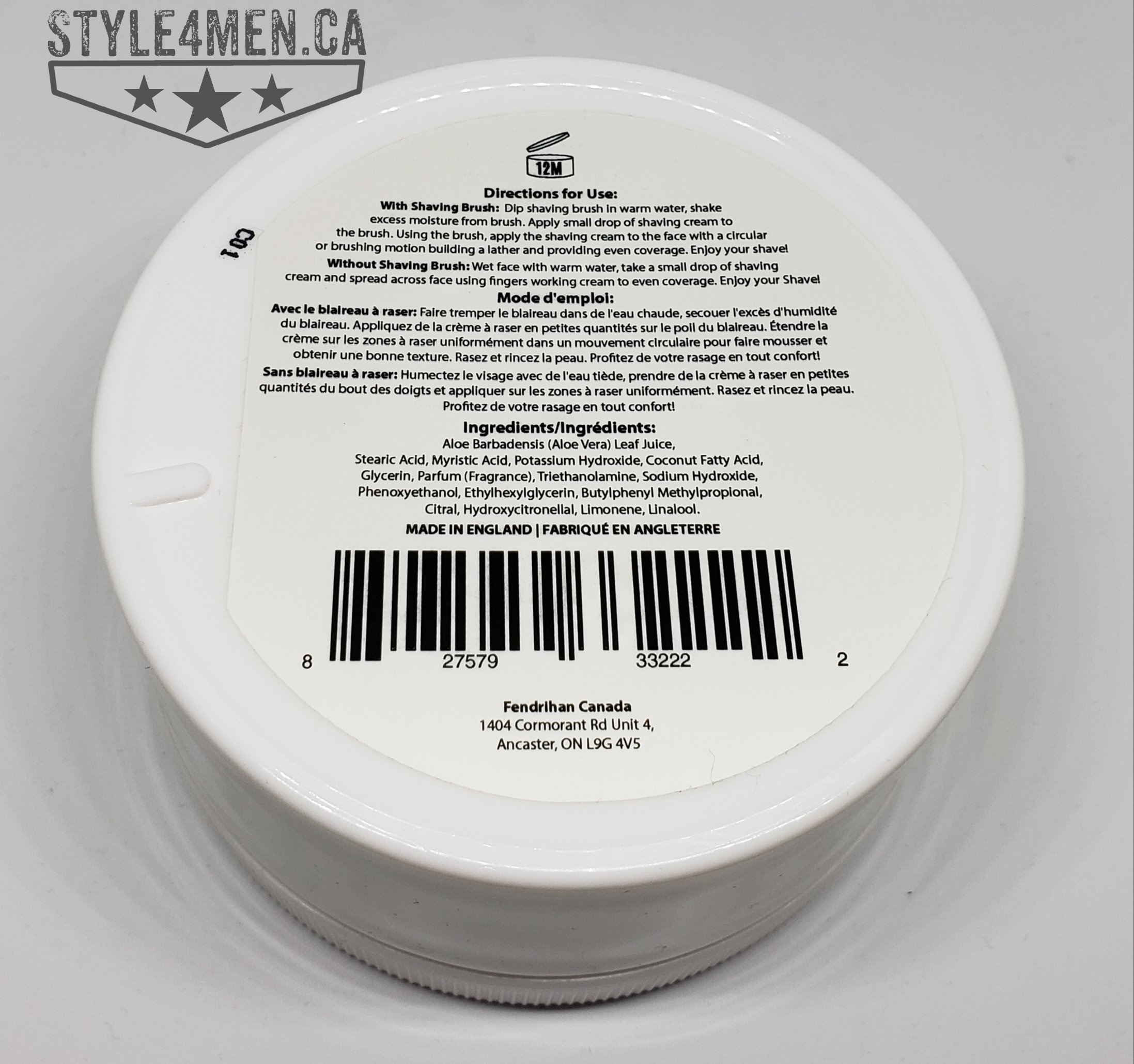 It is worth mentioning that the shave cream comes in a durable jar with a lid.  There are 2 ways of working with a cream.  First by hand, scooping the cream out with your fingers and applying it. Second, by using a wet shaving brush. I use to be more comfortable just slapping cream on with my fingers but over time I acquired a taste for the more even distribution I could achieve with the brush.  The fact that the jar has a large mouth makes this approach very simple and mess free.  Just wet your brush with hot water and rub it in the dish to collect some cream and then start applying on your mug.
I might start here with the phenomenal lather I was able to produce in a just a few strokes of the brush.  It actually surprised me a little.  It was beautifully thick and creamy.  If I didn't know any better I probably would have tried to taste it as it was so inviting.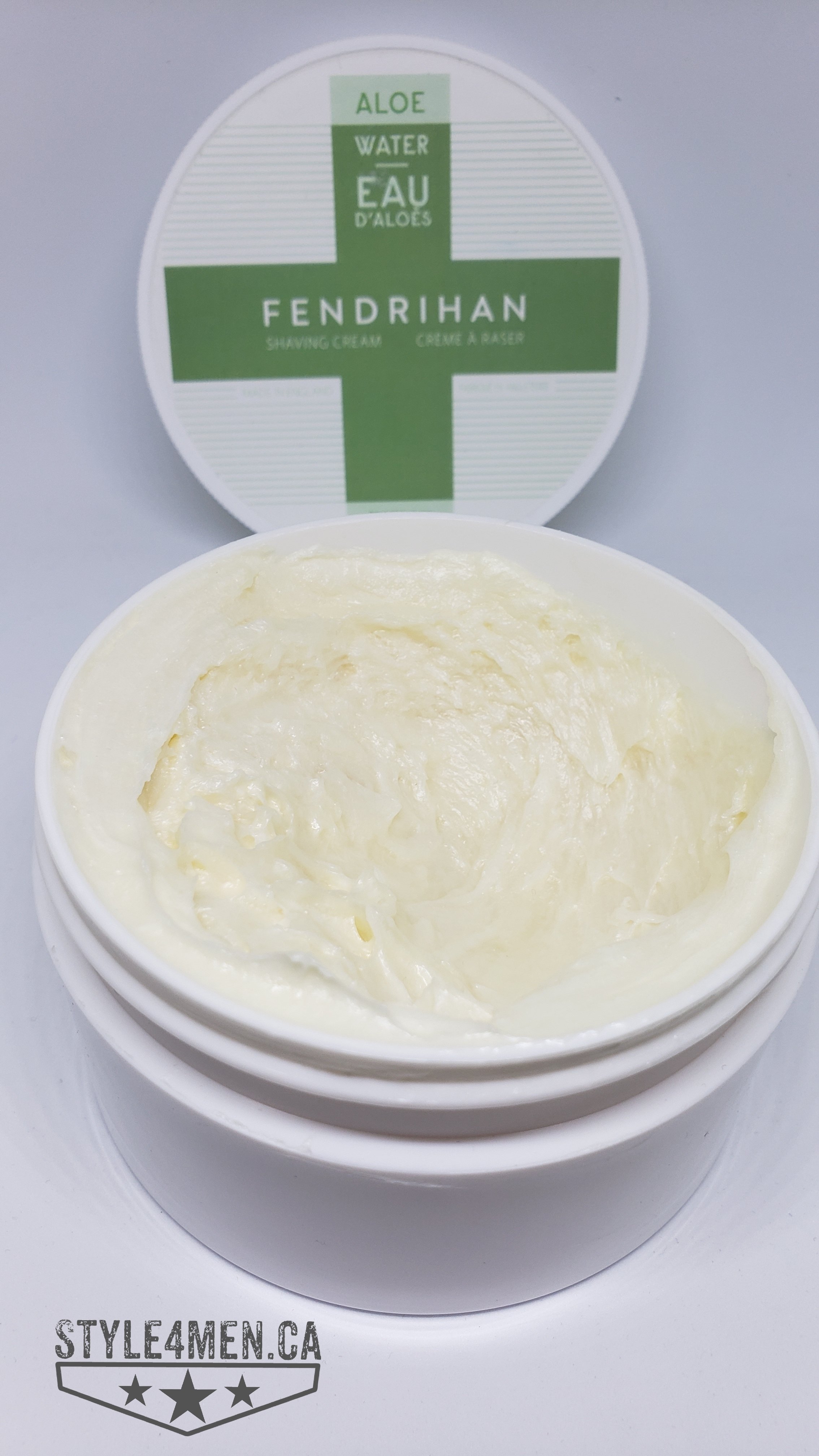 But let's respect the order of events.  After coming out of the shower with a freshly washed face and a good steam treatment, I started by dispensing a few drops of the pre-shave oil. If you are new to this blog or even new to wet-shaving, know that using an oil as part of your shave routine will elevate your shave from a chore to a ritual you will be looking forward too.  Obviously, I take pleasure in the whole process, but the oil is that one single product that will have the biggest effect on your shave.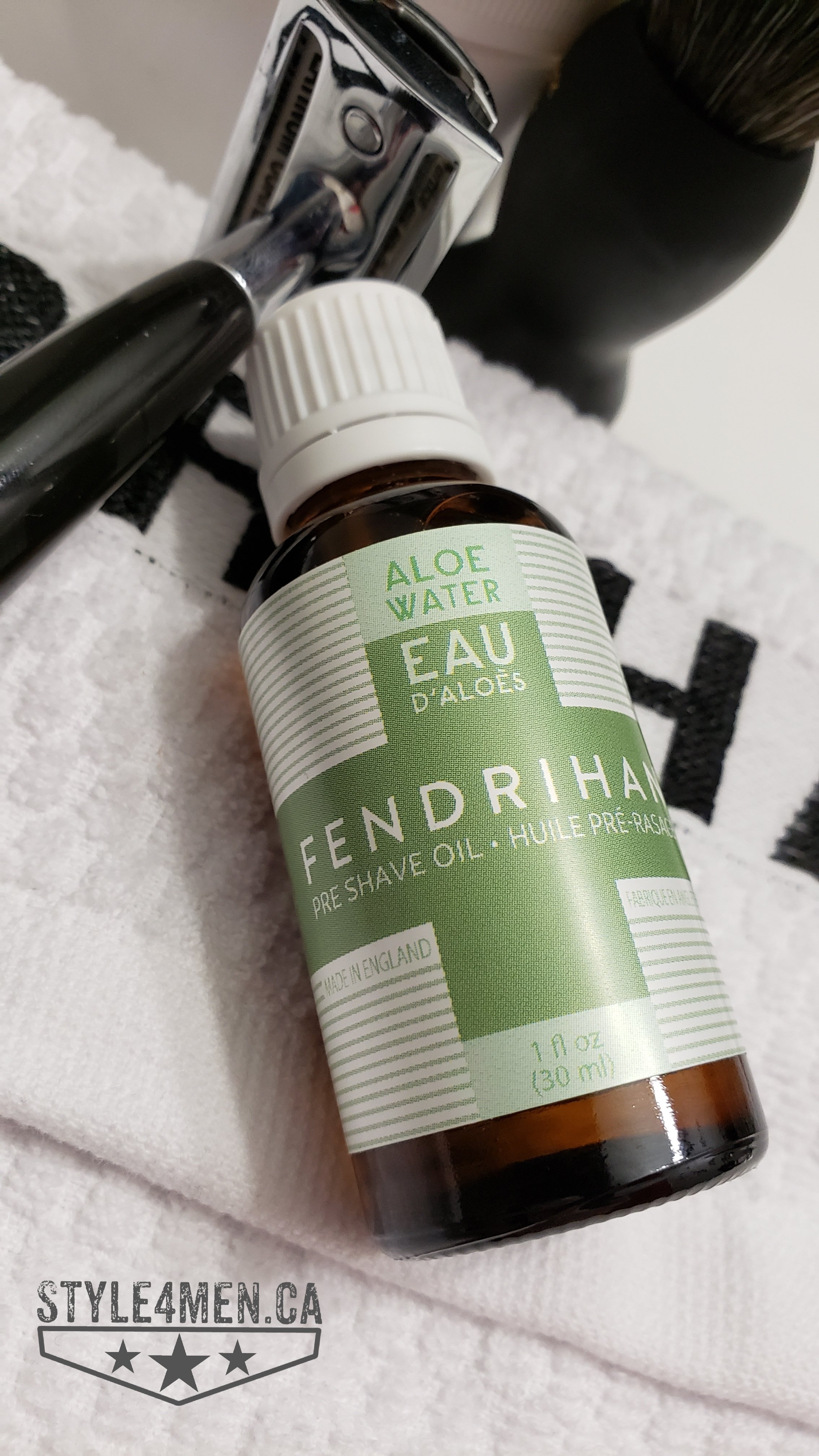 If you are prone to cuts, if you feel unprotected, if your feel poorly insulated adding a pre-shave oil to the job will turn everything around for you.  In simple term, the oil does 2 main tasks.  First off, it creates an oily film over your skin which insulates and moisturizes.  Secondly, it lubricates the terrain for the blade to glide over your skin as opposed to digging into it.  I usually apply between 4-7 drops of oils depending on their consistency and coverage.  Not all oils are the same.
The FENDRIHAN pre-shave oil has a solid list of participants:
Castor oil
Sunflower seed oil
Olive Fruit Oil
Soya Bean Oil
Castor oil is one of those impressive ingredients with a long list of benefits for skin: prevents wrinkles, fights acne, reduces puffiness, contain antioxidants and the list goes on. Texture wise castor oil is somewhat denser than others oils and as a results you will have to gently shake to bottle to get it out.  I also used a bit more to prep my mug.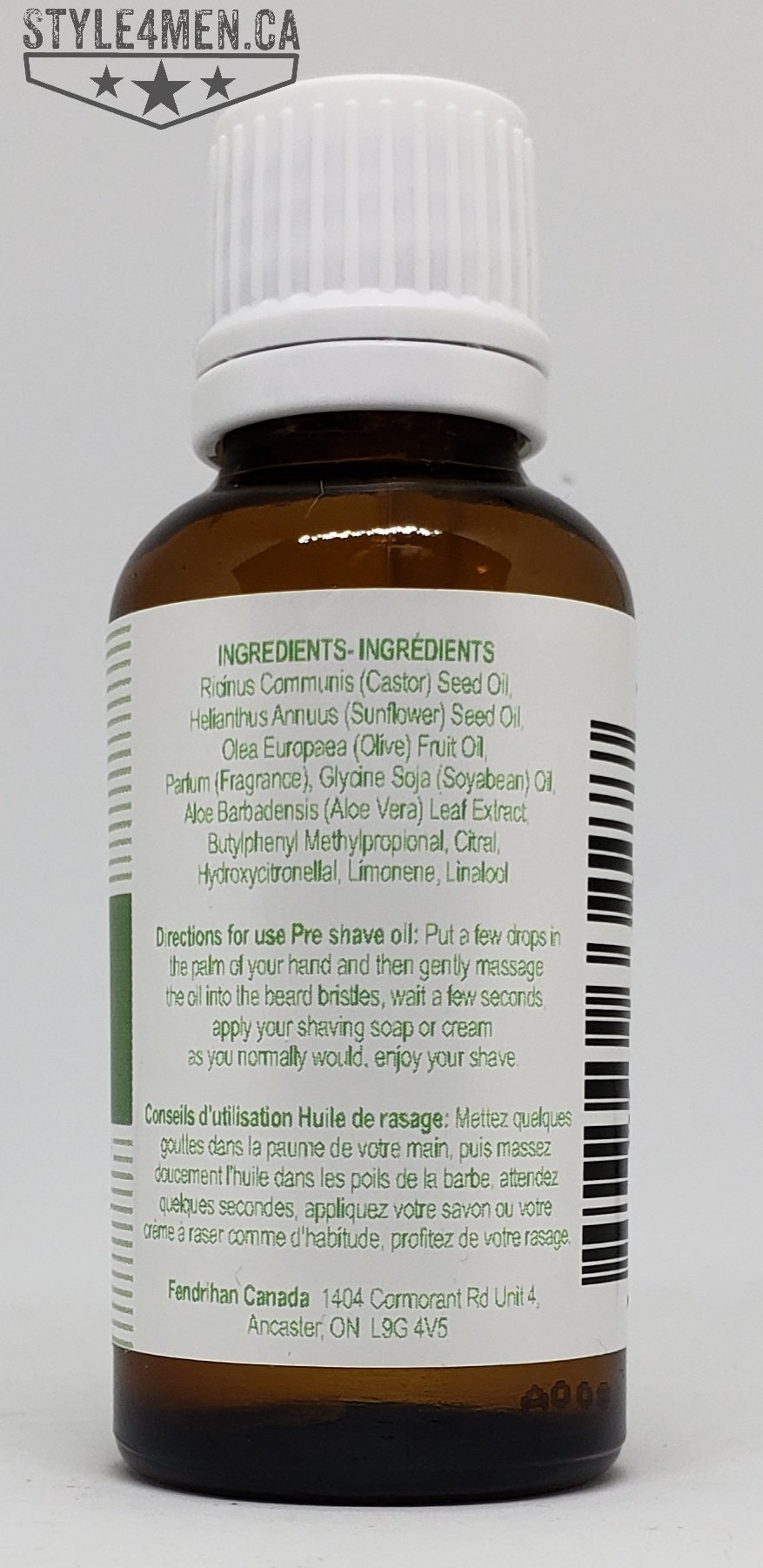 Onto the shave cream!  As mentioned above, it lathered intensely.  On application it adhered very well to my mug and created a very good barrier for the shave.  The cream has a good basis of oil as well.  This is a good thing as moisture and lube are the main things you should be after.  The oil here is coconut oil.  If you are not in the know, coconut oil has a Rock Star status in the skin care arena.  Click the link to see the benefits for yourself.
While shaving I felt supremely protected.  The whole process was very comfortable.  The cream is thick, but not so thick that it is a problem to rinse out of the blade.  Even if that were the case, I usually don't mind because if it is protecting my face those few extra seconds it takes to rinse the razor are worth it.
Then comes the rinse off.  I give myself a wipe with a wet wash cloth to remove any excess oil and shave cream. The final touch is the aftershave splash. Since FENDRIHAN does not currently offer an aftershave I used an old-school vetiver splash from my collection.  The vetiver aroma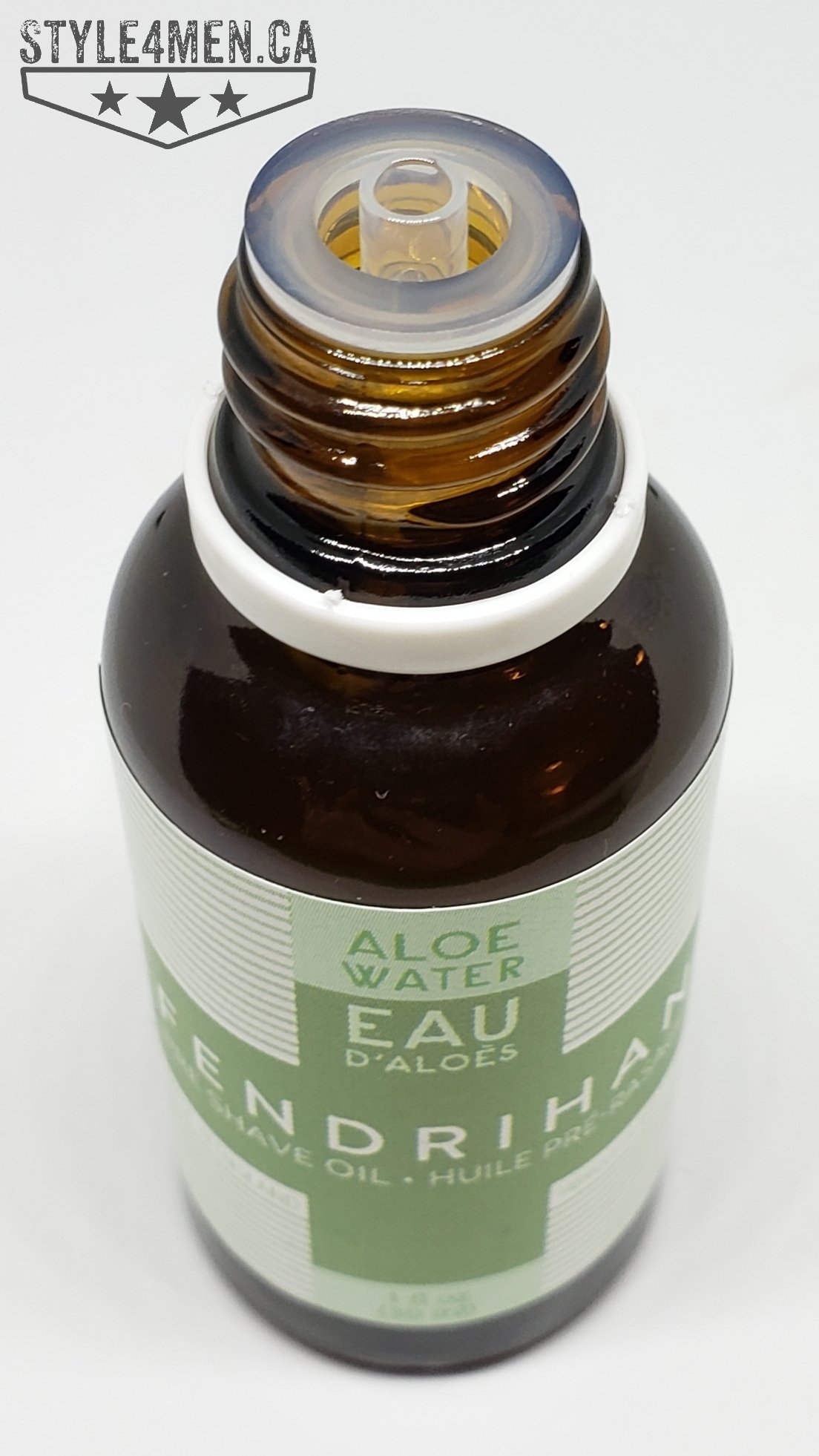 was close enough to my nose to the Aloe water and I figured that this worked well together.
Coming back to the shave oil, the oil also continues to offer benefits all the way up to the aftershave stage by still protecting your skin from the sting of old-school aftershave splashes.  The alcohol shock is tremendously reduced.  This can also be considered as a symbiotic relationship, because the splash will also help to remove the last remnant of the oil.
The overall aroma of the Aloe Water is green and fresh.  As mentioned above, to my nose it was close to vetiver.  This is also a discreet fragrance.  It is just for you for the duration of the shave.  I can't say that the fragrance stayed much longer than that.  As these are task focused products, this makes perfect sense and you probably wouldn't expect your shave cream to do your aftershave or cologne's job.
To sum things up, FENDRIHAN's pre-shave oil and shave cream are a beautiful and worthy addition to their product offering.  In the competitive shave soap and shave cream space, the FENDRIHAN cream puts many other more expensive creams to shame.