STEPHAN Stay Smooth Conditioning Shave Cream: A Treasure direct from the vault
So it's the Christmas break and I let my beard grow for the last few days.  I'm on vacation, come-on?!  That makes for good test conditions. Before the break I stopped in at OBSCO to see if they had anything new to explore.  As you know I have been favoring old-school products these past months and I was hoping to get a jar of Lucky Tiger Mollé shaving cream.  Looking in the area where they place these old-school barber shop products, I saw this un-asuming jar that I figured was from Pinaud-Clubman.  But no, it was a jar of a brand I did not know; STEPHAN.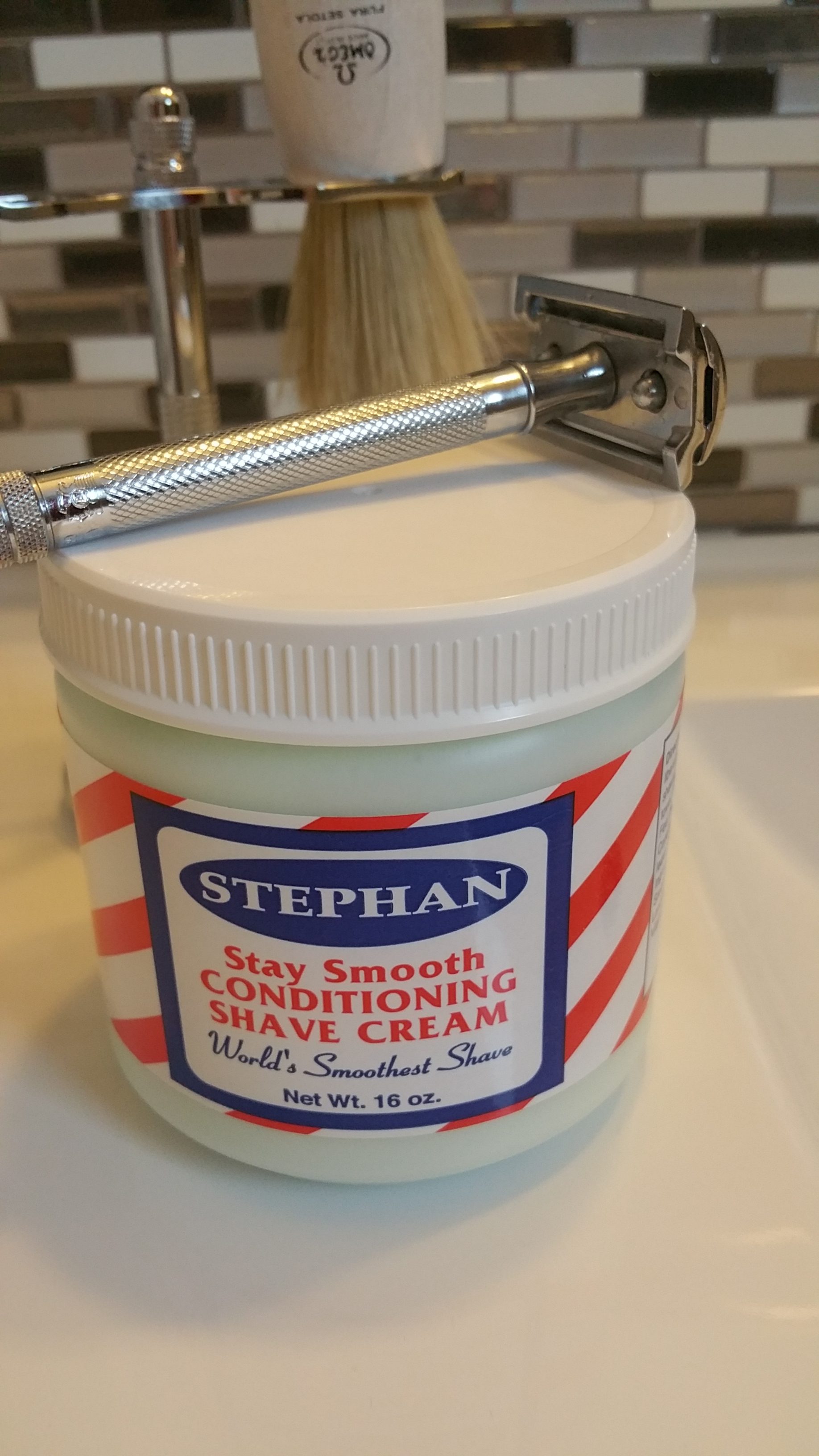 This thing screams old-school!  Basic packaging.  Traditional blue/red barber colours.  Big lettering.  I am guessing that the only thing that has changed since the 50's is that the jar is now made of plastic instead of glass or metal.
This tub was also inexpensive at some 7 or $8 for 16 oz (473 ml).  Considering the shaving butters of more recent players that offer nicer packaging and selling for $20 or more, this cream is a bit of an anomaly.
Let's be clear, I wasn't expecting anything, I was merely hoping.  As you can see in the pictures this stuff doesn't look very inviting with its minty green slimy texture.  It is rather liquidy for a shave cream.  This liquidy property also made it a bit hard to apply as it was dripping.  Just go moderately.  That being said, it is sticky enough to be applied successfully.  Note that I pictured it here with my badger brush, but I applied it by hand.  Next time I will try the brush to see if that simplifies the application.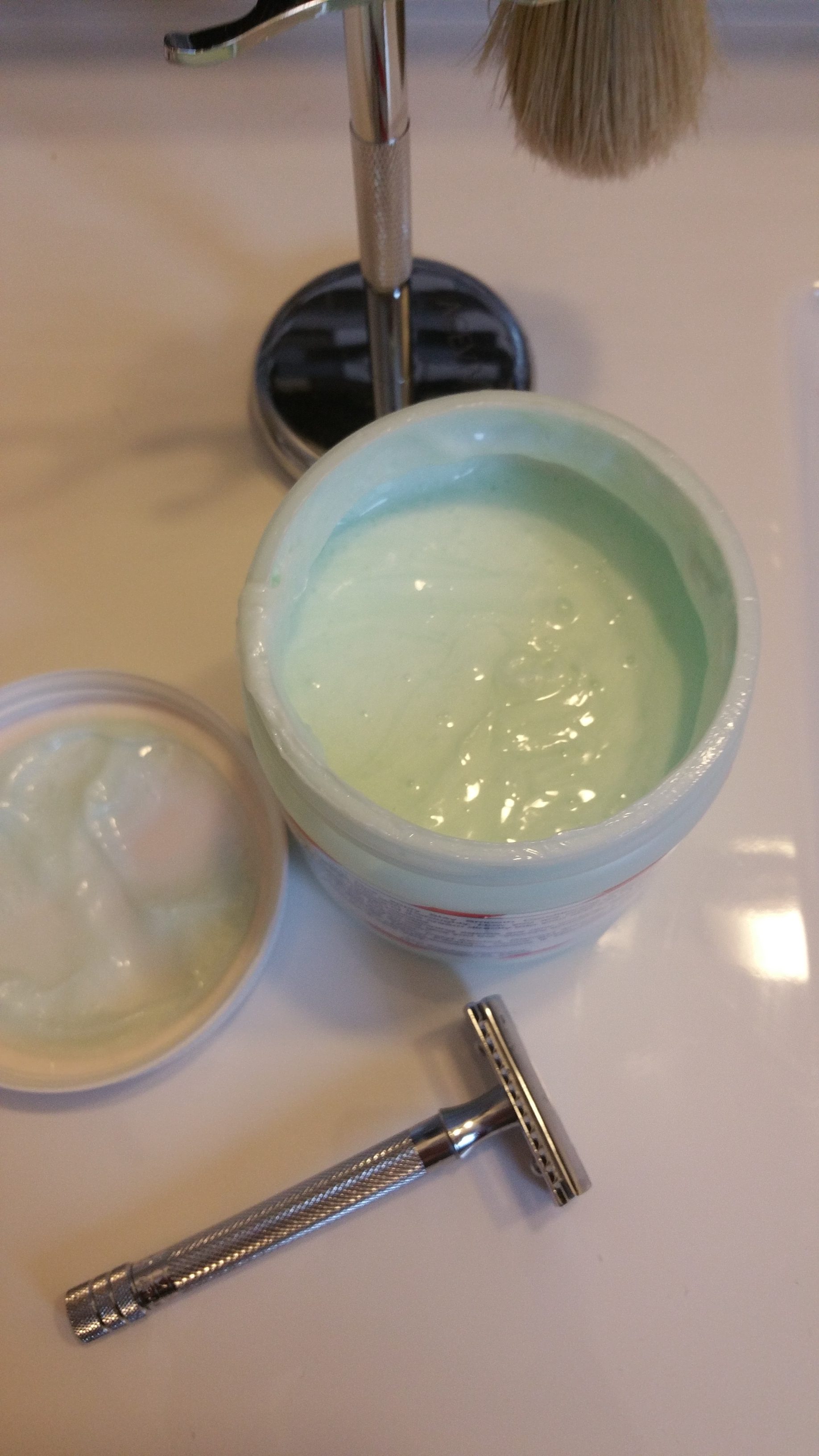 The scent is the only thing that made this stuff somewhat inviting.  A lovely sweet coconut fragrance.  It brought me right back to summer by the pool and the scent of sun screen.
Then came the surprise.  WHOLLY SMOKES!!!  This stuff is…WOW!  OK let's try to make some sense of what happened.
First off, my face felt completely insulated as it would with a foam, which this is not.
The blade glided so smoothly that it almost did not feel like I was shaving.
It was possible to do multiple passes without feeling like the skin was no longer protected.  Remember that I was shaving a 4-5 days old beard.  There was still plenty of lube at every pass.
Rinsing the razor which often turns out to be a difficult thing with thick and or sticky products, was a total breeze.  This stuff came out right away, leaving the blade perfectly rinsed for the next passes.
Wipping the remaining cream off my face with a wet wash cloth was equally simple and easy.  One quick wipe did the trick.  No rubbing or scrubbing to get this off.
Lastly and probably most important, my skin was not irritated.
I was just left with a fabulous shave and an impressive shave experience.  Normally, I use a pre-shave product to get that kind of a result.  It wasn't necessary here.
TEST STAGE:
State: Out of the shower
Razor: Merkur 180
Blade: Derby
Pre-Shave: None
Shaving Cream: STEPHAN Stay Smooth Conditioning Shave Cream
After-Shave: L'Oréal Sensitive
As a side note, I aim to only try one new product during a given test.  This helps isolate the said product under test, where the other variables are known or constant. For example, I know that my Merkur 180 razor along with a Derby blade gives consistently good results.  This then helps isolate how well a given shave cream performs.
This product being so smooth I was also going to suggest it to the ladies as a good candidate for leg shaving.  Well, another reviewer beat me to it.  Check out her review on XOvain.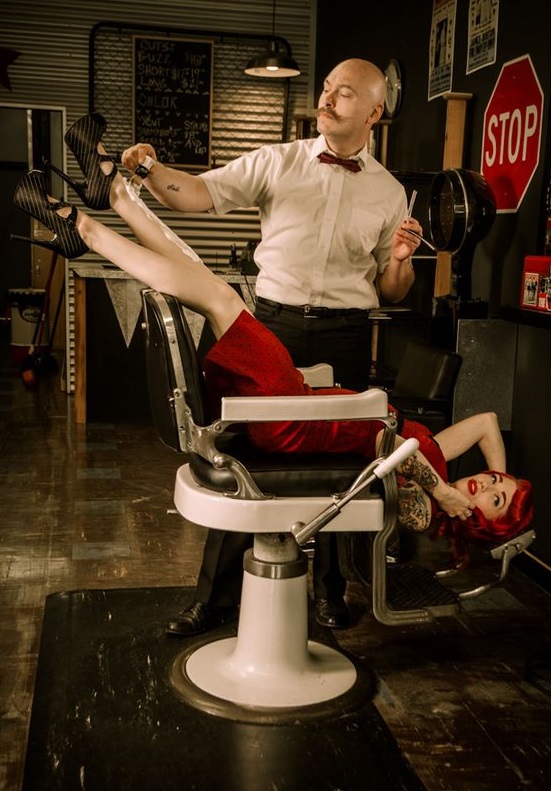 Barbering with benefits.
Now comes the big question; how do I procure myself a jar of this miracle cream?  Until my visit at OBSCO, I had never seen or heard of this stuff.  Obviously, it is available at OBSCO and it is also available on Amazon.com.  From what I can see a few other on-line sellers have it.
The slogan posted on the jar states: World's Smoothest Shave.  I concur!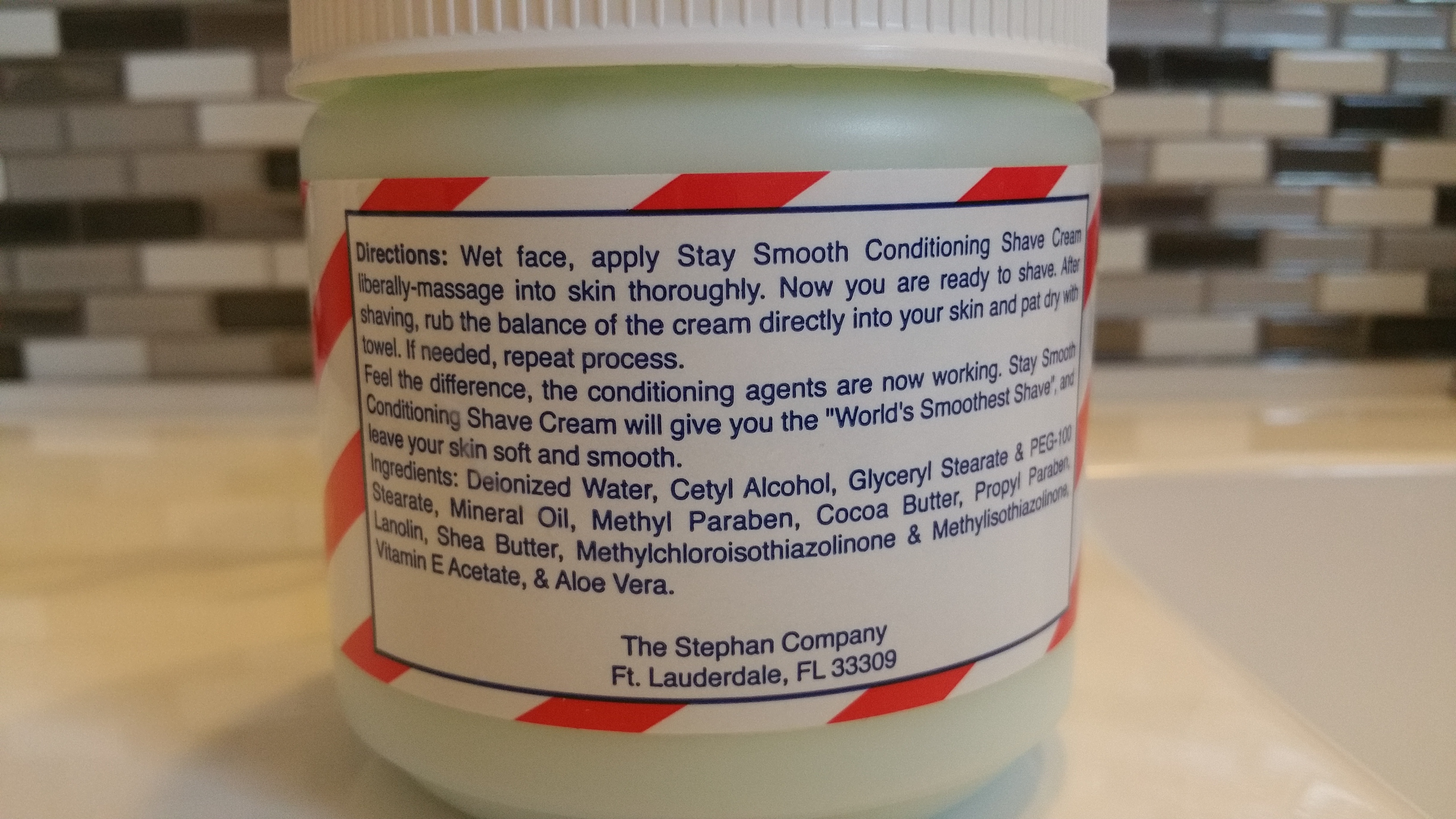 If you can't make it out to OBSCO, use these links to shop for this product: