A Straight Razor Shave at the Crow's Nest Barber Shop in Toronto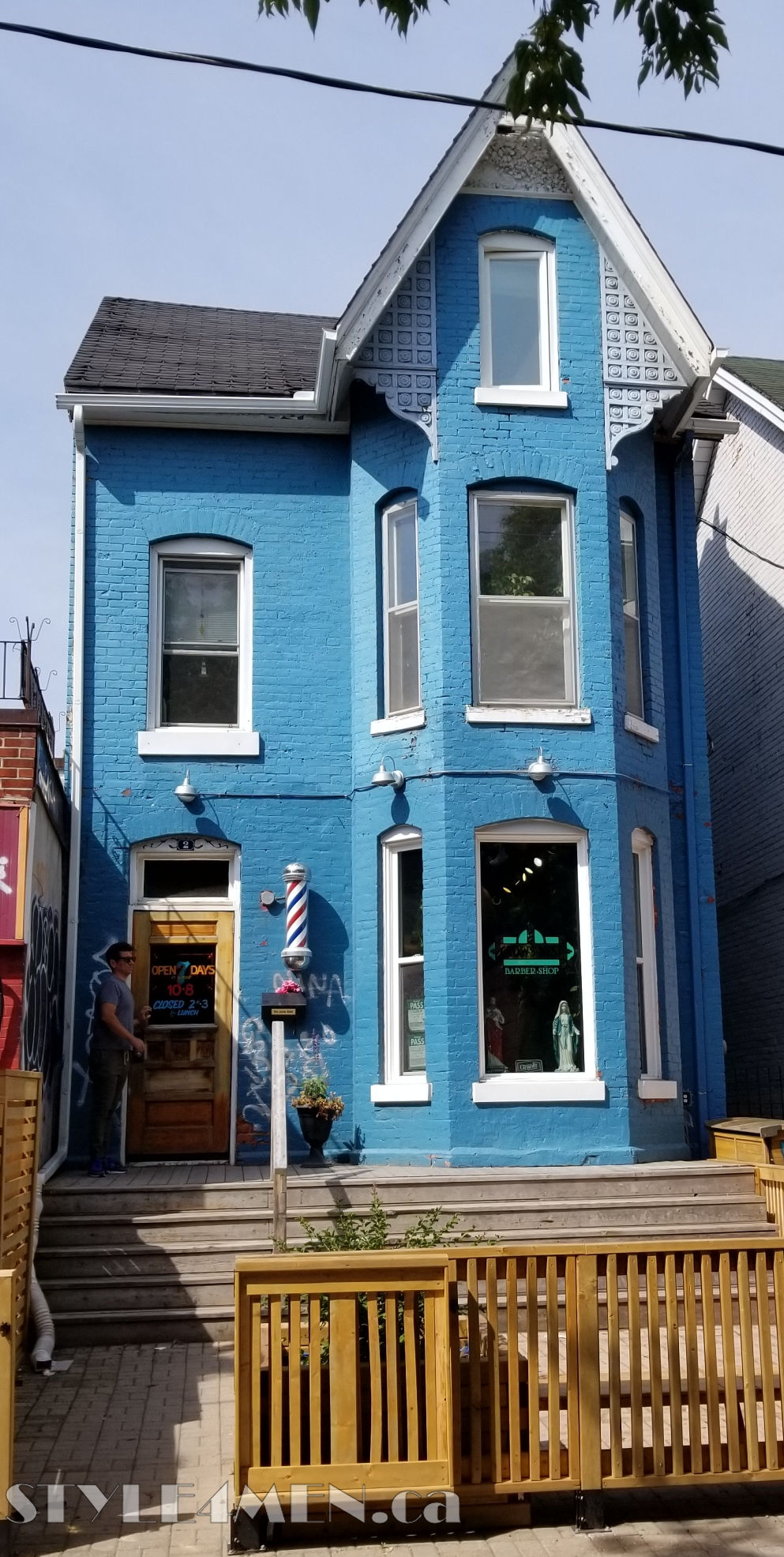 This weekend I was in Toronto with my family for an urban vacation.  It's becoming a yearly little visit to our Canadian metropolis.  As part of this visit, I obviously wanted to make the most of it and make a stop at one of Toronto's top barbershops.  I ran a few queries on Google to get a sense of which barbershops came up in different people's lists.  The Crow's Nest came up in about 3 of the lists I looked at.  It was also close to Yorkville where we were staying.
At first I tried to use there on-line booking application, but since I wanted 2 appointments at the same time, one for myself for a straight razor shave and another one for a haircut for my son, the on-line solution wasn't working out for me.  I went old-school and just gave them a call.  The booking was done without trouble.
This morning was time for our appointments.  First off we scoped the place out.  It's located in Kensington market.  Even though I lived in Toronto for a year, two life times ago, I had never been in Kensington market.  A very fun spot and down to earth!  It's very much like our own Ottawa Byward market, but with an obvious Toronto flair to it.
The Crow's Nest is located in a lovely century house at 2 Kensignton Street.  The inside of the shop is absolutely everything you could want from a proper barbershop.  It's stylish, it's authentic, it's old and it's cool.  I hope that the pictures speak for themselves.  The spirit in there is also true to what you expect of a barbershop.  People are talking and enjoying their time in this space. The layout of the shop is conducive to that as the patrons are seated on a long bench facing the working Barbers.
My appointment was with Jesse.  I explained that I would be writing about my visit for Style4Men.  He was OK with that and seemed even enthusiastic about it.
Here is a highlight of the events:
Hot towel wrap for about 3 minutes
Warm Pinaud-Clubman shaving cream
Hot towel wrap for about 3 minutes
Warm Pinaud-Clubman shaving cream
Straight-razor shave
Hot towel wrap
More warm shave cream
A second shave pass
Hot towel wrap to clean up
Cold towel wrap
Smooth drying

Pinaud-Clubman Talc

application with a talc brush
I will admit that this is by far the most meticulous straight-razor shave I have had the luxury of being treated to. Everything you see in period movies about straight-razor shave was diligently respected and executed with true professionalism.  I might actually prefer the term, craftsmanship because it was more then just executing all the steps flawlessly, it was done with a need of respecting the ceremony that goes with such a shave.  There was a meticulous attention to every details.  I will say that this straight-razor shave was the "BEST" one I have had to date. Clearly Jesse take's pride in his work and I am happy to have spent some time in his chair.
Another little observation, this was the first Barber shop I visited where the Barbers still wore an actual barber smock.  Perhaps this might sound like a small thing, but to me it was yet another confirmation that these guys took their job seriously.  Seriously enough that it is important to them to wear the trade uniform.  Don't read me wrong, they were not all wearing the same thing.  No way!  Each Barber had a distinct presentation, but they had each chosen a white smock that suited them.   Being a retro-vintage enthusiast and being in a place that made such an effort to respect the form was totally fun.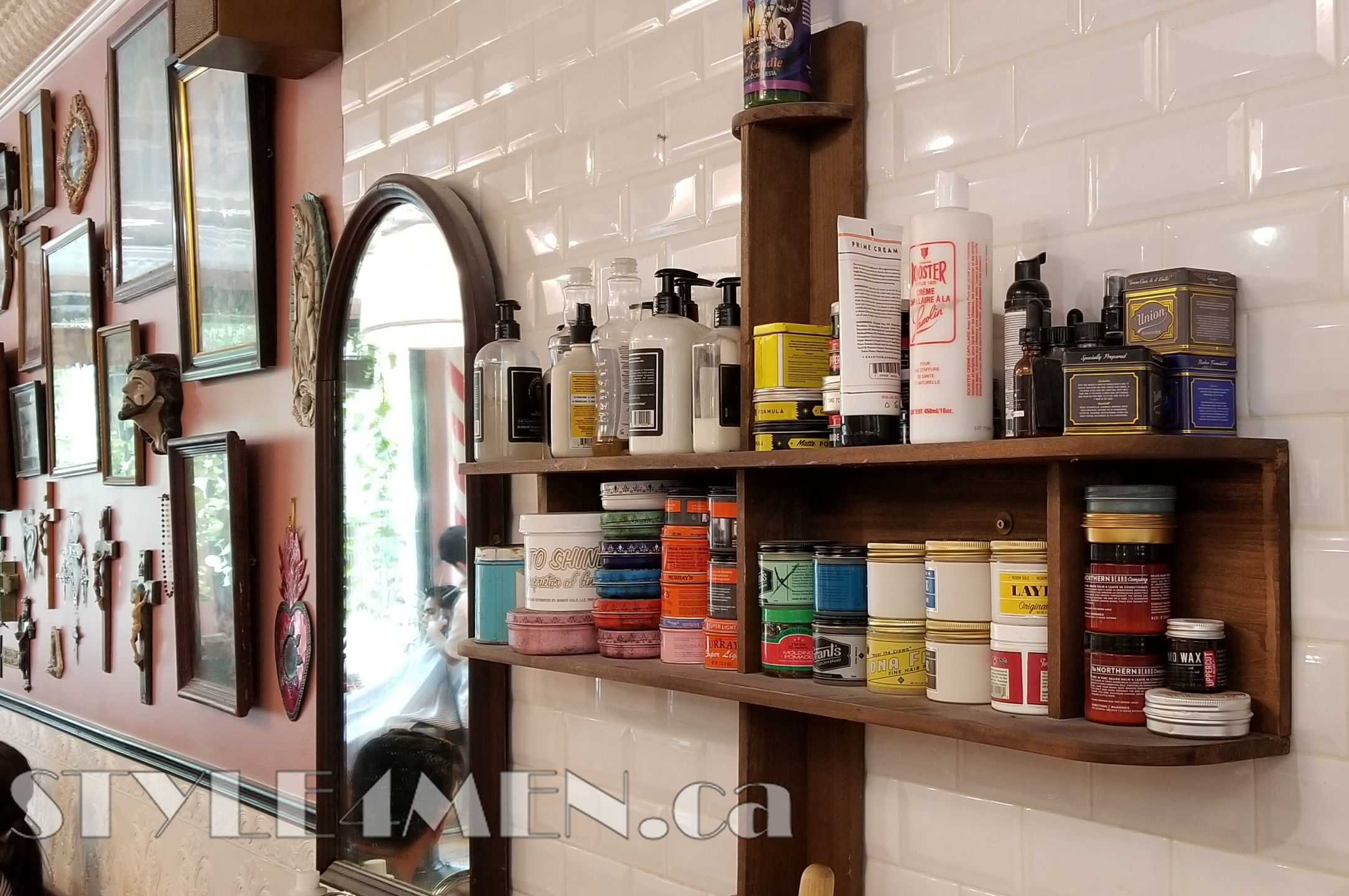 One of the big focus of Style4Men being the shaving products, I was naturally very interested in the pre-shave and aftershave products used during my shave.  I have seen the Crown Shaving Co. on-line but have never had the opportunity to try there products.  Since they were used on my mug, I can say that they performed very well and agreed with my skin.  No redness or irritation. I will also go further and mention that these products offered a very good level of moisture.  Recently having worked with products that offered very little moisture, this was a proper come back to how things should be.  Another interesting piece of information that Jesse mentioned was that the Crown Shaving Co. is a Canadian adventure.  I will make an effort to procure myself some of these products and give them individual reviews.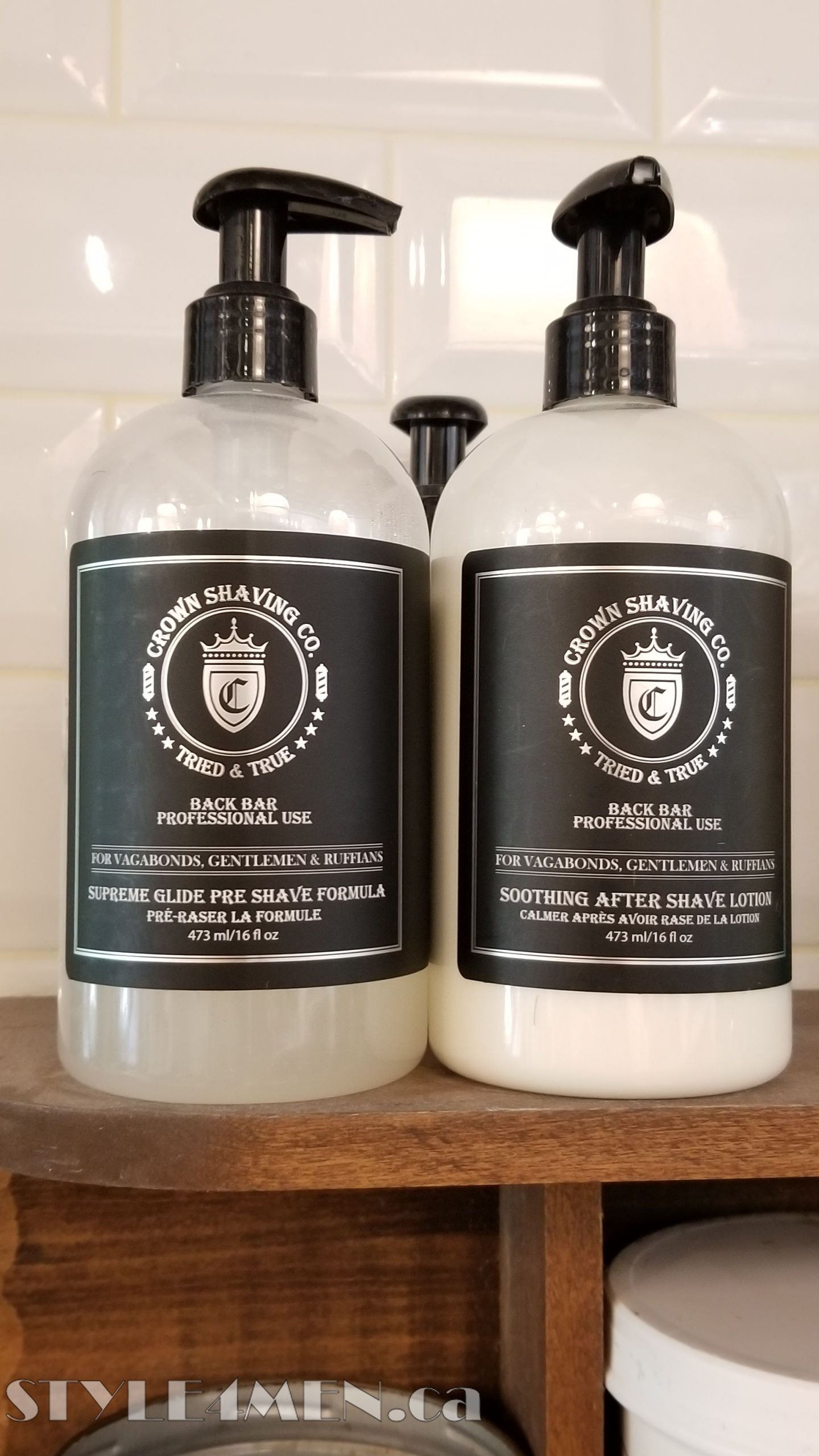 As mentioned at the beginning, this visit was not just for myself.  My son also needed a haircut.  My wife reminded me that his school ID card picture was on the day after our return to Ottawa.  In other words, no time to go to our usual place.  It made sense to get him a trim at the Crow's Nest while we there.  Thanks Babe's!
Since I was a few chairs over and pointed in the opposite direction, I can only comment on the results of his haircut.  His fade turned out extremely well.  In so many words, his hair looks great.  Further more he totally enjoyed his experience and time in the Barber shop. What more can a father hope for but to share some experiences with his kid?
Time-wise, his haircut took around 30 minutes and my own shave was just under an hour.
For the cost of this visit, we were at some $70 for both of our services.  My apologies as I did not register the cost of each individual service.
Overall, our visit at the Crow's Nest was a total treat.  If we lived in Toronto, this place would be a regular stop.  I am already looking forward to my next T.O. visit so I can return to the Crow's Nest.