Testing the "Shave" out of Crown Shaving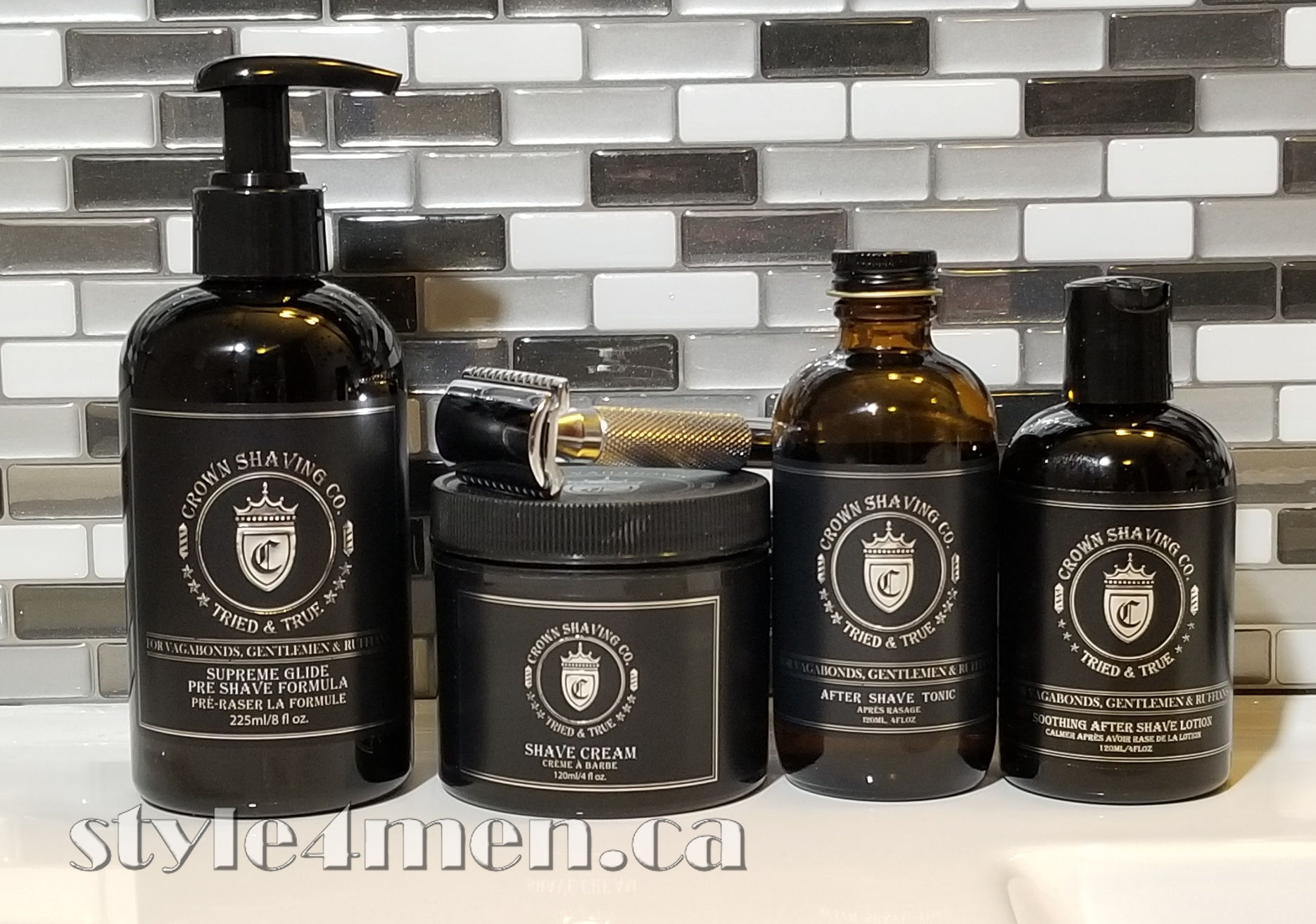 Overall Style4Men.ca score:
This will be the first post of a series covering the Crown Shaving suite of men's grooming products.  Crown Shaving is a Canadian, Toronto based company focusing on the betterment in men's grooming.  I was first exposed to their pre-shave and shaving creams during my visit at the Crow's Nest Barbershop in August 2017.  These products had impressed me and I wanted to revisit them on my own.  I finally got around to making contact with the folks at Crown Shaving about a month ago and explained what Style4Men.ca was about and that I wanted to buy some of their products for the purpose of reviewing them and introducing this fabulous brand to our readers.  Thank you Dino for your gracious response.
In this post I want to cover the "shaving" in Crown Shaving,  but while we are on it, here is a listing of their full offering:
Shaving:
Supreme Glide Pre-Shave formula – 225ml
Shave Cream – 120 ml
After Shave tonic – 120 ml
Soothing After Shave Lotion – 120 ml
Hair:
Hair Grooming Spray – 225 ml
"Hippie Killer" Pomade – 120 ml
"Hippie Killer" Matte Clay – 120 ml
Beard Balm – 120 ml
Beard Wash – 240 ml
Body:
Hair & Body Wash Peppermint Tea Tree – 473 ml
Body Powder (talcum) – 100 g
Signature Blend Cologne (tobacco and leather scented) – 10 ml
Most of the companies whose products we review tend to specialize in one grooming area; shaving or hair pomade for example.  Crown Shaving is the first brand we are covering that offers the full range of goods.  The product selections suggests to me an establish and luxurious barbershop where your styling and grooming needs are covered.  Maybe even a place where time itself is different.  A simpler time.  Imagine yourself –  Toronto: It's 1947 and you stop in at Crown Shaving for your morning straight razor shave before heading off to your newspaper office.
Now there are other Barbershop style companies offering a wide range of products.  One of my favorite bunch comes to mind; Suavecito. But in the Canadian realm, Crown Shaving holds the crown!
To finish off on the product offering, I would add that everything here is what one would expect to find in a gentleman's cabinet.  There is nothing unnecessary or inappropriate.  Everything listed above are products I would want or that I already have and use, with the exception of the Beard Balm and Wash, as I keep a clean shaven mug. But for you guys sporting beards – Crown Shaving has got you covered.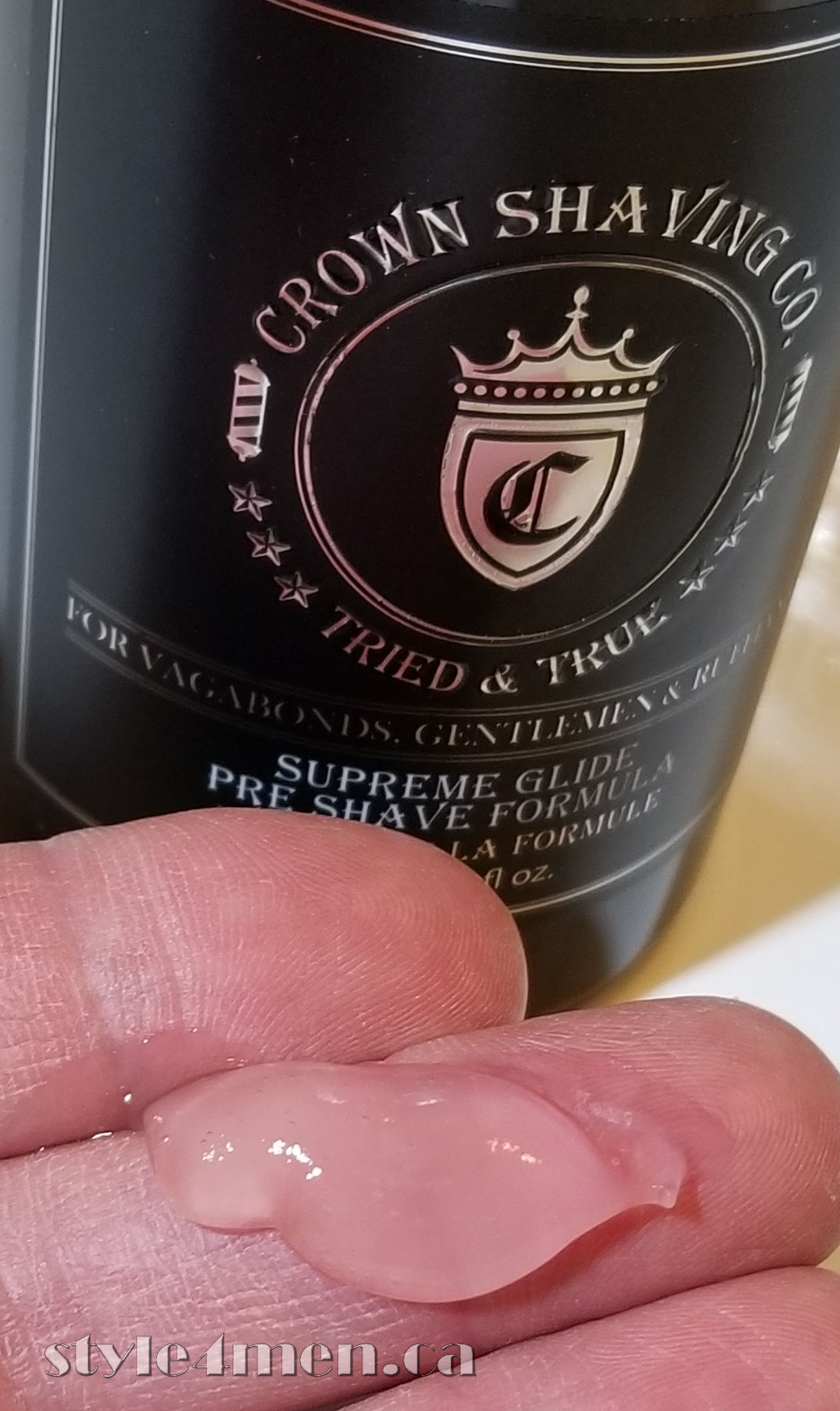 Hopefully the pictures do these bottles and jars justice as the presentation and packaging is tasteful, classy and manly.  There should be no doubt as to who these products are meant to serve; a man!  Or as Crown Shaving indicates on their packaging: Vagabonds, Gentleman and Ruffians.
So let's get into it.  I spent the last week immersing myself in the Crown Shaving experience for my morning shaves.  The short version is that these companion products perform extremely well.
For the first 3 shaves, I used the pre-shave gel, shaving cream and soothing after-shave lotion. In this morning's shave I switched the after-shave lotion for the after-shave tonic.
TEST STAGE:
State: Out of the shower
Razor:

MERKUR 180

Blade:

Treet Carbon

Pre-Shave: Crown Shaving Supreme Glide
Shaving Cream: Crown Shaving Shave Cream
Tonic: Crown Shaving After Shave Tonic
After-Shave: Soothing After Shave Lotion
Coming out of the shower with good moisture on my mug, I sealed it in with the Supreme Glide pre-shave.  This stuff is a thick gel that will lock in all the available moisture while offering a base of lubrication.  FYI – The first ingredient in the pre-shave is aloe vera. I then applied the shaving cream.  This cream is like a smooth whipped butter; rich, thick and slippery.  Basically, everything you want from a shaving cream.  I actually cannot emphasize enough the resulting thickness of these two combined products.  My face felt sealed in and totally protected.  As if it were guarded by 12 Van Doos. Onto the shave!  As usual, I turned to my trusted MERKUR 180 loaded with a black Treet carbon blade.  The coverage and insulation is so perfect that job was going faster than expected.  Each pass was a breeze and perfectly comfortable.  I was thinking that being such a thick solution, the cream would be hard to rinse out of the blade – not even a little!  This rinsed out almost as easily as a soap.
Typically, a pre-shave has some hair raising properties as well as skin conditioning effects, all of which help and even augment the efficiency of the shave cream.  This was true here as well. I will quantify that by stating that there is no tingling or cooling sensation like you might experience with the Proraso pre-shaves.  But don't let this discretion make you think that the product is not doing its job.
Having a fairly strong beard, I usually have to do a few passes in certain areas. There is thus the concern of having enough product left behind to still protect you.  I found that the first passes were able to give me a closer shave than usual and that less, second passes were needed.  For those, a small dab of water was enough to reanimate the remaining cream for a smooth pass over.
After the shave there is always some product left behind so a cool-cold wipe down is required.  Since the cream rinsed so well out of the blade, I was expecting the same for my mug.  I want to properly describe the experience here as to not mislead you.  At first it felt like the cream element stuck a bit more to skin than expected.  But what I think was in fact happening is that the nourishing oil elements and the ever so slight numbing effect was in fact still protecting me from the wash cloth.  This continued protecting feeling came to light, when this morning, I tested out the after-shave tonic.  Usually alcohol based after-shave has a refreshing and often stinging feeling.  Not this time.  It was in fact a perfect finish to the shave.
Having sensitive skin, I normally opt for a lotion type after-shave and avoid the alcohol based solution.  On my recent testing of the REUZEL shave cream and alcohol after-shave, I was surprised to realize that the REUZEL cream did such a good job of protecting my skin that the alcohol after-shave was actually pleasant and comfortable.  The same was true with the Crown Shaving splash.  In fact, of the two after-shave solutions being offered, I enjoyed the Crown Shaving splash the most, as did my skin.  Since the product has some witch hazel it certainly behaves like a tonic and is correctly named.  As I am writing these lines I am realizing that I made a mistake in my usage of these two last finishing products.  As per my previous tests with a tonic, this is a cleaner product to prepare the skin for the "real" final touch that is the lotion.  Again this brings me back to that "full suite" of product observation.  Crown Shaving covers it all!
Obviously, you can use whatever you want in whatever order you want.  And you clearly don't have to engage in the full experience every time.
The ingredient composition of grooming products is always a concern at Style4men.ca. With growing concerns over the long term effects of chemicals applied to our skin, I will venture a simple blanket statement: Crown Shaving products are predominately natural.  Some of the invited Rock Star ingredients are: Aloe Vera, Witch Hazel, Shea Butter, Jojoba oil along with a supporting band of natural oils.  Crown Shaving also indicates that their products were "Not tested on animals" and we're cool with that!
Supreme Glide Pre-Shave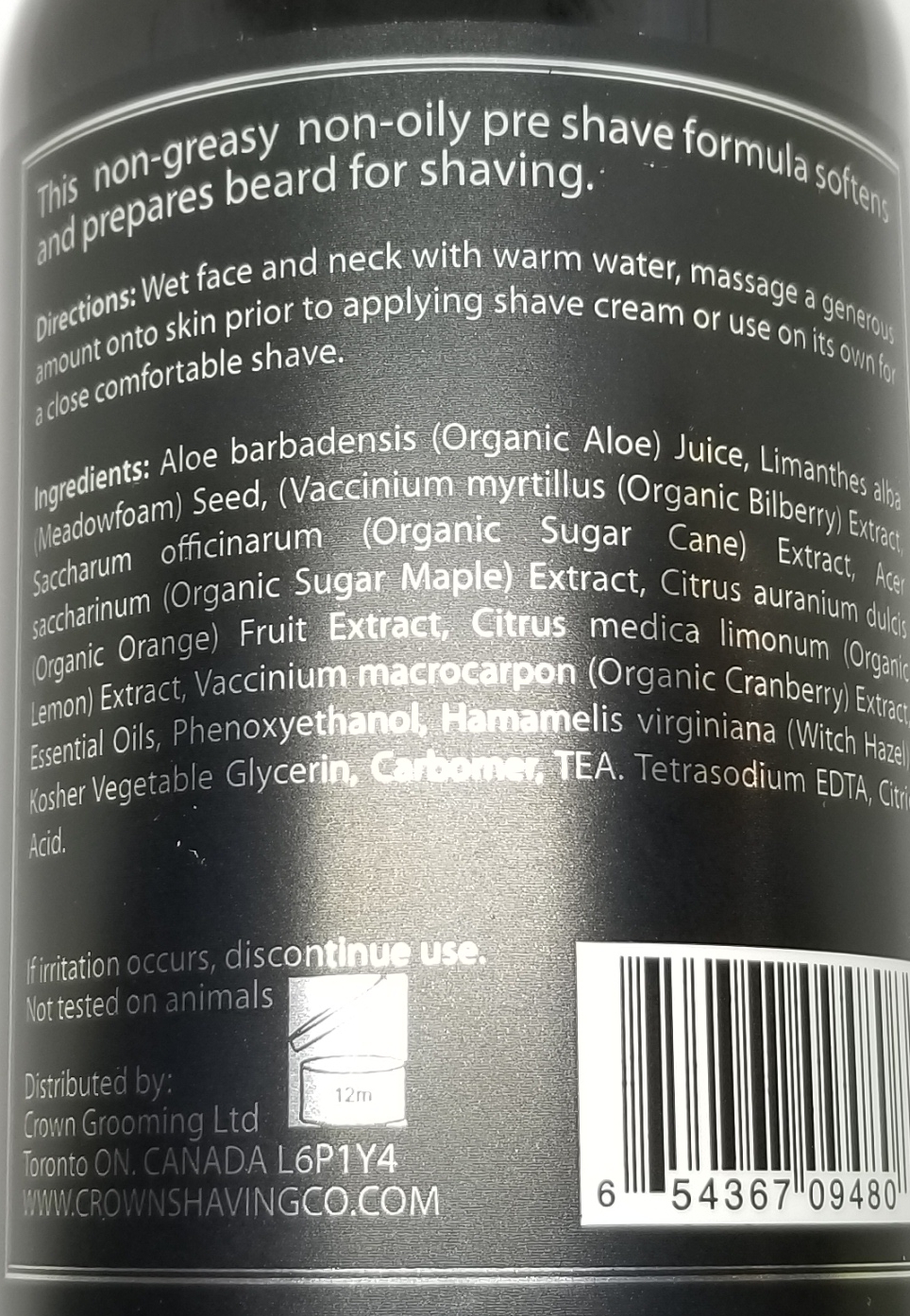 Shave Cream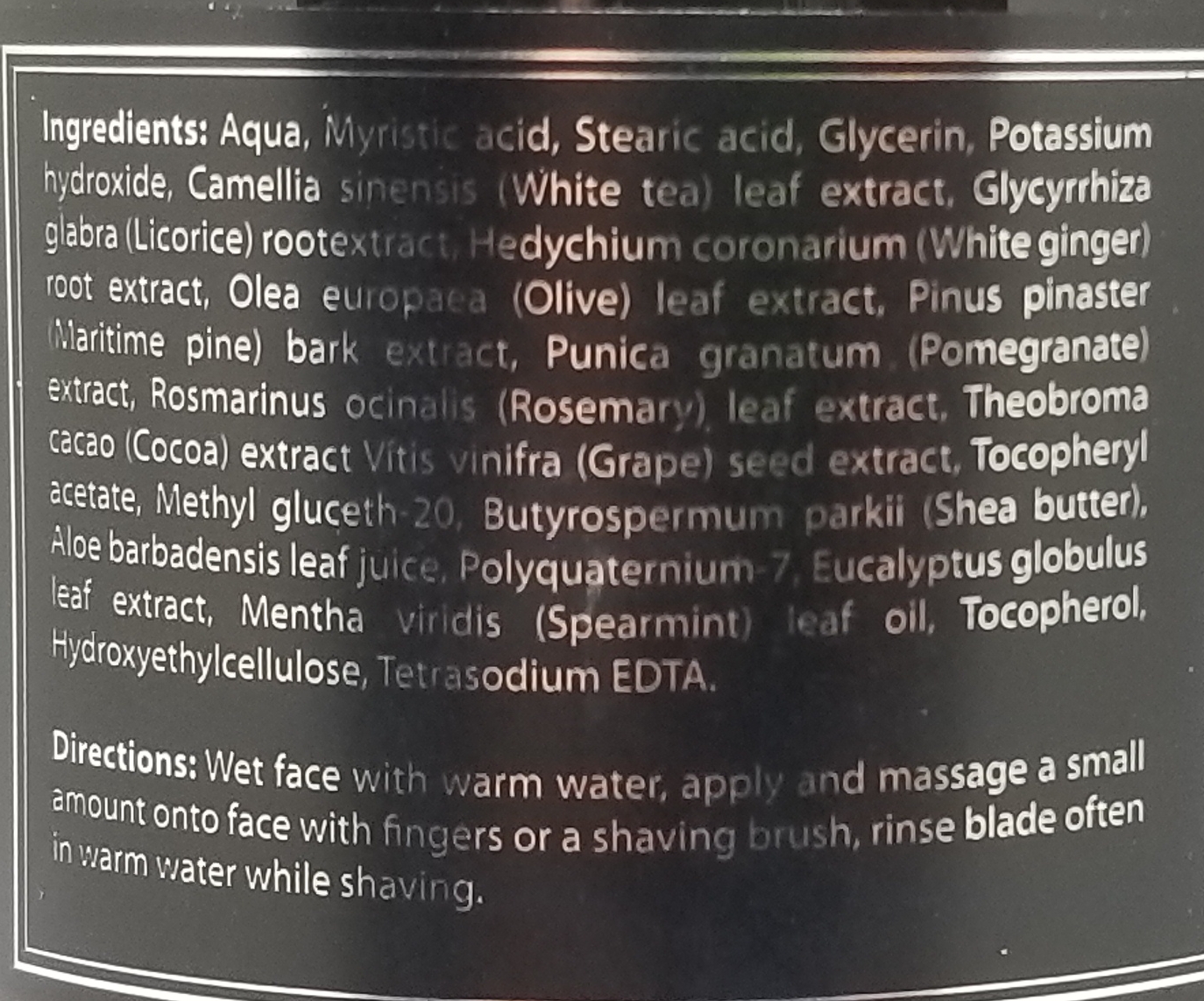 After-Shave Tonic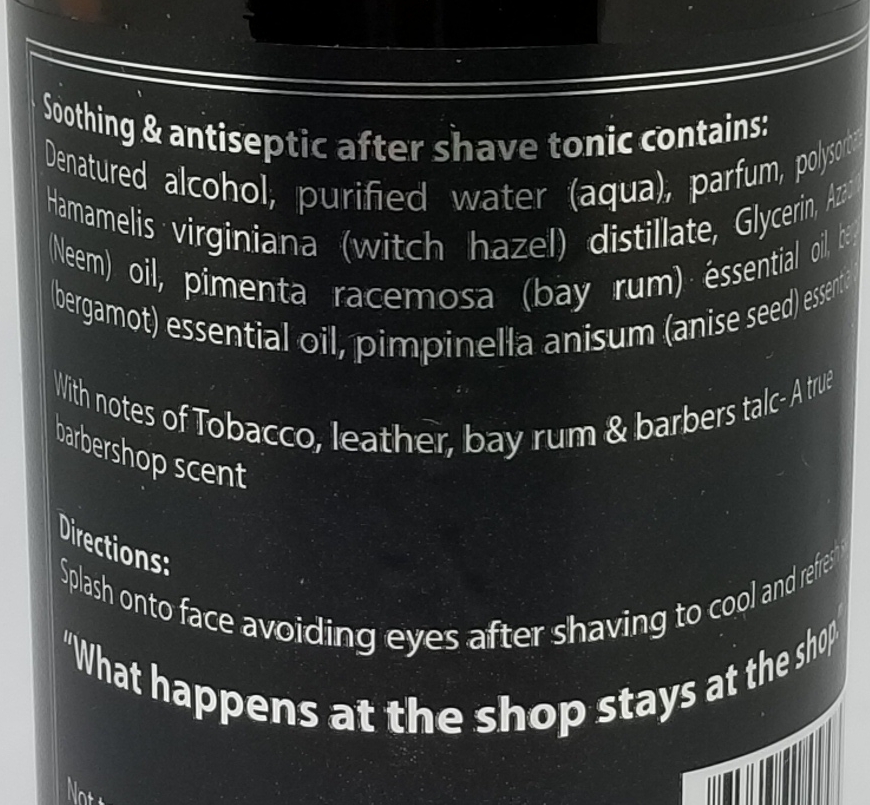 Soothing After-Shave Lotion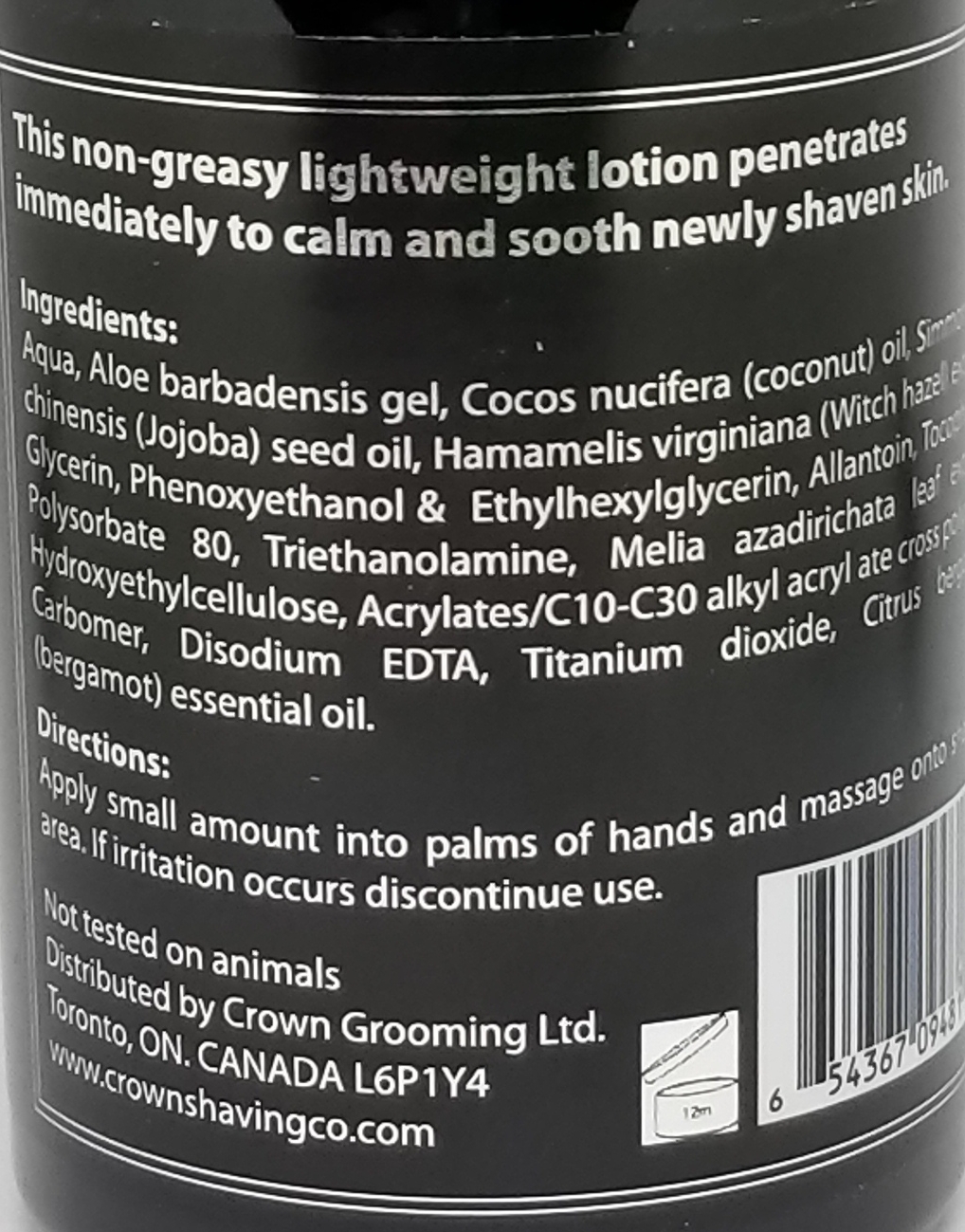 No matter how good all of these products are, scent remains a key element for even wanting to try them out.  For my nose, this has been a roaring: Yeah! The dominating fragrances in this suite are: tobacco, leather, bay rum and tea tree.  Again, the elegant-timeless barbershop comes to mind.  Dosage or intensity of the fragrances are perfectly accomplished.  The fragrances are clear and there is no mistake that you are wearing something, but you aren't leaving an aromatic trail.
For this wet shaver, the Crown Shaving experience has been a most pleasant one.  Would I recommend this brand to a friend? – most certainly!  In fact, this would be a nice gift for a friend.
I want to give a very special and sincere thank you to Dino for trusting us and supporting Style4Men.ca.
In our next post on Crown Shaving products we will jump into their hair care products.
Use these links to shop for Crown Shaving products: