The Alberta Smoke Shave Kit by Chin-Whiskey
In this post we are exploring the "Alberta Smoke Shave Kit" offered by the Canadian Barbershop "Chin-Whiskey Shearing & Shaving Co."  This will be the first of a series of reviews covering the brand.

Chin-Whiskey is first and foremost a traditional Barbershop located in Calgary, Alberta (Canada).  To complete the Barbershop experience at home, they have an extensive grooming range covering: shaving, beard and hair products. You will find a little bonus feature at the end of the page; an interview with Mike Campbell, the Barber behind Chin-Whiskey.
You may have already seen our product intro of the Chin-Whiskey shave kit on our Instagram page.   This is an impressive and complete kit, made up of the following:
Adjustable safety razor
Double Edge blades
Shaving brush
Shaving Cream
Aftershave
RAZOR
The first piece we will cover is the adjustable butterfly safety razor. Aside from its matte black strong persona, this razor has a number of note-worthy features.  First off, it is a butterfly loading razor.  The butterfly opening has the big benefit of being incredibly simple to use and equally safe as you just drop the blade in place.  The head then closes back up on the blade and secures it in place by twisting the handle.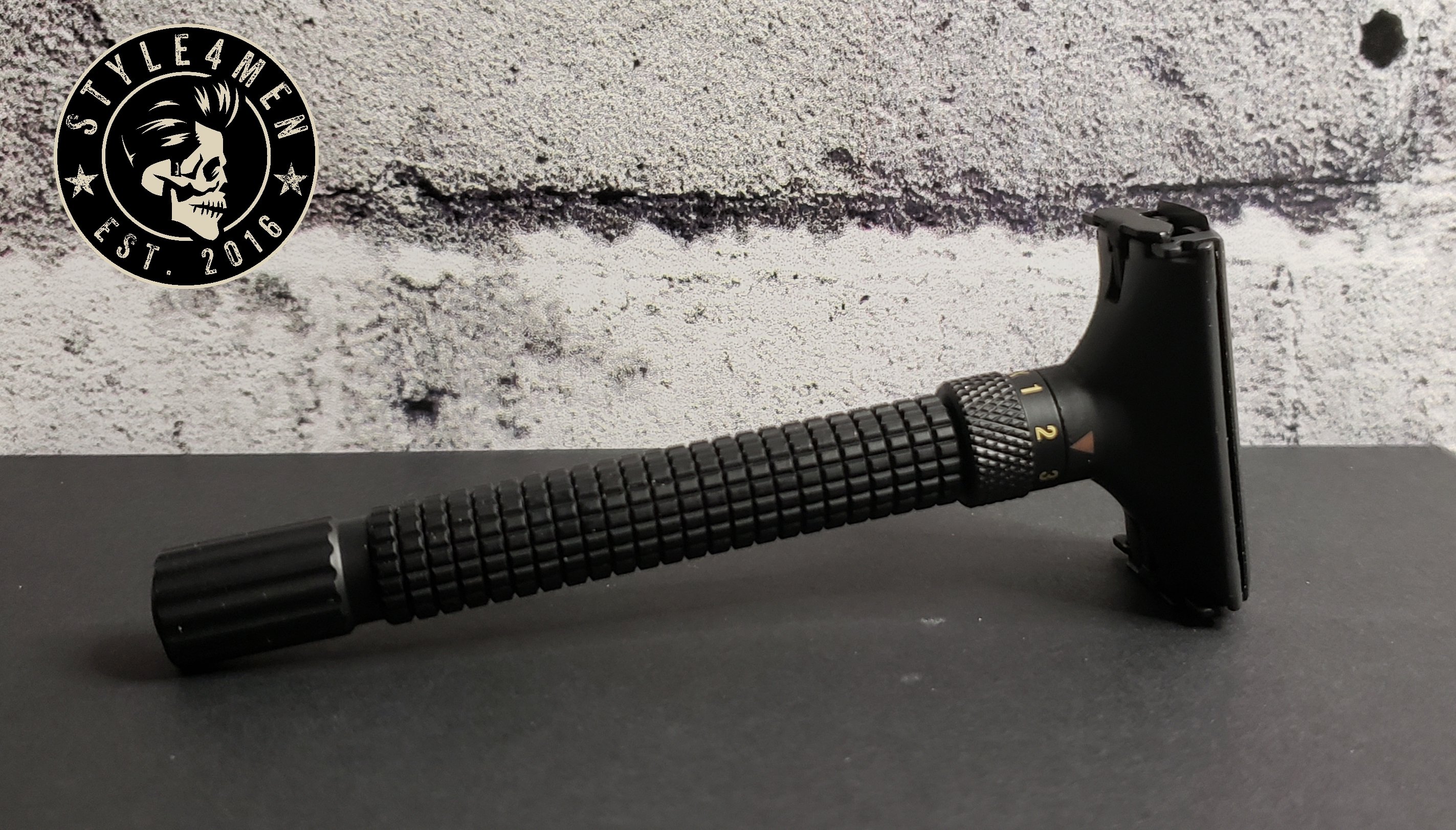 The next feature, that is perhaps its biggest asset, is that this is an adjustable razor.  What does that mean?  In the simplest term it is the adjustment of the space between the blade and the base opening of the shaving head.  The wider that opening the more cutting power is offered.  In practical terms this would mean that if you are shaving a day's worth of beard growth the tightest opening or position No. 1 would be perfect.  But if on the other hand you are shaving 6 days of growth, then the biggest opening would be your best option.  Obviously your handling of the razor needs to be adjusted as well as the wider the opening the more shaving power you have.  The settings go from 1 – 6 + MAX.
There are few adjustable safety razors on the market and they tend to be somewhat expensive.  On its own this razor goes for $47 CND on the Chin-Whiskey site which is a bargain.  The Rockwell Model T which offers similar features goes for $180 CND and the more affordable Rockwell 6C is in fact a 3 piece razor using interchangeable heads to accommodate the "adjustable" requirements and goes for $65.
The last feature I want to touch on is the handle which is exceptionally long at some 9 cm.  Since the head and handle are molded into one piece, the separation of where the handle stops and the head starts is a bit muddled.  That said the whole razor is still 1 cm longer than the standard handle.  Why is this a relevant feature?  Being a tall man with good sized hands, I appreciate being able to work with a tool that fits me.
When I started shaving with safety razor some years back, I was surprised to find that most of these razors had incredibly small handles at about 7 cm (3 "). It goes without saying that you hold a safety razor a bit differently and that your fingers are closer to the head, but I still prefer a longer handle.
On a personal note, I have wanted to try this razor design for some time so getting to work with this one has been a total treat.  It has turned out to be an incredibly comfortable razor to hold and use.  The head angle and overall sizing is perfect.  The adjustment options might appear to be a novelty as you probably shave on a regular interval.  It comes in handy when you have to deal with a shift in your routine: skip a day, Monday after a long weekend, coming back from a trip.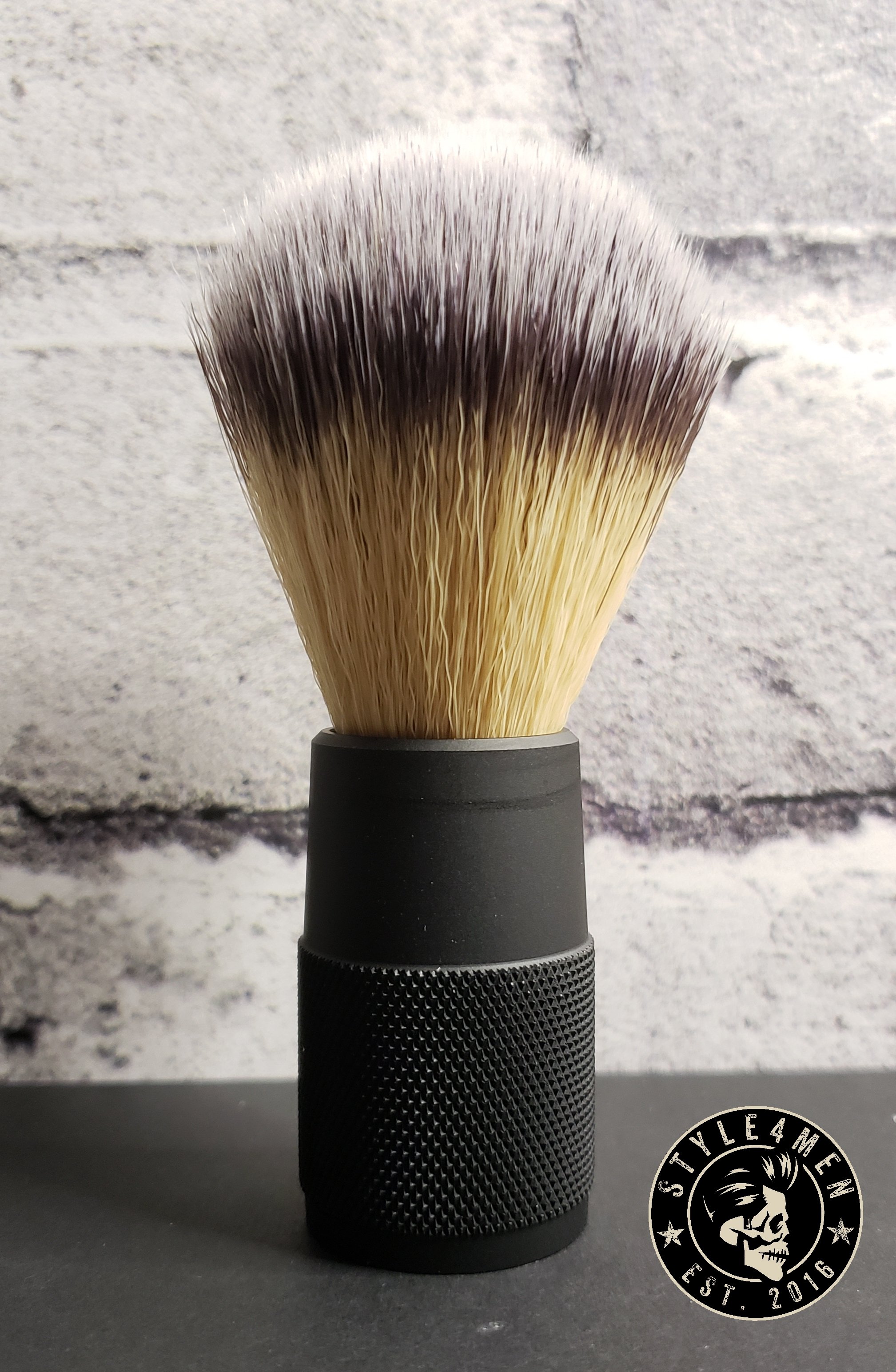 The kit comes with 15 blades.  There are numerous opinions out there on how long a blade will last.  This is something that you will determine for yourself as you shave.  Having sensitive skin and good beard growth, I use a blade between 1 and 3 times.  Considering the low cost of double edge blades, I prefer replacing it then nicking my mug.  It is worth buying a variety pack in order to try different blades and once you have found the right one, buy a box of 100.  They typically go for anywhere between $15 and $25.  Check out my blade reviews here.
SHAVING BRUSH
Yes, the kit comes with an original shaving brush.  Typically, shaving brushes will offer one of 2 handle materials, plastic or wood.  This is both light and durable.  Very few brush brushes out there come with a metal handle which is the case here.  It is a nice matte black which partners up beautifully with the razor.  The metal handle also offer good weight which gives a better hold and feel in the hand.  As for the brush head, I wasn't sure if it was a synthetic or badger hair brush.  Based on the colour, I would assume it is badger hair, but based on the silky smooth feel I would think it is synthetic.  The brand owner confirmed that this is a badger hair brush which will appeal to the purists. In my opinion, it is surprisingly smooth as if it had been pre-cured for you.  I like it!
SHAVING CREAM
We are already on a very good path but things are about to get even better with this shaving cream. The cream comes in a good size bottle.  It is luxuriously thick and inviting.  I squirted a small amount directly in the shaving brush that I had previously wet with hot water.  I then lathered things up directly on my mug.  The cream created a nice silky lather in no times and smelt heavenly.  Tangerine with a small hint of ginger.  It reminded me of a cross between a tangerine San Peligrino and a Canada Dry ginger ale.  Very agreeable sweetness to start a shave with!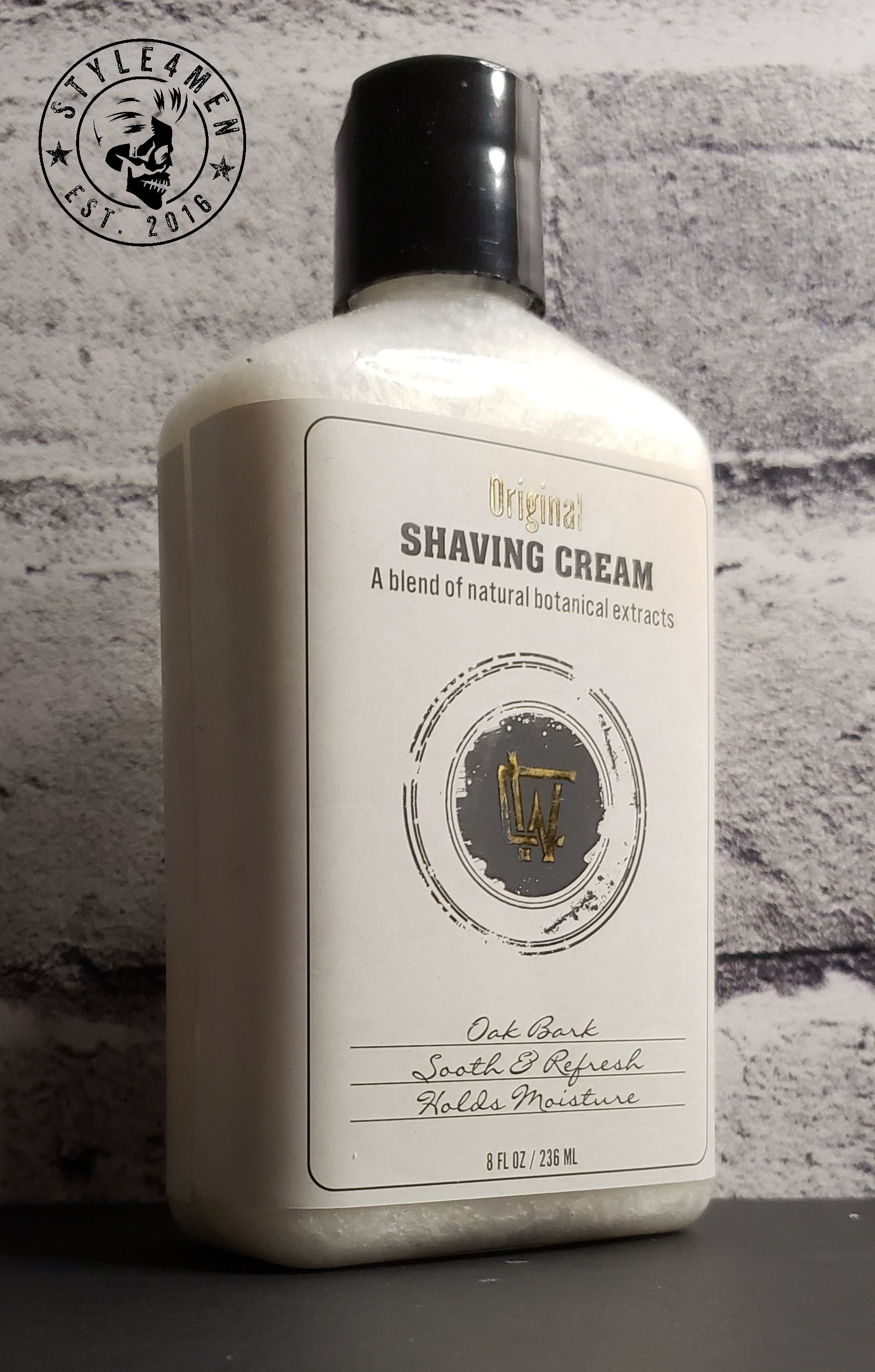 The one thing I found odd about the cream is that the foam became transparent within a few seconds.  Since my brush still had lots of lather I reapplies here and there as needed.
The cream offered a comfortable protection and lubrication for the shave.  It also felt like it was nourishing my skin.  Once the shave was done, it was very easy to rinse off with a wet wash cloth.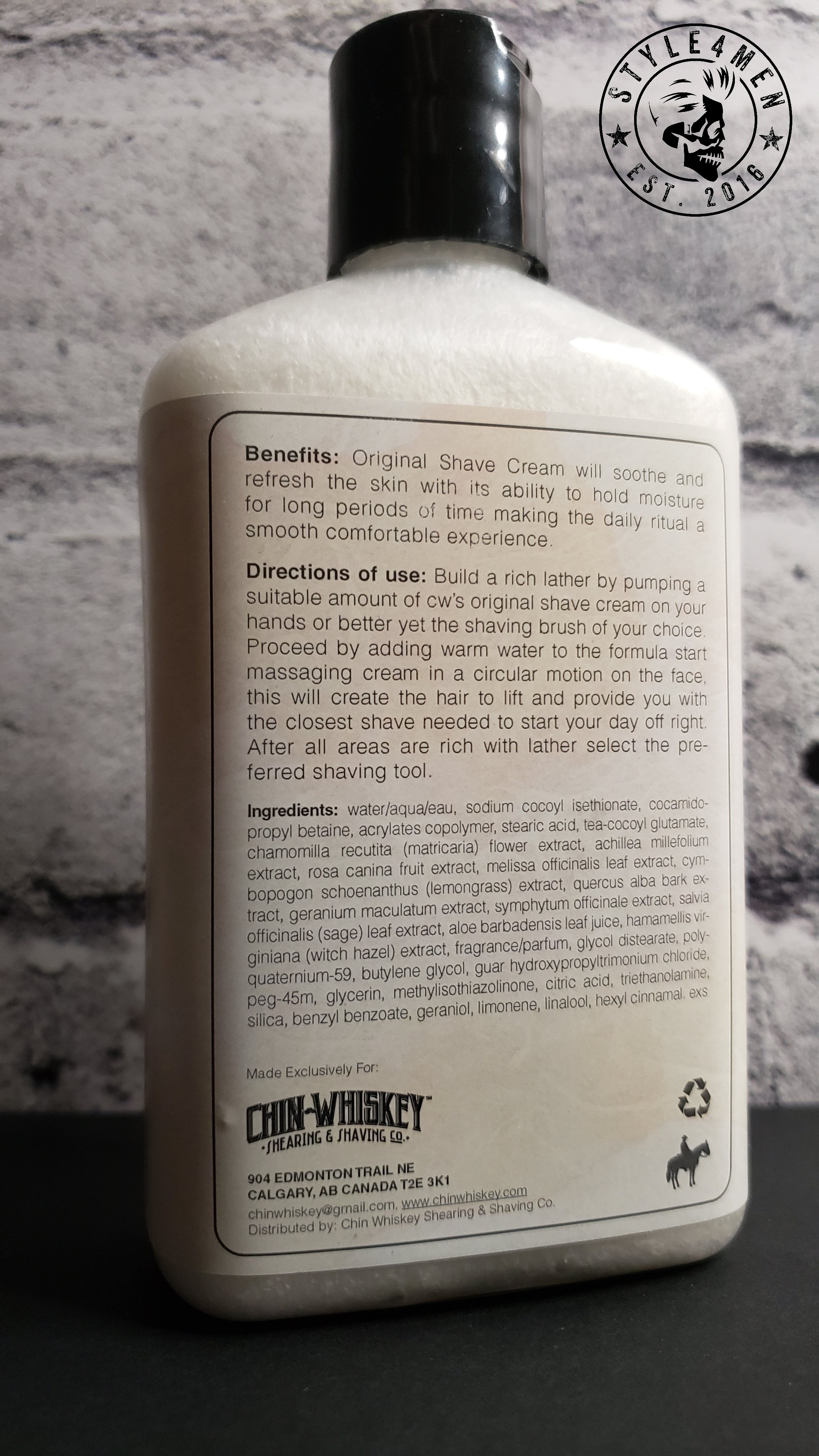 AFTERSHAVE
The last item to cover is also the last product we work with when shaving.  The all-mighty aftershave.  Chin-Whiskey is first and foremost a Babershop and as such one might expect the aftershave to be an old-school alcohol splash.  It was to my surprise an extremely pleasant and soothing gel-cream. At the basis of this aftershave is witch hazel. This is an incredible natural irritation and inflammation appeaser.  Exactly what you want your aftershave to be doing.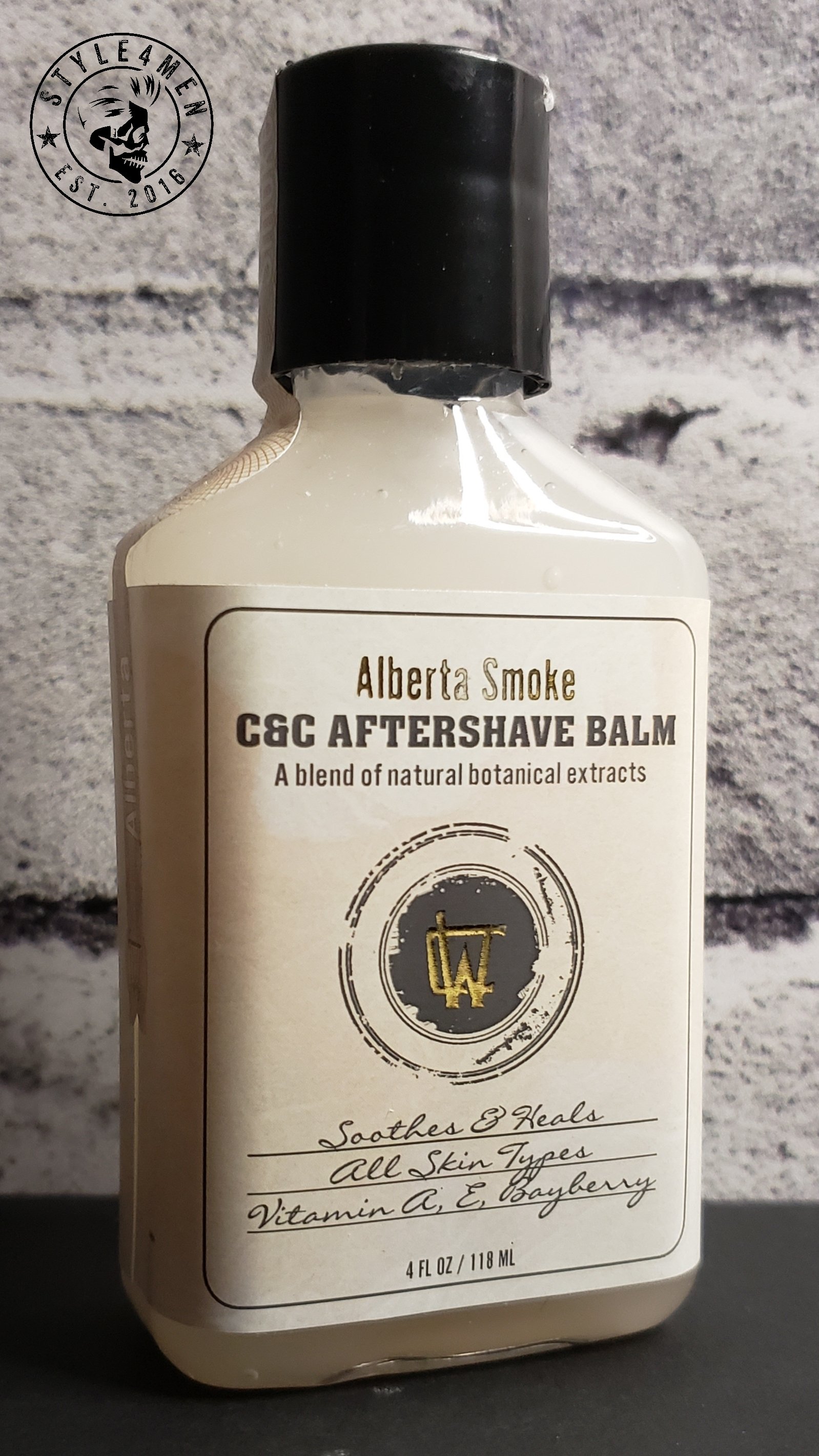 A small pea size will suffice as this gel covers very well.  It is also absorbed very fast by the skin as well as the beard.  I shave my neck and check while leaving a traditional beard on the rest of my mug.  The aftershave left no residue and offered a slight cooling sensation while completely calming any discomfort from the shave.
Now, there is a huge bonus; the scent!  The scent of the shave cream was already very impressive and a big act to follow, but I think that the aftershave managed to blow it off the stage with an incredibly well done tobacco-vanilla-sandalwood arrangement.  It actually caught me off guard as I was expecting the aroma to continue along with the initial direction, but I was instantly converted.  This is everything I would expect a classic barbershop aftershave to smell like.  It took me for a ride to 1947 where I was getting out of the Barber chair after a straight razor shave and was putting on my jacket, hat and lighting up my cigar before heading back to the newspaper to type up next article.  Damn! That was nice.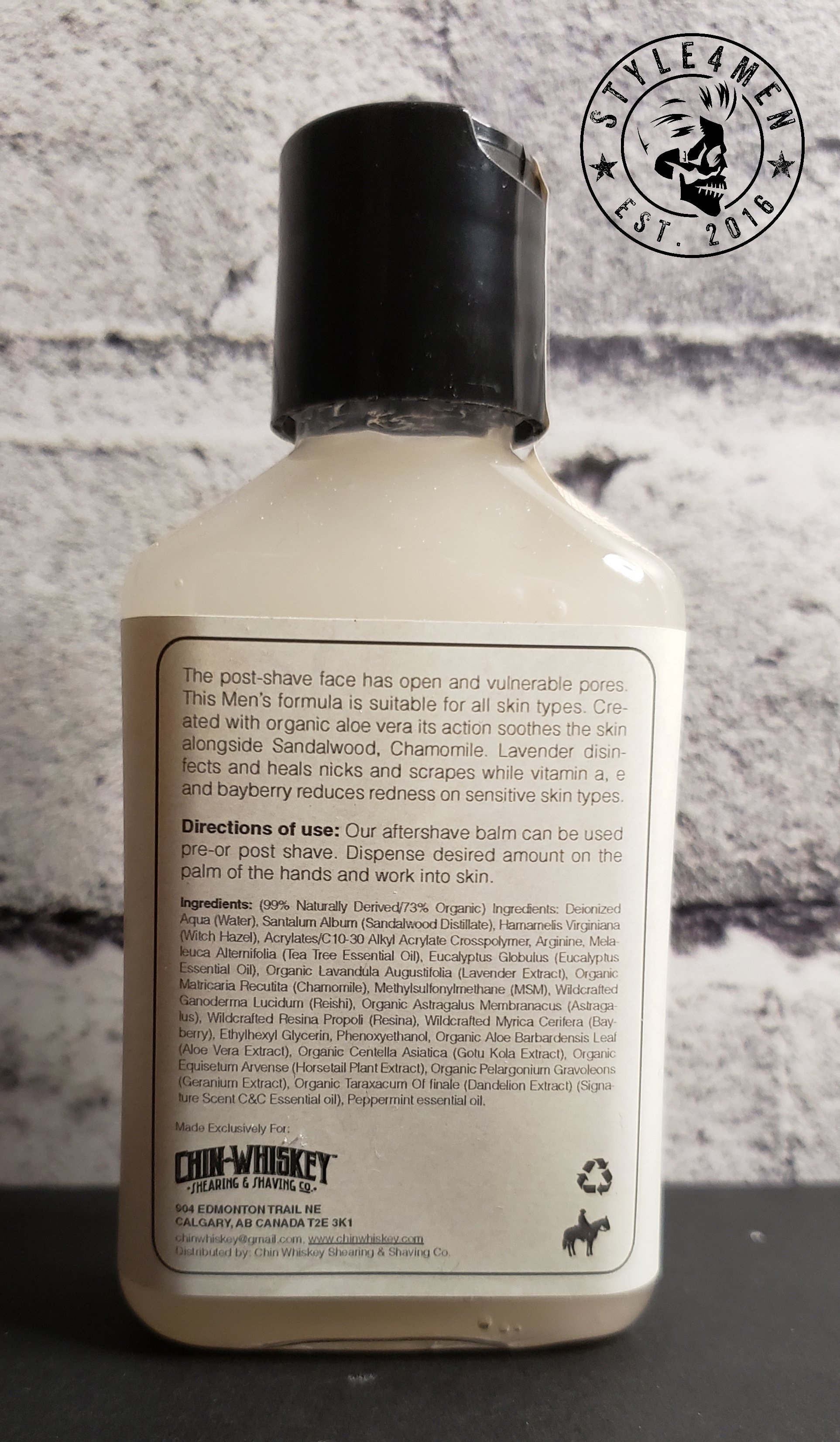 A big reason that motivates many men, myself included, to turn back the clocks on their shaving habits, tools and products is for the pleasure of using gear like this.  Yes, it takes a couple extra minutes, but your shaving routine also get elevates from a chore to a pleasure.  This sounds like a tall order, but if you are still shaving with a plastic razor and a can of foam, you are missing out.  I look forward to my shave and take pride in this ritual. And these top shelve products with their succulent fragrances are big contributors to that experience.
SUMMING THINGS UP
It is clear that much effort has gone into the development of these products as there are very well crafted and a total joy to work with. The shaves that was obtained with this set has been nothing short of perfect! As far as a starter kit goes, this one scores a 10 in my books.  I can't imagine any man being disappointed!
BONUS INTERVIEW WITH MIKE CAMPBELL
If you want to know more about the Brand and the folks behind it, here is my little interview with Mike Campbell from Chin Whiskey.
How did you get into Barbering?
I started out in the Salon before moving directly to the barbershop. When I was a young man I would be in the salon with my mother and wait hrs for her to get her hair done. I've always been more of a cutting specialist. I have been cutting women's and men's hair for 15yrs now. For me it's about structure so cutting men's hair gives me that platform to create.

What came first, the barbershop or the products?
The barbershop came first and products followed after.

What do you like the most about the trade?
I like that our trade gives artists so many ways of expressing their creative side, through hair, fashion, and of course design. The most important part is our guests and providing them the highest level of service.
What is your favorite product in the range and do you have any plans to grow the product line?
All of the products in the line have their own uniqueness to them, but if had to select one for me would be ALBERTA SMOKE C&C TEXTURE TONIC! Our next step is in the works now with creating our pomades.
Thank you Mike.  I am psyched to learn that there is a pomade on the way!!! If it's anything like your other products it will be a glorious hit!